Managing human resources (HR) operations involves a ton of moving parts, and having performance management software you can rely on is critical. Engaged and productive employees drive business results, and performance management software makes it easier for companies to:
Track employee expectations
Evaluate performance
Review compensation
Lattice is one of the leading performance management solutions. However, it may not be the best choice for all businesses. Consider your business's unique needs as you review our list of the top Lattice alternatives and competitors.
What Lattice Performance Management Offers
Lattice is a popular performance management solution that managers, HR teams, and employees use for:
Personalized 1:1 agendas and tracking
Employee praise and recognition
Status updates
Real-time feedback
Change management
Tracking employee productivity, engagement, and development
Goal setting
Customized performance reviews
Viewing performance analytics
Lattice offers additional functions through integration with popular HRIS and collaboration platforms.
HR leaders and managers use Lattice to inform compensation and promotion decisions. Employees can also use Lattice to track their goals and provide context for raise or promotion requests.
Also read: Bonus Time: Using Performance Metrics for Payouts
By engaging employees, managers, and HR leaders, Lattice offers a comprehensive way to track and reward employee performance all year long, not just during yearly performance reviews. However, not all businesses need all the features that Lattice includes in its service.
Why Lattice May Not Be the Best Fit For Your Company
With a minimum commitment of $4,000 a year, small and medium-sized businesses may find that Lattice isn't the best financial fit for their needs. Plus, many of the valuable insights and capabilities are only available with the more expensive plans.
Aside from cost, users cite the following drawbacks of Lattice:
Difficult user interface
Steep learning curve
Lack of collaboration tools for instant communication
Lack of visual tools to track progress towards a goal over time
Goals, even achieved ones, remain visible until deleted
Lack of review history when managers change
Lack of templates for reviews, surveys, and other routine forms of communication
Difficult navigation to actionable insights within the analytics tool
Read more: Templates & Best Practices for Employee Performance Reviews
Top 5 Lattice Alternatives
While Lattice is a powerful performance management tool, its minimum commitment and the wide array of features may not suit your business needs. Here are some top alternatives that provide excellent performance management capabilities.
BambooHR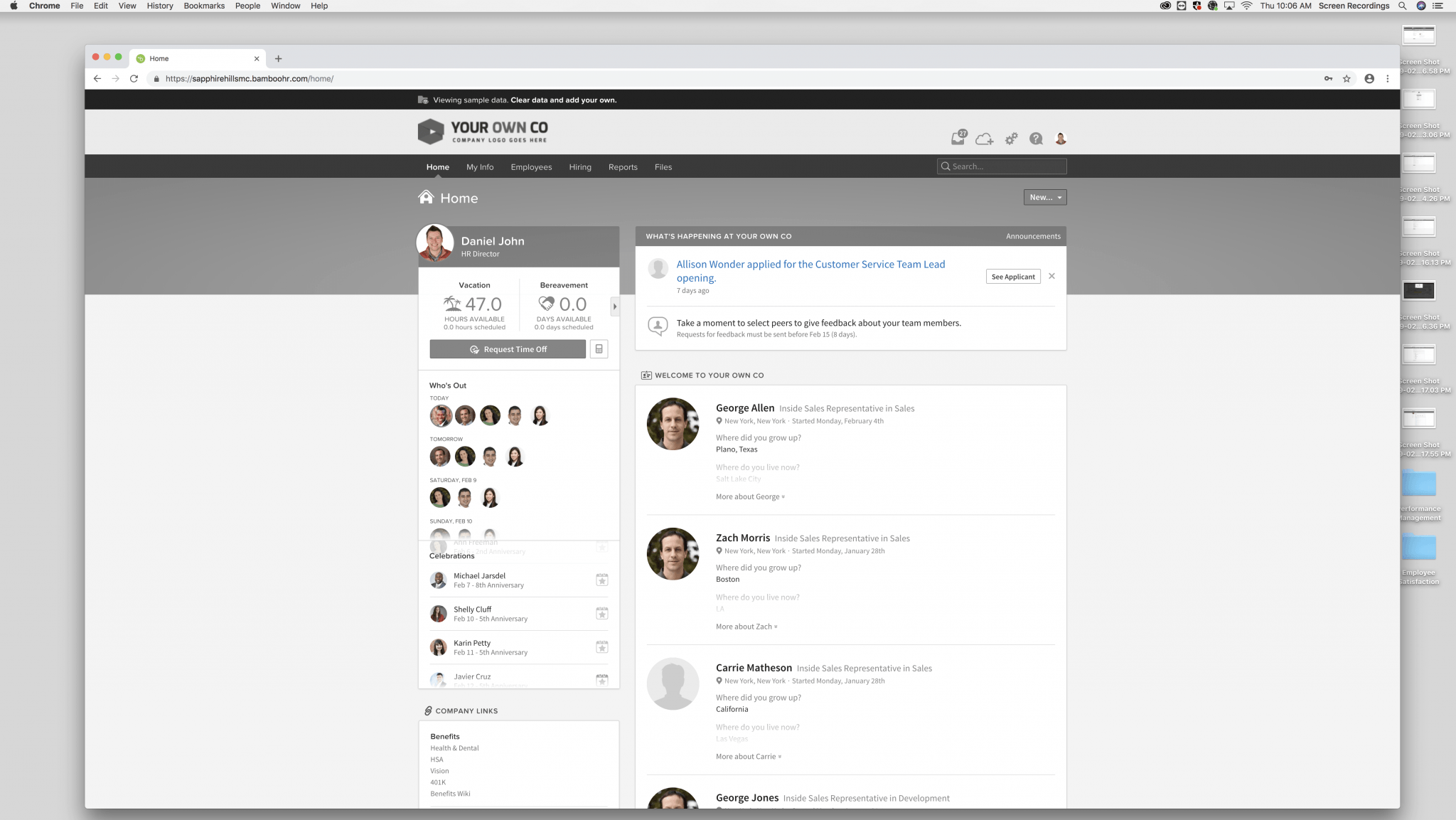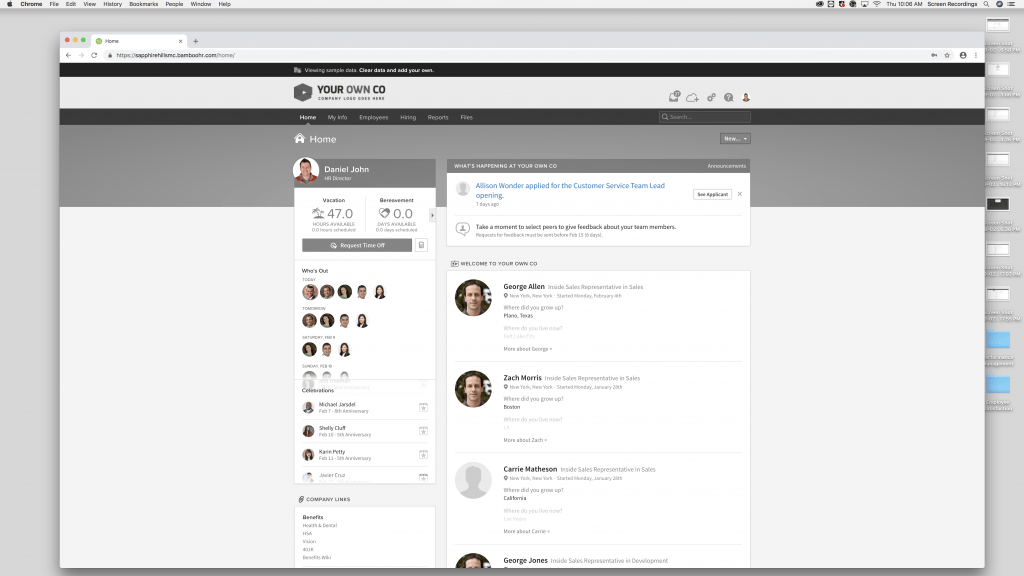 As an all-in-one HRIS, BambooHR is a common favorite among HR professionals. As with Lattice, the performance appraisal system is an optional add-on to your BambooHR plan. However, you'll find that Lattice offers more features for performance management than BambooHR. So if you only need goal setting, self/manager assessment, peer feedback, and reports without extra frills, Bamboo is a better option.
BambooHR streamlines the process of acquiring employee feedback and gauging their satisfaction. It sends automated assessment reminders on a regular basis. While Lattice users with more niche needs enjoy its sophisticated level of automation, Bamboo HR provides enough automation without getting too complex for small business needs.
Peer assessment, self-assessment, and managerial assessment capabilities provide well-rounded feedback to evaluate employee performance against goals. Plus, detailed analytics and robust reporting capabilities make it easy for business leaders and managers to leverage data for strategic decision-making. Lattice users, on the other hand, have reported that it's difficult to find actionable insights based on data the platform collects.
Top reasons to check out BambooHR as a viable Lattice alternative:
Sufficient automation for small business needs
Easy-to-find, insightful reports
Also read: BambooHR Pricing, Features, and Customer Dedication
Leapsome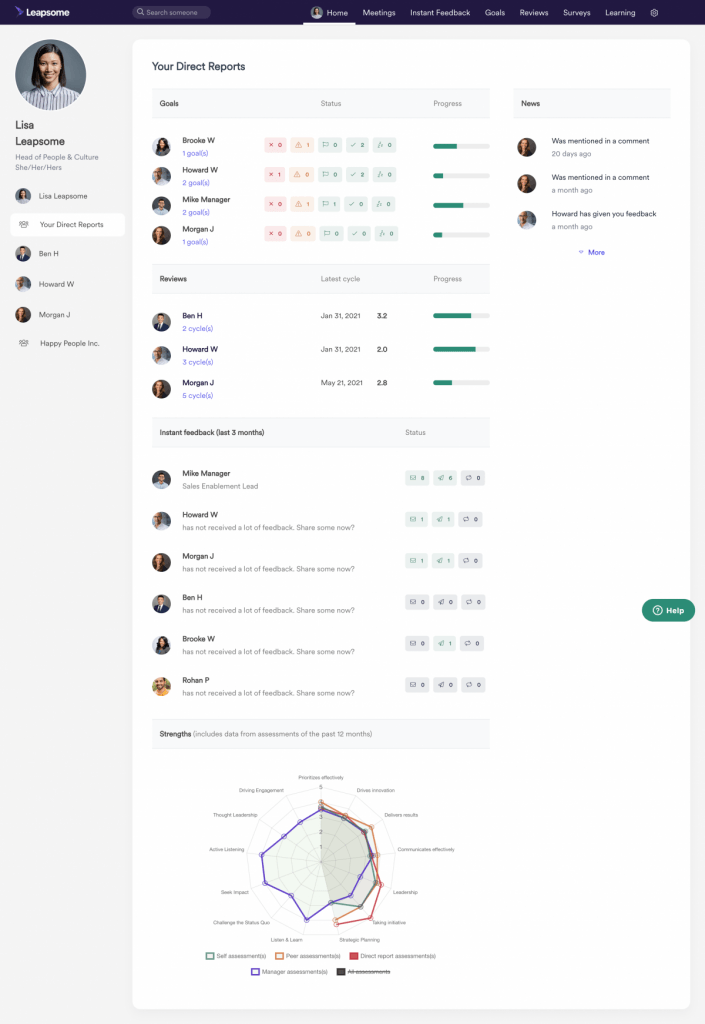 Leapsome is an all-in-one performance management and employee engagement platform that enables companies to close the loop between employee engagement, performance, and learning. Leapsome's offerings are quite comparable to Lattice's, as it includes tools for:
Goals and OKRs management
Performance reviews
Employee engagement surveys
Feedback
Praise and recognition
1:1 meetings
Yet, Leapsome differentiates itself from Lattice in its scope of data analytics tools. Leapsome helps managers interpret data related to the performance of those who report to them. Managers can use data from past performance reviews to track performance changes over time. Lattice users, on the other hand, mention an inability to track data from past performance reviews. Armed with this rich, longitudinal data, Leapsome helps managers identify top performers and facilitate succession planning.
Leapsome also assists organizations with setting up a review process in its platform by providing best-practices templates and frameworks. Teams can create and reuse review templates and timelines cycle after cycle. Once the templates and timelines are set, administrators can set up automated notifications and reminders to employees and managers when a new review period begins.
Why small companies may choose Leapsome instead of Lattice:
Historical data for performance reviews
Templates
At-a-glance dashboards for easy data visualization
Culture Amp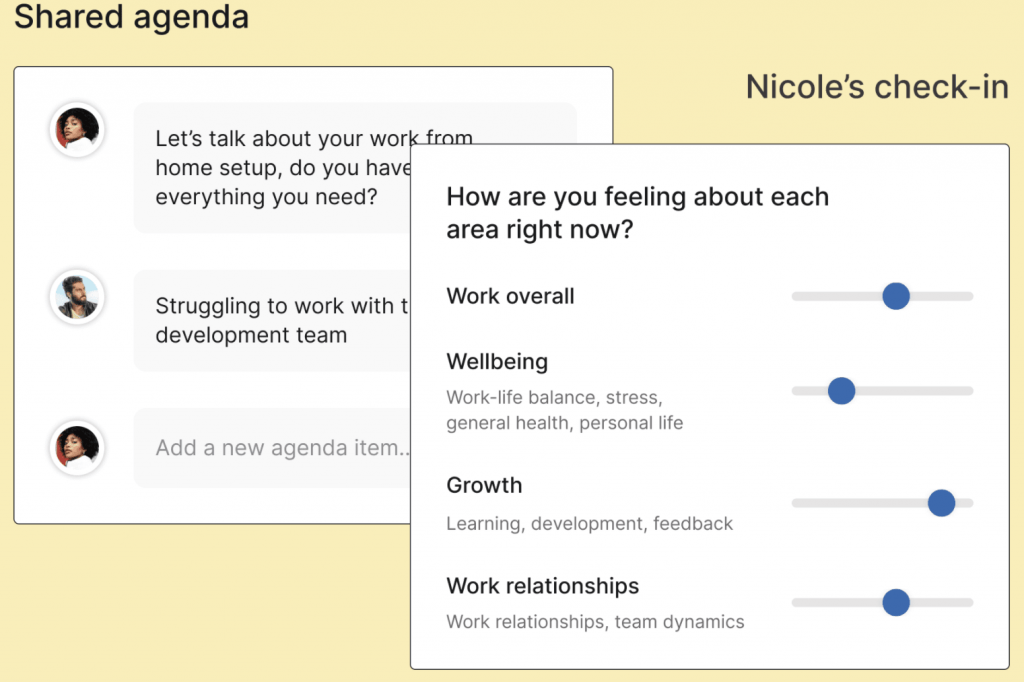 Culture Amp offers performance management and employee engagement solutions that maintain fairness and equitability in performance reviews across your organization. Culture Amp reduces bias in the performance review process by providing templated review questions. This ensures that each employee gets the same performance-based questions.
Their unique Calibrations tool generates a report that provides an overview of employee performance and how it compares across teams and the entire enterprise. This feature ensures fairness because it compares apples to apples and gives managers a holistic picture of an employee's performance to avoid recency bias.
For instance, if an employee has been performing sub-par in the last month but has otherwise excelled in their previous two years of employment, the sub-par performance period needs to be contextualized within the broader picture.
Culture Amp also facilitates regular check-in surveys that are connected with employee 1:1s. This helps your HR team assess employee sentiment and maintain a powerful culture of openness.
Creating a culture of continuous improvement and multi-source feedback empowers everyone within the organization to meet and exceed their OKRs. Plus, since Culture Amp regularly updates its solution based on the latest research about how people think, feel, and behave in the workplace, your company can stay up to date on performance management best practices.
Plans are available for companies with as few as 25 employees, making it a great solution for growing organizations. Plus, while Lattice's solution is more comprehensive, Culture Amp provides a standalone performance management solution. Employee engagement capabilities can be easily added later if needed.
Reasons to choose Culture Amp over Lattice:
User-friendly design backed by research on how people think, feel, behave, and learn
Modularity to accommodate changing business needs
Cost effectiveness
IntelliHR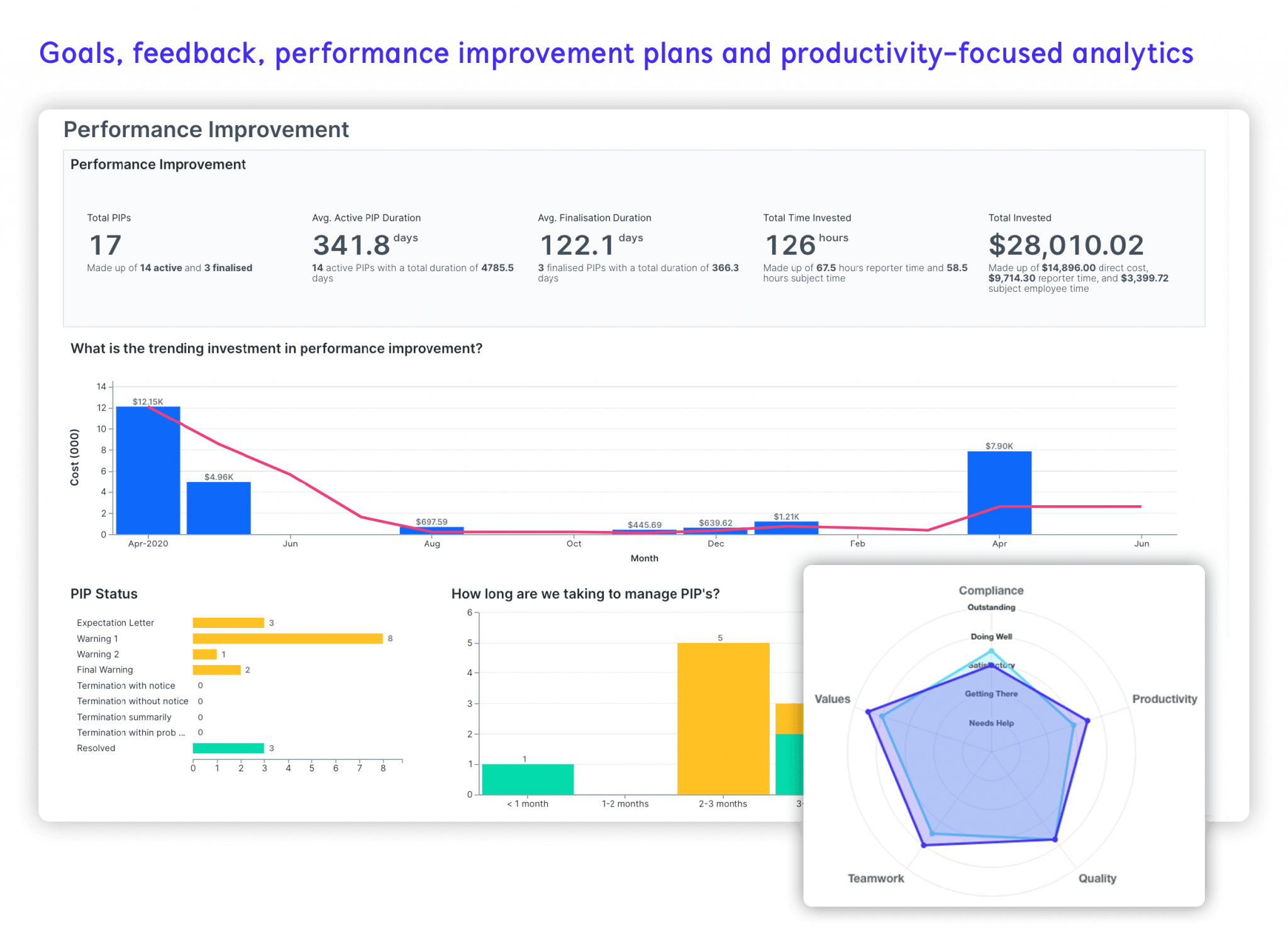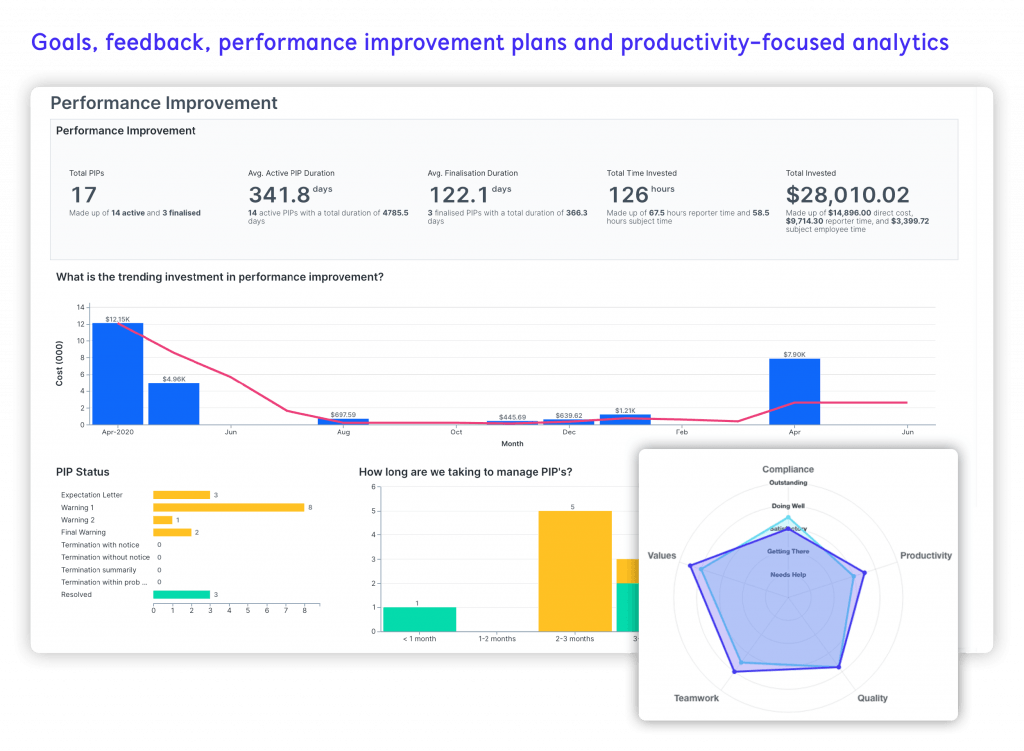 Actionable performance insight is the name of the game with IntelliHR. Regular performance reviews offer tons of data that can help leaders make critical strategic decisions across the enterprise, and IntelliHR helps organizations leverage that information to drive productivity and high performance. So, IntelliHR is a great Lattice alternative because it visualizes data and makes it easy to find data-driven insights.
Many companies don't need all the bells and whistles that come with popular performance appraisal software. IntelliHR focuses on making the performance review process as quick and easy as possible. Simple evaluation forms and a streamlined dashboard set IntelliHR apart.
Automated check-ins help managers consistently collect feedback from their employees. Then, the platform helps managers interpret that data against cascadable goals and foster more effective 1:1 meetings from a coaching perspective, placing development at the forefront. Plus, one-click performance summaries grant immediate insight into employee and team performance, so HR teams and managers can get a bird's eye view of how employees are succeeding and where they can improve.
IntelliHR is a powerful Lattice substitute for companies that aren't looking for an overly complex option. It's a great option to strengthen and integrate with your existing HRIS system, providing better analytics and easy-to-use performance management capabilities. However, it's important to note that performance management tools aren't available for the base plan.
Reasons to choose intelliHR over Lattice:
Cost effectiveness
Data visualization tools
Easily accessible, data-driven insights
Also read: Improving Company Culture During Periods of High Turnover
Zoho People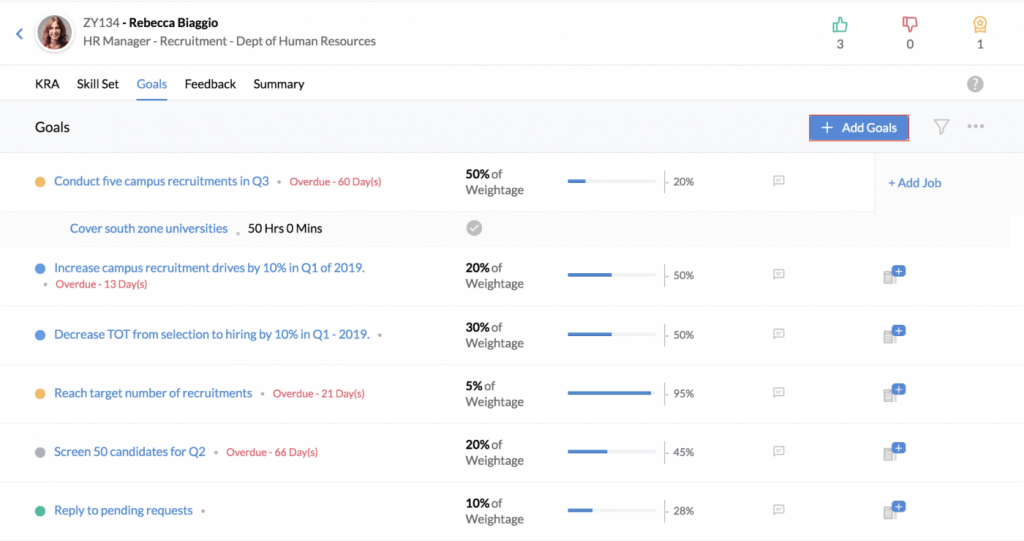 Zoho People is a user-friendly cloud-based HR software that includes performance management features to nurture employees. Such features include:
Performance appraisals
Self-appraisals
Multi-rater reviews
Employee data and reports
Goal setting
Zoho People sets up a place for managers to routinely check in with their employees regarding employee performance. That way, there are no surprises when monthly, quarterly, or annual reviews begin.
Zoho People's self-appraisals and their timelines are customizable to the company's needs. Employees, for example, rate themselves based on pre-set criteria. They and their managers can both see how the ratings change over time, whether monthly or quarterly. Tracking longitudinal progress on an aspect of one's work is a differentiating feature that Zoho People possesses compared to Lattice.
Data recorded from these appraisals is stored in Zoho People. Both managers and their employees can refer back to Zoho People's reports when prepping for annual reviews. These reports benefit managers by helping them visualize employee data and identify their strengths. Zoho People even presents an employee's data in a 9-box matrix to analyze performance and potential.
Potential customers should know that performance management tools are only available in the Premium, Enterprise, and People Plus price tiers.
Reasons to choose Zoho People instead of Lattice:
Customizable appraisal processes and timelines
Modularity to accommodate changing business needs
Reporting and analytics tools
Choosing the Right Alternative to Lattice Performance Management
The right performance management platform can make or break your company's culture. Regular employee feedback is essential to help your teams grow and excel. While Lattice is a powerful platform with tools that empower performance management, that doesn't mean it's the right software for every enterprise.
Finding the right solution starts with looking at your company's specific needs. Pose the following questions for starters:
What are your biggest priorities in terms of performance management?
What features would simplify performance reviews and reporting for your organization?
If Lattice misses the mark on your priorities and features, consider alternative solutions like those above that offer different or more advanced features.
For example, if your HR team needs actionable, easy-to-understand analytical tools, check out IntelliHR, Leapsome, and Zoho People.
If you need a more user-friendly solution, look into Culture Amp.
If automation capabilities can help streamline performance management tasks, check out Bamboo HR.
These five Lattice competitors are a great place to start when evaluating what your team needs. But, they're far from the only alternatives available. TechnologyAdvice can help you narrow down the best options based on your unique HR and business needs.
Call our unbiased experts who will help you find the right performance management solution today!
Read next: Using Performance Management Software to Combat Burnout
Top Human Resources Software Recommendations
BambooHR is an award-winning HR platform that helps your growing organizations automate, centralize, and connect your people data all in one place. It gives you a one stop shop to manage data, hire talent, run payroll, and help employees grow.
Rippling is the first way for businesses to manage all of their HR, IT, and Finance — payroll, benefits, computers, apps, corporate cards, expenses, and more — in one unified workforce platform. By connecting every business system to one source of truth for employee data, businesses can automate all of the manual work they normally need to do to make employee changes.
Meet Bob, the modern HR platform for modern business. With Bob, HR teams get everything they need to operate efficiently and engage employees in one HRIS. Use automation and workflows to save hours on HR admin time. Connect employees from anywhere with a social media-like homepage that drives culture with communications, kudos, and recognition. Centralize all people data in one place for a holistic view. Share accurate reports for stronger insights and better decision-making.
Need a Little Help?
Talk with a software expert for free. Get a list of software that's great for you in less than 15 minutes.
Technology Advice is able to offer
our services
for free because some vendors may pay us for web traffic or other sales opportunities. Our mission is to help technology buyers make better purchasing decisions, so we provide you with information for all vendors — even those that don't pay us.