How to create a performance review process in 7 steps
Adopting performance review processes in your company can optimize your workforce's skills to stay ahead of your competitors. Successful companies like Amazon, Google, Meta, and Salesforce use performance evaluations to maintain profitability. However, an effective performance review process can also help your employees develop professionally.
Performance reviews are just one part of overall performance management, but they do not have to cause stress or annoyance across your organization. By following the steps below, you can create an efficient and effective process while motivating employees to continue their professional development.
Check out our Performance Management Software Guide and performance review templates to start implementing a performance review process.
1. Determine the type of performance review process
There are various types of performance reviews to choose from, but the most common include top-down reviews, self-evaluations, 360-degree reviews, and ratings.
| Type | Description |
| --- | --- |
| Top-down | Supervisors provide feedback to direct reports. |
| Self-evaluation | Employees rate their own performance. |
| 360-degree | Self-evaluations are combined with feedback from managers, indirect managers, peers, and customers/client. |
| Rating | A grading system, such as BARS, BOS, or Likert scales, measures employee performance. |
| Type | Best for |
| --- | --- |
| Top-down | Traditional, hierarchical companies with already established processes. |
| Self-evaluation | Startups or companies with a clan culture. |
| 360-degree | Teams where employees interact with multiple internal and external people regularly. |
| Rating | Retail, restaurant, manufacturing, or companies wanting quick, consistent ways to monitor performance. |
| Type | Benefits |
| --- | --- |
| Top-down | Connects performance to overall company goals, like productivity or profitability. |
| Self-evaluation | Increases employee ownership; provides insight into the employee's career goals and daily wins/struggles. |
| 360-degree | Provides a holistic view of employee performance; reduces the chance of bias. |
| Rating | Standardizes evaluation metrics by role; reduces risks of bias; faster to complete; easier to track. |
| Type | Drawbacks |
| --- | --- |
| Top-down | Reduces focus on employee's career goals; increases risk of bias. |
| Self-evaluation | Often lacks objectivity. |
| 360-degree | Requires more time to compile; amount of feedback can be overwhelming. |
| Rating | Less nuance/context than other types of reviews. |
Generally, the best performance review process combines all four types for a more holistic and nuanced view of your employee's performance and development. For example, involving multiple stakeholders can prevent performance reviews from becoming too one-sided, while quantitative measurements can help you easily track and visualize performance over time.
While combining these types can yield more constructive performance review results, incorporating all of them may not work for you.
2. Choose the performance review frequency
When determining how often a performance review should occur, consider a cadence that gives you enough data to make strategic company decisions — such as promotions or layoffs — without causing major disruptions to day-to-day operations. You may want to use multiple performance review frequencies or different performance review schedules by role, department, or location.
For example, your U.S.-based manufacturing headquarters might want a quarterly performance review cadence to identify top performers quickly for promotion and upskilling. Meanwhile, your new U.K.-based team might choose annual reviews as it builds out its team and learns the objectives of various roles.
Software can help with the administrative upkeep of multiple performance review cadences and timelines. PerformYard, for instance, offers various review cadences, including continuous feedback, semi-annual reviews, quarterly conversations, or project-based reviews, which you can mix and match to fit your preferred performance management workflow.
Types of review cadences
3. Run a calibration meeting to select evaluation criteria
To determine performance evaluation criteria, start with a calibration meeting. These meetings with other managers and HR departments can assist in determining the appropriate criteria for evaluating each role, ensuring consistency, and minimizing the risk of bias.
Calibration meetings also help you determine appropriate performance rating scales for different role functions. For instance, you can use an ordinal, 1-5 rating scale to determine if an employee completed a core duty satisfactorily. Rating scales are also useful for assigning numbers to hard and soft skills, allowing you to compare employees across the organization and identify skill gaps. Beyond rating skills, calibration meetings can also determine what portions of performance reviews should be quantitative, qualitative, or both.
Quantitative evaluations use measurable metrics, such as key performance indicators (KPIs), to judge employee performance. For example, you may rate a customer service representative's performance based on whether they met the following KPIs: answered and resolved 60 calls per day and maintained an average customer satisfaction score of three or higher out of a five-point scale.
Quantitative evaluations can also help monitor metrics like employee attendance or progress toward professional development goals. Focusing most of your performance reviews on quantitative feedback is a great way to move your organization to a results-only work environment.
Qualitative evaluations rate employee performance on intangible criteria you can't measure directly. For example, using the customer service representative from before, a qualitative review may involve evaluating the employee on soft skills like:
Initiative.
Adaptability.
Teamwork.
Demonstration of company values.
Time management skills.
A good way of remembering the difference between quantitative and qualitative evaluations is that the former focuses on numerical feedback, while the latter focuses on descriptive feedback.
Combining qualitative and quantitative evaluations ensures you can track employee productivity and provide the necessary context for their performance, especially in roles with "less tangible outputs," like financial analysts or sports coaches.
"For roles with clear metrics, prioritize quantitative feedback but don't ignore the qualitative aspects of their work," says Jenny von Podewils, co-CEO of Leapsome, a performance management platform. Therefore, most performance reviews should include a mix of quantitative and qualitative evaluations.
Running a calibration meeting and choosing what evaluation criteria to focus on for each role can be daunting, but leveraging performance management software can streamline the process. Culture Amp, for example, offers templated review questions and shareable calibration views to simplify the collaboration effort among all performance review stakeholders.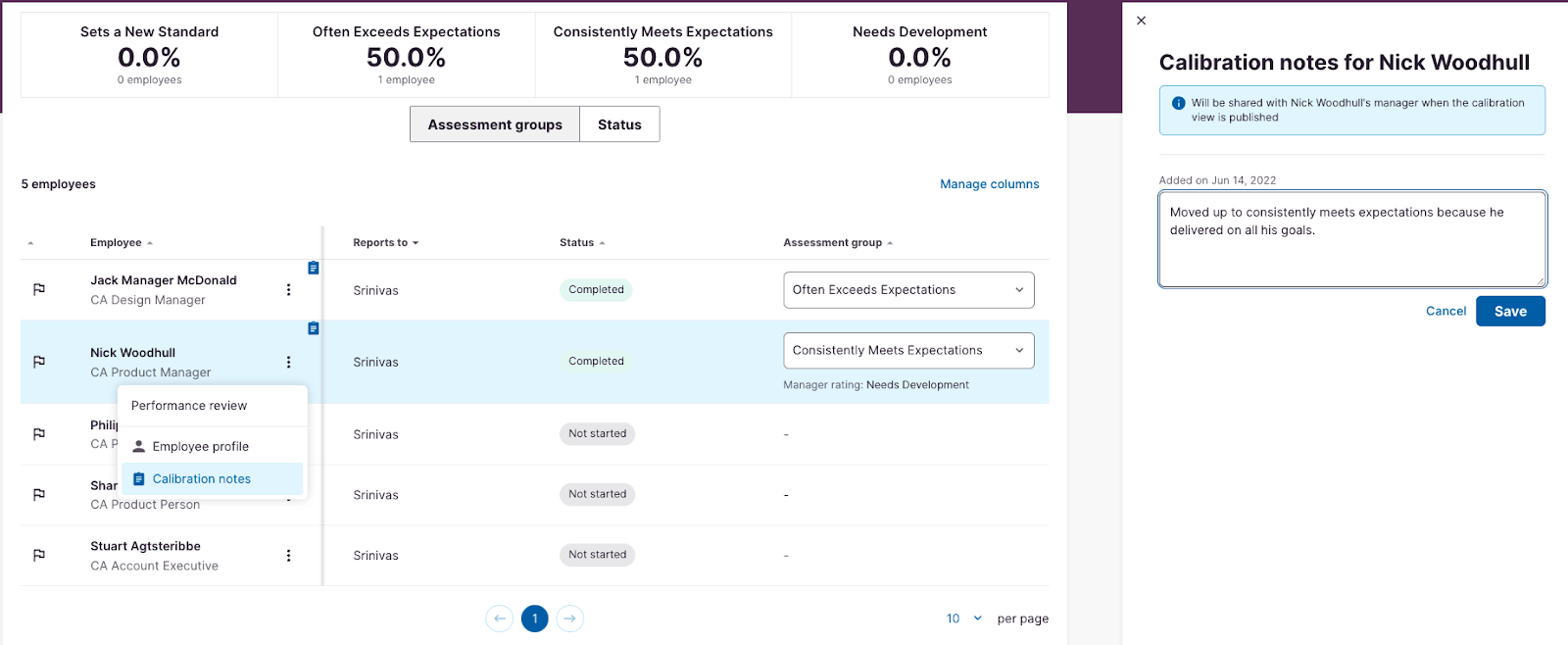 4. Construct your performance review workflow
Your performance review workflow determines the order in which actions for your performance review cadence will occur. Ideally, your workflow should take into consideration the following:
Performance management software automates most of these actions, so you don't have to manually create workflow timelines or remind stakeholders to complete their portions. For example, Leapsome centralizes performance workflows in one place and creates customized workflows. By switching from Google Sheets and Docs to Leapsome for its performance reviews, the German company started seeing 100% of its employees complete their reviews each cycle.
Using performance management platforms eliminates the need to navigate between multiple platforms to operate your review cycles, making it easier for you to manage.
5. Complete performance reviews
Have all review participants complete their review portions according to your workflow. If you or your employees need help to complete the evaluation, consider using the STAR method for self-evaluations and critical feedback.
STAR, or Situation, Task, Action, and Result, is a framework to outline a project or issue faced, what actions you or your employee took to resolve it, and how the outcome positively affected the company. The STAR method can help you briefly explain your or your employee's contributions and tie them to company objectives.
If you still struggle to write constructive feedback, generative AI like ChatGPT or Google Bard can help you develop constructive feedback from employees based on the parameters you provide. SAP SuccessFactors even includes a writing assistant that lets you write feedback for your employees on particular competencies without discouraging them.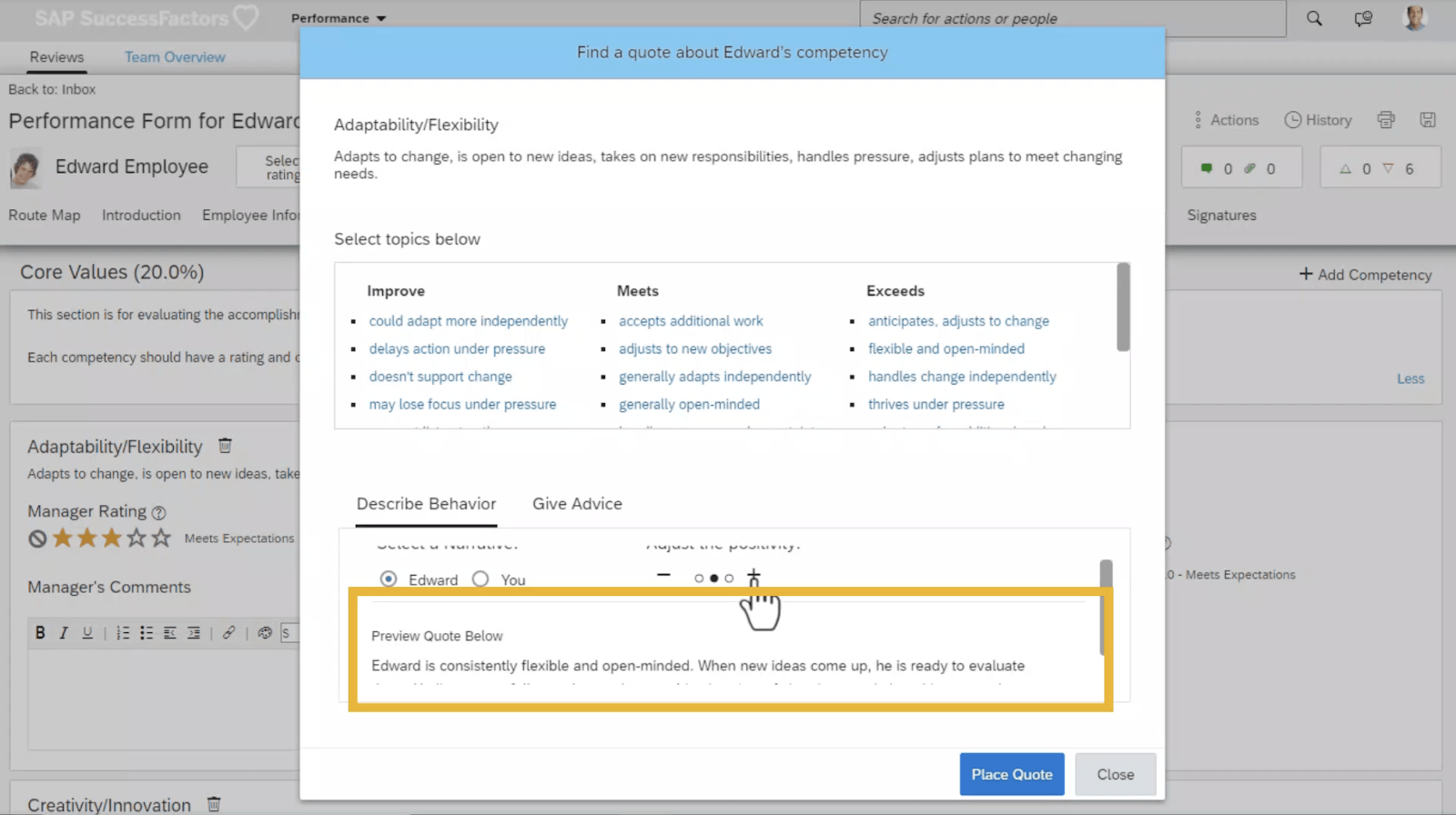 6. Conduct a performance review meeting
Most performance review meetings take place between an employee and their direct supervisor. Because these meetings involve sensitive topics like critical feedback, these meetings tend to remain one-on-one conversations. HR representatives or indirect managers may attend, especially if these meetings include discussions on promotions or demotions, transfers, pay raises, or management changes. Managers conducting these meetings should prepare for the following:
Remember, the performance review meeting is just as much about optimizing your workforce as it is about the employee's career progression. According to MacKenzie Krantz, Employee Success Generalist at Quantum Workplace, it's best to consider them "coaching" sessions instead of "judging" sessions. It reduces employee anxiety during these meetings since they become opportunities to discuss their career goals.
7. Follow-up after the review
Your performance review process continues even after you've held your one-on-one with employees. Crucially, you need to follow up on any promises you made to employees during the evaluation and learn how to optimize the employee review process for future cycles.
Typically, post-review actions include the following:
Performance review FAQs
Start your performance review process
A performance review process helps you retain the best employees possible and move your company toward its bigger-picture goals. More than that, it is an opportunity to keep employees engaged in their professional development.
As von Podewils explains, strength-based development during performance reviews is more important than tackling weaknesses. Crafting a performance review process that encourages employees to grow creates a motivated workforce to rival your toughest competitors.
If you still need help developing your performance review process, explore our Performance Management Software Guide for platforms to get you started.
Featured Partners
Performance Pro
Performance Pro is a customizable, user-friendly, automated performance management platform. Save time with our customizable libraries of content from competencies to tools that help managers leave more meaningful feedback & establish smart goals. Empower your employees to pursue their own professional development, retain your top talent, provide a sense of purpose with goal alignment to strategic objectives, & truly drive an increase in performance & achievement throughout your organization.
Coursera for Business
Grow the skills and confidence your employees need to advance your business—and their careers.

Coursera for Business delivers critical skill development paths for any role, so you can realize the extraordinary talent within your entire workforce. Retain, advance, and accelerate the growth of any employee, chart the value and progress of learning programs, and establish a talent-driven advantage against your competitors—all within one talent platform.
ClearCompany
Conduct better reviews, increase feedback quality, and simplify review cycle management. ClearCompany Performance Management helps you implement an employee-first approach by shifting the focus of performance reviews from evaluation and ranking to employee growth and future potential. ClearCompany helps your company drive engagement and focus with goal-planning tools while increasing the value and reducing the workload of performance review cycles.
Technology Advice is able to offer
our services
for free because some vendors may pay us for web traffic or other sales opportunities. Our mission is to help technology buyers make better purchasing decisions, so we provide you with information for all vendors — even those that don't pay us.