How to give employee feedback in 8 steps
Feedback is an essential part of any manager's position. You are doing a disservice to your employees if you never give them positive or constructive feedback when they exceed or fall short of expectations. This can result in decreased motivation, declining performance, potential disciplinary actions, employee resentment, or separation.
Instead, use these steps to provide effective employee feedback:
Decide on a feedback framework and prepare.
Involve the employee in the process.
Decide on the time and setting.
Be specific and empathetic.
Give the employee time for feedback.
Offer guidance and resources.
Document the conversation.
Set a follow-up cadence.
1. Decide on a feedback framework and prepare
If you notice a behavior you want to celebrate or change, the first thing to do is decide the most appropriate course of action. For example, an employee who demonstrates some of the following behaviors might benefit from a feedback discussion:
Prepare what you want to discuss with the employee beforehand. Writing it down and reading it aloud is also a great way to practice and put yourself in your direct report's shoes.
Think: how would you feel if you heard this feedback? If you don't like what you hear, go back and revise as many times as necessary until you feel like it balances facts with recognition or empathy.
Remember to provide specific examples and focus on the impact of the situation. For constructive feedback, don't overwhelm employees with everything they did wrong; instead, detail two or three examples so employees can focus on improving the areas that need the most attention first.
If you're unsure how to start, explore our performance review templates and learn more about the various feedback frameworks to find one that works for you and your team.
2. Involve the employee in the process
Feedback works best as a two-way conversation; never leave it one-sided where employees have no say in when and how they get feedback. Establish this early on with your direct report so that they know what to expect when you are ready to give them feedback. To do this, ask your employee the following:
Giving the employee the option to set the how and when of feedback is a powerful way to establish employee-manager trust and illustrate your emotional intelligence.
Beyond that, it gives employees time to professionally and emotionally prepare for the feedback. Employees can self-reflect on where they succeeded and where they could do better so they can articulate these thoughts during the discussion. Moreover, they know they have a safe space to provide feedback, aiding your growth and development as a leader.
3. Decide on the time and setting
You should always give all constructive feedback in private. Even with positive feedback, ask employees how they would like to receive recognition. While many enjoy public appreciation for their efforts, others may shy away from scrutiny, preferring a private thanks or celebration with direct team members only.
Work with employees on deciding the best date and time to have your conversation, but make sure it happens as soon as possible after the incident, event, issue, complaint, or success. Doing so ensures that you recognize positive behavior or address problem areas quickly.
4. Be specific and empathetic
Don't be afraid to be specific with your feedback. Vague statements, whether for positive or negative feedback, will not help the employee grow. For example, "your work hasn't been great lately" doesn't explain what work is in question, how it's wrong, or why it doesn't meet your standards.
Similarly, don't make judgments on the employee's personality or other traits they may not be able to change. Instead, focus on the facts in your prepared statement, including the following elements:
When delivering constructive feedback especially, remember to be empathetic. We've all received feedback at one time or another, so it's important to allow employees to reflect and react. Avoid accusatory statements like "you failed to meet this project deadline" and instead provide context on how their behaviors impacted the company.
5. Give the employee time for feedback
Offer the employee time to provide their perspective on their performance. Be patient and listen to what they have to say. You may uncover information that changes your perception, like:
Similarly, engaging in a dialogue gives you an opportunity to understand the employee's thought processes. Growth in areas like critical thinking, strategic planning, and decision-making strategies may indicate the employee is ready for a promotion.
In some instances, this discussion may lead you to change your mindset or plan of action. For example, new awareness of a disability may prompt you to talk about reasonable accommodations under the Americans with Disabilities Act (ADA) instead of zeroing in on productivity coaching.
Let this be a teaching moment for you to grow as a leader. You may learn how your own actions put a wrench in the employee's workflow. Or, your conversation may lead you to reflect on the unconscious biases, like affinity, cultural, or proximity biases, that may cloud your judgment. Whatever the case, be open to their perspective and feedback so that you can, ultimately, help them thrive in their role.
6. Offer guidance and resources
After your conversation, propose solutions and offer the employee assistance to help them succeed. This lets you discuss what you hope to see from them going forward.
If you're giving employees positive feedback, offer resources, like leadership training, so they can continue growing. If you're providing constructive feedback, come prepared with options like:
Alternatively, if you learn the employee has problems outside of their control affecting their performance, make sure to talk about additional company resources to help, such as:
7. Document the conversation
Although uncomfortable, it is imperative to document your conversation about the employees' performance, whether for constructive or recognition purposes. Besides serving as a way to monitor employee behavior, it also provides historical evidence for future decisions like:
Performance management or employee engagement platforms offer ways to keep track of employee feedback, even anonymously. For example, Officevibe allows employees to respond anonymously to open calls for feedback, encouraging honesty without fear of retaliation. Officevibe also saves the feedback so employees can revisit for insights whenever.
All-in-one HR suites let you tie employee feedback directly to other aspects of the employee life cycle. For example, Bob allows you to schedule one-on-one reviews with managers for regular feedback and recordkeeping. Plus, information from these sessions flows into understanding and taking action on company trends, like retention and turnover.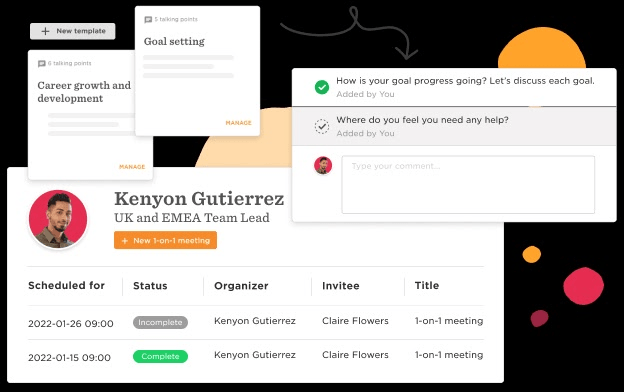 8. Set a follow-up cadence
Regularly follow up with the employee after you give them feedback. This is especially important if you give the employee constructive feedback since a good follow-up cadence allows you to monitor their performance improvement, provide additional support when needed, and celebrate their progress on a continuous basis. Typically, follow-ups are either weekly, biweekly, or monthly.
Best practices for employee feedback
Consider some of the following best practices when meeting with your employees:
Lastly, always practice your feedback before giving it — you can even leverage technology to help. Virtual reality, for instance, can simulate the entire experience, allowing you to practice the conversation without real-world consequences.
Alternatively, you can leverage AI tools like Skillsoft's CAISY. These programs offer isolated chat environments so you can run through potential scenarios and prepare for various outcomes before approaching the employee.
See how CAISY works in the video below:
Employee feedback FAQs
Start a culture of continuous feedback
Feedback should not be a one-off occurrence but an integral part of your workplace culture.
Continuous feedback encourages employees to grow, empathize with their peers, and understand their strengths and weaknesses. And it helps "leaders foster an environment where talent feels at ease sharing their ideas, asking questions, and being open," explains Leena Rinne, VP of Coaching at Skillsoft. In fact, feedback makes managers become better coaches for their direct reports, inspiring growth and company innovation.
If you need help figuring out where to start, learn why performance management is important. Or, check out our Performance Management Software Guide for a complete list of tools that help facilitate employee feedback discussions.
Featured Partners
Conduct better reviews, increase feedback quality, and simplify review cycle management. ClearCompany Performance Management helps you implement an employee-first approach by shifting the focus of performance reviews from evaluation and ranking to employee growth and future potential. ClearCompany helps your company drive engagement and focus with goal-planning tools while increasing the value and reducing the workload of performance review cycles.
Performance Pro is a customizable, user-friendly, automated performance management platform. Save time with our customizable libraries of content from competencies to tools that help managers leave more meaningful feedback & establish smart goals. Empower your employees to pursue their own professional development, retain your top talent, provide a sense of purpose with goal alignment to strategic objectives, & truly drive an increase in performance & achievement throughout your organization.
Watch this 90 second demo video to see how Coursera for Business empowers leaders to drive agility and innovation by upskilling talent across an entire organization. With one skills-based solution, you can strengthen and retain talent, drive employee productivity, and hone a competitive edge.
Technology Advice is able to offer
our services
for free because some vendors may pay us for web traffic or other sales opportunities. Our mission is to help technology buyers make better purchasing decisions, so we provide you with information for all vendors — even those that don't pay us.