Rippling offers an HRIS platform—Rippling Unity—with four different package tiers as well as add-on products for HR, IT, and finance that rest on top of the HRIS. As such, it accommodates businesses of all sizes. Gusto is an HRIS/HRMS platform ideal for SMBs. It offers three price tiers starting with a package of basic HR functionality with some HRMS features that increase or become more advanced as customers upgrade or add on.
You might be looking to upgrade from Gusto to Rippling for broader strategic functionality or to accommodate the complex needs of a global workforce. Alternatively, you might be switching from Rippling to Gusto to focus on optimizing and automating core HR data for a domestic workforce within the U.S.
Compare Rippling's Unity platform and Gusto's Simple plan in terms of pricing and features to determine which one might better fit your company's needs.
Also read: HRIS vs HRMS vs HCM: What Is the Difference?
Rippling vs Gusto: Which is better?
The better overall pick is Rippling. Rippling's more extensive product portfolio enables companies to do more over a longer period of time, growth, and maturity. So, unless a business is in an industry where it will reach maturity at mid-size, it's worth investing in Rippling to support the business throughout its entire lifecycle.
Rippling Unity
Gusto Simple
Pricing
Starts at $35 plus

$8 per month per user, offers add-ons

Starts at $40 per month plus $6 per month per user, limited add-ons

Benefits administration
Add-on
Gusto-brokered, included
Payroll
Domestic and global add-ons

Domestic included, international contractor payment as add-on

Onboarding
Included
Basic, included
Offboarding
Included
Not available
Time tracking
Add-on
Starts with Premium
Recruiting
Add-on
Starts with Premium
Document storage/management
Included, plus signature tools
Included
Custom reporting
Included
Included
Access control/permissions
Included
Included
Org chart
Included
Not available
Rippling: Better for mid-sized businesses hiring internationally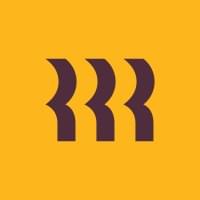 Rippling offers its workforce management HRIS platform–Rippling Unity–to manage data from one central interface. This eliminates the risk of data loss and duplication when using disparate apps and systems. Rippling's Unity HRIS platform helps companies manage employee data and automate workflows.
Unique to Rippling is that it offers four different tiers to its HRIS to fit even very small businesses that need only one main automated workflow and three customizable reports. With all four Rippling Unity HRIS tiers customers get:
Automated onboarding and offboarding
Automated, customizable workflows
Workforce directory
Access control
Policy management
Electronic document management
Customizable reporting
Mobile app functionality
Also read: Top HRIS Systems
For added functionality beyond managing employee data in Ripping's HRIS, customers can opt to add a range of HR Cloud products a la carte style on top of the HRIS platform:
U.S. payroll
Global payroll
Benefits administration
Time tracking
Learning management
Talent management
PEO services
Pulse surveys
As a company's needs evolve, they can add as many HR, IT, and Finance cloud products as they need, but these are not standalone products. In other words, all customers must first purchase access to the Rippling Unity platform before adding any products from the HR, IT, or Finance modules. Plus, if a company adds enough of these add-ons, it's more cost effective to invest in the entire HR Cloud that bundles all HR add-ons together.
Pros
Global, yet localized payroll in one interface when opting for add-on
Wider range of benefits that doesn't fluctuate in cost
More flexibility in selecting and managing company benefits
Payroll, benefits, and time tracking add-ons sync with each other
Time tracking is available as an add-on to all customers
Breadth of payroll compliance
More robust onboarding customization and automation
Broader mobile access
Cons
Have to buy platform to get access to HR Cloud products or bundle
Pricing is not transparent
No mobile app accessibility to manage benefits
Limited benefits compliance coverage (ACA and COBRA)
Gusto: Better for small to mid-sized companies with a U.S.-based workforce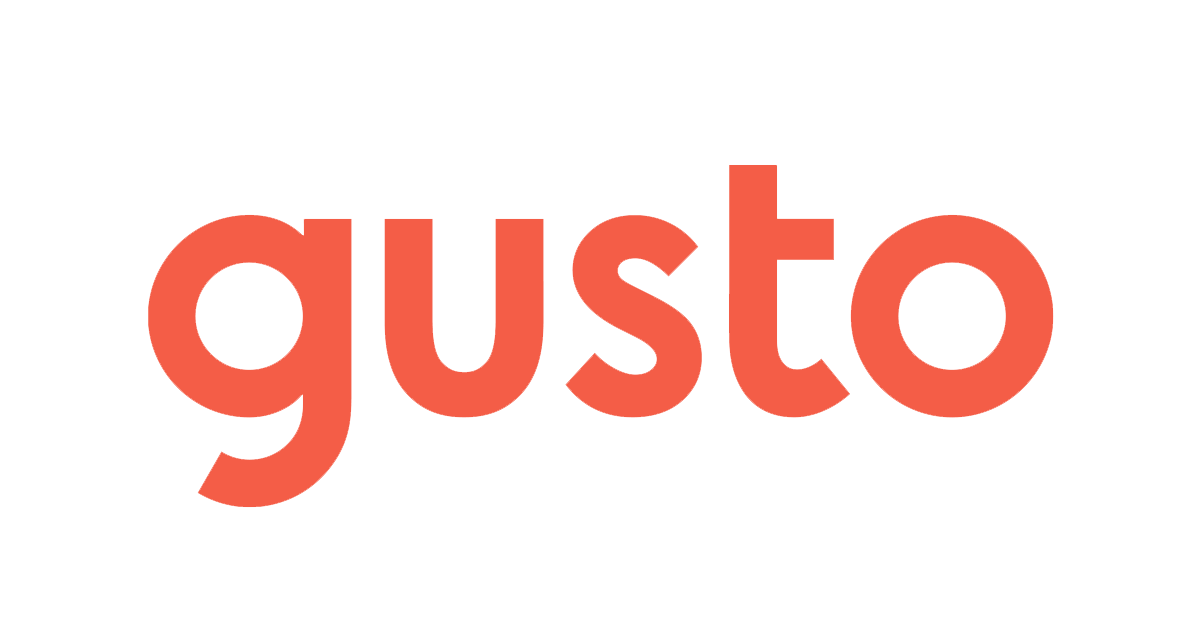 Gusto started out as a payroll SaaS company, and it's clear that payroll is its specialty. However, the software has since expanded to perform a range of capabilities.
Its intuitive user interface, market-leading support, and affordable price point make it a popular HR software solution for many SMBs. Specifically, very small companies or those with complex payroll requirements are ideal Gusto customers.
Pros
Breadth of benefits compliance
Employee financial wellness tools
Onboarding checklist
International payroll for contractors available as add-on
Covers more countries for international contractor payroll than Rippling (95 vs 50+)
Automated pay runs with Gusto's AutoPilot
180+ integrations
More affordable for very small businesses
Syncs with a variety of calendars
Transparent pricing
Cons
Limited mobile app accessibility (Gusto Wallet only)
Some employee benefits incur extra cost
No EDI for carrier management
No syndicated job posting
International payroll for contractors but not other employee types
Gusto Simple doesn't sync payroll with time tracking
Customers must upgrade for access to native time-tracking tools
No customization in onboarding checklist in Gusto Simple
Also read: Top Gusto Alternatives and Competitor
Rippling vs. Gusto: A detailed comparison
Pricing
Rippling
The lowest Rippling Unity platform tier incurs a monthly platform fee of $35 plus $8 per month per user. Rippling requires a minimum of two users, so the minimum total cost starts at $51. The table below breaks down all of the features Rippling offers at this price point.
| | |
| --- | --- |
| | Rippling Unity platform |
| Base cost per month (USD) | $35 platform fee |
| Cost per user, per month (USD) | $8/user/month |
| Payroll | Add-on |
| Onboarding | Included |
| Recruiting | Add-on |
| Rippling-brokered benefits administration | Add-on |
| Bring-your-own-broker | Add-on |
| Time tracking | Add-on |
| Performance management | Add-on |
| Employee engagement | Add-on |
| Analytics | Included |
| Customer support | Included |
| Advisory services | Add-on |
| Mobile app | Included |
The Unity platform is the gateway to accessing the rest of Rippling's products, so customers must purchase access to one of the Unity platform tiers before they have the option of adding tools from the HR, Finance, or IT modules for enhanced functionality.
Companies who want more than Unity's basic features have two options: integrate or add on. Integrating with existing software might be a cost-effective, yet temporary, solution until a company is ready to add on more Rippling products. However, companies that choose this option must at least invest in the highest Enterprise Unity tier to be able to integrate with third-party software.
The number and cost of add-ons determines whether it's more cost effective to integrate with external apps or investing in some or all of Rippling's HR cloud products. Those in charge of the purchasing decision should ask themselves how much sprawl they're willing to accept in their HR tool ecosystem before it becomes more costly, inefficient, or risky with respect to security. A patchwork HR tech stack allows more flexibility and might save the company money in the short term while posing security challenges and limiting reporting insights.
Gusto
Gusto's pricing structure starts with a low base price and scales up depending on the number of users. It's worth pointing out, however, that Gusto has a five-employee minimum. This means that even if a company has only three or four employees, they will be paying the same rate as if they had five.
Gusto offers three tiers of pricing for most businesses. The features each package includes are broken down in the table below:
| | | | |
| --- | --- | --- | --- |
| | Simple | Plus | Premium |
| Base cost per month (USD) | $40 | $60 | Contact Sales |
| Cost per user, per month (USD) | $6 | $9 | Contact Sales |
| Payroll | Single-state | Multi-state | Multi-state |
| Onboarding | Basic | Advanced | Advanced |
| Recruiting | Not available | Basic | Basic |
| Gusto-brokered benefits administration | Included | Included | Included |
| Bring-your-own-broker | Not available | Add-on | Included |
| Time tracking | Third-party integration | Included | Included |
| Performance management | Not available | Not available | Included |
| Employee engagement | Not available | Not available | Included |
| Analytics | Basic | Advanced | Advanced |
| Customer support | Basic | Full, with optional upgrade available | Dedicated |
| Advisory services | Not available | Add-on | Included |
| Mobile app | Included | Included | Included |
Gusto also offers a contractor-only plan for businesses that outsource all of their staffing needs to freelancers and other contract workers. This plan includes unlimited contractor payments in all 50 states, plus the option to pay an additional fee for international contractor payments if needed. It also includes some necessary compliance features, like 1099-NEC forms and new hire reporting for required states.
The contractor-only plan is more affordable than the other plans, with a base cost of $35 (USD) plus $6 per contractor. However, the plan does not include any features for managing full-time employees, so companies that employ both full-time staff and contractors will need to use one of the three main Gusto plans.
Additionally, Gusto offers a range of services that companies can add to supplement the core features. These include:
International contractor payments
State tax registration
Bring-your-own-broker
Workers' compensation
HSAs and FSAs
Life and disability insurance
401(k) retirement savings
529 college savings
Commuter benefits
R&D tax credit services
Priority support
Federal and state compliance alerts
Direct access to certified HR experts
HR Resource Center
Some add-ons, like workers' compensation and commuter benefits, are available with all plans, but many are only available for the mid-range Plus tier. For example, customers who opt for the Simple tier don't have the option to use their own health insurance broker, but Plus subscribers can pay an extra fee for this flexibility. Premium customers have this option included in their plan.
As a company's list of needs grows, they may consider upgrading to the Premium tier rather than paying for each add-on individually. Rippling offers access to most of these features via add-on as well, except they don't differentiate their customer support as Gusto does. By adding benefits administration to Rippling, customers automatically have access to HSAs and FSAs, 401(k), commuter benefits, and more rather than paying the price of each one individually as Gusto customers do.
Which to choose for pricing?
Gusto. Here's why: Companies with five or more employees enjoy savings that compound with each increase in headcount when choosing Gusto Simple. Plus, Gusto Simple already includes some standard HR features like basic payroll and benefits administration, whereas Rippling customers have to add those for an additional cost.
Gusto's spread of packages serves small and medium-sized businesses that are in a sweet spot between a basic HRIS and an HRMS. Gusto's packages offer them a variety of add-ons that meet their needs and budgets and bridge between the three tiers, and each tier includes more HRMS functionality than the previous.
Rippling, on the other hand, offers a broad portfolio of products that lays a longer runway for growth. It targets a broader spectrum of businesses, from very small firms to enterprises with its range of individual add-ons and cloud options for HR, IT, and Finance. Rippling's product offering, therefore, accommodates increasingly complex business needs over a longer time period, beyond what Gusto Premium can provide.
Benefits administration
Rippling customers must add benefits administration to their HRIS tier of choice, while Gusto-brokered benefits administration is available at its lowest tier. Aside from one vendor including benefits administration (Gusto) and the other offering it as an add-on (Rippling), their primary differences lie in compliance and the degree of flexibility when setting up and administering benefits.
Gusto approaches benefits selection in a more á la carte style. This gives customers more flexibility to select only what their workforce currently needs, but the costs can add up quickly. Rippling, on the other hand, offers a more comprehensive, standard set of benefits, and companies can choose their providers without it affecting the cost.
| | | |
| --- | --- | --- |
| | Benefits Administration | |
| | Rippling's add-on | Gusto Simple |
| EDI | Yes | no |
| Mobile app | No | no |
| Compliance | Yes | Yes |
| Bring-your-own-broker | Yes | Yes |
Rippling
When customers opt for Rippling's benefits administration add-on, it automates tasks like onboarding new hires into their benefits package of choice, updating deductions, and administering COBRA for departing employees.
Employers who opt for this add-on can enroll in more than 4,000 Rippling-supported benefits plans from leading carriers like Aetna, Humana, and Blue Cross Blue Shield. They can also bring their own broker to Rippling and even migrate their entire existing benefits packages to Rippling. That way, employees don't need to re-enroll or update any of their benefits information as a result of the migration. For new employees, Rippling prompts them during onboarding to select their benefits, without intervention from an HR person.
The variety of ways that a company can set up benefits administration through Rippling's add-on makes it more flexible than Gusto's base benefits administration offering, but it does come at an extra cost.
Rippling's benefits administration includes automated ACA and COBRA compliance. For example, it disseminates ACA as well as COBRA notices and collects premium payments from former employees who elect to continue coverage. However, it doesn't support HIPAA or ERISA compliance like Gusto does.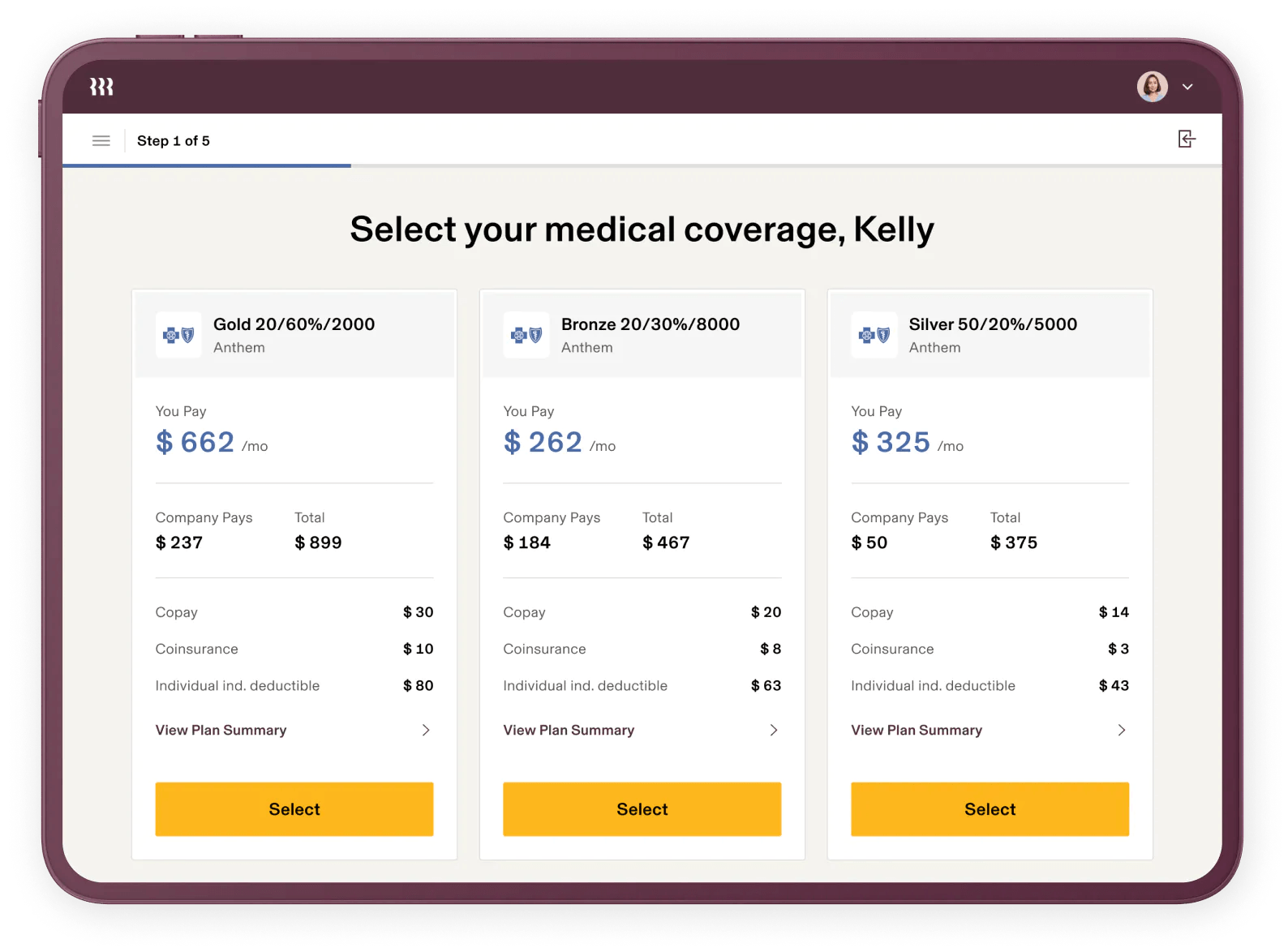 Gusto
Gusto includes Gusto-brokered benefits administration in its base plan and offers bring-your-own-broker for any plan but for an additional fee. Gusto also offers a variety of no-cost (included), low-cost, and premium financial and health benefit options. While these á la carte benefits allow customers to customize their benefits packages, the costs may add up quickly.
For example, customers of any Gusto plan can add the following benefits:
Workers' compensation
Health savings accounts (HSAs) and flexible spending accounts (FSAs)
Commuter benefits
Rippling includes all three of these benefits, which puts it at an advantage over Gusto Simple.
Gusto helps companies remain compliant and file the right paperwork with the right government agencies. Like Rippling, Gusto offers assistance with ACA and COBRA compliance. However, Gusto Simple also helps with:
Health Insurance Portability and Accountability Act (HIPAA)
Employee Retirement Income Security Act (ERISA)
Gusto's benefits administration features are included with every plan, and its lowest tier offers more breadth in compliance coverage than Rippling's add-on. Gusto's licensed advisors assist companies with benefits selection to put together competitive benefits packages for the right price. Though this saves time, Gusto Simple customers do not have the option of paying an extra fee to bring their own broker or migrating an existing plan. Though Rippling customers must pay for benefits administration access, once they do, they have much more flexibility in how they put together and administer a benefits package.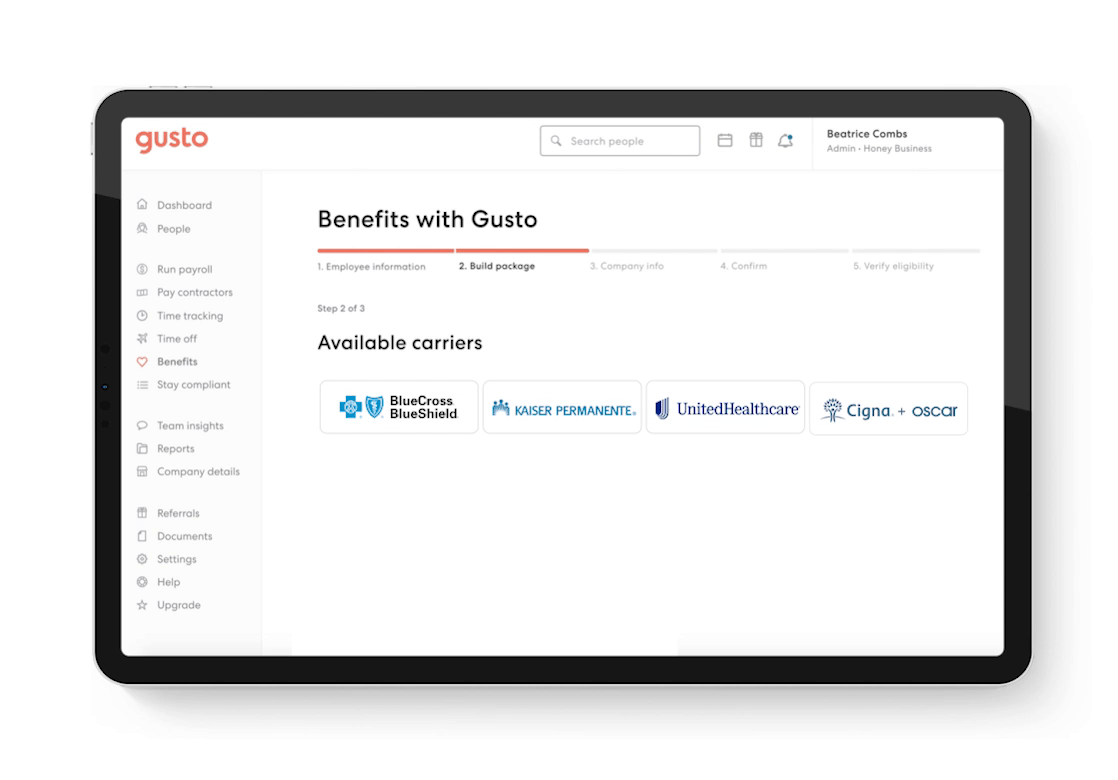 Which to choose for benefits administration?
It's a tie. Here's why: In terms of managing and administering benefits, Rippling is the better choice. Though customers have to opt for the add-on, Rippling's benefits administration offers more flexibility. It accommodates a range of business situations by allowing its customers to use Rippling's brokered plans, bring their own broker, and migrate existing plans without increasing the total cost or interrupting employees' coverage.
Gusto wins for compliance in benefits administration. Gusto Simple includes compliance assistance for ACA, COBRA, HIPAA, and ERISA. In contrast, Rippling's benefits administration add-on is more limited, covering ACA and COBRA only. Rippling customers have to add the Compliance 360 tool to get more comprehensive compliance coverage.
Also read: 7 Questions to Consider Before Choosing a Benefits Administration System
Payroll
Payroll software is a cornerstone of any business's operations. That's why it's crucial to choose a payroll software solution that fits your unique business needs to make the most out of payroll software's many benefits.
Rippling's payroll add-on and Gusto's included payroll share several payroll features, such as automated, unlimited payroll runs. However, each of their payroll software solutions targets different business needs in terms of geographic scope.
To see how Rippling and Gusto stack up against other payroll software tools, check out our Payroll Software Guide.
| | | |
| --- | --- | --- |
| | Payroll | |
| | Rippling's payroll add-on | Gusto Simple |
| International full-time employee payroll | Yes | No |
| Mobile app | Yes | Yes |
| Compliance | Yes | Yes |
| Financial wellness | No | Yes |
Rippling
Rippling offers full-service, automated payroll and tax filing for local, state, and federal agencies in the U.S. Rippling's key difference, however, is that it can do this globally as well for contractors and full-time employees. Gusto offers international contractor payments as an add-on and doesn't cover payroll for full-time employees abroad, but one-state U.S. payroll is included.
Rippling also offers a native global payroll system add-on to process payroll in more than 50 countries, so employees can get paid in their local currency right away without lag time for conversions and transfers. Plus, customers with access to this add-on can take advantage of Rippling's in-country compliance experts to assist with complex laws or sensitive employment issues.
Also read: Top Global Payroll Solutions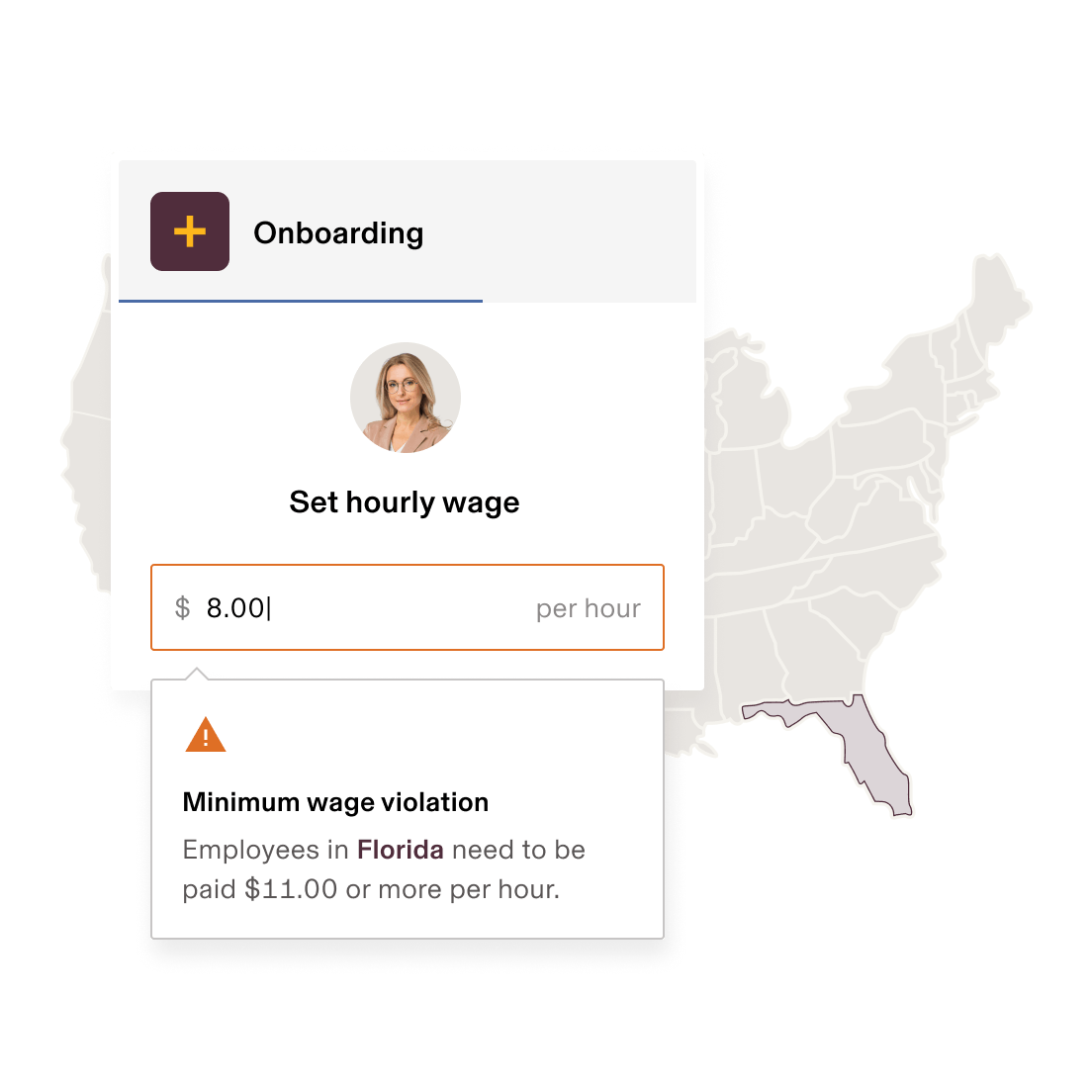 Gusto
Gusto's payroll service offering overall is designed for companies that operate primarily in the U.S. Gusto breaks down its payroll features included in each plan. The granularity of features it outlines means it accommodates a range of different use cases and payroll schedules for a domestic workforce residing in the U.S.
Its Simple tier has more limited payroll and compliance features, compared to Rippling's U.S. payroll add-on. Gusto Simple starts with full-service single-state payroll, so customers must upgrade to Plus for multi-state payroll.
With respect to payroll compliance, Gusto helps employers send out W-2s and 1099s to employees in a timely manner. For an additional fee, customers can elect the state-tax-registration add-on to let Gusto handle state and local paperwork. However, Gusto Simple lacks the specific payroll compliance features that Rippling's payroll add-on includes. To get the same functionality, Gusto Simple customers must upgrade to Plus.
Gusto also offers optional international payroll for contractors located in 95 countries but does not support part-time or full-time employees located outside the U.S. This is Rippling's main advantage over Gusto.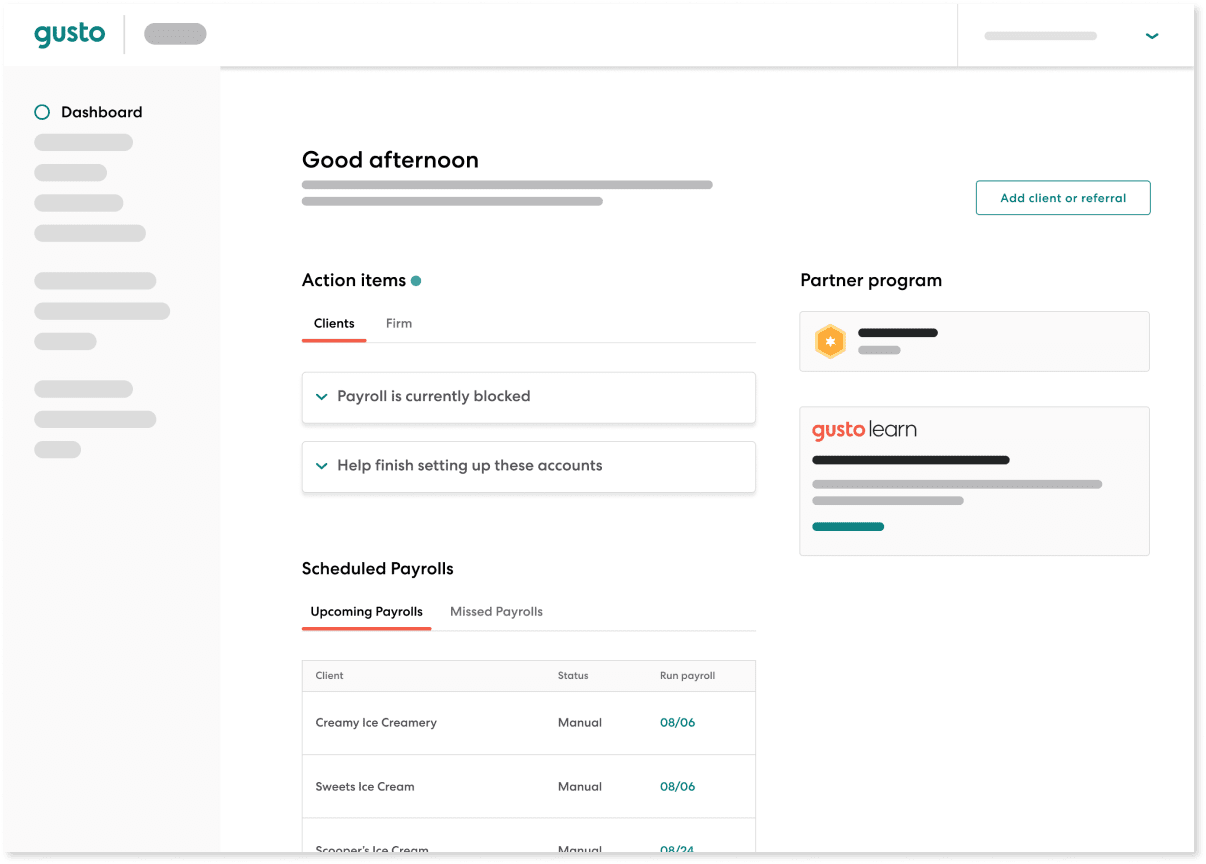 Which to choose for payroll?
Rippling. Here's why: Unless a company only has employees in one state, it's worth choosing Rippling's Unity platform plus the U.S. payroll add-on. After adding payroll, Rippling customers can run payroll in a compliant manner in any U.S. state. To get even more out of payroll, Rippling customers can add benefits and time-tracking tools or, if they have the Enterprise Unity tier, they can integrate third-party software.
Companies that hire part- or full-time employees internationally should choose Rippling, as its enhanced payroll functionality is worth the investment to manage employee data, payroll, compliance, and more wherever your company operates.
Also read: How to Choose the Right Small Business Payroll Software
Onboarding
Regardless of which solution a company chooses, both Rippling Unity and Gusto Simple customers will need to integrate, add on (Rippling), or upgrade (Gusto) to gain access to recruiting tools.
Both Rippling and Gusto provide native onboarding access. However, as with other comparable features, Rippling is geared towards employers hiring internationally, while Gusto positions its offering towards companies that hire mainly in the U.S.
| | | |
| --- | --- | --- |
| | Onboarding | |
| | Rippling Unity | Gusto Simple |
| Native onboarding | Yes | Yes |
| Document management | Yes | Yes |
| Self-onboarding | Yes | Yes |
| Mobile onboarding | Yes | No |
| Customizable onboarding workflow | Yes | No |
Rippling
Rippling Unity doesn't include recruiting, so customers will need to either integrate with third-party recruiting software—provided they have the Enterprise tier—or add the Talent Management module. However, Rippling's Unity tiers do include native, automated onboarding that requires little intervention from an HR person.
When a new employee is hired, a user admin or someone in HR just has to select the new employee's country and employment type — contractor, full-time, part-time, etc. — the start date, and whether the employee is eligible for benefits.
From there, Rippling deploys the rest of the onboarding flow specifically for that country and employment type. And HR staff doesn't need to preconfigure these workflows either. Country-specific information is built into Rippling from the get-go.
Rippling reflects cultural differences in terminology for working conditions, so every field is tailored to the new employee's work location. So, a new employee in India, for instance, won't be prompted to enter a social security number which is for U.S.-based employees only. Instead, their form will ask for their "Universal Account Number," and instead of "salary," the offer letter and salary section of the employee profile will display "cost to company." Localization of employee data saves HR staff time because they don't have to research each country's unique employee data identifiers or do any tedious customization of onboarding forms.
Rippling Unity's differentiating feature from Gusto's onboarding is that it automatically provisions the new employee's access to apps and tools they need to do their job. Rippling Unity's native onboarding function can automatically add new employees to certain Slack channels, for example. As a bonus, new employees can complete onboarding from Rippling's mobile app.
Gusto
Gusto's Simple plan offers native, albeit limited, onboarding functionality along with the option to integrate with third-party recruiting software. So, similar to Rippling, Gusto customers have to upgrade to unlock access to Gusto's native recruiting tools like job postings and the applicant tracking system (ATS).
Gusto's onboarding allows for customization of offer letters, but the Simple plan is not customizable and is designed for a primarily U.S.-based workforce. Gusto's onboarding checklist includes suggestions of typical stages in the onboarding process which will suffice for companies with a simple, basic onboarding procedure. Companies that want more control over what to include in their onboarding workflow need to upgrade to Plus or Premium.
Gusto Simple assists with new employees' email set-up via Microsoft 365 or Gmail but not with app or device provisioning. Gusto also requires new employees to complete onboarding tasks on a desktop device, as Gusto doesn't provide mobile access to onboarding.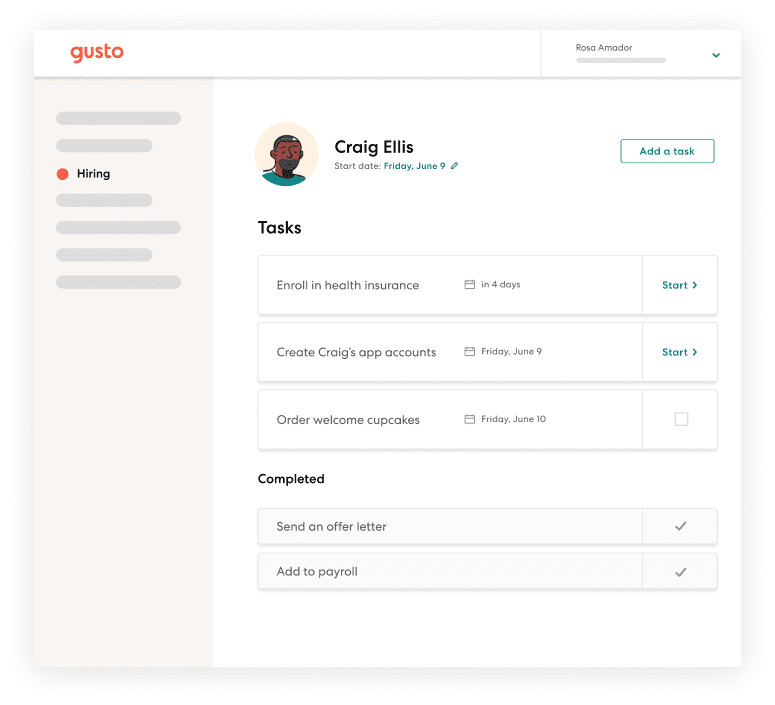 Which to choose for onboarding?
Rippling. Here's why: Comparing Rippling and Gusto's native onboarding features available in their respective basic tiers, Rippling's Unity platform has more robust automated functionality that's included. Gusto customers have to upgrade to get access to the same kind of functionality. Rippling's broader mobile access also makes it easier for employees to finish onboarding from any device.
Rippling vs. Gusto: Which software is right for you?
Rippling's most basic Unity platform requires most of its customers to commit to the Enterprise tier to enable integrations or to add-on basic functionality from its HR portfolio like payroll and benefits administration. Gusto's Simple plan, in contrast, includes these basic functionalities and enables third-party integration from the beginning.
The primary differentiation between the two is that Rippling targets companies hiring internationally, while Gusto focuses on companies that operate in the U.S. Moreover, Rippling's product portfolio covers a broader spectrum from very small businesses to enterprises.
Small to mid-sized companies that are poised for incremental growth, want budget-friendly flexibility, and want varied levels of bundled HRMS capabilities should go with Gusto.
Very small businesses with basic HRIS needs to manage employee data in one place and run a few simple reports should look into Rippling. They will have plenty of runway to expand into Rippling's offerings in the future. Also, mid-sized companies poised for more explosive growth will save money by bundling a greater variety of HRMS capabilities right away when choosing Rippling.
If neither software meets your company's unique needs, explore other solutions on the market through our HR Software Guide​​.
1

JazzHR
See why over 8,500 small and growing businesses trust JazzHR to find their next great hire. Try JazzHR commitment-free for 21 days (no credit card required!) and instantly access crowd favorite tools like one-click job posting to dozens of free and premium job boards, pre-screening questions with auto-reject features, integrations with all of the HR tools you need like Zoom video interviewing, and much more. Post your first job for free today.
2

Rippling
Rippling is the first way for businesses to manage all of their HR, IT, and Finance — payroll, benefits, computers, apps, corporate cards, expenses, and more — in one unified workforce platform. By connecting every business system to one source of truth for employee data, businesses can automate all of the manual work they normally need to do to make employee changes.
3

GoCo
GoCo is modern HR, benefits, and payroll, built for flexibility and ease-of-use in mind. Manage records, performance, time off, onboarding, benefits, and more all in one place. GoCo is a secure, compliant hub for sending, digitally signing, and organizing your sensitive HR documents and data. Unlike other HRIS platforms, GoCo is built to be flexible enough to support existing processes, policies, and providers, so you don't have to change the way you work just to adopt a modern HR system.
Technology Advice is able to offer
our services
for free because some vendors may pay us for web traffic or other sales opportunities. Our mission is to help technology buyers make better purchasing decisions, so we provide you with information for all vendors — even those that don't pay us.