We're living in the Information Age. And while there's certainly no shortage of data out there, a lack of real analysis of this data makes the "Information Age" sound like a misnomer.
Businesses, in particular, are inundated with data they don't have time to analyze, but a good business intelligence solution can help turn these data heaps into meaningful insights. There are many options when it comes to finding the right business intelligence tool for your business, so we've compiled a list of the top business intelligence software solutions of 2019 (in no particular order) to help you with your search.
QlikView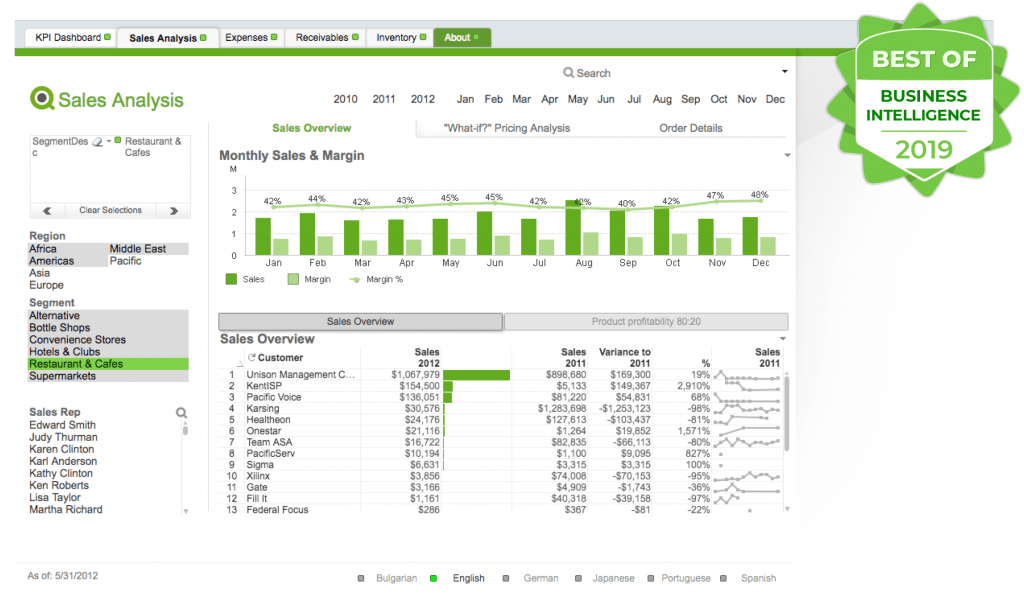 QlikView business intelligence from Qlik is a powerful tool trusted by huge corporations such as Cisco, Raymond James, and KitchenAid, and it's easy to see why. User-friendly interfaces and flexible customization make the tool easy for any member of your team to use, and users report excellent customer support and training.
Standout feature: Qlik's Data Literacy program helps ensure that everyone at your company can get involved in business intelligence and understand reports, relieving some pressure from your business intelligence team to educate.

Birst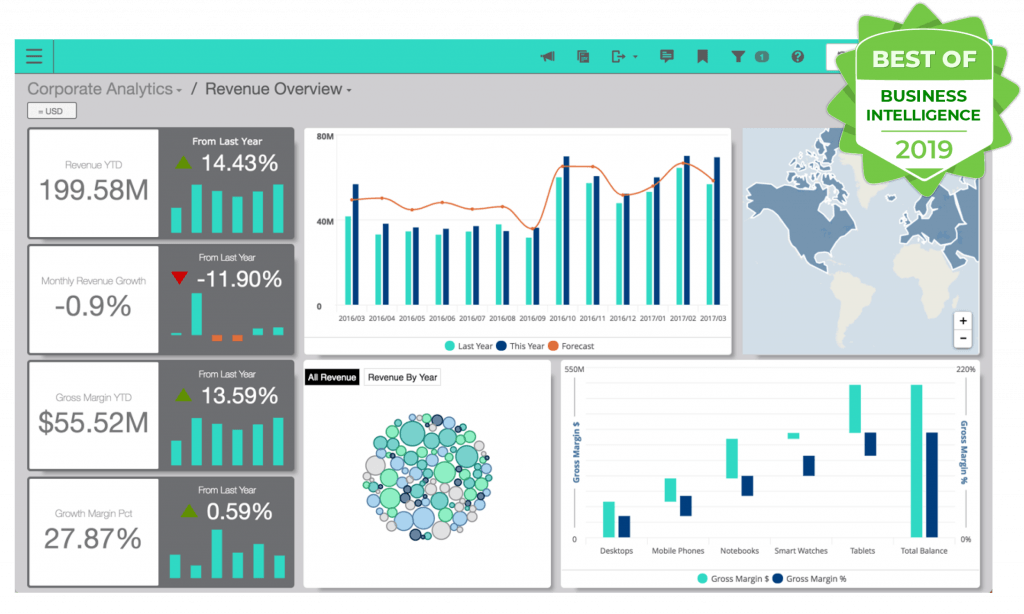 Best suited for enterprise-level businesses, Birst offers a user-friendly experience for both developers and end-users, including a complete API that allows you to integrate other tools and automate simple tasks. Birst also provides both governance and agility in its platform, allowing for centralized, controlled data while also letting you source data from multiple points across your business.
Standout feature: Birst is one of the only BI tools that offers governance and agility in one platform, giving companies the power to keep a single source of truth for data while remaining nimble.
GoodData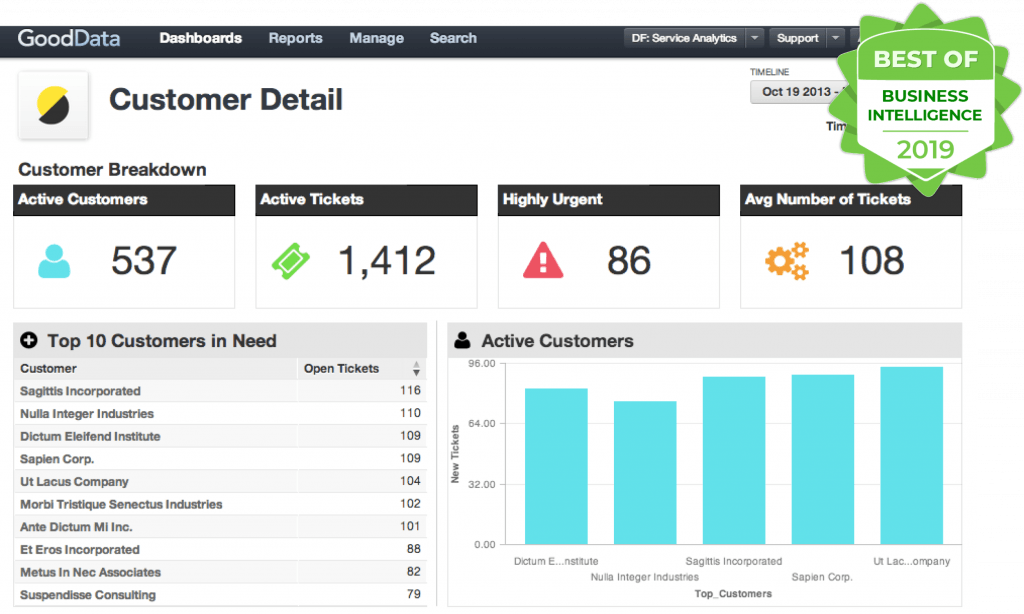 Consistently ranked as a top BI solution and backed by reputable venture capital groups Andreessen Horowitz, Intel Capital, and more, GoodData provides BI features best-suited for the insurance, retail, financial services, and ISV industries. Not only does GoodData provide the kind of analytics and reporting you'd expect from an industry leading software, it also offers user-friendly report-building and top-notch security features.
Standout feature: GoodData's security and privacy features meet requirements for SOC 2, HIPAA, GDPR, and ISO 27001.

Hubble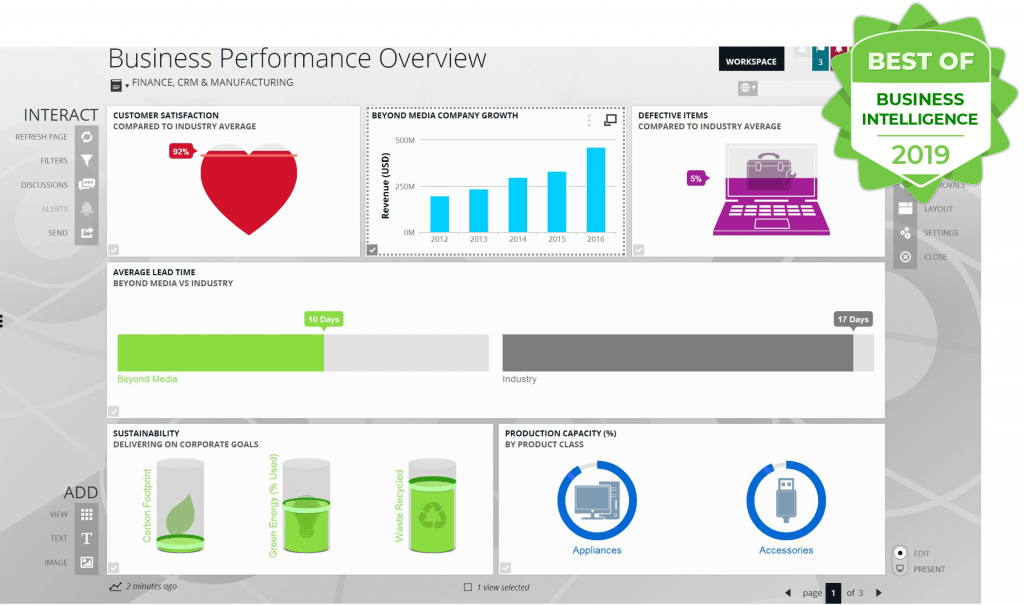 If you're looking for easy integration with JD Edwards and Oracle E-Business Suite, look no further than Hubble. Hubble is a BI tool with these ERP solutions in mind, taking the hassle out of running reports using your ERP alone. In addition to easy integration, Hubble allows for custom reports in addition to pre-built templates.
Standout feature: Built specifically for JD Edwards and Oracle E-Business Suite users, removing the time-consuming need for IT to create reports.

Tableau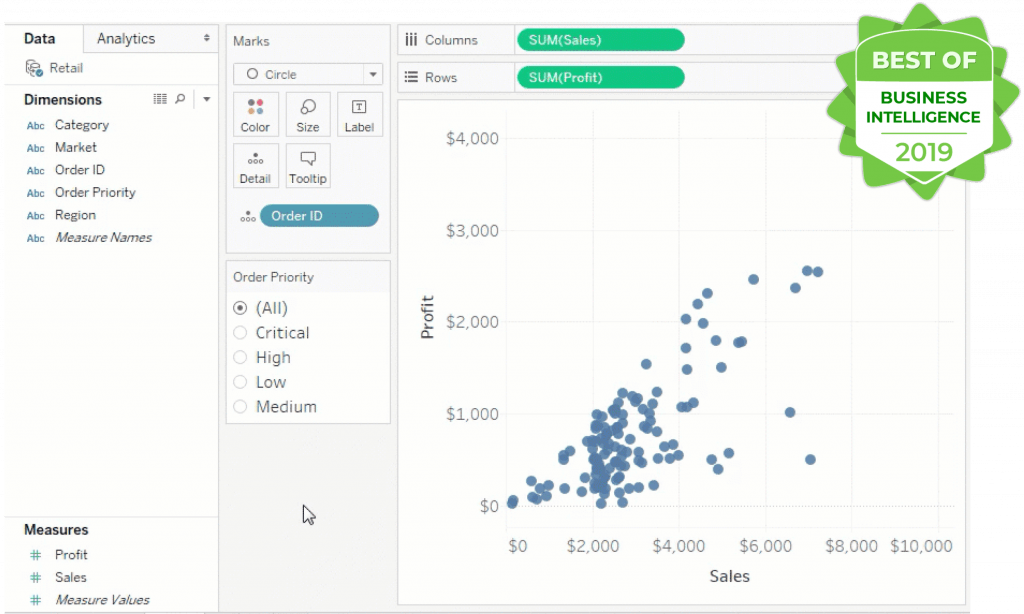 Considered an industry leader among BI solutions, Tableau's platform certainly lives up to the hype. In addition to easy-to-use reporting, a full API, report sharing, and good customer support, Tableau also allows you to mix data from a variety of sources, be it Excel, SQL, Oracle, and more.
Standout feature: While many BI tools will only allow you to import data from one or two sources, Tableau allows you to pull from an array of sources, including but not limited to Excel, SQL, and Oracle.

Looker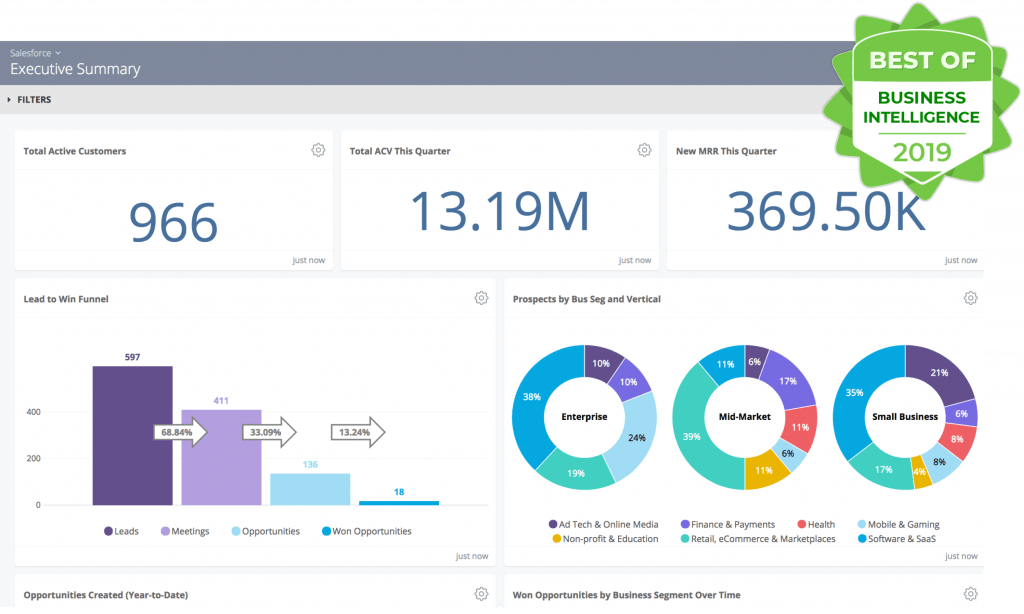 Looker is another business intelligence tool that's grown in popularity in recent years. The tool offers easy and attractive reporting, but unlike many other BI tools, Looker updates dashboards regularly, providing you with the most up-to-date information in real time.
Standout feature: Ongoing and real-time reporting provides you with insights the moment data is available.

MicroStrategy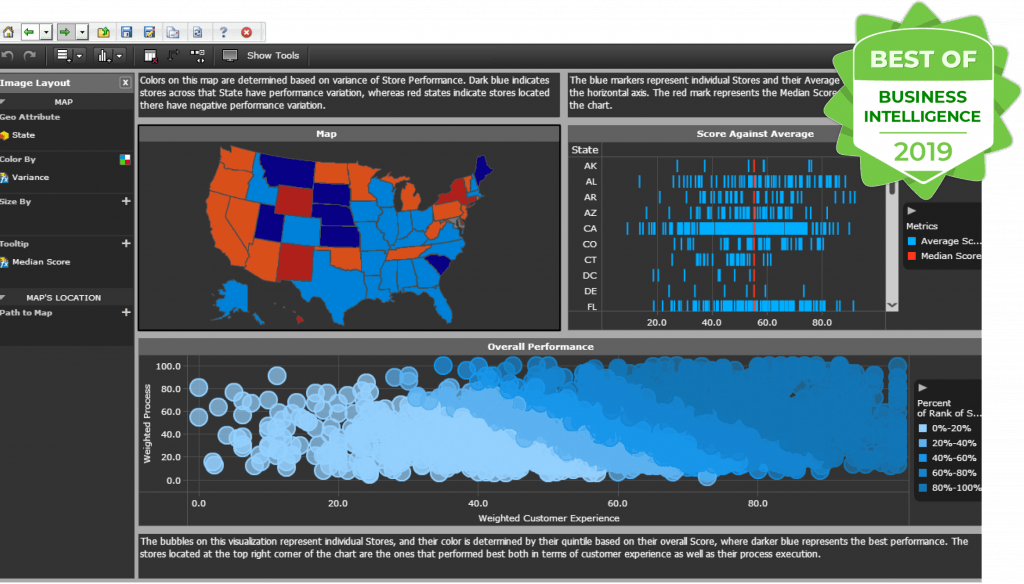 A pioneer in business intelligence software, MicroStrategy was one of the first BI tools to be picked up by large corporations after McDonald's signed a $10 million contract with the company in 1992. The tool continues to deliver today, offering fast and comprehensive reporting and best-in-class security features.
Standout feature: MicroStrategy's digital ID and telemetry allow you to send digital badges for login access and other actions to protect your company's data, devices, and more.

Domo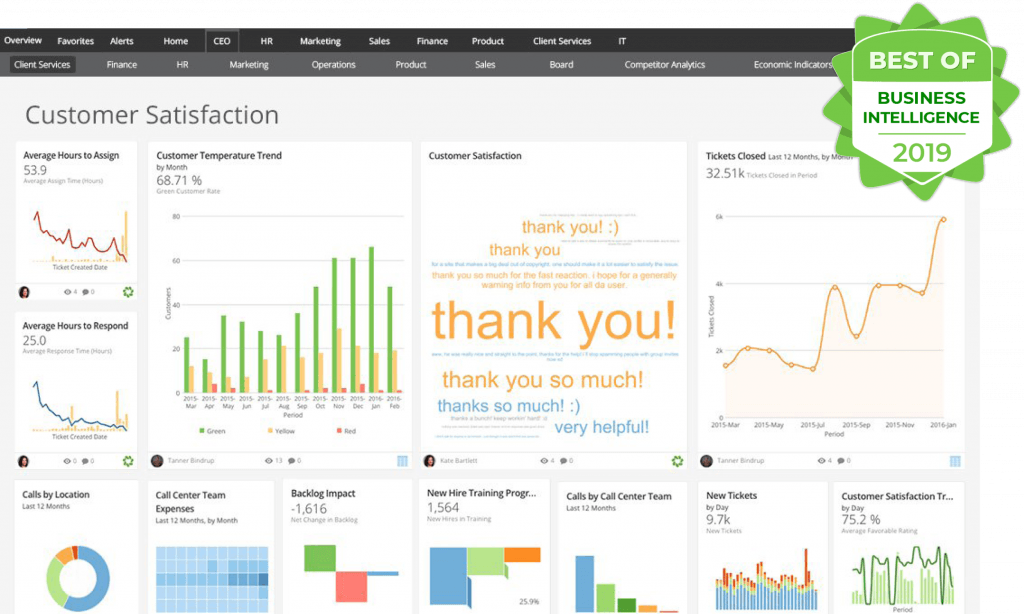 The first BI tool to run completely on the cloud, Domo is a quickly growing system that allows you to access insights about your business from anywhere. Domo offers over 500 data connectors, and its own app store allows you to plug in apps specifically tailored to your industry.
Standout feature: The Domo Appstore gives you the power to make the most of the system, offering hundreds of apps to suit your industry.

ALSO READ: Domo vs. Tableau: Choosing the Right Business Intelligence Solution
BOARD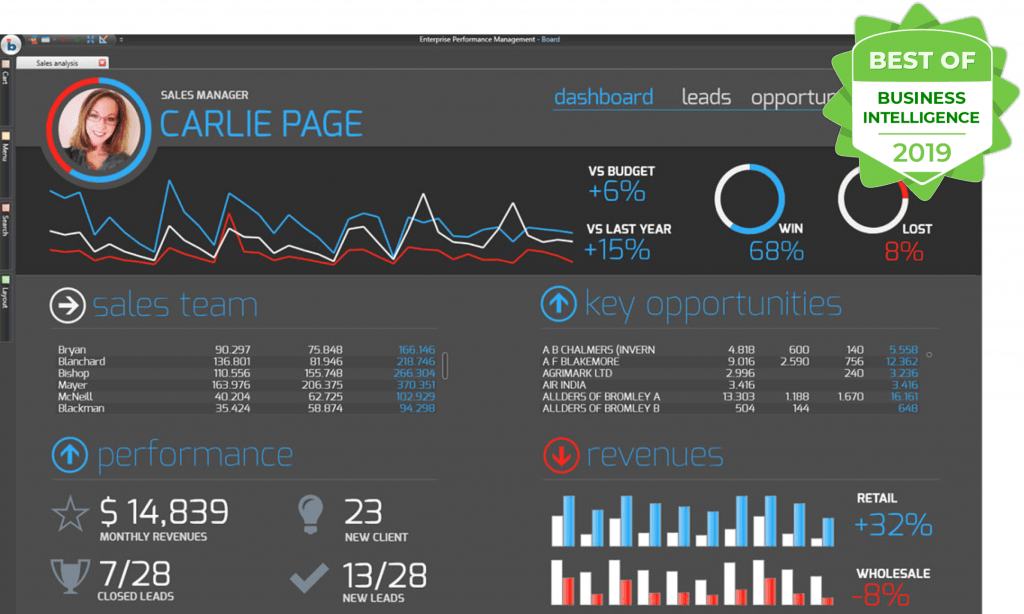 While it is best known as a business intelligence tool, BOARD also offers performance management, analytics, and data discovery solutions all in one platform. Combine its all-in-one approach to business intelligence with clear data visualization tools, and it's easy to see why BOARD is among our top picks for business intelligence solutions.
Standout feature: BOARD bundles business intelligence, performance management, analytics, and data discovery all in one system.

Microsoft Power BI

Consistently recognized as one of the best BI solutions around, Microsoft Power BI offers flexible plans for businesses of all sizes and integrates with your Microsoft office tools such as Excel. In addition to sourcing data from a variety of cloud and on-premise sources, Power BI can also collect data from IoT devices.
Standout feature: Leave no stone left unturned with the ability to source data from hundreds of sources, including IoT devices.

Oracle BI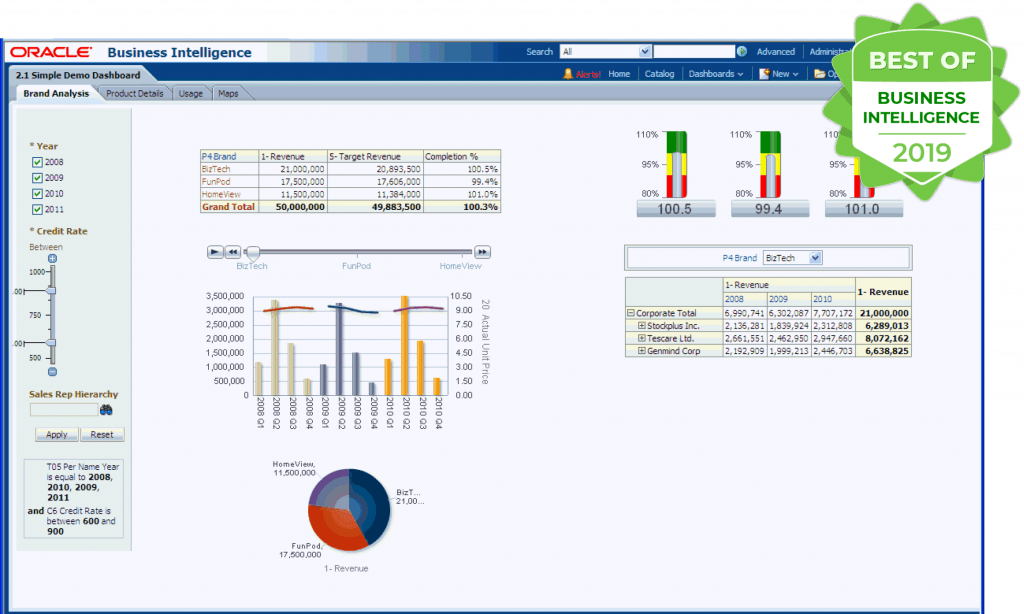 Largely recognized as an industry leader in business software products, Oracle also offers a business intelligence tool that integrates seamlessly with other products such as Oracle ERP, Netsuite, and more. For businesses that aren't quite the size of an enterprise, Oracle is a good option as a scalable solution that grows with your business.
Standout feature: Oracle BI works as a scalable solution, allowing you to start with a core set of features and add on additional features as your business needs evolve.

Cooladata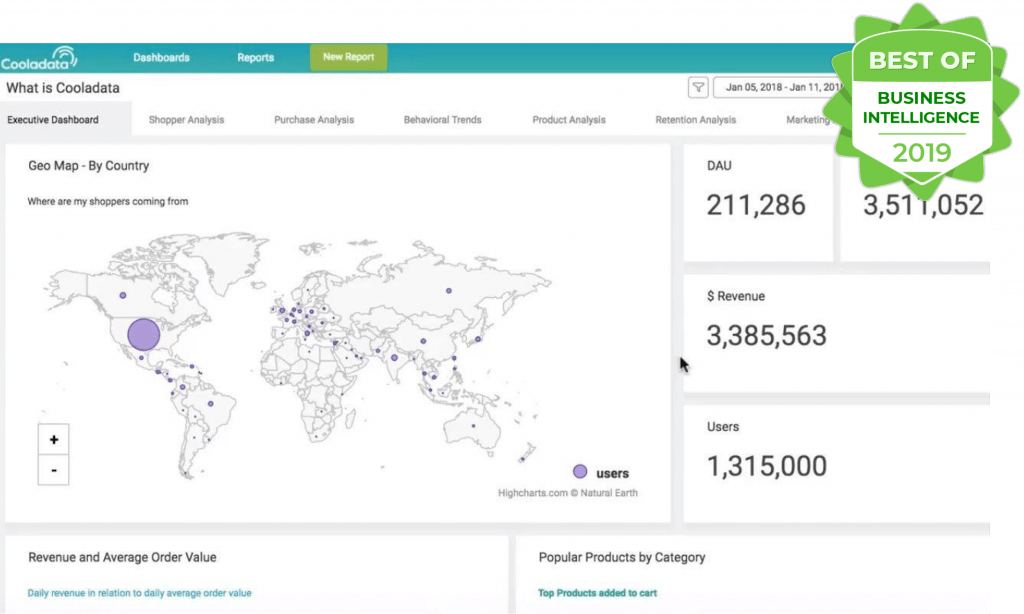 Cooladata is one of the few products featured in our roundup that specifically caters to small and mid-sized businesses, but it's no less powerful than what you'd expect from an enterprise level solution. Designed with ease of use in mind, Cooladata allows you to ask questions about your business using a user interface. CQL, Cooladata's proprietary SQL extension, allows you to write behavioral analysis queries using 20% of the code you would use with SQL.
Standout feature: Cooladata's proprietary SQL extension, CQL, lets you write queries with 20% of the code you would write performing the same query in SQL.

Exago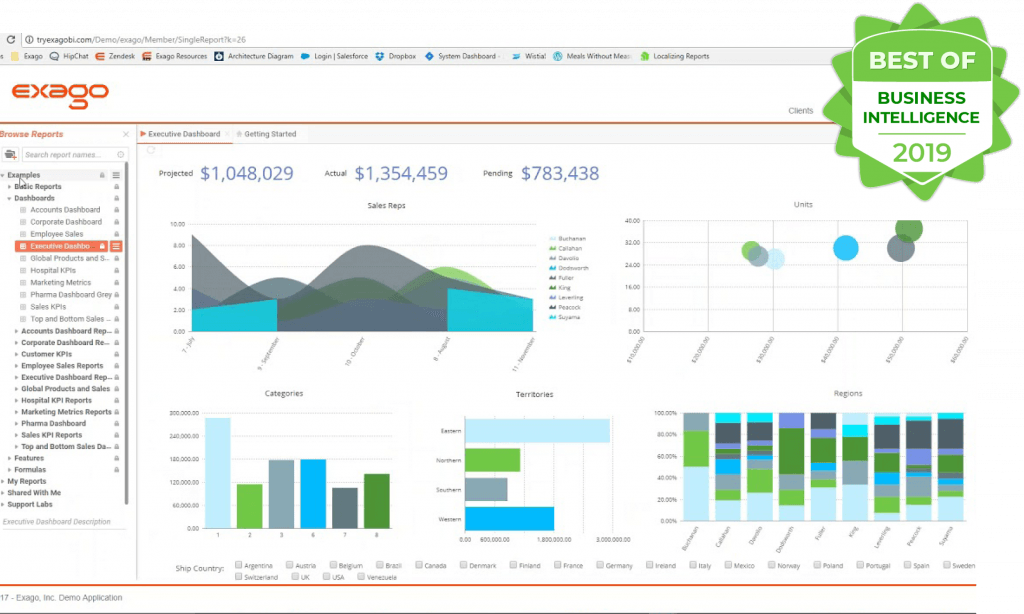 Exago is an embedded business intelligence tool, which allows users to add reporting and analysis dashboards to existing business software. Using a complete API to build custom dashboards, users can deliver reports to end-users however they prefer, and Exago's one-time, flat-rate licensing fee allows to embed the application onto however many servers they want.
Standout feature: No more paying by the user—Exago's pricing model works on a one-time, flat-rate fee.

InsightSquared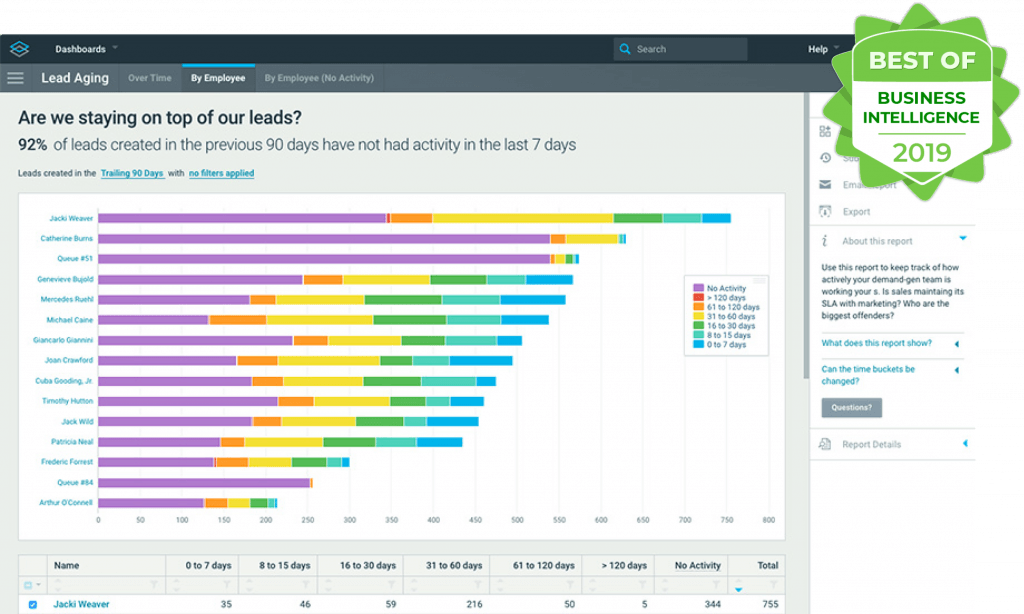 Built specifically to help with sales, marketing, finances, staffing, and support services, InsightSquared is perfect for detailed insights about specific aspects of a company's operations. In addition to analysis and reports, InsightSquared also allows you to forecast closed business deals, sales success rates of certain salespeople, and more.
Standout feature: Integrating InsightSquared with Salesforce gives users access to predictions about which prospects are most likely to lead to a sale, which salespeople are likely to win the most sales, and more.

Logi Analytics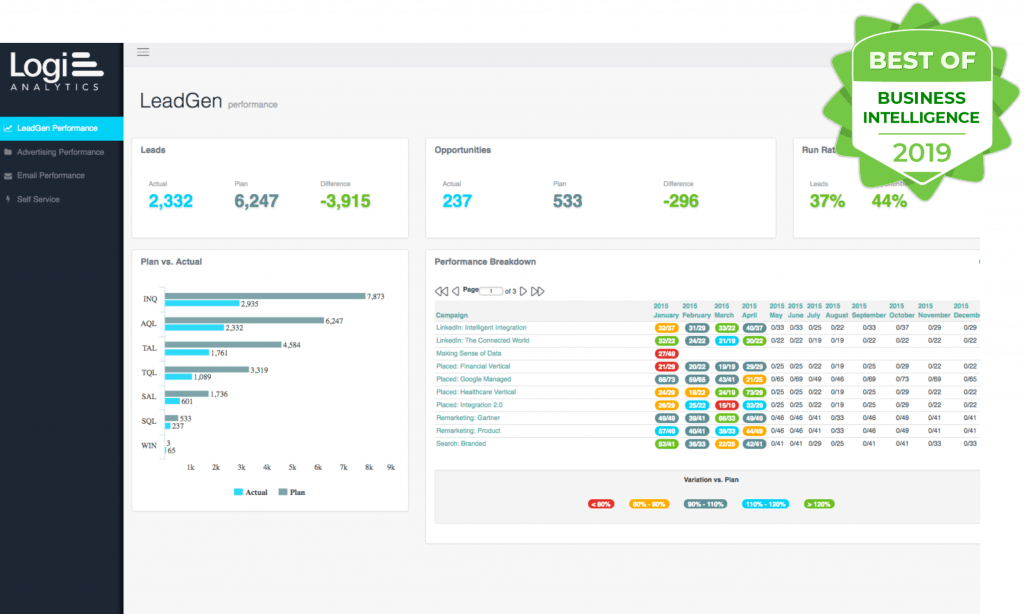 If you're an app developer, many of you end-users want access to analytics to help them run their business, but coding analytics for each app is very time-consuming. This is where Logi Analytics comes in. Using Logi Analytics, you can embed customizable, white-labeled analytics into all your apps, making it easier for your customers to check in on their businesses.
Standout feature: Logi Analytics allows you to create customizable and white-labeled analytics dashboards, creating a seamless and enjoyable experience for your end-users.

Periscope Data
Running reports can take a long time, but Periscope Data syncs data to analytics clusters to return results in a manner of seconds. This BI tool is built with data teams in mind and offers a platform built for running easy queries that can be stored in a query library for easy access.
Standout feature: Query libraries with snippets keep you from starting routine queries from scratch every time you need to pull a report.

Alteryx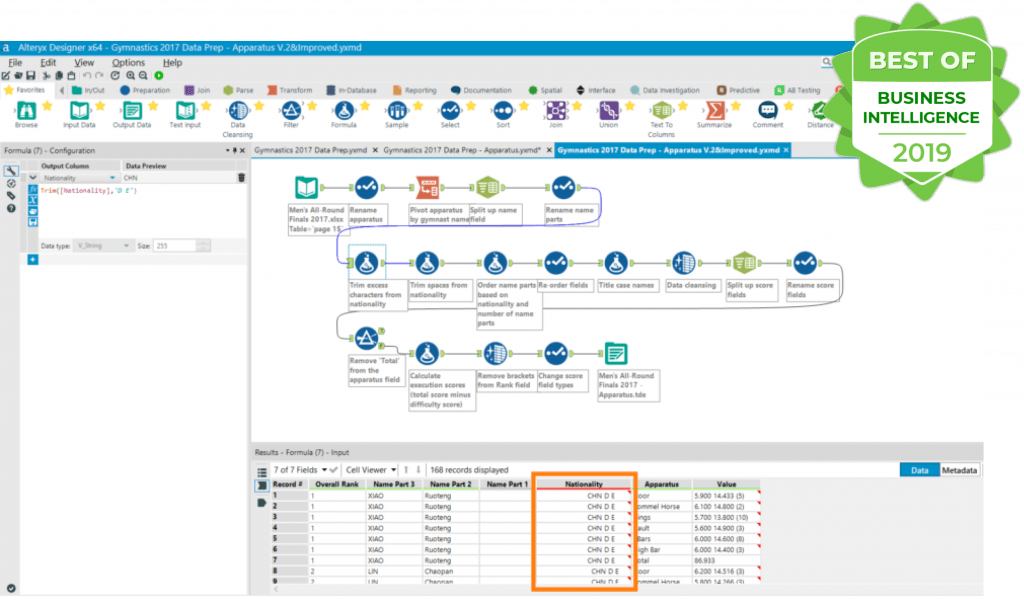 Alteryx Analytics 2019.1 rolled out this year, providing long-time users with even more extensive customization options through coding. For analysts who have big ideas for their data, this platform offers the flexibility needed to bring those ideas to fruition.
Standout feature: Alteryx Connect is a community-based feature that helps users find answers to their data-based questions. This social and collaborative environment connects you with other BI professionals so you can find help to specific hurdles.

SysAid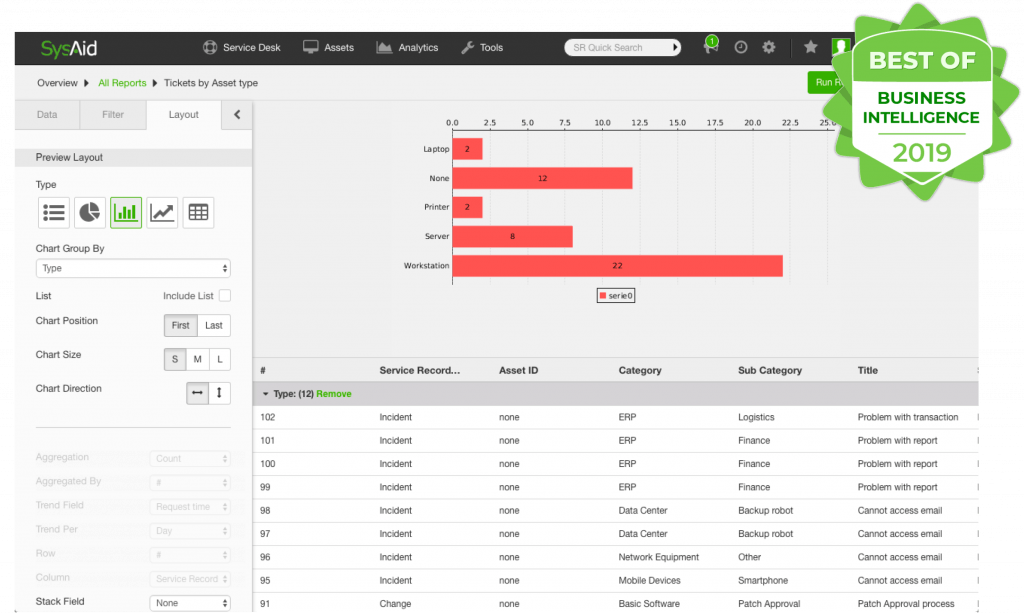 SysAid is an extensive tool that allows you to analyze many facets of your business but puts a special emphasis on customer experience. The help desk side of this tool allows you to see how your business is handling setbacks experienced by customers.
Standout feature: SysAid provides an all-in-one software that combines business intelligence with asset tracking, help desk capabilities, automation and more. These capabilities allow you to combine insights across departments, improving efficiency while saving you time and money.
YellowFin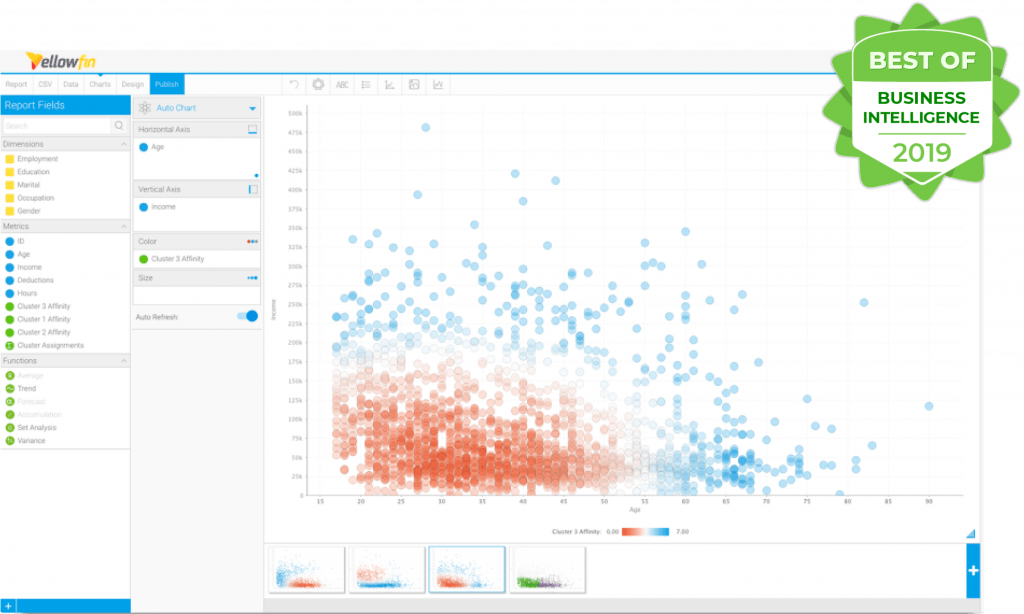 Yellowfin offers a user-friendly platform that consistently delivers functionality to clients. While Yellowfin does host larger company's data, quality customer support paired with easy sharing and collaboration makes this business intelligence tool a top pick among SMBs as well.
Standout feature: Yellowfin hosts a timeline feature—referred to as Facebook for BI—that records a user's specific actions in real time. The chronological database of activity is searchable and provides historical data for more in-depth insights.
---
If these options aren't enough, let TechnologyAdvice help you find the right BI software for your needs. A 5-minute phone call with one of our Technology Advisors can save you weeks off your research time. Let us help you find the solution that's right for you. Start by filling out our product selection tool for business intelligence software, or give us a call at 877.822.9526