Embedded analytics make apps look beautiful, but other than aesthetics, are there competitive reasons to embed analytics on preexisting applications or internal web portals? Or given its startup costs, would there only be costs on your balance — and would analytics be too much of an expense?
Far from it.
Aside from guaranteeing your survival in a bloated marketplace, top performers gain up to 20% of their total annual revenue from embedded offerings. Reduced churn rate, increased revenue, improved product adoption, increased sales, and a sustainable unique selling proposition (USP) are your top five competitive advantages of embedded analytics.
Survival Strategy
Embedding analytics in commercial software is your key to staying relevant in a crowded market. That's particularly so since over 90% of software companies embed some form of analytics in their applications — often for free. As Reveal, a purpose-built platform for embedded analytics, notes:
"Today's app developers are competing in a crowded market. With all this availability, end users have little patience for apps that fail to bring them any particular value. If an app provides only short-term worth, users are likely to uninstall it fast; this is as true in the enterprise app space as it is in the consumer market."
So, the expense of not investing in analytics is likely much bigger than the cost of adding analytics to your software-as-a-service (SaaS) product.
Users love data and have come to expect embedded features. At the same time, since 78% of commercial application teams charge more for those added integrated analytics, there's no reason you need not profit from your embedded analytics solution either.
ALSO READ: Driving Business Results with Embedded Analytics
Stickier Applications
Prospective customers are more than ready to pay more for this functionality. As 87% of 1,931 analytics end-users recently told Hanover Research, they use their analytics "often or very often" to make business decisions. The result? Embedded applications become an asset to their business.
Take BoldBI, for one, which helps the telecommunications industry integrate embedded dashboards in their applications. In 2022, the company noted that its telecom clients value their embedded offerings for reasons that include the following:
Increased Revenue: Telecom managers can track and monitor internal company revenue performance over a period of time without needing to consult external BI for information. (This "swivel chair effect" wastes 2 hours of productivity per worker each week.)
Reduced Churn Rate and Increased Usage: Telecom operators can plumb analytics to identify when and why customers leave their services.
Improved Communication Efficiency: Embedded analytics helps telecom vendors track text, voice, data service utilization, subscriber segmentation by service type, and more to determine which communication services need improvement.
Increased Connectivity: For industries like telecommunications this is critical. End users rely on them to provide uninterrupted swift connections for fast and smooth work.
As long as BoldBI helps its telecom clients monitor their operations through its embedded tools, BoldBI retains their business — and grows.
Attract New Users
Almost 90% of users appreciate the far-reaching effects of embedded analytics. That's especially true if you do it well.
Suggested best practices include:
Consider the Overall User Experience: Provide a seamless user experience where analytics are embedded deep in the platform layer and seem a part of the UI experience.
Integrate Workflow Actions With Embedded Workflow Capabilities: This way users are not only fed information but are also enabled to respond. For example, they can share report findings with others.
Reduce Security Friction Points: This enables users to access dashboards, for example, without needing to regularly update their passwords.
Embed Self-Service Analytics With Open-Source Tools: This can enable users to add their own contributions to the application.
Also, think of the responsibilities of target and prospective users and how these end users will likely use your application. Then, embed useful analytics at those relevant touchpoints.
Similarly, think of the user's persona, and embed analytics in those spots. For example, content creators want to query certain data sources, create dashboards and reports, and share what they've created with colleagues — embed data in those key places. Data analysts, on the other hand, are more exploratory. They like to start with a blank canvas and make their way to their own data sources. Embed your analytics accordingly.
Differentiate Your Product
There's still the opportunity to stand out and dominate your software niche, which you can accomplish through resourcefulness and creativity.
Some examples:
More collaborative analytics that engage multiple users
An original and forward-looking dashboard that differentiates you as an innovation-minded OEM (original equipment manufacturer)
Highly actionable analytics, allowing users to take action, such as to share reports with others
Supplementary "pay to play" modules, where you can charge on point of sale or on a subscription-basis
Google Cloud suggests you could also differentiate your embedded software with functional features that make users' lives easier. One example is you can add third-party data for additional insights into customer behaviors and preferences. For instance, if you're working on enterprise resource planning (ERP), you may want to consider integrating anonymized consumer spending data from U.S. credit card companies.
Another helpful tip is to integrate your own insights to help users with their objectives and needs. For instance, if you offer a website application, you can embed a functionality that identifies peak traffic times to publish blogs.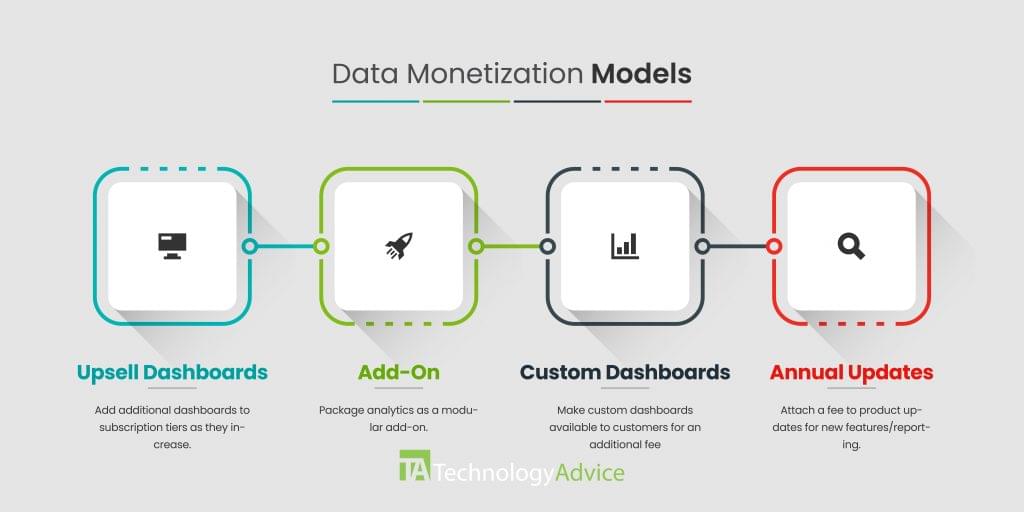 Monetize
Even in today's glutted embedded software marketplace, there's still the opportunity to gain revenue from monetizing your embedded product.
Models for data monetization include:
Upselling dashboards from one tier to the next
Packaging analytics as an add-on
Offering customized dashboards to your customers
Proffering updates to your solution
Top performers regularly earn up to 20% of their total annual revenue from embedded offerings from ideas such as these.
Grow Your Application Revenue With Embedded Analytics
Even in a glutted marketplace, you can still profit from embedding analytics in your commercial applications through working on metrics that measure SaaS return, such as improving LTV (lifetime value), reducing customer churn, upsell, increasing sales efficiency, and the like.
Proof?
98% of commercial software companies report definite ROI (return on investment) from their analytics offerings, while application teams estimate those analytics contribute more than half of the total application's value.
Looking for the latest in Business Analytics solutions? Check out our Business Analytics Software guide.
Featured Partners: Business Intelligence
Cloud-Based Accessibility: Access your dashboards anytime, anywhere, and from any device. Collaborate seamlessly with your team and make data-driven decisions on the go. Unleash the true power of your data with Sigma's Dashboards. Revolutionize how you analyze and interpret data, and unlock endless possibilities for your business.
Technology Advice is able to offer
our services
for free because some vendors may pay us for web traffic or other sales opportunities. Our mission is to help technology buyers make better purchasing decisions, so we provide you with information for all vendors — even those that don't pay us.