When comparing Looker vs. Tableau, two of the most popular Business Intelligence (BI) software tools on the market today, it's crucial to have the facts laid out as plain and clear as possible before making a decision.
Business intelligence software executes data preparation and management, data querying, predictive analytics, and many other analytical tools that help managers make better decisions based on BI outputs. We will look at the features of each BI software tool to give managers more insight into which product will best fit their companies.
Comparing business intelligence software:  Looker vs. Tableau?
Business intelligence software has many tools to provide insightful details managers can use. However, to get the most out of one of these tools, managers need to know the company size, the types of charts and graphs needed, and the business analytical requirements.
With that data in hand, one can use this comparison as a tool to help make your final decision the right decision.
ALSO READ: Tableau Alternatives
Commonalities of Looker and Tableau
Looker and Tableau are business intelligence and data analytics software solutions that offer an array of BI tools to help businesses make informed decisions using advanced Machine Learning (ML) concepts. In addition, these business intelligence solutions provide different cybersecurity controls, documentation, and customer service assistance.
What are the key differences between Looker vs. Tableau?
Looker is fully deployed as a browser-based intelligence software with no desktop installation requirement. In addition, Looker offers a mobile app solution. Tableau is a desktop-based platform with a Tableau license for cloud access but with limited cloud capabilities. Looker uses its version of structured query language called LookML with pre-built Looker Blocks. Tableau uses a spatial file connector to create maps.
While those are substantial differences, when it comes to team-facing features, the two titles serve the same overall purpose.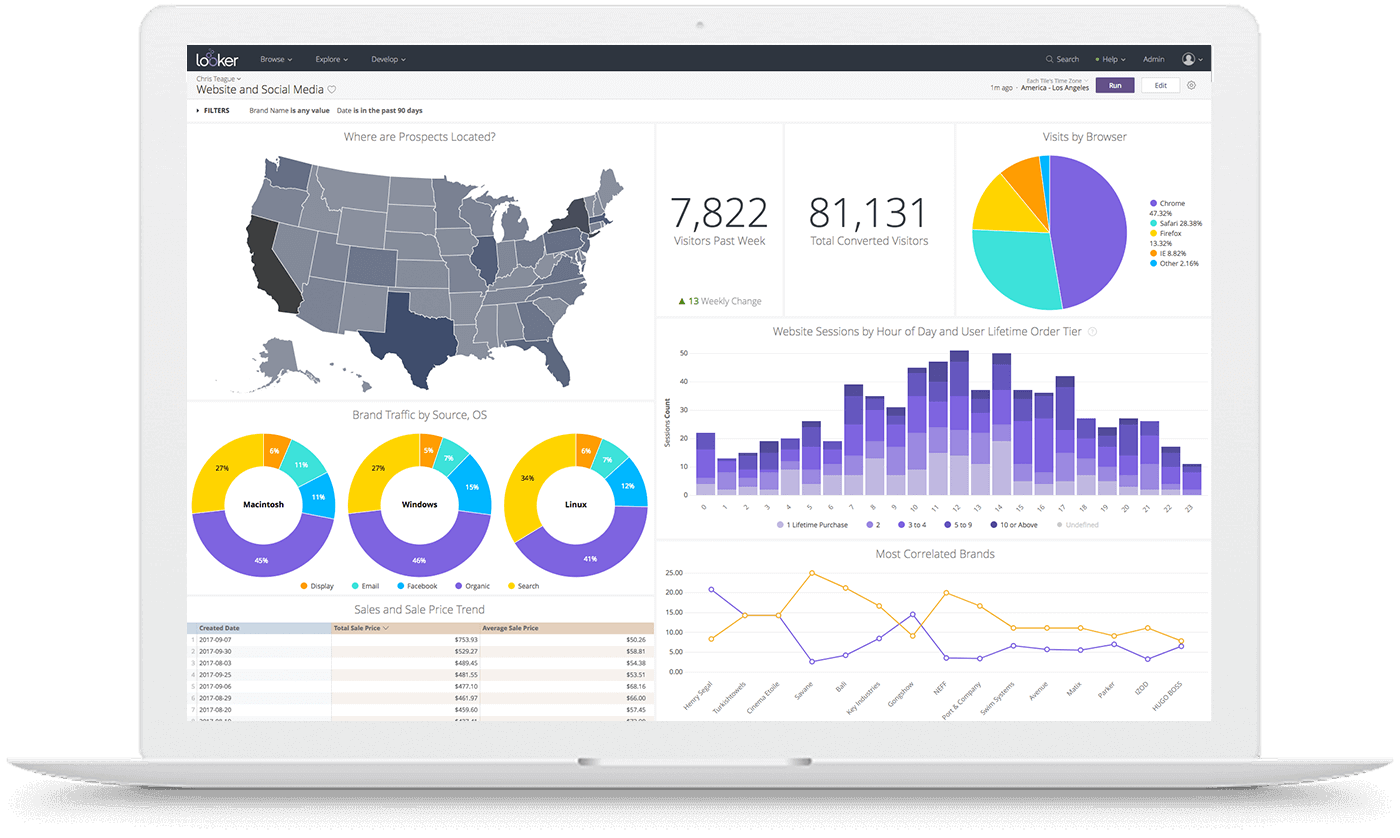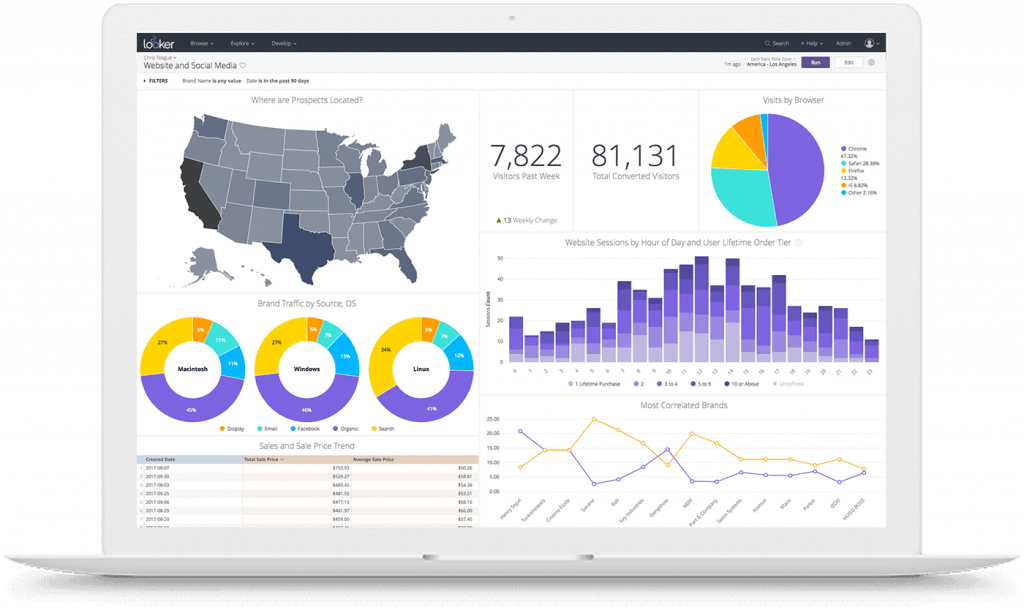 What are the key features of Looker?
Looker offers several key features that will enhance the ability to view data in real-time, build applications with embedded analytics, and provide proactive insights with instant alerting for quicker decision-making. Here are some of the key features of Looker:
LookML – SQL-based type language used for data modeling and complex data analysis
Embedded analytics – Used to create unique applications or modify existing applications with embedded analytics.
Integration with Looker Studio – allows users to develop reports in ad-hoc or governed data environments, which allows for data analysis in ad-hoc and governed data environments.
Looker Application Programming Interface (API) – Looker API is used for calling data while providing a secure RESTful API that allows users to create custom applications, workflows, and scripts that can automate tasks.
Looker (Google Cloud core) – Looker is owned by Google and is built on their cloud infrastructure that is available as a service to allow users to manage their Looker instances.
Looker Blocks and actions – predefined and pre-built code that expedites the development of applications, workflows, and analytics.
Locker extension framework – a development platform that helps developers build Looker applications while automatically performing some of the necessary steps to save time.
Looker mobile app –Looker has a mobile solution for any Internet-connected mobile device that users can access using a QR code or biometric authentication.
Looker security – provides expected authentication and access controls that help businesses stay within compliance regulations.
Looker components – is interface code that helps developers create filter controls like radio buttons, sliders, and tag lists, which can be embedded in applications or dashboards.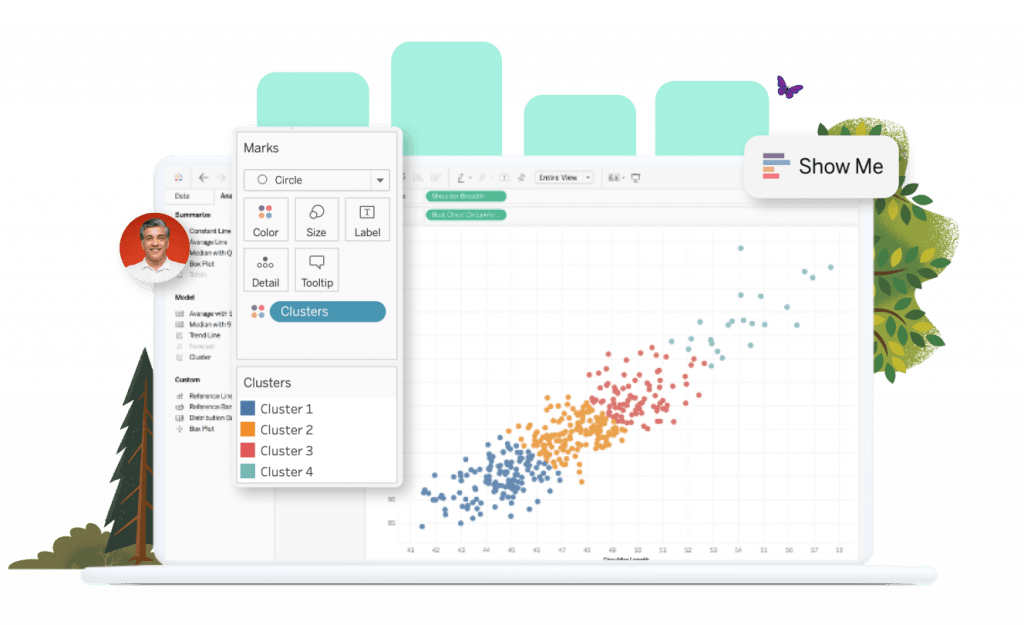 What are the key features of Tableau?
Tableau's focus is on creating sophisticated visual representations of data. As a result, Tableau allows users to quickly analyze large amounts of data that can be converted into reports. Tableau has a heavy focus on dashboards, but here are some other key features of this BI solution:
Tableau Dashboard – offers a wide variety of visual objects and text elements that can form stories or provide multiple views, layouts, and formats using the available filters.
Collaboration and sharing – provides instant data sharing for quick reviews of dashboards and data visualization.
Live and In-memory data – the ability to connect to live data sources or extract data from external sources allowing a user to access data from multiple sources without limitations.
Advanced visualizations – a primary feature that allows users to create a wide variety of data visualizations
Maps – pre-installed map information on cities, and the maps can contain geology layers.
Robust security – Tableau has a foolproof security system that uses authentication and a permission methodology for user access and data connections.
Mobile View – the ability to create views to be seen on iOS and Android devices
Ask Data – allow users to type a query about data using their natural language and the ability of this feature to respond with text or a visual representation as an answer.
Trend line and predictive analysis – uses time series forecasting by selecting historical time-stamped data
Looker vs. Tableau Feature Comparison Overview
As you can see, Looker and Tableau have different key features available to users. This section will look at some of the expected features of a business intelligence and data analytics software solution.
| Feature | Looker | Tableau | Advantage |
| --- | --- | --- | --- |
| Data Visualization | Looker provides a dynamic dashboard filter feature that can filter for data visualization types and specific users or groups. Looker also has a mapping feature to aid in chart creation. | Tableau specializes in visualization dashboards and infographics. Tableau provides pre-made templates and has a wizard feature that helps non-technical users. | |
| Integration | Looker integrates with big data platforms and databases and can execute queries without extracting data | Tableau has over 200 connectors that can connect to multiple sources such as RDBMS, spreadsheets, Presto, SQL Server, Cloudera, Hadoop, Amazon Athena, and Salesforce | |
| Data Modeling | LookML is a data modeling tool that is reusable and flexible. LookML has pre-built modeling called Looker Blocks used to build sophisticated query analytics | Tableau uses snowflakes and dimensional data models that help improve the performance of queries | |
| Reporting | Provides basic reporting templates | Users can build customized reports with extensive connectors to create dashboards and reports | |
| Speed | Looker is slower, and users may need several hours to share a report | Allows a user to create visualization reports in short periods | |
| Advanced Analytics | Looker pre-built code blocks are configurable, and LookLM allows for a deeper analytical review of data | Tableau does not have pre-built code blocks, but it is more configurable than Looker | |
| Security | Looker provides an admin panel to change security settings and 2-factor authentication | Tableau allows a user to protect reports and dashboards, but not with the detail of Looker | |
| Mobile Support | Looker's mobile app allows you to view data using any browser with an Internet connection. Emails and chat sessions are available too. Users can log in using a QR code or biometrics | Android and iOS devices can use Tableau's mobile web application | |
| Pricing | For a company, $5,000/per month, but Looker offers a variety of business plans depending on size | Tableau's creator license cost per user is $70/per month, and for a viewer, it's $15/per month | |
Looker vs. Tableau: Which BI software is right for your business
The best BI solution is subjective since every company's situation differs slightly. For example, a company that uses Salesforce may lean towards Tableau since Salesforce purchased Tableau four years ago. Any company heavily invested in using Google products may lean towards Looker. Just because a company uses Google or Salesforce products should not be the basis for a decision.
Other factors to consider are the existing infrastructure, analytical data needs, and storage preferences, whether cloud or local, are only a subset of reasons why a company may choose one BI product over the other.
How to choose between Tableau and Looker
A business need for a BI software solution was identified as a requirement. Next, the company generates a list of requirements on why BI software is needed. These requirements vary from company to company, but they are the driving force behind choosing a BI solution. Finally, decision-makers are on track to make the right decision using the key features and the comparison overview along with additional research.
Looking for the latest in Business Intelligence solutions? Check out our Business Intelligence Software Buyer's Guide.
Featured partners
1

Domo
Domo puts data to work for everyone so they can multiply their impact on the business. Underpinned by a secure data foundation, our cloud-native data experience platform makes data visible and actionable with user-friendly dashboards and apps. Domo helps companies optimize critical business processes at scale and in record time to spark bold curiosity that powers exponential business results.
2

Yellowfin
Yellowfin provides a fully white-labeled, embedded analytics experience for enterprise software applications using a single integrated platform, which includes action-based dashboards, stunning data visualization, automated analysis and data storytelling. Its low code UI, together with automated alerts and AI-generated insight explanations help make it easier for your customers to realize true self-service business intelligence.
3

Power BI Connector for ServiceNow
Power BI Connector for ServiceNow is an Enterprise app for a convenient ServiceNow Power BI integration which allows to easily fetch ServiceNow data to Power BI for further analytics and visualization.
Technology Advice is able to offer
our services
for free because some vendors may pay us for web traffic or other sales opportunities. Our mission is to help technology buyers make better purchasing decisions, so we provide you with information for all vendors — even those that don't pay us.