Table of contents
What is reporting software?
Reporting software translates data from spreadsheets, databases, software as a service (SaaS) tools, and multiple data sources into easy-to-understand visualizations and interactive reports. Most reporting software includes some sort of BI reporting, but advanced reporting tools can bring in data from multiple sources to combine and visualize it in beautiful ways. It can also send graphs out to other platforms as PDF reports, in-app dashboards, and more.
Many businesses also require reports for audit trails, and automated reports can reduce some of the manual work required to maintain compliance within the reporting process.
Types of reporting tools
Reporting is fundamental to business operations in that it shows how the company is performing against its goals. If your company doesn't have set performance goals for revenue, process improvements, or customer service, enterprise reporting tools help you understand whether your efforts make a difference. Most business software contains some form of reporting tool that shows how using the software has affected your business processes.
Standalone data reporting tools bring together data from lots of different systems via API, native connections, or data uploads. These tools combine different data sets into a single location, which gives your team a contextual basis for understanding your data. Different types of reporting tools will have connections to software types, making them better suited to reporting on that type of data. These are the major types of reporting tools you may find.
Business intelligence (BI) software
Business intelligence tools will connect reporting software and database data from across a company. You can find BI software for companies of all sizes and industries, and there are even open-source reporting tools. BI software is particularly helpful for teams that need to combine, compare, and visualize data from different departments and draw connections across complicated data sets. Find out more about business intelligence software on the BI software category page.
Corporate performance management (CPM) software
Corporate performance management software is a subset of both reporting and BI software. It performs many of the same functions as BI software but is specifically designed to help companies define key performance indicators (KPIs) of growth and success, including financial reporting, and show performance toward those goals. To do this, a CPM software must allow for connections to all business-critical data sets from accounting software, customer relationship management (CRM) software, marketing software, supply chain software, enterprise resource planning (ERP) software, and any other reporting tools.
Marketing reporting software
Today's digital marketing requires decision makers to aggregate, combine, and compare data from many different channels including social media, paid advertising, e-commerce, email, chatbots, voice search, and website data. Understanding how each of these channels contributes to the overall success of an individual campaign can be extremely difficult. Marketing reporting tools help marketers see all of their most crucial marketing metrics in a single interface, build marketing reports for clients and stakeholders, and analyze campaigns to improve future sales.
Information technology (IT) reporting software
IT reporting systems take metrics from across different tools to help the IT team monitor the systems that keep a business running. These tools can track telemetry metrics, logged-in users, email box size and usage metrics, messaging app usage, and much more. These tools may also be classified under security information and event management (SIEM) software, IT software or network monitoring software.
Which reporting software is right for your company?
Features to look for in the best reporting software
Reporting software showcase data for consumption by business stakeholders. Some of these reporting tools also provide other features that improve how you deliver those data presentations and how the team reacts to unexpected changes in data. Look for these features to enhance your reporting software.
Embedded analytics
Embedded analytics are data visualizations that are coded into a separate application or tool and update automatically via a data feed from the reporting platform. These tools make it possible to pull a few charts from your reports into an application where they are easily accessible to business users.
These analytics can be used to provide reporting to customers within a mobile app, give software as a service its own embedded reporting tools, or provide interactive dashboards.
Predictive or prescriptive analytics
At the most basic level, the best reporting tools provide charts and graphs that employees, clients, or stakeholders use to perform analysis and draw conclusions from the data. Predictive and prescriptive analytics, like those found in Cognos by IBM, use artificial intelligence or machine learning algorithms to train models that predict the probability of potential outcomes. These models can account for previous market and human factors that you define and can be trained to manipulate data according to hundreds of other factors. Predictive and prescriptive analytics tools take the human bias out of prediction and can set up infinitely complicated if-then scenarios.
While not every company has complicated forecasting needs, these tools can give you valuable insights into the factors that drive potential growth or contraction to make highly complex decisions with confidence.
Natural language querying
Natural language queries use human language instead of mathematical or coded queries to understand data interactions. Natural language querying lets users ask questions like
How much inventory should we have on hand at the beginning of December?
What product drives the most revenue per quarter?
Which sales team converts the most opportunities?
What marketing channels drive the highest conversion rates?
Which users have the most devices connected to our network?
Natural language querying is useful for teams with highly developed data discovery cultures. Teams that expect and encourage employees to become literate users of their data, understand how their data affects business outcomes, and use data to back up business decisions would do well to look into reporting solutions with natural language querying features.
APIs and data connectors
Reporting tools automate the data visualization capabilities of Excel or Google Sheets: The ability to transform rows and columns of data into visual representations that are easy to understand. When a user connects business tools, SaaS applications, and databases to a reporting tool, they can quickly build financial reports and access a range of data from a single interface.
APIs and data connectors provide a steady stream of data into the tool, which gives users access to up-to-date data at the time of access. Some reporting tools provide real-time data updates, so companies can run business processes from their dashboards with confidence that they're looking at the most recent data. Your reporting tool should also connect to your Facebook, Instagram, and other accounts to gather social media analytics.
Also Read: How to Use an API
Visualizations
Data visualizations are a given for reporting tools, but not all of them are built the same. Some reporting tools will provide simple bar charts and line graphs but not much else. Other tools provide complex options like scatter plots, maps, heatmaps, flowcharts, and webs. Consider the complexity and variety of data visualizations you need, and make sure that your chosen reporting software offers all the charts you require.
Automated reporting
While many companies use their reporting software to run dashboards or create custom reports, some companies find that automated reporting solves the headache of preparing and sending monthly reports.
Beware, however: automatic reporting does not mean hands-free reporting. The nature of SaaS tools means that a refreshed API or a security setting may cause missing report data. Scheduled reporting sends your reports on time every month, but you will still need to check them to ensure accurate data before publication.
Notifications and alerts
Some of today's software options have borrowed notifications and alerts from software monitoring tools to help companies react quickly to changing business environments. Look for reporting tools that will send email alerts to users at high or low thresholds, or will notify you of data that is out of character for your company. These tools can alert your sales or marketing teams to new opportunities, identify a botnet attack on your website, or alert you to a supply chain issue before it causes a business emergency.
Best reporting tools comparison
Reporting systems come in many forms. While many of the best reporting tools are business intelligence (BI) platforms, you might be better served by industry-specific or corporate performance management (CPM) software. We've compared reporting tools across several industry categories. Click on the product name to jump to an overview of the tool.
| Product | Category | Embedded analytics | Predictive or prescriptive analytics | Natural Language querying |
| --- | --- | --- | --- | --- |
| | Marketing | no | yes | yes |
| | CPM | no | yes | yes |
| | BI | yes | yes | no |
| | BI | yes | yes | yes |
| | BI | yes | no | yes |
| | BI | yes | no | yes |
| | Marketing | no | no | no |
| | BI | yes | yes | no |
| | Small Business BI | no | no | no |
| | CPM | no | yes | no |
| | BI | yes | yes | no |
| | BI | yes | no | no |
| | BI | yes | yes | yes |
| | IT | no | no | no |
| | CPM | no | no | no |
| | Project Management | no | no | no |
Overview of the best reporting tools
The best reporting software vendors are listed in the comparison chart above in no particular order. Read on for more details about each product.
Salesforce Datorama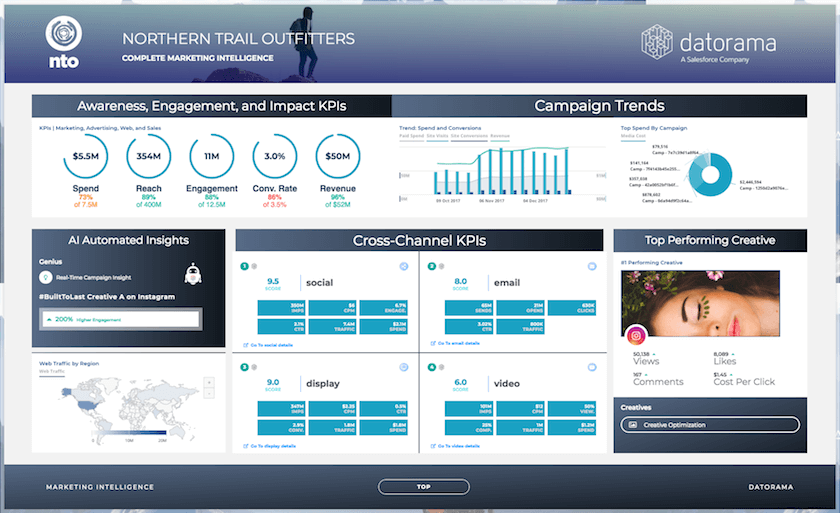 Datorama by Salesforce is a reporting and marketing software that is enhanced by the Salesforce Einstein AI. This reporting software helps users uncover actionable insights in their marketing data from across channels. The reporting tools are built for marketers and social media managers rather than data analysts, so no code is necessary to access and manipulate data into graphs and charts.
Board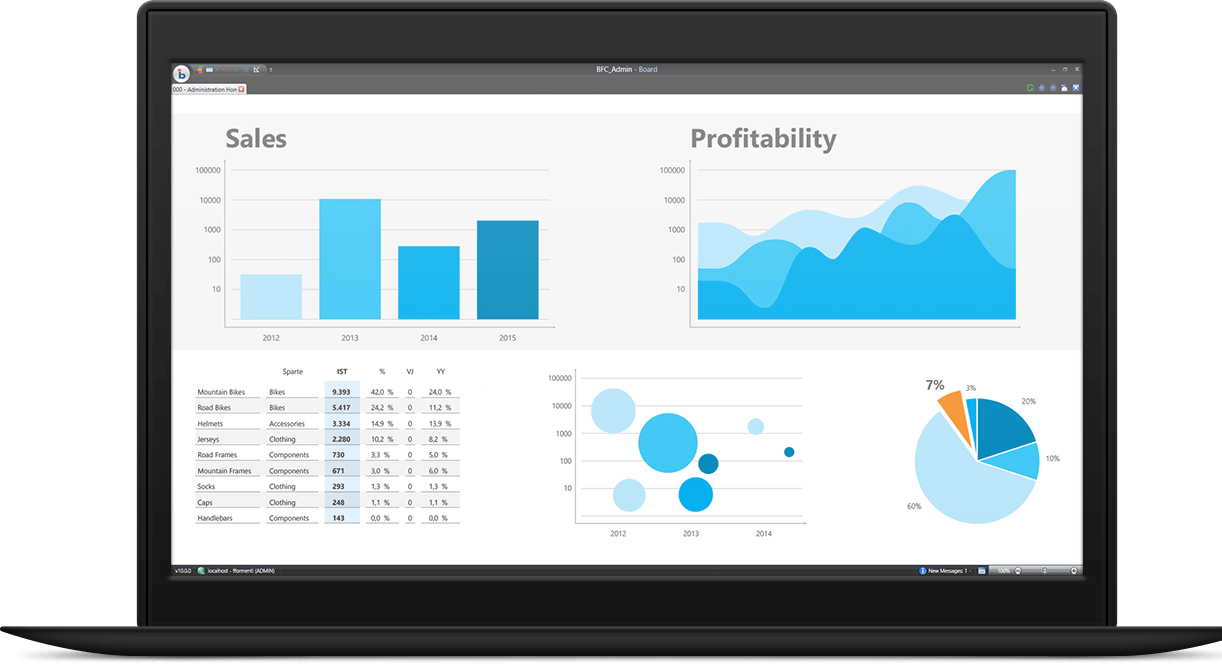 Board is a business intelligence (BI) and corporate performance management (CPM) software that connects data from across the company to draw connections and enable better decision-making. The tool includes performance management features like goals, scorecards, and KPIs, so you can tie your business data directly to performance, plan better, and iterate faster.
Sisense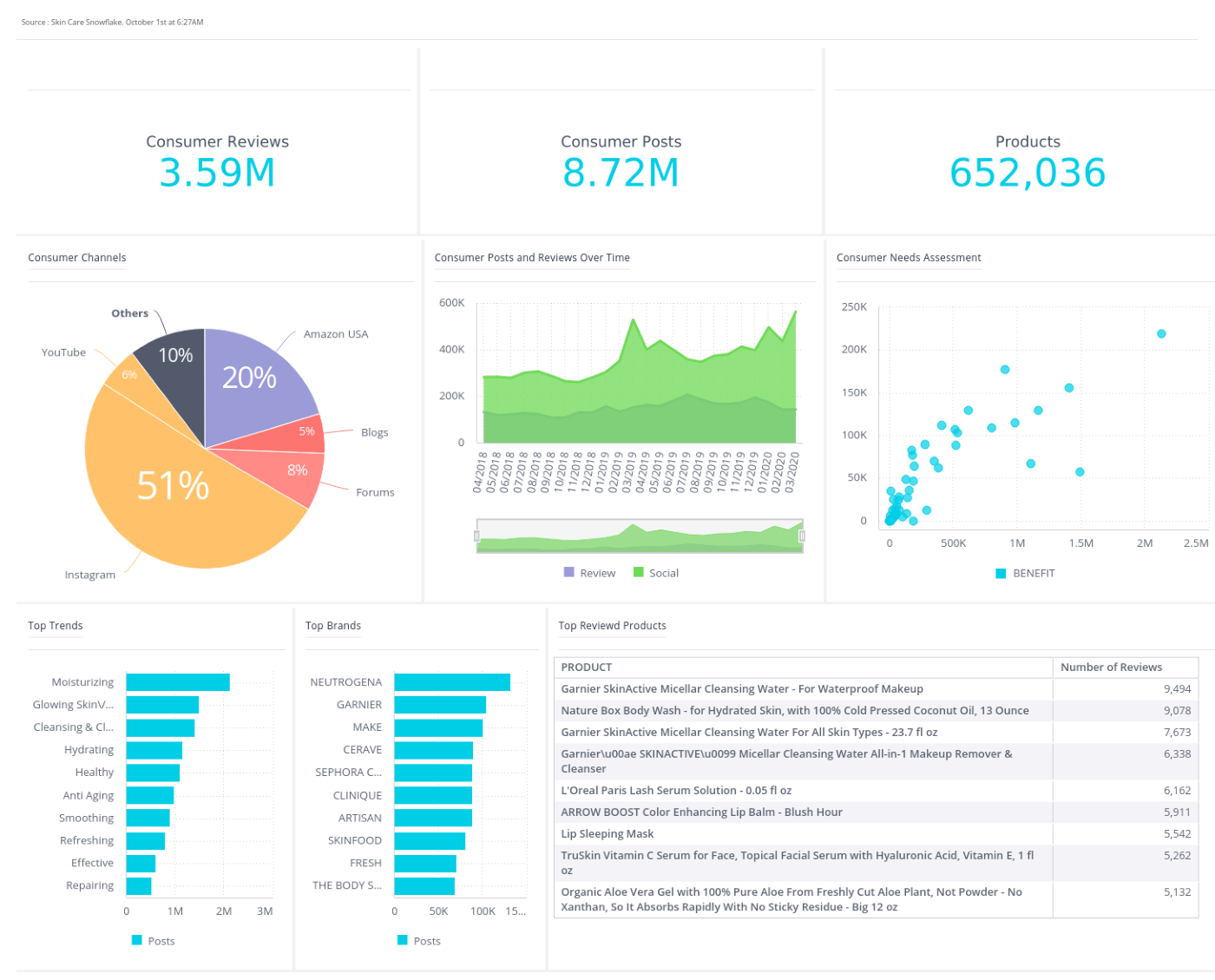 Sisense is a data analytics platform that provides companies with powerful data discovery and decision-making tools. This reporting software uses several coding languages like SQL, R, and Python, or can be accessed code-free by business users. Use the in-app analytics feature to publish insights directly to internal or customer-facing applications and build better insights with analytic AI.
Tableau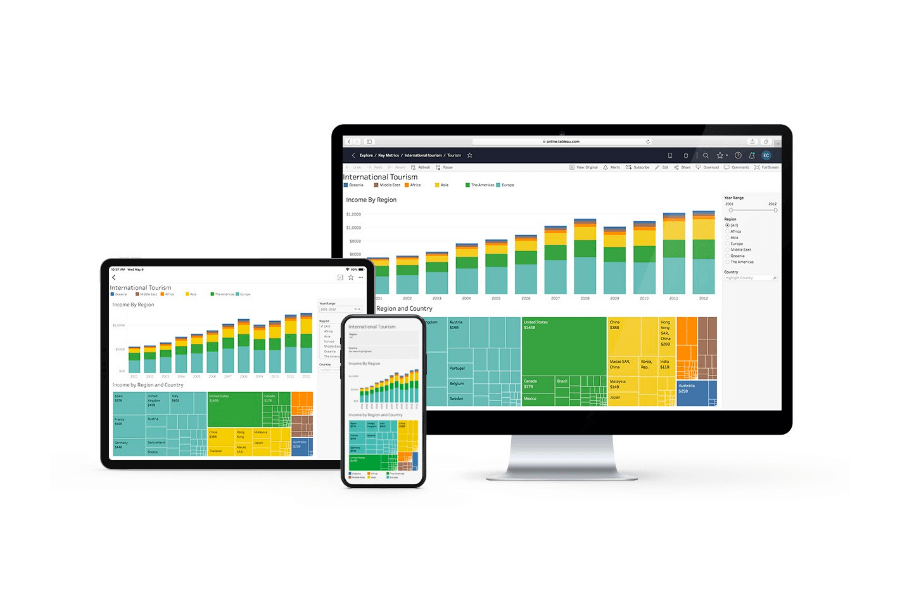 Tableau is a leading business intelligence platform. It comes in several implementation styles for desktop, cloud, on-premise, and even a public version. Tableau's tools cover the full range of data needs from data prep through publication. While the reporting tools are built for business analysts and data scientists, they are also friendly to users in other roles due to a drag-and-drop interface and natural language querying tools.
Also read: Top Tableau Alternatives For Visualizing & Analyzing Data
Looker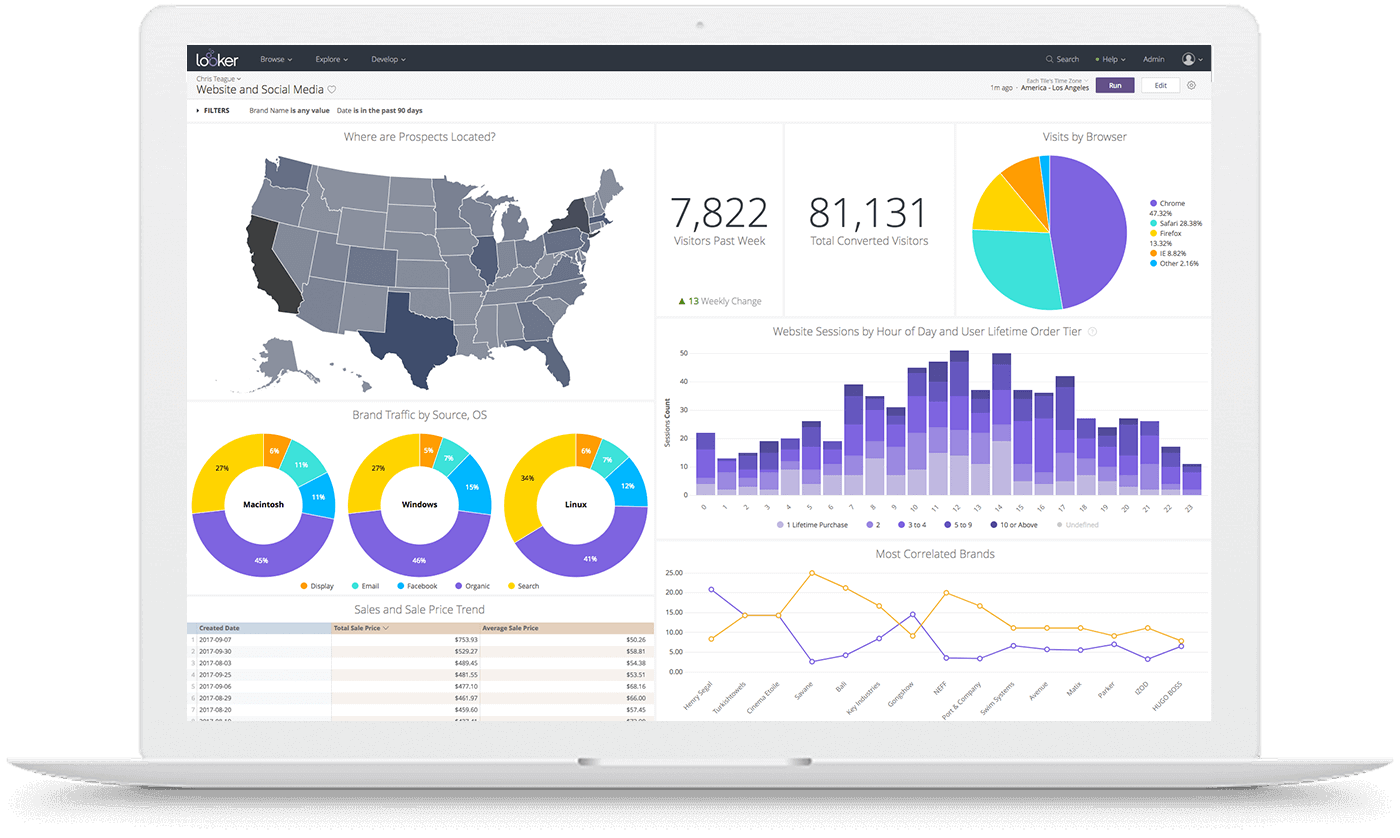 Looker is a data analysis and business intelligence platform with flexible database options, multiple implementation types, and prebuilt or custom workflow capabilities. The platform gives companies a single place for BI and analytics and can help teams build dashboards, embed analytics, or build business applications based on data.
Domo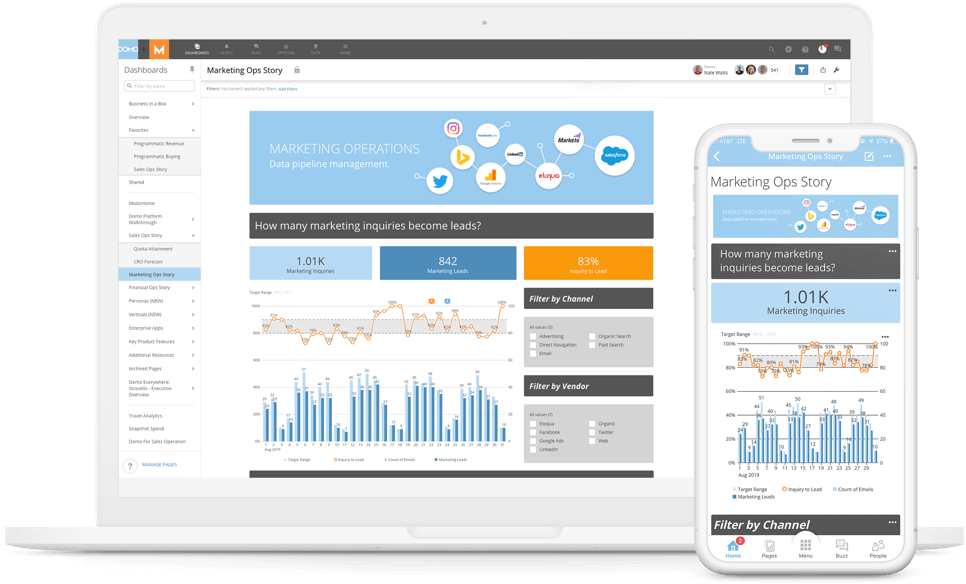 Domo is a BI tool that gives companies insights into data from any tool through over 1000 native app connections, database querying, and API connections for on-premises or proprietary systems. Use the reporting software to build applications from your data to drive business goals or embed graphs to serve data to stakeholders. And Domo's platform has connections to Amazon Sagemaker Autopilot machine learning (ML) tools, so your team can build models for predictive insights.
TapClicks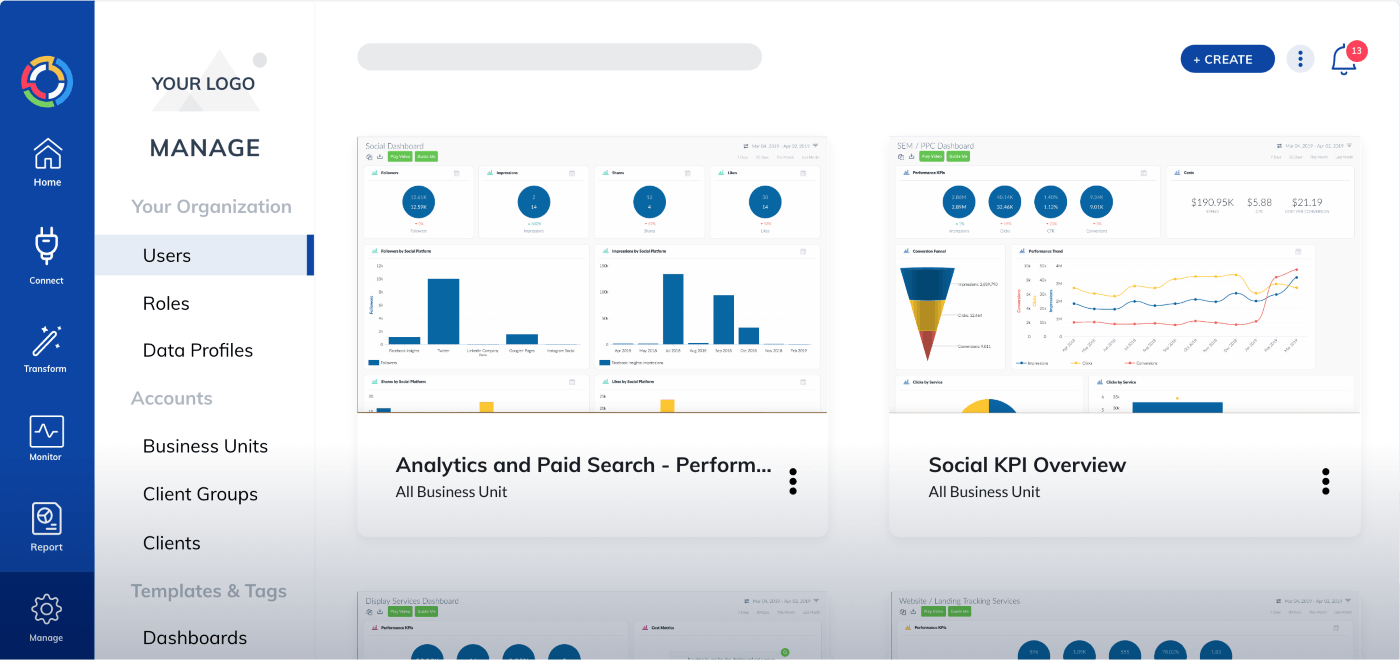 TapClicks is a reporting and marketing software built with the multifaceted needs of media brands in mind. The tool connects with all of the most important marketing tools and partners with many of the BI software brands on this list to enable data sharing across departments. The platform includes marketing workflows and ordering tools all connected to powerful data visualizations for dashboards and automated reports.
Dundas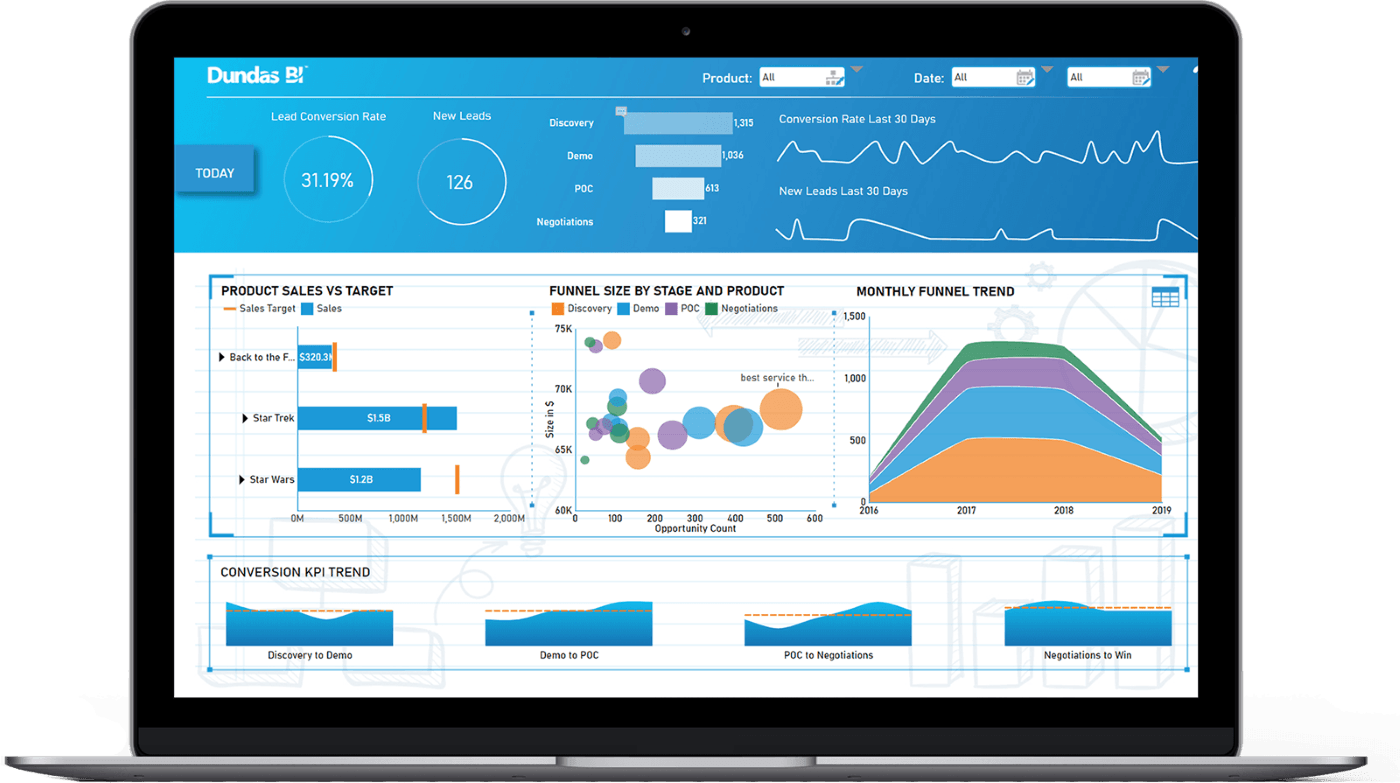 Dundas is business intelligence software that boasts end-to-end capabilities for data ingestion, analytics, and visualization. Use notes to add context within charts and graphs, and use slideshows to tell data stories for stakeholders in pre-built reports or on dashboards. Dundas provides flexible data preparation, built-in connections to the full range of Microsoft BI tools, a multi-tenant architecture, and easy integrations.
SAP Crystal Reports
SAP Crystal Reports is a small business reporting tool built with the power of SAP business intelligence. The tools help companies harness their product data to export as reports, invoices, statements, promotions, and more. With mobile device capabilities and connections to databases and SaaS products, Crystal Reports turns business data into useful data.
Workday Adaptive Planning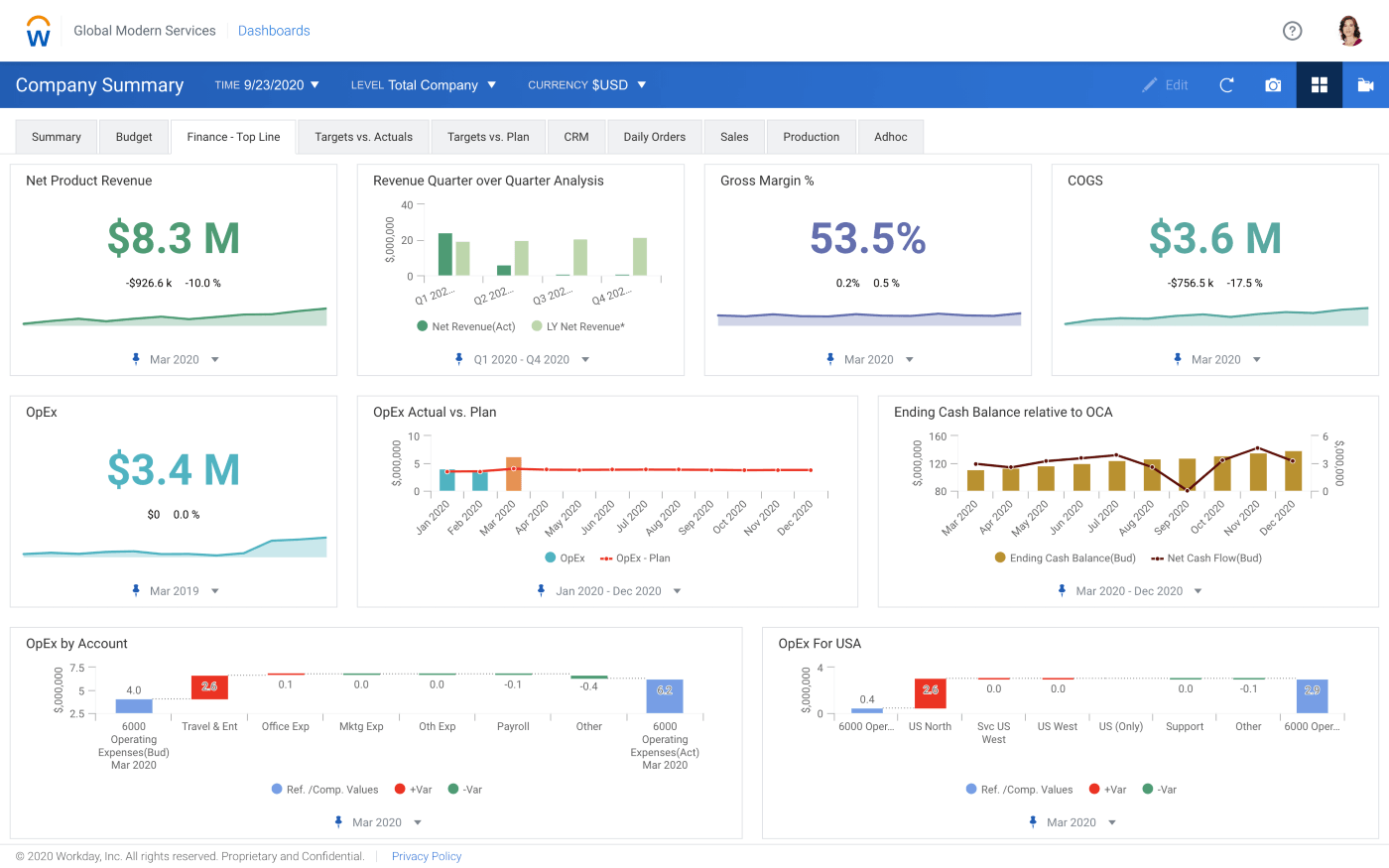 Workday Adaptive Planning is an enterprise corporate performance management software that integrates finance, sales, workforce, and operational planning tools to help companies get a full picture of their enterprise. Built on the Elastic Hypercube technology, Adaptive Planning lets companies manipulate their data to plan, run scenarios and models, and report to stakeholders with easy-to-understand visuals.
ClicData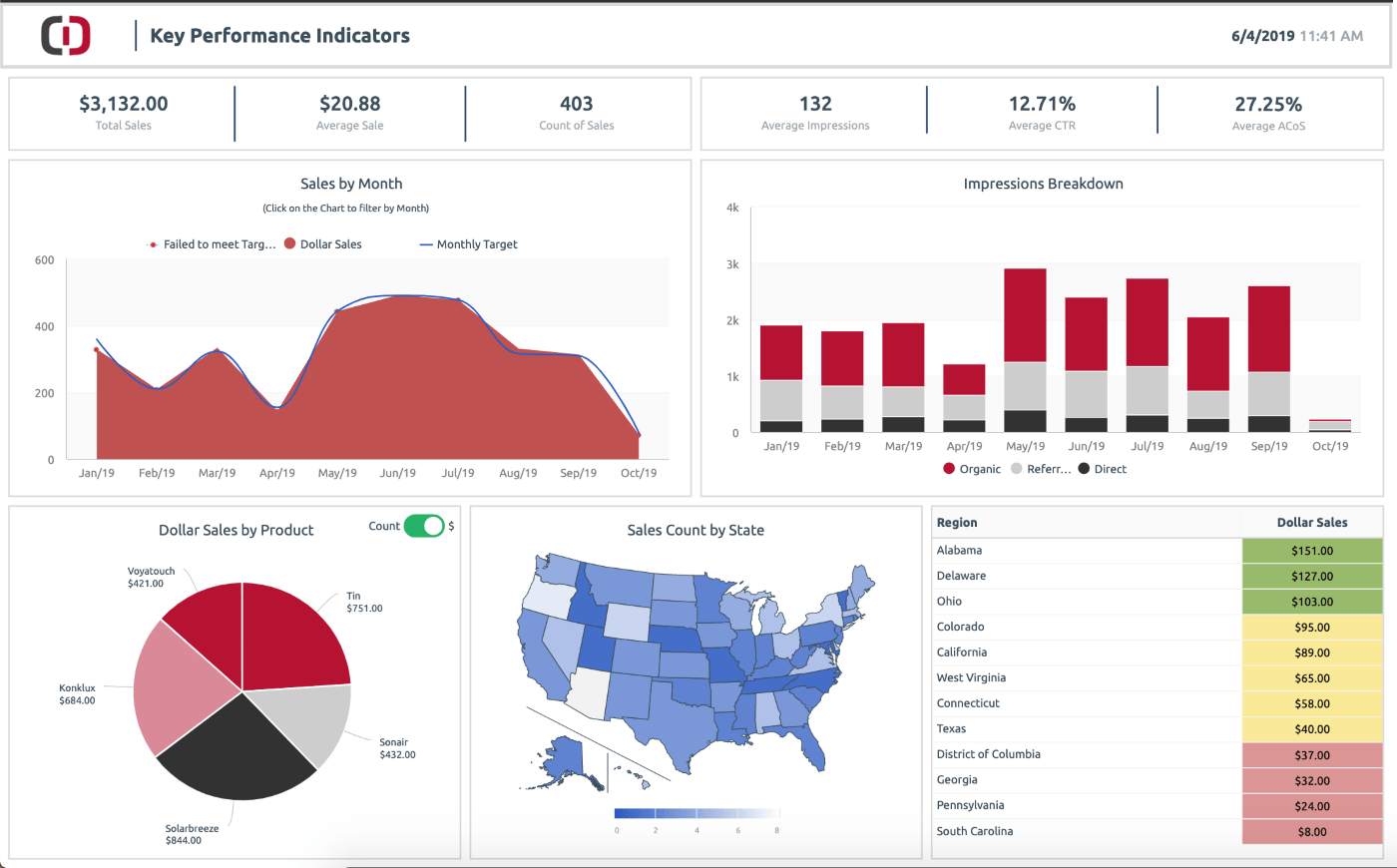 ClicData is a BI platform that brings together data from across the company within an intelligent data warehouse. The centralization and standardization of data within ClicData's platform mean that companies have access to real-time data and can stay ahead of business needs with notifications, alerts, and dashboards.
Toucan Toco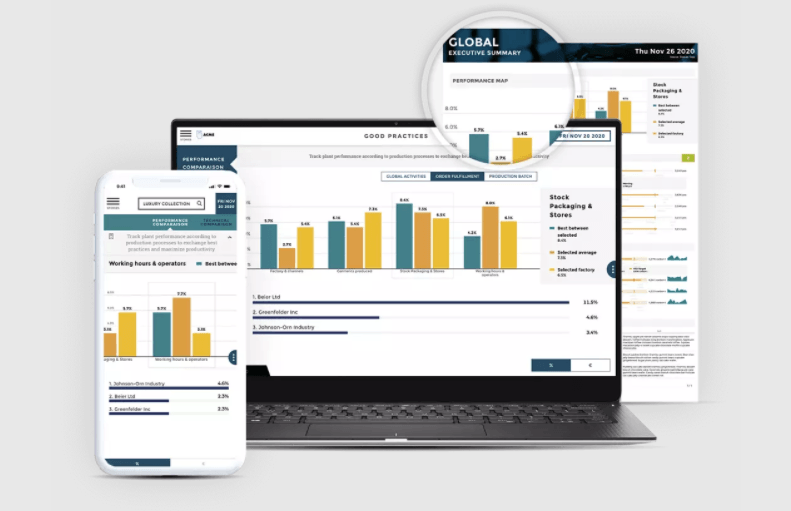 Toucan Toco is a data analytics platform for companies who need internal data and may want to use their analytics powers as a revenue stream. White label your data from over 100 native connections or build your own data connector with their extensible system, and combine real-time and batch data processing for flexible reporting.
Zoho Analytics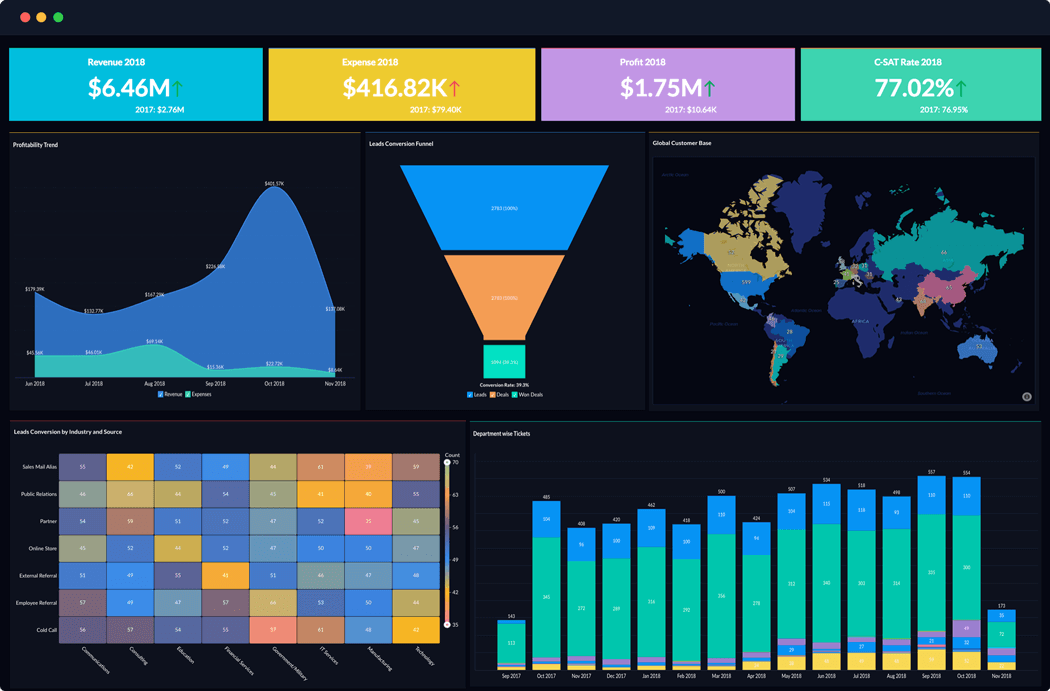 Zoho Analytics is self-serve BI software that connects to the Zoho network of apps and a host of other business data or SaaS tools. Users can access advanced analytics without code through a drag-and-drop report builder and natural language queries. The analytics come with custom branding to make your highly accessible reports all your own.
ManageEngine Exchange Reporter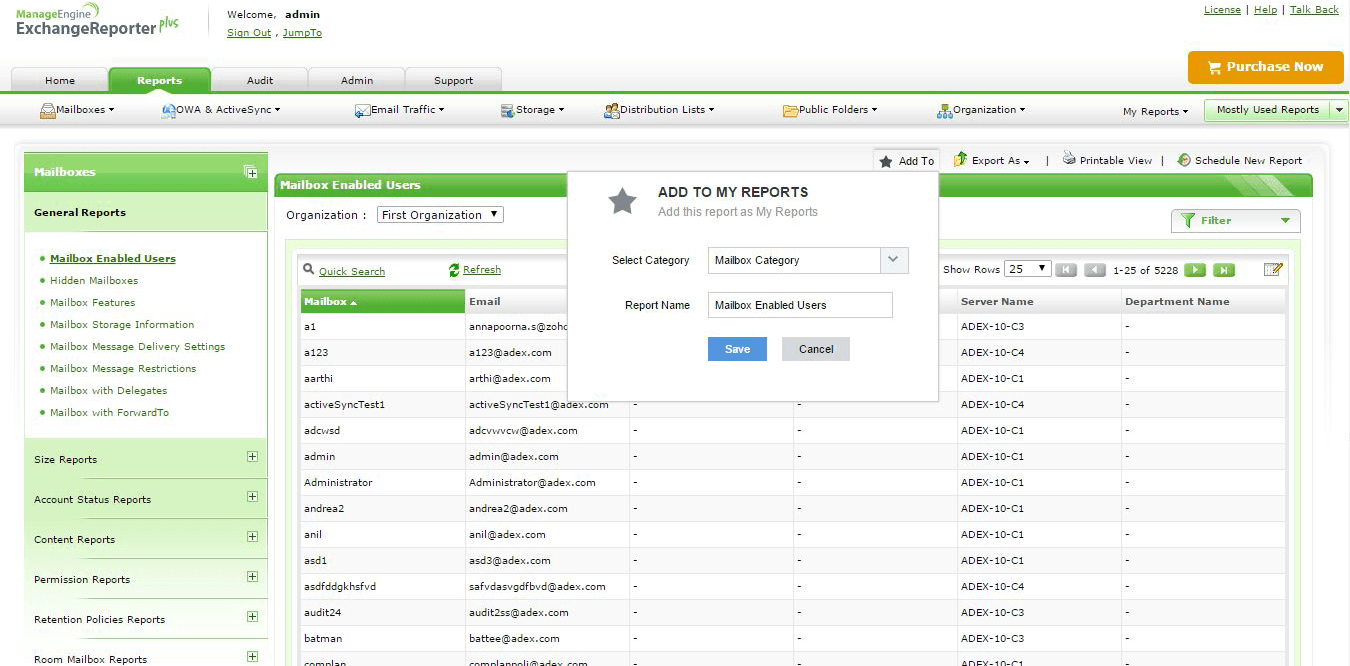 ManageEngine Exchange Reporter is an IT operations reporting solution for your Microsoft Exchange and Skype for business servers. Set up real-time alerts, automate reports, and monitor your Exchange usage and users all from a single interface. The reporting tool helps IT teams securely manage the information flow of their servers and report on these metrics to stakeholders.
Grow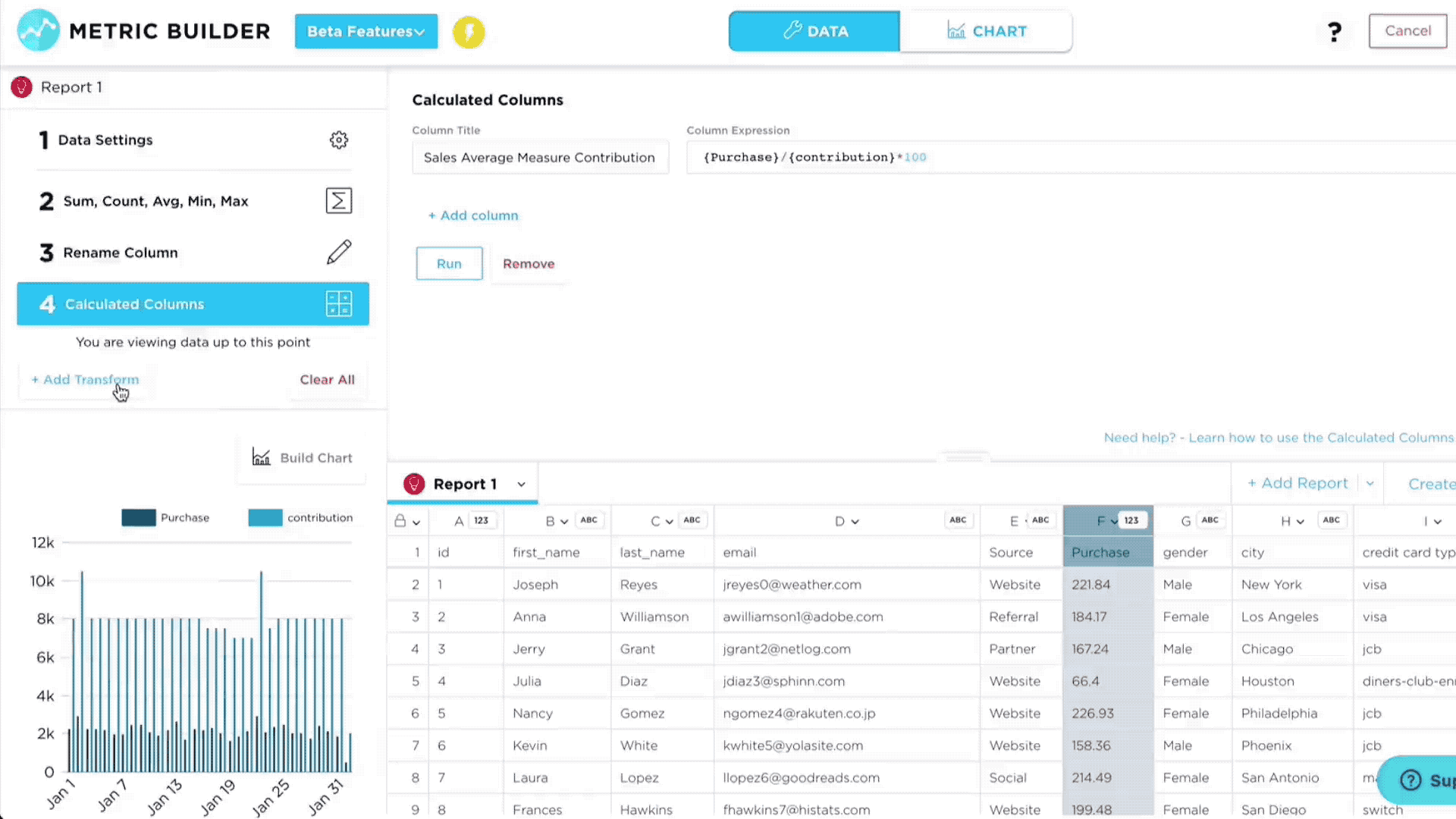 Grow is an analytics and business intelligence tool that allows non-technical users to explore their data. Slice, transform, sort, and compare data all within easy-to-use visualizations. Teams can use the dashboards feature to monitor their data and quickly switch from charts to tables to give users a more in-depth picture of their data.
Wrike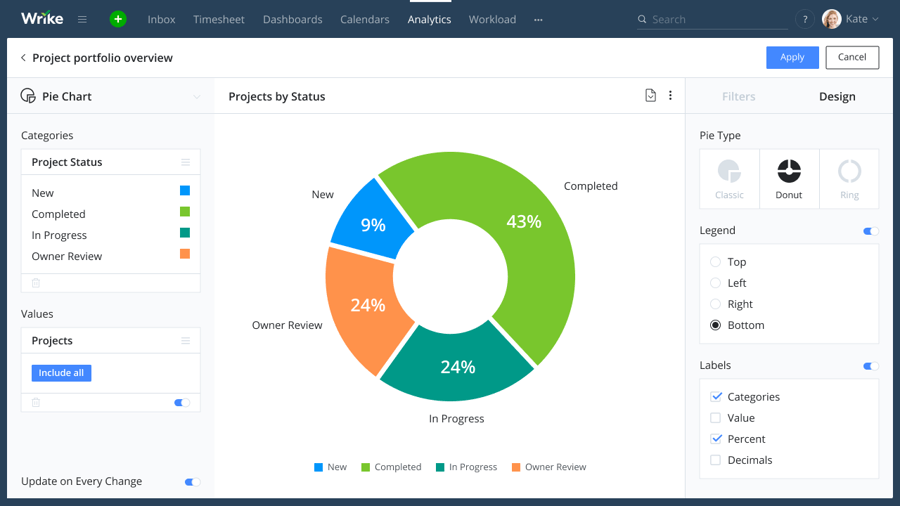 Wrike is a project management software with strong reporting features that help your team quickly build reports from projects and tasks. These tools help stakeholders gain insights into project progress, analyze processes for bottlenecks and improvements, and make better decisions. Build project reports from scratch or templates in Wrike and download or export those to business owners.
Which reporting software is right for your company?
Benefits of data reporting tools
Why would you purchase a reporting tool instead of building your own reports in a spreadsheet? These benefits should convince you.
Promotion of a data-driven culture
Today's companies live and die by their data, and their employees must become data literate in order to compete in today's market. Implementing reporting software within your company or team puts data at the center of every conversation. Teams that see their data regularly are more likely to use it to make decisions, forecast their goals, and understand their shortfalls.
The software can be used to create team and company dashboards or to send BI reports to clients. All of these tools ground company culture in data for decision-making.
Time savings
Why build your reports manually every month when they can run automatically? Reporting tools give employees access to metrics at any time, so they don't have to wait for the BI team to run the report to understand the data.
Marketing agencies, SEO teams, and managed service providers find reporting solutions especially useful to keep clients informed regularly, but without the monthly hassle of building reports from scratch.
Better forecasting
Forecasting is hard work, but it's easier to do when you have predictive analytics tools or even just a consistent library of data to work against. Reporting tools can show you trends in your data that you might otherwise not see, which gives you a leg-up when building your forecasts.
On-time and up-to-date reporting
Reporting time never fails to sneak up on you, but a good reporting platform can automatically generate reports, alert you of an upcoming reporting period, or generate ad-hoc real-time reports at any point. Check to make sure your data is connected correctly when you're notified of an upcoming report send and relax knowing your reports will be on time.
Choosing the best reporting software
Reporting is available in nearly every SaaS tool on the market, but the best reporting tools have the distinct advantage of aggregating many data streams in a single interface. Before you purchase your next reporting tool, make a list of all of the types of data you need and the tools you need to connect. Figure out what data visualizations work best, and ask the team whether predictive tools would help with forecasting.
When you've gathered your requirements, you can start your research. We can speed up that research by matching you with software vendors that meet your needs for the best reporting tools. Fill out the form at the top of this page, or give us a call at (855) 718-1369. One of our unbiased Technology Advisors is standing by to help you. It's fast and free.
Which reporting software is right for your team?