Key takeaways:
Job descriptions make or break a job candidate's first impression of the company.
Writing clear and effective job descriptions helps a company find the talent it's looking for more quickly.
A job description is often the first chance a company has to make a good impression on a potential applicant. It's therefore imperative that hiring managers write effective job descriptions to attract qualified job candidates and reduce the time it takes to fill vacancies.
What are the components of a good job description?
A good job description includes a clear job title, information about the employer, a summary of the job, core job responsibilities, and minimum qualifications.
Job title
Make the title specific, so the job ad appears in candidates' search results on professional networking sites and job boards. For example, catchy names or titles with Roman numerals might confuse candidates and deter them from applying.
Example:

Company information
Briefly explain what the company does and the industry it's in. Including something unique about the company or its culture helps grab candidates' attention.
Example:

Summary
Without repeating specific responsibilities, give a high-level description of this job, who the candidate will work with and report to, and how the role fits within broader organizational goals. Giving candidates a sense of how the role contributes to the bigger picture appeals to candidates who desire purpose in their work.
For transparency, the summary is a good place to state the salary range and specify the role as remote, on site, or in person. If the role is hybrid, state how often the person needs to be on site.
Example:

Responsibilities
List the essential job duties only, so as not to overwhelm interested candidates. The list of responsibilities helps candidates envision themselves as a potential employee and what a typical day looks like in the role.
The responsibilities section is another place where hiring managers can integrate information about the role's supervisor and peers.
Example:

Qualifications
As with the responsibilities, include minimum required skills and experience for the role. Otherwise, candidates might think they have to meet all qualifications and won't apply. A LinkedIn report reveals women are 16% less likely than men to apply for a job after viewing it because they feel pressured to meet 100% of the requirements.
Some employers list preferred qualifications and experience separately from bonus qualifications. Even educational credentials like a Bachelor's degree are included in this category. Making educational background preferred or optional can draw in a broader applicant pool, especially for hard-to-fill roles.
Example:

Compensation and benefits
In some states like California, Colorado, New York, and Washington, employers are required to list a salary range. However, even if an employer isn't located in one of those states, adding a salary range helps attract applicants because salary is one of the most important aspects of the job ad to job candidates.
Recruiting isn't a one-way process. Candidates evaluate companies just as much as companies evaluate candidates. It's therefore important to state in the job description how the company helps employees do their best work by means of perks and benefits. Benefits convey company culture, so if a company's benefits are one of its many strategies to retain employees, it may be worthwhile to list them all in the job description.
Example:

Company culture
Job descriptions are a chance to showcase the company's culture and unique brand. A company may share its vision, purpose, list of values, or some combination of these. This is also a good place to brag about any awards the company has received, such as the Fortune 100 Best Companies to Work For award.
TechnologyAdvice's career page, for instance, highlights the company's values, mission, and commitment to diversity, equity, and inclusion. Summarizing company culture in a job description emphasizes the most important ways the business differentiates itself from other employers.
Work authorization
Whether or not a company hires employees who are from other countries, candidates in or from other countries might see the job opening and be interested in applying. Employers should state the job's location in the description to make it clear where the employee needs to be located. In addition, the company needs to be clear about whether it provides work visa sponsorship to candidates from other countries who reside in the U.S. The question of needing sponsorship now or in the future usually appears in the application process.
As for employment eligibility in the U.S., employers are required to ask all job candidates if they are legally authorized to work in the United States.
Example:

Sample job description
Putting the above example elements together, an effective job description will look something like this: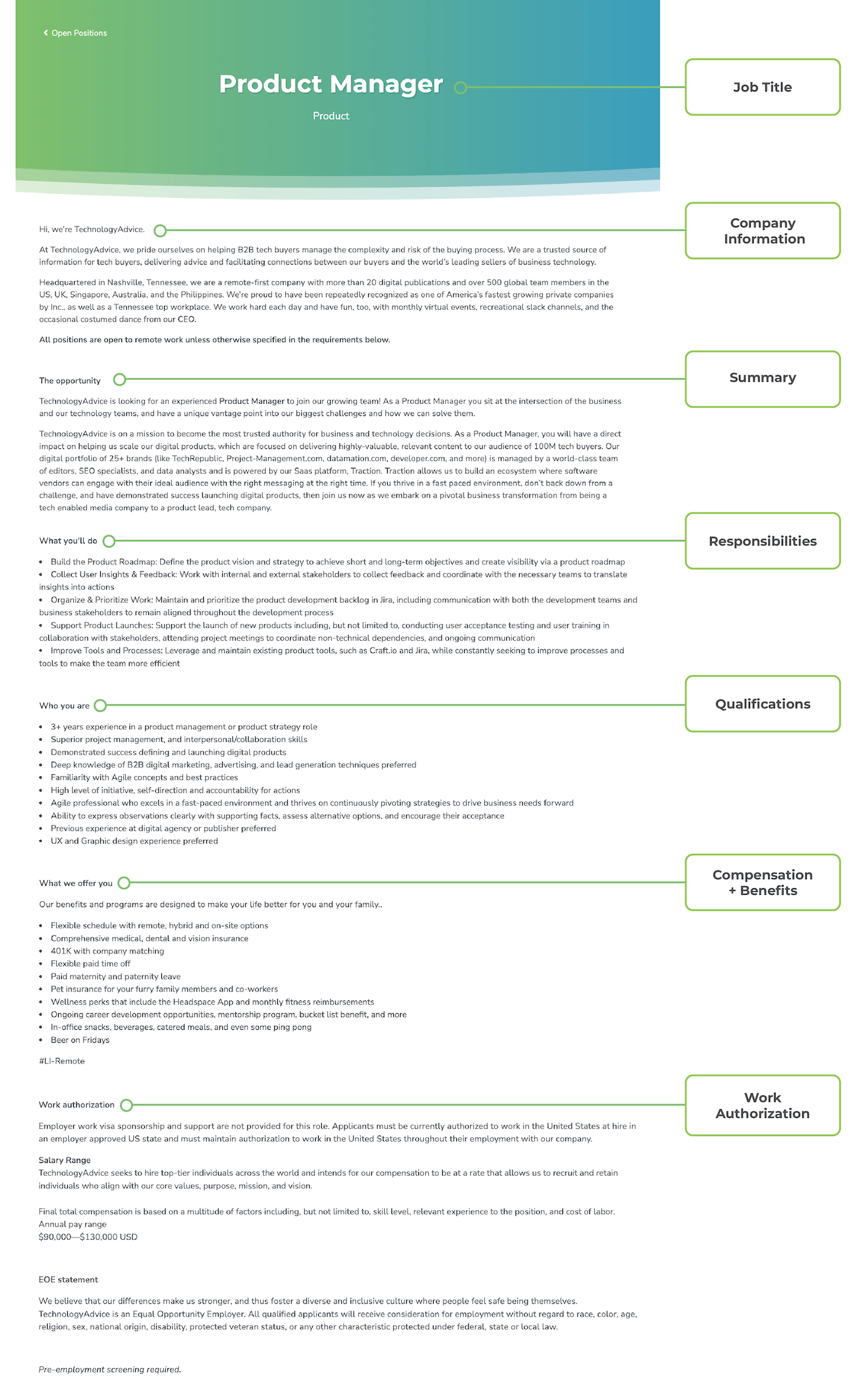 Best practices for job description format and style
Length
Various sources suggest a range of wordcount for job descriptions, but the sweet spot is around 700 words. The description shouldn't be too short, or it may appear vague. Short job descriptions might not show up in a job seeker's searches for certain keywords.
Conversely, lengthy job descriptions might scare off a potential candidate or give the impression that the company is disorganized.
Formatting
Nobody wants to read large blocks of text. Text-heavy job descriptions that don't make good use of paragraph spacing and bullet point lists may pose an accessibility issue for vision-impaired candidates. Separating certain sections like core job duties and qualifications into bulleted lists to make them stand out more easily to job seekers and facilitate overall readability.
Language
Elevate the action words: Describe how the ideal candidate will perform one of the key job duties. For example, expand the phrase "partner with a team of on-staff writers, freelancers, and SEO," to include the purpose of that partnership: "…to ensure your content topic is covered appropriately on our sites."
Avoid jargon: The job description should be easy for candidates to understand. If special terminology is necessary, reserve it for the qualifications section.
Avoid idioms, humor, and metaphors: These stylistic devices can confuse or, worse, turn away non-native speakers of the language as well as neurodivergent job seekers.
Neutralize the language: Per the Equal Employment Opportunity Commission (EEOC), companies cannot solicit information about a candidate's age, gender, religion, marital status, and other protected statuses in the hiring process. However, an employer can take further steps to neutralize subtle bias that creeps into the job description language. To arrive at more gender parity in the applicant pool, for instance, use gender neutral nouns and pronouns.
Why is it important to have a well-structured job description?
A job description is often the first impression job candidates receive from a company. What kind of impression is your job description giving job seekers? Candidates should be able to get a clear vision of what the role is, whether they might be a good fit, and what the company is like.
A good job description includes a clear job title, a summary of core job responsibilities, minimum qualifications, and company information. A great job description features a salary range, benefits, and a description of the company culture. And it'll be approximately 700 words, separated into shorter paragraphs and bullet point lists to aid readability, and include neutral language that's free of jargon.
Crafting a well-structured job description avoids wasting the company and candidates' time and cuts through the noise of a competitive job market.
1

Tracker ATS & CRM
Tracker is an Integrated ATS, CRM and Recruitment Automation Software. We help staffing & recruiting firms save hours and place candidates quicker in our all-in-one platform so they can increase revenue while cutting operational costs.
2

PCRecruiter
PCRecruiter is the ATS/CRM hybrid used by successful recruiting and staffing pros for over 20 years. Featuring highly configurable fields, forms, and workflows, plus Gmail, Outlook, and RingCentral integrations, automations, responsive job board, analytics, and the PCR Capture plugin for importing and updating info from the web. PCR's public API facilitates direct integrations with many popular services and custom projects. All of this comes with secure hosting and an award-winning service team.
3

ClearCompany
Create best-in-class candidate experiences while simplifying onboarding and compliance with a modern, user-friendly experience. ClearCompany Recruiting helps your company find, hire, and onboard top talent with advanced text, video, and interview scheduling features. ClearCompany helps modernize and scale your company's recruiting strategy to increase candidate pipeline, job offer acceptance rates, and new hire success.
Technology Advice is able to offer
our services
for free because some vendors may pay us for web traffic or other sales opportunities. Our mission is to help technology buyers make better purchasing decisions, so we provide you with information for all vendors — even those that don't pay us.