While performance management is a concern for 79 percent of executives, a surprising number of teams just aren't doing it well—yet. But there is hope: in the last several years, companies have begun to shift from the old annual performance review to new performance management process strategies that work directly with the employee to define short and long-term plans.
This new idea of performance management takes into account
An employee's personal goals
The company's business goals
Assignments that engage the employee
Two-way feedback between managers and employees
When the manager and the employee take the time to document these items, it means the manager and the organization have a larger understanding of an employee's current performance and future plans.
There are plenty of performance management tools out there to help HR professionals and managers track and measure the effectiveness of your program—and we'll get to some specific recommendations at the end of the post—but if your team doesn't have a good employee performance management process, no amount of software will help.
Let's take a step back to clear up some misunderstandings about performance management:
Performance management is not:
A yearly performance review
An annual employee survey
Conducting job-critical skills training
Ranking employees based on their productivity (and firing the least productive 😱)
These are general tasks that help management understand the current state of the corporation. They fall short of the future-facing priority of performance management.
What is performance management?
Although the items above can contribute to employee growth and improvement, they're often used in place of actual performance management tactics that take time and effort to plan, implement, and grow. If you're committed to improving the current and future work of your employees and the company's growth according to business objectives, these tactics will get you started.
Long-term career pathing
One of the most important parts of performance management is understanding the employee hopes to move their career in the future. This can mean rising vertically through the company or perhaps integrating new skills and knowledge with non-linear pathing. Setting a career path doesn't have to dictate every move the employee makes, but it can help clarify decisions about leadership roles, training opportunities, and even the types of projects assigned to the employee.
Short-term goal setting
Short-term goal setting uses the employee's strengths and current skills along with the manager's resources to find new ways to help the employee achieve success in their current projects. Whether it's identifying and working through roadblocks or finding the right internal resource to answer questions, short-term goal setting gives employees and managers a starting place to improve the employee's performance every day.
Recognition
An important part of maintaining and improving the employee performance is providing verbal and/or written recognition of the employee's strengths and contributions to the team. Showing appreciation for the employee's skills and hard work can go a long way toward improving morale and reinforcing good performance–and it's a lot less expensive than bonuses or raises (but those are good motivators, too, when appropriate).
Open communication and feedback between managers and employees
When communication is a cycle of nearly everyday feedback, it becomes a casual part of the workday, rather than a Big Conversation that happens only at the designated performance review times. When managers keep lines of communication open in daily or weekly conversations, employees are more likely to respond well to more difficult conversations about how to improve performance.
Employee coaching models
Coaching employees means asking good questions and listening effectively to help the employee come to answers or solutions to their problems. It also includes following up on goals, projects, and hopes to help the employee through tough times and capitalize on successes. Become familiar with several coaching models and use them to help frame discussions and movements forward.
A cycle, not a box to check
When planning your new performance management process, think about taking a cyclical view of managing performance. The path to improvement isn't a straight line or a one-time fix but rather a cycle that repeats and pushes the employee farther along–even if there are some stumbles along the way. Whether you use the Plan Act Monitor Review cycle or one that fits closely with your company's values and goals, treating performance management as an ongoing process rather than a single yearly task can help managers embrace their role as a coach, mentor, and manager.
The Best Performance Management Process Software
These tools are specifically designed for performance management or are parts of larger talent management and human capital management systems. We've highlighted their most helpful features to get you started finding the right performance management system for your company.
SAP Successfactors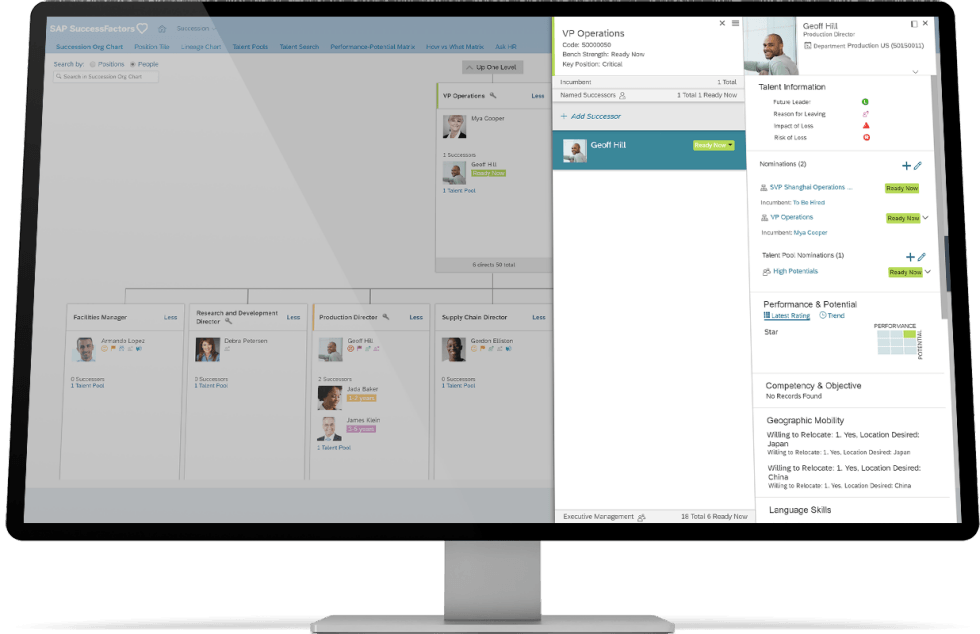 Goal setting from pre-set SMART goals
Continuous feedback app that facilitates discussions between ICs and managers.
Performance assessments with ratings and 360 views
Good for: small, midsize, and enterprise companies
SABA Cornerstone Performance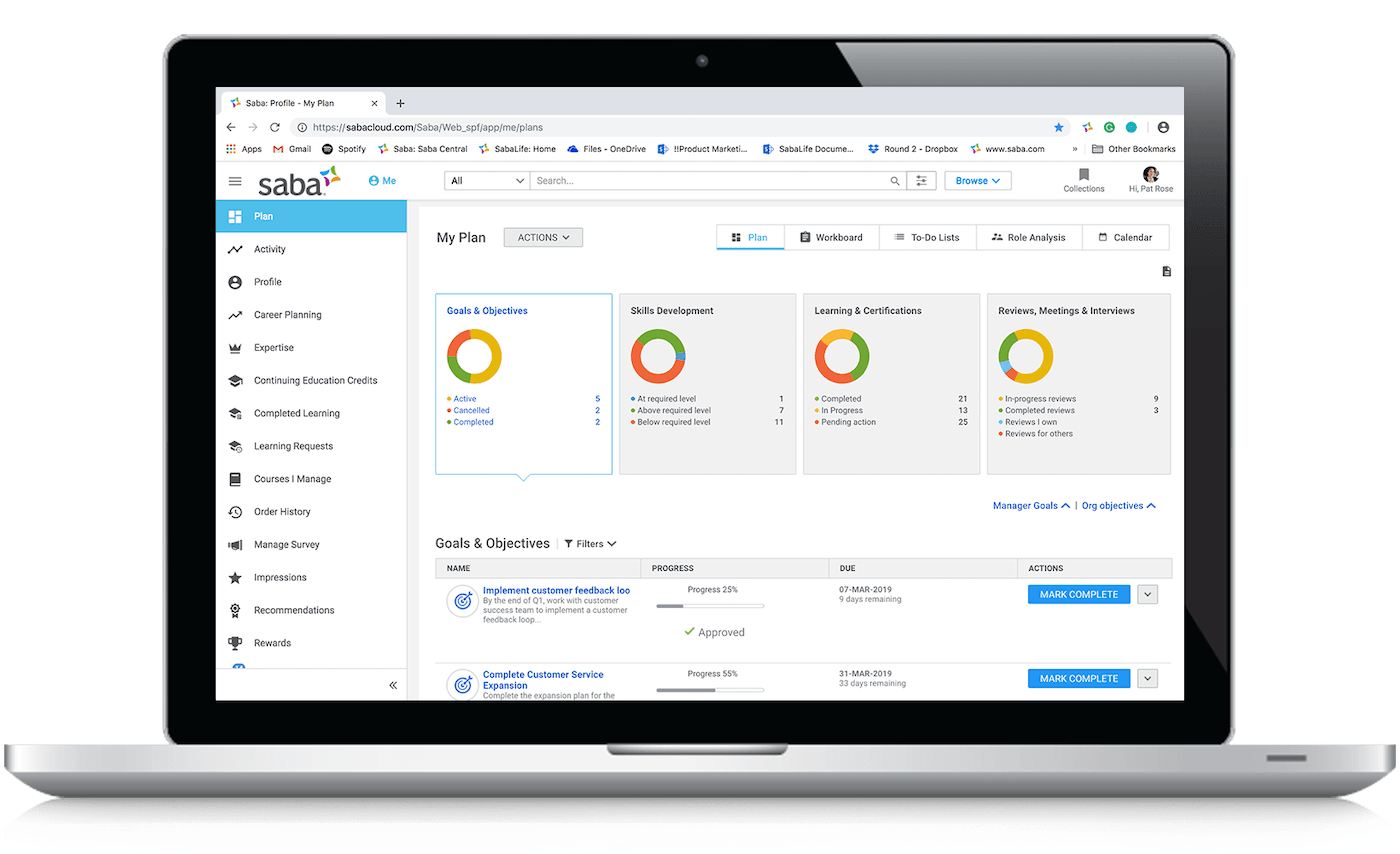 Coaching and feedback interface with peer recognition and notifications to keep everyone informed of changes
Goal management ties individual employee work to corporate needs while maintaining flexibility to adapt to changing priorities
1:1 meeting tracking helps cyclical improvements and increase visibility into progress and goals
Good for: enterprise companies
Workday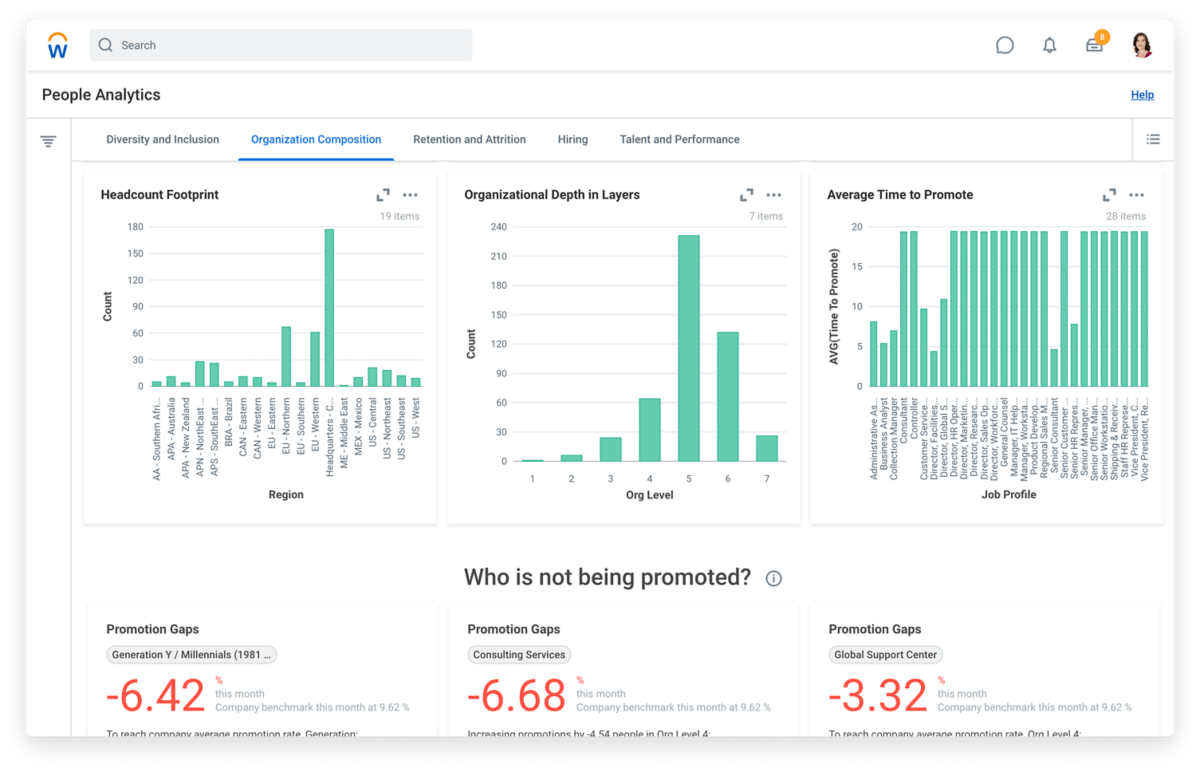 Survey-based feedback, with scheduled pulse surveys
Individual and organizational goal setting tools to match immediate employee goals with the company's trajectory
Career and development planning to give employees a long-term view of their position with the company now and over the coming years.
Good for: medium and large enterprise
These aren't the only performance management tools available, so if you're ready to take control of your team's performance, check out our performance management Product Selection Tool, where you can get customized recommendations for the best HR software that fit your company's needs and goals.