What is an employee development plan?
An employee development plan, also an employee action plan, is a tool that helps upskill your existing employees to meet larger company objectives. It typically includes short- and long-term goals with actionable steps for employees to meet each milestone.
Professional development plans (PDPs) are similar to employee development plans and are sometimes used interchangeably. The main distinction is that companies typically propose and lead employee development plans, while employees initiate PDPs, with or without the employer's help.
This does not mean employees do not have a say in their own development plans. On the contrary, involving employees in their development plans and prioritizing their career aspirations can benefit the company long-term by improving productivity and knowledge.
Typically, most development plans are based on an employee's current role, their long-term career goals, or a career change they want to pursue.
Learn more: Why Employee Performance Management Is Important
How to create an employee development plan in 6 steps
According to a 2022 survey by The Conference Board, 58% of workers are likely to leave their company if they don't receive professional development. This figure is even greater when looking at groups like women (61%), black employees (68%), or millennials (66%).
Therefore, if you want to improve the retention stage of the employee life cycle, reduce turnover, and promote diversity hiring, implementing employee development plans is a great strategy. Employee development plans should follow these steps:
Determine your business objectives.
Compile a database of resources.
Discuss employee professional goals.
Draft an employee development plan.
Review the plan and monitor progress.
Follow-up after the plan.
1. Determine your business objectives
First, you must understand what you hope to gain or achieve from offering and administering employee development plans. Beyond increasing employee retention, how else may employee development programs aid in your business's bottom line?
A few examples of where these plans could positively impact your business overall include:
Data should inform what areas of your company could benefit from employee development plans and identify ideal employees for the role. Software like Zavvy, for example, offers a skills matrix to visualize what skills your company has in spades and what skills it lacks. In addition, Zavvy provides growth plan templates, including goal tracking, so you don't have to resort to manual methods.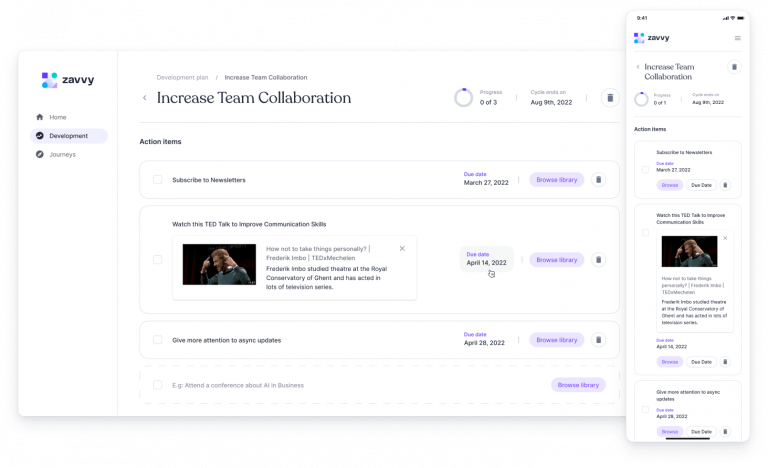 2. Compile a database of resources
Your development plans are only as good as the time and resources you can provide employees to reach their goals. Because development plans are unique to each individual, it's best to include a variety of resources to fit their various learning styles and interests.
For example, an employee wanting to advance to a management position may appreciate time shadowing managers or taking the reins in meetings with executives and direct reports. By contrast, employees wishing to expand their knowledge in their field may appreciate company reimbursements for continuing education courses, such as software engineers taking classes on a new coding language.
Work with your executive and finance teams to determine what resources you already have available and what your company would be willing to provide to support an employee's development. Consider bringing in consultants to build your learning and development (L&D) courses or leverage software to create your own. Some resources to offer include: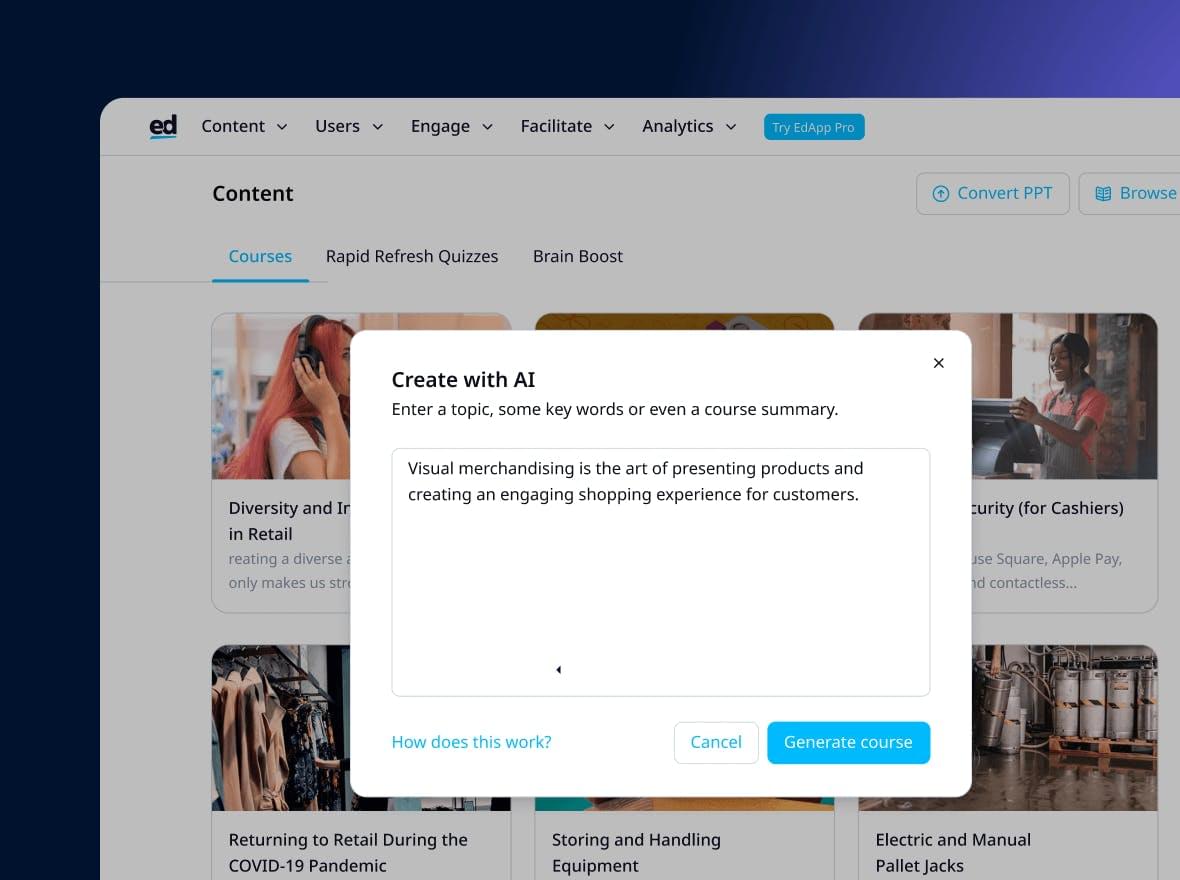 Learn more about AI in HR: 6 Ways Artificial Intelligence Impacts the Workplace.
3. Discuss employee professional goals
You might already have great candidates in mind who could benefit from structured employee development plans, or you may have used your human resources management system (HRMS) or performance management software to identify ideal candidates. Either way, the best individuals should have already completed their onboarding and show a vested interest in growing with your company.
Employee professional development plans should be collaborative. You may have identified a good match for an employee development plan, but this doesn't mean they necessarily want to participate. Meet one-on-one with the employees and see if their aspirations align with your company's goals.
If the employee is interested in developing their skills, discuss with them how that might take shape. Ask the following questions:
Pay attention to the employee's answers since they may differ from others in the same role. The development plan will change based on what they say, including the amount of time, effort, or resources you dedicate.
4. Draft an employee development plan
Each employee development plan is unique, but at its heart, all should include the following:
A development plan template can help you outline these main items, but its shape may differ by employee.
For example, an employee looking to move into a management position may have a plan focused heavily on guided one-on-one meetings with their people manager to learn the ropes. Meanwhile, your finance manager may want to become a licensed Certified Public Accountant (CPA) to advise your company's financial strategies better. Their plan may consist of several self-learning courses, with little oversight from you.
Managers or mentors, HR departments, finance teams, and executives should review and approve the plan, especially if it involves monetary or other time commitments from the organization. You may decide approval is unnecessary in some situations, such as professional development plans that employees manage themselves.
Either way, the plan should remain a living document. Different circumstances, like workplace demands, illnesses, or personal aims, may change the plan's objectives and deadlines. Don't be afraid to revise the plan to accommodate these so employees have the best chance at success.
5. Monitor plan progress
All employee development plans should include semi-regular biweekly or monthly check-ins with managers or HR teams to monitor progress. During these meetings, you should discuss with employees where they are in completing their goals, any obstacles they've encountered, and if they need any additional support.
If you track goal progression electronically, software with native employee development plan modules can keep employee progress plans in one place. With Culture Amp, for example, employees can track personal goals and tie them to larger company initiatives. Its employee development plans also allow managers, mentors, or coaches to provide feedback on development progress to inform employee performance reviews.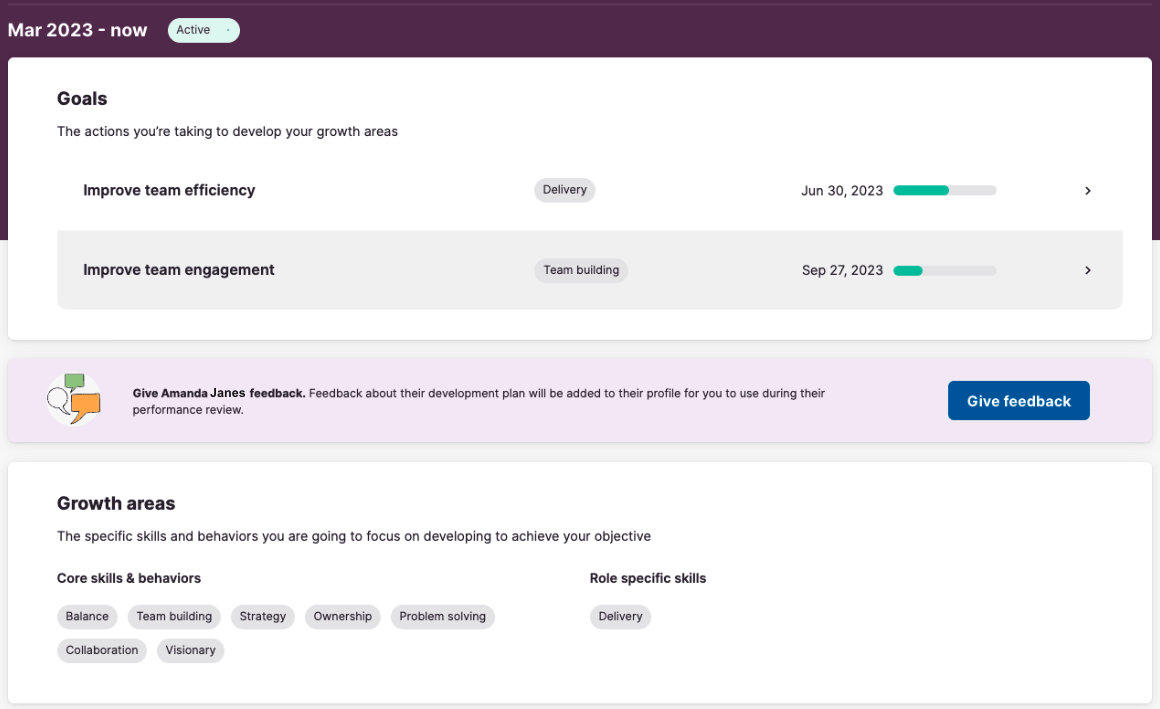 6. Follow-up after the plan
Each post-plan action is as unique as each employee's development plan. Ideally, once they complete the plan, the employee should be able to take on responsibilities that align with your company's overarching strategies and their own career ambitions.
This could result in more traditional outcomes, like promotions, raises, or taking on more niche and challenging duties. Or it could result in a job transfer to a role where they can use their newly developed skills.
Besides following up with the employee, take a chance to evaluate the success of the development plan as well. Survey plan participants to see what worked and what didn't.
Next, examine the employee's productivity against plan budgets, resource creation, and time dedication. Doing so allows you to determine the plan's return on investment so you can learn and make adjustments for more efficient, effective plans in the future.
Employee development plan example
Let's say you have a sales representative who is a promising candidate for your accounts executive position. After a one-on-one chat, they express interest in advancing to this role. Below is an example of how their employee development plan might look:
Plan overview
Long-term goal
Get promoted to accounts executive position.
Current skills
B.A. in marketing, communication, lead generation
Skills needed
Time-management, leadership, networking, presenting
Check-in schedule
Every two weeks on Thursday
Goal tracking
Action
Short-term goal
Deadline
Take company L&D time management and presentation courses.
Learn to prioritize multiple responsibilities.
Complete by end of quarter.
Present on product features to an interested prospect.
Present and communicate to prospects according to company strategy.
Complete presentation prep by mid-quarter with a manager. Present demo at the next customer request.
Mentor new junior sales representative.
Advance leadership and coaching abilities.
Sign up for a mentee by the end of the month. Shadow people manager during executive presentations. Complete mentor-mentee course by mid-year.
Employee development plan FAQs
Start upskilling your workforce with an employee development plan
Employee development plans are more than just a way for ambitious employees to prove they deserve that raise. They are a way to demonstrate your commitment to your employees by providing company support and time for their professional goals, increasing the likelihood they'll stay with your organization for years to come.
Crafting your development plan also doesn't need to take significant time and effort. Investing in performance and L&D software solutions allows you to easily create and monitor employee development and tie them to the rest of your HR or performance management initiatives.
To get started, check out our Performance Management and Learning Management System Software Guides for platforms that fit your needs.
Featured Partners
Conduct better reviews, increase feedback quality, and simplify review cycle management. ClearCompany Performance Management helps you implement an employee-first approach by shifting the focus of performance reviews from evaluation and ranking to employee growth and future potential. ClearCompany helps your company drive engagement and focus with goal-planning tools while increasing the value and reducing the workload of performance review cycles.
Performance Pro is a customizable, user-friendly, automated performance management platform. Save time with our customizable libraries of content from competencies to tools that help managers leave more meaningful feedback & establish smart goals. Empower your employees to pursue their own professional development, retain your top talent, provide a sense of purpose with goal alignment to strategic objectives, & truly drive an increase in performance & achievement throughout your organization.
Watch this 90 second demo video to see how Coursera for Business empowers leaders to drive agility and innovation by upskilling talent across an entire organization. With one skills-based solution, you can strengthen and retain talent, drive employee productivity, and hone a competitive edge.
Technology Advice is able to offer
our services
for free because some vendors may pay us for web traffic or other sales opportunities. Our mission is to help technology buyers make better purchasing decisions, so we provide you with information for all vendors — even those that don't pay us.