Approximately 52 percent of employees in the US are currently experiencing burnout, up about 9 percent from pre-COVID levels. As the pandemic carries on and even after, burnout will continue to be a major problem for employers. But once it's taken hold of an employee, it's very difficult to combat. With the right performance management software, you can catch the early signs of burnout and help your employees work through it before it's too late.
Jump to:
Early signs of burnout in employees
Not all signs of burnout will be apparent to anyone but the person experiencing them, but co-workers and managers should be on the lookout for these symptoms.
Decrease in productivity or performance
If an employee suddenly begins to miss deadlines, forget assignments altogether, or drops the quality of their work significantly, they're likely starting to feel burnt out. As they become increasingly stressed out, they have difficulty dealing with new stressors, and all that tension just compounds until they can't handle it anymore. Excess stress also has negative impacts on the medial prefrontal cortex, which controls memory function, attention, and habit formation.
Negative attitude
You also might be able to spot burnout in a normally cheerful employee who is suddenly showing a lot of negativity. Maybe they're distancing themselves from their coworkers or making snide remarks about complications in projects. If employees feel undervalued at work, they're more likely to experience burnout and start dreading their job.
Irritability or frequent changes in mood
Another outward sign of burnout is an employee suddenly becoming irritable or experiencing severe mood swings. Of course, everybody has bad days and deals with stressors outside of work, but if this goes on for a prolonged period, burnout may be at the heart of the issue. Burnout can cause your amygdala to increase in size, which has connections to higher aggression.
How can performance management software fight burnout?
Performance management software provides a great baseline for employee performance and productivity, which can make it easy to spot burnout earlier. Don't use the decline in performance to punish your employees, but talk to them about what's going on and see how you can help. Maybe they have too much on their plate or don't have the tools they need to be effective in their role. You may have to start the conversation, though. Let your employees know that you're not upset with them for feeling overwhelmed, but you do want to help them find a solution before it takes a larger toll on them.
When you base raises and bonuses on performance metrics, you can also keep employees from feeling undervalued. When they can draw a direct line from their performance to a reward, they know they're being seen and appreciated. However, many businesses use arbitrary metrics for giving raises and bonuses, or they give everyone the same amount. This can frustrate your best employees because they'll feel like their hard work doesn't matter and may stop putting in as much effort.
When employees can draw a direct line from their performance to a reward, they know they're being seen and appreciated.
Your performance management software should also include career pathing that shows the steps employees need to take to reach the goals that you set for them and they set for themselves. Then, during your regular check-ins (important for making employees feel valued!), you can go over the milestones they've recently hit and what they should aim for next. For example, if an individual contributor wants to one day get promoted to your executive team, you might create opportunities for them to lead projects or take leadership training courses.
Also Read: What is Employee Performance Management?
Key burnout-combatting features to look for in performance management tools
If you don't yet have a performance management tool in place, you need to look for the following features in order to fight burnout in your employees.
Goal setting
Your performance management software should include space for employees to track both their short and long-term goals and the steps they are taking to achieve them. Employees will get alerts to update their goal progress, and managers will get notifications when they need to provide feedback. Employees can also assign deadlines to their goals to help keep themselves on track.
Employee recognition
Recognition doesn't just have to come from higher-ups. With employee recognition features in your performance management software, co-workers can also give their team members shoutouts and appreciation. If your performance management system doesn't include this feature, you can choose standalone employee recognition tools, like Assembly, Kudos, or 15Five.
Also Read: 5 Inspired Digital Rewards & Recognitions for Remote Workers
Feedback management
Employees have to get regular feedback in order to improve in their roles. If they don't know what they're doing wrong, they won't know that there's anything they need to fix. A feedback management feature not only provides a platform for giving feedback but also stores it for employees to refer back to later. Additionally, it provides a record of the conversation if there needs to be disciplinary action later on.
Also Read: Need To Increase Employee Retention? Train Managers As Career Coaches
Performance analytics
Performance analytics show how employees are faring against their key performance indicators (KPIs). Employees who consistently meet or exceed their KPIs should be considered for raises, bonuses, and promotions. This shows that you're valuing their work and sets an example for other employees. These KPIs can also help you identify when employees are struggling and ensure they get the help they need to succeed.
Best performance management software for stopping burnout
If you need to fight burnout, choose performance management software that includes measurable metrics, opportunities to praise employees, and chances to help them grow in their careers.
Namely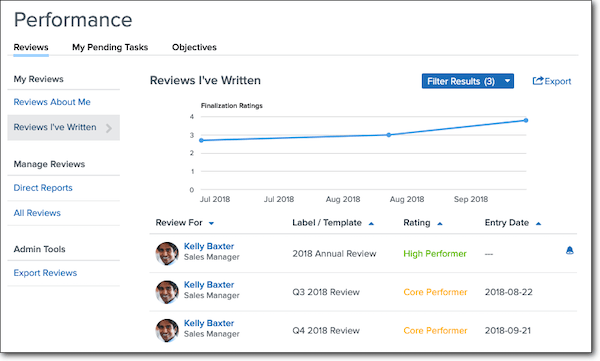 Namely is cloud-based HR software that provides a variety of human resources components, including performance management, benefits administration, and payroll. The performance management features include customizable reviews where managers and employees answer the same questions about employee performance and then discuss the results to keep everyone on the same page. Employers can log and track KPIs, and co-workers can give shoutouts and recognition on the Namely feed.
Engagedly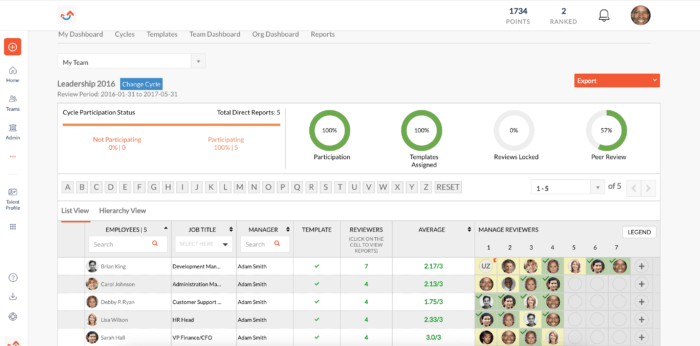 Engagedly is performance review software that encourages continuous performance management, rather than once-per-year reviews. It includes templates for performance reviews and competency assessments to help employers measure the right metrics while providing a space for real-time feedback. The recognition feature allows employees to reward each other with points, badges, and rewards to foster a healthier culture at work and show their co-workers their appreciation.
Zoho People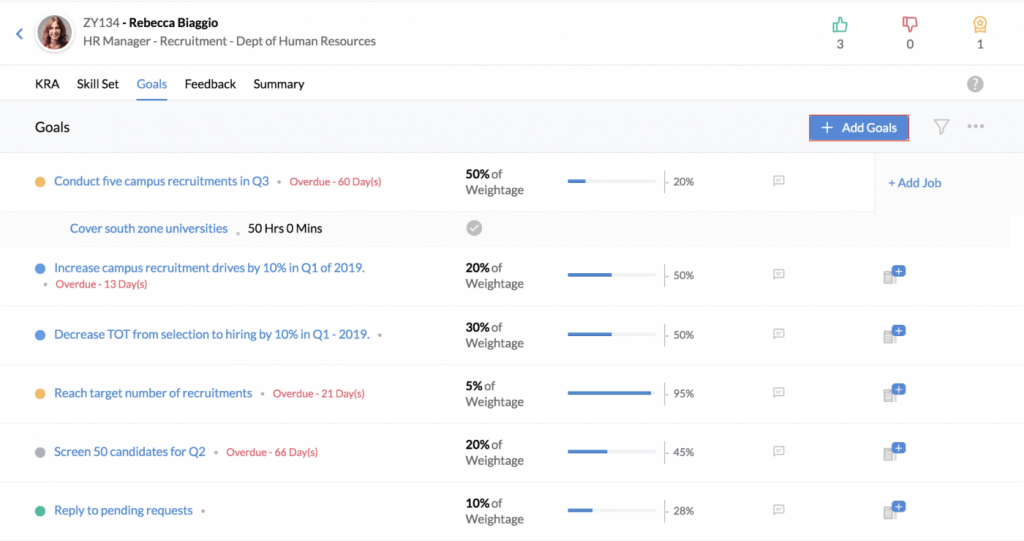 Zoho People is a full human resources management system (HRMS) that includes a performance management module. It includes a continuous feedback system, and the performance appraisals are customizable, so each team can track the KPIs that are most important to them. Employees can add self-reviews, and managers can request feedback from an employee's coworkers to create a more comprehensive picture of the employee's performance.
Other business practices that contribute to burnout
Performance management software, unfortunately, can't fix all of the problems that lead to burnout. Other factors include:
The business or department being chronically understaffed
Asking employees to wear too many hats for long periods of time
Fake empathy from management or executives
Empty promises regarding raises or growth opportunities
Intruding on your employees' time outside of work
Your employees aren't machines. They need regular breaks and time off to operate at peak performance. If you struggle with employees continually complaining about burnout or suffer from a high turnover rate, you probably need to evaluate your business and determine if staffing issues or restrictive policies could be causing the problem.
To find the best performance management software for your business, use our Performance Management Product Selection Tool. After answering a short survey, you'll get a customized list of product recommendations.
Read Next: 6 Ways to Reduce Employee Attrition That Have Nothing to Do with Beer
Top Human Resources Software Recommendations
Rippling is the first way for businesses to manage all of their HR, IT, and Finance — payroll, benefits, computers, apps, corporate cards, expenses, and more — in one unified workforce platform. By connecting every business system to one source of truth for employee data, businesses can automate all of the manual work they normally need to do to make employee changes.
Processing routine HR tasks by hand and entering data in multiple systems can be time consuming and risky. That's why leaders depend on Paycor for a modern, adaptable, and unified system for all things HR. From engaging employee self-service, mobile push notifications and company updates to unlimited workflows, reminders, and notifications, Paycor's HR software helps you get out of the weeds so you can focus on bigger priorities like attracting, retaining and developing employees.
Designed for mid-market organizations (100+ employees). PeopleGuru develops and supports cloud-based Human Capital Management (HCM) software to help mid-market organizations attract, retain, and recognize their people and streamline back-office HR and Payroll functions. PeopleGuru HCM is a cloud-based, agile solution residing on one database that includes: HR, Payroll, ACA, Benefits Management, Time & Labor, Recruiting, Onboarding, Performance, Learning, Analytics, Salary.
Need a Little Help?
Talk with a software expert for free. Get a list of software that's great for you in less than 15 minutes.