Zoho is a perfect example of a top-tier starter CRM solution. Lauded for its focus on automation rather than simple data entry, the CRM's top selling points include automating workflows, processes, campaigns, customer journeys, and more so users can "focus less on software and more on relationships." 
However, according to our Technology Advisors, users often switch from Zoho—particularly Zoho CRM—as their business grows. Their needs are no longer met by the free version of the platform's various tools, and they begin looking for alternatives.
Finding the right features for your business
Best alternatives to Zoho CRM
Maybe you need marketing automation and realized Zoho's options are pretty limited in that arena. Perhaps you need a CRM that integrates with LinkedIn. Zoho doesn't. Maybe you want a self-hosted or open-source platform. Zoho is neither.  
Or maybe you're just outgrowing Zoho's capabilities and, upon exploring the paid options, realize you might save money by switching platforms (each additional Zoho app usually requires another per user/month fee).
Whatever the reason, to make the switch to another CRM solution, Technology Advice has you covered with the best Zoho alternatives. 
Salesforce: Best for enterprises
For the budget-conscious, Salesforce might not be the first choice. The limited, introductory version of the popular CRM begins at $25 per user/month — and it's only CRM. You'll still need to sign up for a separate email service, project management, and accounting solution. However, for the buyer who's serious about finding the best tools for the job, Salesforce warrants strong consideration.
Certinia offers an excellent accounting tool that's built on the Salesforce.com platform, making integration a breeze, but you'll have to pay separately for the additional subscription. Quickbooks, Xero, and Intacct all have integrations available as well, so you'll have a variety of reliable choices at various price points.  
Another point in Salesforce's favor is the huge number of add-ons available in the Salesforce AppExchange. Sure, Zoho has 33+ pre-integrated tools you can add to your system, but the AppExchange offers thousands — most even affordably priced.  
If CRM is your primary reason for replacing Zoho, Salesforce is the market-leading option, but there are hundreds of excellent tools that may also work.
READ MORE: Salesforce Alternatives: Top 5 CRMs
Salesforce key features
Einstein AI: Build custom predictions and recommendations with clicks, embed predictive insights into any record or app, and operationalize AI by adding it to workflows
Comprehensive sales features: Opportunity management, sales forecasting, territory management, partner relationship management
Advanced reporting and analytics: Gain deeper insights into sales performance, customer behavior, and marketing efforts
Why we chose Salesforce as a Zoho alternative:
Scalable platform that can accommodate businesses of all sizes
Massive ecosystem of apps, pre-built integrations, and add-ons
Robust customer support and service features
Salesforce Pricing
Essentials: $25/user/month
Professional: $75/user/month
Enterprise: $150/user/month
Unlimited: $300/user/month
HubSpot: Best for team adoption
HubSpot takes a holistic approach to sales, advertising a "crafted, not cobbled" solution that facilitates a seamless pipeline from lead generation to post-sale follow up. By creating a seamless workflow, HubSpot delivers an experience that reduces silos between teams and increases adoption. 
For users deciding between HubSpot and Zoho, there are several reasons to adopt the former. HubSpot is known for its easy-to-use interface, making it simpler to adopt and navigate. The platform also has comprehensive inbound marketing capabilities, enabling businesses to attract and engage customers more effectively through content marketing, social media, and email marketing campaigns. 
In addition, HubSpot's ecosystem makes integration with other in-house tools efficient and simple—a considerable advantage for teams with lower CRM adoption rates due to learning curve bottlenecks. 
READ MORE: Zoho vs. HubSpot Comparison
HubSpot key features
Suite: Sales, marketing, service, operations, and CMS hubs
Extensive lead generation tools: Forms, landing pages, live chat, and chatbots
Social media management: Schedule, publish, and monitor social media posts and engage with audiences directly from the CRM
Why we chose HubSpot as a Zoho alternative:
More intuitive/ better user experience
Comprehensive inbound marketing capabilities
Unified platform 
Highly-rated customer support and tutorials, guides, and documentation
HubSpot Pricing
Free CRM suite: $0/user/month
Starter: $50/4 users/month
Professional: $565-$975/5 users/month
Enterprise: $1,265 – $3,665/10/users per month
Insightly: Best for sales
Another popular CRM alternative to Zoho, Insightly was founded in 2012, and has grown to serve hundreds of thousands of users across the globe. It's often compared with Zoho, in no small part because they both offer a free, limited version of their application to small businesses.
Insightly is tightly integrated with Google Apps/Office 365 and offers two versions tailored for either sales or for projects.
Insightly offers deeper functionality than Zoho in many respects, particularly for sales and marketing processes. It includes many important features for free, such as mass email, custom fields, and advanced reporting, for which most vendors require an upgrade or additional fee. At present, Insightly only integrates with two accounting platforms — Xero and Quickbooks — but that's hardly a deal-breaker.
READ MORE: Insightly vs Zoho
Insightly key features
Pipeline management: Track sales with with customizable stages, offering better visibility into revenue forecasting
Custom real-time data dashboards: Custom data visualizations are updated in real-time
Contact data organization: The contact management system integrates directly with social media and email 
Why we chose Insightly as a Zoho alternative:
Reporting tools quickly generate data visualizations assisted by business intelligence capabilities
Large range of integrations with other platforms, including Microsoft Office 365, Gmail, G Suite, Xero, QuickBooks, Mailchimp, and Slack
Deeper functionality for sales and marketing processes
Insightly pricing  
Plus: $29/user/month
Professional: $49/user/month
Enterprise: $99/user/month
Less Annoying CRM: Best for small businesses and startups
The epitome of a stripped down CRM, Less Annoying is built to be light on its feet and just as light on subscription fees. Although the platform only boasts 0.1% of market share in the CRM arena, it is being adopted by more and more businesses. The reasons for this are several fold. Firstly, LACRM is easy to use, resulting in extremely high adoption rates compared to other solutions. LACRM is also a prudent choice for startups, providing a management system that organizes the sales pipeline without requiring professional installation.
Businesses considering LACRM as an alternative to Zoho may be looking to cut unnecessary expenses or generate a higher adoption rate among team members. 
Less Annoying CRM key features: 
Contact management: A central location provides a place for teams to store client information and manage contacts, companies, and their relationships
Reporting: Simple reporting tools include sales progress tracking and pipeline monitoring
Calendar and event scheduling: Teams can access a shared calendar where users can schedule, events, meeting, and reminders
Why we chose Less Annoying CRM as an alternative to Zoho:
Ease of use
Flat-rate pricing
Quick onboarding
Personalized customer support
Pricing
Microsoft Dynamics 365: Best overall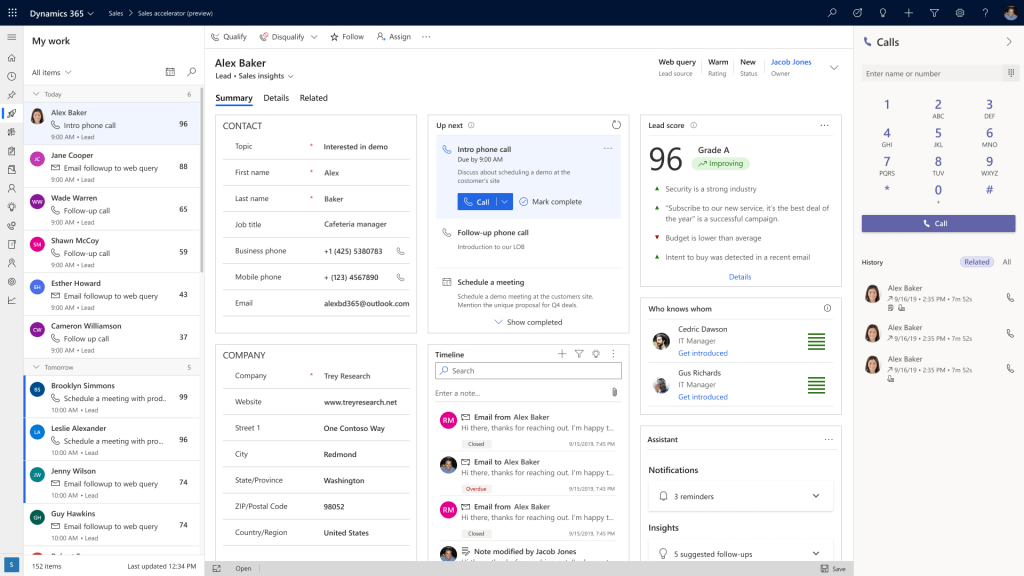 Like Salesforce, Microsoft Dynamics is one of the most popular CRMs on the market. The stability and reliability of the Microsoft name, the suite of pre-integrated tools including accounting, ERP, email, and productivity, and the wide array of products that bolt on to the platform make it a solid choice for any business. Recent and continued acquisitions by Microsoft have grown the platform and should continue to do so—Microsoft for Field Service, anyone?
For those interested in an all-Dynamics environment, consider Dynamics AX or GP for your accounting, as they integrate "out-of-the-box." Those may be a bit heavy-duty for smaller businesses, but lower-cost options such as QuickBooks and Xero require a third-party connector in order to integrate properly.
Email is, of course, available through Microsoft, or Dynamics CRM can integrate with nearly any mail client.
READ MORE: Microsoft Dynamics CRM vs Salesforce
Microsoft Dynamics 365 key features
Connection to Linkedin Sales Navigator: Allows users to access Linkedin profiles of prospective clients directly from the CRM
Integration with Microsoft ecosystem: Offers a familiar and unified experience for users
Customization: High-level customization is available through the platform's Power Apps, Power Automate, and Power Virtual Agent
Why we chose Dynamics 365 as a Zoho alternative:
Omnichannel customer support
Modular applications including sales, marketing, customer service, field service, finance, supply management, and more
Suite of user-friendly tools
Pricing 
Contact Microsoft for a quote
What Zoho Offers
The platform offers all the standard and necessary features of modern CRMs like pipeline management, collaboration, marketing automation, and analytics, as well as newer features like AI-powered algorithms that further automate data analytics. 
Zoho CRM is also part of a larger platform that includes HR, accounting, operations, and more. It has accomplished this while still maintaining low overhead costs, thanks to its remote-first work environment. 
That prioritization of decentralized collaboration carries over to their suite of software solutions, including their CRM. 
Advantages of Zoho:
Affordable pricing
Comprehensive feature set
Powerful automation tools
Remote-first functionality and support
Why Zoho may not be right for your business
Of course, with the multitude of CRM solutions available, Zoho is not the right choice for everyone. For those new to CRMs, the wealth of features and tools offered by Zoho may be overwhelming and lead to a bottleneck at the adoption stage. 
Zoho also does not offer the same flexibility as some other CRM solutions like Salesforce or Microsoft Dynamics 365. In addition, low response times and customer support have been reported by some Zoho users, making the platform a poor choice for teams without professional developers on staff.
Drawbacks of Zoho:
Reduced functionality for free/low-cost plans
Steep learning curve/low adoption rate for some team members
Limited third-party integrations
The right CRM solution for you
Ultimately, the decision of which CRM is right for you boils down to your individual business needs. 
Cloud-hosted CRMs, for example, have the advantage of being accessible from any location as well as being significantly easier and faster to set up than on-premises systems. For small businesses and startups, CRMs that offer longer free trials and free cloud-based services may be the best option. 
Another advantage of free, cloud-hosted CRMs is flexibility in deciding which features are necessary for the organization, as new tools can be added as the business grows; however, additional features can become costly and unwieldy at a certain point, which may prompt decision-makers to opt for an all-encompassing, subscription-based solution.
While all CRMs provide basic features such as lead, opportunity, and task management, some level of reporting, analytics, and integration with other tools, and communication tracking, specific CRMs fill these niches more fully than others. More advanced CRMs even offer additional features such as customizable dashboards and AI-powered insights. 
By identifying business needs like depth of reporting and analytics, budget, and customization requirements among other factors, decision makers can find the right fit for them. 
Choosing the right Zoho alternative isn't easy. Whether you're looking for a CRM, accounting, or project-focused solution, there are a multitude of factors to consider, and the risk of making the wrong choice is high. But you've come to the right place for help. 
Still looking for the latest in CRM solutions? Check out our CRM Software Buyer's Guide.
---
FAQs 
1. What are the best Zoho CRM alternatives for small businesses?
Other cloud-based CRMs that offer free or cost-effective features include HubSpot, Insightly, and Less Annoying CRM among others. 
2. What are the key factors to consider when choosing Zoho CRM alternatives?
Businesses should consider multiple factors when choosing an alternative CRM to Zoho such as budget, cloud-hosting capabilities, and specific customization, integration, and data analysis needs. 
---
Featured Partners
1

monday Sales CRM
monday sales CRM is the customizable, no-code CRM that allows you to control your entire sales funnel and close more deals, while simplifying communication and collaboration. Automate manual work, capture and import leads, and centralize deal and contact info, all in one place.
2

HubSpot CRM
HubSpot is an intuitive CRM that makes managing your sales pipeline a breeze. Everything you need to track important metrics, set up time-saving flows and automations, manage clients seamlessly, and grow your business is available in one tidy dashboard. Plans are available for businesses at every stage of growth, starting at 100% free. Start taking the guesswork out of business management today with HubSpot CRM.
3

Zoho CRM
Fully-customizable Zoho CRM provides unified solutions for businesses of all types and sizes. Conduct your Sales & Marketing analytics to gain insights using Dashboard views and Automate your daily routines. Customize your CRM theme based on your industry needs using Canvas, Omnichannel communication for streamlined communication between teams and customers, handle customer support from within the platform to improve customer relationships. Get Started with Zoho CRM now!
How we choose our products
At TechnologyAdvice, we assess a wide range of factors before selecting our top choices for a given category. 
To make our selections, we rely on our extensive research, product information, vendor websites, competitor research and first-hand experience. We then consider what makes a solution best for customer-specific needs.
For our Zoho CRM Alternatives list, we looked at 23 options before whittling them down to five options that cover all bases.
Technology Advice is able to offer
our services
for free because some vendors may pay us for web traffic or other sales opportunities. Our mission is to help technology buyers make better purchasing decisions, so we provide you with information for all vendors — even those that don't pay us.