Quick summary:
HubSpot and Zoho CRM are both popular CRM options for SMBs.
HubSpot CRM is free, while Zoho CRM is available in several different pricing tiers. Read on for comparisons on features, pricing, integrations, and time to implement.
---
Both HubSpot CRM and Zoho CRM position themselves as alternatives for the other, but who should you believe? Both CRM vendors offer powerful solutions for small to medium-sized companies, and while one is free and the other is not, that doesn't necessarily mean it's better.
We'll take a deep dive into both HubSpot and Zoho CRM, comparing them side-by-side on a number of criteria to help you make a more informed decision.
Read on for an objective comparison of the two CRM solutions, or complete the form on our customer relationship management (CRM) software page to get a free, no-hassle shortlist of the best CRM software for your business. Click the banner below to get started.
Table of contents
What are HubSpot and Zoho CRM?
HubSpot and Zoho CRM are both customer relationship management (CRM) software solutions. These systems are designed to help businesses keep track of their relationships, manage leads, and identify opportunities for converting leads to sales. You can think of a CRM system as a digital Rolodex.
Learn more about CRM software and compare vendors on our CRM software page.
HubSpot CRM


HubSpot CRM is the free CRM offering from HubSpot, a sales and marketing software as a service (SaaS) company. Apart from being free, HubSpot markets its CRM as an easy way to optimize lead conversion and keep tabs on sales opportunities. Quick implementation is another key aspect of HubSpot CRM's value proposition, and many users agree that the software provides a good user experience (UX).
Zoho CRM

Zoho CRM is the CRM solution developed by Zoho, a business software company that develops software for everything from sales and marketing to human resources to finance. Zoho touts automated workflows with freedom for customization as one of the biggest selling points of its CRM. This solution is all about working smarter, not harder, so Zoho CRM also includes an AI-powered sales assistant called Zia that responds to voice commands much like Apple's Siri or Amazon's Alexa.
Table comparison of HubSpot vs. Zoho CRM
On the surface, HubSpot seems like a lighter alternative to Zoho, which is a decidedly more feature-rich CRM. But don't be dazzled by features alone. You may need more bells and whistles than what HubSpot offers, but there are additional factors you'll want to consider when choosing a CRM software. Use the table below to compare both solutions side-by-side to make sure they meet your requirements across multiple criteria.
HubSpot CRM
Zoho CRM
Average user rating
4.5/5
4.5/5
Quick facts
Pricing
free
low-end
Works best for
SMBs
Any sized business
CRM features
Contact management

Yes

Yes

Customer management

Yes

No

Lead management

Yes

Yes

Sales forecasting

No

Yes

Task management

Yes

No

Custom fields/forms

Yes

No

Email marketing

Yes

No

eCommerce

No

No

Order management

No

Yes

Notable integrations
Google Drive

Yes

Yes

Social media

Yes

Yes

eCommerce

Yes

No

Microsoft Outlook

Yes

No

Zapier

Yes

Yes

Gmail

Yes

No

Google Calendar

Yes

Yes

Platform features
Analytics

Yes

Yes

Cloud platform

Yes

Yes

Document management/sharing

Yes

No

Access control

Yes

No

Dashboards

Yes

Yes

Mobile application

No

Yes

API

No

No

Automatic notifications

Yes

No
Click here to download this table as an image
Pricing
The biggest point of differentiation for HubSpot and Zoho CRM is, without a doubt, pricing. HubSpot's CRM solution is "100% free, forever" according to their website, but if you really want to get the most out of HubSpot CRM, you'll probably wind up reaching for your wallet. Zoho CRM does offer a free version of its software with limited features, but this is only available for teams of three users or less.
The additional sales features for HubSpot CRM are technically part of HubSpot's Marketing Hub. Marketing Hub features include live chat, conversational bots, forms, email marketing, marketing automation, and an events API, depending on which one of the three pricing tiers you go with. Even if you don't go for additional features, HubSpot CRM does have many must-have CRM features. That's not bad considering it comes without a price tag.
Zoho, on the other hand, is not free unless you spring for the three-user plan for home businesses, but it is reasonably priced. Compared to other popular CRM solutions like Salesforce and Insightly, it's hard to beat the cost of Zoho CRM. Zoho also offers Zoho CRM Plus at one per-user, per-month rate, billed either monthly or annually if none of its regular pricing tiers appeal to you.
The bottom line is, you might do fine using HubSpot CRM for free if you have one or two salespeople. But if you have several or more salespeople, you should consider either paying for the additional features in HubSpot's Marketing Hub or going with Zoho CRM instead. HubSpot CRM is good for a free solution, but given that it operates on a freemium model, expect features to be reduced or limited.
Features
Comparing features in HubSpot vs. Zoho CRM one-to-one is tricky because both solutions vary widely in terms of features offered. For instance, HubSpot CRM offers task management while Zoho CRM does not; Zoho CRM offers sales forecasting while HubSpot CRM does not.
HubSpot CRM may satisfy all your base feature requirements, and you might be able to live with or without the additional features Zoho CRM offers. If this is you, read the following side-by-side comparison of the two most essential features that both solutions offer.
Contact and lead management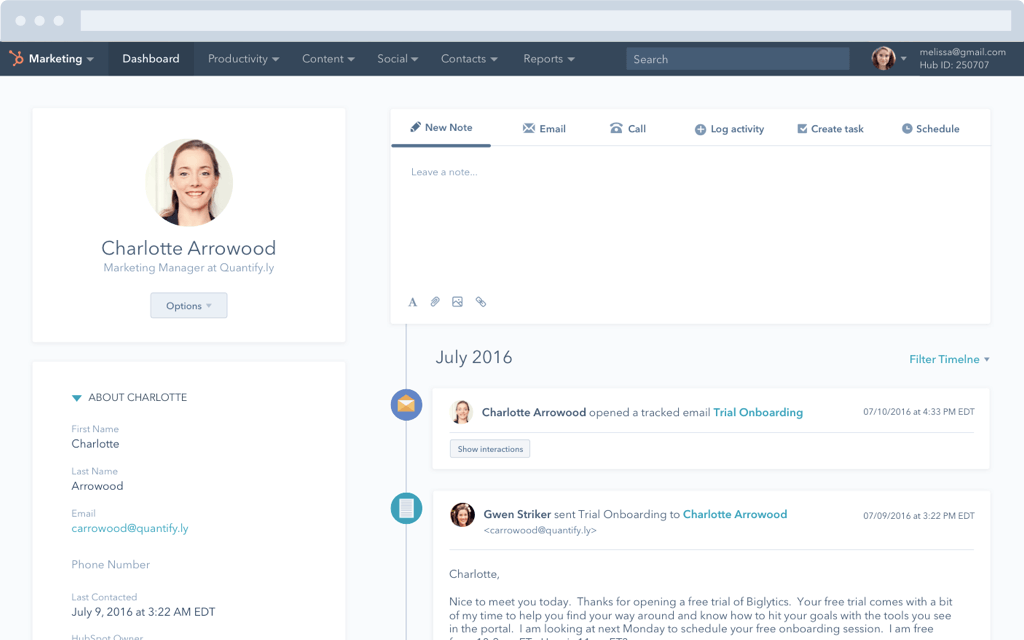 Contact and lead management in HubSpot CRM lets you store up to one million contacts and company records. You can either enter contact information manually, or you can have HubSpot retrieve this information from form submissions or your email inbox. A contact's information is listed in a vertical column on the left hand side of the page, and an activity timeline shows you the history of your relationship with that contact, including sales information.
HubSpot CRM automatically creates a company record anytime you add a contact from a new company, pulling company information from HubSpot's proprietary business database. As you would expect from any good CRM, HubSpot CRM also lets you email and call contacts without having to leave the CRM. Dashboard and reporting features are available as a paid add-on.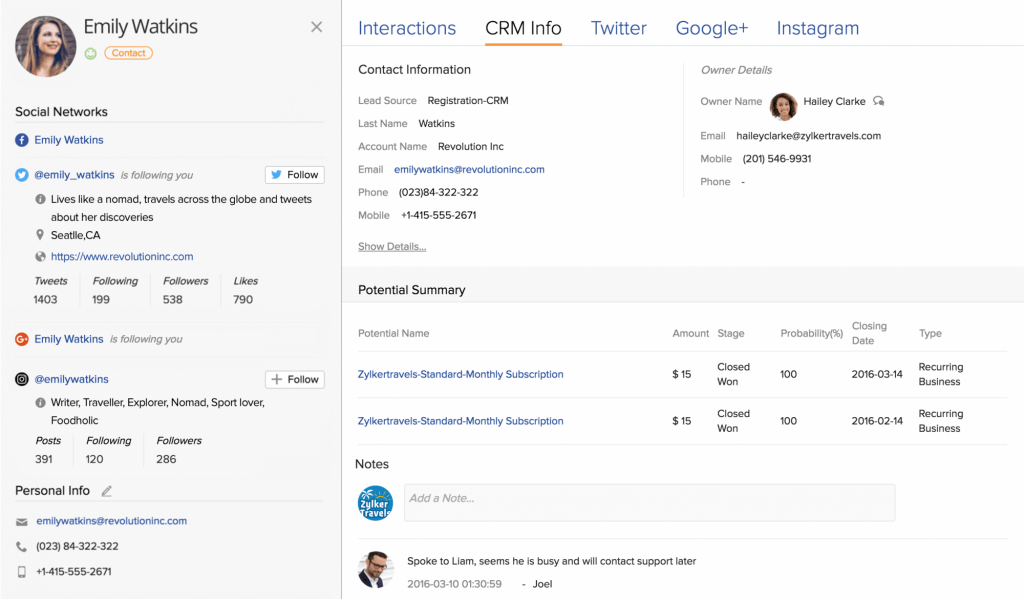 Zoho CRM's contact management feature allows you to store up to 100,000 contact records, no matter which pricing plan you decide to go with. Like HubSpot CRM, Zoho CRM offers its own account management feature for storing information about the companies you work with.
Contact information displays in a horizontal box across two vertical columns, which makes it easy to see all contact information without having to scroll down. You can leave notes on a contact and see overviews of your interaction history. Zoho CRM also offers social listening, so you can see right from the CRM whenever a contact reaches out via social media.
In terms of lead management, Zoho CRM offers more capabilities than HubSpot CRM. Using Zoho, you can assign leads to sales reps based on different criteria, create your own lead scoring rules, and convert leads to deals. You can also generate leads from web forms, the Zoho CRM Leads mobile app, live chat, and social media.
Sales software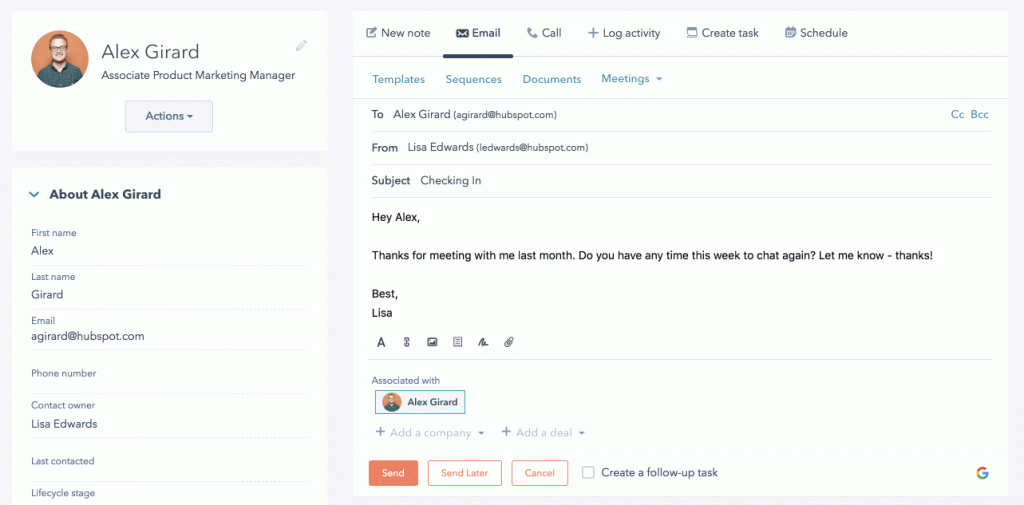 HubSpot makes sales software as a standalone solution, but every free HubSpot account also comes with some limited sales tools. These include one deal pipeline, standard sales reports, live chat, one personal meeting link, 200 notifications per month for email tracking, and the ability to schedule emails.
If you decide to upgrade to HubSpot Sales Hub, you can also use features like email sequences (sales email cadences), advanced analytics, and expanded capabilities for all sales features offered in HubSpot's free CRM. For sales teams of one or two people, HubSpot's free CRM might offer the essential sales tools you need, but larger teams will benefit from upgrading to access more of the sales features you'd expect from a traditional CRM.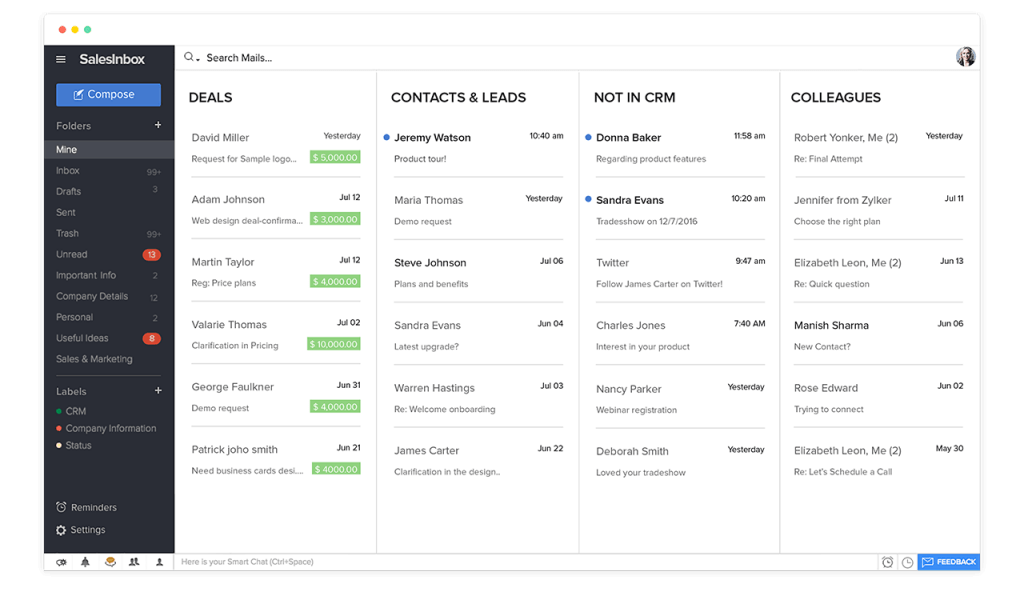 Zoho CRM offers sales tools across its pricing tiers, including scoring rules, email insights, SalesSignals, SalesInbox, and more. None of these sales features are available in Zoho CRM's Free Edition, and SalesSignals and SalesInbox are only available in the Professional and Enterprise tiers, respectively.
The Enterprise tier Zoho CRM offers the most sales tools, including SalesInbox, which lets you manage your sales inbox without leaving Zoho CRM. Zoho SalesInbox lets you organize your inbox by contact type, and it also allows you to view email interactions as part of the activity feed in the contact management feature. You can also define notification triggers to keep you from missing time-sensitive or important messages.
Implementation
Among other careful considerations you'll want to make when choosing between HubSpot and Zoho CRM is implementation time. This is the amount of time, from start to finish, that it takes to migrate from your old CRM to a new one. According to a 2019 study from TechnologyAdvice, companies migrating from an old CRM to a new one should expect implementation to take longer than companies that have never used a CRM before.
Also read: 2019 Software Research and Implementation Benchmark Report
Good preparation is essential to implementing a new CRM on time and on budget. No matter the CRM solution you choose, preparing to migrate to a new system will take much longer than the actual migration process itself. This varies by obvious factors such as the number of records you need to move and the size of your sales team, but it also depends on how feature-rich the new CRM is.
It should come as no surprise, then, that implementation time for HubSpot CRM is significantly lower than implementation time for Zoho CRM. Depending on how many records you have and whether or not you choose HubSpot's free CRM versus one of HubSpot's paid tiers, you can expect implementation of HubSpot CRM to take anywhere from one day to a couple of weeks. By contrast, Zoho CRM typically takes 30 days or longer to implement.
Finding the right CRM for your business can feel like a long, drawn-out process. Let us make it easy for you.
When you complete the form on our customer relationship management (CRM) software page, our team of Technology Advisors will get in touch with a free, no-hassle shortlist of the best CRM solutions for your specific needs. Getting started is easy and takes less than five minutes.
What to read next
For more information on HubSpot vs. Zoho CRM and for more information on CRM software in general, check out the following articles. Feel free to contact us should you have any questions.