Quick summary
Insightly vs. Zoho are evenly matched in sales automation and contact management.
The two CRM software systems differ most in task management and reporting features.
---
Insightly vs. Zoho CRM makes for an interesting matchup. Both sell their products in subscription tiers with affordable rates while offering an impressive amount of contact management, workflow automation, and reporting capabilities.
Also Read: Zoho vs. Salesforce
To help you make a more informed decision, this post will compare the two CRMs based on systems and pricing, features, mobile capabilities, and integrations.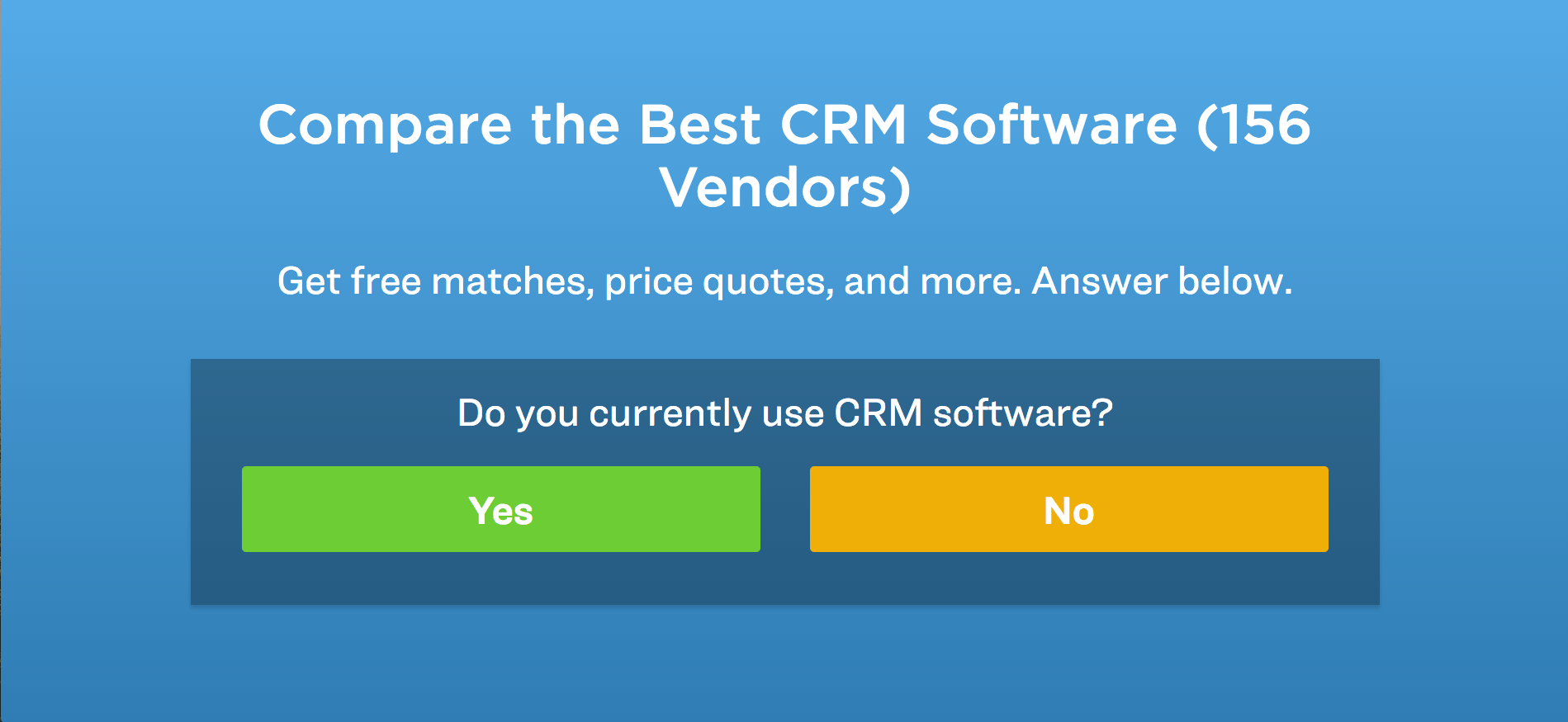 Systems and pricing
Insightly and Zoho employ the standard software-as-a-service (SaaS) model and offer subscription tiers priced on a per user, per month basis.
Zoho's tiers are divided into Standard, Professional, Enterprise, and Ultimate.
Standard includes access to reports and dashboards, a conversion workflow, email marketing insights, and a 100,000 records limit.
Professional offers webhooks, inventory management, Google Ads integrations, and unlimited records.
Enterprise adds a conversational AI tool, mobile SDK, custom module creation, workflow automation, and custom applications.
Ultimate edition provides a dedicated database cluster, automation suggestions, email sentiment tools, and data enrichment.
Insightly offers four subscription types: Basic, Plus, Professional, and Enterprise.
Plus gets you access to 100 custom email templates, 100,000 records, 2,500 emails per day, and email support.
Professional includes all of the features of the Basic package and adds custom webhooks, 250,000 records, and complete workflow automation among other features.
Enterprise increases the number of templates and mass emails and adds custom fields, space for storing records and files, better business intelligence tools, and unlimited records.
Both companies also offer free versions of their software, albeit with limited functionality.
Features
These two small business CRM systems have many of the same core features. We'll compare contact management, task management, email marketing, sales automation, and reporting features in Insightly vs. Zoho.
Contact management
CRMs were originally designed to manage contacts, making this feature set indispensable for both vendors. Zoho and Insightly both provide ample contact management functionality. Both platforms let you import leads from your current system and create custom fields to match the structure you've been using in another platform.
Further, each platform features the now common hierarchy of leads, opportunities, contacts, and accounts (or "organizations" in Insightly). On the page for each record, users can track interactions, assign follow-up tasks, record notes, and change the contact's sales stage.
Though the basic contact management functionality is similar, there are some differences between the two platforms.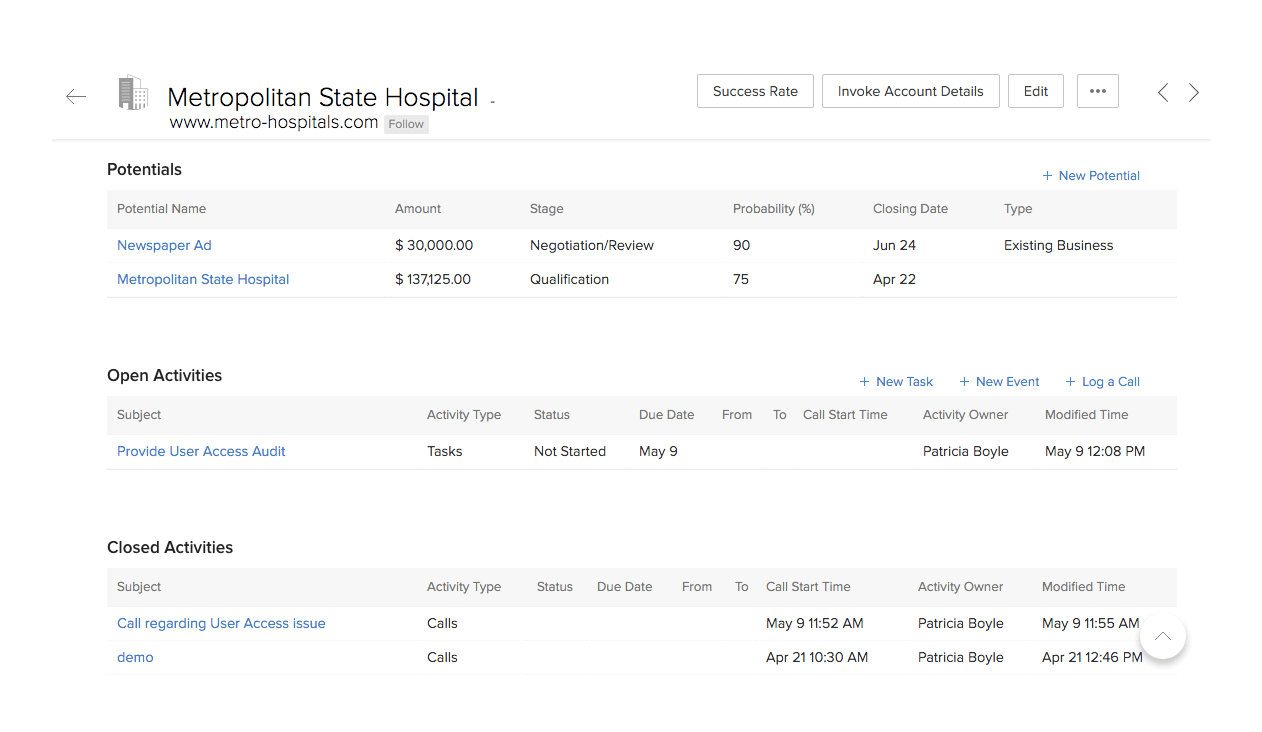 Zoho has a territory management feature that assigns leads and contacts to different sales teams based on geographical location, product line, and industry. To provide another level of organization, a territory manager can be assigned to act as an admin for the accounts under them.
Insightly uses tags to offer another method for directing contacts once they're inside the system. Custom tags can be created to represent geographical region, product line, and other important information.
Both systems also include web-to-lead forms that you can embed on your website. When someone fills out a form, their information will automatically be added to the CRM database.
Task management
To help salespeople develop a better contact follow-up cadence, many CRMs now offer task management features. These tools use automatic reminders to streamline tasks that might otherwise get lost in the shuffle. Instead of guessing when it's best to call a person, users can set a reminder to follow up after a period of time.
Zoho and Insightly each provide some form of task management, though this is one area where Insightly has a definite advantage.
Insightly uses a horizontal pipeline to visualize sales stages instead of the traditional vertical funnel. This is great for lead management, but the value of the pipeline feature extends beyond sales stages and into full-blown project management.
Pipeline stages can be customized to represent different project stages, so you can manage sales opportunities as projects — from end-to-end. Projects can be sorted by stage or assigned to a user.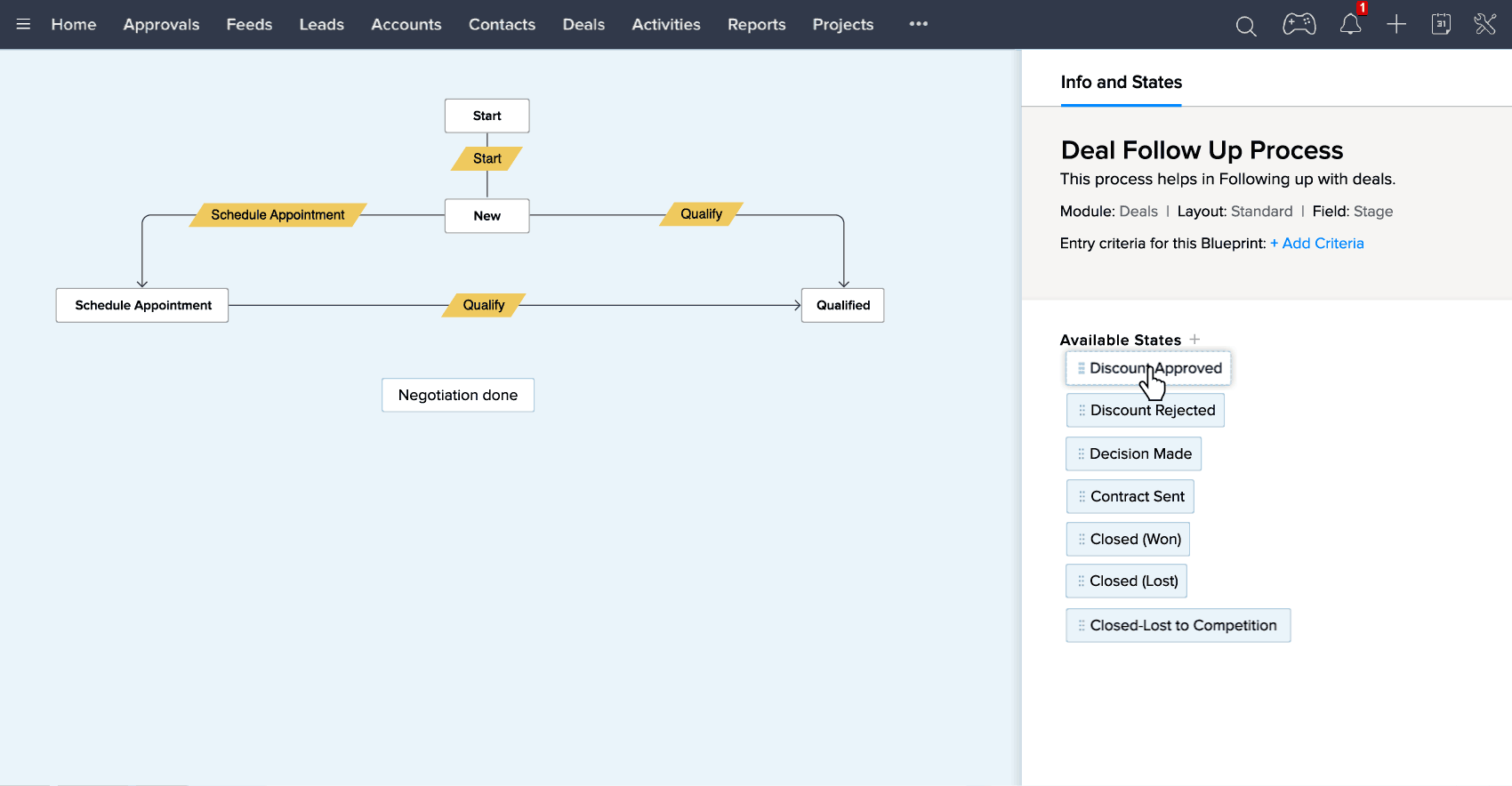 Zoho also has task management capabilities provided by workflow automation tools. Build custom process automations with the Blueprint tool or set custom approvals to quickly route tasks through team members and sales stages.
Zoho does offer a more comprehensive task management system in Zoho Projects, which is available as an add-on.
Email marketing
Neither of these CRMs offers comprehensive email marketing capabilities, but they both allow users to create email templates, send them out to an entire list, and track the analytics associated with each.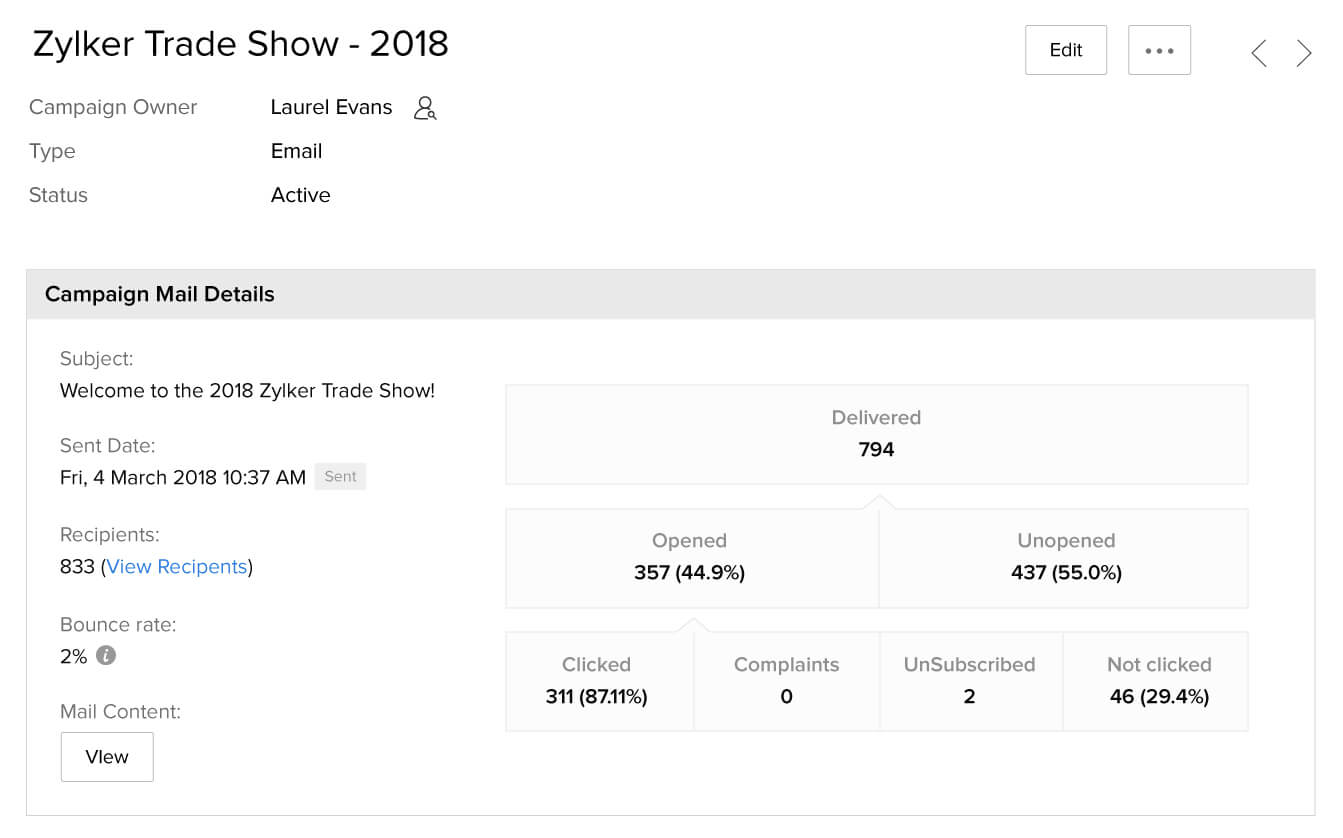 If you want to connect your CRM to a full-blown email marketing software, each system has a different solution. Insightly integrates with Mailchimp, and Zoho connects with Zoho Campaigns — the company's email marketing tool.
Sales automation
Getting salespeople to consistently use a CRM has long been a major roadblock to achieving ROI. That reticence stems from the amount of manual work that older-generation CRMs required. The software vendors that were smart enough to respond to this opportunity equipped their CRMs with automation features that reduce laborious data entry.
Zoho and Insightly provide sales automation functionality that uses "if-then" logic to build self-activating functions within each system.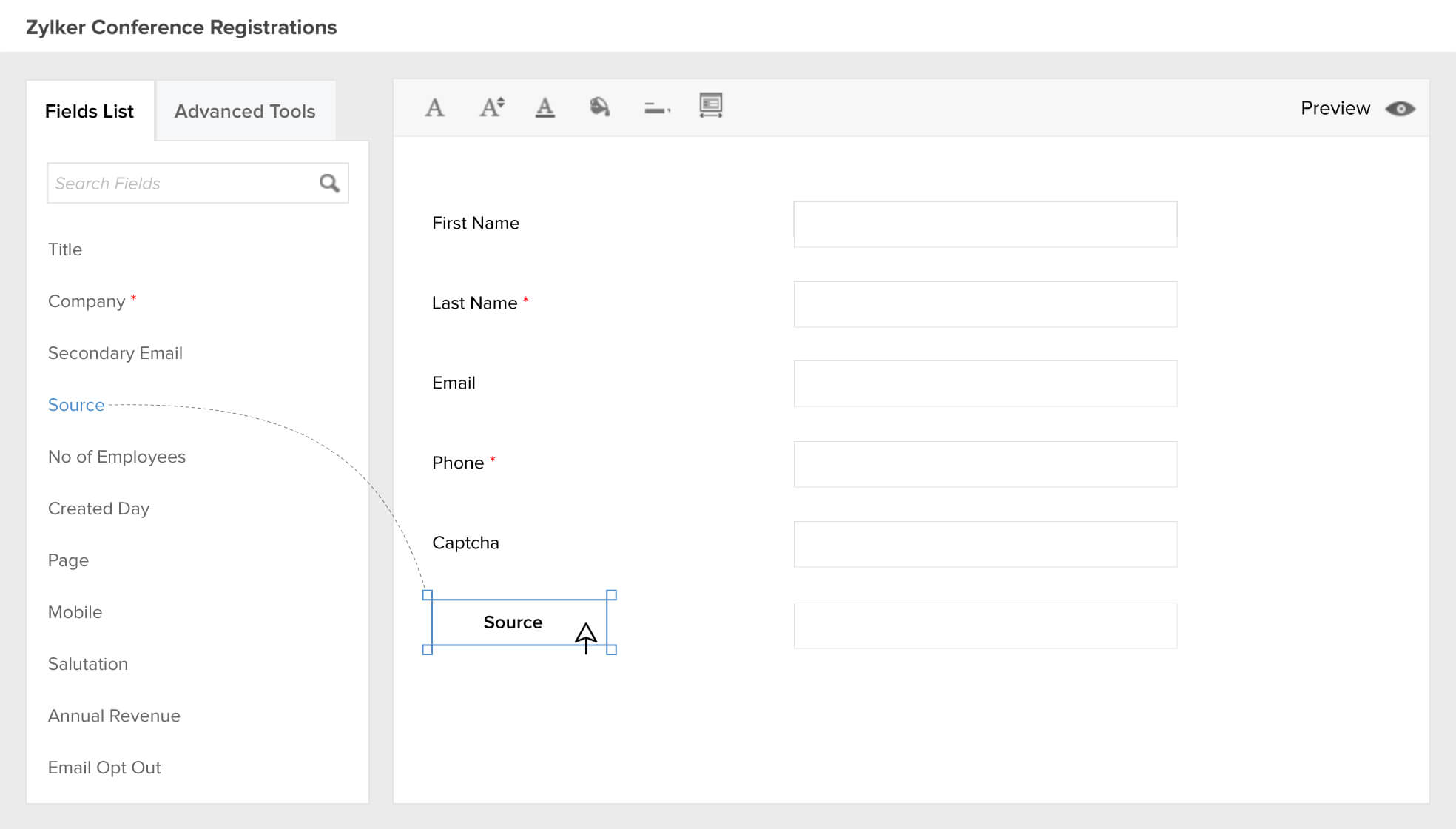 For example, when you load a new batch of leads, you can build a sales automation rule that sets a reminder to call each lead a week from their creation date. These automation tools take a lot of the manual out of sales processes.
Reporting
The reporting in Zoho vs. Insightly differs significantly, although both products have full capabilities for CRM data reporting, analytics, and dashboards.
Zoho classifies its available reports in sales, marketing, and activity reports. For each report you make, you will receive a spreadsheet that you can download to .csv or .xls. Once you run the report, you can visualize the data in charts or graphs.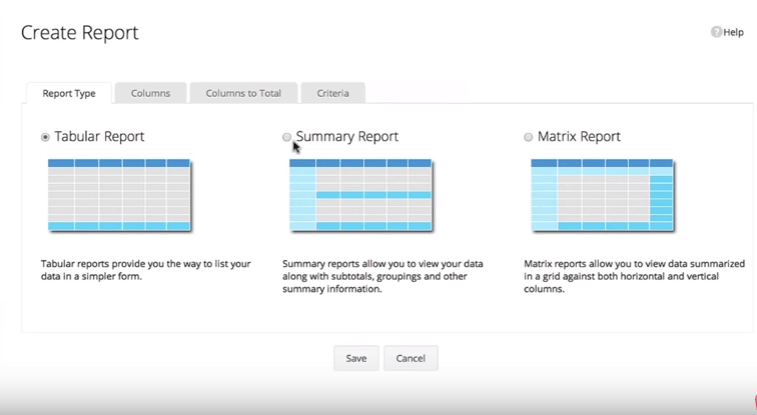 Zoho comes with over 40 pre-built reports, and the system lets you build custom versions if you need a very specific view. You can also access more data analytics capabilities with a subscription to Zoho Analytics.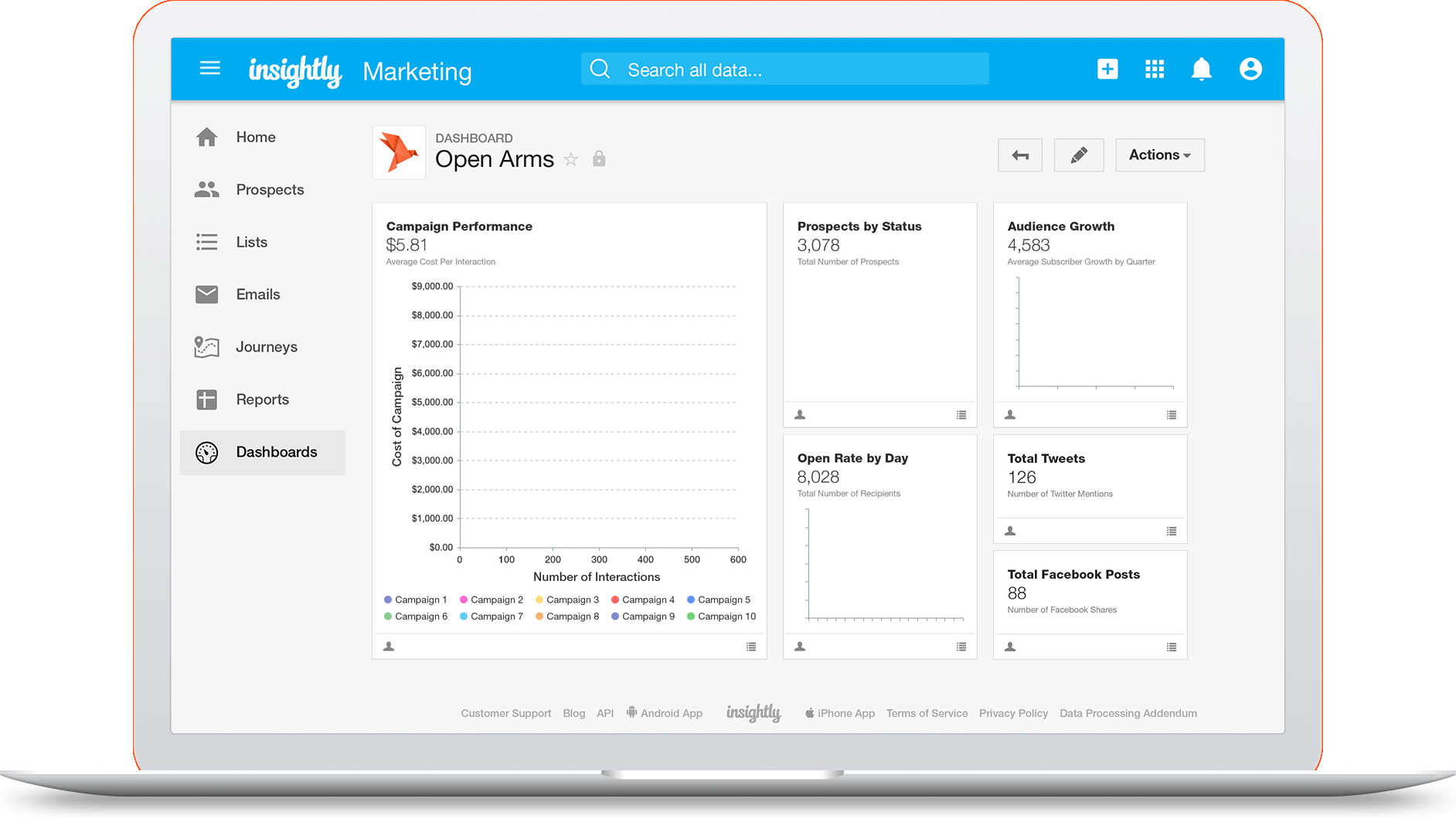 Insightly includes business intelligence reporting and dashboards within the product and — depending on the subscription plan — can build customized chart cards and share them with anyone. This software also offers 40 chart types.
Extras and integrations
Both vendors offer Android and iOS apps. Insightly's app lets you view and convert records, create tasks, and call, email, or text any record in their database. There's also a map feature that makes it easy to get to your next sales call.
Zoho's mobile app offers a similar array of features: calling directly from the app and geolocation for finding a prospect's office. Zoho's app works offline, so even if you lose your signal, you can still edit contact information inside your CRM. The app will sync the changes once you've recovered internet access.
In terms of integrations, both products offer a similar set of options. Insightly integrates with over 30 apps, like Dropbox, Outlook, and Google Apps (full list here). Zoho integrates with Mailchimp, Unbounce, Evernote, and others (full list here).
If you want to sync either CRM with an app not listed in their native integration list, you can always use Zapier to build a trigger automation.
Also read: 8 Zapier Alternatives for Seamless Data Connections
You can combine Zoho's base CRM with any of the other apps in its "online office suite," including Zoho Projects, Zoho Invoice, Zoho Support, Zoho Books and others. That means you can customize and grow Zoho as your needs change, which may make Zoho more appealing for a fast-growing or mid-sized company.
Which CRM is right for you?
Insightly vs. Zoho is a close contest. You can purchase both systems at a similar price point and get similar contact management and sales automation capabilities. Insightly's project management feature, however, is a clear advantage, while Zoho's scalability with territory management and add-on modules gives it an edge.
Still can't decide? Use our Product Selection Tool to get free recommendations like Zoho, Insightly, and other CRM platforms, or schedule a free call with one of our product experts for in-depth guidance.
Top CRM Software Recommendations
Insightly is a unified customer relationship management (CRM) platform for growing businesses across all industries, including manufacturing, professional services, health & wellness, media, education, retail, construction, and others. With more than 1.5 million users worldwide, Insightly is the world's most popular CRM software for Google and Office 365 users.
Really Simple Systems CRM helps you work smarter by managing and tracking your sales leads and customers, letting you get on with growing your business. Designed for growing teams B2B, our CRM is super-easy to set up and simple to use - with exceptional customer service. There's a customizable Sales CRM, plus options for Marketing and Service tools and external app integrations - so everything is in one place, enabling great team collaboration and customer relationships that drive sales growth.
HubSpot is an intuitive CRM that makes managing your sales pipeline a breeze. Everything you need to track important metrics, set up time-saving flows and automations, manage clients seamlessly, and grow your business is available in one tidy dashboard. Plans are available for businesses at every stage of growth, starting at 100% free. Start taking the guesswork out of business management today with HubSpot CRM.
Need a Little Help?
Talk with a software expert for free. Get a list of software that's great for you in less than 15 minutes.
Technology Advice is able to offer
our services
for free because some vendors may pay us for web traffic or other sales opportunities. Our mission is to help technology buyers make better purchasing decisions, so we provide you with information for all vendors — even those that don't pay us.