Key Takeaways
Power BI comes at a lower price point than Tableau, but scaled features and additional users will increase that price.
Tableau is built for data analysts, while Power BI is better suited to a general audience that needs business intelligence to enhance their analytics.
---
The world of data visualization and analytics is moving fast with new players hitting the market and established brands absorbing smaller up and comers every day. To stay at the forefront of the data analytics field, a tool must have that special mix of power, ease of use, brand recognition, and price. Both of these tools have this secret sauce, which is why many teams find themselves comparing Microsoft Power BI vs Tableau when looking for the perfect data analytics tool.
Also Read: Top Tableau Alternatives For Visualizing & Analyzing Data
Power BI and Tableau aren't the only market leaders in the business intelligence space. Looking for the latest in Business Intelligence solutions? Check out our Business Intelligence Software Buyer's Guide.
Featured partners
1

Domo
Domo puts data to work for everyone so they can multiply their impact on the business. Underpinned by a secure data foundation, our cloud-native data experience platform makes data visible and actionable with user-friendly dashboards and apps. Domo helps companies optimize critical business processes at scale and in record time to spark bold curiosity that powers exponential business results.
2

Yellowfin
Yellowfin's intuitive self-service BI options accelerate data discovery and allow anyone, from an experienced data analyst to a non-technical business user, to create reports in a governed way.
3

Wyn Enterprise
Wyn Enterprise is a scalable embedded business intelligence platform without hidden costs. It provides BI reporting, interactive dashboards, alerts and notifications, localization, multitenancy, & white-labeling in any internal or commercial app. Built for self-service BI, Wyn offers limitless visual data exploration, creating a data-driven mindset for the everyday user. Wyn's scalable, server-based licensing model allows room for your business to grow without user fees or limits on data size.
Find The Right Business Intelligence Software
No obligations, just personalized recommendations from our expert advisors.
How is Tableau Different from Power BI?
Power BI uses the existing Microsoft systems like Azure, SQL, and Excel to build data visualizations that don't break the bank. This is a great choice for those who already work within the Microsoft products like Azure, Office 365, and Excel. It's also a fairly good low-price option for SMBs and startups that need data visualization but don't have a lot of extra capital.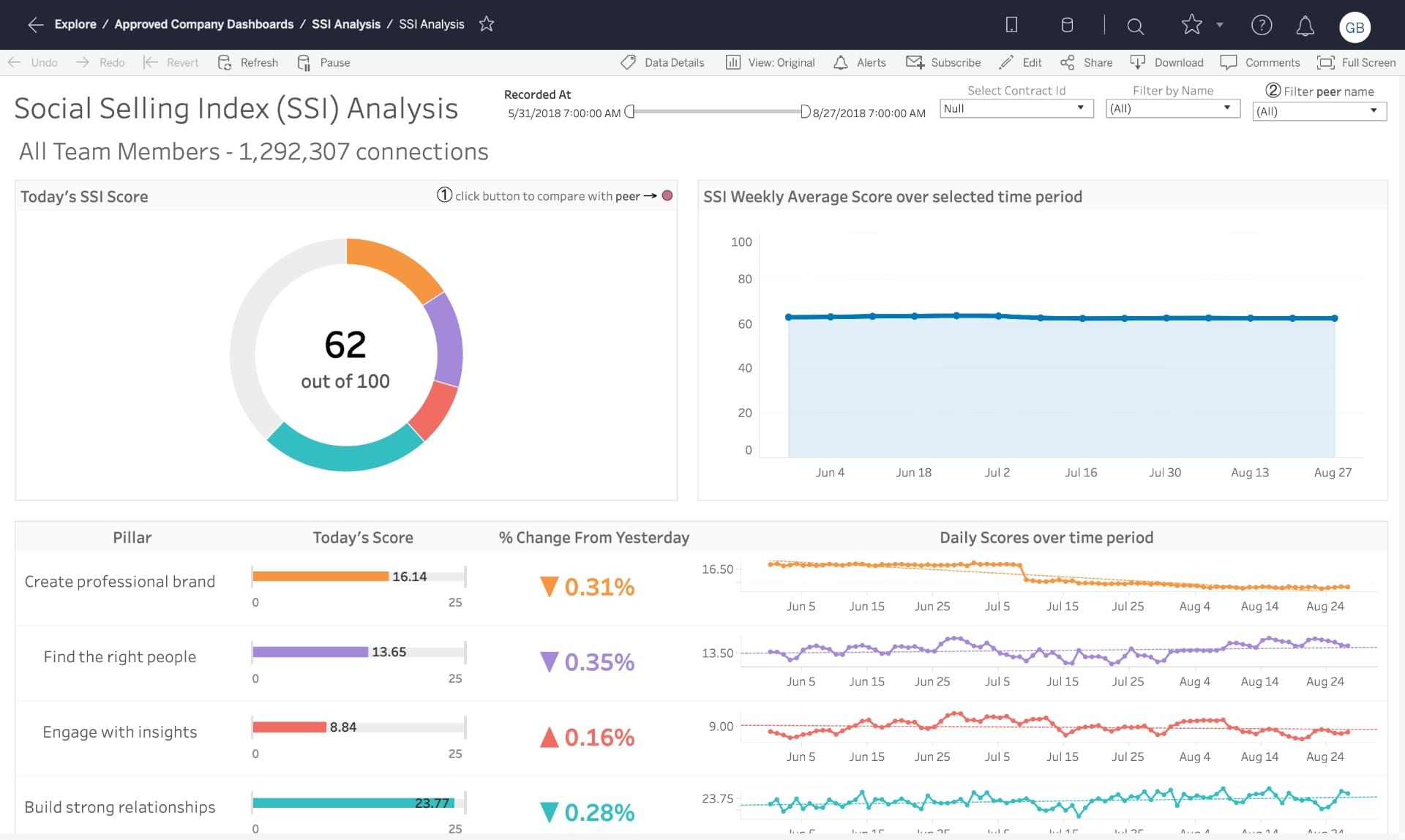 Tableau specializes in making beautiful visualizations, but much of its advertising is focused on corporate environments with data engineers and bigger budgets. There's a public (free) version of the tool, but with limited capabilities. The more you pay the more you can access with Tableau, including benchmarked data from third parties. The software also has a non-profit tool and versions for academic settings.
Price Comparison Between Power BI and Tableau
Overall, Power BI sits at a lower price point than Tableau, with a free version, a monthly subscription, and a scalable premium version with a higher price. Although it's a Microsoft product, Power BI users don't have to pay directly for Office365 to gain access to the tool's admin center interface. However, there will be charges for subscriptions and users. The way Power BI is set up within the Microsoft ecosystem makes it pretty affordable, especially for those companies who are already deeply invested in Microsoft software.
Tableau's pricing is a little more confusing, likely because they recently moved from a bulk purchase to a subscription model. The current pricing is a tiered system that distinguishes between different user types. There are creators that can make visualization models and add data sources, explorers that can edit existing visualizations to answer their own questions, and viewers that can look at the models that others have created. If you already have a lot of data on spreadsheets and want to spend the time exporting your data from third party tools before uploading to Tableau, the pricing per user is fairly reasonable but still higher than what you get with Power BI. However, if you want direct connections to your third party apps like Marketo, Google Analytics, Hadoop, or any Microsoft product, you'll need to pay for the Professional edition.
Deployment Options
Power BI comes in several forms: desktop, pro, premium, mobile, embedded, and report server. Depending on your role and needs, you might use one or all of these services to build and publish visualizations. The most basic setup is an Azure tenant (which you can keep even after your trial is over) that you connect to your Power BI through an Office365 Admin interface. Although that sounds daunting, most companies who use the software will already have the framework in place to get the server running quickly. Power BI is fairly easy to use, and you can quickly connect existing spreadsheets, data sources, and apps via built-in connections and APIs.
In addition to the free public product, Tableau also comes in several forms: individual, team, and embedded analytics plans, which are available on-premises, via a public cloud server, or a private cloud server. Tableau lets you set up your initial instance through a free trial, which gives you full access to the parts of the tool. From the opening dashboard, you'll see a list of all of your available connections. Connect your data sources, and then you can start building a worksheet where your visualizations will live. If you've built your visualizations in Tableau Desktop, you can share them with your team via Tableau Server or Tableau Online.
Integrations and Key Connections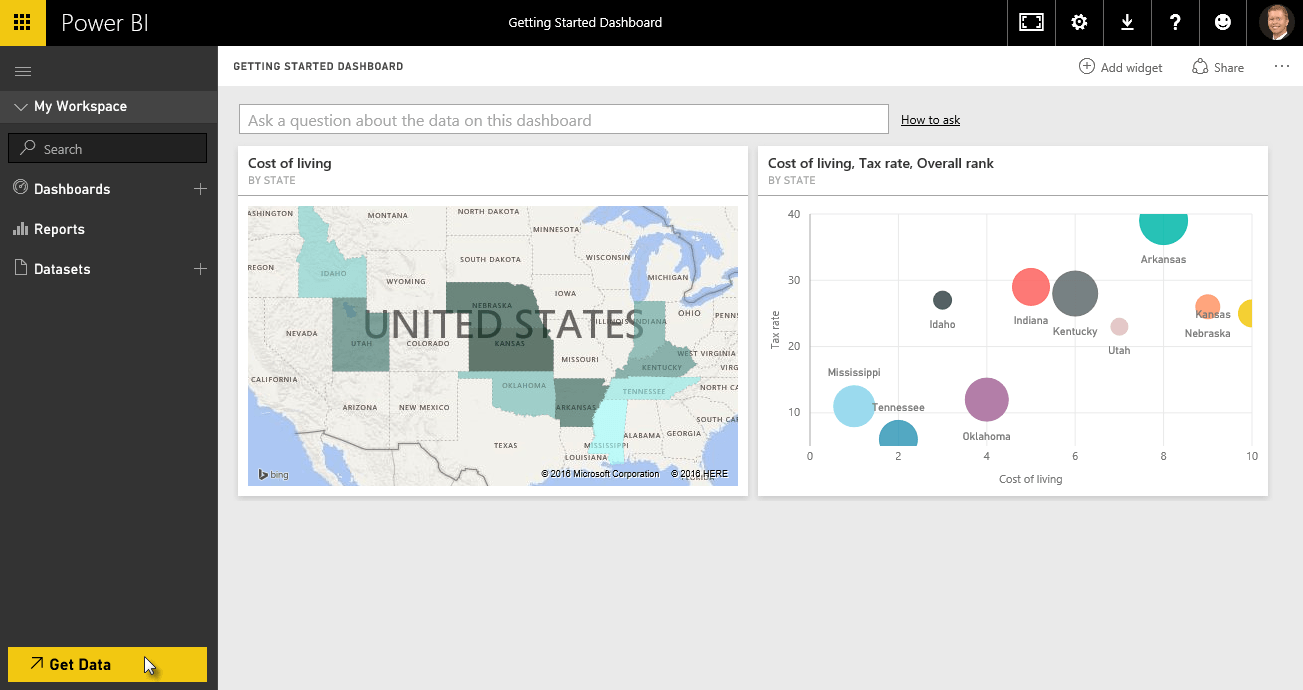 Power BI has API access and pre-built dashboards for speedy insights for some of the most-used technology out there like Salesforce, Google Analytics, email marketing, and of course Microsoft products. You can also connect to services within your organization or download files to build your visualizations. In order to connect any data to Power BI, use the "Get Data" button. You'll need to go through a short authorization process in order to get fully connected.
Tableau invested heavily in integrations with popular enterprise tools and widely-used connections. You can view all of the connections included with your account level right when you log into the tool. Tableau's connection interface is a little more involved than Power BI because you'll need to identify which data to pull into the tool when you make the connection. It might be helpful to understand what data you want to look at and why before you start making those connections.
Can Power BI connect to Tableau?
Some companies elect to use both Tableau and Power BI to improve their data visualizations. If that describes your company, you may want the option to examine Power BI models or datasets in Tableau. You can connect the two, although you may run into some issues if you have multi-factor authentication enabled or if a session remains idle for too long. Before attempting to connect the two, you'll also need to make sure you have the latest versions of both platforms installed so that they can communicate correctly.
Dashboards and BI Reporting in Tableau vs. Power BI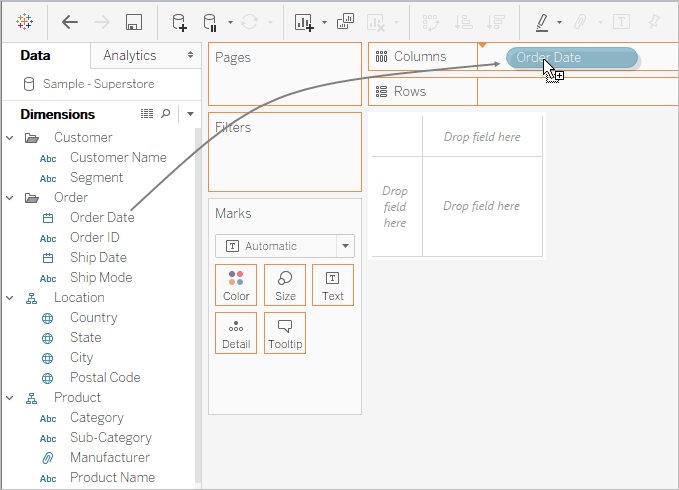 Power BI has real-time data access and some pretty handy drag-and-drop features. The whole tool is built to speed up time to visualizations, and it gives even the most novice users access to powerful data analytics and discovery without a whole lot of prior knowledge and experience.
Real-time data access means that teams can react instantly to business changes fed to Power BI from the CRM, project management, sales, and financial tools. Considering live data access is where most SaaS products and especially most dashboard products are moving toward, Power BI certainly has the leg up here.
Tableau's features are just as powerful, but some of them are a little less intuitive, being hidden behind menus. Use the dashboards and reports to forecast revenue based on past customer behavior, and employ calculations to transform existing data based on your requirements. Tableau gives you live query capabilities and extracts, which is particularly helpful for data analysts who are used to stopping all work for the query process.
The interface uses a drag-and-drop table view to ask questions of the data. You put your data types in the x and y axes, and then Tableau instantly builds your visualization. The company line is that they "keep the focus on your questions," but this really feels like Tableau lives somewhere in between query-based (and developer-dependent) data visualization and drag and drop. They balance it nicely, however, because, despite the UX's somewhat cluttered appearance, Tableau is fairly easy to use, as long as you're familiar with your data sets or are willing to spend some time studying.
Extra BI and Productivity Features
Power BI has native apps so you can access data from anywhere, alerts about changes. You can also use the publish to web feature that lets you add your visualizations directly to your blog or website. And don't worry if the tool doesn't make sense at first: there's extensive online support with guided learning and documentation including the Power BI YouTube channel, webinars.
One of the coolest features included in Power BI is the natural language query tool. This is like Google for your data. You can literally ask questions of the data like "how much do we invest in each customer?" or "where do our highest value customers live" and the natural language query tool will find answers to the questions.
Tableau also has extensive support tools that teach you everything from the basics of setting up the software through initial data analysis. You can access and manipulate data via the mobile app, and whole teams can collaborate around shared dashboards. Tableau doesn't have a natural language query, but when the company was acquired by Salesforce, the tool integrated the Einstein AI for data discovery.
What Is Better: Tableau or Power BI?
When comparing Microsoft Power BI vs. Tableau, you really have to think about who will be using these tools. Power BI is built for the common stakeholder, not necessarily a data analyst. The interface relies more on drag-and-drop and intuitive features to help teams build their visualizations. It's a great addition to any team that needs data analysis software but without getting a degree in data analysis first.
Tableau is similarly powerful, but the interface isn't quite as intuitive, which makes it more difficult to use and learn. Those with data analysis experience will have less trouble cleaning and transforming data into visualizations, but those just getting their feet wet will likely feel overwhelmed with the uphill battle to learn some data science before making visualizations.
Overall, we call this Power BI vs Tableau duel a draw. Power BI wins for ease of use, but Tableau wins in speed and capabilities. Small businesses with limited financial and human resources should start out with Power BI, especially if they already invest in Microsoft products. However, medium and enterprise companies that prioritize data analytics and have the human capital to support them will be better off with Tableau.
Power BI vs. Tableau aren't the only options for data visualization and data analysis tools. If you're ready to search for your next business intelligence tool, fill out our Business Intelligence software category page for a free, 5-minute consultation.
Technology Advice is able to offer
our services
for free because some vendors may pay us for web traffic or other sales opportunities. Our mission is to help technology buyers make better purchasing decisions, so we provide you with information for all vendors — even those that don't pay us.