Customer relationship management (CRM) software is designed to help companies keep track of their customer relationships, manage sales and marketing processes, and deliver efficient service. It functions as both a database and a productivity tool, providing a repository for contact data and workflow automations that help improve efficiency.
For those currently in the market for a CRM software provider, there is no limit to the products available. Ranging in focus from small business to enterprise to fully mobile, CRM providers have diversified features that offer customer specific solutions to businesses in all industries. CRM software allows users to manage customer interactions, leads, proposals, sales opportunities, projects, and tasks from one place. Cloud-based iterations allow users to access from any device and review adjustments in real time.
Researching CRM software providers, you've most likely come across many platforms. Each product varies in deployment and system sizing. And each offers a carefully curated set of features that benefit different organizations in different ways. In this article, we'll compare a few favorites, Copper (formerly Prosperworks), Apptivo, bpm'online, Base, and Insightly, and look at their systems, pricing, features, and integrations to help you identify which is best for your needs.
Do you use any of these tools and have something to say about them? Leave a review today for other's to get a better understanding of how the project management tools work in real time.

Company Overviews
Apptivo was created to fuel small business growth within the global market. Initially launched in 2009, their mission was to become an affordable and user-friendly solution for small businesses to collaborate with customers and partners. Now, 150,000 businesses in 194 countries use the Apptivo platform for their CRM system.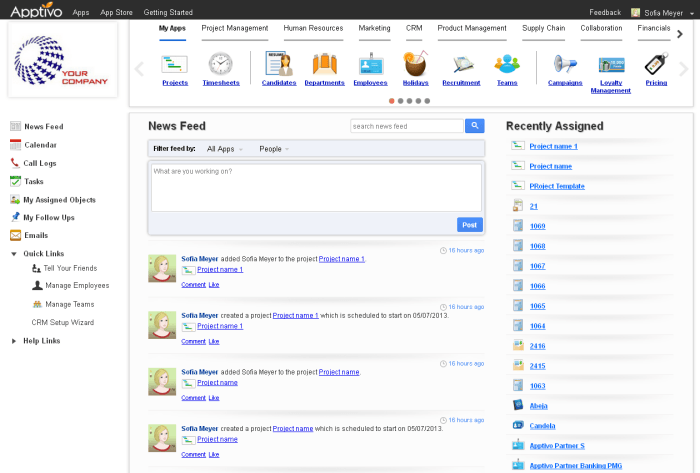 Base is a cloud-based CRM and sales productivity platform that works with mid-market and enterprise companies. Founded in 2009 and working with more than 7,000 customers, Base provides an intuitive user interface. Reps and management use their time to access, analyze, and collaborate on up-to-date and relevant data.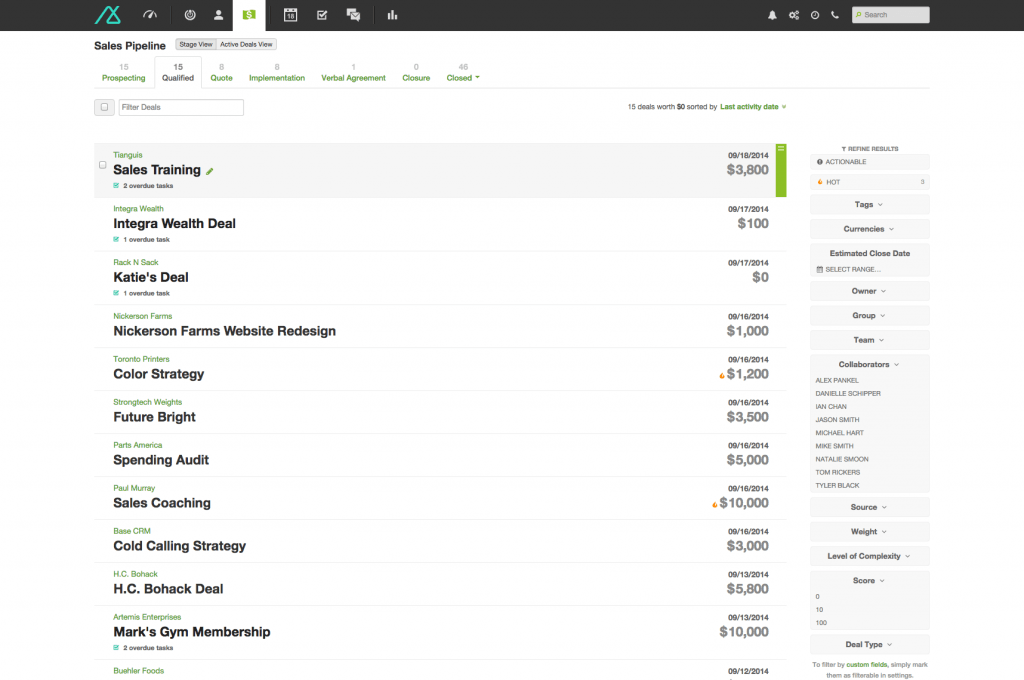 Bpm'online provides process-driven, cloud-based software for marketing, sales, and service automation to more than 6,500 customers around the globe. The value of bpm'online products is in the out-of-the-box functionality that guides users through actionable items. Built around a minimalist and socially conscious framework, product users stay focused on client engagement.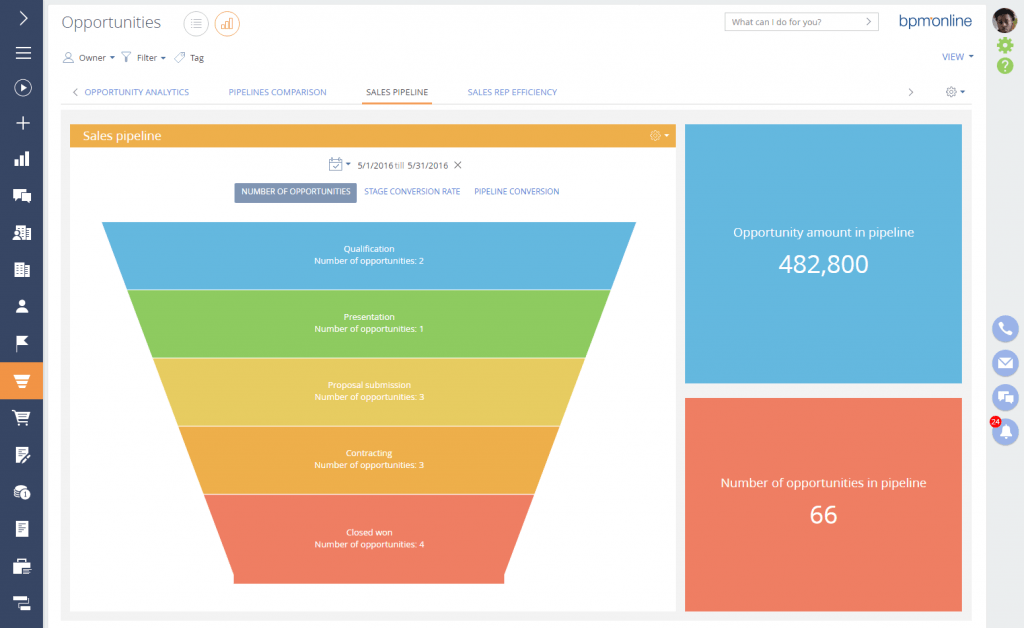 Insightly provides customer relationship and project management software to small businesses worldwide. More than 650,000 users in 180 countries use Insightly's cloud-based application to manage customer interactions, leads, proposals, sales opportunities, projects, and tasks from any device at any time.
Copper (formerly ProsperWorks) was founded in 2011 by entrepreneurs wanting to offer something different to the CRM marketplace. Namely, they wanted to create a platform that offered integrations with Google Apps. The cloud-based platform is built for companies that use Google Apps to manage online and social interactions.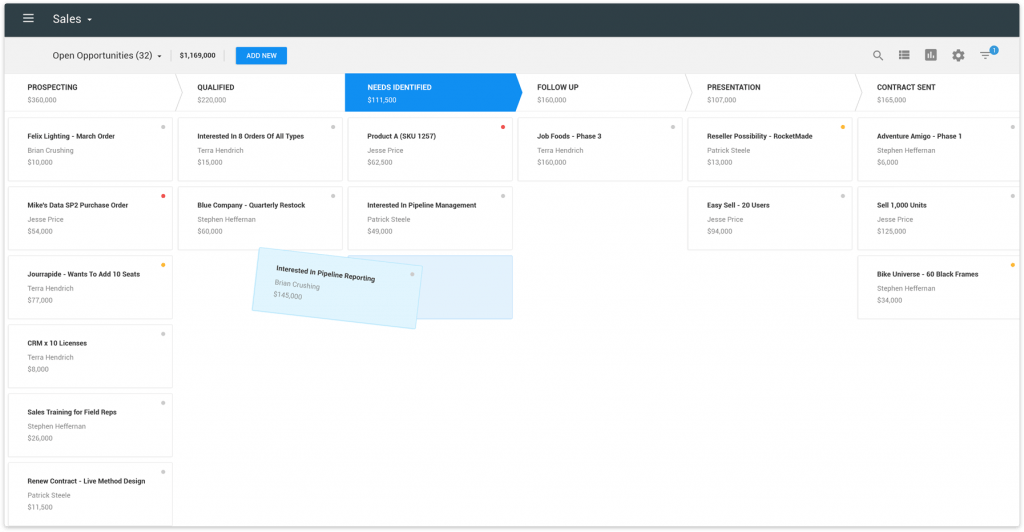 Systems and Pricing
There are many CRM software providers to choose from and it's important to narrow down what type of provider your business needs. Here, we break down CRM providers into four categories: enterprise, small business, mobile, and social.
Enterprise
When looking for CRM platforms for enterprise use, look for ones that are intended to serve large scale business needs across a variety of departments. Enterprise platforms typically have numerous integrated features, the ability to add features by purchasing apps and add-ons, and the ability to customize new features by using a developer toolkit.

The traditional "enterprise CRM" focuses on contact management through a set of predetermined channels, both inbound and outbound. Enterprise software tends to provide automated tools for data analysis and insight, which can help managers take massive amounts of stored data, make sense of it, and put it to work. In large companies, especially, it's crucial to have the right tools for transforming information into strategy. During your CRM software comparison, it's a good idea to look for products that include built-in reporting or analytics. Apptivo and Base are two CRM systems that accommodate enterprise platforms. Base is more expensive but offers more customizable features.
Mobile Platforms
Most CRM products offer mobile compatibility, which is convenient if you have a large company with a partially mobile sales force. Your company might also want to look into a CRM platform specifically designed for mobile use. In industries where sales reps go to the clients (and not vice versa) mobile CRMs are instrumental in keeping leads and client data organized and updated, keeping sales people connected with management, and optimizing daily operations.
Many mobile CRMs incorporate geolocation features, which help your reps remotely plan the quickest route between multiple contacts and utilize GPS functionality in real time. Base and Apptivo both offer mobile capabilities for businesses of all sizes. Apptivo is our pick for offering high-quality services to small and medium size businesses at affordable prices.
ALSO READ: Infographic: What Buyers Want from CRM Software
As with the mobile CRM category, integrated social features are becoming increasingly popular, especially as companies look to better engage with their customers on more than just a few predetermined channels. Social media has had marked effects on both customers' relationship expectations and companies' obligations. This category of CRM is still defining itself as new vendors surface and old ones incorporate features.
You can find solutions ranging from platforms with basic social media integrations up to entire enterprise suites designed to help grow a successful community around your brand. Copper and bpm'online both offer a CRM software for businesses looking to engage customers through social platforms. We recommend Copper for small-to-medium companies that use Google Apps and want a CRM that will help them grow. Pricing is straightforward and based on the number of users, not contacts.
Small Business CRM
Mega vendors can be intimidating to small businesses that work in niche industries and have limited budgets. For a basic set of needs, CRM systems catered toward enterprise use are over-involved and complicated.
From industry-specific (retail, nonprofit, real estate, etc.) to more simple and affordable platforms, there are lots of contenders in the market for the best CRM for small business. Insightly and bpm'online both offer straightforward CRM solutions that help manage small-to-medium business contacts.
Features
Once you've narrowed down your sizing needs for a CRM system, you'll want to take a look at available features. Here are some of the features that are available in many CRM systems:
SaaS
Software-as-a-service (SaaS) refers to many things: cloud-based, web-based, outsourced, or on-demand. All iterations basically mean the same thing, which is that you won't be housing the software on-site. Instead of purchasing a one-time license, you'll pay a periodic subscription (usually per month) to use the software. Benefits include lower upfront costs, better scalability to size, faster roll-out and implementation, and compatibility with an increasingly mobile sales force. All products featured in this report are cloud-based.
Mobile Capabilities
Apptivo allows for real-time data exchange and communication. Users can access tasks, events, notes, and documents from their mobile device, including historical data.

Base provides all the features of a traditional desktop CRM in a seamlessly native mobile experience. Mobile-specific features are designed to make field sales teams more productive. Also, it includes offline access and geolocation tracking.

With bpm'online, users access all the critical information about customers from any mobile device. Users can easily work with accounts and contacts, adding new ones, writing SMS, or making calls from the mobile app.
Sales Forecasting
With Copper, activity tracking allows users to see calls, emails, meetings, and calendar events by team or user. With quick filters, users are provided with a granular view of all tasks to monitor performance and drive productivity.

Base makes forecasting accessible with comprehensive reports designed to turn thousands of deals into a simple, visual representation of predicted revenue over time. Conversion rate predictions remove bias from forecasts, and close date predictions are generated from an analysis of delays and past closings.
Automated Tasking
Copper generates and automates next step tasks throughout the customer relations process. Whether it's sending calendar invites, setting follow-up tasks, updating statuses, or sending out a proposal, next steps are automated for reps.

Insightly allows users to coordinate employee, contractor, and partner activity with built-in task and event management features. Users can create recurring tasks, schedule calendar appointments with leads or contacts, and link them to projects.
Lead Generation
Bpm'online Sales has tools for capturing and tracking leads through a broad range of sources. Team members can add leads from different sources into the single database.

With a predefined, customizable set of rules, Insightly begins serving leads to specific team members. Insightly can assign leads based on a variety of lead-specific information points (such as geographic area and employee count) or with round robin logic.

Apptivo's sales pipelines filters prospects into leads. Team members access leads through web-to-lead forms, email to leads, and CSV import.
ALSO READ: How to Use Your CRM Software to Nurture Leads
Built-in Analytics and Reporting
Base includes rep-level dashboards, allowing reps to know exactly where they stand. Base's comprehensive pipeline reporting solutions track deals from entry to closure and capture details along the way to uncover key trends. From pipeline analysis to forecasting reports, Base provides valuable visibility to the sales team's mobile productivity.

Copper dashboards provide a visual overview of the lead funnel, pipeline status, conversion rates, win rates, and sales activity. Users access reports in real time to see productivity.
Integrations
Copper is the CRM for G Suite. It seamlessly integrates with Google Sheets, Docs, Slides, Calendar, Inbox and Gmail, so using your CRM is just as easy as the tools you already use every day. The CRM automatically populates contact information based on your Gmail, Hangouts, or other Google Apps. It goes beyond traditional CRM, using automation to help you scale your sales process and your business with automatic lead creation based on custom, user-defined prospect behaviors like filling out a form on a website, responding to an email, or any number of criteria.

Bpm'online CRM operates seamlessly with bpm'online Marketing and bpm'online Sales for fuller functionality. Users can manage the complete customer lifecycle, from acquisition to payment. We recommend bpm'online CRM to any organization looking for a holistic sales and marketing system, or for those just looking for a low-cost contact and customer relationship management solution.

Insightly is programmed for flexibility and is extremely customizable. It can be adapted to your workflow and integrated with everyday tools such as Google Apps, Office 365/Outlook 2013, Evernote, Quickbooks Online, Dropbox, Box, MailChimp, and more.

Base offers customizable packages for integrations. Choose your needs, from analytics, billing, content management, lead generation, productivity, and more. Developers build preferred integrations into your CRM system.

Apptivo integrates with a variety of products to build customer relations and increase productivity, including PayPal, Authorize.net, Zipmark, Dropbox, and Google Apps.
Making Your Final Decision
If you're still having trouble deciding, you've come to the right place. Use our CRM Product Selection Tool to browse solutions and get a custom recommendation, or call one of our experts for a free consultation.
Top CRM Software Recommendations
Insightly is a unified customer relationship management (CRM) platform for growing businesses across all industries, including manufacturing, professional services, health & wellness, media, education, retail, construction, and others. With more than 1.5 million users worldwide, Insightly is the world's most popular CRM software for Google and Office 365 users.
Really Simple Systems CRM helps you work smarter by managing and tracking your sales leads and customers, letting you get on with growing your business. Designed for growing teams B2B, our CRM is super-easy to set up and simple to use - with exceptional customer service. There's a customizable Sales CRM, plus options for Marketing and Service tools and external app integrations - so everything is in one place, enabling great team collaboration and customer relationships that drive sales growth.
HubSpot is an intuitive CRM that makes managing your sales pipeline a breeze. Everything you need to track important metrics, set up time-saving flows and automations, manage clients seamlessly, and grow your business is available in one tidy dashboard. Plans are available for businesses at every stage of growth, starting at 100% free. Start taking the guesswork out of business management today with HubSpot CRM.
Need a Little Help?
Talk with a software expert for free. Get a list of software that's great for you in less than 15 minutes.
Technology Advice is able to offer
our services
for free because some vendors may pay us for web traffic or other sales opportunities. Our mission is to help technology buyers make better purchasing decisions, so we provide you with information for all vendors — even those that don't pay us.