Salesforce Alternatives
It's nearly undeniable that Salesforce is the industry leader in customer relationship management. The publicly traded company has over 150,000 customers, and changed the face of the CRM industry when it launched its cloud-based product.
But that doesn't mean it's automatically your best option. In fact, Salesforce (and the app ecosystem that its platform has spawned) can be a bit overwhelming for businesses seeking simple functionality at an affordable price.
It's important to compare Salesforce with other "best of breed" solutions, and with vendors that perhaps get less media attention, but still have a solid product. There are a number of Salesforce alternatives that function just as well, if not better for their own niche.
In the article below, we highlight some of the leading examples. To receive a personalized set of CRM recommendations for your business context, click the banner below to get started.
Zoho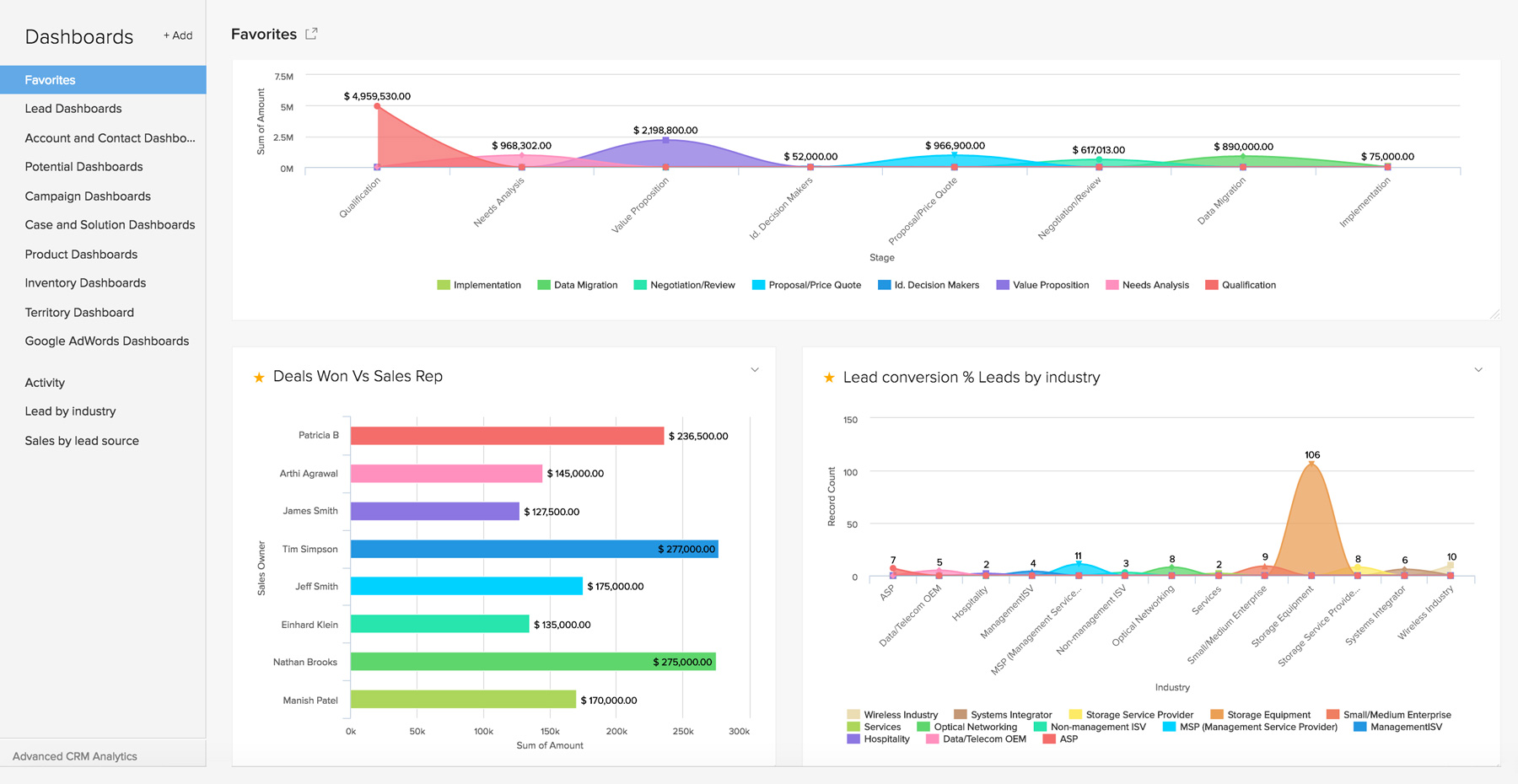 Average user rating: 3.7/5
Zoho provides an integrated suite of cloud-based business apps for growing businesses, all of which can be purchased separately. That means their CRM application is fully compatible with a range of tools, such as business intelligence, marketing automation, and project management, making it a formidable alternative to Salesforce's solution.
Zoho's CRM solution is designed to help customer-facing organizations attract and retain current customers by selling smarter, automating repetitive tasks, and gaining full visibility into the sales cycle. The system is accessible on desktop computers via a web application or away from the office through native mobile apps for Android and iOS. Though Zoho has fewer add-ons than Salesforce, users can still build out their system through an online marketplace. If you work on a small team, you might even be able to use Zoho for free (up to 10 users).
Unique Features:
Visitor tracking
Web forms
Territory management
PhoneBridge
Live customer chat
Add-on marketplace
---
Keap
Average User Rating: 3.7/5
Keap offers cloud-based sales and marketing software targeted toward small teams. Their product combines CRM, marketing automation, and e-commerce to provide an end-to-end solution for customer-facing organizations. Starting in the second pricing tier, buyers gain access to all of these modules for a single monthly price, which makes Keap a strong alternative to Salesforce, whose marketing automation platform is a separate (and quite expensive) system.
Although pricier than Zoho, Keap is still a good option to consider. It can save a small team a considerable amount when adopted in place of Salesforce and other mega-vendor solutions. The system's e-commerce features are also more sophisticated than most off-the-shelf CRMs. Keap can help you set up a complete online storefront and manage shopping carts, inventory, fulfillment, and billing.
Unique Features:
Built-in marketing automation
E-commerce
Referral programs
Add-on marketplace
Visitor tracking
Social marketing (with GroSocial add-on)
Quotes and proposals
---
Netsuite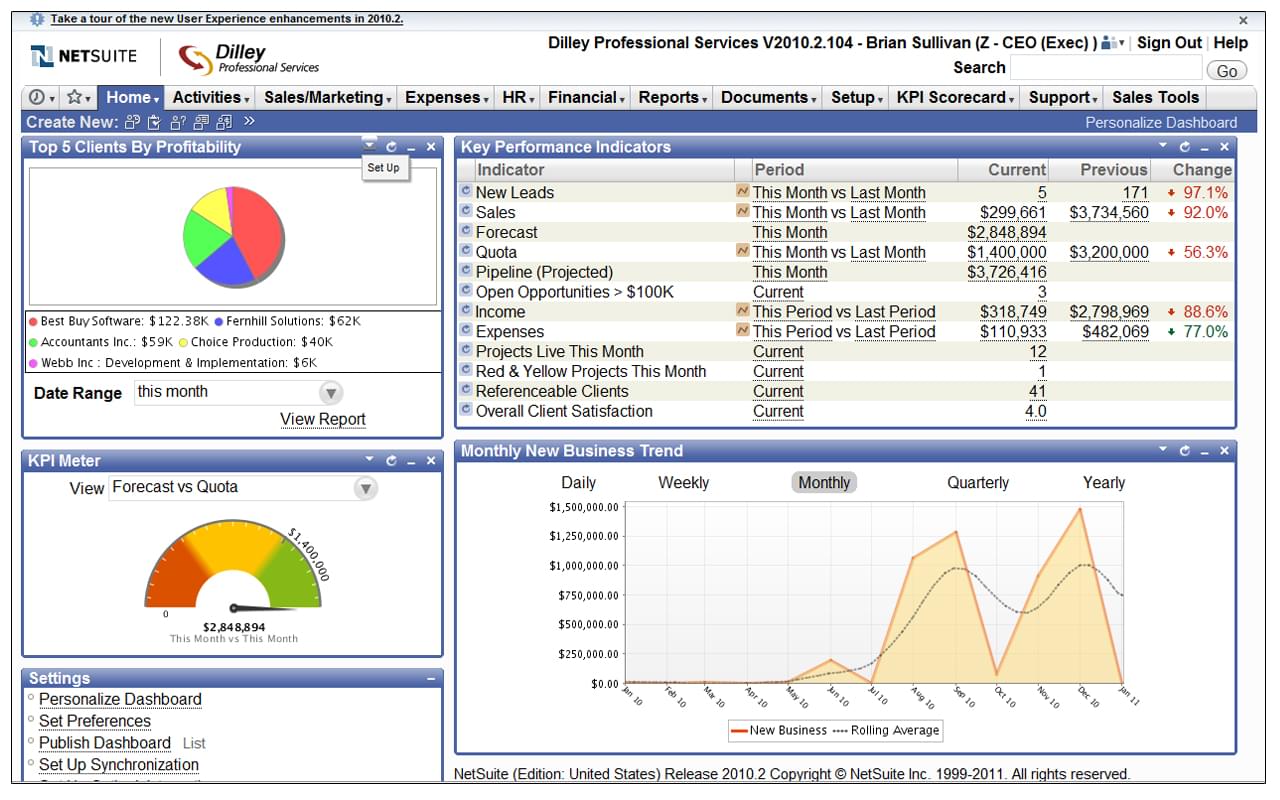 Average User Rating: 3.1/5
Serving nearly 16,000 clients, Oracle NetSuite is one of the world's largest providers of cloud-based business software. Their CRM solution gives businesses a "real-time, 360-degree" view of each customer and facilitates the journey from lead, to opportunity, to sale. There are also additional provisions for order fulfillment, upsell and cross-sell, contract renewal, and customer support along the way.
Netsuite is anything but a niche product; their CRM+ platform addresses the whole spectrum of customer management needs, including CRM, sales and marketing automation. There's even partner relationship management for companies that sell or market through partner channels. Many businesses have switched to Netsuite to replace unwieldy systems from larger vendors. Their CRM customers come from many different industries, including IT, retail, real estate, nonprofit, financial services, and more.
Unique Features:
Partner relationship management
Advanced sales forecasting
Incentive compensation management
Built-in marketing automation
Case management
Customer self-service
Social CRM (with Yammer or Qontext add-on)
Global sales and service management (multi-currency, multi-lingual)
---
SugarCRM
Average User Rating: 3.3/5
SugarCRM's vision is to "deliver a fully transformed, personalized user experience that is immersive, engaging, and intuitive." To that end, their CRM platform is built with simplicity, mobility, and customization in mind — perhaps more reminiscent of a consumer app than a complicated business system. That said, SugarCRM can be deployed in a cloud or on-premise version, which gives buyers a little more flexibility in terms of infrastructure (after all, not every business wants a cloud CRM).
With over 30 supported languages and currencies and hundreds of preconfigured add-ons, the Sugar platform can expand to meet just about any business need, while keeping relationship management at the heart of it all. Sugar is available in three editions with pricing based on features and support.
Unique Features:
Call center automation
Optional cloud or on-premise deployment
Customer self-service
Trouble ticket management
Activity streams
"What-if" sales forecasting
---
Microsoft Dynamics CRM
Average User Rating: 3.2/5
Last, but certainly not least, is Microsoft Dynamics CRM — one of largest Salesforce competitors (see our side-by-side comparison of the two). The obvious reason for this rivalry is the striking similarity between the two systems, both in price and user experience. Microsoft's flagship CRM product is Dynamics CRM Online Professional, which provides integrated sales and service functionality in either a cloud, on-premise, or hybrid platform.
Dynamics — like Salesforce — has an expansive add-on marketplace and partner developer network. Unsurprisingly, they provide the best integrations with other Microsoft products such as Outlook, Office 365, SharePoint, and SQL Server. Marketing automation features require purchase of an additional module though, or upgrading to an all-in-one suite, which could be a drawback for smaller teams. For this reason, Microsoft Dynamics is usually adopted by large or rapidly growing companies.
Unique Features:
Case management
Customer self-service
Social CRM
Enterprise social networking (through Yammer)
Territory management
Add-on marketplace
Conferencing/IM
Hybrid deployment options
Conclusion
Finding the right CRM for your company is never an easy task, but finding an alternatives to Salesforce isn't as daunting as it might sound. Still unsure of which CRM is best? Use our CRM Product Selection Tool to find your perfect software match or contact our Tech Advisors for a free business technology consultation.
Top CRM Software Recommendations
Create a better way to work with Wrike work management software. Automate time-consuming admin tasks so you can focus on work that matters most. Kick-start projects and workflows with pre-built templates, increase collaboration with intuitive communication tools, and boost visibility with a variety of project views. Visualize projects with Gantt charts or Kanban boards and keep stakeholders informed with automated reporting and status updates. Anything is possible with Wrike at your fingertips.
HubSpot is an intuitive CRM that makes managing your sales pipeline a breeze. Everything you need to track important metrics, set up time-saving flows and automations, manage clients seamlessly, and grow your business is available in one tidy dashboard. Plans are available for businesses at every stage of growth, starting at 100% free. Start taking the guesswork out of business management today with HubSpot CRM.
monday sales CRM is the customizable, no-code CRM that allows you to control your entire sales funnel and close more deals, while simplifying communication and collaboration. Automate manual work, capture and import leads, and centralize deal and contact info, all in one place.
Need a Little Help?
Talk with a software expert for free. Get a list of software that's great for you in less than 15 minutes.
Technology Advice is able to offer
our services
for free because some vendors may pay us for web traffic or other sales opportunities. Our mission is to help technology buyers make better purchasing decisions, so we provide you with information for all vendors — even those that don't pay us.