Key Takeaways
If you're looking for a highly-advanced system with plenty of room to scale, get a price quote for Salesforce (price can vary depending on your use intent, team size, and implementation needs).
If you're starting out with the basics and want to save on costs, Zoho is certainly no slouch.
Businesses use their CRMs to store customer data, track sales and service activities, forecast revenue, and measure the efficacy of marketing programs. As a result, CRM software has become one of the most quintessential business tools on the market — a kind of Swiss Army Knife for customer-facing teams.
In many circles, mentioning CRM immediately brings Salesforce to mind. That's because Salesforce was one of the original cloud-based platforms and has consistently held the lion's share of the market.
Also Read: HubSpot CRM vs. Salesforce: CRM Software Comparison
But Salesforce isn't the only CRM on the market, and it isn't necessarily the best choice for your business. In fact, we've compared Salesforce to several of its alternatives in the past, including Microsoft Dynamics, SugarCRM, Infusionsoft, and others.
In this article, we'll compare Zoho vs. Salesforce, pitting the smaller, less expensive competitor against the market leader in cloud CRM. If you're reading this post, you probably intend to choose one of the two. As this decision will affect your productivity and profitability for years to come, it's important to look at other options as well.
Zoho vs. Salesforce: Company Overviews
Salesforce is the number one CRM on the market by market share and revenue. They were founded in 1999 and lead the charge as one of the original software as a service (SaaS) vendors. With an initial public offering of $110 million and the stock symbol "CRM," Salesforce was destined for astronomical growth. They now boast over $13 billion in revenue and employee 36,000 people.
Notable Salesforce customers include ADP, Coca-Cola, Delta Air Lines, and the American Red Cross.
Zoho started in 1996 as an IT management provider called AdventNet Inc. They originally focused on enterprise customers and didn't launch the Zoho web suite we know and love until the SaaS boom of 2005.
At the moment, Zoho is still a privately-held company. They are globally headquartered in Chennai, India, with plans to move their US headquarters from Pleasanton, CA to Austin, TX. Most of their customers are small businesses in technology, consulting, media, and real estate industries, but they offer solutions for companies of every size and industry.
Zoho vs. Salesforce: Systems and Pricing
Salesforce markets itself as a "customer success platform," which means all of their different products integrate with one another. Their most popular products are Sales Cloud, Service Cloud, or Marketing Cloud, and they are all are priced separately. Since marketing and service applications are usually peripheral, we'll focus on Sales Cloud for most of our comparison points.
Sales Cloud comes in four editions: Essentials (out-of-the-box CRM for up to 10 users), Professional, Enterprise, and Unlimited, which adds 24/7 support and configuration services. Although priced per user per month, these enterprise versions are notoriously expensive.
Zoho's CRM is divided into three product tiers: standard, professional, and enterprise. Each tier differs based on features and support, and price is calculated per user, per month. Compared to Salesforce CRM's Unlimited edition, Zoho's enterprise tier is almost 90 percent less expensive. Zoho also stands apart in that it offers month-to-month billing in addition to annual billing.
Features
As with any business solution, it's important to consider functionality. If a solution can't perform as needed, can't support the workflows that matter to your team, and can't deliver results that align with your goals, it's obviously not a good fit.
To help you evaluate this, we'll compare Zoho and Salesforce based on some of the most mission-critical (and most popular) CRM features: contact management, reporting, and mobile capabilities.
Also Read: The Only CRM Integration List You'll Ever Need
Contact management
Contact management is one of the most important components of any CRM, but specifically when comparing Zoho vs. Salesforce. The ability to store firmographics and build rich data profiles around clients, prospects, and accounts will save your business money during campaign execution and sales development. Both platforms offer features for adding and managing contacts, as well as leads, accounts, and business opportunities.
The Salesforce database stores customer data, communication history, related activities, and more for every contact. You can also use Einstein AI (Salesforce's virtual CRM assistant) for insights such as predictive lead scoring. If you've imported leads from marketing campaigns, you can track their activity in real time and move them seamlessly into your sales pipeline.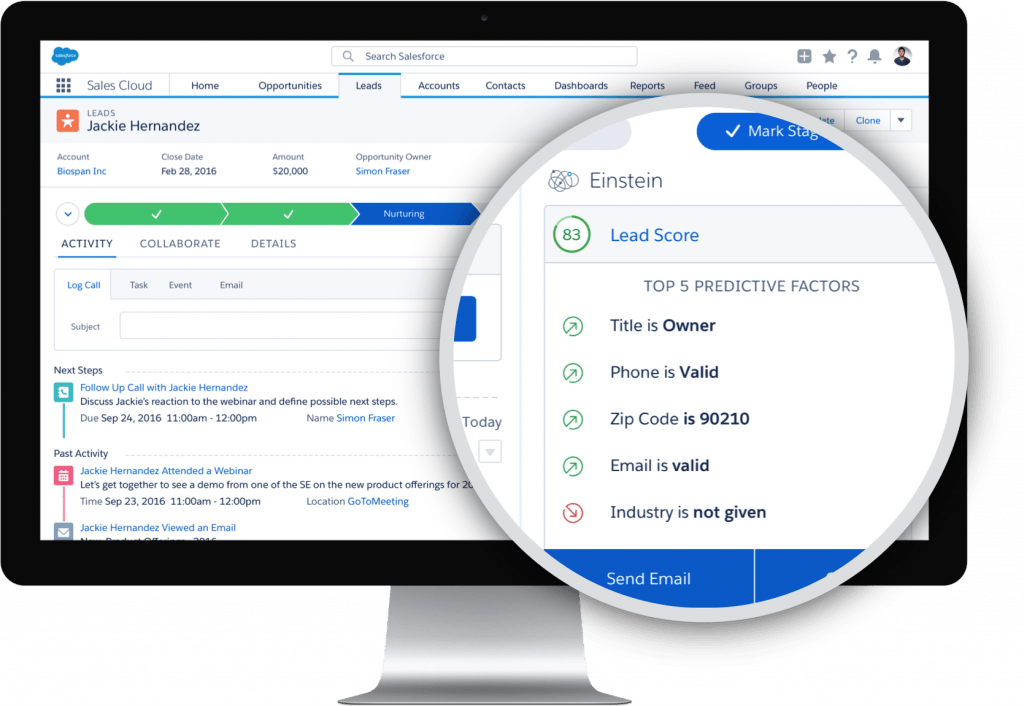 Zoho's contact management features won't disappoint, either. You can record phone numbers, emails, meeting notes, to-do lists, documents, and much more without leaving the system, especially since Zoho integrates with most major office applications.
Use the Zoho Import Wizard, Web Forms, or the Zoho CRM API to easily import contacts from other third-party business applications. A built-in social media CRM feature pulls data from Google+, Facebook, and Twitter and lets you track social conversations involving your leads, prospects, and customers (an advantage over Salesforce, which would require an add-on for this feature).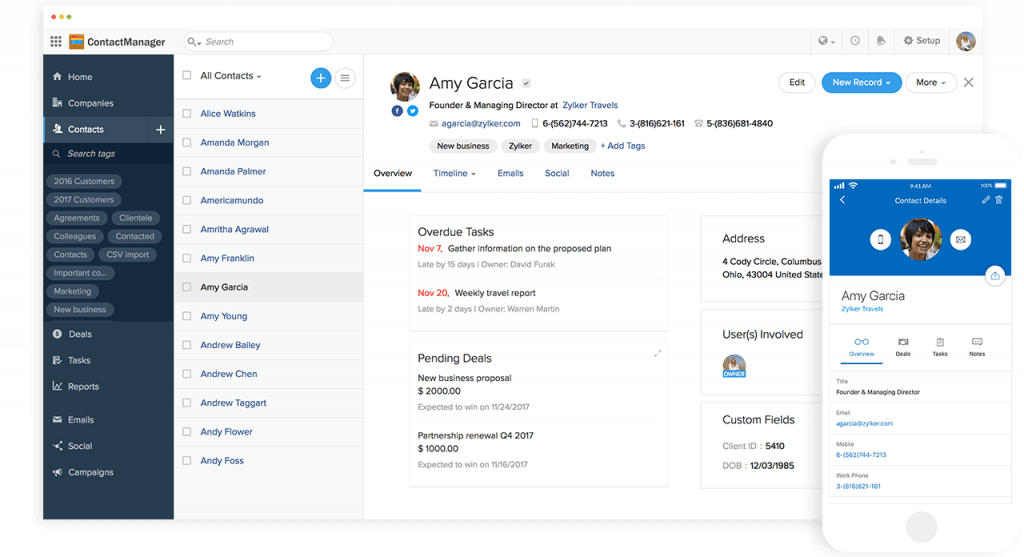 Zoho also provides lead management features to help you turn accepted leads into contacts, accounts, and business opportunities.
Reporting
Both platforms provide a number of tools to help decision-makers slice and dice data about revenue, customer acquisition, marketing programs, etc.
Salesforce offers built-in dashboards and reports that let you track lead volume, conversion rates, sales forecasts, and other metrics without bothering your data analyst to manipulate and merge massive spreadsheets. You can access dozens of pre-built reports, or use the Report Builder to create a custom report. Just drag and drop the fields and filters you want, select a chart type, and you're done.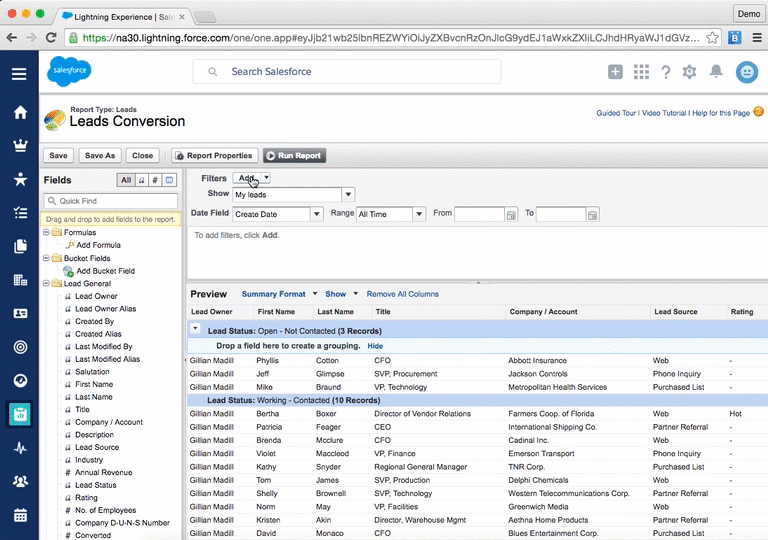 If you need more advanced reporting options for sales managers or CFOs/CROs, you can purchase the Einstein Analytics add-on for an additional per-user fee.
Under the Dashboards tab in Zoho, you can access similar analytics tools. The Opportunity Tracking tool, for instance, gives you a comprehensive view of all sales activities, including deal size, lead source, competitor information, and any other metrics you select (using the drop-down menu). All reports in the Sales, Marketing, Support, and Inventory modules are fully customizable, in addition to the 40+ standard reports available with a click.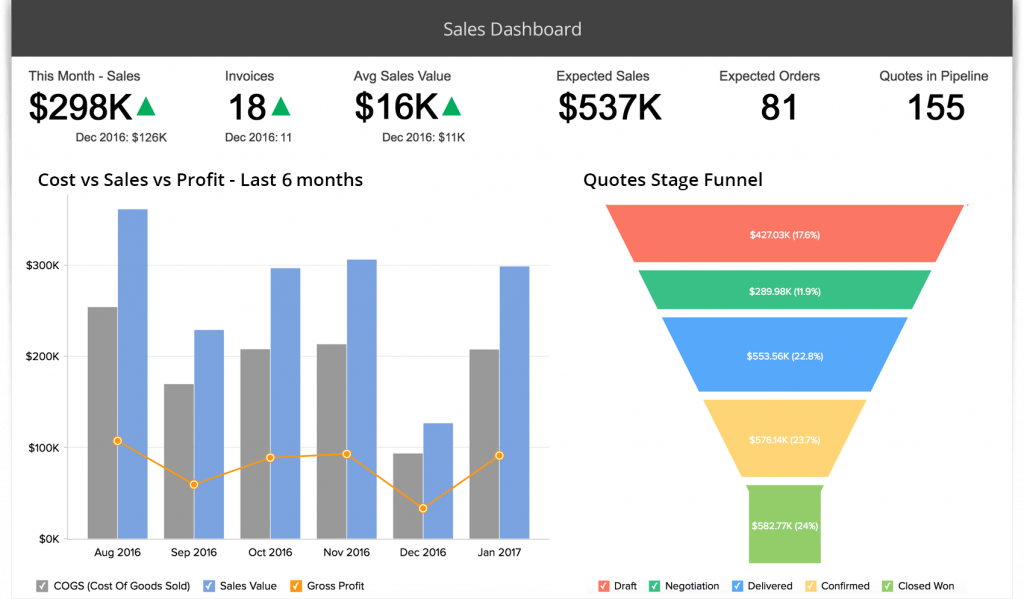 Advanced reporting features are available through Zoho Reports (create sales funnels, analyze win/loss ratios, make predictions, etc.). Zoho Reports is technically an add-on, but it's included in the base price of all paid editions of Zoho CRM.
Mobile capabilities
Both vendors offer native mobile apps for Android and iOS devices — a definite perk, considering many vendors only provide a mobile web interface.
Zoho's mobile apps include calendars and scheduling, geolocation (to find nearby prospects), meeting check-ins, team newsfeeds, and, of course, access to the basic system. If you lose cellular and wireless coverage, the app will automatically sync your data when you're back online.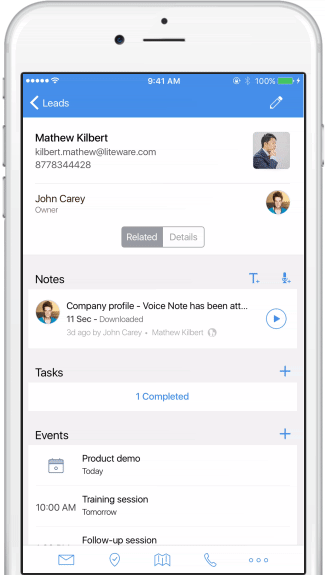 Salesforce provides a similar array of mobile features: calendars, updates, task management, mobile dashboards, file sharing, and more. With Salesforce, you can also dial into conference calls directly from the app and easily record notes afterward.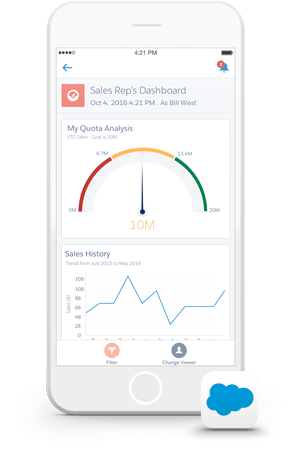 In terms of usability, there shouldn't be many complaints for either platform, though Salesforce is currently rated higher than Zoho in the Apple App Store.
Apps and Integrations
Horizontal integration can be a huge selling point for CRM software. As a buyer, you want a solution that can easily exchange data with your other business systems and provide flexibility when you need it. What if you decide to bring in case management functionality for your support team? A project management add-on for team collaboration? You get the idea.
Zoho's online product suite offers a decent selection of business apps and pre-built integrations with most of the important office programs (Google for Work, Outlook, etc.). But in terms of sheer integration volume, Salesforce takes the cake. Their legendary AppExchange boasts over 2,900 apps built on the Salesforce platform and designed to extend functionality in sales, marketing, customer service, IT, finance, human resources, and other verticals.
While you certainly can't use 2,900 apps at once, the option to expand is a clear advantage.
Making Your Final Decision
If you're looking for a highly-advanced system with plenty of room to scale, get a price quote for Salesforce (price can vary depending on your use intent, team size, and implementation needs). If you're starting out with the basics and want to save on costs, Zoho is certainly no slouch. Comparing Zoho vs. Salesforce may seem strange, but there are always different ways to find the right solution for you.
As usual, the question is not "Which is better?" but "Which is better for your needs and budget?" If you're having trouble deciding, we'd love to help. Contact us for a free, five-minute consultation, or complete the form on our CRM software page to get a custom software recommendation.
Check out some of our other Salesforce comparison articles:
Top CRM software
If you're not sure that Zoho or Salesforce is the right choice for your company, we've got you covered. Here's a short list of the top CRM platforms, so you can make the decision that's best for your business.
1

monday Sales CRM
monday sales CRM is the customizable, no-code CRM that allows you to control your entire sales funnel and close more deals, while simplifying communication and collaboration. Automate manual work, capture and import leads, and centralize deal and contact info, all in one place.
2

HubSpot CRM
HubSpot is an intuitive CRM that makes managing your sales pipeline a breeze. Everything you need to track important metrics, set up time-saving flows and automations, manage clients seamlessly, and grow your business is available in one tidy dashboard. Plans are available for businesses at every stage of growth, starting at 100% free. Start taking the guesswork out of business management today with HubSpot CRM.
3

Zoho CRM
Fully-customizable Zoho CRM provides unified solutions for businesses of all types and sizes. Conduct your Sales & Marketing analytics to gain insights using Dashboard views and Automate your daily routines. Customize your CRM theme based on your industry needs using Canvas, Omnichannel communication for streamlined communication between teams and customers, handle customer support from within the platform to improve customer relationships. Get Started with Zoho CRM now!
Technology Advice is able to offer
our services
for free because some vendors may pay us for web traffic or other sales opportunities. Our mission is to help technology buyers make better purchasing decisions, so we provide you with information for all vendors — even those that don't pay us.