CRM software can do a lot of good for a business, but some of the more impressive solutions have pretty hefty price tags. There are free options, but what is the best free CRM?
If you have some budget to spend, you can absolutely try Salesforce, For teams that are still growing, have limited budgets, are there alternatives to signing an expensive contract? Of course there are and we've gathered the best free CRM options together below.
Best free CRM solutions of 2023
| | | | | | |
| --- | --- | --- | --- | --- | --- |
| Company | Free Option | Email Automation | Pipeline Management | Appointment Scheduling | Integrations |
| HubSpot | Free Plan | Yes | Yes | Yes | Restricted |
| Zoho | Free Plan | Yes | No | No | None |
| Insightly | Free Trial | No | Yes | Yes | Full |
| PipeDrive | Free Trial (14 day) | No | Yes | No | Restricted |
| Mailchimp | Free Plan | No | No | Yes | Full |
| ClickUp | Free Plan | No | No | No | Restricted |
HubSpot: The best free CRM option overall
HubSpot is likely to find itself on any list of "top CRMs for X." It's a major player in the space, offers industry-leading functionality, integrations, and has some of the best organic presence on the entire internet.
The HubSpot suite of tools include CRM, marketing automation, customer service, CMS, and more. It's comprehensive and robust, and its higher priced tiers reflect that. Luckily, they offer a free plan and a starter subscription tier for teams that can't yet handle the expense of a SaaS vendor.
Ultimately, there's not a lot of middle ground with their pricing tiers. Either you'll be using their lower tiers for an extended period, or you're already in a place to drop $20k+ per year or more for the premium HubSpot experience. On whichever side of the spectrum your team falls, you can try it for free as long as you like before investing.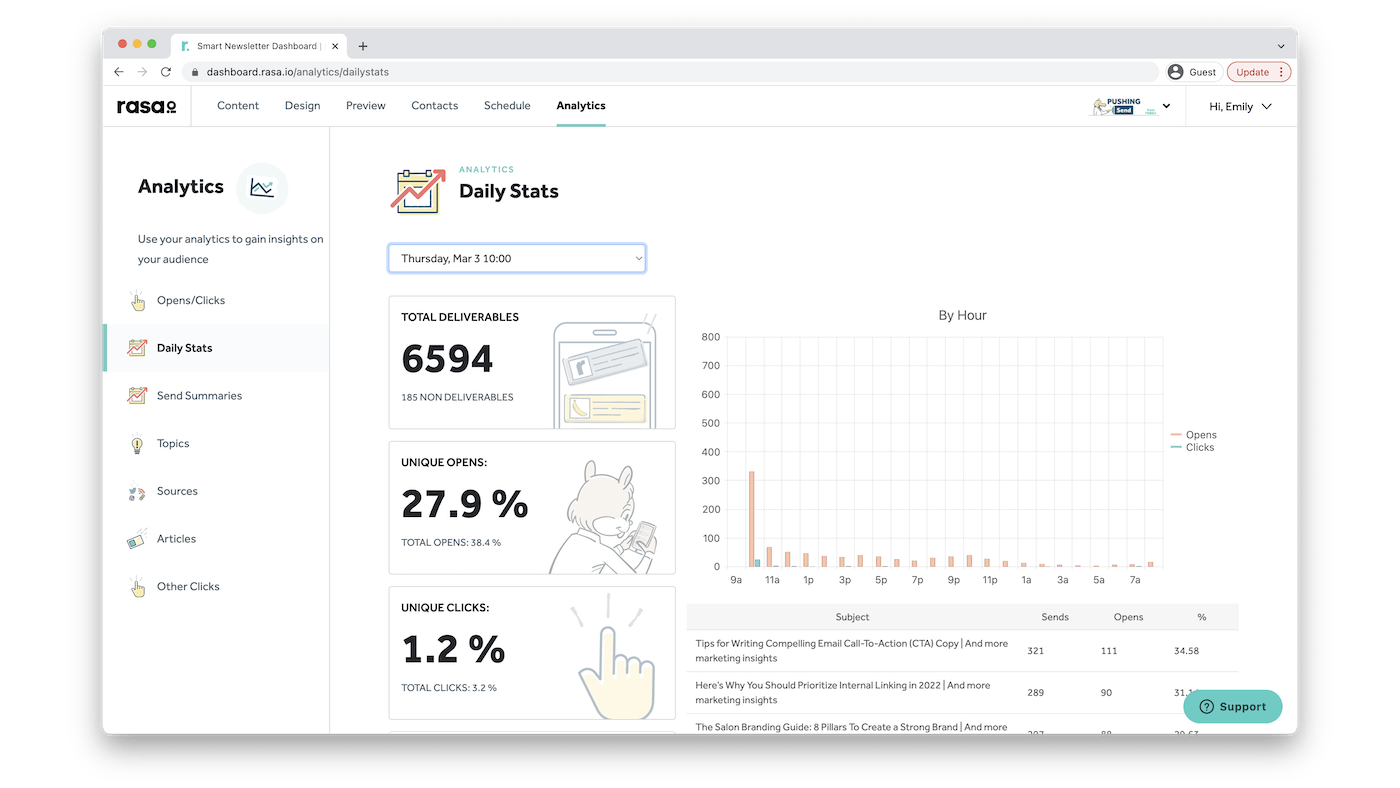 HubSpot CRM pricing tiers:
Free Tools: $0
Starter: $30/month
Profesional: $1,600/month
Enterprise: $5,000/month
HubSpot CRM pros and cons
Pros
Web pages can be rendered in multiple languages
Integration with Facebook Messenger
List segmentation functionality
Companion HubSpot mobile app
Subdomain and country-code options
Live chat features
Cons
HubSpot branding can't be removed from assets and integrations
Web page multi-language support limited to 3 languages max
Email functions limited by inbox, automated emails, etc.
Lacks payment features
No integration with Salesforce, WhatsApp, Google Search Console, among others
No SEO analytics, A/B testing, or CTA functions
Why we chose HubSpot CRM
Robust contact management, email marketing capabilities, and integration with HubSpot sales, customer service, and marketing hub set the platform apart from its competitors. Offering a level of sophistication typically found in premium tools, HubSpot takes advantage of its extensive modular platform to provide all the essentials of a CRM system—and more.
Zoho: The best free CRM option for multiple users
Zoho is the second of three comprehensive tech suites in this list. The full toolset covers a lot more than just CRM and sales enablement. Thankfully, you can get just the core CRM functionality with a free plan. Unlike most free plans, you get up to three user licenses you can use.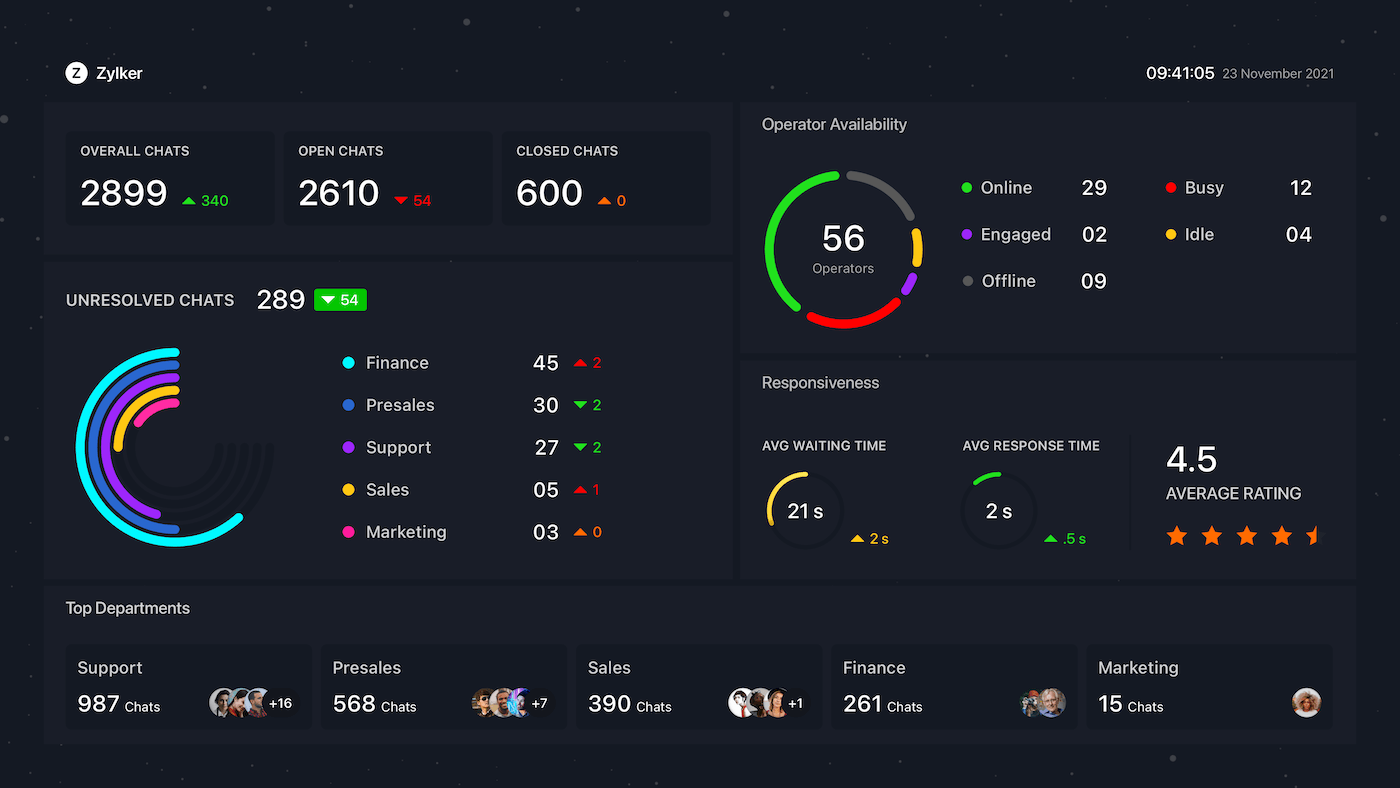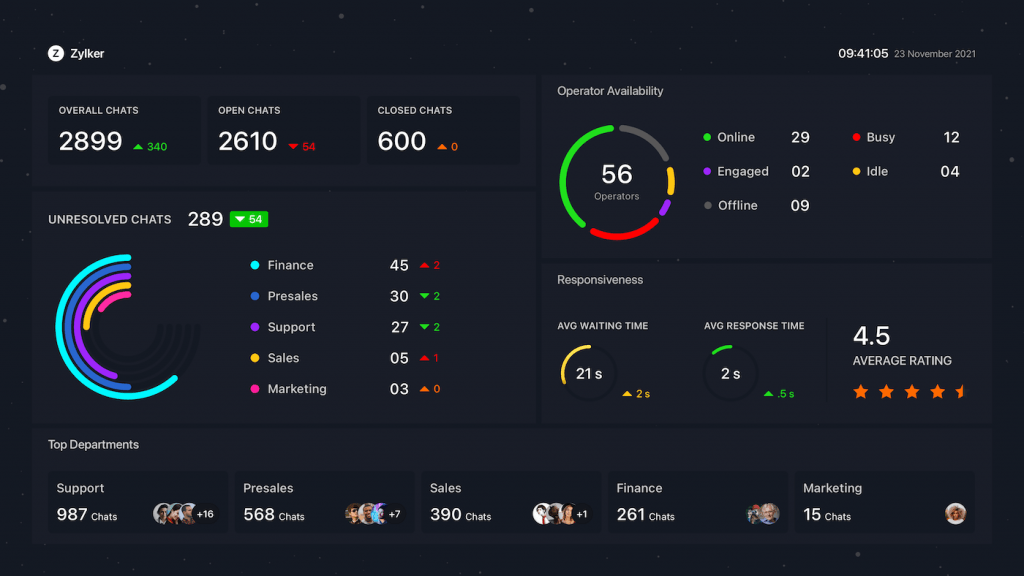 Zoho pricing tiers
Free
Standard: $14 user/month
Professional: $23 user/month
Enterprise: $40 user/month
Ultimate: $52 user/month
Zoho pros and cons
Pros
Sales automation features, including leads, accounts, deals, document libraries, and project management
Marketing automation features, including campaigns, custom email templates, and more
Up to three users on free plan
Reminder features for assigned tasks
Sales analytics and reporting
Cons
Single currency support
Limited access to other Zoho suite tools
No integration with social or Google Workspace, among others
Analytics limited to standard reports
No calendar booking
Why we chose Zoho
Zoho's biggest advantage is the internal cross-functionality the suite offers. You can get nearly everything you need in a single tool.
The pricing structure is manageable—even for the higher tiers. Unlike HubSpot, which has flat monthly fees, Zoho CRM charges per user, which is the more common billing method. This means that even a team of one might reasonably afford the "Ultimate" plan, and get the full functionality the toolset offers.
Insightly: The best free CRM trial
Insightly does not offer a free plan, however they do offer a free trial for every subscription tier. It's a bold decision, but one that demonstrates confidence in their product. If they insist that their product is paid for, they likely believe it's worth the price of admission.Beyond that, the absence of a free plan means that even the lowest pricing tier provides nearly all of the tool's functionality. If budgets are tight, and you can only afford the bottom tier, you're still getting a full Insightly feature set (instead of digital table scraps with a lackluster free version).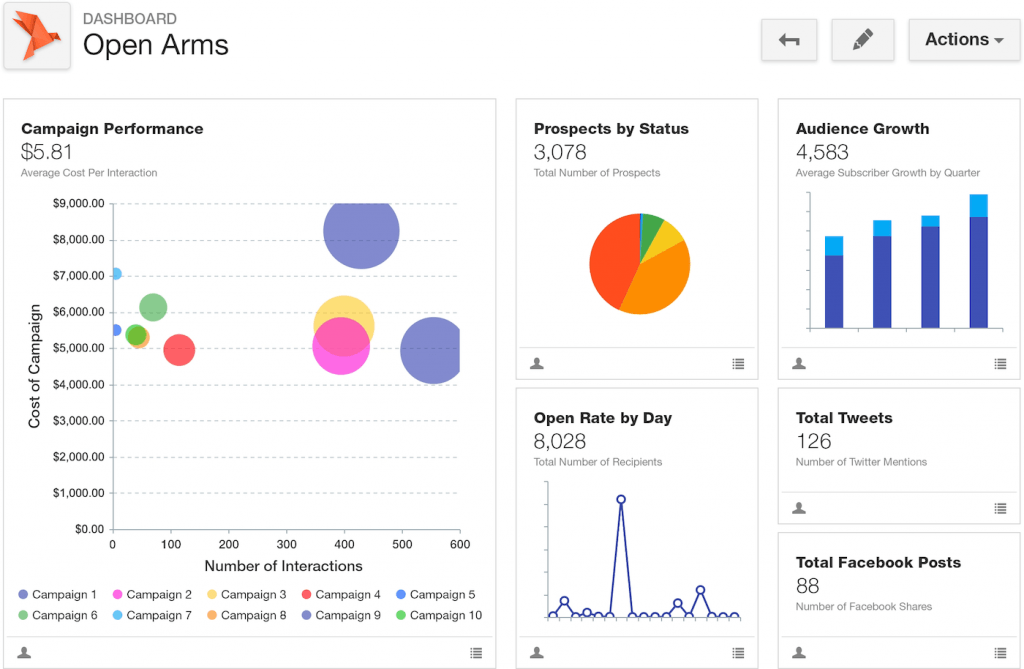 Insightly pricing tiers:
Plus: $29 user/month
Professional: $49 user/month
Enterprise: $99 user/month
Insightly pros and cons
Pros
Majority of features offered with Plus subscription
Low cost entry level plan
Access to full integration library
Calendar app integrations
Task management features
Cons
No free plan
Access to other Insightly solutions (marketing, service, etc.) add to subscription fees
No email scheduling for base CRM plan
Limited process automations with Plus plan
Plus plan limited to two user "roles" for permission controls
Why we chose Insightly
Insightly distinguished itself with its project management features, seamless integration with popular platforms like G Suite and Office 365, and intuitive interface. Its lead routing and workflow automation capabilities also promise a potent cocktail of efficiency and effectiveness, making it a standout in the free CRM arena.
PipeDrive: The best low-cost CRM option
PipeDrive similarly doesn't offer a free plan, every pricing tier comes with a free, 14-day trial. What's more, no credit card is required, so there's no risk of missing the trial end date and having to deal with a charge you intended to avoid.
Between Insightly and PipeDrive, there are a lot of similarities, and a lot of overlap in the advantages to their free trials for economy plans.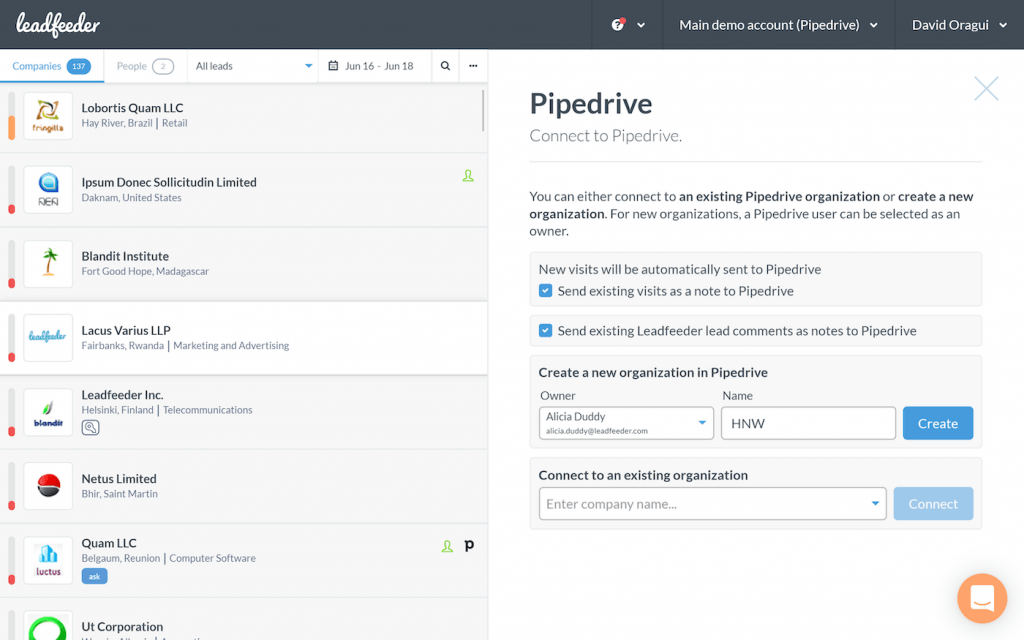 PipeDrive pricing tiers:
Essential: $14.90 user/month
Advanced: $24.90 user/month
Professional: $49.90 user/month
Enterprise: $99 user/month
PipeDrive pros and cons
Pros
Extensive integration options with Essentials plan
Hassle-free 14-day trial
API access for customization
Robust lead management features
Fewer analytics restrictions on base plan than most
Numerous mobile app integrations
Cons
No email scheduling
No meeting scheduling
Limited automation features
No Google or OneDrive integrations
Limited document format support
Why we chose PipeDrive
Where PipeDrive sets itself apart, at least on the subject of limiting subscription costs, is that their entry-level subscription is half the price of Insightly's.
And while there are cheaper plans offered by other vendors in this list, few have as robust a feature set—most take the limited free plan options, add a few extra bells and whistles, and reserve the more extensive tools for higher tiers.
Mailchimp: The best free-to-paid CRM upgrade
Mailchimp is another major brand in the sales/marketing enablement space. It's more widely known for its marketing automation tools, but the CRM aspect is more useful than you might expect—particularly for smaller operations. It might not be obvious from the available features in the free plan, however.
While it still brings the core CRM functions to the table, Mailchimp's free plan severely limits tools and options that your team either desperately needs, or has already come to depend on. Case in point: you can't schedule email campaigns to send automatically. Someone has to manually push the "send" button when you want to push a batch out.
The intent here is clear: they don't expect you to stick with the free version for long. The free trials they offer on the Essentials and Standard plans support this, as does their low comparative cost. In fact, they offer one of the least expensive top-tier subscriptions available, in part because the flat fee structure caps the price, while still offering unlimited users at that tier.
For smaller teams, a per user price may still be cheaper, but even paying for half a dozen licenses makes the cost about even. Considering Mailchimp is a marketing industry leader, it's pretty hard to justify going freemium when premium-level service is so affordable.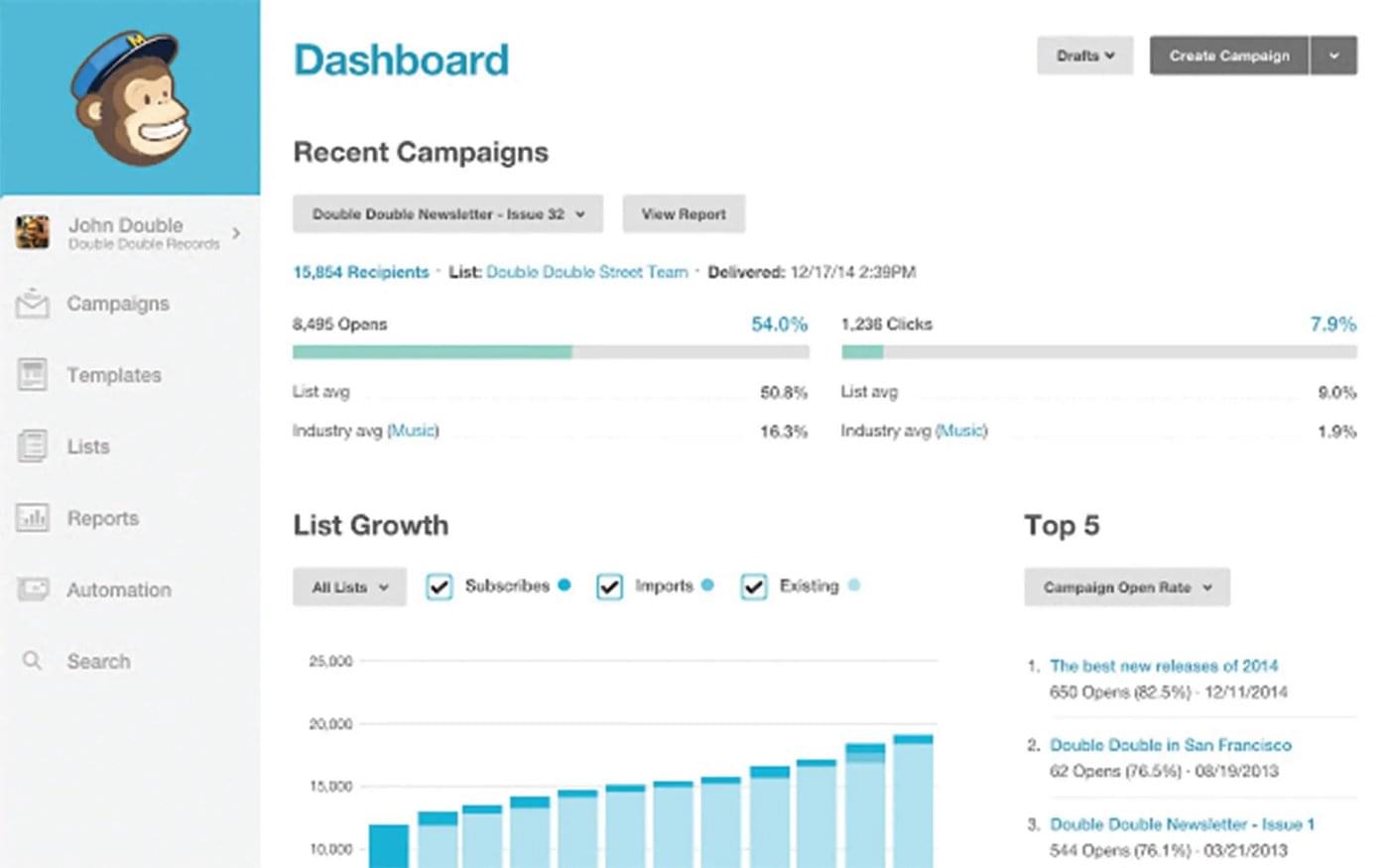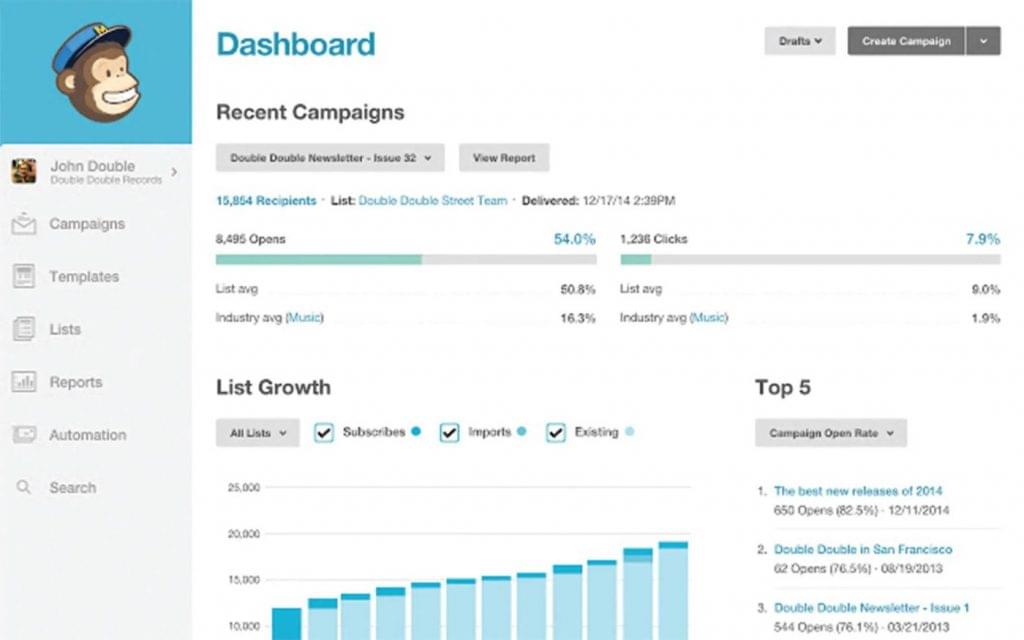 Mailchimp pricing tiers
Free
Essentials, $13/month after first month
Standard, $20/month after first month
Premium, $350/month
Mailchimp pros and cons
Pros
Pre-built email templates
Large integration library
Reporting and analytics features
Support for forms and landing pages
Automation tools for importing branding to Mailchimp assets
Cons
Max 1,000 monthly email sends
No email scheduling or A/B testing
Customer support only available for the first 30 days
Mailchimp branding can't be removed
No role-based access
Minimal automation functions
Why we chose Mailchimp
Mailchimp offers a surprisingly delightful blend of marketing and CRM capabilities. With its feature-rich platform that offers contact management, segmentation, and detailed audience analytics, Mailchimp made its case as a comprehensive, user-friendly option.
Its forte in email marketing, dovetailed with the CRM functionalities, positioned Mailchimp as an enticing choice for small businesses seeking to boost customer engagement without breaking the bank.
ClickUp: The best free ad-hoc CRM tool
Finally, we have ClickUp. Yes, it's a project management tool, but it can be a lot of other things as well. In many ways, it's the choose-your-own-adventure of SaaS business tools. While the core functionality is that of project management, with a little setup, this dog can be taught a number of very useful tricks.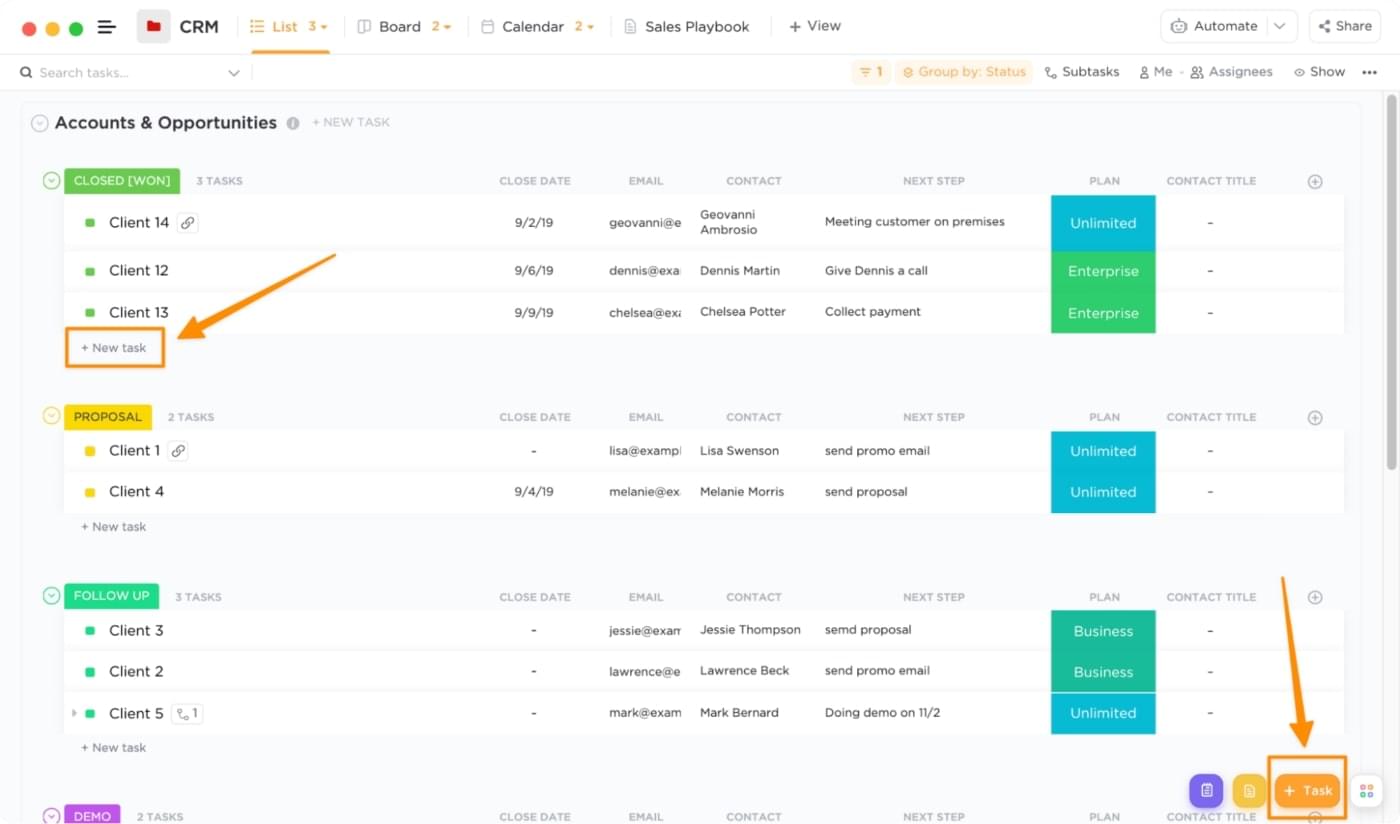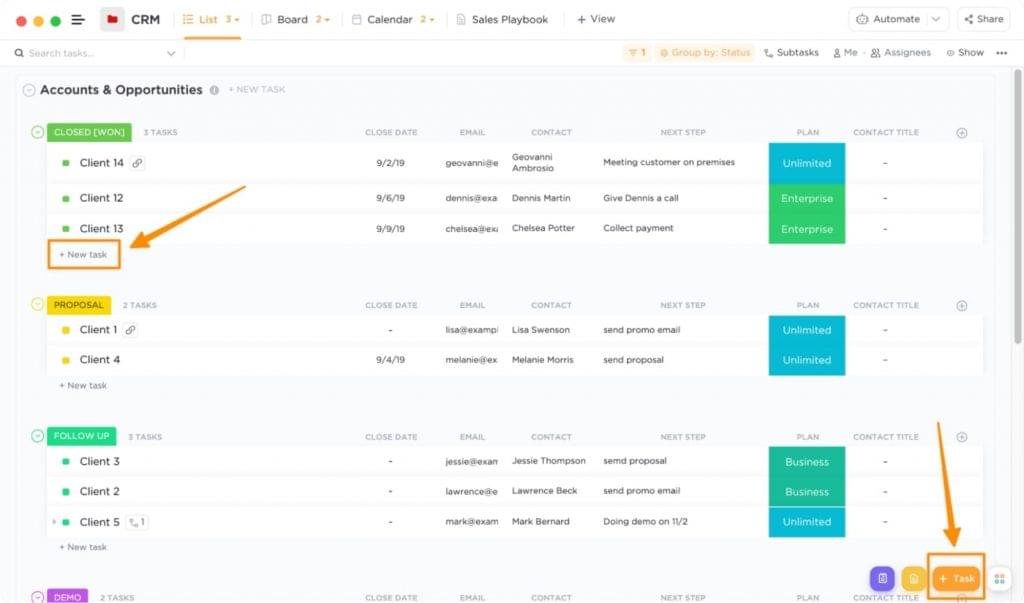 ClickUp pricing tiers:
Free Forever
Unlimited: $7 user/month
Business: $12 user/month
Enterprise: call for quote
ClickUp pros and cons
Pros
Unlimited plan members
Unlimited tasks for project management
Strong collaboration and coordination functionality
24/7 customer support
Flexible CRM implementation
Cons
Limited integrations
100MB storage max
Limited user management
ClickUp branding can't be removed
Limited reporting
Why we chose ClickUp
ClickUp offers a free plan, and several very affordable plans beyond that. It's one of the best ways to get a flexible free CRM tool, and if your team needs help keeping track of responsibilities and workloads, ClickUp is hard to beat.
Better still, it's designed specifically to facilitate agile-based productivity systems, so if your whole organization is run with the methodology of a well-oiled software development crew, you'll likely be well served by the options on offer.
Common limitations and omissions in "free" versions
Since SaaS vendors are hoping you'll convert from a free CRM client to a paid subscription, there are certain areas they'll typically squeeze to encourage the switch. After all, if the free plan is aimed at army-of-one sales teams, they don't need multiple user licenses, right?
Here are a few examples:
Reduced number values (lists, segments, languages, automations, options, etc.)
Limitations on customer support
User count restrictions
User management limitations
Branding from the CRM on assets created via their platform
Simplified analytics and reporting tools
Methodology
In making our choices, we carefully selected reputable software companies that offered a genuinely free option. All analysis, feature listings, and pro/con tallies are based solely on the free plan's offerings.
There are excellent free options for CRMs, and depending on what you need, it may be everything you need and then some. However, most will find that free options omit or limit features that sales teams depend on to operate at scale.
In other words, if you're shopping for free plans, take a careful look at what functionality is included, what's been restricted, and what is unavailable in the free plan. By establishing clear expectations centered on the needs of your use case, you can more easily identify what options are worth trying, and which ones aren't.
Making the right choice
A solid CRM can provide significant returns in reduced overhead and improved sales results. The more time that's spent finding the right match, the longer it takes to see that return, and the more resources that are spent along the way.
Hopefully, this list will provide a solid place to start your search.
Looking for more of the latest in CRM solutions? Check out our CRM Software Buyer's Guide.
1

Quickbase, Inc.
Big ideas aren't simple to execute. So we're here to help you tackle any project, no matter how complex. We're Quickbase.

Quickbase helps customers see, connect and control complex projects that reshape our world. Whether it's raising a skyscraper or coordinating vaccine rollouts, the no-code software platform allows business users to custom fit solutions to the way they work – using information from across the systems they already have.
2

Salesforce CRM
Connect your entire company – every team, app, workflow, and data source – on one unified CRM platform. Salesforce brings companies and customers together. The near-endless customization, extendability, and scalability of the Salesforce platform make it a great tool for businesses of all sizes. Over 150,000 companies, both big and small, are growing their businesses with Salesforce.
3

HubSpot CRM
HubSpot is an intuitive CRM that makes managing your sales pipeline a breeze. Everything you need to track important metrics, set up time-saving flows and automations, manage clients seamlessly, and grow your business is available in one tidy dashboard. Plans are available for businesses at every stage of growth, starting at 100% free. Start taking the guesswork out of business management today with HubSpot CRM.
Technology Advice is able to offer
our services
for free because some vendors may pay us for web traffic or other sales opportunities. Our mission is to help technology buyers make better purchasing decisions, so we provide you with information for all vendors — even those that don't pay us.