Key takeaways:
Unlimited PTO policies can help reduce HR teams' administrative overhead while promoting employee wellbeing.
Employees may overuse or underuse unlimited time off, which could lead to unfair enforcement or discontent among staff.
HR software with time-tracking features can help create more equitable PTO practices that support healthy work-life balance.
Check out our HR Software Guide for some of the top HR platforms to manage your PTO policies.
What is unlimited PTO?
Unlimited paid time off (PTO) is a type of paid leave policy that allows employees to take off as much time as they need for vacation, sick, or personal reasons. The main caveat is that employees must manage their time effectively and meet work expectations.
Unlimited PTO is a type of FTO or flexible time off. FTO policies allow employees to use any accrued or banked paid leave for whatever purpose. This contrasts traditional paid leave policies that designate separate paid leave amounts for vacation, sick, bereavement, personal, or floating holiday days off.
Additionally, FTO policies allow employers to choose whether to cap the number of PTO days an employee can use in a benefit year. FTO policies without a cap are unlimited PTO policies.
What are the pros and cons of an unlimited PTO policy?
Although offering an unlimited PTO policy sounds attractive as an employee benefit, company recruitment, and employee retention tool, it is not for every business.
| | |
| --- | --- |
| Unlimited PTO Pros | Unlimited PTO Cons |
| Eliminated PTO payout costs | Potential for overuse |
| Reduced PTO administrative work | Potential for underuse |
| Improved employee well-being | Risks of unfair enforcement |
| Increased employee productivity | Increased discontent around PTO procedures |
| Recruiting advantages | |
Pros of unlimited PTO
Eliminated PTO payout costs
With unlimited PTO policies, you do not have to pay out unused PTO benefits to employees upon termination.
Although U.S. federal law does not regulate PTO payouts, some states, like California and Nebraska, consider accrued PTO earned wages that employers must pay out upon employee separation. Unlimited PTO policies allow companies to circumvent these laws and any fines or penalties for failing to payout PTO to terminated employees on time.
Reduced PTO administrative work
Although you must still develop, maintain, and consistently enforce thorough approval processes, unlimited PTO policies mitigate the administrative work of calculating and tracking vacation leave.
Because unlimited PTO policies do not cap the number of vacation days an employee receives, HR teams can save time by eliminating the need to track hours or document paid leave accrual on paystubs.
Improved employee well-being
Unlimited PTO gives employees autonomy over their leave management — in other words, they can take the time they need when they need it.
Employees do not have to designate the reason for their time off, which is typical of traditional paid leave policies. Whether attending a child's school function or caring for a loved one, employees are in control, which can drastically improve their physical and mental well-being.
Increased employee productivity
To use unlimited PTO, employees must demonstrate they can manage their work responsibilities effectively. This incentivizes workers to do well in their positions in order to take advantage of this benefit. Moreover, productivity can increase when employees return from leave after taking the time to rest and recharge.
Recruiting advantages
"The allure of unlimited PTO draws candidates into the hiring process, which might be a good strategy if you're on a hiring spree," argues Rob Whalen, cofounder and CEO of PTO Exchange — a software company that helps employees convert their unused PTO into benefits like travel awards or charity donations.
According to MetLife's 2019 Employee Benefit Trends Study, 72% of employees are interested in unlimited PTO policies. Therefore, offering this benefit is a great way to attract talent and stand out from employers that don't.
Cons of unlimited PTO
Potential for overuse
Some employees may overuse their unlimited PTO benefits, causing work performance to slip and resentment among colleagues who have to pick up the slack. This can also lead to decreased productivity and workflow bottlenecks if those off on PTO do not manage their work effectively while away.
Potential for underuse
The idea that unlimited PTO is a scam and not actually limitless can increase employee anxiety around taking any PTO. It can also result in the "always working employee."
In fact, a 2017 Namely report found that employees only took 13 days off per year under unlimited PTO policies, compared to 15 days per year with traditional PTO systems.
"Employees often worry about colleagues' and managers' perceptions of taking too much time off," explains Whalen. Because of this, employees may take fewer vacation days under unlimited PTO arrangements than traditional PTO policies.
Risks of unfair enforcement
If you do not have strict guidelines for approving unlimited PTO requests, you run the risk of appearing discriminatory. For example, even if unintentional, approving time-off requests for some individuals over others can appear as favoritism or bias — especially if the denied request comes from employees of protected classes.
Increased discontent around PTO procedures
Company people managers may feel that changing from a traditional to an unlimited PTO plan will increase overall absenteeism or make disciplinary action difficult.
Meanwhile, employees may resent losing their right to PTO payouts upon termination. They may also feel frustrated or dissatisfied with transitioning to an approval process based on workplace results.
Check out our video below to spot the warning signs of low employee morale:
How to manage unlimited PTO
Although human resources (HR) software can help with the administrative side of PTO policies, you can maximize the effectiveness of your unlimited PTO policy by following these steps:
Not sure where to start on your HR software journey? Check out our The Best HRIS Systems shortlist for practical HR software for first-time users.
1. Put it in writing
An effective unlimited PTO system starts by defining the policy in writing and outlining how employees can use it. This process can be time-consuming as it involves collaboration from executives, managers, finance teams, and employees.
However, software solutions such as Mineral can write federal and multi-state compliant handbooks for your business after inputting a few company-specific parameters. This allows you to minimize the risk of employment law violations and reduce the time it takes to write and distribute updated company policies.
2. Define the approval process
To avoid the abuse or underuse of unlimited vacation policy days, companies must outline a transparent approval process. Effective approval processes can reduce favoritism or bias while increasing employees' likelihood of using the policy.
Solutions like GoCo can help you manage your unlimited PTO by creating customized approval workflows. For example, employees can submit paid time off requests through their self-service portal, which automatically goes to managers or HR teams for review.
Once the HR department and manager review the request and consider its impact on other schedules, approved requests automatically display on company-wide schedules. You can even add additional steps to the approval, such as reminders to follow up with employees on the need for additional leave.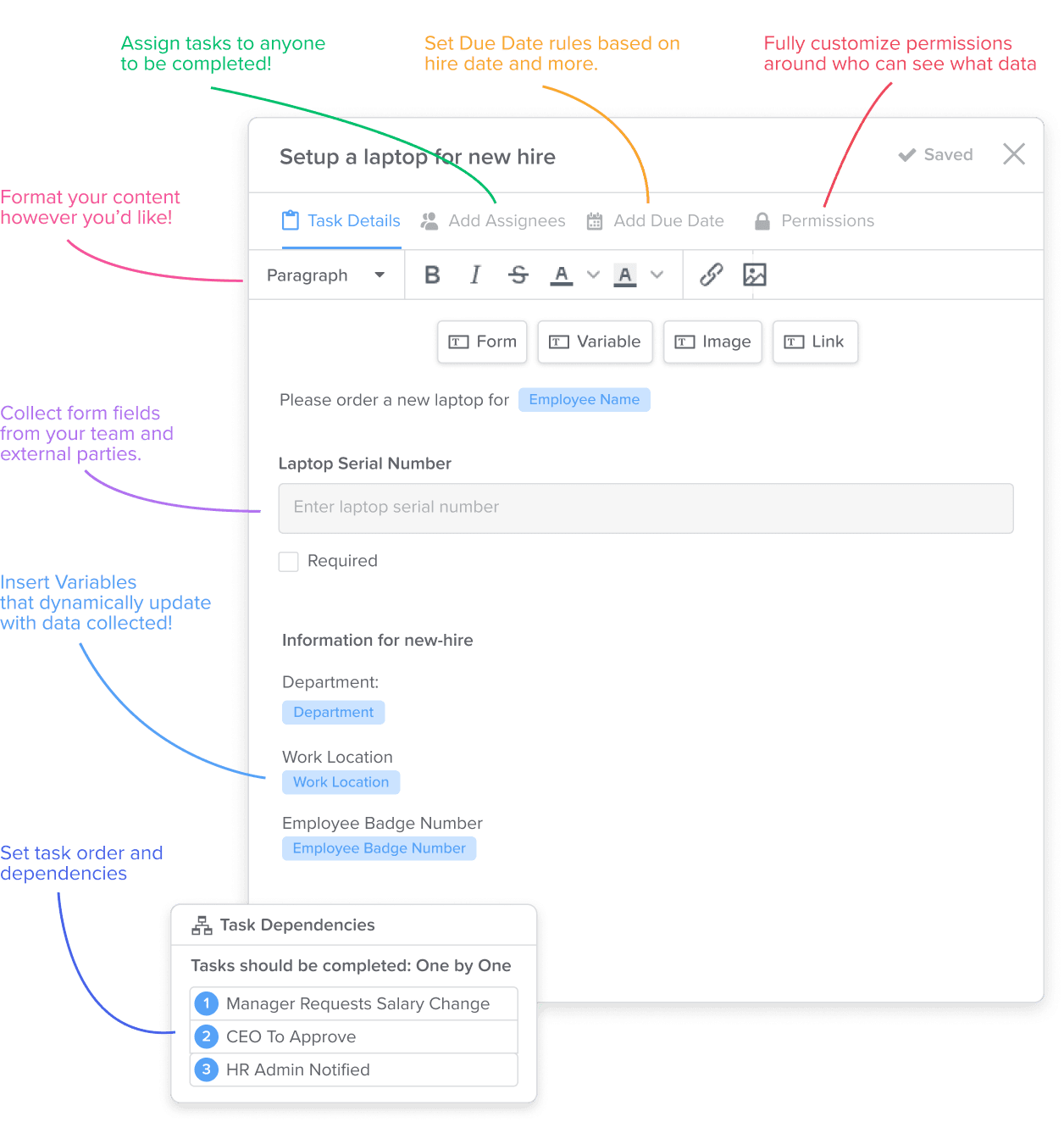 3. Train managers on consistent enforcement
Effective manager training around time-off requests is essential to the success of an unlimited PTO policy. Because they're on the frontlines of the approval process, managers must know how to base decisions on objective criteria like staffing availability and the employee's performance history. Otherwise, a poorly-trained manager might make biased decisions that create employee resentment or tension.
Software can compile PTO analytics so you can create more equitable PTO approval and enforcement practices. For example, in BambooHR, you can see at a glance who has not taken any PTO during particular periods and investigate further to determine why. HR teams can even pull performance management reports to compare employee productivity with their time off use.
4. Encourage employees to take time off
You can avoid the problem of the "always working employee" and decrease burnout by fostering a company culture that supports and encourages employees to rest. Lower engagement rates, performance scores, or other HR metrics are just a few indicators that help pinpoint unhappy employees in need of a break.
You can even take encouragement to the next level by implementing mandatory minimum PTO requirements, periodically reminding employees to take PTO, or adding time off as a company-wide key performance indicator (KPI). Doing so will help demonstrate to employees and external stakeholders that the company is committed to maintaining a healthy work-life balance and avoiding exploitative PTO practices.
5. Review and update the policy regularly
As business needs and company culture change, it's wise to reevaluate the success of your unlimited PTO policies. Generally, an annual review cycle provides enough data to reveal actionable insights that help continually improve the policy.
When reevaluating your unlimited PTO policy, consider some of the following metrics to measure its success:
Number of vacation days used over the benefit year.
Number of employees using the PTO benefit.
Number of PTO requests versus the number of approvals over a benefit year.
PTO use by department.
Company satisfaction scores.
Company performance metrics.
While quantitative data is a great place to start, direct employee feedback is the most effective way to determine if the PTO policy adequately meets their needs. Many employee engagement platforms help gather feedback through avenues like pulse surveys so you can quickly gauge employee satisfaction.
Is unlimited PTO right for your business?
Unlimited PTO may be more of a fantasy than reality for some industries, like healthcare, emergency services, or manufacturing. But, if your company doesn't need employees to be physically present, consider how an unlimited PTO system can benefit your company. Potential advantages might include reducing administrative work or increasing employee happiness.
In fact, understanding your company's motivations is key to a successful unlimited PTO transition. It will help you structure your new policy and "roll it out in a way that best fits the organization's needs," says Trevor Bogan, Regional Director at Top Employers Institute.
The result is an unlimited PTO policy supporting your bottom line while maximizing your employees' wellness and happiness.
If you're unsure where to start, check out our guide on How to Create the Perfect PTO Policy for tips and tricks.
---
1

Paylocity
Paylocity's modern HR and payroll software just doesn't simplify administrative tasks to save you time and money. Our flexible solutions can help you attract the talent you need and keep them engaged – improving retention, productivity, and the bottom line. See the Paylocity difference and get to know your people better so you can build a thriving, resilient workforce for the future.
2

Rippling
Rippling is the first way for businesses to manage all of their HR, IT, and Finance — payroll, benefits, computers, apps, corporate cards, expenses, and more — in one unified workforce platform. By connecting every business system to one source of truth for employee data, businesses can automate all of the manual work they normally need to do to make employee changes.
3

Justworks
Justworks makes it easier to start, run, and grow a business by giving entrepreneurs and their teams access to big-company benefits, automated payroll, compliance support, and HR tools in one simple platform. Using Justworks means that you can focus on what matters most – running your business. Justworks also offers access to ancillary benefits like 401, life/disability insurance, workers' comp, and more, all seamlessly integrated into the platform. The best part? Justworks offers 24/7 support.
Technology Advice is able to offer
our services
for free because some vendors may pay us for web traffic or other sales opportunities. Our mission is to help technology buyers make better purchasing decisions, so we provide you with information for all vendors — even those that don't pay us.