If you've been manually setting up employee schedules and keeping track of coworker contact information, it may be time to consider human resource (HR) software. Even if you only have a few employees, employee management software can make time tracking, scheduling, and other essential tasks much less time-consuming and stressful.
Read on to discover what features to look for in an employment management tool, and what our top picks are for the best employee management software for small businesses.
What Is Employee Management Software?
Employee management software, also known as workforce management software, centralizes important HR tasks, including scheduling, time tracking, communication, record keeping, and more.
While many small businesses start by doing these tasks manually, this can quickly get out of hand as the team grows and these administrative tasks become more time-consuming. Investing in HR software can save time and money in the long run and automate some of the tasks that take up a large portion of the day.
Read more on eWeek: 3 Ways IT Can Support Your New Global Workforce
Best Employee Management Software for Small Businesses
Whether you only have a couple of employees, or your business is scaling rapidly, here are five HR software options you should consider.
Gusto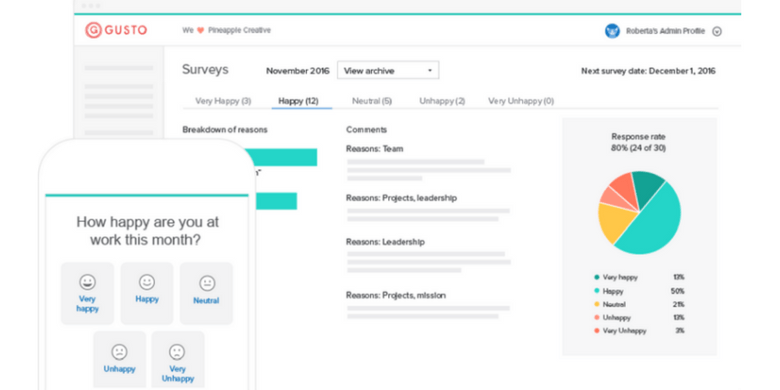 Users love Gusto for its user-friendly employee management, especially the payroll management feature. They also say it makes doing taxes a breeze at the end of the fiscal year.
Although, while Gusto is affordable to get started with, its prices increase as your business scales and you need more features. So, as your business grows, it is recommended to switch to HR tools designed for larger companies.
However, if you just need to get started with employee and payroll management, this is a great option.
KissFlow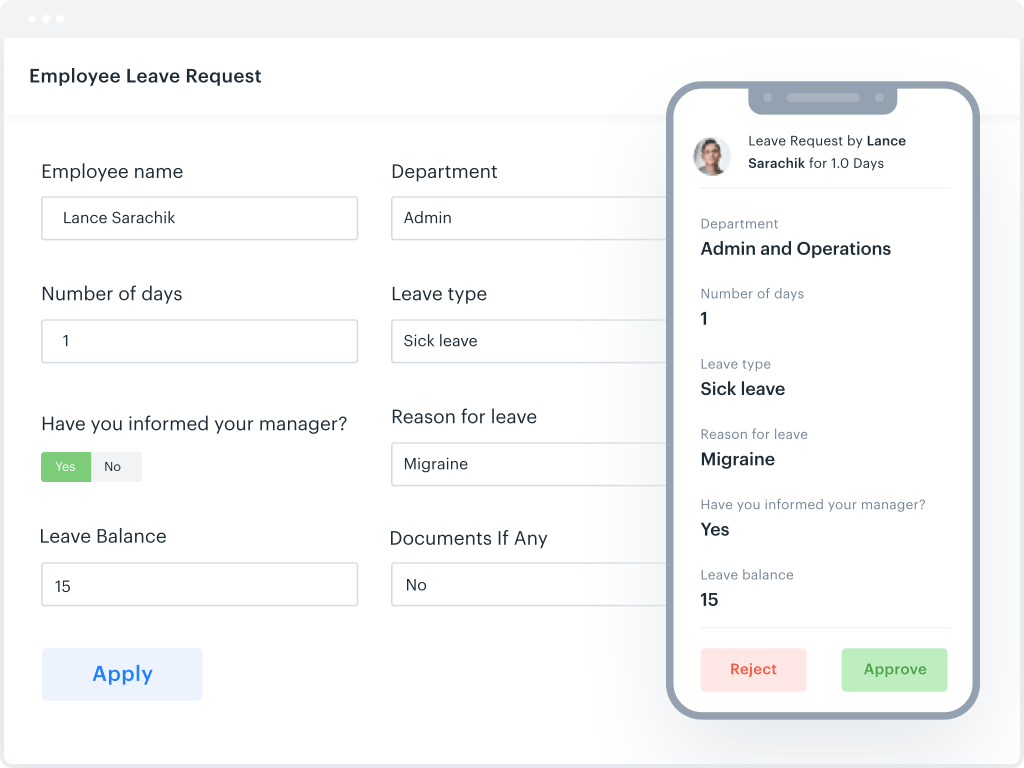 KissFlow takes a unique approach, focusing on workflow management, as opposed to employee or workforce management. Their analytics make it easy to drill down into your processes, identify inefficiencies, and streamline workflows.
The KissFlow HR Cloud software handles everything from attendance management to employee offboarding in a simple, user-friendly, collaborative system. Users do say that there is a learning curve due to all the options offered by the tool. But once you get the hang of it, KissFlow is easy to use.
Zoho People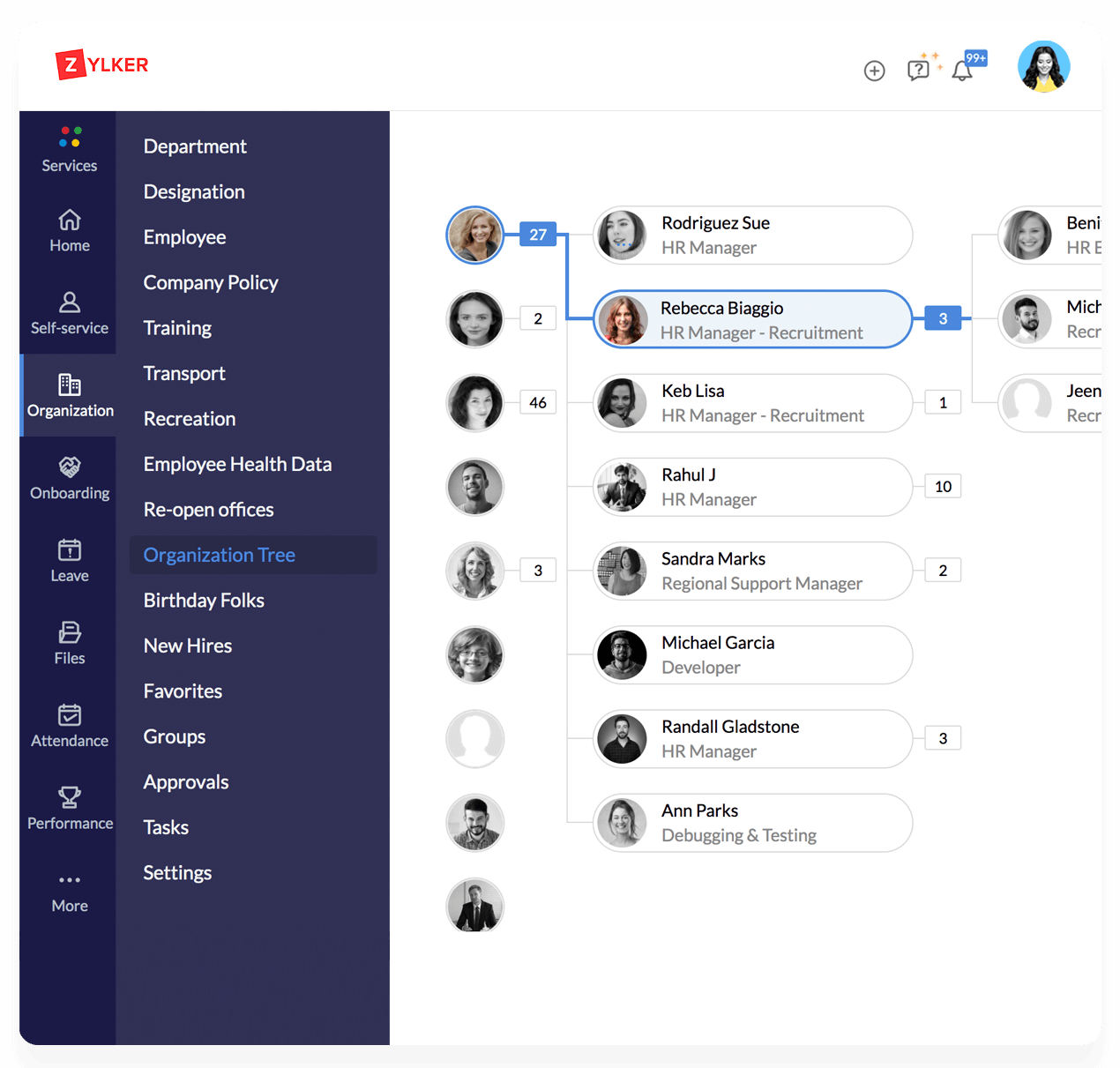 Zoho makes many popular business software products, which means that all their offerings integrate together seamlessly. Its HR software, Zoho People, offers time tracking, PTO requests, and other key features that scale as your business grows.
Zoho People is praised for its easy-to-navigate dashboard and user interface. However, it lacks a payroll feature, which was spun out into a separately priced product called Zoho Payroll. So, if you need payroll capabilities in addition to HR software, then one of the other options on this list may prove more cost-effective for your business.
Zenefits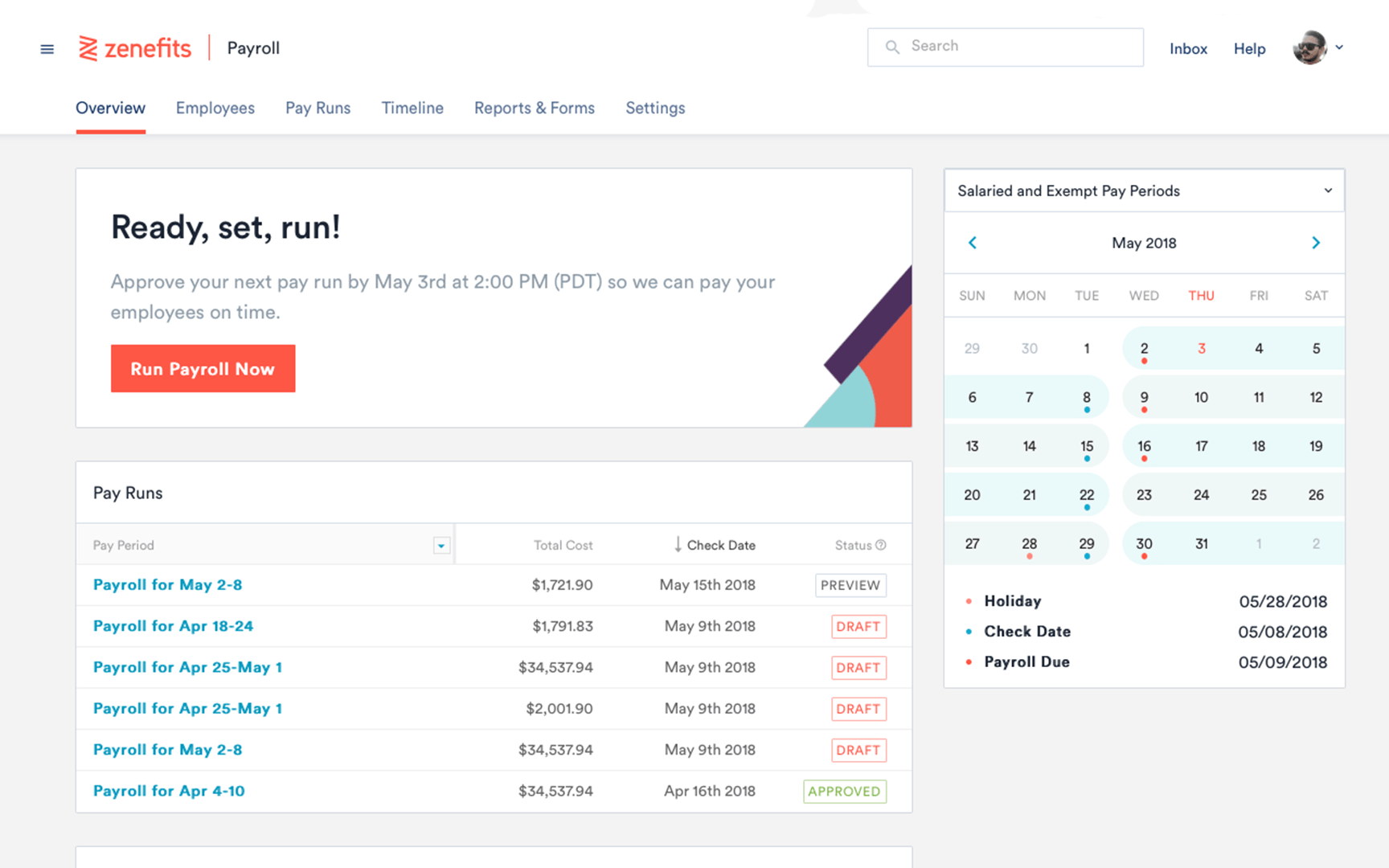 Zenefits offers a host of human resource functions that go beyond just employee management, making this a robust option for scaling small businesses. With Zenefits, you can do everything from checking remaining PTO to reviewing insurance benefits — all within one app.
The user interface is easy to use from both an employee and human resource perspective. However, users do note that customer service can be especially difficult to get a hold of, much more so than customer service at other competitors. So if you have an issue with the software, it can take a long time to resolve.
Workday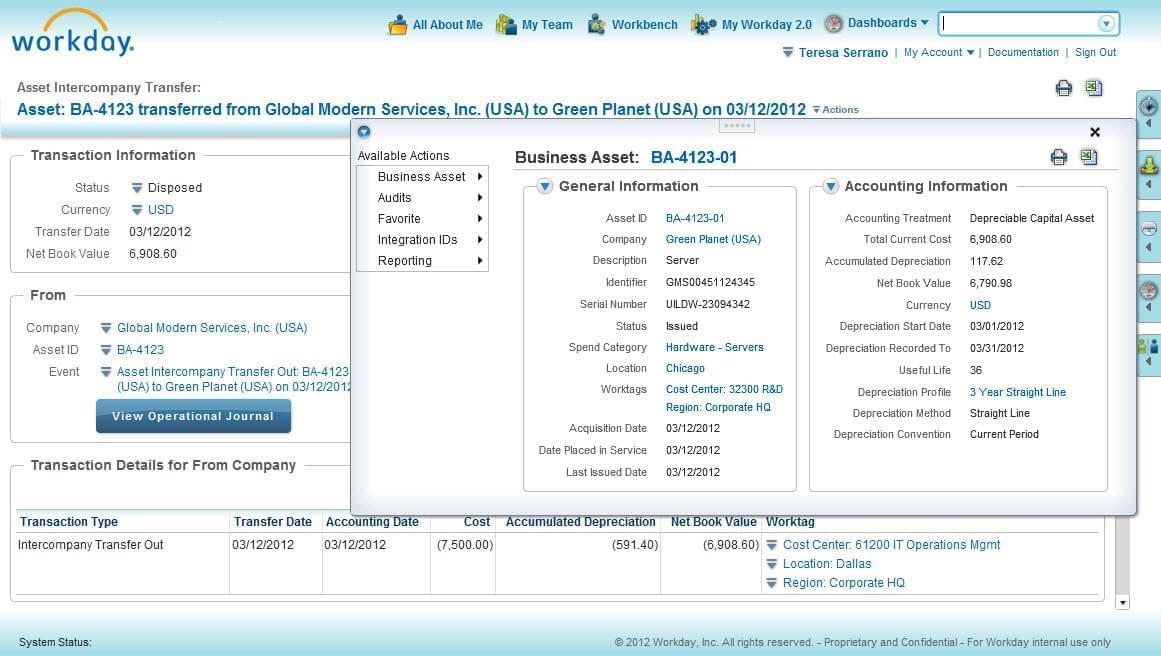 If your small business has been growing, but you're not yet ready for an enterprise HR platform, then Workday could be a great solution for your company. It offers everything from mobile check-in/out with geofencing to automated mass approvals and exceptions, making it easier to manage a large and complex team.
Despite Workday's broad functionality, users say its interface is simple and easy to navigate. It does take time to switch over from your current system to Workday, but once you complete that transition, things are much easier.
Features to Look for in Employee Management Software
When looking for HR software, you need to make sure it has at least five key features: time tracking, scheduling, in-app messaging, contact databases, document databases, and integrations.
Time Tracking
The employment management software should track whenever your employees clock in or out, take their breaks, go on vacation, and so on. Some solutions also offer GPS tracking abilities if that is something you need for your business — for instance, you have a traveling sales team that carries business phones and you need to know their locations.
Scheduling
The software should make scheduling semi-automatic, such as copying the last week's or month's schedule, while still making it easy to move things around and reassign as necessary. It should also offer the ability for employees to make shift swaps with each other directly.
In-App Messaging
The HR software should offer in-app messaging, including the ability to message an individual, a select group, and even the whole company. Ideally, the software should come with a mobile app, so people can read messages and reply while on the go.
Contact Database
While the software should contain in-app messaging, it should also have a database that lists contact details for everyone in the organization. This allows you to get in touch with them by phone or email in case of an emergency.
Document Database
The employment management software should offer a document database that centralizes all of your employee documentation into one place. Preferably, the document database should allow you to set view permissions for individual documents or groups of documents. For instance, you might want to restrict past job applications to management only, but make onboarding documents available to the whole company.
Integrations
You should also consider what other software you need your employee management solution to integrate with. Payroll software is an obvious one, but there are other integrations you may need as well. This differs for every company, as well as each individual piece of software, so check with your top choices to make sure they will integrate with what you need them to.
Read more: Bare Bones HR: What Every Startup Needs
Choosing Employee Management Software
Discovering which HR software is best for your business can be a daunting task. Taking into consideration your business's size and whether you might need a more comprehensive HR software solution, or you could benefit from a separate payroll management product, it's not an easy decision to choose HR software.
Consider scheduling a free consultation with one of our TechnologyAdvice software experts. They will talk to you about your business requirements, identify what workforce management software you need, and make personalized suggestions for specific software products. Reach out to us today to schedule your free consultation.