Many salespeople are naturally competitive and determined to beat their own personal high scores. So why not up the ante by pitting them against each other to see who can make the most sales, Hunger Games style? On second thought, this might not be good for sales department turnover. It's probably best to skip the killing and implement gamification software instead.
Hoopla is a popular sales gamification software that lets you put leaderboards and other stats on TVs around the office, but there are at least five Hoopla competitors also worthy of your consideration. Keep reading to get our take on these tools, or save time by requesting a five-minute, no-hassle call from one of our Technology Advisors for a free shortlist of the best gamification tools for your business. Click the banner below to complete the form and get started.
ALSO READ: 11 Creative Sales Contest Ideas and Why They Work
Here are five Hoopla competitors to consider:
Ambition: Best for employee engagement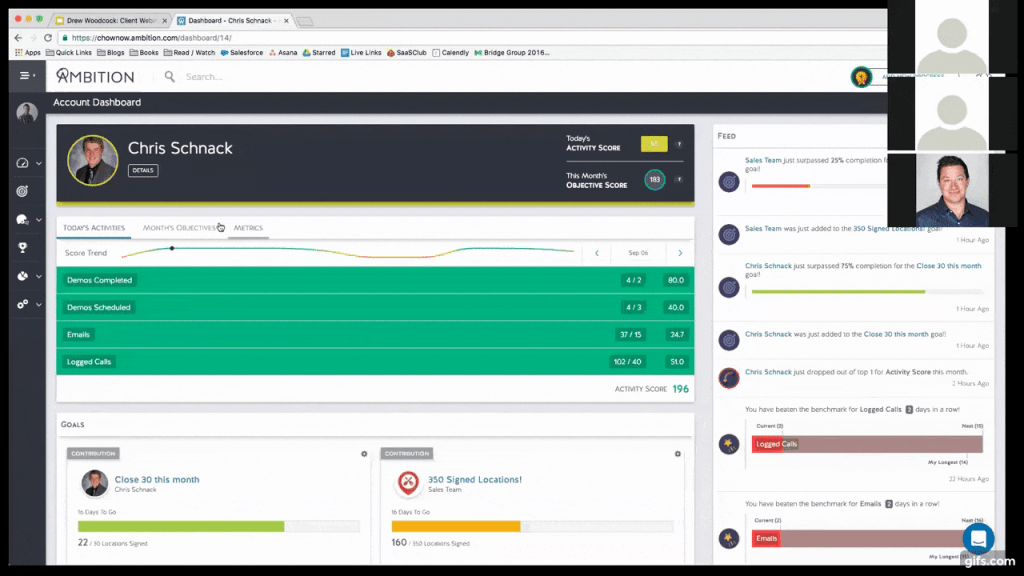 Pricing: Average
Works Best For: Any Sized Business
Ambition offers a variety of different features to help your sales team achieve more. These features include goals, scorecards, TVs, contests, coaching, and management — all of which work together to make sales more data-driven, transparent, and fun. Ambition's contests feature mimics the bracket-style playoffs of Fantasy Football, giving your team a familiar concept that they can adapt to making sales.
Why we chose Ambition:
Ambition stood out due to its reputation for boosting employee engagement and motivation. It's extensive features like customizable metrics, integration capabilities, and visualizations also make for a truly unique gamification platform that results in high engagement.
LevelEleven: Best for sales team motivation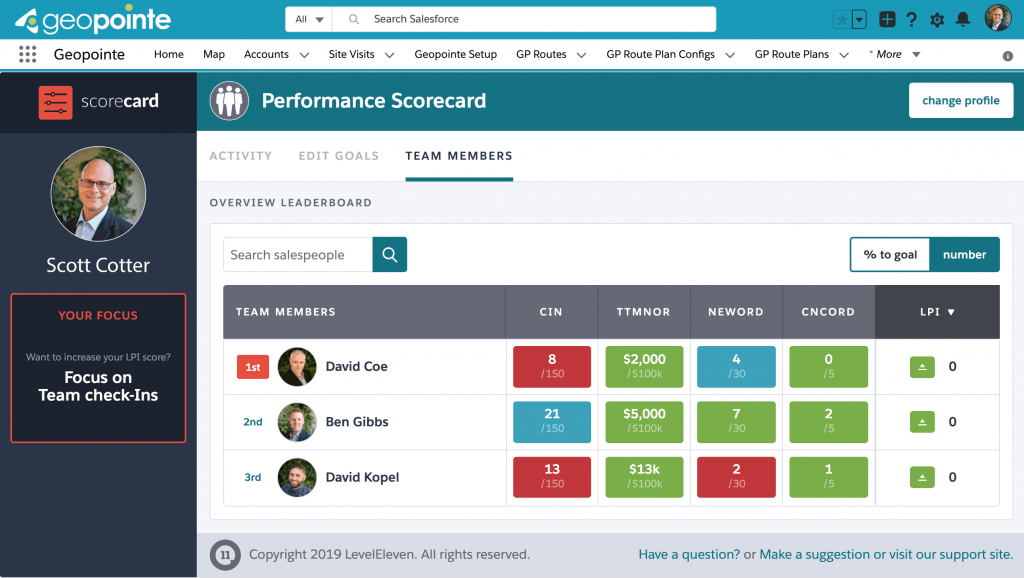 Pricing: Average
Works Best For: Enterprise Businesses, Mid Sized Businesses
LevelEleven integrates with Salesforce, so you don't have to worry about team members leaving the CRM and skewing adoption rates. Plus, if you integrate LevelEleven with Salesforce, LevelEleven will automatically push productivity triggers through Salesforce to keep everyone motivated. The ability to leave coaching notes in Salesforce makes LevelEleven an even more powerful add-on, though this gamification tool stands strong on its own.
Why we chose LevelEleven
When it comes to sales gamification software, LevelEleven earns its spot for its customizable leaderborards and contests. It's like having a cheerleader for every sales rep, rallying them to reach those oh-so-important targets. And then there's transparency. The platform lights up KPIs like Times Square, providing immediate insights to managers and reps alike. We're all about efficiency here, and LevelEleven's seamless integration with CRM systems was like a key that perfectly fits a lock.
Microsoft Dynamics 365 – Gamification: Best for learning and development gamification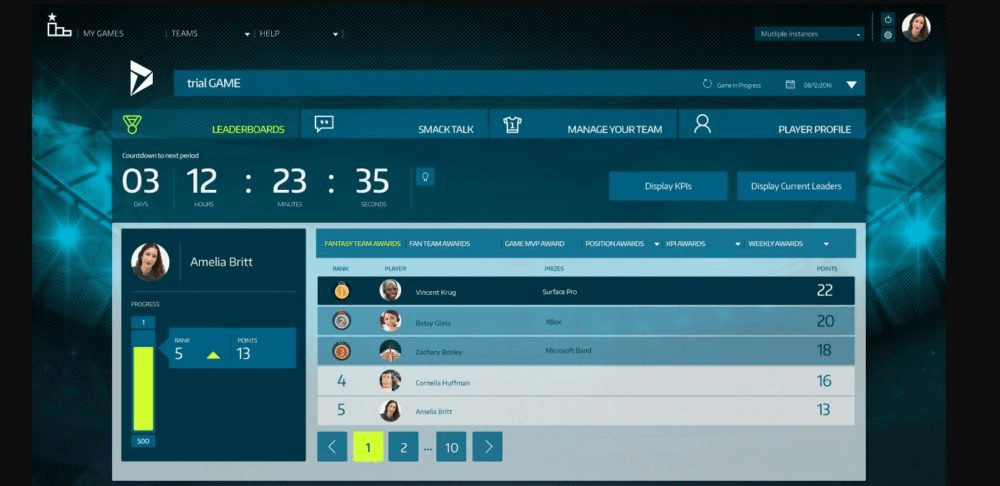 Pricing: Low-end
Works Best For: Any Sized Business
Previously known as FantasySalesTeam, Dynamics 365 – Gamification is available as an add-on for the Microsoft Dynamics 365 suite of business tool. This means you can only use this tool if you're already a Dynamics 365 customer, but the powerups it offers are no less impactful. Employees can compete in games that resemble actual sports video games, and you can give awards, prizes, and special privileges to employees who perform exceptionally well.
Why we chose Microsoft Dynamics 365- Gamification
Microsoft Dynamics 365-Gamification captured our attention with its seamless integration into the Microsoft ecosystem, providing a cohesive experience across platforms. The solution excels in driving sales engagement through customizable KPIs. contests, and leaderboards. When trying out the platform, we found a powerful, feature-rich platform that aligns perfectly with existing infrastructures.
BunchBall: Best for customer engagement and loyalty
Pricing: High-end
Works Best For: Enterprise Businesses
Trusted by giants like Toyota and T-Mobile, BunchBall integrates with your CRM in addition to all your other essential business software to recognize employee achievements and keep them on track. BunchBall runs on a platform called Nitro that's scalable to meet the needs of everyone from small businesses to enterprise-sized companies. The tool also incorporates the latest research on human motivation theory to help employees be more engaged, less distracted, and more productive.
Why we chose BunchBall
We decided to go with BunchBall for its unparalleled ability to drive customer engagement and build loyalty through gamification. Its Nitro platform provides robust, data-driven insights and the flexibility to design compelling reward systems. Moreover, BunchBall's seamless integration with various platforms allowed us to effortlessly extend our engagement strategy across different touchpoints.
GameEffective: Best for learning and development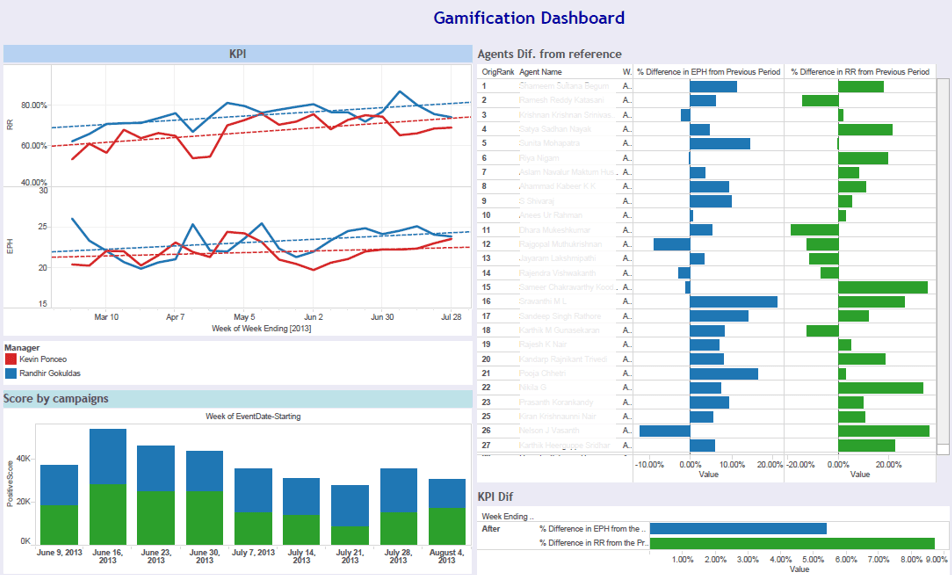 Pricing: High-end
Works Best For: Enterprise Businesses
GameEffective offers solutions for sales teams, call centers, eLearning programs, and more, using real-time data and insights about human motivation to help companies increase upselling, reduce onboarding time, and improve productivity. The tool also uses insights from integrated apps across your business to congratulate employees on a job well-done or to suggest opportunities for further learning or refreshers if an employee appears to be struggling in a particular area. Deep gamification sets GamEffective apart from other gamification tools that rely solely on leaderboards and real-time KPI progress to increase competition.
Why we chose GameEffective
GameEffective is a top choice due to its exceptional focus on learning and development gamification. Its ability to drive continuous skill improvement enables users to build a more knowledgable and effective sales team. Its real-time feedback and personalized microlearning modules offered an engaging and tailored learning experience.
How we choose our top products
At TechnologyAdvice, we assess a wide range of factors before selecting our top choices for a given category.
To make our selections, we rely on our extensive research, product information, vendor websites, competitor research and first-hand experience. We then consider what makes a solution best for customer-specific needs.
For our Hoopla alternatives list, we looked at 20 options before whittling them down to the five that cover all accounting needs for startups all the way up to enterprises.
Still can't decide which gamification tool is the right fit for your sales team? Check out our comprehensive gamification guide.
FAQs
Why should I consider Hoopla competitors for motivating my sales team?
While Hoopla is a popular choice for many businesses due to its real-time leaderboards, competitions, and data visualization features, different teams may have different needs. For instance, you might prefer a platform that integrates more seamlessly with your existing CRM, offers more customization, focuses more on learning and development, or fits better with your budget.
What are some key features to look for in a Hoopla competitor?
Some key features you might want to look for in Hoopla competitors include real-time tracking and analytics, integration with existing systems, customizable leaderboards and competitions, learning and development tools, and mobile accessibility.
Technology Advice is able to offer
our services
for free because some vendors may pay us for web traffic or other sales opportunities. Our mission is to help technology buyers make better purchasing decisions, so we provide you with information for all vendors — even those that don't pay us.