The supply chain disruptions we saw in 2020 thanks to the COVID-19 pandemic continue, and organizations need more effective methods of procurement. They need to be able to handle purchasing requests and approvals from remote employees, track their budget, and order products as seamlessly as possible. We've put together this guide to help you find a procurement tool that can do all of these things and more.
Jump to:
What is procurement software?
Procurement software, also sometimes called purchasing software is a tool that allows employees to request supplies and sends notifications to supervisors to approve or deny them. These purchases might include something small like pens or paper, all the way up to large machinery.
Procurement tools often include budget tracking features as well, to help organizations keep an eye on their spending and make sure they're using their resources appropriately. They handle the entire purchasing process from requesting the supplies to sending purchase orders (PO) to vendors.
Also read: Taking a Balanced Approach to Procurement Technology
Compare the top procurement tools of 2021
| | | | |
| --- | --- | --- | --- |
| | White Labeling | Fraud Detection | Artificial Intelligence |
| SAP Ariba | Yes | No | Yes |
| Procurify | Yes | Yes | No |
| Coupa | No | No | Yes |
| Kissflow | Yes | Yes | Yes |
| Tradogram | Yes | No | No |
| Fraxion | No | No | Yes |
Each of these vendors offers compliance management, multi-currency and multi-lingual solutions, and receipt and invoice matching.
SAP Ariba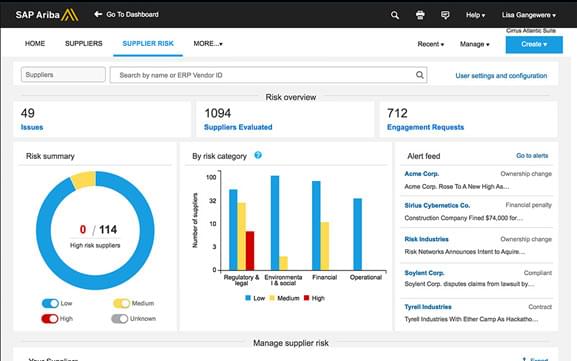 SAP Ariba is a web-based procurement tool that provides digital catalogs, invoice matching, and automated buying workflows to simplify your purchasing processes. SAP offers a variety of other large software tools, including ERP systems and customer relationship management (CRM) software, making Ariba easy to add and integrate if you're already an SAP user. Artificial intelligence and natural language processing make it easier for users to search for past purchases, while also double-checking purchase orders to make sure all of the appropriate information is there.
Procurify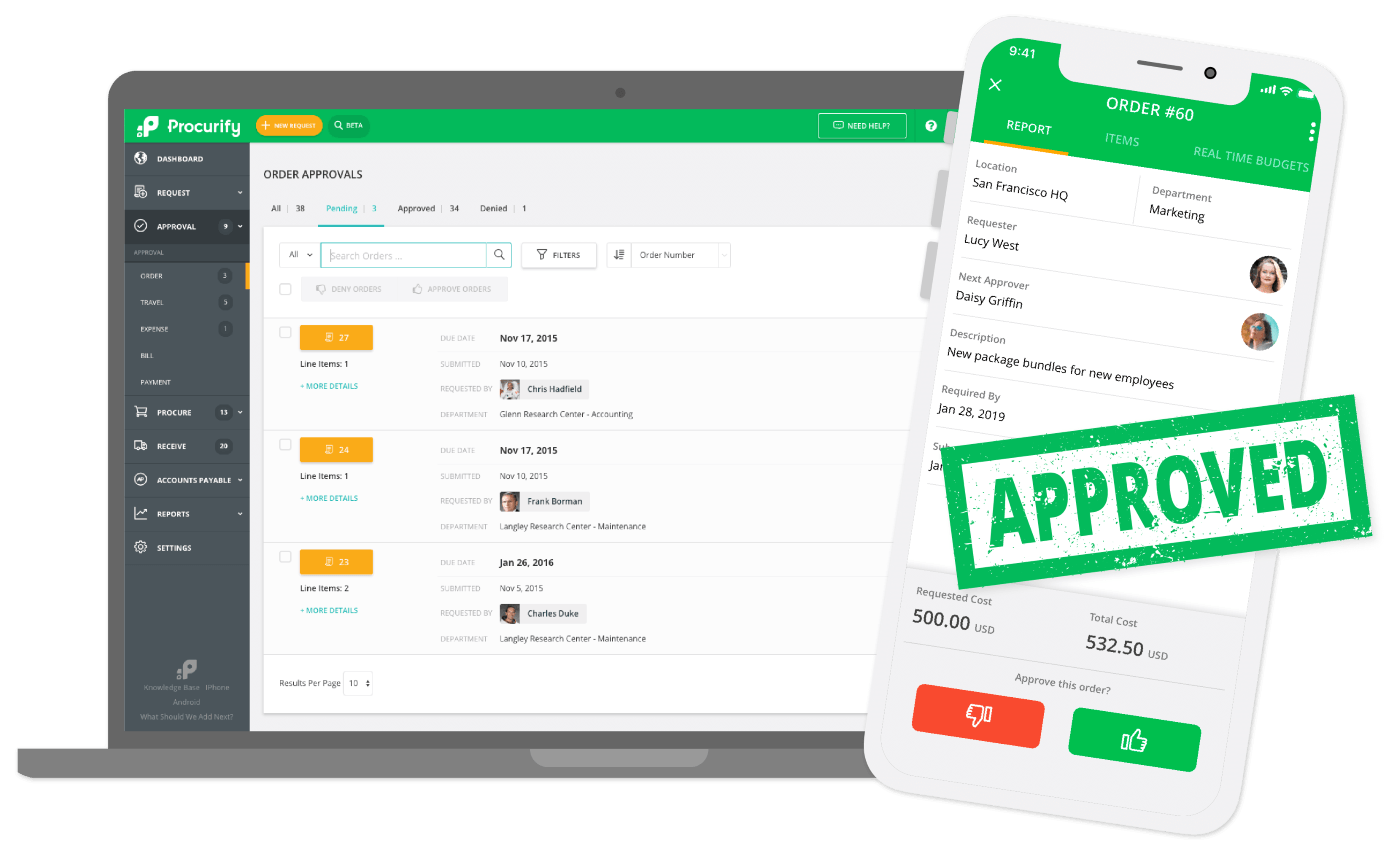 Procurify is a customizable and easy-to-use procurement system offering branded purchase orders and options for both physical and virtual debit cards. In-platform chat options make it easy to communicate about purchases, request for approvals, and get clarification on why a purchase is necessary. With the mobile app, employees can upload their receipts to the platform and make sure they get reimbursed for relevant expenses. And it helps managers approve purchase requests even when they're not in the office.
Coupa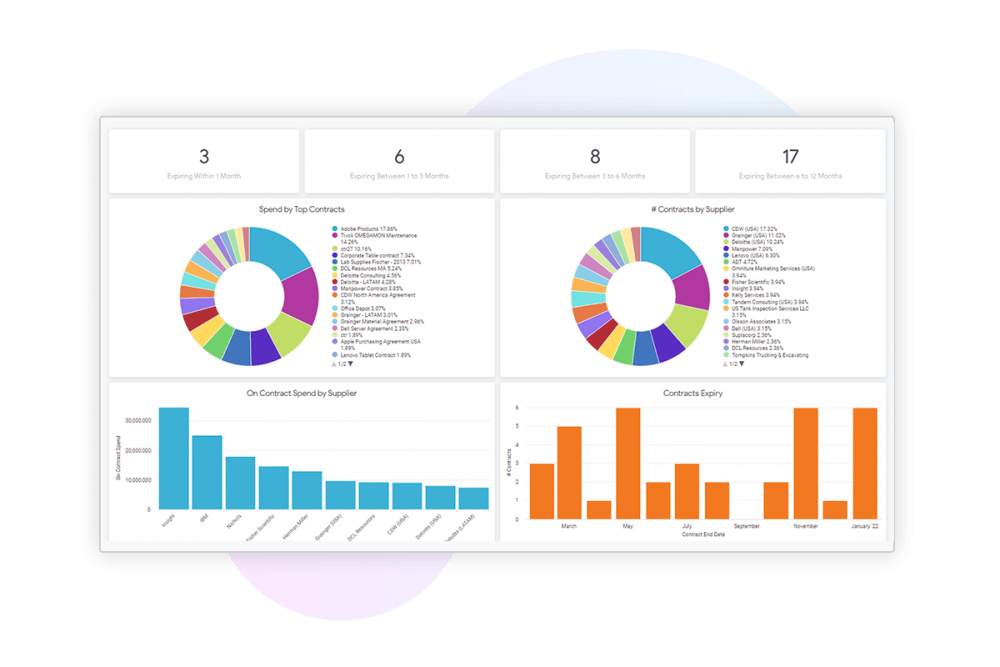 Coupa is a purchasing tool that helps businesses gain a higher level of visibility into their procurement processes. Along with procurement, the platform also builds purchase orders and manages your contracts and inventory. Artificial intelligence helps companies analyze their spending patterns to reduce waste and make predictions about future spend. The AI also helps with financial security, detecting errors and identifying fraud across your transactions.
Kissflow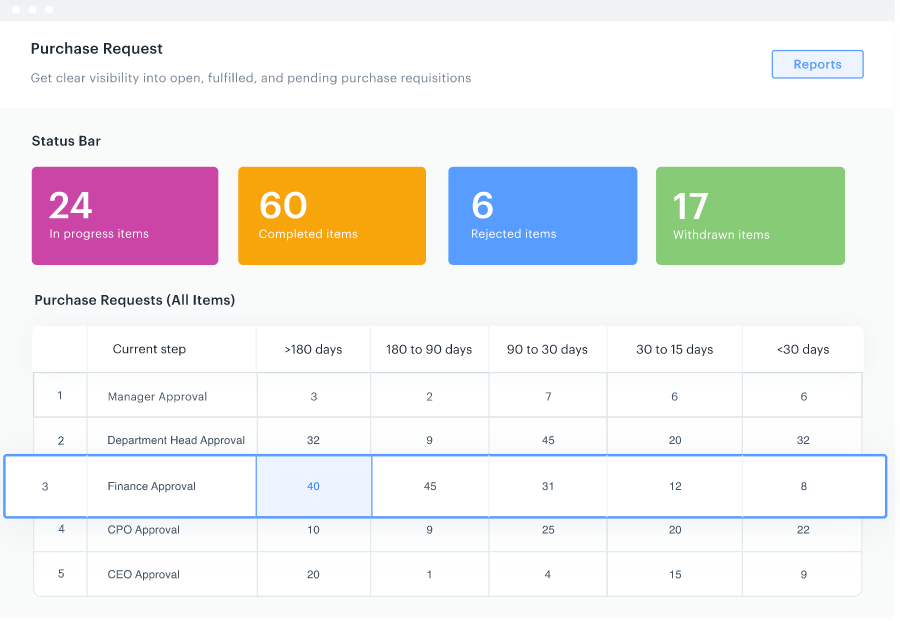 Kissflow offers a full procurement cloud that includes PO generation, invoice tracking, spend analytics, and vendor management. The purchase management dashboard shows you the status of all your purchase requests and provides updates whenever there are changes. Additionally, POs generate automatically once a purchase request has been approved. The vendor management system also lets you assign ratings to vendors based on their KPIs to help you quickly identify your top suppliers.
Tradogram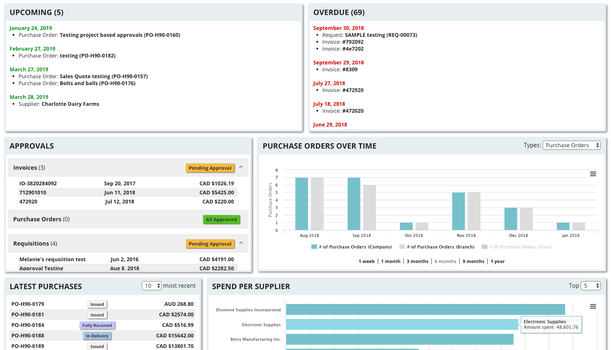 Tradogram is a customizable purchasing tool that helps organizations manage their user permissions, inventory, and supplier lists. With white labeling, organizations can include custom branding and fields in their purchase orders. The comparison dashboard helps users quickly compare vendor quotes and respond to them within the system. Users can also flag issues with a delivery in the system to let vendors know when they've encountered a problem, while also keeping everyone in the business aware of any delays.
Fraxion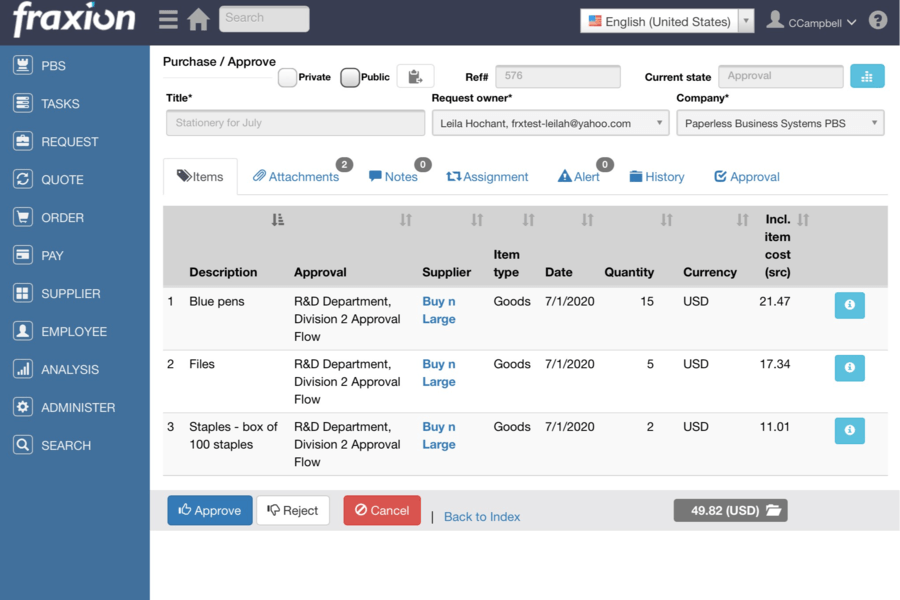 Fraxion is a procurement management system that helps businesses stay compliant while simplifying their purchasing workflows. There are options for both cloud-based and on-premises solutions. It's easy to integrate with your other business software and offers a customizable user interface. Budget reports show your actual spending vs. your expected spend, allowing you to make necessary adjustments. And managers can approve purchases via email or through the mobile app depending on their preference.
Key features of purchasing software
Purchasing software includes several key features that businesses need to keep track of the goods and services they buy.
Purchase orders
Vendors often require purchase orders before they'll agree to sell goods or services to their customers. Purchase orders function as a contract verifying that the customer agrees to pay the quoted amount and that the supplier can fulfill the order. Many procurement tools will automatically generate purchase orders with custom branding and the fields that are necessary for your business. The software will also archive the purchase orders, so they're easy to search through to find what you need.
Budget tracking
Making purchases comes with the need to track budgets and make sure you aren't overspending. Procurement software makes this easy with customizable dashboards that show you exactly how much you've spent on supplies during the current period. You can even plan your purchases by determining how much that new piece of equipment is going to affect your budget. The budget reports can also be broken down by stage, so you know exactly how much you've already spent vs. what you've committed to spending.
Vendor management
Keeping track of vendors can be difficult, especially if your purchasing department is growing. Plus, you want to make sure that your vendors are delivering what you need from them in terms of speed, accuracy, and quality. Purchasing software can help you track vendor key performance indicators (KPIs) against important metrics. That way, you can quickly identify a vendor that's constantly shorting you and search for more reliable options.
ERP integrations
Because purchasing is so tied up with your finances, your procurement tools have to integrate with your enterprise resource planning (ERP) software. ERP integrations can help you track purchases and balance your statements to keep your accounting department running smoothly. If the platform doesn't include native integrations for your ERP system, it should at least provide the option to connect the two via API.
Also read: The Importance of Ecommerce & ERP Integration in The Omnichannel Experience
Mobile app
Purchase requests don't always come when approvers are in the office, especially with companies that have locations in different time zones. Your procurement tool of choice should include an easy-to-use mobile app that will notify managers and executives when they have a new purchase request to review. Then, they can quickly approve or deny it right from their phone and avoid delaying the process.
Benefits of procurement software
Procurement software can offer several benefits to organizations, including a reduction in costs and more efficient purchasing workflows.
Cost reduction
Procurement software displays a detailed history of your purchases, showing you the things you purchase most often. If possible, you can buy those items in larger quantities to enjoy a price break or switch to a supplier that might offer better prices. Alternatively, you might be able to find more cost-effective alternatives. For example, a construction company might be able to purchase their nails and screws as a bundle, rather than purchasing them individually.
Efficient purchasing workflows
Maybe your organization always purchases the same four items whenever they get a new client. Procurement software includes the option to upload vendor catalogs and group items together, so it's easy to make the purchases you need for a new project. You can also use these catalogs to restrict purchases and make sure that employees aren't requesting items from unauthorized vendors. With these groups and restrictions, you can make purchasing workflows more efficient by removing the time it takes team members to find exactly what they need. Plus, app notifications allow approvals to come more quickly than they might through the web application.
Better vendors
Supply chains can be pretty fragile, and you want to make sure that you can rely on your vendors to deliver your products in time. With the transparency into vendor metrics and KPIs, organizations can easily spot vendors that aren't meeting their needs and look for new sources for their products.
Departmental use cases for procurement tools
Different departments in your organization may use your procurement tools differently. Here are some of the things you need to consider when looking at a purchasing system.
Accounting
Your accounting department needs a way to track purchases, reimburse employees, and balance accounts at the end of each month. Procurement software provides a centralized repository for purchase orders, receipts, and approvals, so accounting departments can identify exactly how much was spent, where, and who approved the purchases.
Expense management also helps accounting teams reconcile their books because users can easily upload their receipts with the platform's mobile app. Plus, they can tag those receipts with the relevant code or project, showing the accountants projects that went over budget.
Supply chain
Your supply chain needs to get their products fast, meaning that vendor management is going to be a big deal for them. If shortages arise, they need to be able to quickly pivot and find a new vendor in the event that their usual supplier is out of stock. With an approved vendor list and digital product catalog, supply chain managers can see which suppliers offer the goods they need and at what price.
Some procurement systems also include online payment cards with pre-approved balances, allowing supply chain managers to make purchases quickly and avoid the chance of a supplier selling out while they wait on approvals.
IT
Your IT team will often need to make software and hardware purchases to keep your business running smoothly. Your chosen procurement tool should include role-based access, allowing certain members of the team to make purchases without approval. That way, your IT manager can make the necessary decisions without waiting on an executive. These permissions are also important to make sure that the right employees have the ability to approve purchase requests, while still providing access to lower-level employees.
Choosing the best procurement software for your business
The best procurement software for your business really depends on how often you make purchases and the type of purchases you make. Organizations that make a lot of regular purchases will need purchasing software that helps them reduce costs and bundle goods and services whenever possible. If your company doesn't make many purchases or you're highly concerned with overspending, you'll want to opt for a tool that offers simple approval processes and role-based access.
For help finding the best procurement software for your business, speak with one of our experts today at (855) 718-1369.
Technology Advice is able to offer
our services
for free because some vendors may pay us for web traffic or other sales opportunities. Our mission is to help technology buyers make better purchasing decisions, so we provide you with information for all vendors — even those that don't pay us.