It seems everyone's working remotely these days, and many companies have turned to Zoom video conferencing to manage the hundreds or thousands of meetings that still have to go on. Despite its widespread popularity, Zoom has its issues, most notably some recent laissez-faire security practices and a dispute of fact regarding their end-to-end encryption policy.
While your company should probably repeat the mantra, "Could this meeting be an email?" you're likely to need a video conferencing service to consistently connect internally and with customers. This list of Zoom alternatives will get your search started.
If you're just beginning the search for video conferencing software, use our Web Conferencing Product Selection Tool to get a short list of free recommendations from our Technology Advisors that are tailored to your needs.
Compare the best Zoom video conference alternatives
You'll often find similar features among video conferencing software options, including screen share, mobile versions, internal messaging, and security or encryption features. However, not every software offers a free tier or allows hosts to schedule meetings in the app or from their calendar. We focused on those differences for our comparison chart.
| | | |
| --- | --- | --- |
| | Scheduled Meetings | Free Version |
| Zoom | yes | yes |
| ezTalks | yes | yes |
| Ryver | no | no |
| Skype | no | yes |
| Microsoft Teams | yes | no |
| GoToMeeting | yes | no |
| Cisco Webex | yes | yes |
| Google Hangouts Meet | yes | no |
| BlueJeans | yes | no |
| Join.me | yes | yes |
Cisco WebEx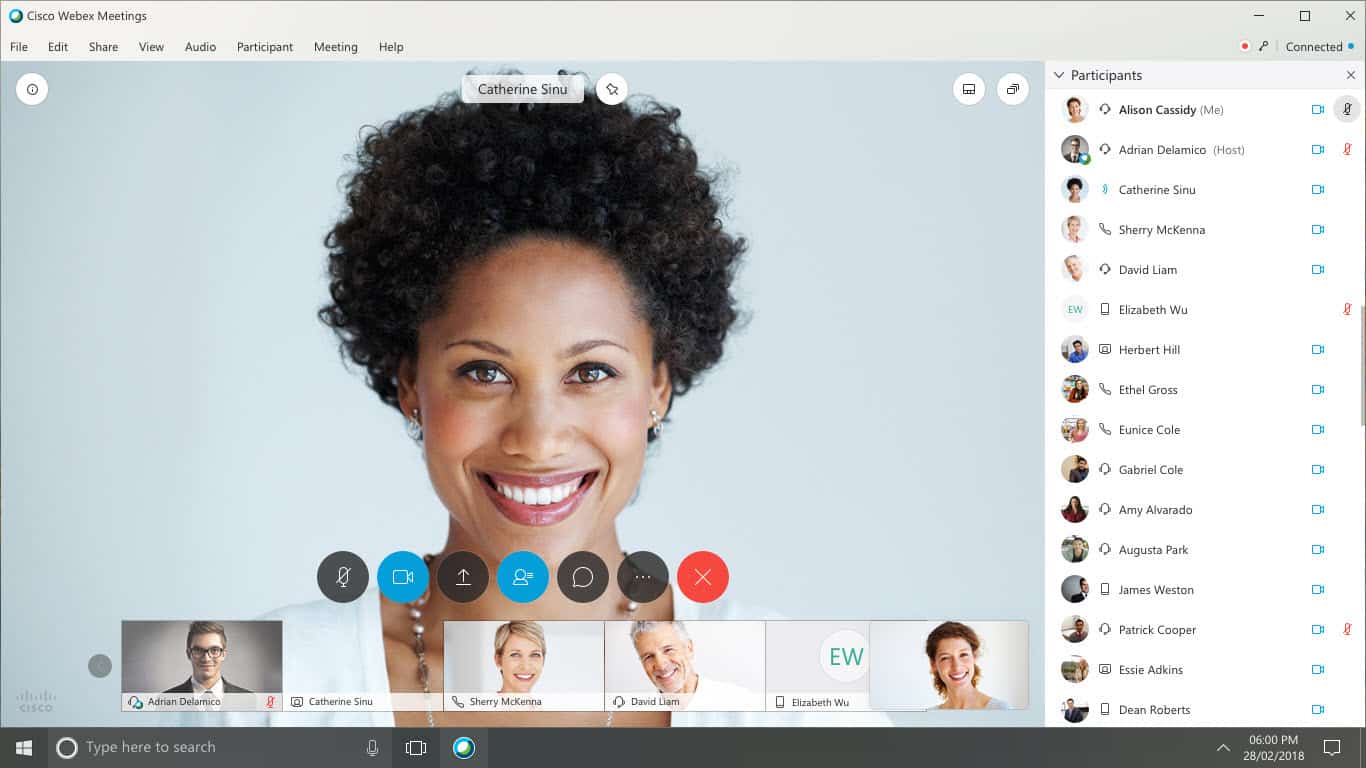 The Cisco WebEx video conferencing suite includes specialized plans for businesses, education, and healthcare. Each plan includes conferencing for up to 100,000 invited guests. The free plan includes unlimited call lengths, all the video conferencing features, plus Webex Teams collaboration features. Webex Teams includes whiteboards on video calls, messaging, file sharing, and search functions across all your collaboration tools.
Also read: Webex vs. GoToMeeting: A Virtual Conferencing Software Comparison
Standout feature
The Call-Me feature will connect you to a scheduled meeting automatically by calling your phone when the meeting begins. This means you don't have to scramble around at the last minute looking for the right meeting code or apologize because you got caught up in another task.
---
BlueJeans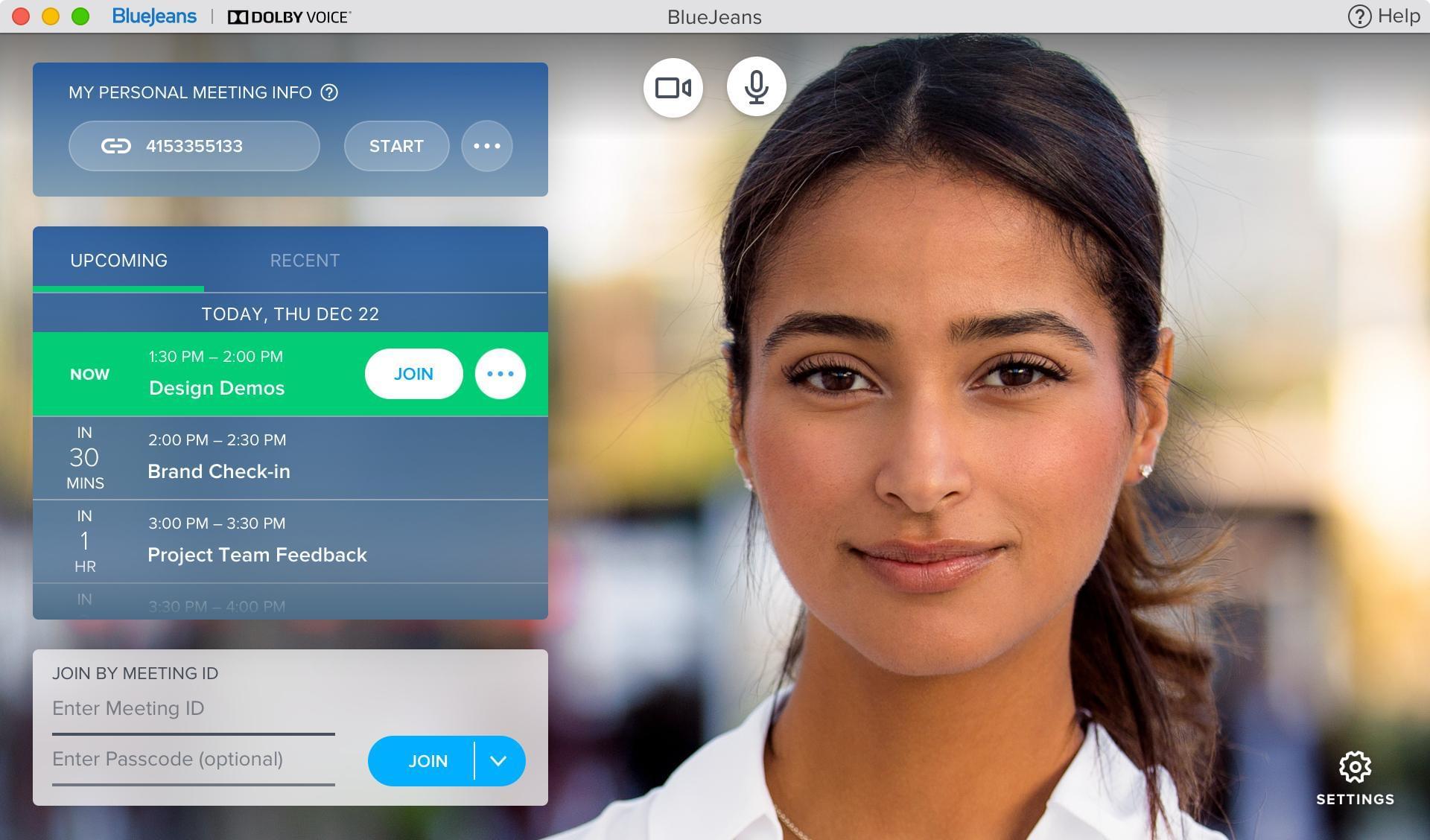 BlueJeans video conferencing software provides teams with advanced meeting capabilities like breakout sessions for up to 20 people from within an existing meeting and meeting notes with action items. While some of the features that require more server space — like recorded meetings — are limited to meeting hosts with an account, the direct connectivity to third party security, sales, and LMS software apps make this a great option for sales, training, and consulting teams.
Standout feature
Intelligent meeting recaps give you a condensed overview video of your meeting in a short highlight reel.
---
Join.me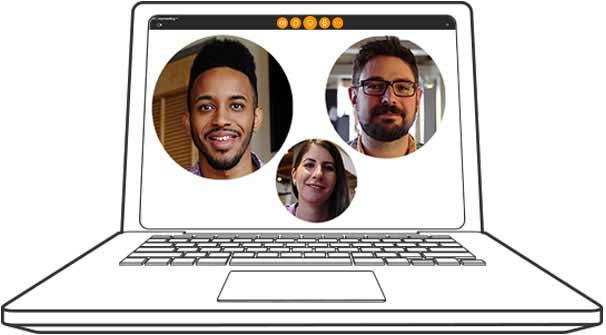 Join.me has several video conferencing features that make connecting to meetings quick and easy. Users who connect through the Chrome browser don't need to download an outside app, and meeting attendees can join with just the link, instead of needing a personalized invite. The Pro and Business versions of the app also include free international calling through the tool.
Standout feature
On the newest versions of the desktop and iOS9+ software app, Join.me places meeting participants in bubbles that you can move around the screen or bounce around. Whether this is fun or distracting is up for debate.
---
Microsoft Teams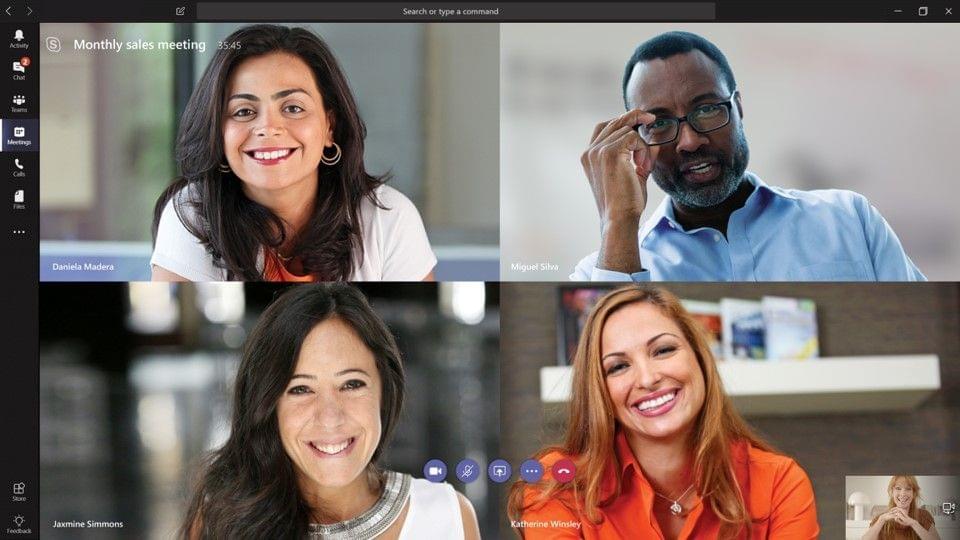 Microsoft Teams is the company's business and enterprise video conferencing and collaboration tool. Because it's part of the Microsoft ecosystem, you can instantly share Word, Excel, or PowerPoint files in meetings to collaborate virtually. The video conferencing tools scale up to 10,000 attendees, are backed by the Office 365 security features, and are appropriate for meetings, live events, webinars, and audio conferencing.
Standout feature
Outside of video conferencing tools, Teams also has an interface where your developers can build low-code internal apps to automate processes and speed up your workflows.
---
Skype
Skype is the OG video calling software. It was a huge hit even before you could FaceTime Grandma. Now owned by Microsoft, it's the computing company's free video and collaboration tool. International calling from Skype to phone is affordable, and you can connect to Skype through most Microsoft products, including Alexa and Xbox. Skype is best suited for personal, freelance, and small business use, whereas Microsoft Teams is recommended for larger businesses.
Standout feature
Skype includes subtitles, which increases accessibility for the hard of hearing (or those that want to participate in a group call without their boss listening in).
---
Ryver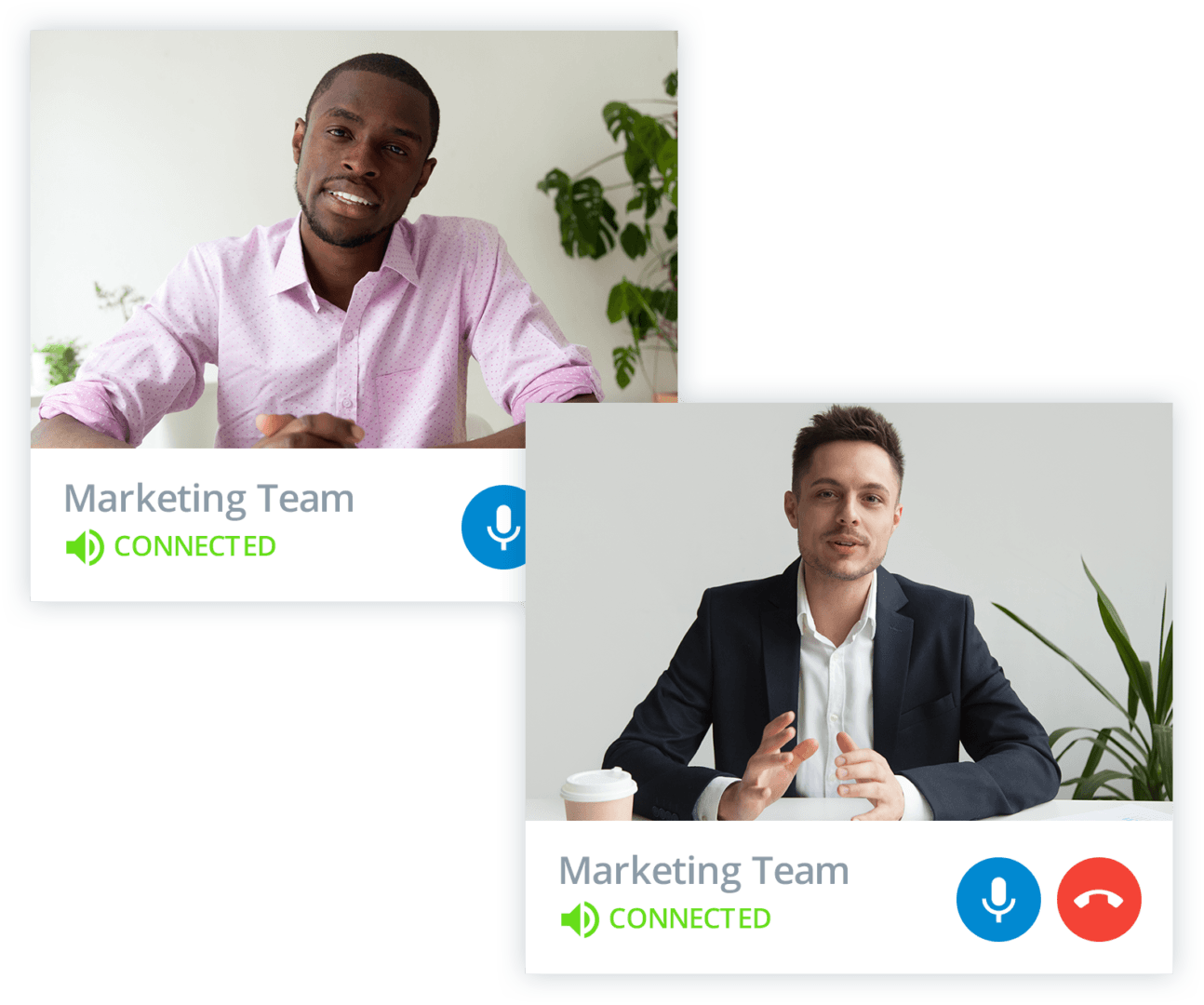 Ryver is a collaboration tool built around a chat interface, but it also includes a good video call feature. Access the app's unlimited chat, file sharing, integrations, and tasks. Strictly regulated data features include encryption in transit and at rest, while AWS cloud services security features like 2-factor authentication keep your data in the Virtual Private Cloud safe. Ryver also offers single sign-on with Okta, Microsoft ADFS, OneLogin, and others.
Standout feature
Ryver's most interesting standout feature is its task management. Users can move key parts of their chat conversations directly to the in-app project management tool. Set notifications and then share tasks among teammates. Enterprise customers can even automate tasks with the workflow tool.
---
ezTalks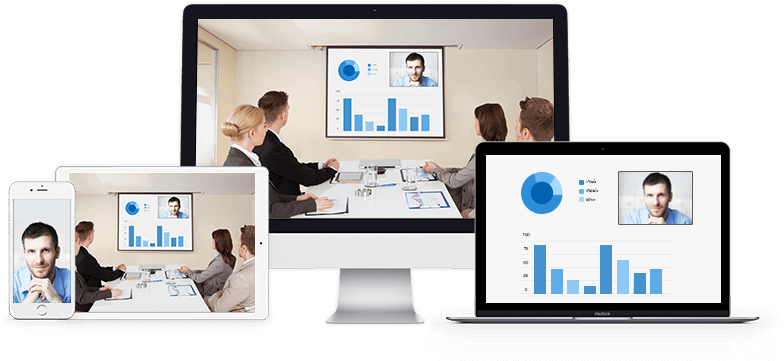 The ezTalks free plan includes 40 minute meetings for up to 100 participants with video or audio recordings. Use the screen sharing feature with annotations to augment your presentations and an interactive in-meeting whiteboard for collaborative meetings. Use the remote control to have an assistant run slides during a conference, or actively take notes on the whiteboard.
Standout feature
Record your meetings as an MP4 and send them directly to a local computer or the ezTalks cloud storage.
---
Google Hangouts Meet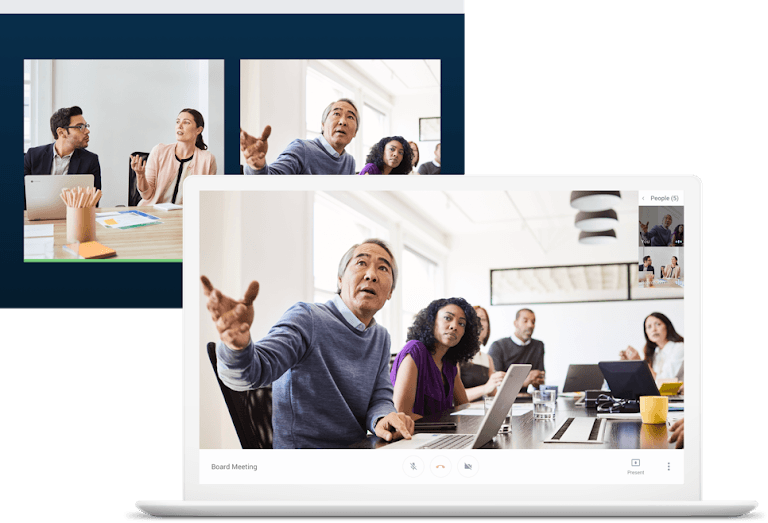 Google Hangouts Meet used to be two separate products: Google Hangouts and Google Meet. The product is now available to all G Suite pricing tiers. Hangouts Meet comes with video and audio conferencing capabilities that connect seamlessly with other G Suite products like Calendar, Gmail, chat, Drive, and document creation products.
Standout feature
Hangouts Meet will connect with other existing software like Skype for Business. You have to go through a third party platform, Pexip Infinity Platform, but it's a feature that promises greater connectivity.
---
GoToMeeting
GoToMeeting's video conferencing tool is built to manage one-on-one video calls and large group conferences. Record your meeting and send the video to all participants, and use the Smart Meeting Assistant to transcribe your entire session. Use these notes to assign tasks to attendees and follow up in the business messaging chat tool. Drawing tools on the screen share feature keep attendees focused on your most valuable points.
Standout feature
GoToMeeting lets participants share their entire screen, or only particular apps, so you can keep that job application up on another screen while you cover today's numbers.
Find the best software for your business
Researching your business software doesn't have to be as hard as running your business. TechnologyAdvice can give you a free list of the best software for your needs. Start now.
Technology Advice is able to offer
our services
for free because some vendors may pay us for web traffic or other sales opportunities. Our mission is to help technology buyers make better purchasing decisions, so we provide you with information for all vendors — even those that don't pay us.