Your sales manager gives you her 2-weeks notice. She ran your sales department, helped the whole sales team train on the CRM you implemented last year, brought on some of your most valuable clients, and is generally who the team goes to when they have questions about how stuff works. Are you panicking yet?
How do you ensure that all the team members can get the right information, even when she's gone?
You need a formalized knowledge management system to ensure that when your sales manager leaves she doesn't take your whole sales team's institutional knowledge with her.
Table of Contents
What is knowledge management?
Knowledge management is all of the ways a company organizes and updates their systems and process intelligence. It originally only included the company's internal documents, but the definition was soon expanded to include important documents and knowledge from outside of the organization that inform how the company does business.
For many remote teams, a knowledge management tool is how employees access critical training and process documentation that helps them do their jobs — without bugging their teammates. It's much easier and more efficient to reference a detailed document of instructions and follow up with specific questions than it is to schedule a full training session.
Knowledge management can be divided into in 4 major areas: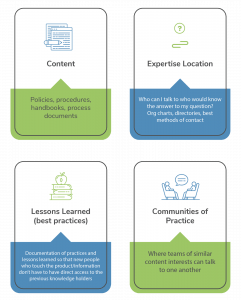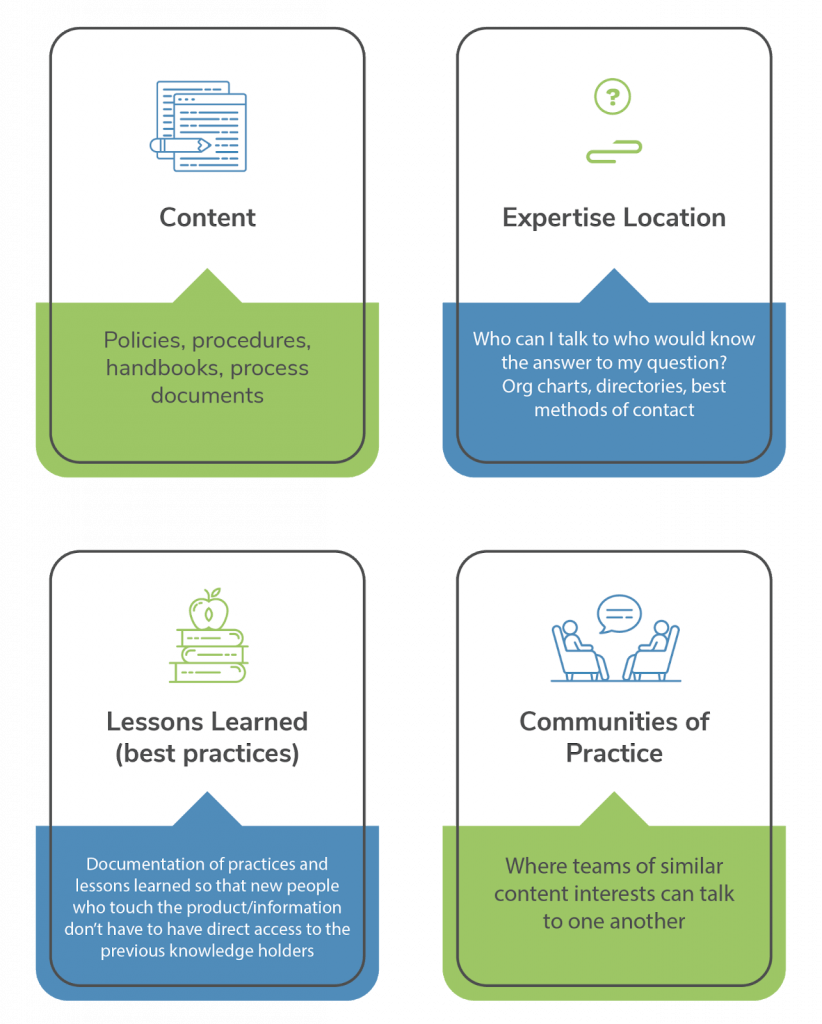 Content

: How can I access my organization's data and information? Policies, procedures, handbooks, process documents
Expertise location: Who can I talk to who would know the answer to my question? Org charts, directories, best methods of contact
Lessons learned: How do I do this specific process? Documentation of practices and lessons learned so that new people who touch the product/information don't have to have direct access to the previous knowledge holders
Communities of practice: How can I better collaborate with my team? Where teams of similar content interests can talk to one another
Another way to think about knowledge management is that it's where People + Process + Technology come together within a business system. By gathering intelligence in a centralized location, the organization documents who has access to knowledge, what processes work best for the organization, and how technologies augment the workspace.
A side-benefit of a knowledge management tool is the reduction of inevitable brain drain caused by workforce reductions and turnover. Documenting what tools and processes you have, how they're used, and why you use them over alternatives can save future teams lots of headaches.
Caveat: Don't store personal identifying information, account passwords, or other pieces of operational security information in your knowledge management tool. This is just asking for a security breach. Passwords should stay in a password manager, personal employee information (social security numbers, banking information) should stay in a secure HR portal, and proprietary company documents like patents should be restricted to authorized users.
We've outlined the best knowledge management tools for remote teams and also by category. These tools are multi-functional, so not all focus specifically on remotely managing teams. But that's the beauty of it, right?
If you want more options or are just starting your research, use our Product Selection Tool. We'll send you a list of five products that meet your specific requirements.
The best 7 knowledge management tools for remote teams
1. Sharepoint

From Microsoft, Sharepoint is a web-based collaboration tool that serves as an intranet for internal teams and people outside the organization looking to become familiar with in-house processes and content. Users can share and organize files, folders, data, news, and apps across a customizable team website.
Track the history of activity on all files, and set up team discussion boards for collaboration. Sharepoint can automate repetitive tasks with Power Automate and can be accessed with iOS and Android devices. It integrates with Microsoft's other software products and has 3 tiers for pricing: Plan 1, Plan 2, and Office 365 E3. Each plan increases in features respectively, and E3 comes with multiple Office apps and services such as Word, Excel, and OneDrive.
2. Basecamp
Basecamp is a project management system that's designed for teams who work remotely or need an all-in-one management system. Work is divided into projects. These projects house all the necessary information in one place — members, files, discussions, and due dates. Recurring questions can be set. For example, "what's the status of project XYZ?" can be asked every Monday to employees specifically working on project XYZ.
Instead of Gantt charts, Basecamp offers a Hill Chart. It's a line graph (reference the GIF pictured above) that's indicative of how projects work: an uphill figuring-things-out portion and a downhill okay-now-I've-got-this portion. Users can drag the dot along the line graph to indicate progress. Basecamp integrates with Zapier, Calamari, and Klipfolio and is priced at one flat, monthly rate. A 30-day free trial is available.
3. Google Suite
First coined Google Apps for Your Domain, Google Suite is a cloud-computing, productivity, and collaboration tool composed of many applications powered by Google AI. With Gmail for Business, create a professional email address by using your company domain, such as Jane@technologyadvice.com. Meet face-to-face with your team and share your screen using Google Meet. Collaborate in real time by editing and commenting on shared files, and know when your teammates are busy with a shared calendar.
Google Drive provides shared storage and a 2-step verification process adds a layer to securely signing in. Google Suite has 3 pricing plans: Basic, Business, and Enterprise. No matter which you choose, apps such as Google Meet and Voice are sold separately as add-ons.
4. Twine
Twine is an all-in-one intranet for remote teams. Create a team dashboard for each department that displays news, documents, events, or whatever else is relevant to the company. Publish important updates within the dashboard that automatically notifies teammates via email or Slack. Twine features a content library that houses all documents, files, resources, and anything else for people to become familiar with company processes.
You can write documents directly into the content library, or use Google Drive, Dropbox, or Box to upload them. The software integrates with Google Suite, Zapier, and Slack and starts at a base price per user, per month that increases depending on the business's needs.
5. Zendesk
CRM software system Zendesk features a knowledge management tool called Zendesk Guide that helps teams create relevant content and keep it up to date for customer self-service. Customize a help center and fill it with content that is repeatedly asked by customers, such as an article outlining the answer to a frequently asked question. Reporting is built in, so you know what content is taking off and what needs work.
Zendesk features an Answer Bot that responds to customer emails with recommended articles using AI. Customers can create their own portal to manage support requests and community contributions. Pricing for Zendesk has 3 tiers, and the knowledge base is included with all tiers, although Answer Bot is an extra cost.
6. SalesLoft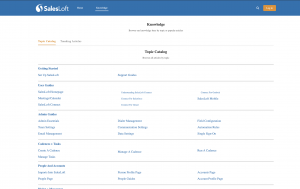 SalesLoft is a sales engagement platform that features an impressive knowledge base. It uses knowledge from former and current employees to organize resources and best practices for reference. It covers categories such as admin controls, people, analytics, and integrations. Articles are separated into different topics for customer self-service.
A user forum is available for SalesLoft customers to browse FAQs and receive tips and tricks for using the software. The software has 4 tiers of pricing that all include the knowledge base.
7. HubSpot
HubSpot offers a knowledge base for their CRM that optimizes the time of your support team as well as helps your employees when they have questions. Construct and customize a library of articles customers can visit to answer their questions instead of calling support.
Articles can be separated into categories and previewed before publishing to see what it looks like on different devices. You can analyze the effectiveness of your articles with a reporting dashboard and see what customers are searching for in your knowledge base. HubSpot's knowledge base is available for Service Hub, their customer service software, with the Professional or Enterprise pricing plan.
The best knowledge management tools by category
AI-powered content suggestion
Artificial intelligence (AI) solutions for knowledge management use pattern matching and context to understand what kinds of content sales, support, and other roles might need to answer a question at any given moment. Think of these tools like Clippy's smarter brother — they parse the work, emails, or questions you deal with and then suggest documents to share or reference in turn. Many of these tools are designed to support internal and customer support teams, but can be used across the company.
Look for AI-powered content suggestion for knowledge management in these tools:
Project management & collaboration tools
For very small businesses and startups where everyone works in the same couple of tools, having a single project management or collaboration tool with document management storage can work as a quick and easy knowledge management system. Make a project for company documentation, share it with all users, and place all process documentation, policy notes, and company-wide memos there.
These project management and team collaboration tools work well for knowledge management:
Wikis
Wikis are pretty much websites that act as a small library of documents. These can either be accessed via a browser or through a company intranet. The best-known public wiki out there is Wikipedia, but you can also make a smaller version that acts as a private wiki just for your company's knowledge. There are several free and paid wiki companies out there that host your wiki on their servers will help you build your site, or you can use some other, less conventional methods like building a website where all of your documentation lives.
Free and paid company wiki options:
TikiWiki
PMWiki
MediaWiki (used by Wikipedia)
Learning Management Systems (LMS)
Sure, you use your LMS for training new employees and furthering education for existing employees, so why not use it for knowledge management? Learning management systems can provide your team with document storage in a familiar, searchable interface. Let your LMS pull double duty and load your process documentation and employee handbooks into the system alongside department-specific trainings for technology.
Use these learning management systems for knowledge management:
HR tools
Although many small businesses and startups put off hiring a dedicated HR professional, it's likely that Human Resources Management tools will be an investment you make soon after hiring your second or third employee. Many of these tools also offer file management systems where you can upload your policy documents like benefits explanations, employee handbooks, and other policy documents.
Admittedly, HR software doesn't feel like the most logical place to put process documents, at first glance. But since most companies offload large aspects of employee training to HR, having process and training documentation in the same space as your employee handbook may make those first couple of days easier on all employees.
HR tools with knowledge management:
File sharing tools
Online file sharing has gone from the workplace to the home space, and for good reason: So much of our lives happen online these days that we have to have a central location to share our files, photos, music, videos, and more. Today's cloud file sharing tools like DropBox, Box, and Google Drive provide inexpensive storage and accessibility for everyone from individuals to enterprises.
File sharing tools are especially good for knowledge management because nearly everyone has a basic knowledge of how to search and access documents within them. For your knowledge management needs, you may want to make a parent folder with company-wide documents including employee benefits and handbooks. Then build out a folder for each department with varying levels of access.
File Sharing tools for Knowledge Management:
Why should you worry about knowledge management?
High employee mobility insurance
Today's employees don't stay in jobs for as long: according to the Bureau of Labor Statistics, the median time at a job is currently 4.1 years with variances for age and job types. All of this turnover can quickly put a strain on the institutional knowledge your company holds. Think of all the places where processes and systems understandings are affected when a team member leaves the company:
Code bases and database access
CRM workflows, customer interactions
Marketing automation campaigns
Manufacturing processes and best practices
Human resources onboarding
Those on their way out often spend the last 2 weeks of their employment working on process documentation to ensure that others know which software does what and where to enter information. But those process documents are only as good as the writers, and any missed steps could mean the total breakdown of the process.
Accessibility
When your company builds up a deep store of institutional knowledge it becomes increasingly important for employees across the business to easily access it whenever they need it. Placing your process documentation, handbooks, and best practices knowledge in a centralized location means that everyone knows where to look for all of the most important knowledge.
Many companies also find it helpful to build a directory of who to go to with questions. This can be as simple as a list of product and technology owners in an organizational chart or as complicated as a chatbot that automatically pings the team member on call for questions that day.
Time savings
In organizations with high turnover or rapid growth, it's common for experienced employees to take on (voluntarily or by default) training roles. Training other team members is unavoidable, but it can become a huge time-suck and frustration for high-performers that are used to churning out lots of work.
While training time can't be fully avoided, it can be managed with self-service documentation. The beauty of knowledge management is that new hires can access the knowledge base at any time, familiarize themselves with the policies and procedures, and move quickly toward productive, independent work. Think of it like the flipped classroom of training: employees teach themselves how to do the work, and trainers answer questions and clarify on difficult points during training sessions.
Documentation makes policy
Small businesses and startups often have a difficult time setting policy in those first years. While it can feel so Establishment or Corporate, having concrete policy in place can save managers and HR time and headaches should questions arise. What does your team really mean by "unlimited PTO"? When should employees expect bonus payouts? What measurements are used to determine bonuses? What happens if an employee is injured or has to take an extended leave?
Documentation can become policy, and then that policy can be measured and improved with future iterations. Without documentation that outlines your policies and procedures, everyone's working off memory and gut feeling, which can get the company in legal hot water if you're not consistent and some feel they're being treated unfairly. Think of your knowledge base as a protection policy against unfair treatment of employees and legal repercussions.
Need a knowledge management tool for your remote team?
A couple of people at the company probably already hold a majority of the knowledge, and are likely sick of being the only ones who answer questions. Get these folks together and ask for any existing documents. Then plan out where supplemental documents need to come from. Assign work (along with due dates!), to product and knowledge owners. This is going to have to be a top or middle-down initiative, to some extent.
Investing in a knowledge management tool will reduce headaches and organize your company. If none of these software systems suit your needs, use our Product Selection Tool. We'll give you more options to weigh that are tailored to your requirements.
Top Human Resources Software Recommendations
Rippling is the #1 Rated All-In-One HR Platform. You can onboard new hires in 90 seconds, and easily manage your company's payroll, benefits, HR, and IT -- all in one, modern system. It brings all of your employee systems and data together, and helps automate your busy work. Take onboarding, for example. With Rippling, you can click a button, and take care of a new hires' I-9, offer letter, payroll, health insurance, and more -- 100% online and paperless.
Processing routine HR tasks by hand and entering data in multiple systems can be time consuming and risky. That's why leaders depend on Paycor for a modern, adaptable, and unified system for all things HR. From engaging employee self-service, mobile push notifications and company updates to unlimited workflows, reminders, and notifications, Paycor's HR software helps you get out of the weeds so you can focus on bigger priorities like attracting, retaining and developing employees.
GoCo is modern HR, benefits, and payroll, built for flexibility and ease-of-use in mind. Manage records, performance, time off, onboarding, benefits, and more all in one place. GoCo is a secure, compliant hub for sending, digitally signing, and organizing your sensitive HR documents and data. Unlike other HRIS platforms, GoCo is built to be flexible enough to support existing processes, policies, and providers, so you don't have to change the way you work just to adopt a modern HR system.
Need a Little Help?
Talk with a software expert for free. Get a list of software that's great for you in less than 15 minutes.