Key takeaways
Many public cloud storage providers prioritize secure storage that meets business requirements.
Dropbox and Google Drive offer plans that provide mass storage space, encryption and advanced security tools.
Other features of the popular cloud storage providers include, collaboration and integration tools.
Finding secure public cloud storage that employees love to use but still meets your business requirements doesn't have to be difficult. Turns out, most public cloud storage providers also invest heavily in building secure storage, and some of those providers also prioritize usability. Dropbox and Google Drive are just two of the many household names in cloud storage, so we wondered, how do Dropbox vs. Google Drive hold up in a 1:1 comparison?
If you want to speed up your research process and get a short list of 5 cloud storage software solutions that meet your needs, use our Cloud Backup and Storage software category page and Guide. You tell us your business requirements, and we'll recommend five perfect vendors.
READ ALSO: 7 Dropbox Alternatives for Business Cloud Storage
As far as market shares go, Dropbox has over 700 million users, and Google Workspace, the business software that many companies purchase to access Google Drive has more than 7 million paying businesses signed up for their app, but the total number of users is around one billion.
They provide similar programs in the form of storage, data syncing, and collaboration. Google Drive is only one of a larger suite of tools you get with a Business subscription called Google Workspace. Dropbox's offering centers around storage and collaboration, with a few extras out of the box.
Updated May 8, 2023: We double-checked all the information for accuracy and made several changes. All references to G Suite were changed to Google Workspace; updated the total number of users for both vendors. We also made changes for simpler page navigation.
Access to Files
Google Drive for Business has the upper hand regarding syncing and accessibility. All of your data lives in the cloud and updates in real time across your shared users and devices, including smartphones and tablets. Use the Team Drive to store and access your team files and keep them separate from your individual files.
Business accounts also provide syncing with Office365 and Outlook, so your team can use both seamlessly. Granular access per file and document gives admins and individuals control over sharing within and outside the company. Use the search function in your browser to access all files within your entire Google Workspace, including Drive, Sheets, Slides, and more.
Dropbox syncs across all your devices and includes unlimited file versioning and history. The app downloads to your computer and appears in your folder structure like an external drive. You can use this feature to access any of your files or drag and drop local files to the cloud. Share files with other users via a private link visible to only those you share it with.
Syncing features have historically caused some problems, especially if you try to sync large amounts of data to your desktop and back. This can slow down your computer, so companies with huge data stores may want to selectively sync their data.
Storage Space
Dropbox Business starts at 5TB of storage for the Standard plan, but Advanced and Enterprise plans receive unlimited storage in the cloud. Dropbox makes moving between personal, business, and enterprise-level plans easy by transferring your account to the new plan without changing file configurations.
Google Drive for Business plans start at 30GB of storage per user at the Basic level, while Business and Enterprise plans give users unlimited storage with some extra features. Because Google Drive is part of the Google workspace suite of tools, you also get GMail, Sheets, Slides, and communication features included, but documents, images, or files you build in those apps will use some of your storage.
Encryption and Security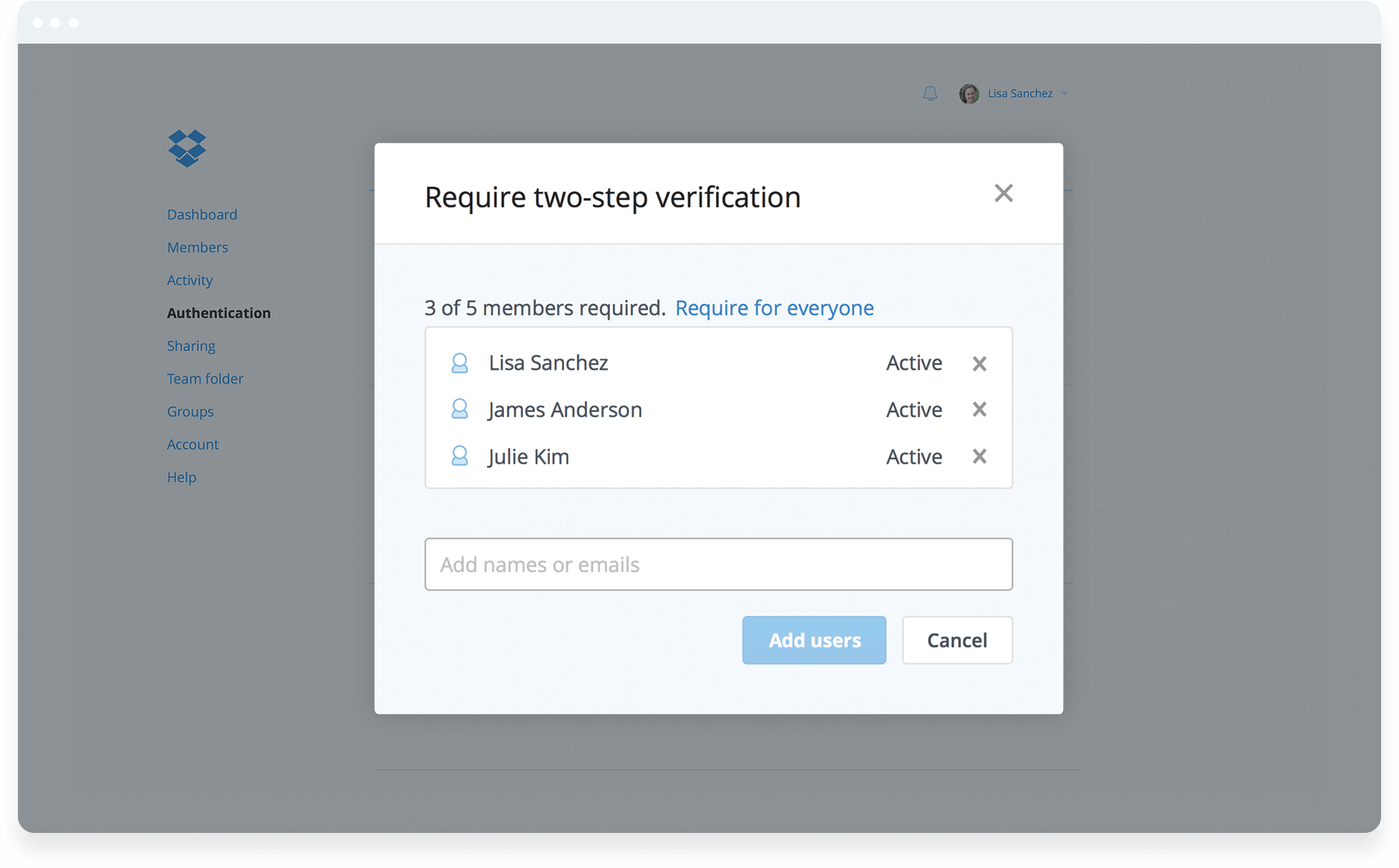 Dropbox stores your data in blocks and stores metadata separately. If your team loses a connected device, you can use the remote wipe feature to destroy data saved to the device before anyone can get their hands on it. That said, Dropbox employees have been given access to private business data as part of a deduplication process, and they've employed former high-level government officials on their board of directors — a couple potential privacy concerns.
Google Drive offers encryption at rest and during transfers for all accounts. Working entirely in the cloud can cause worry for lots of companies, but Google claims to practice the same security measures for their products as they use for their internal data.
Around this time last year, various news outlets reported that some Google accounts were under threat of hacking, but using good security habits including building a strong password and enabling 2-factor authentication for all accounts keeps these threats to a minimum. Business accounts can also control user accounts and apps, including remote wipe for connected mobile device apps.
Collaboration
Dropbox says they have automatic syncing, but it falls short of the real-time shared collaboration you get with Google Drive. Dropbox notifies you when a teammate looks at or edits an open document, and both of you have the option to update to the latest version on your computer. Where this gets a little tricky is you can only update to the latest saved version, which doesn't lend itself to real-time collaboration.
Google Drive, on the other hand, lets you and colleagues collaborate at the same time, and you can even see the changes as your teammate types them. This feature is super handy for distributed and remote teams that do a lot of collaborating and document sharing on projects. The previously mentioned team folders also let your team keep a library of files to share and collaborate on.
Integrations
Dropbox integrates with a lot of your business apps, like Slack and Docusign, enabling some pretty neat workflows and sharing capabilities. Since the product lends itself to business users, project management tools like JIRA and Asana also connect. Your IT department can rest easy with added layers of security offered by Symantec and CipherCloud.
Google Drive also offers a variety of integrations for businesses, including CRM, document management, accounting, and customer support. The companies, like Freshdesk, Virtru, and Asana, all have partner relationships with Google to ensure they meet standards of security and usability.
* * *
The Dropbox vs. Google Drive debate rages on for personal use, but as far as business users go, the two apps match well. I've used both options at work, and I find that working in Google Drive is more intuitive, even though you have to work in the browser.
Syncing lots of data on Dropbox can get tedious, but Dropbox offers the comfort of working offline with data saved to your computer. If you don't have internet, Drive can't access your information. I suggest that you think about the ease of use vs. access tradeoff when you compare Dropbox vs. Google Drive.
Looking for the latest in Cloud Backup and Storage Software solutions? Check out our Cloud Backup and Storage Software Buyer's Guide.
1

ManageEngine RecoveryManager Plus
RecoveryManager Plus is an integrated backup and recovery solution for your Exchange Online, on-premises Exchange, and Google Workspace mailboxes. Backup and restore all items in your mailboxes, including all attachments. Export entire Exchange Online and on-premises Exchange mailboxes or just a part of it as a PST file and secure them with a password for an additional layer of security. Try free for 30 days!
2

BDRSuite
BDRCloud, a cloud-based service from BDRSuite offers secure, reliable, and scalable cloud backup solutions for Microsoft 365, Google Workspace, Servers, Endpoints, and Applications. Seamlessly backup and restore critical data from the BDRCloud at your convenience. With customizable policies for scheduling, retention, backup encryption, and multiple recovery options, BDRCloud ensures your data is always secure and accessible.
Technology Advice is able to offer
our services
for free because some vendors may pay us for web traffic or other sales opportunities. Our mission is to help technology buyers make better purchasing decisions, so we provide you with information for all vendors — even those that don't pay us.