Gusto and ADP Workforce Now are two comparable human resources (HR) software solutions with a particular specialization in payroll for small and midsize businesses (SMBs). However, each one stands out for different reasons — Gusto for its automated payroll and ADP Workforce Now for handling HR functions at scale.
Whether you're looking to switch from one of these vendors to the other or you've narrowed down your shortlist to Gusto and ADP Workforce Now, compare them in terms of pricing and features to determine which one might better fit your company's needs. If neither option seems like the right fit, use our HR Software Guide or Payroll Software Guide to explore other solutions.
Gusto vs. ADP: Which is better?
| | | |
| --- | --- | --- |
|   | Gusto | ADP Workforce Now |
| Pricing | Depth and flexibility in core functions; upgrade for enhanced | Set of core functions across all plans; add-on enhancements |
| Benefits administration | Build your own or bring your own | Bring your own plus personal recommendations |
| Payroll | Fully automated, extensive offering |  Basic functionality |
| Time tracking | Basic needs; syncs with payroll | Advanced features; syncs with payroll, HR, and benefits |
| Recruiting | Limited native functionality; integrates with third-party software | Embedded with ZipRecruiter partnership |
| Onboarding | Self-onboarding | Mobile-enabled self-onboarding with a focus on employee experience |
Gusto: Better for small companies focused on optimizing payroll
Gusto started out as a payroll software-as-a-service (SaaS) company, and it's clear that payroll is its specialty. However, the software has since expanded to perform a range of capabilities.
Its intuitive user interface, market-leading support, and affordable price point make it a popular HR software solution for many SMBs. Specifically, companies with limited HR staff or those with complex payroll requirements are ideal Gusto customers.
Pros
Advanced payroll features included
Employee financial wellness tools
Onboarding checklist
Onboarding integrates with applicant tracking system (ATS)
International payroll
Automated pay runs with Gusto's AutoPilot
Built-in recruiting
180+ integrations
More affordable for small businesses
Time tracking is available to a wider swath customers
Syncs with a variety of calendars
Cons
Limited mobile app accessibility (Gusto Wallet only)
Some employee benefits incur extra costs
No electronic data interchange (EDI) for carrier management
No syndicated job posting
Also read: Top Gusto Competitors & Alternatives
ADP: Better for midsize companies focusing on growth and retention
ADP is one of the world's largest providers of payroll and HR software. It offers a stripped-down solution — ADP Run — for businesses with fewer than 50 employees. ADP's Workforce Now platform, on the other hand, is built with small businesses in mind and includes HR, payroll, benefits, time, and talent management tools as well as analytics. ADP's Workforce Now solution is, therefore, more on par for comparison with Gusto.
Pros
Easy tracking of employees' benefits elections and changes
EDI with benefits carriers
Personalized recommendation support included in top two tiers
More mobile access than Gusto
More extensive payroll coverage around the globe (more than 140 countries)
Automated schedule creation
Advanced time tracking compliance and reporting
Advanced recruiting features available with any plan as an add-on
Recruiting-specific reports
Mobile-enabled self-onboarding
Onboarding linked to employee engagement and sentiment
Voice of Employee sentiment analysis included in all packages
Cons
Employee scheduling only syncs with Microsoft Outlook calendar
Benefits administration not available to Essentials users
Time tracking is available exclusively to Premium plan users
Syncs only with Microsoft Outlook
Also read: Top ADP Competitors & Alternatives
Gusto vs. ADP: A detailed comparison
Pricing
Gusto and ADP package their features differently, which can make it difficult to understand which vendor provides more value for the money, especially since ADP does not show prices on its website.
While Gusto's pricing is more transparent and scales with businesses as they grow, ADP customers must switch products entirely based on headcount. For instance, once a company has 50 or more employees, they must upgrade from ADP Run to ADP Workforce Now. Businesses focusing on functionality rather than headcount in selecting a solution may, therefore, find Gusto's flexibility more appealing than ADP's more rigid packages.
Gusto
Gusto's pricing structure starts with a low base price and scales up depending on the number of users. It's worth pointing out, however, that Gusto has a five-employee minimum. This means that even if a company has only three or four employees, they will be paying the same rate as if they had five.
Gusto offers three tiers of pricing for most businesses. The features each package includes are broken down in the table below:
| | | | |
| --- | --- | --- | --- |
|   | Simple | Plus | Premium |
| Base cost per month (USD) |  $40 | $60 | Contact Sales |
| Cost per user, per month (USD) | $6 | $9 | Contact Sales |
| Payroll | Single-state | Multi-state | Multi-state |
| Onboarding | Basic | Advanced | Advanced |
| Recruiting | Not available | Basic | Basic |
| Gusto-brokered benefits administration | Included | Included | Included |
| Bring-your-own-broker | Not available | Add-on | Included |
| Time tracking | Third-party integration | Included | Included |
| Performance management | Not available | Not available | Included |
| Employee engagement | Not available | Not available | Included |
| Analytics | Basic | Advanced | Advanced |
| Customer support | Basic | Full, with optional upgrade available | Dedicated |
| Advisory services | Not available | Add-on | Included |
| Mobile app | Included | Included | Included |
Gusto also offers a contractor-only plan for businesses that outsource all of their staffing needs to freelancers and other contract workers. This plan includes unlimited contractor payments in all 50 states, plus the option to pay an additional fee for international contractor payments if needed. It also includes some necessary compliance features, like 1099-NEC forms and new-hire reporting for required states.
The contractor-only plan is more affordable than the other plans, with a base cost of $35 USD plus $6 per contractor. However, the plan does not include any features for managing full-time employees, so companies that employ both full-time staff and contractors will need to use one of the three main Gusto plans.
Additionally, Gusto offers a range of services that companies can add to supplement the core features. These include:
International contractor payments
State tax registration
Bring-your-own-broker
Workers' compensation
Health savings accounts (HSAs) and flexible spending accounts (FSAs)
Life and disability insurance
401(k) retirement savings
529 college savings
Commuter benefits
Research and development (R&D) tax credit services
Priority support
Federal and state compliance alerts
Direct access to certified HR experts
HR Resource Center
Some add-ons, like workers' compensation and commuter benefits, are available with all plans, but many are only available for the mid-range Plus tier. For example, customers who opt for the Simple tier don't have the option to use their own health insurance broker, but Plus subscribers can pay an extra fee for this flexibility. Premium customers have this option included in their plan.
As a company's list of needs grows, they may consider upgrading to the Premium tier rather than paying for each add-on individually.
ADP
ADP Workforce Now does not post pricing but displays the features that come with each tier. ADP offers more add-on options that are available for any tier, making certain features more accessible to ADP customers than to Gusto customers that have to upgrade to unlock access.
For example, ADP customers can add performance management and recruiting regardless of which plan they select. Gusto customers, on the other hand, have to upgrade to a new plan entirely to get some or all performance management and recruiting functionality.
ADP Workforce Now offers three price tiers to cover varying business needs. The features of each are broken down in the table below:
| | | | |
| --- | --- | --- | --- |
|   | Essential | Enhanced | Premium |
| Base cost per month (USD) | Contact sales | Contact sales | Contact sales |
| Cost per user, per month (USD) | Contact sales | Contact sales | Contact sales |
| Payroll | Included | Included | Included |
| Onboarding | Included | Included | Included |
| Recruiting | Add-on | Add-on | Add-on |
| ADP-brokered benefits administration (limited) | Add-on | Add-on | Add-on |
| Bring-your-own-broker | Not included | Included | Included |
| Time tracking | Not available | Not available | Included |
| Performance management | Add-on | Add-on | Add-on |
| Employee engagement | Included | Included | Included |
| Analytics | Included | Included | Included |
| Customer support | Add-on | Add-on | Add-on |
| Advisory services | Add-on | Add-on | Add-on |
| Mobile app | Included | Included | Included |
The Essentials package works for businesses that only need core HR and payroll capabilities, whereas the Enhanced package adds benefits administration features. The Premium package combines the features of Essentials and Enhanced and adds time tracking for comprehensive workforce management.
ADP Workforce Now provides greater savings over Gusto in terms of benefits administration because it takes a bring-your-own-broker approach. Integrating your own benefits providers with ADP doesn't cost extra, while Gusto charges a fee to do so. Moreover, ADP is built to accommodate international employees and contractors from the get-go, as they're included in ADP's payroll software, while international payroll is an add-on for Gusto.
Tools for talent acquisition, performance management, compensation management, learning management, and other modules are available as add-ons to existing plans. For growing businesses, this means extra flexibility to add functionality as needed without needing to upgrade to a new tier entirely.
ADP Workforce Now add-ons available with any package include:
Recruiting
Performance management
Compensation management
Advisory services and support
Reporting and analytics
Learning management
Which to choose for pricing?
It's a tie. Here's why: Comparing Gusto and ADP in terms of what's offered in each package, Gusto progressively adds features to core HR functions like payroll and benefits administration from one plan to the next. ADP, in contrast, offers a set of payroll and benefits administration features across all plans, but these are more basic and one-size-fits-all.
There are two primary distinctions to highlight in terms of pricing between Gusto and ADP Workforce Now. The first is benefits administration: Gusto includes basic benefits administration in every plan, whereas ADP only starts to offer benefits administration in its second tier.
The other difference is their ratio of included versus add-on features, particularly for talent management. Gusto offers basic recruiting tools in its Plus and Premium plans, while ADP offers recruiting as an add-on to any plan. ADP's recruiting is arguably a better investment for teams that need substantial recruiting support. Pairing ADP's robust recruiting with its native onboarding features included in each plan makes ADP tough to beat. Gusto's onboarding features progress from tier to tier, but even at the highest tier, they don't compare to ADP.
Moreover, Gusto adds employee development features to its top two tiers —employee engagement and performance management— to address staff retention, whereas ADP makes them available to all users as add-ons.
With this information in mind, ADP Workforce Now benefits midsize companies that have benefits packages and have outgrown basic HR tools. Though ADP Workforce Now provides more value by including more core HR features across its plans, its package tiers are rigid and don't provide as much depth, granularity, and flexibility in payroll and benefits administration like Gusto does. In other words, these features don't vary significantly from one ADP plan to the next.
Smaller companies may, therefore, prefer Gusto's flexibility in adding extra functionality to core HR functions as needed. But, they're forced to commit to a more expensive Gusto plan for access to ancillary HR features like employee engagement and performance management.
Benefits administration
Gusto and ADP Workforce Now both help companies stay compliant with federal regulations. They also both allow bring-your-own-broker. However, from there, the two take vastly different approaches to benefits administration.
Bring-your-own-broker is the rule rather than the exception for ADP Workforce Now customers, as the platform is set up to integrate with major insurance carriers. Gusto accommodates both third-party broker plans as well as working with Gusto's own licensed brokers. In fact, doing the latter saves the company money, so Gusto incentivizes working with its own brokers and advisors.
| | | |
| --- | --- | --- |
|   | Benefits Administration |   |
|   | Gusto | ADP |
| EDI | No | Yes |
| Mobile app | No | Yes |
| Financial wellness | Yes | No |
| Compliance | Yes | Yes |
| Third-party broker support | Yes | Yes |
Gusto
Gusto's benefits administration features are included with every plan. This is beneficial for businesses that need help with benefits as well as payroll, which are two essential HR capabilities. However, companies that have an existing payroll solution may be paying for additional Gusto payroll capabilities they don't need.
Benefits selection
Gusto's licensed advisors assist companies with putting together a competitive benefits package. Not only does this save time, but using these brokers saves money since bring-your-own-broker incurs an additional fee and isn't available with Gusto's lowest pricing tier.
For example, upgrading to one of the two higher price tiers (Plus and Premium) unlocks access to more of Gusto's benefits, which include:
Workers' compensation
HSAs and FSAs
Commuter benefits
Gusto also offers a variety of no-cost (included), low-cost, and premium financial and health benefit options. While these á la carte benefits allow customers to customize their benefits packages, the costs may add up quickly.
Compliance
Gusto helps companies remain compliant and file the right paperwork with the right government agencies. It offers assistance with:
Affordable Care Act (ACA)
Health Insurance Portability and Accountability Act (HIPAA)
Employee Retirement Income Security Act (ERISA)
Moreover, Gusto has automated compliance alerts for state and federal regulations but only in its top two plans.
EDI
One drawback to consider is that Gusto's benefits administration features don't support electronic data interchange. EDI connection provides a secure, convenient way to automatically communicate changes to carriers, such as an employer's changes to the benefits package or an employee's changes to their selection.
Not having EDI means HR teams will likely need to spend extra time and energy contacting carriers and making benefits changes manually during open enrollment.
ADP
Benefits administration is included in ADP Workforce Now's top two plans. So, a company that selects ADP's cheapest package must have a stand-alone benefits administration software solution that will integrate with ADP's platform. However, as a company grows, it'll eventually need to upgrade to one of the higher packages anyway.
Otherwise, a company currently without benefits administration will need to choose the Enhanced or Premium plan to start with. This latter option is ultimately better, considering most businesses anticipate growth in terms of headcount that will drive down the cost later on.
Plus, benefits administration in ADP Workforce Now integrates with payroll, HR, and accounting and finance software as well as with most enterprise resource planning (ERP) systems.
This kind of cross-module data integration within one platform enables a company to better plan for and gain better analytical insight on benefits in terms of which ones to offer, how to administer them, and how to streamline communication between employees, the company, and providers.
Plus, HR and finance teams don't have to manually enter benefit plan information and keep it up to date across multiple systems. This helps reduce the risk of data entry error or duplication and saves time.
ADP Workforce Now packages its features in such a way that makes it hard for companies to even consider the Essential plan because it does not include benefits administration, a key feature of any HR software solution.
Companies choosing ADP Workforce Now are better off starting with the Enhanced or Premium plan, unless they are wedded to a particular benefits administration software vendor and plan to remain small and nimble in a niche market.
Standout features of benefits administration in ADP Workforce Now are its user-friendliness, access, and analytics. ADP Workforce Now features an AI-powered tool called Nayya that helps employees choose benefits that make the most sense for their needs.
The platform also has advanced analytical capabilities to help HR keep track of benefits enrollment and overall cost. Finally, benefits administration is more accessible with ADP Workforce Now through its mobile app, while Gusto does not provide access through an app.
Benefits selection
ADP takes a self-service approach in putting together a customized benefits package. Alternatively, companies can bring their existing benefits to ADP Workforce Now, as it integrates with more than 700 insurance carriers, including major ones like Aetna and Cigna. This makes ADP Workforce Now's benefits administration great for companies that need minimal assistance in creating a benefits package or migrating an existing one.
This is a major difference from Gusto, which provides more hands-on assistance. ADP Workforce Now offers a limited range of its own licensed specialists to assist companies with selecting the following benefits for an additional fee:
Group health insurance
Retirement planning
Workers' compensation
ADP Workforce Now is great for companies with established benefits packages they can bring with them to integrate into the platform.
Compliance
Benefits administration through ADP Workforce Now is automatically compliant with ACA, COBRA, and other regulations. It features dashboards to track and measure hours worked and benefits eligibility. This is useful for companies that exempt part-time employees from benefits eligibility.
In addition, when an employee leaves the company, the benefits administration software triggers automated COBRA notifications to ensure the employee gets the option of continued insurance coverage.
State and federal compliance reporting are included in all ADP Workforce Now plans, while they're only accessible in Gusto's top two tiers.
EDI
Employee data and benefits information automatically and securely syncs between ADP Workforce Now and benefits providers through EDI. This saves time and reduces the chance of errors. Gusto does not have EDI-enabled benefits administration software.
Which to choose for benefits administration?
It's a tie. Here's why: ADP and Gusto target two different customer bases in terms of benefits administration.
ADP caters to more mature, midsize companies that have already established their benefits plans. By comparison, Gusto is oriented towards smaller businesses whose benefits plans are still in flux or perhaps not even set up yet at all.
So in terms of benefits administration, the right vendor depends on whether the company has a benefits package it's happy with (go with ADP) or is just starting to put one together (go with Gusto).
Payroll
Gusto and ADP Workforce Now have similar offerings in their respective payroll modules, such as international payroll, mobile accessibility, and the choice of built-in or customizable payroll reports. However, Gusto and ADP Workforce Now differ in their automations and in the breadth of features.
| | | |
| --- | --- | --- |
|   | Payroll |   |
|   | Gusto | ADP |
| International payroll add-on | Yes | Yes |
| Mobile app | Yes | Yes |
| Compliance | Yes | Yes |
| Financial wellness | Yes | No |
| On-demand pay | No | Yes |
Gusto
Gusto offers full-service payroll in different scopes depending on the plan. The Simple tier includes single-state payroll, while Plus offers multi-state payroll. Companies with distributed, remote work models that opt for Gusto will likely need to start out with the Plus plan. Gusto also offers international payroll in more than 80 countries, which is a bonus for companies that employ staff around the globe. Like ADP, international payroll is available as an add-on.
Gusto has broad payroll functionality and a variety of automated features to save HR teams valuable time. Smaller companies or those with complex payroll requirements are particularly likely to find more success with Gusto than ADP Workforce Now.
Gusto provides more detailed information about all of the payroll features included in its plans. For example, Gusto distinguishes between single-state and multi-state payroll and stipulates unlimited payroll runs each month. The granularity of features it outlines means it accommodates a range of different types of use cases and payroll schedules.
Automated payroll
Gusto's winning feature is its AutoPilot, which allows HR to set up payroll to run automatically.
It performs payroll and year-end tax filings through the system, including preparation, filing, and remittance. Additionally, users can send and electronically sign I-9s and W-4s as well as provide their direct deposit information. With advanced product options, administrators can restrict access to sensitive information.
Gusto Wallet app
Gusto's Wallet is a free app included in Gusto plans. It helps employees set and track their budgets and other financial goals. From the app, employees can easily access pay stubs and monitor how they spend each paycheck.
Employees can also use the Gusto Wallet app to decide which accounts their paychecks go into without asking HR to set it up for them. The Gusto Wallet app enables employee self-service and financial wellness. ADP Workforce Now lacks the financial wellness tools that Gusto offers.
Read also: Why You Should Add Employee Financial Wellness to Your Company's Benefits
ADP
ADP is one of the world's largest providers of payroll and HR software. The ADP Workforce Now platform includes core payroll features in all of its plans. Beyond that, users can opt for additional ADP products—some free of charge—to administer international payroll and a variety of ways to pay employees.
Automation
ADP Workforce Now also boasts automation, though it's different from Gusto's automation. ADP automatically reports new hires to state agencies for tax purposes to remain compliant. ADP Workforce Now includes compliance support for every state as well as for other countries in all of its plans. With Gusto, this kind of support is only available in its top two packages as an add-on to the Plus package and as an included feature in the Premium plan.
It also reconciles multiple rates of pay for reporting and accounting purposes. This automatic reconciliation is helpful for companies with employees in different countries and of different types, for example, contractors versus full-time employees.
However, ADP Workforce does not offer an automated payroll feature comparable to Gusto's Auto Pilot.
Global payroll
ADP Workforce Now supports compliant payroll in more than 140 countries with its Celergo and GlobalView products that are available as add-ons to any plan, which is a plus for companies with employees and contractors located outside of the U.S.
Flexible payroll methods
ADP Workforce Now enables employers to pay their employees via multiple payroll methods. Even the basic plan allows direct deposit into as many as four accounts, and its partner apps enable payment via carrier mail or prepaid Visa debit card.
Employees also have access to on-demand pay via the Wisely by ADP and ZayZoon Wages On-Demand apps that integrate with ADP Workforce Now. Wisely services can be added to Workforce Now plans for free, but certain terms and conditions may incur fees for both employers and employees.
Employers can offer ZayZoon service as a benefit employees can elect and pay for at their discretion. A variety of payment methods with this solution means employers have flexibility in how they pay their employees.
Which to choose for payroll?
Gusto. Here's why: Gusto enables unlimited, automated payroll and offers detailed features that serve a variety of customer payroll needs. It also integrates with other popular payroll software, such as Xero or QuickBooks, making Gusto a flexible, plug-and-play payroll software that can incorporate into any existing tech stack.
ADP Workforce Now provides many of the standard features that Gusto does but does not offer much more, rendering it a more rigid, one-size-fits-all solution that won't work for every company.
Also read: How to Avoid These 3 Costly Payroll Mistakes
Time and attendance tracking
Time tracking tools are rolled into Gusto's payroll module in the Plus and Premium plans, but its most basic plan allows for integration with a company's time tracking tool of choice. ADP Workforce Now houses time tracking tools in its Workforce Management module which is only available in its Premium plan. Time tracking features are, thus, accessible to more of Gusto's customers.
| | | |
| --- | --- | --- |
|   | Time tracking |   |
|   | Gusto | ADP |
| Calendar sync | Yes | Yes |
| Mobile app | Yes | Yes |
| Compliance | Yes | Yes |
| Native scheduling | No | Yes |
| Global | Yes | Yes |
Gusto
Payroll integration
Gusto's native time tracking tool integrates with payroll but not with other areas of HR, which makes it tricky to align employee time-off benefits with the amount of time they request and receive. This may require managers and employees to cross-check between the time tracking and benefits modules when managing time off.
HR teams can customize paid time off (PTO) policies and select paid holidays through the time tracking tool. These policies then sync with payroll.
Time-off management and calendar sync
Employees manage time-off requests directly in Gusto's time tracking tool. Approved time off syncs with payroll and Gusto's built-in calendar. Alternatively, users can integrate Gusto with a third-party calendar such as Google, Outlook, or iCal, while ADP users only have the option of syncing with Outlook. However, employee scheduling with Gusto requires integration with a third-party app like When I Work or ClockShark.
Reporting
Gusto features time tracking reports to gauge workforce cost based on hours worked but not by labor type, which may be a drawback for companies that work with employees as well as contractors.
ADP
Automated scheduling
With ADP's native time tracking tool, managers can have schedules automatically created and synced with the Microsoft Outlook calendar. Gusto lacks a native scheduling tool but integrates with more calendars than ADP does.
Reporting
Customers get more advanced reporting and analytics for time tracking in ADP Workforce Now. While Gusto's reporting focuses on workforce cost and PTO use, ADP's time tracking reports deliver insights on:
Absences
Hours worked
Labor costs
Overtime
Industry benchmarks and comparison
ADP's reporting can even generate predictive insights to help a company better prepare for staffing bottlenecks or surpluses. This is useful for companies operating in seasonal industries.
Time Kiosk tool
ADP Workforce Now offers several ways to manage employees' time and attendance via computer terminal, mobile device, and even voice and facial recognition in the Time Kiosk tool. Regardless of the way employees clock in and out, ADP automatically tracks and calculates the time worked and transfers that data to the payroll, HR, and benefits administration information systems in the platform.
Compliant time tracking domestically and abroad
The time tracking module helps a company navigate local and country-specific compliance requirements for domestic and international employees and contractors, such as fair scheduling regulations, laws related to work and rest, and union agreements.
Gusto, on the other hand, does help a company stay compliant with time tracking by automatically storing wage records, but its compliance help is not as specific as that of ADP Workforce Now.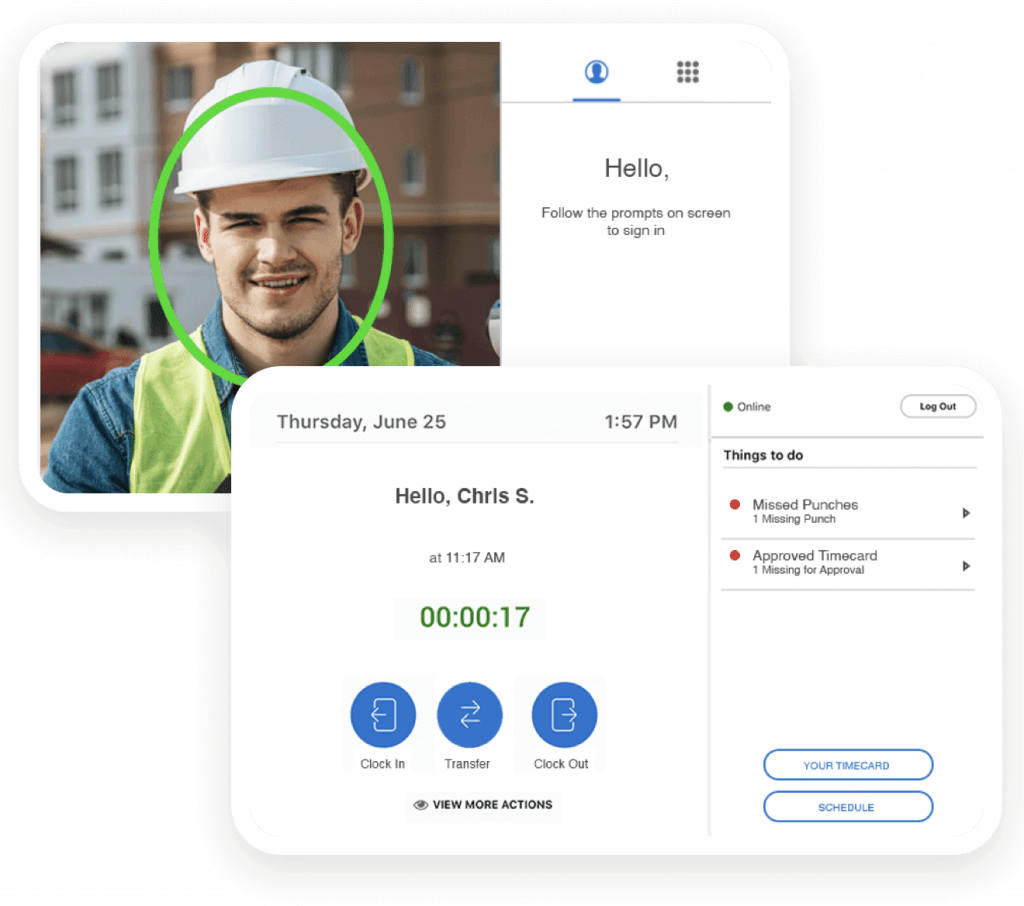 Which to choose for time tracking?
ADP Workforce Now. Here's why: ADP Workforce Now offers automated schedule creation, more nuanced compliance support, and advanced time management and reporting features. Gusto fulfills basic time tracking needs, but ADP Workforce Now is worthwhile for companies that have complex compliance and scheduling needs for a more distributed workforce. 
Recruiting and onboarding
Gusto and ADP cover all basic recruiting and onboarding functionality, but ADP goes beyond to include more enhanced features in both areas, especially recruitment.
Gusto offers native recruiting and onboarding functionality along with the option to integrate with third-party recruiting software.
ADP partners with ZipRecruiter for recruiting functionality, which is housed within its Talent Management module. Its onboarding tools are rolled into the HR Management module and can perform some advanced functions that Gusto can't. As a bonus, all onboarding tools are included in every package.
| | | |
| --- | --- | --- |
|   | Recruiting and Onboarding |   |
|   | Gusto | ADP |
| Native recruiting | Yes | No |
| Native onboarding | Yes | Yes |
| Career site | No | Yes |
| Document management | Yes | No |
| Syndicated job posting | No | Yes |
| Social recruiting | No | Yes |
| Recruiting-specific reports | No | Yes |
| Self-onboarding | Yes | Yes |
| Mobile onboarding | No | Yes |
Gusto
Gusto offers a variety of recruiting and onboarding features across all of its plans. More advanced recruiting features are limited to Gusto's upper tiers, but onboarding capabilities are more widely available across Gusto's packages. The fact that Gusto has in-house recruiting and onboarding means HR has more comprehensive analytics and insights about how to improve the hiring process.
Recruiting
Companies can use Gusto's built-in recruiting tools to create job listings and track candidates, but it doesn't syndicate job posts, so recruiters are responsible for sharing the post link manually. Gusto users can follow and guide candidates through the hiring funnel in Gusto's own applicant tracking system.
Alternatively, customers can integrate with a third-party ATS. This approach comes with its own set of technical challenges and budgetary considerations, but it may be more effective for ambitious hiring goals. It's also worth noting that job posting and applicant tracking capabilities are available only in Gusto's Plus or Premium plans.
When assessing candidates, hiring teams can collaborate by sharing feedback on candidate scorecards. For candidates that advance to the offer phase, Gusto provides customizable offer letter templates to extend an offer as soon as possible.
Onboarding
Hiring teams can transition candidates who have accepted offers into Gusto's built-in, self-onboarding process to ensure the new hire experience is as smooth as possible.
Gusto's base plan features a starter onboarding checklist that includes suggestions of typical stages in the onboarding process, but starting with the Gusto Plus package, HR professionals can add steps that are tailored to their company's particular needs. For example, tasks on the onboarding checklist may include attending orientation training or signing a W-4 form.
Gusto facilitates organized document management for all recruiting and onboarding documents. Its built-in e-signature capability expedites the onboarding process. Once all necessary documents are signed and submitted, they're securely stored in the platform.
ADP
Companies have the option of adding recruitment functionality to its suite of talent management tools. Recruiting in ADP Workforce Now works via ZipRecruiter and integrates with ADP's own onboarding tool.
Recruiting
Recruiters and hiring managers using ADP Workforce Now can take advantage of the ZipRecruiter integration to:
Create branded career sites
Post syndicated jobs ads to 25,000+ job boards and to social media networks
Identify the most qualified candidates
When posting a job to a social media network, users get a pre-populated template to save time and facilitate wider job vacancy sharing to their professional contacts. ZipRecruiter automatically identifies the best candidates and invites them to apply to a company's job posting.
ADP users can keep in touch with candidates through text messages or video. The system also facilitates interview scheduling for candidates that advance to the interview stage.
ADP has an advantage over Gusto in its recruiting-specific reporting. It tracks key metrics like cost to hire and time to hire to enable recruiting teams to get better over time.
Onboarding
Candidates that receive and accept an offer letter are routed to ADP Workforce Now's own onboarding tool, which is available in all ADP Workforce Now packages. Via Adobe Sign integration, ADP Workforce Now enables new employees to sign necessary documents from within the platform. ADP's onboarding is also self-service and mobile-enabled, so new hires can view and take care of onboarding tasks from anywhere.
Onboarding in ADP is set up to trigger a survey for new hires to complete after 90 days on the job in order to gauge their experience with the company so far. This information connects with ADP's Voice of the Employee sentiment analysis and engagement tool.
Which to choose for recruiting and onboarding?
ADP Workforce Now. Here's why: ADP leverages its partnership with ZipRecruiter to perform more functions than Gusto can, including syndicated job posting and social recruiting. This gives ADP customers greater reach and visibility in their recruiting efforts.
ADP also boasts a set of advanced onboarding capabilities any ADP customer can access regardless of the plan they pick. ADP's onboarding supports companies that want to focus on employee experience early on in an employee's tenure.
In short, ADP Workforce Now supports businesses prioritizing hiring and retention. It offers better functionality and greater accessibility when it comes to recruiting and onboarding.
Gusto works well for companies with lower hiring volumes. It fulfills basic recruiting and onboarding needs for companies filling non-specialized, easier-to-fill roles.
Gusto vs. ADP: Ready to choose?
Gusto and ADP Workforce Now are two of the most popular HR software solutions on the market. They both offer a range of functionalities at a more competitive cost than larger platforms like SAP SuccessFactors and UKG. Each vendor offers unique advantages for different types of buyers, but the right choice will support your company's HR goals now and in the future.
Gusto is a better choice for small businesses that have relatively basic needs beyond payroll but want the flexibility to add on incrementally to areas like benefits administration, recruiting, and onboarding.
ADP Workforce Now is more suitable for midsize businesses poised for growth and retention. It includes a larger breadth of core HR features available across the board but without much depth or flexibility for some areas like payroll and benefits administration. It shines in recruiting, onboarding, and employee engagement, all of which are available to customers in any plan.
If neither software meets your company's unique needs, explore other solutions on the market through our Payroll Software Guide or HR Software Guide​​.
1

Paylocity
Simplify payroll, automate processes, and stay tax compliant, all in one spot. Our tools help you tackle the day-to-day, so you can focus on your people. Empower employees to view checks, request time off, clock in/out and update their personal data with Employee Self Service. Pull expense reimbursements into paychecks and run custom reports to get the data you need. Build a better future for your organization with a scalable solution focused on your business outcomes, priced for your budget.
2

Paycor
Payroll can be a time-consuming, administrative task for HR teams. Paycor's solution is an easy-to-use yet powerful tool that gives you time back in your day. Quickly and easily pay employees from wherever you are and never worry about tax compliance again. Key features like general ledger integration, earned wage access, AutoRun, employee self-service and detailed reporting simplify the process and help ensure you pay employees accurately and on time.
3

Deel
Deel's full-suite of HR tools allows companies to manage the entire employee lifecycle—from recruitment and onboarding and beyond—in 150 countries. All this from a single, easy to use interface. US and Global Payroll allows you to pay any type of worker in 100+ countries, and all 50 states, in whatever currency you choose. And with 200+ in-house legal experts and entities in 120+ countries, using Deel means you'll always be compliant with local regulations.
Technology Advice is able to offer
our services
for free because some vendors may pay us for web traffic or other sales opportunities. Our mission is to help technology buyers make better purchasing decisions, so we provide you with information for all vendors — even those that don't pay us.