What is a performance improvement plan?
A performance improvement plan (PIP), or a performance action plan, is a strategy companies use to help employees who are not meeting performance objectives. Usually, it involves crafting a document that lists role expectations, areas for improvement, and SMART goals to get employee performance back on track.
Too often companies use PIPs as a part of their progressive discipline processes or as a way to generate paperwork demonstrating the employee's unsatisfactory performance before termination. Instead, PIPs should be a part of your wider learning and development initiatives.
If conducted successfully, PIPs can help employees feel more confident in their roles and learn to meet their work objectives satisfactorily and on time. In turn, productivity increases, contributing to your company's overall business goals.
Learn why employee performance management is important and limit the need for PIPs.
How to implement a PIP in 6 steps
If you find yourself in a situation where an employee could benefit from a PIP, follow the steps below to implement a successful, goal-oriented plan. Remember that PIPs work best to help employees start meeting actionable goals, not to fix behavioral issues. Likewise, all similarly situated employees should have the opportunity to receive a PIP to avoid claims of unfair treatment or bias.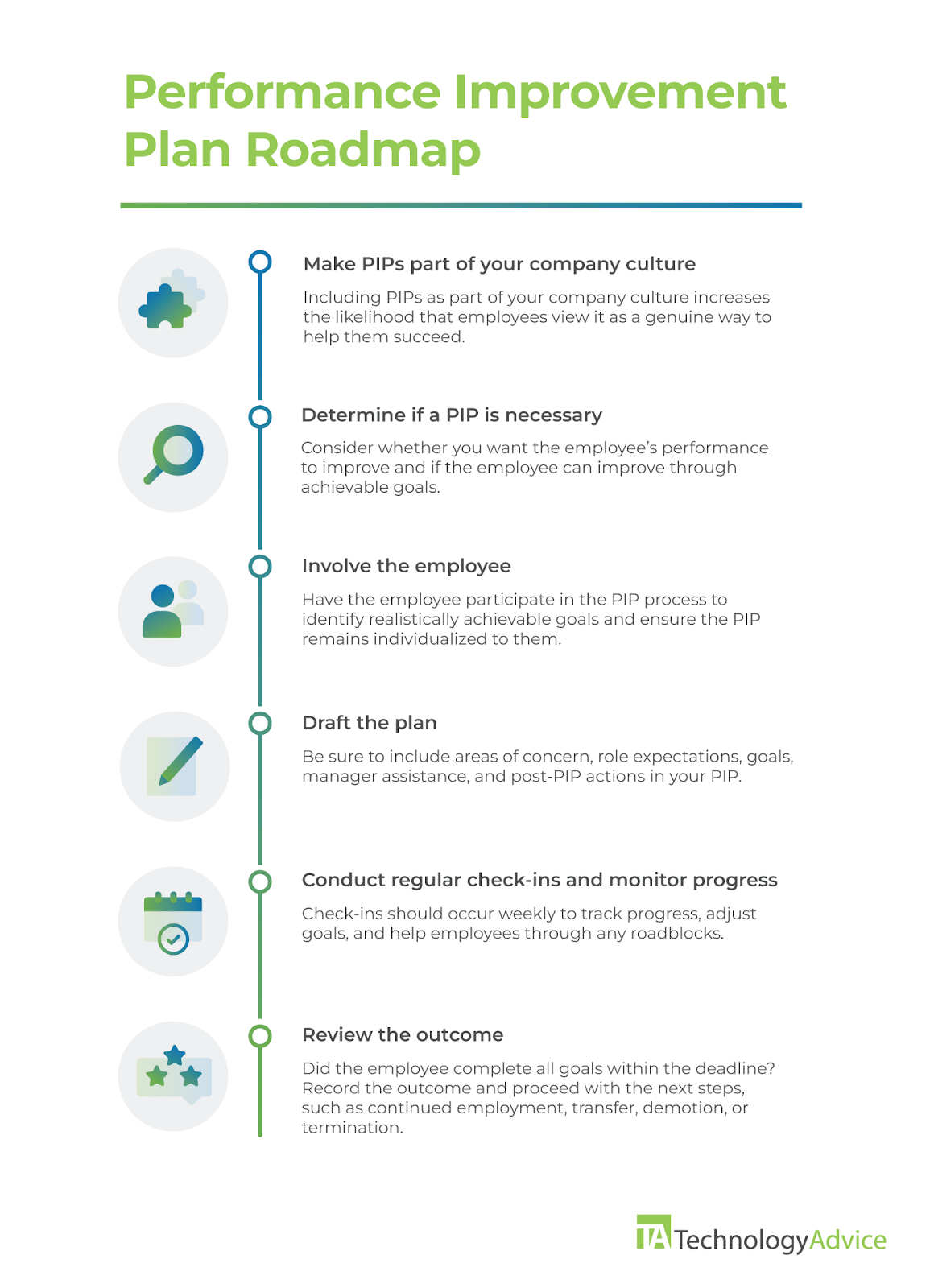 1. Make PIPs part of your company culture
By including PIPs as part of your typical performance, learning, and development management processes, you can remove the perception of PIPs as a termination death knell. Instead, a company culture that embraces PIPs as normal signals to employees your commitment to continuing their professional development.
One way of doing this is by democratizing who receives PIPs, such as issuing PIPs equally to both traditionally high and low performers. This can help underperformers get up to speed while challenging or upskilling overachievers.
2. Determine if a PIP is necessary
You should only use PIPs as a genuine way to get an employee's performance back on track, not as a way to create termination evidence. Before drafting your PIP action plan, ask yourself the following:
Is this a performance or behavioral issue?
Can the performance issue be fixed through actionable goals?
Do you want the employee to succeed in their PIP?
Can you dedicate time and resources to helping the employee improve?
Have you counseled the employee about their performance and goals in the past?
PIPs should target specific performance issues with achievable, time-bound goals. PIPs also work best for recent performance issues, not ongoing issues that you have tried to counsel employees on in the past. And, if you can provide extra one-on-ones or training to the employee, they'll be more likely to complete their PIP successfully.
3. Involve the employee
Do not make a PIP a one-sided affair by drafting a performance plan without the employee's input. Instead, involving the employee in the PIP process demonstrates that you are committed to helping them improve.
Involving the employee in the PIP discussion also means you avoid creating the PIP in a vacuum. You can be transparent about the minimum acceptable benchmarks for their performance. At the same time, employees have a say in what goals they can realistically achieve.
Moreover, employees can be open and honest in areas they feel they need extra support so you can provide training, resources, or other accommodations for them to be successful.
4. Draft the plan
At a minimum, PIPs should include the following:
A breakdown of the areas in need of improvement.
The criteria that the employee should meet in their role.
Realistic goals for the employee to complete by a specific time.
What you can do to help the employee.
What happens after the PIP.
Explain in detail where the employee is not meeting expectations, and be sure to include relevant documentation. For example, if a customer service representative consistently receives customer complaints, include these complaints with explanations of how this impacts the business.
Make sure to discuss the problem's root cause with the employee. In the case of the customer service representative, they may need more training on the product to troubleshoot customer issues better or on proper phone etiquette. You won't know until you ask the employee.
Define the employee's expectations in the role, including what success looks like. For example, using the customer service representative from earlier, perhaps they need to receive a customer satisfaction score of three or higher on a 1-5 scale in a three-month lookback period.
The PIP should clarify what the employee should be working toward in their position so they can continue to succeed, even past the PIP.
You should work with the employee to develop performance goals to meet by the end of their PIP. These goals may differ slightly from their role expectations, depending on the employee's current performance.
For instance, if the customer service representative's current customer satisfaction score is two, the goal of the PIP may be to raise it to 2.5 within the next three months. However, after the conclusion of the PIP, the expectation is that the score will continue to increase to a minimum of three without backsliding.
The best goals are SMART: specific, measurable, achievable, relevant, and time-bound. In other words, the goals should:
Relate to the work that the employee performs every day.
Identify the actions the employee should take to be successful.
Be easily trackable and specific to the employee.
Include deadlines, such as 30, 60, or 90 days.
Include how you will be helping the employee succeed in their PIP. Some of the ways you can assist the employee include:
Offering additional training in specific areas of struggle, including budgeting for necessary training courses.
Granting access to productivity tools or other resources to increase their work efficiency or focus.
Assigning mentors, coaches, or coworkers as resources outside the employee's manager or human resources (HR) department.
Remember to work with the employee to see what things you can do that will benefit them the most, and don't assume offering the same assistance will work with every employee.
The employee PIP should include language outlining what will happen after the deadline. For instance, if the employee completes everything in their PIP, you might note the goals you hope they will continue to achieve.
Or, if they do not meet the goals as anticipated, you may proceed with demotion, transfer, or possible termination. The PIP should be explicit with the consequences so there are no surprises.
Drafting an employee PIP does not have to take a long time. Your current HR software or performance management software may already have PIP workflows to expedite the process. intelliHR, for example, includes a PIP template you can customize to your needs. You can even update the PIP to track progress goals, record a timeline of events, and tie it to future employee performance.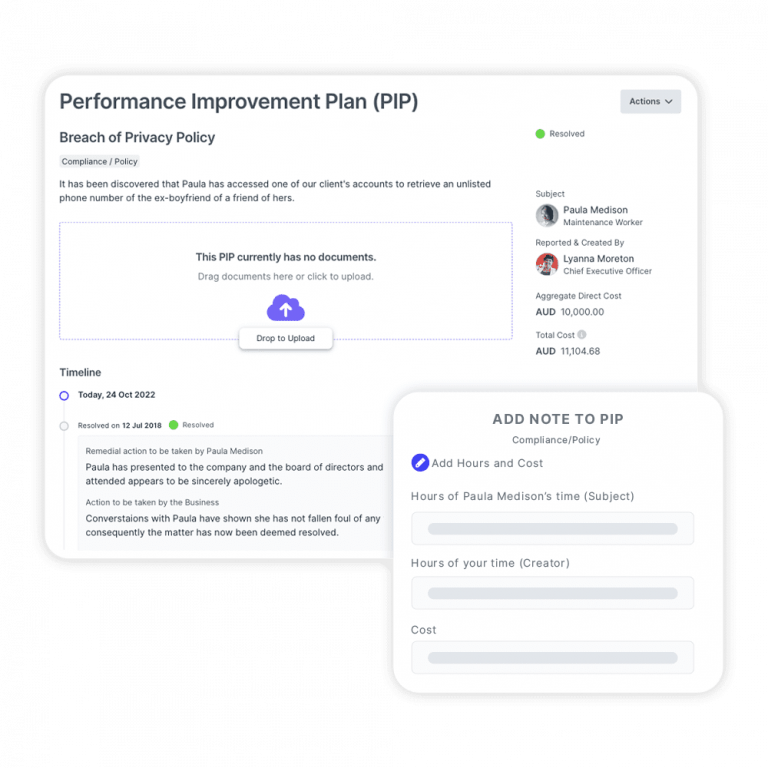 5. Conduct regular check-ins and monitor progress
Determine a regular performance check-in cadence with the employee to monitor their PIP progress. Ideally, these meetings should happen weekly to keep the employee on track and assist them with any roadblocks.
6. Review the outcome
Once the PIP hits the deadline, review the PIP and determine how well the employee did. Ask yourself:
If the answer to these questions is "yes," you can close the PIP. The worker can continue their employment as long as they meet their role expectations.
If the answer to these questions is no, close the PIP and continue with the next steps. This may include a PIP extension, reassignment, demotion, a last-chance agreement, or termination. If you extend the deadline of the PIP, make sure it is because the employee demonstrated their commitment to improving their performance or because the goals were too unrealistic upon review.
What are some alternatives to a PIP?
PIPs are not always the answer to all performance-related issues. Jennifer Preston, an HR consultant with Flex HR, even notes some drawbacks with PIPs, such as increasing tensions between managers and employees or creating divisiveness.
Before implementing a PIP, try the following strategies to motivate employees and improve workplace performance:
Free downloadable PIP template
Use this PIP form template to get started on crafting a personalized PIP for your employees:
Performance improvement plans FAQ
Check out our Performance Management Software Guide for a complete list of options to help you start drafting PIPs.
Featured Partners
Conduct better reviews, increase feedback quality, and simplify review cycle management. ClearCompany Performance Management helps you implement an employee-first approach by shifting the focus of performance reviews from evaluation and ranking to employee growth and future potential. ClearCompany helps your company drive engagement and focus with goal-planning tools while increasing the value and reducing the workload of performance review cycles.
Performance Pro is a customizable, user-friendly, automated performance management platform. Save time with our customizable libraries of content from competencies to tools that help managers leave more meaningful feedback & establish smart goals. Empower your employees to pursue their own professional development, retain your top talent, provide a sense of purpose with goal alignment to strategic objectives, & truly drive an increase in performance & achievement throughout your organization.
Watch this 90 second demo video to see how Coursera for Business empowers leaders to drive agility and innovation by upskilling talent across an entire organization. With one skills-based solution, you can strengthen and retain talent, drive employee productivity, and hone a competitive edge.
Technology Advice is able to offer
our services
for free because some vendors may pay us for web traffic or other sales opportunities. Our mission is to help technology buyers make better purchasing decisions, so we provide you with information for all vendors — even those that don't pay us.