Table of contents
What is network monitoring software?
Network monitoring software is a type of network management software that monitors a computer network to identify slowdowns, bottlenecks, network device issues, DoS attacks, and other anomalies. Network monitoring systems prepare dashboard reports of a network's health based on important metrics such as:
Network CPU utilization
Disk memory
Latency
Transmission Control Protocol (TCP) retransmission rate
and other speed and efficiency metrics that show a network is running smoothly.
A network monitoring system sends alerts to an IT systems administrator — usually via email or text message — when it detects an issue with network speeds or server hardware malfunctions. Network issues can cripple a business. When a network administrator hears about issues quickly, they can often take appropriate actions to evade a network failure.
While basic network monitoring tasks can be executed using ping tests and Simple Network Management Protocols (SNMP), network monitoring software provides more detailed, comprehensive information about a network's status. For this reason, network monitoring software is primarily used by enterprise-level companies and large organizations like hospitals and universities. These organizations require widespread network coverage powered by servers located around the world.
These distributed servers must be able to handle a number of client requests from endpoints like laptop and desktop computers, mobile devices and tablets, cloud computing systems, internet of things (IoT) devices, voice over internet phone (VoIP) applications, and others. Improperly managed servers can become overloaded and lead to crashes or network failures that seriously disrupt business operations. Network monitoring software can simplify the oversight of all of the endpoints.
The best network monitoring software comparison
* Industry rating is based off an average of ratings from industry-leading B2B software review sites.
Common features of network monitoring software
Features vary widely across different network monitoring software vendor solutions, but all solutions should at least offer a similar core set of features. Any modern network monitoring solution will offer device monitoring, alerts, reporting, and forecasting, but some also include additional features that expand upon or simplify the use of these basic features.
Device Monitoring
In terms of network monitoring, a device monitoring feature tracks a server's hardware infrastructure, which is required to operate a network. These devices include firewalls, routers, slow processors, memory, hard drives, tandem switches (core switches), server performance, and client systems. A network monitoring system will tell you the current network speed, and it will also identify which processes use particularly high percentages of CPU power.
Alerts
IT systems administrators appreciate having access to real-time network performance metrics, but the truth is, admins don't stare at network monitoring dashboards all day. This is why network monitoring solutions send alerts to admins when problems arise. A system sends an alert if it detects a slowdown, if there is a possible data breach, or if there appears to be a hardware issue within the server. Alerts are traditionally sent via email, but with the proliferation of mobile phones, the majority of systems now also send alerts via SMS and push notifications, if the system has a mobile app.
Reporting
In addition to the dashboard features offered by many network monitoring solutions, most systems also allow you to generate reports. Reports can be useful for
spotting trends
evaluating IT response times to alerts
grouping alerts over a specified period of time to reduce notification volume
and more
In most network monitoring solutions system administrators can pull reports on demand, but many systems also allow admins to schedule periodic reports.
Forecasting
Similar to reporting, forecasting notifies system administrators of problem trends so that admins can be proactive. Forecasts work by aggregating historical data to help system administrators understand when they can likely expect to see the problems again. There may be holidays or other recurring events that cause unexpected spikes or dips in network activity, which often result in overwhelmed servers and slower network speeds. But admins can also give network monitoring systems a customized forecasting objective based on a desired training data set, making forecasts highly tailored to your business' specific network needs.
Benefits and ROI of network monitoring software
Today's network monitoring software offerings include a variety of features. While these are useful for maintaining a healthy network, they can make it tough to make a decision. If you're on the fence about whether or not you need a network monitoring solution, there are two main benefits you should consider when making your decision.
Reduce incident response time
Apart from ping tests and SNMP, there is a free, low-tech alternative to network monitoring: waiting until your employees or customers complain. This is obviously not an ideal solution by any means, but it can work for smaller companies who can't yet justify an investment in network monitoring software.
By the same token, reducing customer and employee complaints by taking quick action is one of the biggest benefits of network monitoring software. The faster your IT team knows about an issue, the faster they can jump into action on a solution. Most modern systems also offer advice on the best courses of action to take when certain metrics deviate from your baseline, which further reduces the amount of time you spend devising a fix.
Tighten network security
Though tighter network security is one of the top benefits of network monitoring software, it isn't always given proper credit or consideration in the buying process. Like many important things in life, you probably won't appreciate cybersecurity until it's gone. Data breaches can be a nightmare situation for companies, even putting them out of business in many cases. Network monitoring software can help reduce your chances of a data breach by alerting IT staff of suspicious activity.
Also Read: Your Data Is At Risk (white paper)
For example, in January 2019, Basecamp became the victim of a mass-login attack aimed at stealing customer login credentials and other sensitive information. Basecamp's CTO, David Heinemeier Hansson, shared how the IT team noticed a massive uptick in login attempts, allowing Basecamp staff to slow down malicious IP addresses and ultimately put a CAPTCHA in place to stop the attack. Had Basecamp's IT staff not responded immediately, thousands of customer's personal information could have been compromised.
Top network marketing vendor overview
These are the top 10 network monitoring vendors in the space, in no particular order.
EventSentry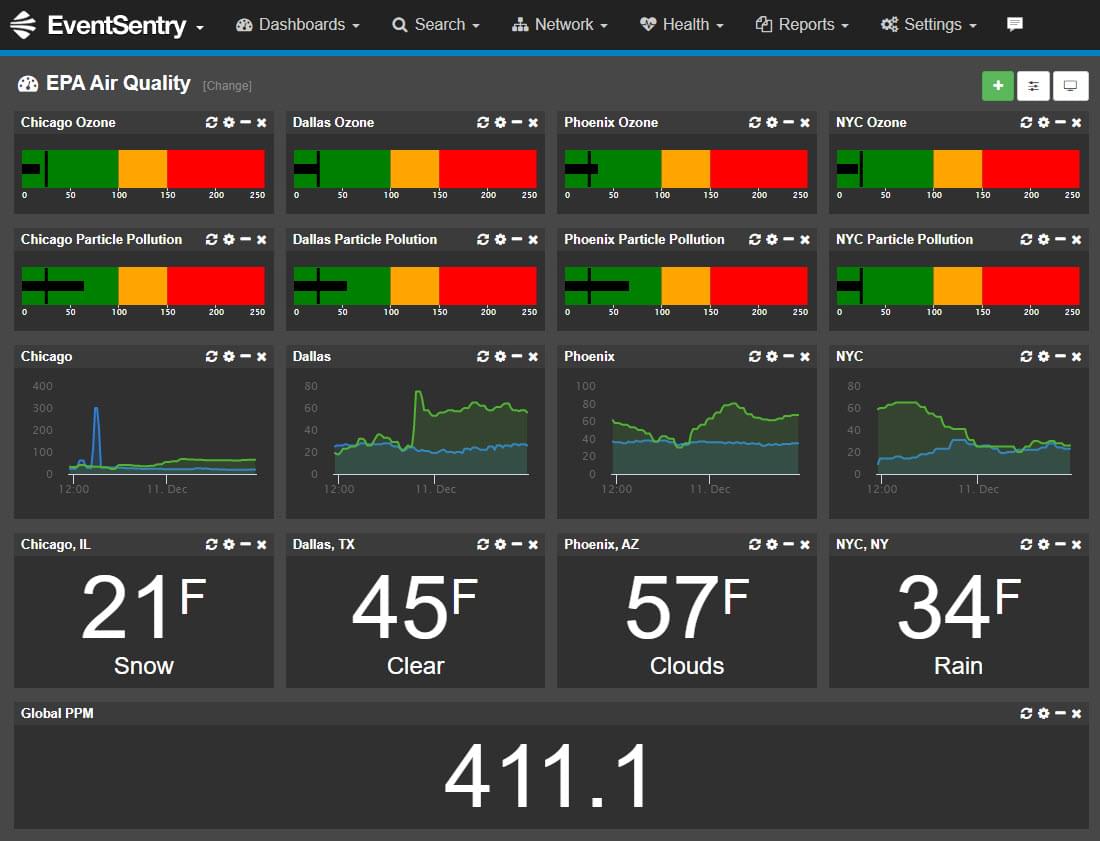 EventSentry is a full security information and event monitoring (SIEM) suite of tools, including network monitoring.
Praised for its ease of use and efficiency, EventSentry provides IT managers with the insights they need to protect their network from internal and external threats without costing them an arm and a leg. Specifically, EventSentry monitors system information, basic hardware, current uptime, number SNMP counters, and more.
NinjaOne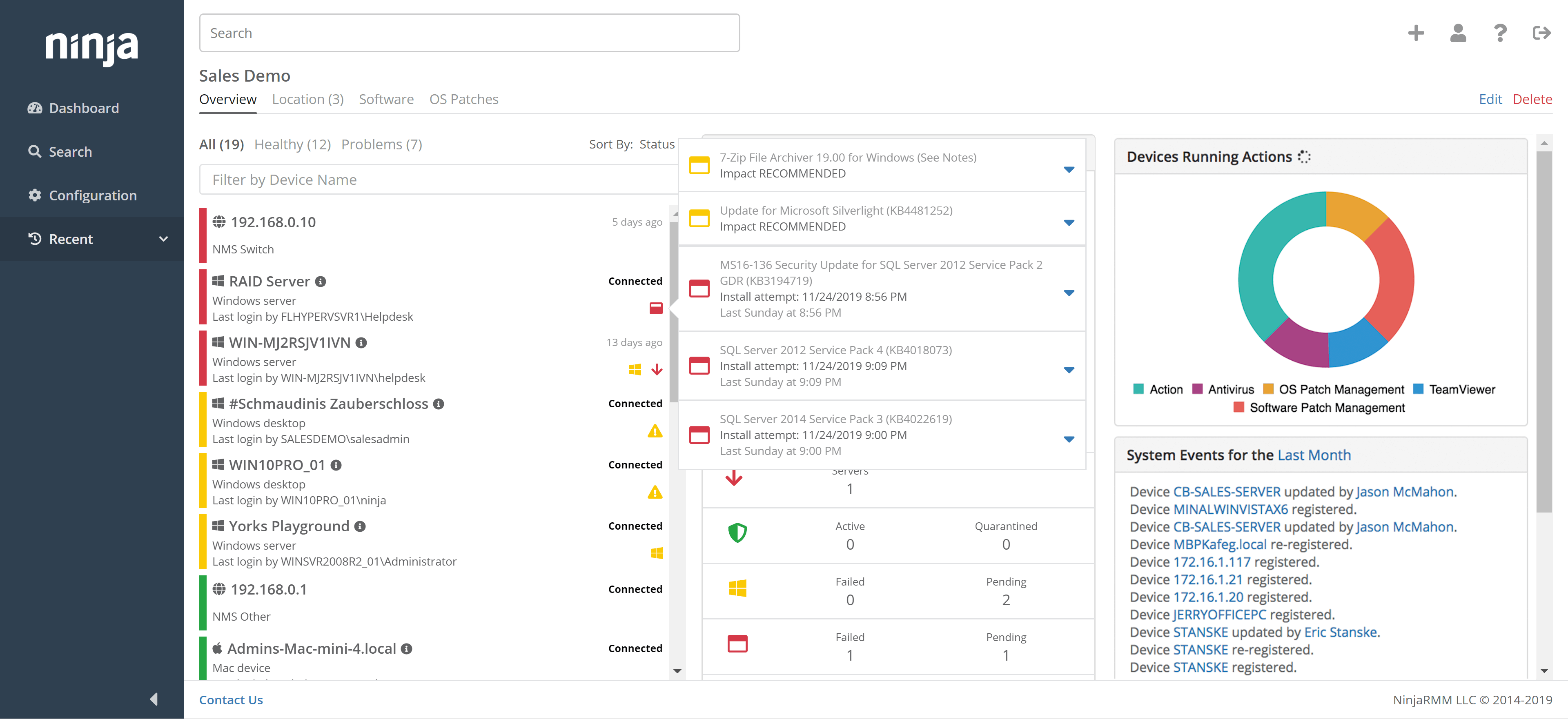 NinjaOne is a remote monitoring and management (RMM) tool that manages your full IT stack. The network monitoring feature provides an intuitive graphical user interface (GUI) with quick setup and customization. This includes automatic device discovery through discovery wizard and detailed traffic reporting down to the hour with NetFlow implementation. The tool integrates with existing IT stacks through powerful cross-platform automations.
NinjaOne automates vulnerability remediation, simplifies deployments, and back up cortical business data, while powerful dashboards bring together performance reporting across a company's managed environments.
While NinjaOne currently does not offer a mobile app or as many capabilities for Mac as it does for Windows, the company pushes updates regularly and takes feedback from its users seriously when building out new capabilities and features.
LogicMonitor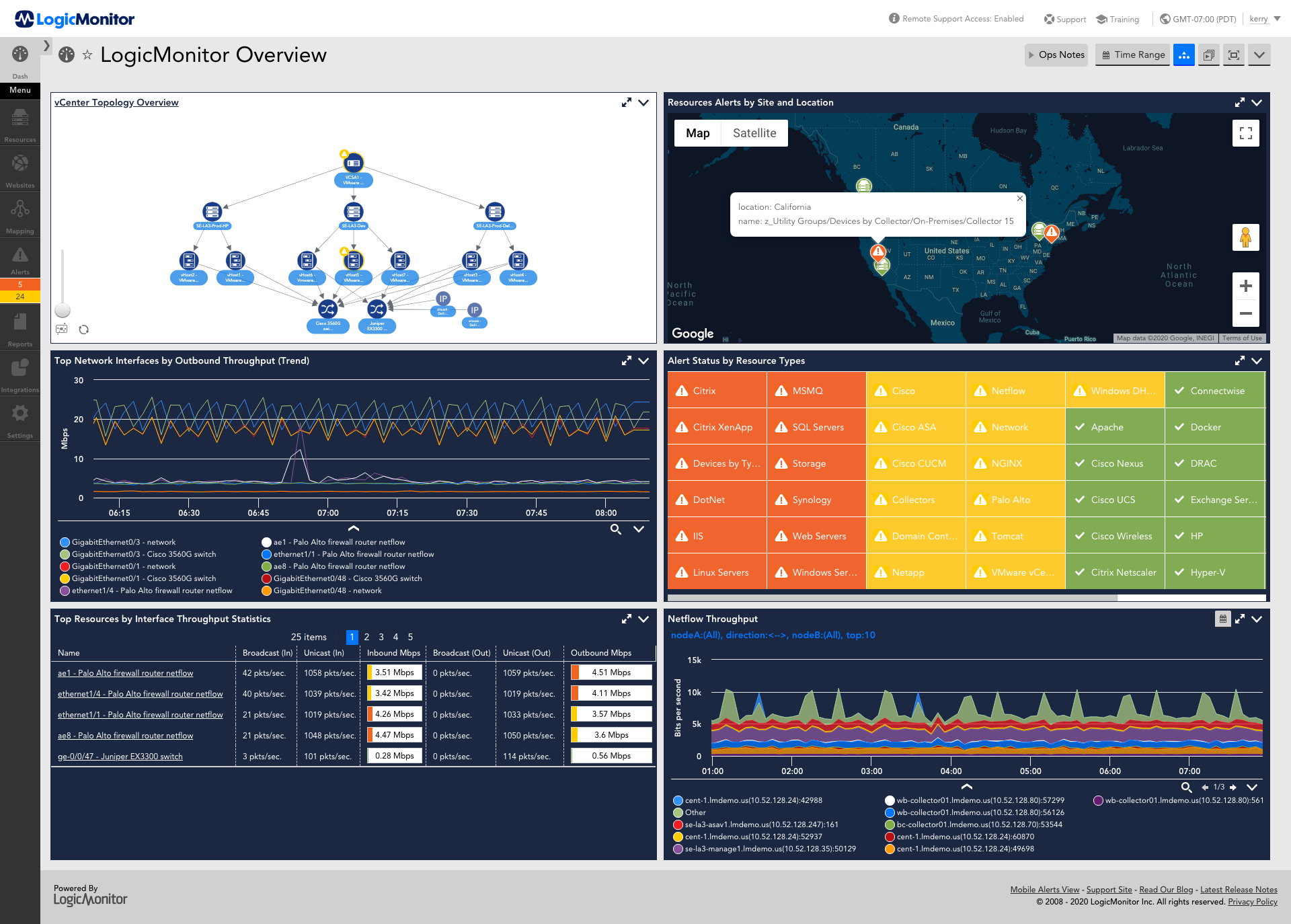 Noted for its dashboard and reporting flexibility, LogicMonitor is a powerful network monitoring solution that companies can install on multiple different devices rather than only on servers. While the ability to install LogicMonitor on multiple devices is a nice feature, most users appreciate LogicMonitor's flexible dashboard reporting the most.
Dashboard reporting in LogicMonitor allows you to drag and drop metrics and expand and shrink the size of graphical representations. LogicMonitor also offers a mobile app, though it doesn't come with as many capabilities as the desktop software tool.
SolarWinds NPM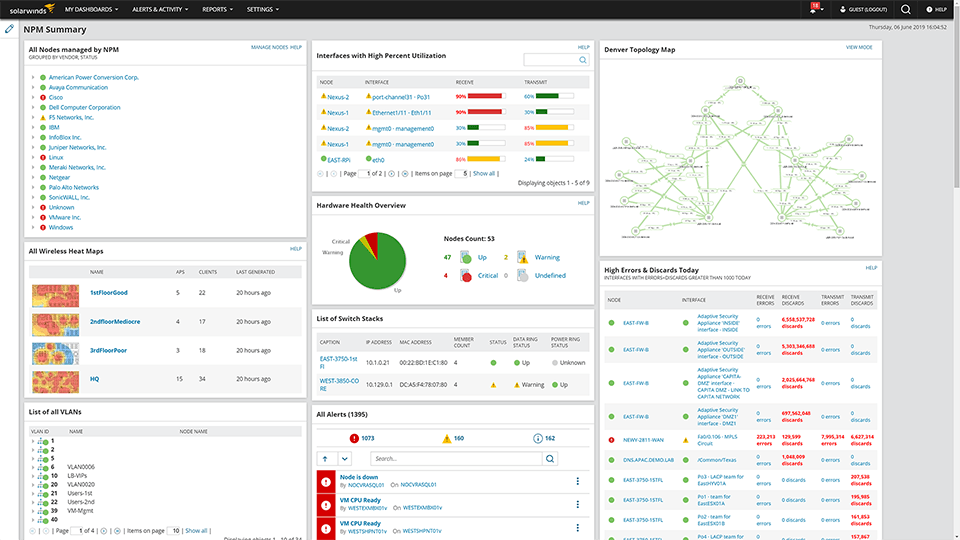 SolarWinds NPM is an established player in the network monitoring space, and it consistently ranks as a top-rated network monitoring tool across B2B software review sites. Node management in SolarWinds is particularly good, as the tool allows you to filter nodes by a number of different criteria and even designate your own filtering terms for specific searches.
Though the software itself compares well to others, SolarWinds is not always known for market-leading customer support, forcing many customers to refer to help guides and user forums for support with the tool.
PRTG Network Monitor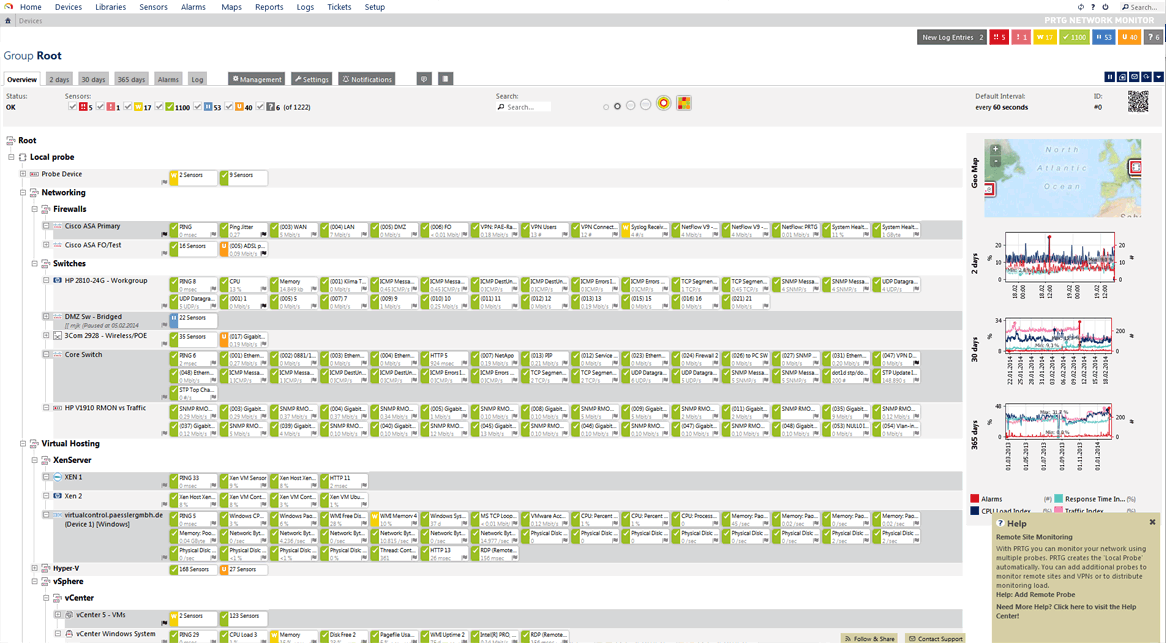 Another established vendor in the network monitoring market, PRTG Network Monitor from Paessler AG is a German network monitoring tool that provides solid monitoring of network performance basics at a reasonable price. PRTG Network Monitor offers automatic discovery for devices on any given network, and the tool's dashboard view gives users a big-picture look into how their network performs.
The tool updates automatically and regularly. This prevents long wait times from annual updates, but it can also disrupt workflows for some IT teams. Overall, PRTG Network Monitor users enjoy the tool for its straightforward approach to network monitoring, though it may not be the best option for teams looking for more detailed insights.
Spiceworks Network Monitor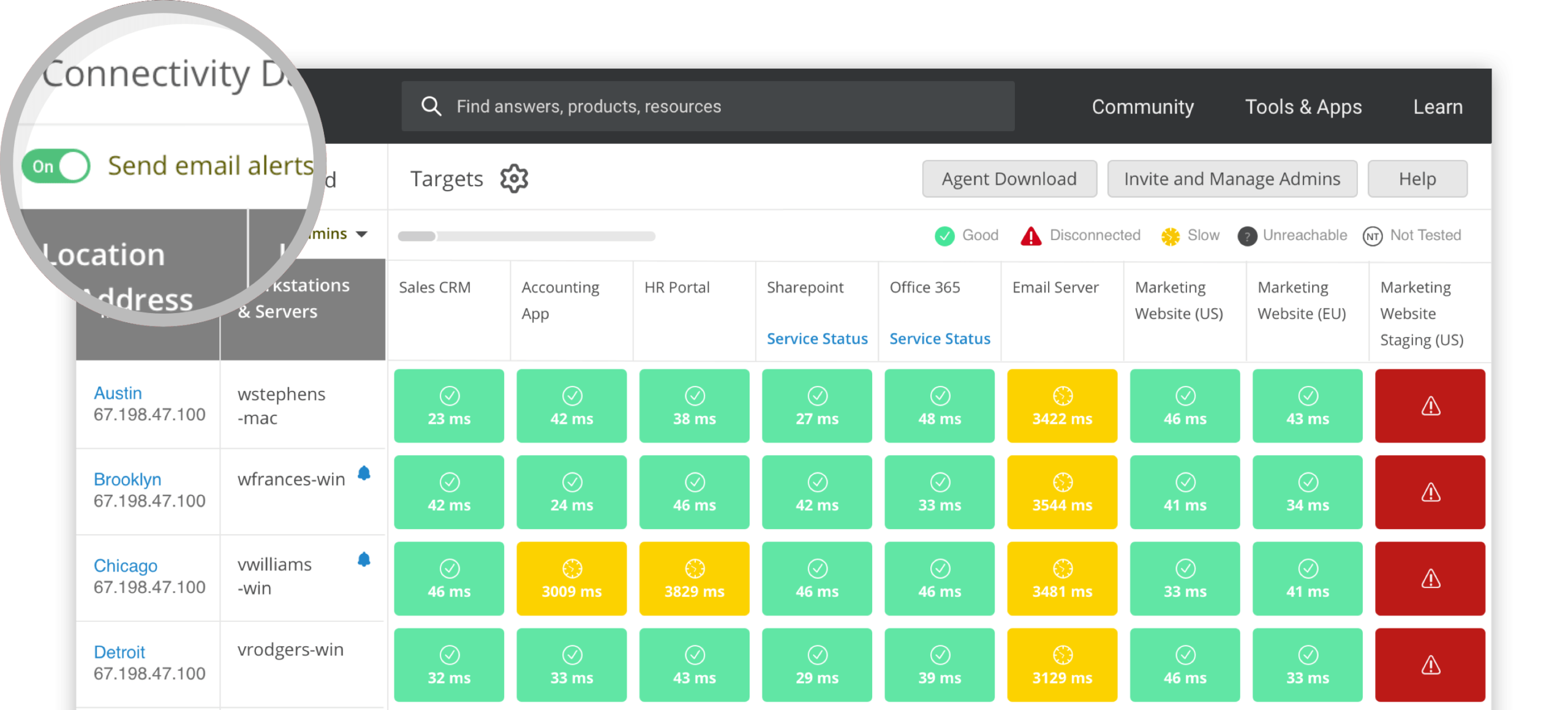 If you're operating on a tight budget, Spiceworks Network Monitor may be the network monitoring tool for you. Spiceworks Network Monitor is a free tool, and while it doesn't offer a complete network monitoring experience, what you get is impressive, considering it comes without a price tag.
The tool offers a graphical display, showing you server metrics such as disk activity, network activity, CPU usage, and available memory. Spiceworks does not offer an automatic device discovery feature, but the features it does offer are just right for many smaller IT teams.
Datadog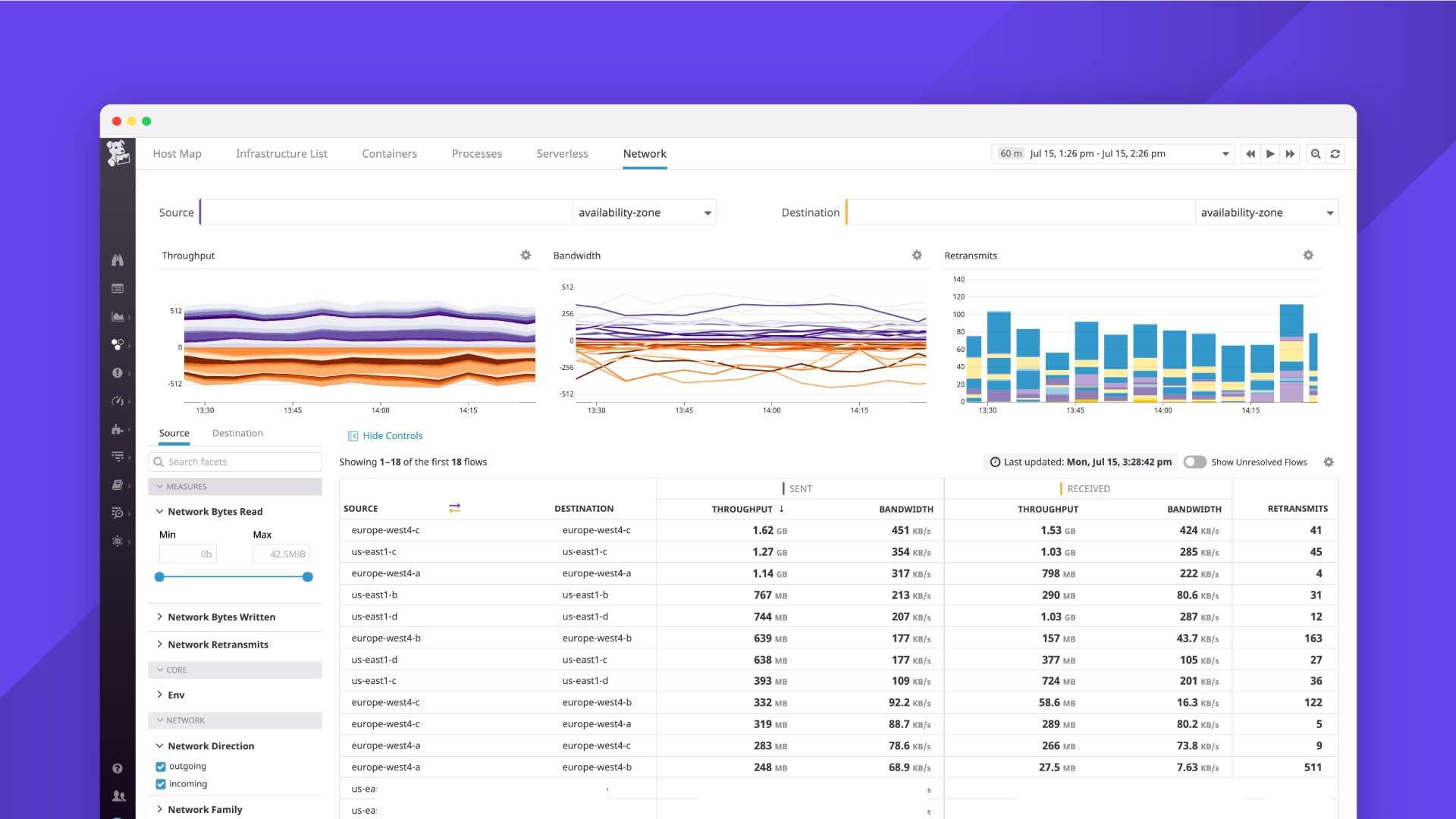 Known for its simple design and advanced graphs, Datadog is also a favorite among many IT system administrators for its APIs and lightweight operation. Datadog is an intelligent network monitoring tool with an alerting system that uses machine learning to notify you of problems before they get out of hand.
Compared to the other tools covered in this article, Datadog can take a long time to implement. Setting up the tool comes with a bit of a learning curve, but after that, Datadog is a powerful and easy to use network monitoring tool.
CloudStats by Aqua Networks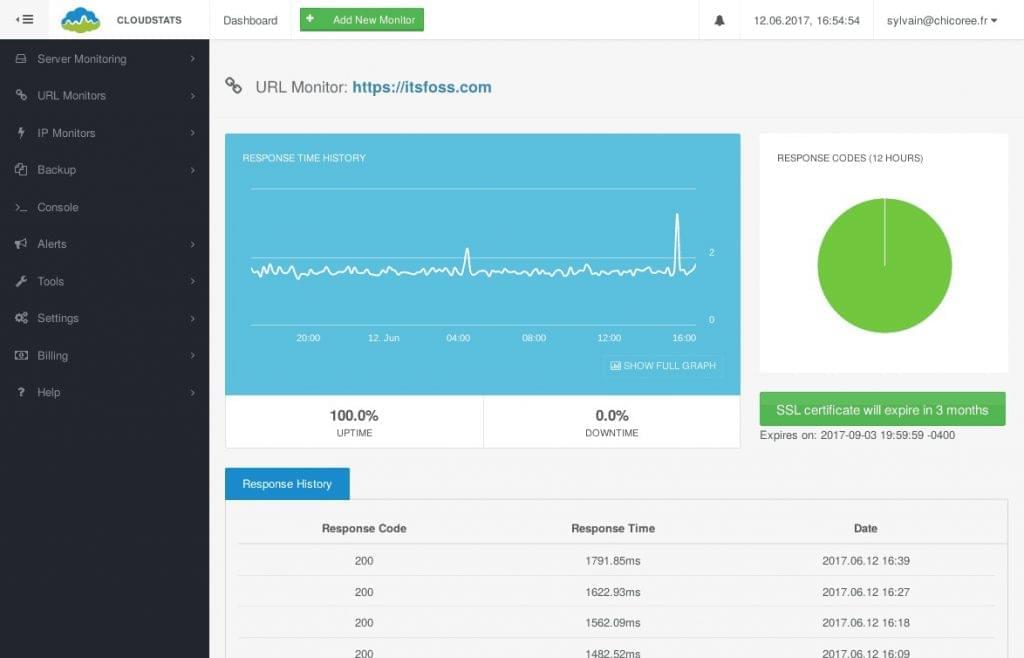 Similar to Spiceworks, CloudStats offers a free network monitoring tool with core monitors. But unlike Spiceworks, CloudStats also offers a premium version of its tool for $5 per server per month. This is an attractive alternative, as it gives IT professionals the flexibility to add more features as their needs change.
In general, CloudStats is easy to set up and intuitive to use, though it does present some drawbacks regarding lack of documentation and integrations.
Amazon CloudWatch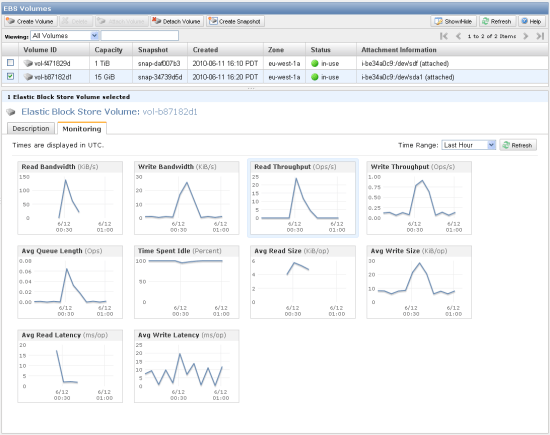 If you use Amazon Web Services (AWS), Amazon CloudWatch is a useful network monitoring tool for keeping an eye on your Amazon servers. While it may be worth using CloudWatch in conjunction with another network monitoring tool, it is a good way to get a basic overview of your Amazon cloud infrastructure.
The biggest drawbacks of CloudWatch involve limited features. Currently, the tool offers a simple dashboard, and the alerting feature offers little customization.
Auvik
Built specifically for managed service providers (MSPs), Auvik is a Canadian network monitoring and IT asset company that offers powerful monitoring capabilities for system administrators. Auvik gives MSPs both broad overviews and detailed reports of client networks, providing fast alerts about problems before clients have a chance to complain.
This tool can seem a bit daunting at first because it's so fully featured, but it's easy to use and offers a wide range of capabilities once you're comfortable with it. Auvik is known for best-in-class support, so most problems with the tool can be resolved by reaching out to the vendor.
Considerations for small and medium businesses choosing network monitoring tools
Network monitoring tools may be built for enterprise companies, but small and medium businesses may also find them helpful.
Price
All businesses need to worry about how much money they spend on their software, but small and medium businesses often work with a smaller margin. Network monitoring solutions come in all price points, including free versions of tools up to a limited number of hosts, or fully-featured open source software.
Small and medium-sized businesses should consider whether the opportunity cost of the developer workload is worth the initial savings of a free or low-cost tool. While your budget may suffer from a managed tool, your network manager's bandwidth for other tasks may suffer from the upkeep of a lower-cost software.
Solution size
The size capabilities of a network monitoring tool may only be constrained by your budget. Consider how many physical and virtual servers you need to cover, and whether you need to add on support or monitoring for extras like
Containers
Devices
Anomalies
Considerations for enterprise businesses choosing network monitoring software
Scalability
Enterprise companies know the value of their data and the networks that connect that data across the organization. An enterprise company looking for a new network monitoring solution should consider how well that tool scales. Ideally, a network monitoring software would be able to easily track new hardware and virtual machines and scale up as the company grows.
Ask the provider how well the tool is able to manage the addition of new computing tools as the company grows. And then ask the provider to give specific details or case studies that show whether the addition of new hardware will cause temporary or long-term slowdowns in the monitoring tool.
Endpoint security
Enterprise companies know that work happens in the office and on the go. Smart companies ensure that all of the endpoints where work happens are covered. That makes network monitoring software that covers smartphones, laptops, and internet of things (IoT) devices — in addition to the traditional server and personal computing endpoints — vital to the 360-degree security of the enterprise.
Major user types of network monitoring tools
Network monitoring solutions display metrics about network performance in dashboards, but these solutions are arguably more useful for sending alerts to high-ranking stakeholders. It's easy to pull up metric dashboards, but network issues require immediate attention, and scanning dashboards all day and night for potential issues is impractical. Once an alert has been sent, IT staff will need to see details about an issue to fix it, but most other users will be primarily interested in alerting.
IT Systems Administrators
IT systems administrators are responsible for managing computer and networking infrastructure and are therefore the primary users of network monitoring software. Admins will likely be the only employees who access this system, and they will probably be the only employees to receive alerts about network issues.
Chief Technology Officer (CTO)
IT systems administrators are the primary users of network monitoring software, but a company's chief technology officer (CTO) will also require access to the system. While a CTO may not receive network issue alerts, they will respond to outage reports from IT systems administrators in the event of a network outage or another big event that requires top-down action.
A company's CTO will also be responsible for sending company-wide alerts regarding outages and will keep other C-suites informed of updates. For this reason, CTOs will also need to pull reports from the system to give detailed outage reports to the CEO and other executives.
Chief Executive Officer (CEO)
In most situations, a company's chief executive officer (CEO) won't require too much in-depth knowledge of network issues unless the issue affects major parts or all of a company. For widespread issues such as network outages, a company's CEO will want to receive alerts so that resources can be pulled from across the company to help solve the issue or so that damage control procedures can begin.
Chief Financial Officer (CFO)
Similar to a CEO's level of access, chief financial officers (CFOs) will probably only need access to a network monitoring system for alerts about widespread, high-impact outages. Network outages can seriously disrupt business processes, which have a direct impact on a company's finances. If an outage is large enough that it affects sales or revenue or requires significant unbudgeted expenses, a CFO will need to know.
Major trends affecting network monitoring software
The market outlook is strong for network monitoring software, but there are multiple trends that will play a bigger role in how software is developed, deployed, and who uses it. Taking these trends into consideration will save you time and money in the long run, as they are only expected to play a bigger role in how IT staff manages networks and the features and capabilities they will need to effectively do their jobs.
Cloud computing
More and more companies have moved business processes to the cloud, which is more reliable, secure, and scalable than traditional on-premise servers. Servers located in large data centers on every continent (including Antarctica) make cloud computing possible, which means IT systems administrators will heavily rely on network monitoring software to stay informed about network and device performance.
Network monitoring software developers are keen to this trend, as many solutions now offer cloud monitoring. This includes Amazon Web Services (AWS), whose network monitoring tool, CloudWatch, lends visibility into network activity for Amazon's cloud computing clients. Given that many businesses and organizations from Workday to the FBI use AWS for cloud computing, other network monitoring vendors would be remiss not to offer similar product features.
Voice over internet phone (VoIP)
VoIP offers several advantages over copper wire phone lines that require locally configured networks and phone jacks. VoIP is less expensive, more flexible, and mobile-friendly.
But from an IT perspective, network performance is VoIP's main drawback. Quality phone audio depends on low latency, wide bandwidth, and high network speeds. VoIP takes up considerable network CPU. For consistent phone performance, networks must remain in good health and operate at peak performance. Network monitoring plays a critical role in ensuring networks can support VoIP.
Internet of things (IoT) devices
Many devices that previously operated alone now connect to the network as well. You're no doubt familiar with smart speakers such as the Amazon Echo or Google Home, but many businesses now use internet of things (IoT) devices as well. Plenty of businesses use smart lighting and HVAC to reduce energy waste, smart locks for tighter security, and barcode readers and RFID scanners for the most up-to-date and accurate inventory counts.
All of these devices connect to the network, increasing not only network strain, but also a business's dependence on top-notch network performance. Network monitoring software helps identify which IoT devices are connected to the network in addition to identifying any cybersecurity risks they might pose.
Cyber attacks
Perhaps the most important trend to pay attention to is the growing threat of cyber attacks from malicious actors. As more business and government activity is conducted online, individual hackers, hacking groups, and even state-sponsored hackers will ramp up the frequency and sophistication of their attacks to steal valuable personal information, trade secrets, and plans from businesses, private citizens, and other governments.
While many other preventative measures should be taken to shield yourself against attacks, network monitoring software will continue to offer more advanced security features to alert you of security concerns before a serious breach occurs. Network monitoring software developers will also take more online and physical security measures to ensure that customer data remains protected.
How to choose the best network monitoring software
At TechnologyAdvice, we connect buyers and sellers of business technology. We pride ourselves on our unbiased software recommendations that help buyers stand out in a competitive business field.
We can put together a list of the best network monitoring software vendor offerings for you, complete with product features, pricing, and real customer reviews to help guide your decision. To receive a targeted list of recommendations for your company's needs, complete the form at the top of this page.