Sales departments rely on data and analytics to increase productivity and revenue. If your department plans to grow, it's going to need to track and analyze data. 
There are so many digital touch points in email alone that can tell us how warm a lead is, how much a particular user engages with our content, and whether we should follow up or focus on other contacts. But don't subject your sales team to a repetitive stress injury from copy-pasting data between email inbox and CRM.
Please note that some of the links below are affiliate links and at no additional cost to you, we will earn a commission.
ALSO READ: The Lead Generation Technology Stack
The best email tracking software gives you much more than read receipts. Open rates and link tracking are just the tip of the iceberg. The most advanced systems will provide CRM and full-stack integrations to help your sales team gain critical visibility without opening seven different applications. 
Add to your sales team's already stellar strategy with analytics and insights from one of the email tracking software tools listed below. 
Connect to Your Existing CRM
SalesLoft helps you build a cadence that tracks both email and phone interactions. Personalization is built in for emails, and tracking covers email, phone, and other metrics like social and chat interactions. Integration with Salesforce CRM lets you stay in your CRM to send emails, even mass emails. Customer insights from integrations like Owler and CrystalKnows help you personalize each message and increase response rate. A/B testing is available for all steps in the cadence, including phone.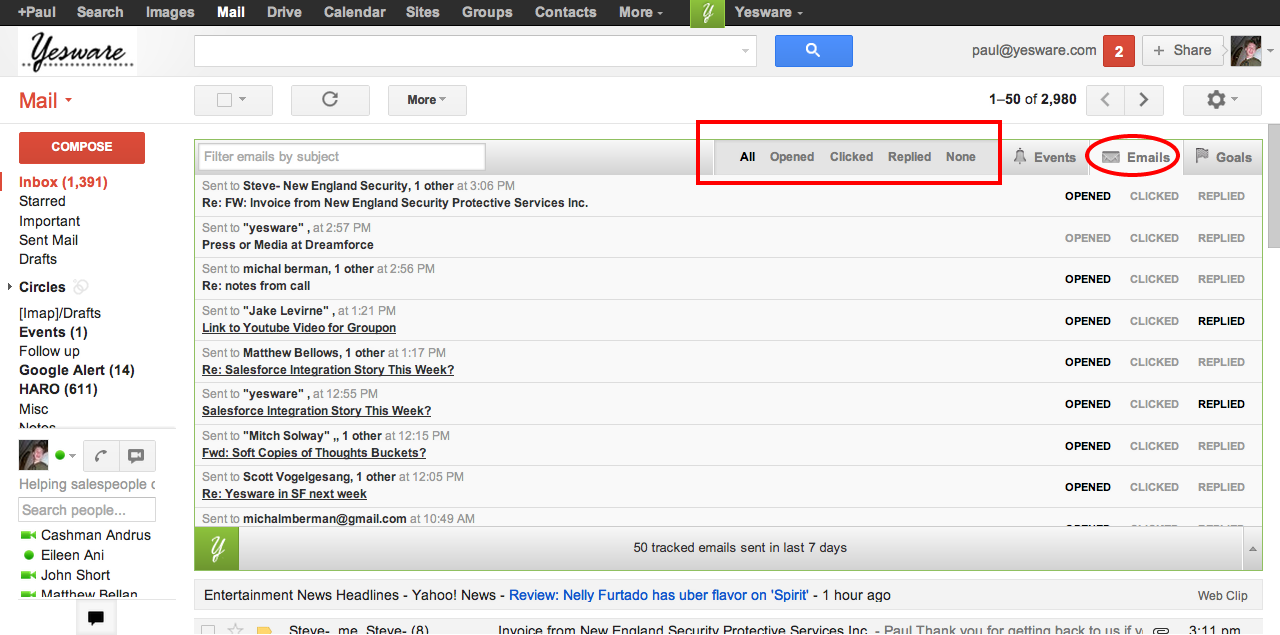 Yesware offers email tracking that drives prescriptive sales analytics. Prescriptive data helps your sales team anticipate customer behavior and better target warm leads. Contextual data reports show you what the best reps are doing so you can duplicate it across your team. An "Activity vs. Engagement" report shows customer engagement with your content, instead of shallow interest. Individual team member reporting shows where your team can improve and where they're lagging. Yesware offers a native connection with Salesforce to help you build customer lists for use in your email campaigns.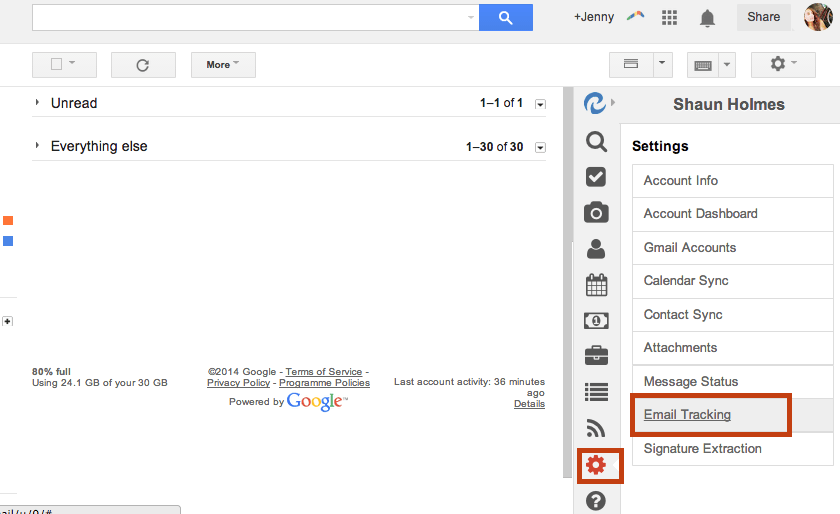 Cirrus is product from the Salesforce app exchange that lets you send and track emails using your contacts from Salesforce. Cirrus integrates directly with your email client, so you won't have to travel back and forth entering data into Salesforce. Track your emails more efficiently with updated data and notifications. Phone integration lets you log your calls in Salesforce without leaving your inbox, even if you're taking those calls on a mobile device. A great extra feature is the MyLists tool that embeds important customer and account information directly in your email client, so you can access it while drafting messages.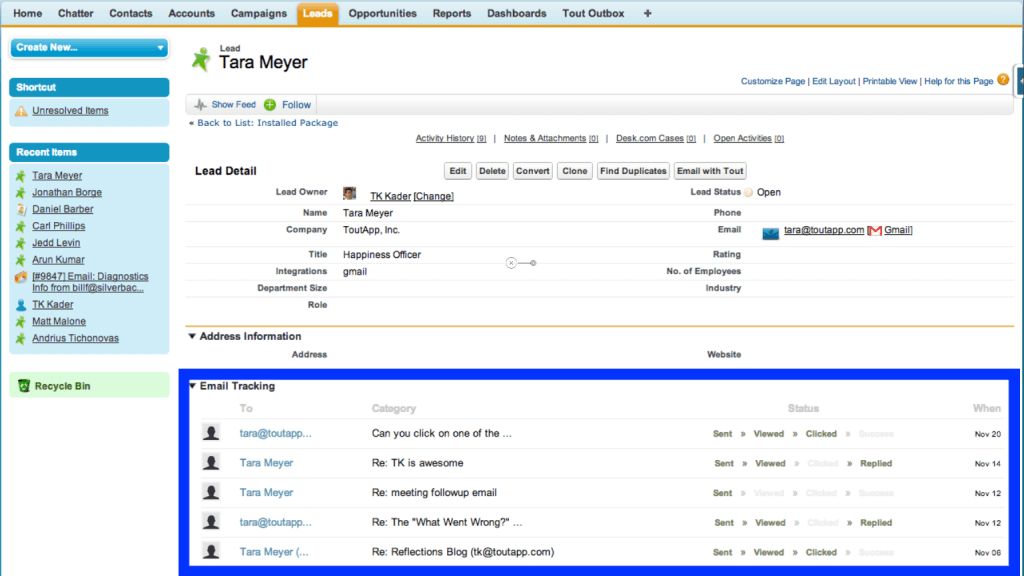 ToutApp combines CRM, phone, and email client integrations into a single platform. You can build email templates and drip campaigns and log real-time customer interactions with emails so your team can jump on opportunities. Playbooks help your team choose the best sales-focused actions for each customer interaction. In-team messaging and notifications are also available. All of these features are accessible directly from your connected CRM, so you don't have to spend a lot of time updating notes and copy-pasting data from one platform to another. ToutApp is built for the enterprise, with privacy settings and full integrations for most of your technology stack.
Clearslide integrates with any existing email client. Build a sales library with your most successful templates, and use Clearslide's customized, real-time tracking to follow customer engagement with all of your content, including your website. You can automatically upload content into your email templates and scale email blasts with customer segments from your CRM. All of your email client work auto-logs into your CRM, so (again) you don't have to duplicate information.
ContactMonkey provides email tracking and a Salesforce-integrated sidebar in Gmail or Outlook email clients. The reporting dashboard gives you analytics on how many sends, opens, reads, and interactions your emails receive. Use the merge feature to send to multiple recipients based on a pre-built or on-the-fly list. ContactMonkey's predictive engine provides insight into how your contacts open their emails by device and time, so you know when to send for the best response.
Standalone Platforms
This HubSpot product is focused on Sales enablement and connects with the larger HubSpot platform. Its email tracking program sends you desktop notifications as soon as your recipient opens an email or clicks a link in one of your campaigns. Watch your campaigns in progress, and make timely decisions for content and outreach. Website tracking helps you understand possible account prospects based on who visits your website. It's worth noting that HubSpot offers their own free CRM and free beginner sales software, but not all features are available at that level.
BananaTag is one of the simpler options on this list, but that doesn't mean the app isn't powerful. Track when, where, and how someone interacts with your email campaigns, all from within your own email client like Gmail or Outlook. Receive open and click notifications over email or online in real time. Analytics track behavior like device or location, but also dive deeper into your email templates and attachments, giving you insight about engagement therein.
Vision (InsideSales)
InsideSales.com's Vision platform tracks email opens, attachments, forwards, and gives you insights about who is engaging with your website. Reporting features tell you when and how to follow up with engaged contacts. Managers can use this data to improve their sales team's win-rate with visibility into which tactics actually work. With an embedded click-to-call feature in notifications, you not only know when someone has looked at your materials, but can call them immediately thereafter. You can purchase Vision as a standalone option or get it standard with a purchase of the full InsideSales platform.
* * *
These nine are excellent choices for most email tracking needs, but they aren't the only options. Use our software category page to browse, compare, and get a custom recommendation based on your needs.
Technology Advice is able to offer
our services
for free because some vendors may pay us for web traffic or other sales opportunities. Our mission is to help technology buyers make better purchasing decisions, so we provide you with information for all vendors — even those that don't pay us.