Sales departments have long used commissions to incentivize workers and produce more revenue for their company. When used consistently, commissions work, which is why they're so common.
But if you calculate your sales compensation on a spreadsheet or (gasp) by hand, the chances of making a mistake increase dramatically. Sales commission software automatically calculates commission and payouts based on custom company rules, and reducing error is one of its biggest selling points. 
ALSO READ: Creative Sales Contest Ideas and Why They Work
The best sales commission software will offer the following features: 
Ability to track and input individual sales figures

Accounting and distribution of incentive-based payments through direct payments or data exports to accounting systems

Custom settings for role type, location, company tenure, and sale type

Reporting and analytics to improve outcomes
In this article, we'll look at some of the top solutions sold either as standalone sales commission tools, or as features built into a larger sales platform. 
Integrated Sales Commission Software Systems
As part of larger CRM or CPQ system, these options help sales teams track their sales process and calculate commissions from a single platform.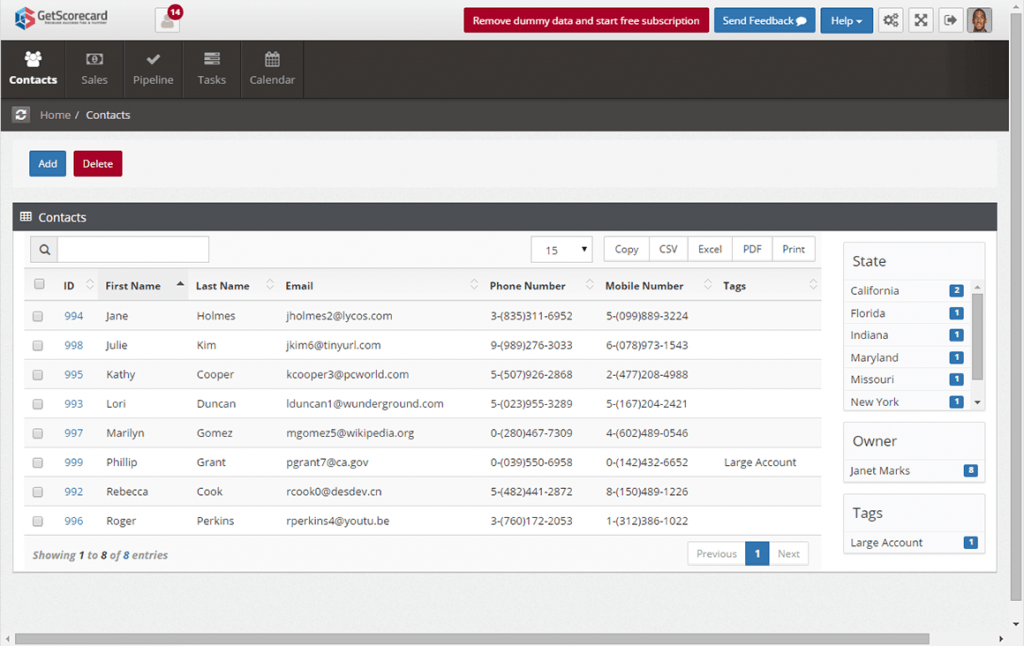 Build your sales targets in GetScorecard, and the sales commission tool will pull metrics from those targets to calculate flat or tiered commission plans. Apply the target to your sales team and assign a commission calculation to the target, then all team members who work that target receive the same calculations, automatically.
GetScorecard's primarily functions as a sales CRM, but the inclusion of sales targets and commission rates can simplify your calculations. GetScorecard's integrated tools also let you see in-depth and granular reports that show your team which strategies are successful and where they have room to grow.
CallidusCloud's sales performance management solution helps you automate tracking, calculation and payouts of commissions. Set quotas and territories based on historical data, rather than just guessing. Automated sales training and on-boarding takes your new hires and veteran sellers through important employee development when they need it, without requiring oversight from HR or managers. You can even connect to the CallidusCloud gamification software Badgeville to boost sales or learning management through gamified inventive programs. 
This is a higher-priced system that charges per user with a minimum user count at each payment level, but extensive level of integration makes CallidusCloud worth the price point, especially for high-pressure enterprise sales environments.
Dedicated Sales Commission Calculators
To say that these standalone platforms work solely as "calculators" understates their capabilities. The following options will provide your team with simple or complex commission rules, and they often integrate with your current software stack.
Iconixx boasts a transparent sales commission platform that helps teams and management understand their current sales practices and plan to reach their goals. Using automated commission calculations, your team can set up complex rules and still maintain visibility.
The Iconixx Sales platform brings commission calculations together with internal custom workflows, reporting, and the ability to forecast hypothetical situations. These tools remove advanced calculations and complicated spreadsheet reporting, allowing your sales force and managers to spend more of their time selling and clarifying goals.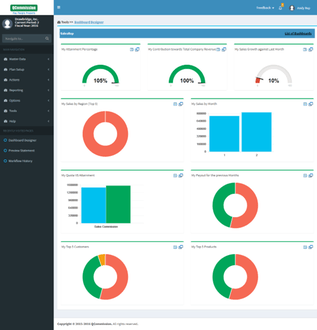 Built as a standalone system that can import data from other software programs, QCommission handles simple and complex commission calculations as soon as your sales period ends. Use built-in reporting to provide clear commission statements to your entire team, or build custom reports based on your own process.
Import and export data from your other sales and business software including Salesforce, Quickbooks, MySQL reports, Excel spreadsheets, and MS Dynamix. QCommission runs on Microsoft technology, which gives it a familiar interface.
Xactly Incent comes in two editions — enterprise and express — to suit your business's size and staffing requirements. Dashboards and analytical tools show reps and managers progress toward goals so teams can react to changing needs in real time. The enterprise version comes with complete mobile integrations across your devices, while the express SMB software integrates with your existing CRM.
Xactly Incent connects to the Xactly Insights platform, which provides big data benchmarking to help increase sales output from your top performers and coach your mid-performers toward greatness. A commissions sandbox lets your analytics team experiment with goals and outcomes based on historical data without disrupting current work. Built-in document management provides integrated support for quoting, contracts, and e-signatures without switching between systems.
Core Commissions promises a "one-click" setup with clear commission rule structures based on a "building block" method. Use reports, dashboards, and visual analytics to track your team's progress in real time, letting you react to changing sales conditions. Custom workflows let your team define steps in the sales process and the compensation attributed to each. You'll find automation at every step of the lifecycle, with the ability to run reports or have them sent to you automatically.
Core Commissions integrates with other SaaS providers or with your on-premise server. The product comes in three sizes: express, enterprise, and premier, with increased flexibility and user access at each tier.
* * *
Whether you purchase standalone sales commission software or choose a larger, more integrated suite, using a centralized system will save your sales team a lot of headaches when it's time for payout.
Don't see what you're looking for on this list? Check out our sales software product selection tool to browse more options, or contact us today for a free consultation.