Learning in the workplace has moved beyond a human resources priority to a company-wide necessity as businesses address changing marketplaces, new technologies, and greater access to knowledge. Providing ongoing corporate training through a learning management system (LMS) develops an adaptable, skilled, and flexible workforce that contributes to organizational goals.
A corporate learning management system is a software solution that houses training materials, tracks progress on training objectives, and records user data. An LMS is particularly valuable to businesses in terms of compliance, onboarding, performance management, and learning and development.
Whether you're looking to switch to a different corporate LMS or start with a new one altogether, our recommendations help make training and development user-friendly, relevant, impactful, and customizable to your workforce's unique training needs. If none of these solutions meet your needs, explore our LMS Software Guide to browse other products that might be a better fit.
Also read: Why Do Businesses Switch to a Different LMS?
What are the top learning management systems for corporate training and learning?
Paylocity: Best for interactive knowledge distribution
Rippling: Best for automation
Docebo: Best for AI
Absorb LMS: Best for analytics
360Learning: Best for collaborative, in-platform course creation
Also read: 8 Elements of a Great Learning Management System
Paylocity: Best for interactive knowledge distribution
The talent management module of Paylocity's human resources information system (HRIS) includes a corporate LMS. HR or learning and development (L&D) personnel can assign prebuilt courses to newly hired employees or those acquiring new skills for the job. Paylocity's library of over 200 courses covers a broad range of topics, from health and wellness to inclusion to workplace safety. So, no time and energy is necessary to build out essential knowledge and training materials from scratch.
That said, Paylocity's LMS offers plenty of room for customization to niche or company-specific learning needs. Subject matter experts in the organization can create their own training by importing external files. They can then share their knowledge in Community, Paylocity's social engagement and collaboration tool.
Paylocity enables a variety of delivery methods, such as recordable webinars that can be consumed later. However, Paylocity doesn't appear to offer accessibility features, such as closed-captioning.
Paylocity's LMS allows HR administrators to set due dates and track user progress through any given course. At the end of a course, admins can measure the effectiveness of the training with a quiz or survey.
Paylocity pros and cons
Pros
Integration with native social collaboration tool to facilitate knowledge sharing
Library of 200+ prebuilt courses
Customizability
Variety of delivery methods
Multilingual learning
Bulk course assigning
Cons
Analytics are not as robust
Accessibility appears lacking (closed-captioning)
Paylocity key features
Out-of-box courses to get started quickly and easily
Integration with Community
Also read: 5 Ways to Increase Employee Engagement with Your LMS
Rippling: Best for automation
Rippling boasts a variety of automated features. Once automation rules are set, Rippling can assign courses to employees, which eliminates repetitive, manual assigning. It can also send automated reminders to employees to complete or continue training according to a schedule. In fact, no setup of rules for certain training is necessary.
For example, Rippling already has preconfigured enrollment rules for sexual harassment compliance training across all 50 U.S. states, so HR doesn't have to remember to enroll, let alone manually enroll, employees in mandatory training.
Users can upload their own courses or choose from Rippling's impressive library of more than 1,000 prebuilt courses on topics, such as sexual harassment and HIPAA. Given the array of courses to choose from, users don't need to upload their own materials and worry about them rendering correctly in the interface. Rippling also features a library of workflow templates for things like reminders, events, notifications, and more.
Once users complete training, Rippling automatically sends a certificate of completion and keeps a copy of its own on record for compliance purposes. Some industries or specific roles require employees to stay current on their certifications. For that purpose, Rippling has a built-in measure to ensure employee compliance by integrating the certification they earn in the LMS with the time tracking feature. That way, only employees who hold current certifications are able to clock in. This ensures compliance as well as workplace safety.
Rippling pros and cons
Pros
Automated features that reduce or eliminate HR and L&D manual tasks
Library of 1,000 out-of-box courses to get started quickly and easily
Certificate of completion distribution and storage for compliance
Integration with time and attendance to ensure current certification status
Cons
Lack of robust user analytics
No accessibility features, such as closed-captioning
Lack of support for multiple languages
Unknown variety of delivery methods
Rippling key features
Automation
Ready-to-go courses
Compliance management
Document management of completed certifications
Integration with time tracking tool
Docebo: Best for AI
Docebo is an extensible, AI-powered LMS. Companies may choose add-ons that enhance Docebo's LMS product to:
Create and manage learning content.
Infuse learning and development into employees' daily workflows.
Measure impact.
Analyze data related to learning goals, use, and more.
Docebo stands out for its ability to leverage AI for accessibility and personalized learning experiences. Using AI, Docebo can automatically translate learning material into several languages. This makes training more accessible to workforces that operate around the globe.
It also includes virtual coaching and content suggestions, enabling employees to be more self-sufficient in their personalized learning paths. These features free up administrators to focus on program improvement instead of implementation.
Docebo is unique in the way it approaches learning as integral to rather than separate from daily work. Docebo's Flow product removes barriers to learning by infusing personalized learning experiences into applications employees use on a daily basis.
Docebo Flow surfaces just-in-time learning insights to promote context-based learning. These insights pop up according to customizable rules in the user's profile, which dictate what kinds of courses get suggested.
This product operates on web-based technologies like JavaScript, HTML5, and CSS, so as long as the user has access to the code, Flow allows the user to open an instance of the Docebo platform in any external web platform. This may require some technical savviness on the user's part.
Employees, therefore, don't have to manually pivot from their everyday work to training. The two are intertwined, strengthening employees' ability to retain the learning material because it's embedded within the work they do every day. Docebo integrates with more than 400 tools to make this possible.
Docebo also enables social learning to more widely and efficiently share knowledge and come together to answer questions. Learners can indicate their goals and interests, and Docebo's LMS serves up relevant content accordingly. The most engaged learners show up on a leaderboard to encourage friendly competition.
Docebo pros and cons
Pros
AI for automatic translation of materials, which makes them more accessible
Learning infused into everyday work
Robust social learning tools
Built-out analytical capabilities
Customization at no extra cost
Cons
Learning curve and tech savviness to take full advantage of features
Necessary add-ons for greater LMS functionality
Docebo key features
AI
Analytics and reporting
Language translation
Social learning
Absorb LMS: Best for analytics
Absorb LMS is a stand-alone e-learning platform that offers an array of add-on tools to enhance the core LMS. Its reporting and analytics tools help businesses optimize employee training, learning, and development for organizational goals.
Absorb provides two products that address different levels of data analytics: Absorb Analyze and Absorb Analyze Direct.
Absorb Analyze
Absorb Analyze enables insights between learning programs and business results. It affords insight into more granular LMS data points, such as:
Enrollment by department and course.
Login frequency and times.
Use and engagement on a departmental, team, or individual user level.
Competencies, badges, and certificates earned.
Absorb Analyze also features a variety of prebuilt LMS reports about learner activity and progress, which would interest a manager or supervisor. Alternatively, reports on course activity and evaluations pertain to HR, L&D, and the C-suite about how the program is performing overall.
Administrators can set up analytics dashboards customized to company needs. They can even create multiple dashboard templates that serve as unique views based on department or group. The dashboard widgets themselves are easy to drag and drop or mix and match.
Absorb Analyze Direct
Absorb offers more advanced analytics with its Absorb Analyze Direct tool. Powered by Snowflake, Absorb Analyze Direct connects LMS data to the company's data visualization and business intelligence (BI) tool. This integration of Absorb LMS with a BI tool of choice allows a business to:
Measure training programs' impact.
Assess program effectiveness.
Identify trends in use, outcomes, and other key performance indicators (KPIs).
Acquire more flexibility in data analysis.
Unify siloed data to connect learning outcomes and data across departments.
Analyze is more simplified than Analyze Direct, as the latter allows deeper data dives that require more tech savviness. In addition, Analyze delivers more granular data points and how those data points link to the company's overarching goals. Analyze Direct reveals more complex data insights at a greater breadth. It integrates data laterally across departments and vertically to convey how L&D fits into top-level business goals.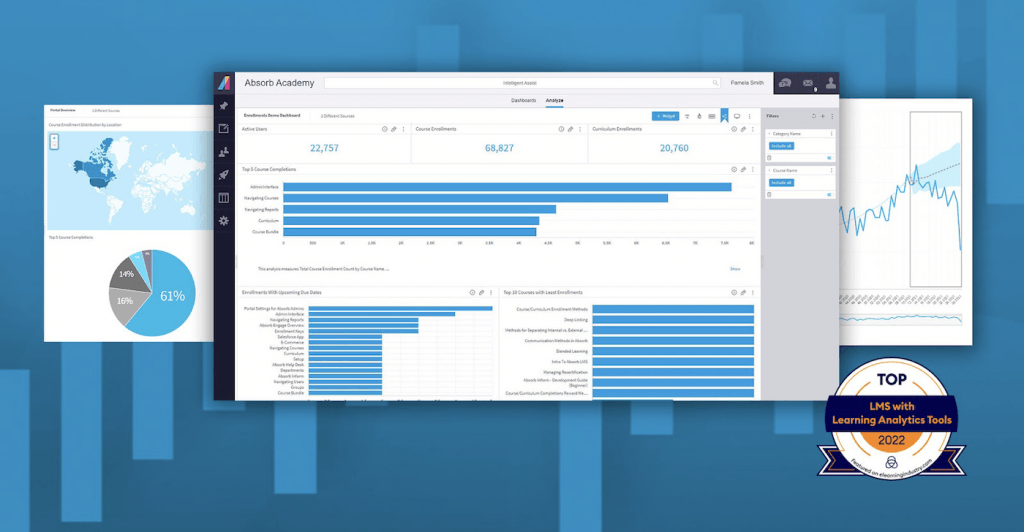 Absorb pros and cons
Pros
Choice of data analysis depth with Absorb Analyze or Absorb Analyze Direct
More user-friendly AI features compared to its competitors
Integration with BI tools for deeper data analysis
Multilingual support in over 30 languages
Multimedia content delivery, including webinar, documents, and video
Cons
AI not as broad in scope as its competitors
Add-ons necessary for great core LMS functionality
Customization incurs added cost
Lack of learner feedback and assessment tools
Absorb key features
Customizable dashboards
Variety of reports
Intelligent Assist AI tool
360Learning: Best for collaborative, in-platform course creation
360Learning is a stand-alone corporate LMS like Docebo and Absorb, but it's unique in the way users can collaboratively create content directly within the platform. Being able to do so offers more flexibility in content creation and curation. Users don't necessarily need to resort to available templates or import files from external tools which might not render correctly in the LMS portal and mobile app.
Administrators can collaborate on the back end to create and iterate on training material. This makes it easier to keep content current and expedite the go-live process. They can provide feedback privately on the back end that users never see on the front end.
360Learning facilitates communication between the administrator and learners. For instance, curators can provide correct answers to assessment questions, so users can learn from their mistakes. The software also contains several feedback tools like the feedback inbox and a reaction score that prompts users to provide feedback on an activity.
360Learning puts a lot of control and responsibility in the administrator's hands to craft courses for niche or specialized corporate learning needs. This makes 360Learning LMS suitable for companies that want hands-on, highly interactive training, learning, and development that involves instructors and coaches to lead users through their courses.
In terms of interactive learning, 360Learning is comparable to Paylocity but with more features that facilitate even more collaborative learning. Not only does it make AI-powered recommendations for personalized learning experiences, but it also features a customized news feed for each user. This helps keep those who are in the same course informed and engaged and serves as an efficient way for a course instructor or coach to communicate with participants.
Learners can also earn achievements that are displayed on the leaderboard. A final impressive feature not seen on any of the other solutions in this list is a playlist where users can curate a list of courses to return to later. This supplements AI-generated course suggestions and empowers the learner to take more control over their learning and development.
360Learning pros and cons
Pros
Control over content creation and curation for ultimate customizability
Create courses directly within the interface
Iterative content creation for up-to-date material
Social elements
Diverse assortment of assessment tools
High-touch learning is more interactive and yields more engagement
Cons
More control but potentially more work to put courses together
No off-the-shelf courses can mean content is slower to go live
High-touch learning requires dedicated in-house instructors or coaches for companies that adopt 360Learning
No analytics or reporting
360Learning key features
Collaborative, in-platform content creation
AI-powered learning suggestions
User-generated content playlists
Social elements between learners and with administrators
Assessments
Learner feedback
Choosing the Right Learning Management System
Paylocity and Rippling offer corporate LMS solutions that are embedded within their HRIS platforms. This poses a unique advantage for them in terms of integrating employee data across modules, including talent management. The number and robustness of their features don't measure up to those of Docebo and Absorb, but this makes Paylocity and Rippling more affordable options for companies that don't require advanced features in their corporate LMS.
Docebo and Absorb offer core stand-alone LMS solutions that will likely require add-ons at an extra cost. This provides companies with customization in choosing only the features they need and the flexibility to add on later if needed. However, the cost of adding tools may easily exceed what small businesses can afford.
360Learning is another stand-alone platform that's a great fit for organizations that have a dedicated training and L&D team that leads employees through training programs. Companies that desire a more self-guided, hands-off approach but with some social elements can find that in any of the other four solutions.
If none of these vendors meet your needs, check out our LMS Software Guide to browse other solutions.
1

Rippling
Rippling is the first way for businesses to manage all of their HR, IT, and Finance — payroll, benefits, computers, apps, corporate cards, expenses, and more — in one unified workforce platform. By connecting every business system to one source of truth for employee data, businesses can automate all of the manual work they normally need to do to make employee changes.
2

Darwinbox HR Software
Darwinbox is a unified HRMS platform that lets you manage the complete lifecycle of your employees – from hire to retire. Built for large enterprises, Darwinbox is used by 2M+ users across 700+ global companies such as Mahindra, Tata AIA, More Retail, Adani, Sembcorp, Kopi Kenangan, and more. It is a mobile-first platform that offers self-service capabilities and a great user experience to all your employees.
3

GoCo
GoCo is modern HR, benefits, and payroll, built for flexibility and ease-of-use in mind. Manage records, performance, time off, onboarding, benefits, and more all in one place. GoCo is a secure, compliant hub for sending, digitally signing, and organizing your sensitive HR documents and data. Unlike other HRIS platforms, GoCo is built to be flexible enough to support existing processes, policies, and providers, so you don't have to change the way you work just to adopt a modern HR system.
Technology Advice is able to offer
our services
for free because some vendors may pay us for web traffic or other sales opportunities. Our mission is to help technology buyers make better purchasing decisions, so we provide you with information for all vendors — even those that don't pay us.