7 steps to create an effective employee training program
1. Identify employee training goals
Before you can establish an effective employee training program, you must first identify the areas in which employees most need additional training. From an organizational or departmental perspective, conducting needs assessments and skills gap analyses can help leaders identify important knowledge gaps in the organization and what training programs might address those gaps.
Individual employees should also be asked to share their personal training and career growth goals. Getting this input at an individual and departmental level will help leaders get a pulse on what matters most to their employees and may help them develop more tailored training plans that will hold employee interest.
2. Create a comprehensive training plan
Now that you've set training goals with both leadership and employee input, it's time to document those goals with a training plan. The training plan is a document that should, at a minimum, help your team prepare your training program in the following ways:
Depending on how many different types of training courses and programs you intend to run, it may be helpful to create multiple training plans or a training plan database.
3. Invest in effective learning resources
While your team can certainly create its own learning resources, especially for training programs that are specific to your business, it's often possible to reduce your workload with the help of third-party learning resources and programs. Investing in learning management system (LMS) software, third-party experts and instructors, online training resources, certification programs, slide decks, informational books, and other digital and physical resources is a great way to build up your employee training program with minimal effort.
LMS software in particular can support organizations, whether they want to customize their training modules or use prebuilt training options. TalentLMS, for example, offers its own training courses and templates, but it also has a course editor that allows users to create content within the platform or upload pre-existing training resources so they can more easily track employee engagement.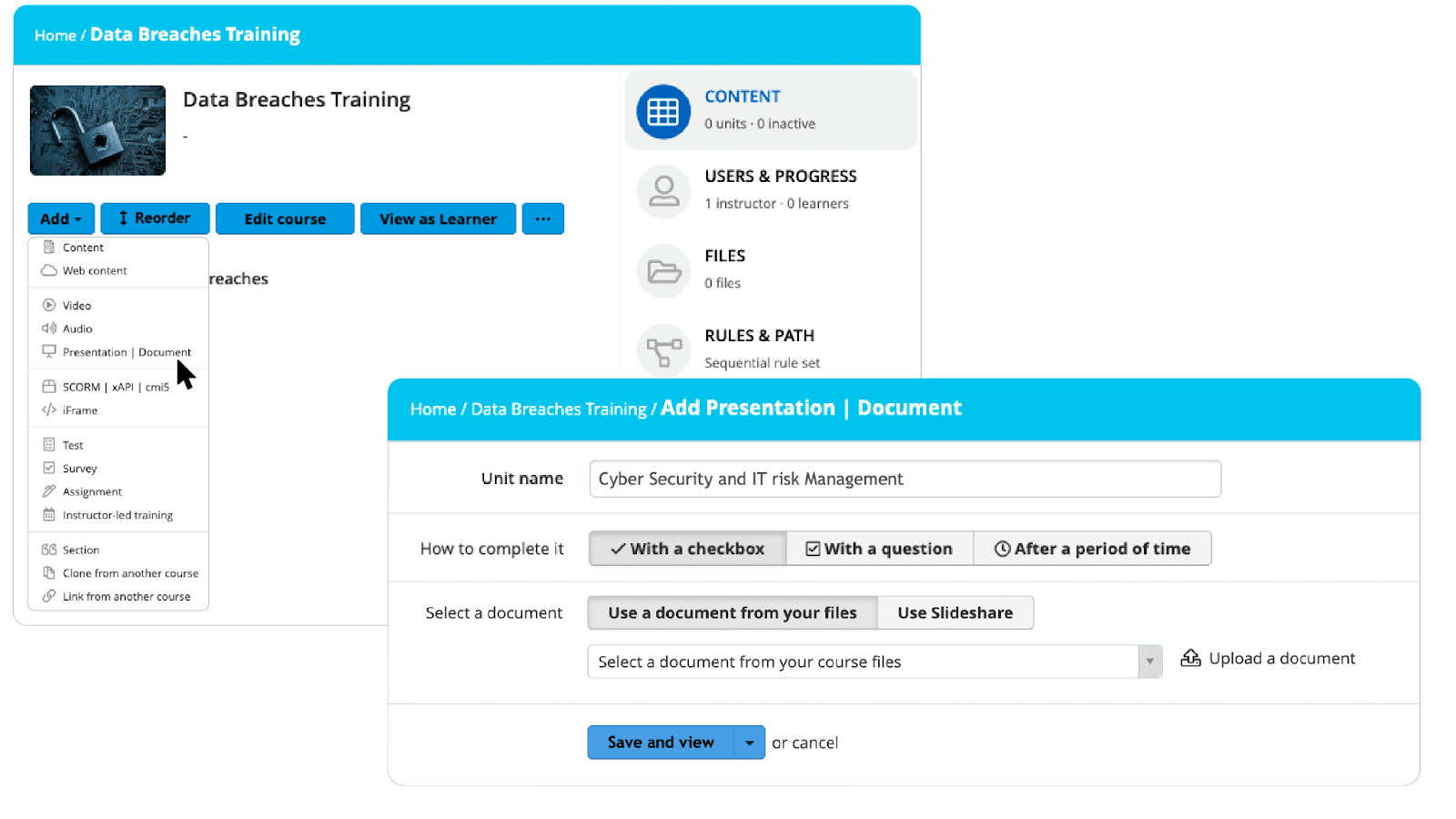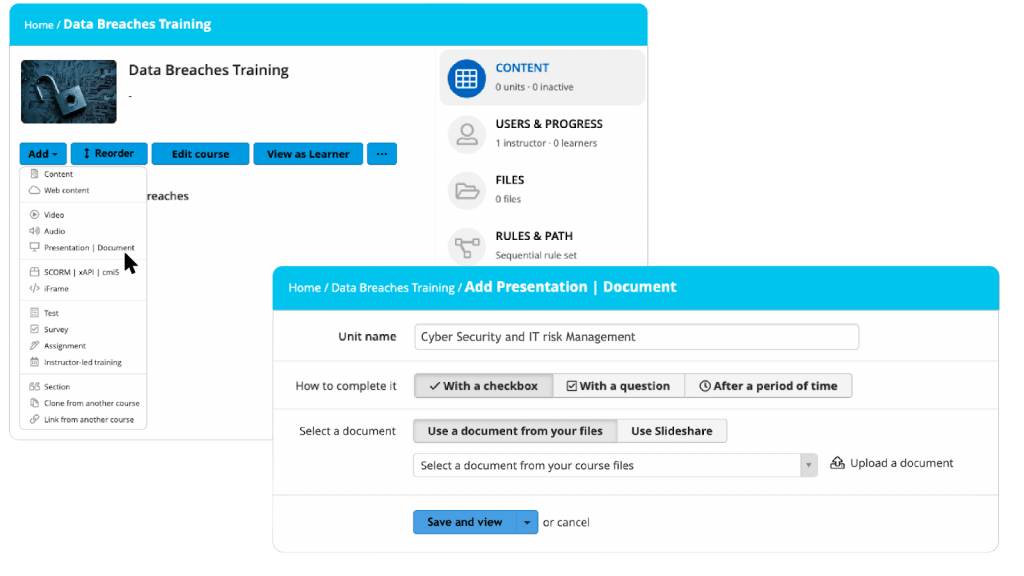 4. Design and share training paths with clear objectives
Having a comprehensive training plan and useful learning resources may not be enough to engage your employees if they don't clearly understand how this training will help their careers. To illustrate the importance of your training program and how it contributes to career growth opportunities, create training paths and visual roadmaps that align with different roles, departments, learning styles, and career trajectories.
Include clear objectives — preferably with SMART goals — and clearly state what skills employees should be able to demonstrate at each point in their training. Most importantly, make sure training paths are shared with all employees so they know what they need to do to achieve new career milestones.
5. Assess employee engagement and performance
Regardless of whether your training program is mandatory or optional, you'll want to track employee engagement and performance so you can effectively improve and tailor the program over time.
For mandatory training programs, check for completion as well as accuracy on any quizzes or tests. For non-mandatory training programs, it will be most valuable to keep track of the number of employees participating — both those who start the program and those who complete the program.
In addition, consider incorporating live simulations and scenario-based exams to test how employees are able to apply their new knowledge to real workplace situations.
For most training programs, LMS software is the best way to stay on top of performance monitoring. These tools provide features like administrative dashboards and reports, real-time notifications, and automated course assignments, which help leaders more clearly identify training opportunities and employees who may need additional support.
6. Seek out employee feedback
During and after any kind of training course, employees should be encouraged to share their feedback on the program. You can collect this feedback through formal employee surveys, or it can be more informally gathered through 1:1 meetings with employees' managers and mentors.
For more qualitative feedback, ask employees how they feel about their current training and if they have other training paths they'd be interested in completing. For a slightly more quantitative and contextualized approach, use the data you gathered in step five to frame the questions you ask employees.
If your data indicates that an individual started but never completed a leadership training seminar, for example, you can ask them if specific material in that course was irrelevant, dense, or otherwise unhelpful to their career goals.
7. Adjust training to meet emerging needs
Creating an employee training program is not a set-it-and-forget-it process. Your training program should evolve to meet the needs of your organization and individual employees — as well as global workforce demands — as they change over time.
Although there are many reasons why your organization may want or need to update its training programs, these examples illustrate some of the most common shifts that require training program adjustments:
Additional employee training program best practices
The steps listed above will get your training program up and running, but they may not be enough to help you hold employees' interests and manage training at scale. For the best possible results when implementing an employee training program, be sure to incorporate the following best practices:
Training program FAQs
Featured partners: LMS software
1

The Rockstar Learning Platform by ELB Learning
Rockstar Learning Platform addresses your high-demand learning needs. Add your content and users, deliver video-based microlearning on-demand, convert PDFs & videos into engaging eLearning - and author multimedia on the fly with AI translations and more! Forget the formal, long-winded instructional design process. Create, share & deliver content with Rockstar Learning Platform.
Learn more about The Rockstar Learning Platform by ELB Learning
2

The Brainier LMS
See how The Brainier LMS could impact your organization with better learning tech. Get a custom quote for a smarter way to deliver training to your employees, customers, partners, donors, and more!
3

Wrike
Create a better way to work with Wrike work management software. Automate time-consuming admin tasks so you can focus on work that matters most. Kick-start projects and workflows with pre-built templates, increase collaboration with intuitive communication tools, and boost visibility with a variety of project views. Visualize projects with Gantt charts or Kanban boards and keep stakeholders informed with automated reporting and status updates. Anything is possible with Wrike at your fingertips.
Technology Advice is able to offer
our services
for free because some vendors may pay us for web traffic or other sales opportunities. Our mission is to help technology buyers make better purchasing decisions, so we provide you with information for all vendors — even those that don't pay us.