What is the best marketing CRM for your business?
The majority of business initiatives revolve around efforts to keep customers happy, retain clients, and attract new ones. Winning the business of customers can lead to more profit for an organization and is thus a critical component of its success.
Marketing customer relationship management (CRM) software supports the tasks and processes that enable organizations to maintain positive relationships with their clients.
Read on within this guide to learn more about how marketing CRM software benefits organizations and businesses and the best marketing CRM solutions available in 2023. 
Top Marketing CRMs
Keep your marketing efforts successful and organized with these powerful CRM tools. Explore the best marketing CRMs to find the right fit for your team.
| | | | | | | |
| --- | --- | --- | --- | --- | --- | --- |
| Product | Marketing automation | Sales & Reporting Analytics | Lead Pipeline Management | Sales Automation | Contact Management | Quote Generation |
| Pipedrive | Moderate | Moderate | Advanced | Moderate | Moderate | Yes |
| HubSpot | Advanced | Advanced | Advanced | Advanced | Advanced | Yes |
| ClickUp | Basic | Moderate | Moderate | Moderate | Moderate | No |
| Less Annoying CRM | Basic | Basic | Basic | Basic | Basic | No |
| Keap | Moderate | Moderate | Moderate | Moderate | Moderate | Yes |
| Salesforce | Advanced | Advanced | Advanced | Advanced | Advanced | Yes |
| Zoho CRM | Advanced | Advanced | Advanced | Advanced | Advanced | Yes |
Pipedrive: Best for sales
Pipedrive is a cloud-based CRM software known primarily for helping salespeople have visibility into their sales processes. The software offers pipeline management, activities, goal setting, forecasting, sales reporting, and email integration capabilities. Users can find helpful documentation on Pipedrive and how to use it through its library of educational resources, including its own Pipedrive Academy.
READ MORE: Work[etc] vs. Pipedrive
Pipedrive pros and cons
Pros
User-friendly interface
Highly customizable
Advances reporting and analytics
Cons
Lacks built-in marketing features such as landing page builders and advanced email campaign management
Dependency on third-party integrations
Steep learning curve for advanced features
Pipedrive key marketing features
Drag-and-drop email editor
Auto-delay email marketing option
Email performance tracking
Pipedrive pricing
Essential: $14.90/user/month
Advanced: $24.90/user/month
Professional: $49.90/user/month
Enterprise: $99/user/month
Why we chose Pipedrive
Pipedrive emerged as a top choice for its robust marketing automation tools. With Campaigns by Pipedrive, users can automate sales and marketing strategies in an all-in-one, user-friendly tool.
The Campaigns tool features a drag-and-drop email editor that is intuitive enough for beginners, allowing sales teams to create email designs without HTML knowledge. 
To ensure email campaigns are not executed too slowly or too quickly, Pipedrive provides an auto-delay option within Campaigns so teams can space out mass marketing emails. 
Users can also track email performance using the tool to increase deliverability rates and discover what messages resonate with their audience in order to compose more responsive emails.
HubSpot: Best for scalability
HubSpot is an all-in-one inbound marketing, aisles, and customer service platform designed to help businesses "attract, engage, and delight" customers, according to its advertising. The platform is comprised of six main "hubs" or modules:
Marketing hub
Sales hub
Service hub
Customer service management (CSM) hub
CRM
Operations hub
All hubs can be used individually or combined to create an integrated platform. Catering to growing companies of all types, HubSpot's modules can be bundled or purchased separately as businesses grow.
READ MORE: HubSpot vs. Marketo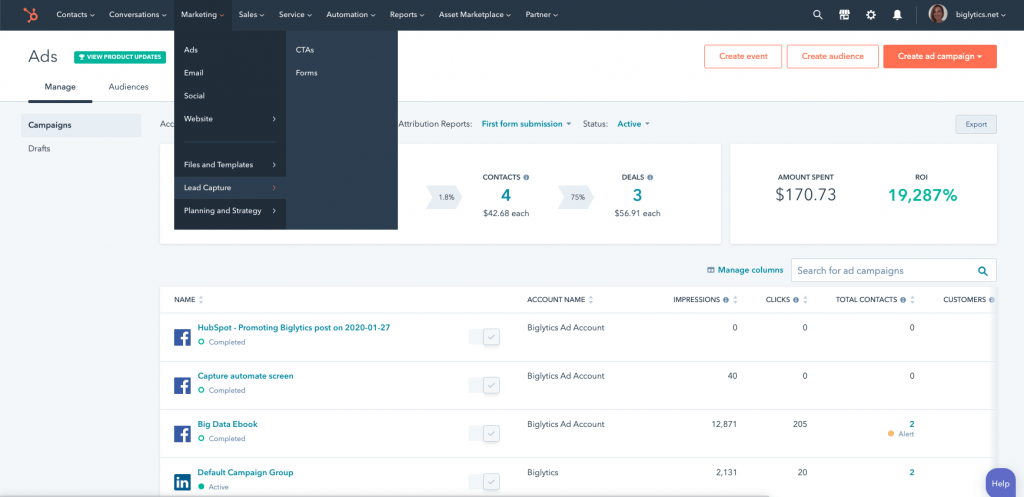 HubSpot pros and cons
Pros
Comprehensive marketing toolset
Ease-of-use
Inbound marketing focus
Cons
High cost for Professional marketing hub.
Limited sales and CRM features within the marketing hub
Limited advanced automation compared to dedicated marketing automation platforms
HubSpot key marketing features
Powerful analytics and reporting
Social media management
Advanced personalization and marketing tools
HubSpot pricing
Free plan: $0/user/month
Starter Marketing Hub: $18/user/month
Starter CRM suite: $30/user/month
Professional Marketing Hub: $800/user/month
Why we chose HubSpot
The platform's Marketing Hub has several standout features that make it a popular choice for sales and marketing teams and a top contender on our list. A wide range of marketing activities are included, from social media management to SEO, lead generation, and analytics. The extensive feature set allows businesses to execute their marketing strategies without needing additional tools.
Advanced personalization and targeting tools such as smart content and lists enable businesses to create highly targeted marketing campaigns and deliver personalized experiences to their audience.
As expected with one of the leading CRMs in the space, HubSpot delivers powerful analytics and reporting, allowing users to measure the effectiveness of their marketing campaigns from many angles.
ClickUp: Best for small businesses
While ClickUp is not designed specifically for marketing automation, its versatile features make it a valuable tool for marketing teams to manage projects, collaborate, and track projects. Given its main focus—project management and productivity—the platform offers plenty of features that can be utilized by marketing teams.
With ClickUp, users can create tasks, subtasks, and checklists to break down marketing projects into manageable pieces as well as assign tasks to members, set priorities, and establish deadlines.
READ MORE: Smartsheet vs. ClickUp
ClickUp pros and cons
Pros
View all marketing work in one place
Set and track marketing goals
Straightforward pricing
Cons
Not a dedicated marketing platforms
Limited automation capabilities
Limited reporting and analytics
ClickUp key marketing features
Task management
"Everything" view: Allows users to filter by dates, assignees, custom fields, and more
Workload and Box views: Manages team resources and work capacity
Mind Maps: Maps out and draws relationships between complex ideas
ClickUp pricing
Free plan: $0/user/month
Unlimited: $5/user/month
Business: $12/user/month
Business plus: $19/user/month
Enterprise: Contact sales
Why we chose ClickUp
The platform's visualization features add its many other robust tools, tipping it over the edge to become a top product in our list.
ClickUp offers various views such as List, Board, Calendar, and Gantt so marketing teams can visualize projects and tasks according to desired workflows.
Custom fields can be created for tasks to track specific information related to marketing projects, such as campaign budget, target audience, and performance metrics.
Less Annoying CRM: Best for startups
Less Annoying CRM (LACRM) is a simple CRM that has gained popularity in the last few years due to its easy-to-use dashboard, straightforward features, budget-conscious pricing structure, and excellent customer support.
Like ClickUp, LACRM is not a platform dedicated to marketing automation, but it includes all the essential tools needed for small to midsize marketing teams.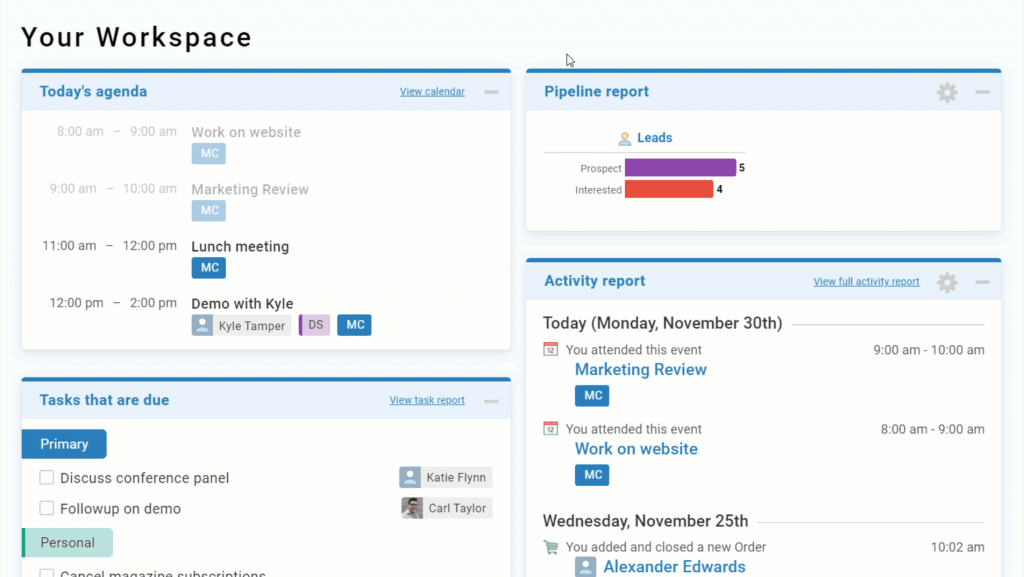 Less Annoying CRM pros and cons
Pros
Cost-effective pricing
Essential marketing features
Email and third-party integrations
Cons
Not a dedicated marketing automation platform
Limited advanced reporting capabilities
Lack of native integrations with a wide range of marketing tools
Less Annoying CRM key marketing features
Lead tracking and custom sales pipelines
Integration with Gmail, Outlook, and other email services so users can log email communication with contacts
Calendar integration
Custom reports that analyze marketing data
Less Annoying CRM pricing
Why we chose Less Annoying CRM
LACRM offers a crash course in CRM for new users and small businesses. Because its incredibly intuitive interface that doesn't compromise on any essential CRM features, LACRM finds its rightful place as one of our top marketing CRM picks.
Users can manage contacts, leads, and customers in a centralized database with LACRM, and custom fields can be added to store specific information related to marketing efforts, such as lead source, industry, or preferences. The platform also provides basic task management and lead tracking, and lets users schedule marketing events, meetings, and appointments through its Calendar feature.
A critical feature for marketing teams, LACRM facilitates collaboration between members by enabling the sharing of contacts, tasks, and notes.
LACRM can also be integrated with several email platforms, helping centralize communication and maintain a record of interactions with leads and customers.
Keap: Best for customization
With 13.19% of CRM market share, Keap is a prominent player in the space. And, it is particularly well-suited for marketing purposes as it offers a considerable set of automation features geared toward commerce. It has emerged as an attractive choice for small businesses seeking a comprehensive CRM for several reasons.
A key advantage of Keap is its seamless integration of marketing and sales data, facilitating audience segmentation and targeted marketing efforts. This integrated approach creates a comprehensive view of customers, making it easier to address their specific needs and preferences.
READ MORE: Top 5 Keap Alternatives and Competitors
Keap pros and cons
Pros
Zapier integration with more than 4,000 apps
All-in-one solution
Lead scoring
Cons
Limited built-in SEO tools
Limited native social media integration
Keap key marketing features
Automated text and email lead follow-up
Easy-to use landing page builder
E-commerce capabilities manage online stores, process payments, and track inventory
Keap pricing
Pro: $149/user/month
Max: $199/user/month
Why we chose Keap
Keap offers a robust marketing automation system so users can create custom and automated workflows and ensure timely and targeted delivery of messages.
Additionally, Keap provides an extensive email marketing platform complete with customizable templates, responsive design, and detailed analytics to monitor campaign performance.
The platform's landing page builder can create professional, conversion-optimized pages, which are crucial for capturing leads and driving sales. The lead scoring functionality automatically ranks and prioritizes leads based on engagement levels and potential value, helping businesses identify high-quality prospects and allocate marketing resources more effectively.
Salesforce: Best for enterprises
Salesforce is widely recognized as one of the leading CRM solutions, offering a wide range of tools for every aspect of a business from payroll to finance and sales. With an all-encompassing suite of apps available, Salesforce can meet the needs of any organization, whether it is in-depth analytics or a fully-automated and customized sales pipeline. Of course, such a robust set of features comes at a price–and a significant one at that. That is why Salesforce is primarily geared toward enterprise level businesses. However, the platform is offered at several price tiers, so potential buyers can find a plan that works for them.
Salesforce pros and cons
Pros
AI-powered "Salesforce Einstein" offers predictive lead scoring, audience insights, and recommendations for marketing optimization
Integration between marketing tools and core CRM platform
Highly scalable and customizable
Cons
Steep learning curve, complexity of integration and customization
Cost
Limited design options
Frequent updates
Salesforce key marketing features
Salesforce Marketing Cloud
Journey builder: Allows users to create and manage personalized customer journeys
Email Studio: Includes advanced features like automation, personalization, and A/B testing
Social Studio: Manages social media marketing efforts
Audience Studio: Data management platform that collects, segments, and analyzes customer data
Salesforce pricing
Contact Salesforce for a quote
Why we chose Salesforce
When it comes to marketing, Salesforce shines due to its extensive suite of features and tools designed to help businesses streamline their marketing efforts and maximize return on investment. One of the biggest advantages of Salesforce CRM is its powerful marketing automation capabilities, which enable businesses to create and manage sophisticated, multi-channel campaigns with ease.
The platform's built-in email marketing tools and customizable templates give users the freedom to craft personalized and targeted messages for their audience, ultimately driving better engagement and conversion rates.
READ MORE: SugarCRM vs Salesforce Comparison (2023)
Zoho CRM: Best overall
Zoho has gained a positive reputation as a cost-effective CRM solution for small to medium-sized businesses. It offers a diverse array of marketing features and tools, making it a popular solution for businesses aiming to enhance their marketing strategies.
One of the standout features of Zoho is its marketing automation capabilities, which allow businesses to create, execute, and manage multi-channel marketing campaigns. This saves time and resources while ensuring that marketing efforts are consistently targeted and effective.
Some of the core features of the platform include a comprehensive email marketing complete with customizable templates, performance tracking tools for marketing campaigns, social media management, and lead scoring.
READ MORE: Zoho vs. Really Simple Systems
Zoho pros and cons
Pros
Cost-effective
Comprehensive suite
Integration with other marketing tools and platforms
Cons
Limited social media management
Slower customer support, according to reviews.
Advanced automation limitations
Zoho key marketing features
Zoho Marketing Automation: Create, execute, and manage multi-channel marketing campaigns
Email marketing
Lead management
Custom webforms
Marketing analytics
Zoho pricing
Standard: $14/user/month
Professional: $23/user/month
Enterprise: $40/user/month
Ultimate: $52/user/month
Why we chose Zoho
Zoho shone through with its comprehensive suite of marketing tools, user-friendly interface, and seamless integration across various business functions.
One of the key reasons Zoho is favored by many businesses is its affordability and scalability, making it an accessible option for businesses of all sizes. With a range of pricing plans and customization options, Zoho can adapt to meet the needs of most organizations.
CRM software common features and functions
Data management
Organizations often use marketing CRM software to take care of customer relationship management for their businesses. Therefore, they likely have multiple customer and business data sources, like online product ratings, customer service request frequency, and more. CRM software systems should take the hassle out of organizing this data for its users. Tools with data management features can automate the data collection process and store relevant data in accessible locations for easy utilization. Some software can even organize lead prospects into categories based on their interactions to help with lead generation and lead nurturing.
Marketing CRM analytics
Once data has been collected and organized, users still need to process it in a way that enables their business to gain actionable insights. Marketing CRM software with analytics can use organizational data to provide visibility into users' marketing efforts and produce information that furthers their understanding of customer relationships. Users can then apply this knowledge to future business plans and marketing content production. For example, users can analyze their customer relationship data related to their digital campaigns to measure their performance. With marketing CRM analytics, each decision that users make regarding their marketing initiatives will be backed by data insights and can help them facilitate positive customer interactions.
Workflow management and automation features
Many CRM software solutions contain workflow management features that eliminate repetitive or redundant tasks for users. For example, organizations can configure customizable workflows that automatically trigger actions in response to specific events. As a result, automated workflows can keep teams on track and speed up work processes. This feature also reduces unnecessary tasks for workers, allowing them to dedicate their focus toward more pressing matters and minimizing their workload to reduce the likelihood of burnout. Additionally, automated emails can facilitate a constant connection with customers, taking up little-to-no user effort.
Campaign development features
Marketing CRM software solutions usually contain campaign development features. Workers no longer need to utilize third-party planning tools to manage their future campaigns, as these systems have everything they require to create, customize, and implement advertisements for organizations' products and services. This feature can help users maintain their customers and process leads. Additionally, campaign development features also make it easier for teams to visualize and identify the status of their clients and leads throughout their sales pipeline.
Marketing templates
Marketing campaigns can involve various types of advertising methods. Popular methods can involve marketing through email engagements, social media posts, web pages, and more. CRM solutions make it easier to develop these advertisements through marketing templates. Additionally, many of these tools provide marketing templates that are highly customizable, so organizations can create ads that contain their unique information and set them aside from competitors. Some of these tools even include SEO features to provide users with suggestions for implementing language into their ads, making them more likely to be discovered via online search engines.
Integrations
A significant aspect of marketing CRM software solutions would be their ability to integrate with other tools. For example, a CRM system that supports integration with social media platforms can make it possible to develop marketing methods and schedule them to be posted at predetermined times. Integrations with social media and other business software systems can also allow CRM systems to gather and analyze essential data from various data sources and process them to provide actionable insights regarding marketing activities.
CRMs are not 'one size fits all'
There are various types of CRM software systems that work in different ways to enable organizations to improve and maintain their customer relationships. Ultimately, the decision of which marketing CRM is best for your business should be dictated by your organization's specific needs.
All solutions on the market today use automation to streamline tasks and automate repetitive responsibilities related to customer relationship maintenance. These aspects of CRM technology can enable users to spend their time on more critical work processes. However, there are factors to marketing CRM software that distinguishes it from other CRM technology forms.
While marketing CRM software uses automation to simplify work processes and repetitive tasks, it also helps users organize their audience data and gain insights into ways to advertise their products and services to attract business. These software systems are often utilized by customer service, marketing, and sales teams. They can enable users to easily track and manage their communications with their clients and the public, and many systems provide analysis features to explore relationships and trends within their consumer datasets. After analyzing the data, CRM marketing systems can then provide insights to users, benefitting them by enabling them to better understand their audience and make informed data-driven decisions.
Methodology
At TechnologyAdvice, we assess a wide range of factors before selecting our top choices for a given category. To make our selections, we rely on our extensive research, product information, vendor websites, competitor research and first-hand experience. We then consider what makes a solution best for customer-specific needs.
For our Best Marketing CRM Software of 2023 list, we looked at 30 options before whittling them down to the eight that cover all marketing needs for startups all the way up to enterprises.
---
FAQs
Why do businesses need a marketing CRM?
Marketing CRM software uses automation to simplify work processes and helps users organize their audience data to gain insights into ways to advertise products and services.
How do I choose the best CRM marketing solution?
Consider the specific needs of your business when choosing the best CRM marketing solution. Is your organization scaling quickly? Is budget the main factor? Do you need to organize your sales pipeline? Analyzing these and other factors throughout the decision-making process will ensure you choose a CRM that is tailored to your individual needs and goals.
---
Featured Partners
1

Quickbase, Inc.
Big ideas aren't simple to execute. So we're here to help you tackle any project, no matter how complex. We're Quickbase.

Quickbase helps customers see, connect and control complex projects that reshape our world. Whether it's raising a skyscraper or coordinating vaccine rollouts, the no-code software platform allows business users to custom fit solutions to the way they work – using information from across the systems they already have.
2

Salesforce CRM
Connect your entire company – every team, app, workflow, and data source – on one unified CRM platform. Salesforce brings companies and customers together. The near-endless customization, extendability, and scalability of the Salesforce platform make it a great tool for businesses of all sizes. Over 150,000 companies, both big and small, are growing their businesses with Salesforce.
3

HubSpot CRM
HubSpot is an intuitive CRM that makes managing your sales pipeline a breeze. Everything you need to track important metrics, set up time-saving flows and automations, manage clients seamlessly, and grow your business is available in one tidy dashboard. Plans are available for businesses at every stage of growth, starting at 100% free. Start taking the guesswork out of business management today with HubSpot CRM.
Technology Advice is able to offer
our services
for free because some vendors may pay us for web traffic or other sales opportunities. Our mission is to help technology buyers make better purchasing decisions, so we provide you with information for all vendors — even those that don't pay us.