Business growth depends on sustainable and thoughtful relationships made with the right customers. Implementing the right customer relationship management (CRM) solution can increase profits, reduce costs, and foster brand loyalty.
SugarCRM and Salesforce are industry-leading, feature-rich CRM solutions that assist businesses with automating their sales, marketing, and customer service operations.
SugarCRM vs Salesforce: Which is better?
| | SugarCRM | Salesforce |
| --- | --- | --- |
| Lead management | Visualize leads by status; Use SugarPredict AI to identify potential customers; Convert successful leads into contacts easily. | All editions deliver sophisticated lead management, lead assignment and routing, duplicate blocking, and web-to-lead capture. |
| Contacts management | Provides a hub for tracking, viewing, and continuing interaction with contacts. | Get a complete view of all customer history, communications, and account details. |
| Pricing (per user/month) | The base Sell Essentials option requires a minimum of three users, starting at $49. The highest end Sell Premier choice maxes out at a per seat cost of $135. | Basic functionality for smaller teams is available for $25, while more customizable packages are available with a significant increase in cost. |
| Add-ons | SugarOutfitters Marketplace provides access to a large library of add-ons to manage functionality like Outlook 365 integration, custom survey templates, BI plugins, and more. | Salesforce AppExchange provides access to add-ons that help with Outlook 365 integration, business intelligence, embedded analytics, data security, and more. |
Salesforce: Better for lead management
The maturity and sophistication of Salesforce's lead management functionality is second to none. Salesforce promises to make it easy for sales teams and marketing teams to communicate, taking a potential lead from prospect to closed in a faster and more efficient way.
View the impact of marketing activities across all channels easily.
Assign the right sales reps to converted leads.
Trailblazer Community offered as a guide for learning steps to effective lead management and getting the most from your leads.
Key features of Salesforce lead management include web-to-lead record generation and auto response, duplicate lead blocking, lead assignment and routing, and marketing campaign management.
Salesforce: Better for contacts management
While SugarCRM treats contacts management as a sort of database of demographic and account details for each customer, Salesforce takes that base functionality and extends it to give a deeper and more meaningful view.
Collaboration features allow various team members across an organization to share insights, internal account discussions, and relevant documents for every contact.
Use social content feeds to get an understanding of what your contacts are saying about your products or services, allowing for proactive customer service.
Salesforce: Better for pricing
For smaller businesses with limited budgets, the lower per-seat cost for SugarCRM may seem appealing, but the most basic package is nearly double the price of the entry-level option for Salesforce Sales Cloud. That said, better pricing doesn't mean less expensive when you factor in setup and implementation costs.
No per-seat minimums like those required by SugarCRM.
Detailed edition comparison makes it easy to see which package will meet the needs of your organization.
Accessing features that are only available in higher-end subscription plans comes with a significant price increase.
All subscribers can access the Salesforce Standard Success Plan for customer support, but expert guidance and 24/7 support are only available with additional fees.
SugarCRM and Salesforce: It's a tie for who is better for add-ons
SugarCRM SugarOutfitters Marketplace and Salesforce AppExchange both provide access to significant libraries of add-ons to support the needs of businesses. Various categories of integration and functionality are well represented within each add-on library, so it's important to browse both to ensure compatibility with any existing applications used by your organization.
SugarCRM and Salesforce also offer APIs and standard protocols to integrate any external applications.
SugarCRM vs Salesforce: A detailed comparison
Forecasting
Being informed is the key to making quality business decisions. Forecasting offers a comprehensive view of your entire pipeline, tracking sales predictions and identifying potential risks to timelines and expected revenue. Both Salesforce and SugarCRM have powerful solutions in this field.
| | SugarCRM | Salesforce |
| --- | --- | --- |
| Automated alerts | Yes | Yes |
| Rep performance tracking | Yes | Yes |
| Trend identification and monitoring | Yes | Yes |
SugarCRM
SugarCRM provides out-of-the-box forecasting that uses real-time data on metrics like likelihood to buy, likelihood to drop out, and the seriousness of seller commitments.
Salesforce
Salesforce analyzes real-time data with similar metrics to SugarCRM but narrowly edges out SugarCRM with additional customization options.
Which to choose for forecasting?
Salesforce. Here's why: Salesforce sets itself apart in the forecasting arena with a considerable knowledge base and training on the subject. Beyond a comprehensive and customizable reporting dashboard, Salesforce understands that it's not just about the data: your sales leaders need education to make informed decisions, adjust proactively to sales and support strategies, and ensure budgets are spent wisely.
Mobile app
| | SugarCRM | Salesforce |
| --- | --- | --- |
| iOS, Android, and mobile browser compatibility | Yes | Yes |
| Offline mobile functionality | Yes | Yes |
| Integrated maps with route planning and navigation | Yes | Yes |
| Voice control functionality | Yes | Yes |
| Mobile team collaboration | Yes | Yes |
SugarCRM
The SugarCRM mobile app is a full-featured way to access your customer, sales, and marketing information from any device.
Salesforce
Using the Salesforce mobile app, productivity and portability remain at the front of the process. Mobile connectivity is a key for any sales team, and each of these solutions offers a substantial number of features and functionality via their respective apps.
Which to choose for mobile app usage?
It's a tie. Here's why: SugarCRM and Salesforce both provide mobile apps that extend your data and CRM functionality. Road warriors have access to maps and navigation, hands-free voice controls, and offline sync in case network access isn't available.
Marketing automation
Marketing automation allows businesses to target customers with automated messages sent by email, web, social media, and text. Well-designed marketing automation handles repetitive tasks, giving team members time to address more skilled tasks.
| | SugarCRM | Salesforce |
| --- | --- | --- |
| Campaign management dashboard to define, schedule, measure, and evaluate results | Yes | Yes |
| Lead nurturing, scoring, and management | Yes | Yes |
| Analytics and reporting to adjust and plan campaigns | Yes | Yes |
| Geofenced, location-based marketing | No | Yes |
SugarCRM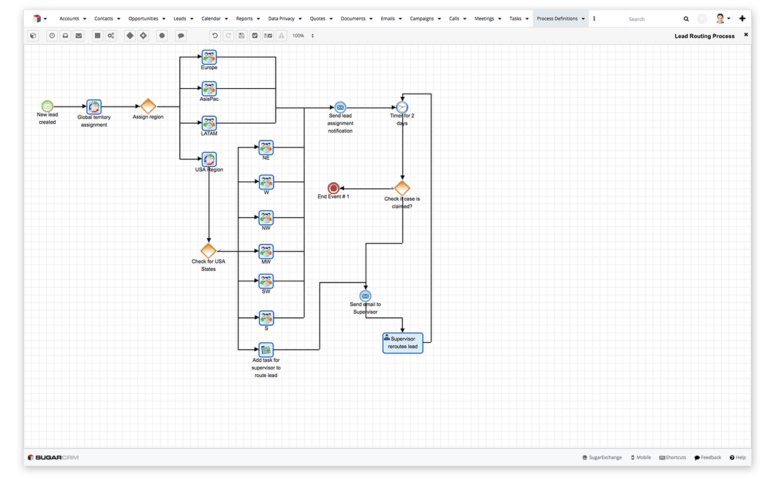 SugarCRM Sugar Market facilitates the creation of content and marketing campaigns, supports collaboration between sales and marketing teams, and tracks customer behaviors.
Salesforce
Like SugarCRM, the Salesforce Marketing Cloud team understands that the best marketing campaigns are those that are ever-evolving and refined.
Which to choose for marketing automation?
Salesforce. Here's why: Both CRM vendors understand that meaningful marketing campaigns need to reach the right person at the right time. Salesforce Marketing Cloud narrowly edges out SugarCRM Sugar Market due to its geofenced, location-based marketing functionality. By taking personalization to the next level, geofenced content can target contacts as they enter specific physical geographical areas.
The potential is limitless: advertise your services while contacts visit leading competitors, deliver coupons or reminders at moments when it matters most, or even pause content when it's clear customers are on vacation.
SugarCRM vs Salesforce: Ready to choose?
SugarCRM and Salesforce are both customer favorites in the CRM market, offering a variety of sales, marketing, and customer service functionalities to users. Choosing between them comes down to the needs and structure of your business.
SugarCRM is built on an open-source foundation, leaving room for significant customization and personalization. This architecture makes SugarCRM ideal for businesses that are either looking for set-it-and-forget-it basic implementations at the enterprise level or those that have in-house developer talent (especially because phone support with SugarCRM is only available for a fee).
Salesforce has a reputation as a formidable leader in the CRM industry, with all the development and support resources you would imagine accompany a brand that occupies the largest skyscraper in San Francisco. The Salesforce platform is well-supported and established, but contrary to SugarCRM's open-source approach, users have little control over deployment and development efforts.
The price tag for Salesforce is higher, but it offers numerous ancillary module options that extend to contract management, product management, and customer service case management.
Neither platform is for novices, and both have been accused of having steep learning curves. Whichever your choice, be sure to budget for the training courses offered by Sugar University and Salesforce University so you can make the most of your investment.
If it doesn't sound like SugarCRM or Salesforce will meet your business needs, check out our CRM Software Buyer's Guide for additional options.
---
1

monday Sales CRM
monday sales CRM is the customizable, no-code CRM that allows you to control your entire sales funnel and close more deals, while simplifying communication and collaboration. Automate manual work, capture and import leads, and centralize deal and contact info, all in one place.
2

HubSpot CRM
HubSpot is an intuitive CRM that makes managing your sales pipeline a breeze. Everything you need to track important metrics, set up time-saving flows and automations, manage clients seamlessly, and grow your business is available in one tidy dashboard. Plans are available for businesses at every stage of growth, starting at 100% free. Start taking the guesswork out of business management today with HubSpot CRM.
3

Zoho CRM
Fully-customizable Zoho CRM provides unified solutions for businesses of all types and sizes. Conduct your Sales & Marketing analytics to gain insights using Dashboard views and Automate your daily routines. Customize your CRM theme based on your industry needs using Canvas, Omnichannel communication for streamlined communication between teams and customers, handle customer support from within the platform to improve customer relationships. Get Started with Zoho CRM now!
Technology Advice is able to offer
our services
for free because some vendors may pay us for web traffic or other sales opportunities. Our mission is to help technology buyers make better purchasing decisions, so we provide you with information for all vendors — even those that don't pay us.