When you compare any sales or marketing software, Salesforce always comes up in the conversation. Salesforce has earned its place as market leader in smarketing and service tools through constant innovation and growth, as well as really good customer service that also works as brand recognition. And yet, Salesforce is by no means the only CRM software out there. One of its major competitors as far as price and extensibility is SugarCRM. These two tools have been battling to dominate the CRM market since the early 2000's, and the SugarCRM vs. Salesforce battle rages on because both tools are just that good.
Also Read: Which CRM is Right for You? 
SugarCRM has grown to a major force in the CRM market, despite coming along about 5 years after Salesforce. What set SugarCRM apart for many companies was its open source Community version. This version let companies use the product free of charge as long as they had available development talent. Unfortunately, the Community version of SugarCRM hasn't been supported since 2013, but the company set PurePrice, which gave defined structure to the versions of the CRM available.
Both SugarCRM and Salesforce are highly flexible and nearly infinitely customizable, but they both require a dedicated developer or team who can work directly on the product to full expand all of the features. Both companies make it really easy to start learning the product with support and training–most of which is self-guided, as in the case of Salesforce's Trailhead. This means that the team has to either have an existing IT department with resources to help extend the tools or the resources to hire help.
Of course, neither SugarCRM nor Salesforce is the only option for flexible and extensible CRM software. If neither of these have what you're looking for, or you're still looking around, visit our Product Selection Tool or click on the image below to get free reviews, recommendations, or to compare tools.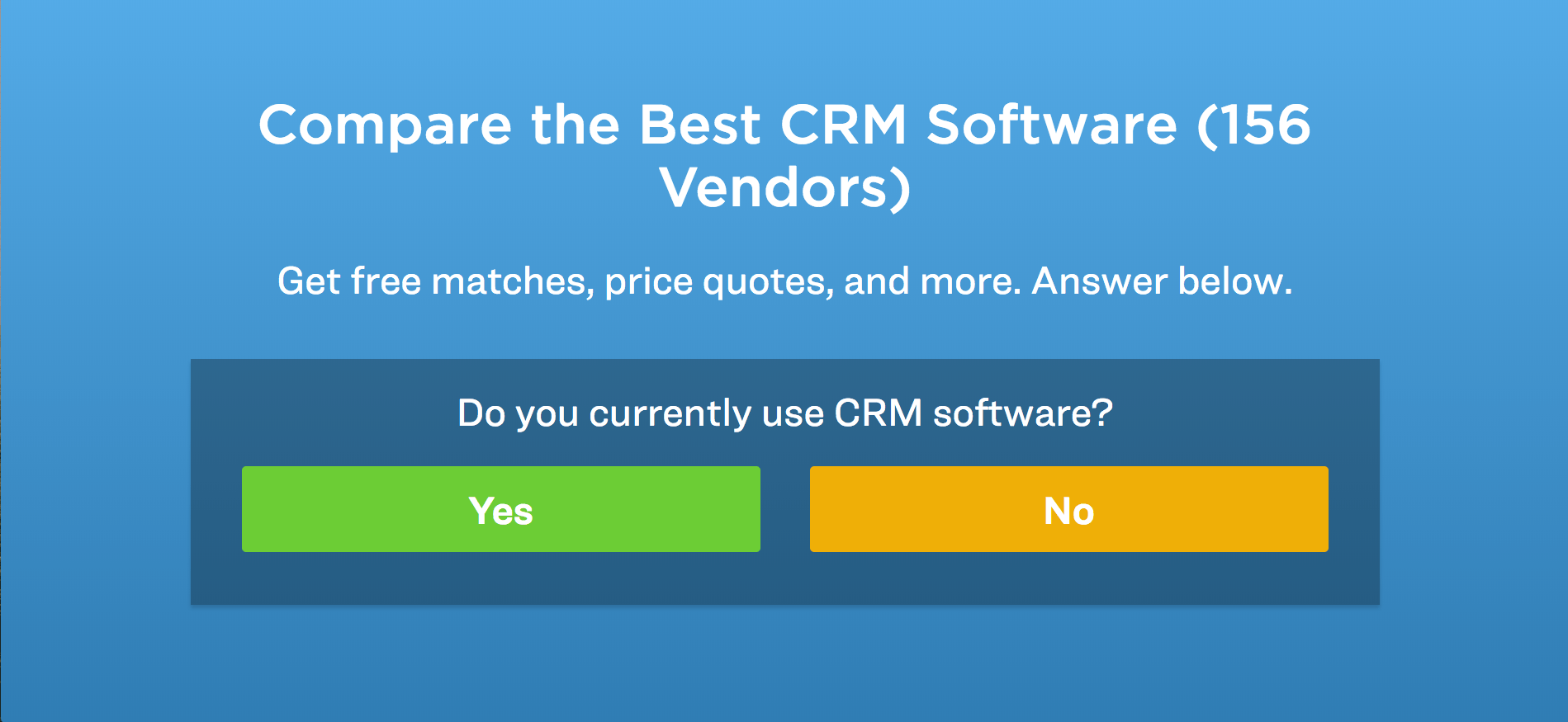 SugarCRM vs. Salesforce: Interface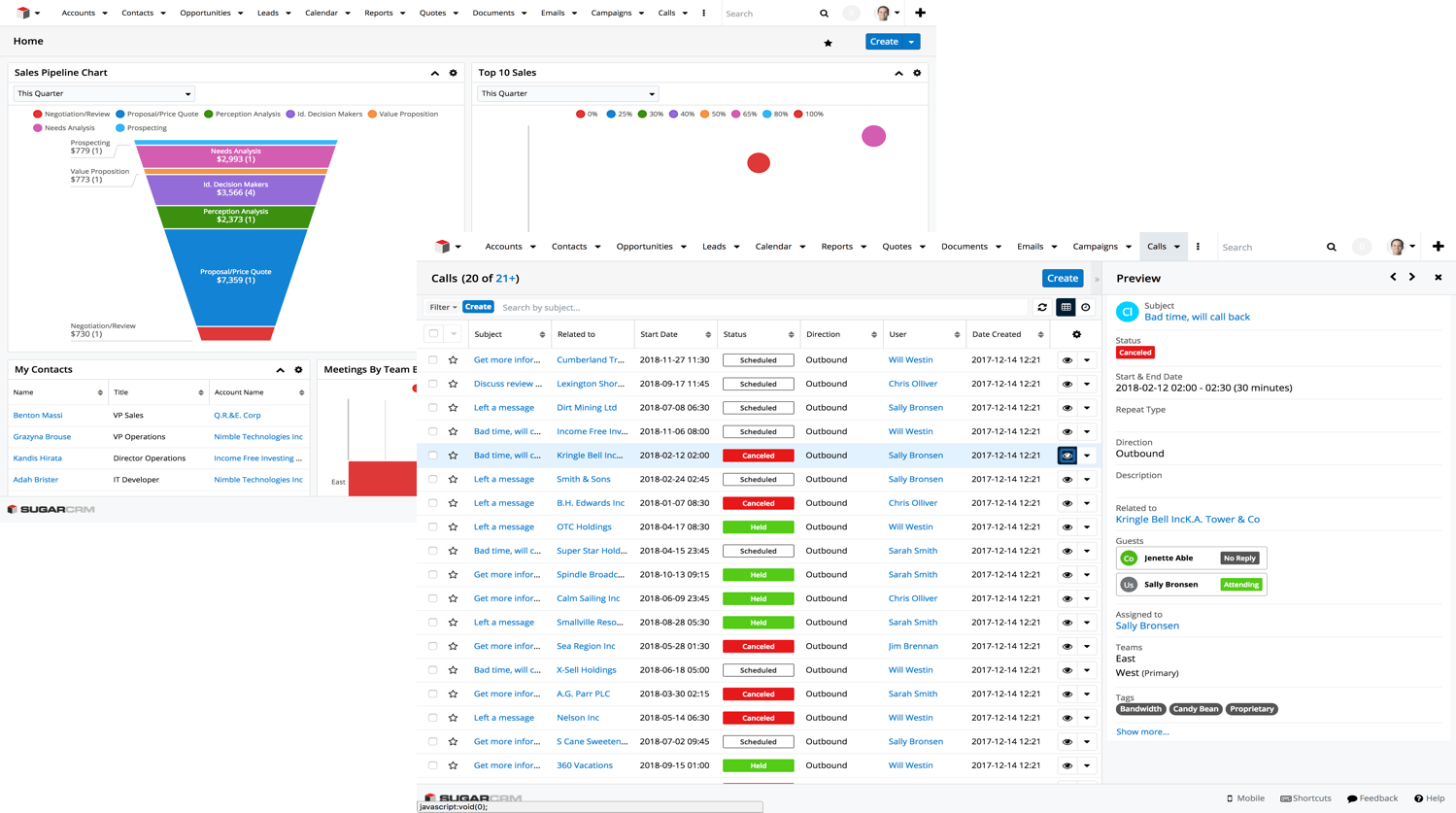 SugarCRM's latest interface was released in Winter 2018, and features a clean white interface that is flexible and can show a lot of different sales, marketing, and service information right from the dashboard. Find your updates and messages right on the home screen in the activity stream. Easily update your contacts with a pop up over the screen, which means you don't have to leave your current work to update. Best of all, your screen divides into multiple sections that each contain their own stream of information.
SugarCRM tries to be everything to the sales, marketing, and customer service teams, and so has a lot of different and complementary sections for a smarketing team, small business, or even enterprise where sales, marketing, and support work closely. With all of these tools, SugarCRM isn't beautiful, but it's functional.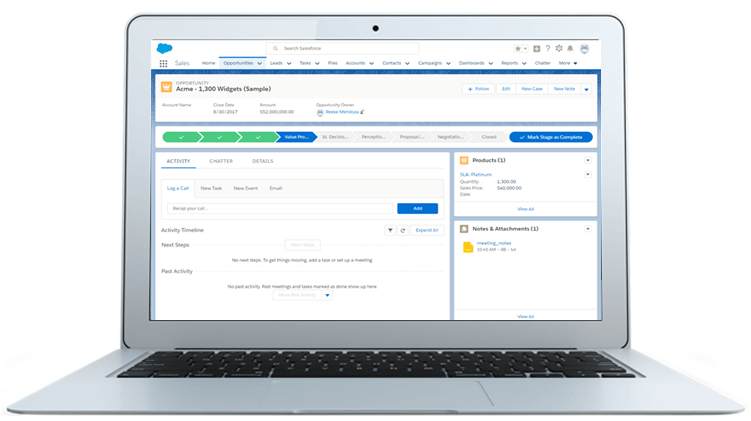 The Salesforce Lighting interface is clean and easier on the eyes than Salesforce Classic. Since it was released in summer 2017, Lightning has been the standard interface for many teams–most of whom haven't looked back. The interface is clean and easy on the eyes, with a subtle topographical map design in the background. Lightning is easily extensible with powerful features like the Einstein AI, although to get the full Einstein experience you'll have to pay monthly.
Salesforce also has a bunch of different types of platforms that all work in concert: sales, service, marketing (B2C and B2B with Pardot), communications, ecommerce, and platform as a service for apps. All of this connects quickly and comes available as add-ons to your main plan. That's all great, but it can quickly add up to a lot of money a month.
Connections: The C in CRM
Ok, so the C in CRM is really customer, but one of the most important parts of a CRM is how it manages your contacts, what information it stores about your customers, and how it connects all of those human pieces together. The differences for SugarCRM vs Salesforce really center around how they provide teams with connections and discovery.
SugarCRM gives you sophisticated customer insight including full customer histories, hierarchies, and coverage, and it also gives you notifications for upcoming scheduled customer interactions. Advanced filtering features to let you segment and contact your customers according to tags, products, or any other filters. Users can email or call directly from within SugarCRM with Gmail or Outlook integrations and telephony right from the computer desktop.
Sales and marketing teams that are really into customer information discovery (so, everyone?) will be impressed with Hint by SugarCRM. This optional add-on gives lots of extra information about contacts with just a few form fields. SugarCRM calls this relationship intelligence, but really the app fills in the rest of the information that you would otherwise have to spend time looking up. This is pulled from 3rd parties, the web, social media profiles, and from within SugarCRM's databases.
Salesforce is the go-to name for CRM these days, and for good reason. They have connected the customer relationship rolodex with the full funnel: sales, marketing, and service. Track all the touches and customer interactions within the cloud-based app where users can update information and add comments to the activity history or chat with coworkers. Salesforce offers a fully-mobile and cloud-based app, so you can access all of this information from anywhere.
The Einstein AI is the major innovative selling point for Salesforce. While Salesforce won't go out and fill in data for your existing contacts, Einstein takes the data and processes you already deal with in Salesforce and notices trends and behavior patterns for both customers and your team. By identifying trends and patterns, Einstein can suggest faster workflows and sales opportunities that your team might otherwise have missed in the hustle.
Workflows

SugarCRM has workflow automations in the Ultimate and Enterprise editions. This is particularly cool because individuals can receive their notifications via email or web browser, even on the mobile app. The automated workflows is rules-driven and all processes can be audited for reliability with dashboards and insight tools.
Salesforce has stayed on the forefront of technology (and as the market leader, they pretty much have to in order to keep their position). One of the ways that they've been so successful in adding to their product is by acquiring companies and tailoring their product directly for Salesforce. This is the case for the Salesforce collaboration tool, Quip. Quip is a project management and workflow tool that integrates directly with Salesforce. Quip includes document management and workflow tools, but of course you'll pay for the upgrade.
Integrations and Tools
SugarCRM works within Microsoft Outlook and has a mobile app so the whole team can stay on top of their customer interactions from wherever they are. Use search functions within all the tools and use tags to organize custom information.
Some notable tools that SugarCRM integrates with out of their over 280 choices:
Telephony
Social media channels
GoToMeeting
Dun & Bradstreet customer insights
Cisco WebEx
Quickbooks
Sage
In addition to all of the ERP, CMS, financial, and customer support tools you can integrate with, if you can't find what you need, SugarCRM also has an API and an SDK for app builders who want to extend the service.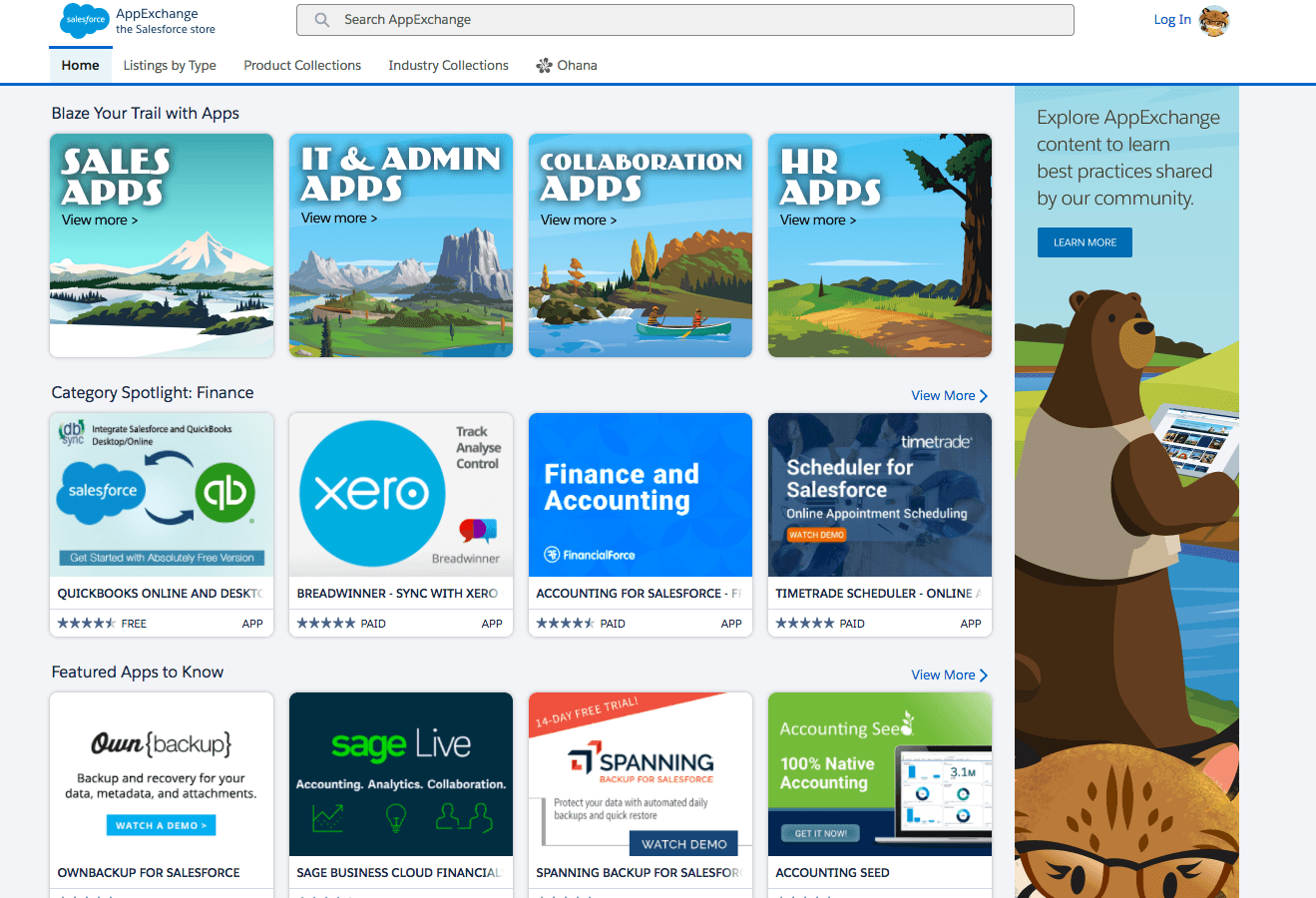 Salesforce AppExchange includes pretty much any type of app you could want, and a lot of software companies (like Quip and Heroku) have been brought on board the Salesforce ship in order to be better aligned with Salesforce. A visit to the AppExchange website is a little overwhelming, almost like visiting the Apple AppStore, but you can filter by product type, cloud type, or industry. Within the AppExchange you'll find free Labs apps that extend the usability of Salesforce, specialized integrations that perform specific Salesforce functions, and integrations that bring your HR software, ERP data, and lots of other data right into your Salesforce.
Support and Extras
For SugarCRM, support isn't really an extra, as they've got a wide variety of support tools in-app and accessible through the interface. Unfortunately, because the software originally developed as an open source tool, much of the documentation is in form format and highly technical. Those who purchase the Ultimate package can get full support with an account manager and everything.
SugarCRM gives all accounts a free customer-facing self-service portal where team members can add informational documents and users can contact support, and then all the conversations are linked to that user. You can also gain access to project management tools with Gantt charts so that the team only has to use a couple of pieces of software. As an added bonus, SugarCRM offers an on-premise version, which gives your team the access to all your own data even if you move to another tool, something you won't find with Salesforce.
Salesforce support is really helpful for learning the tools, and the Trailhead learning community is as widespread as the tool itself. Salesforce developers and power users that get really into using the tool can get certifications in a bunch of different specializations, which look really good on a resume.
Plus, Salesforce puts on a Dreamforce conference every year for users. Dreamforce is a huge conference that literally takes over San Francisco (like, they have to bring in cruise ships for people to stay in because all the hotels fill up) that's just for Salesforce users, app builders, developers, and companies.
Salesforce lives in the cloud, so your data is secure and protected from natural disaster, but you're going to have a hard time exporting to move away, if you ever choose to do so.
Conclusions
The battle of SugarCRM vs Salesforce rages on, with no end or clear winner in sight. Salesforce has the name recognition, the warehouses of swag to give away, and the loyal user base who've made careers learning and expanding on the tool, but SugarCRM gives Salesforce a run for its money in terms of usability and expansion.
SugarCRM is definitely the underdog in this pairing, if only because it has less name recognition. When it comes to features, pricing, and support, the two are fairly comparable. SugarCRM has done a lot of work to improve over the past couple of years, especially since closing work on their open source version–a move that could have killed off a less stable company.