A service level agreement (SLA) can be as simple as a slogan promise ("Always on time, or you don't pay a dime"), or as complicated as a 20-page business contract. In either case, the SLA carries a huge amount of influence over the service relationship. It helps the customer set reasonable expectations based on the provider promises, and holds the provider accountable to an agreed standard of performance.
The field service industry, in particular, has set the bar high for SLA compliance. A March report by Aberdeen suggests that average service companies have an 80 percent SLA compliance rate, and "top-performing" companies a 90 percent compliance rate. These companies aren't performing well because they're lucky, or because they have an army of drones at their disposal; they're performing well because they have the right tools and systems in place. Field service management software is one of the most effective ways to create and uphold SLAs that drive customer satisfaction.
If your company is still using manual tools and spreadsheets to manage operations, filing carbon-copy proofs of service, and re-keying data at the end of each day, you'll have a difficult time matching that level of effectiveness. Over three quarters of leading field service organizations (FSOs) have already graduated from paper-based workflows to field force automation.  
The Anatomy of an SLA
Before we explore the more technical aspects, let's define what an SLA actually is.
At a basic level, an SLA formalizes the provider/client relationship by defining terms of service (scope, speed, quality, etc.) and requiring both parties to consent. In the field service industry, SLAs commonly address work completion windows, asset warranties, and routine maintenance schedules, although this can vary from business to business.
"People are willing to wait for service as long as it's a reasonable amount of time, relative to the market," says Dan Ushman CMO at SingleHop. SingleHop is a cloud service provider credited with having one of the "best SLAs ever," which they refer to as a "Bill of Rights." Ushman says a good SLA ". . . moderates expectations and provides transparency between the customer and service provider."
And he's right. The SLA isn't just about when a technician's supposed to arrive; it serves as a mutual point of reference throughout the whole relationship. This is especially true for companies that have adopted a "servitization model," where advanced or extended service contracts are bundled into product sales (e.g. purchasing an HVAC unit with a built-in five-year service plan from the manufacturer).
SLAs can vary greatly between different trades within field service, but they generally operate on two levels:
Contract level: At the contract level, the SLA defines the nature of the relationship between provider and client. This may address preventative maintenance schedules, equipment warranties and obligations, and guidelines for legal dispute resolution. A clear contract will also specify repercussions if the provider should fail to comply with the SLA.   
Work order level: At the work order level, SLA compliance primarily involves meeting timelines and task requirements stipulated by each work order's priority level (e.g. a low priority level might allow five business days for completion, while a high priority work order might require same day service.
How FSM Software Makes it Easier
There are a number of ways that field service management software — through automated workflows, mobile workforce management, and data analytics — can help service companies comply with, and even exceed their SLAs
1) Write a better SLA in the first place
How did you arrive at your current SLA? Did you write it based on what other companies were doing? Based on what you thought customers would expect? Those aren't bad inclinations, but they aren't necessarily true to what your business can deliver. For starters, go back through the archived data in your FSM system and evaluate your main service metrics (work order duration, first-time fix rate, wait time, etc.). Use your findings to set SLA standards that challenge your technicians, but are still realistic.
2) Real-time visibility
FSM software provides real-time visibility into vehicle locations, job status, and technician performance. This tracking capability allows dispatchers and supervisors to monitor SLA compliance proactively, instead of reactively. For example, many solutions provide a map view that displays work order status and location, including which tasks or jobs are behind schedule, and which parts are needed for each job. Dispatchers can use this information to reroute or reassign technicians in order to prevent delays or inventory shortages.

3) Customer accountability
Many field service solutions incorporate online self-service portals, where customers can login and view the status of their requests. Whether they're a personal or business client, extending visibility to the customer puts them at greater ease about their service (think about how reassuring it is to track a postal delivery, for example). When possible, it's good to bring the customer in the loop on job status, deadlines, parts on order, or anything else that might pertain to their service request. Many customers still prefer to contact the technician or provider directly in the event of an unexpected delay.
4) Field service analytics
From assets, to technicians, job details, customer accounts, and geospatial trends — your FSM system is a rich source of data. Using the analytical tools often built into your field service software, you can mine this data for insights about productivity, job completion, and service bottlenecks, identifying the places where your SLA is at risk before customers have to complain about it themselves — or worse, you have to deal with a contract dispute. This company, for example, increased their on-time delivery and completion rates to almost 100 percent by implementing mobile workforce management software.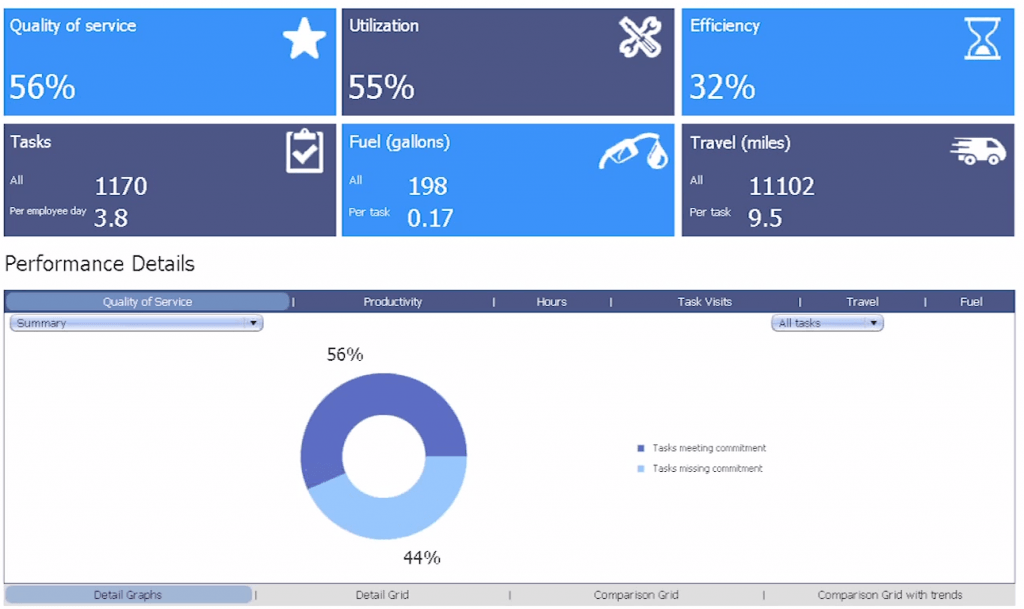 Conclusion
SLA compliance isn't just about hitting a benchmark or avoiding litigation. It's about delivering the quality of service that your customers expect. Played out on a broader scale, this is possibly more significant to your core business model than any other factor, so don't take it lightly. Set SLAs that delight and impress customers, but are still practical, given your resources.
Technology Advice is able to offer
our services
for free because some vendors may pay us for web traffic or other sales opportunities. Our mission is to help technology buyers make better purchasing decisions, so we provide you with information for all vendors — even those that don't pay us.