Not all work is done in a brick-and-mortar office. When the work you do is "in the field," it is important to have the right tools to support your employees and their efforts to provide quality service to your customers.
QuickBooks for field service management offers customizable, easy-to-manage solutions for companies that need to keep track of mobile field workers. The following field service management applications offer gold-certified, two-way synchronization compatible with Intuit QuickBooks.
Top QuickBooks Field Service Management Applications
Here are our top five field service management solutions that work well with QuickBooks:
| | | | | | | |
| --- | --- | --- | --- | --- | --- | --- |
| Software | Integration Level (basic, moderate, advanced) | Key Features | Free Trial? | Mobile App? | Customer Support | Online Booking |
| HouseCall Pro | Moderate | Customer management; Invoicing and payment processing; Scheduling and dispatching | Yes | Yes | Phone, email, live chat, help center | Yes |
| Jobber | Moderate | Client Hub; Scheduling and dispatching; Batch invoicing; Automated follow-ups | Yes | Yes | Phone, email, live chat, help center | Yes |
| FieldEdge | Advanced | Customizable reporting; Automated service agreements; Live dispatch board; Automatic job status updates | No | Yes | Phone, email, help center | No |
| Intuit Field Service Management ES | Advanced | Seamless QuickBooks Enterprise integration; Work order management; Real-time scheduling and dispatching; Inventory tracking; GPS-based mapping and routing; Time tracking | No | Yes | Phone, email, help center | No |
| Smart Service | Advanced | Advanced scheduling and dispatching; Inventory tracking and management; GPS tracking | No | Yes | Phone, email, help center | No |
HouseCall Pro: Best for small businesses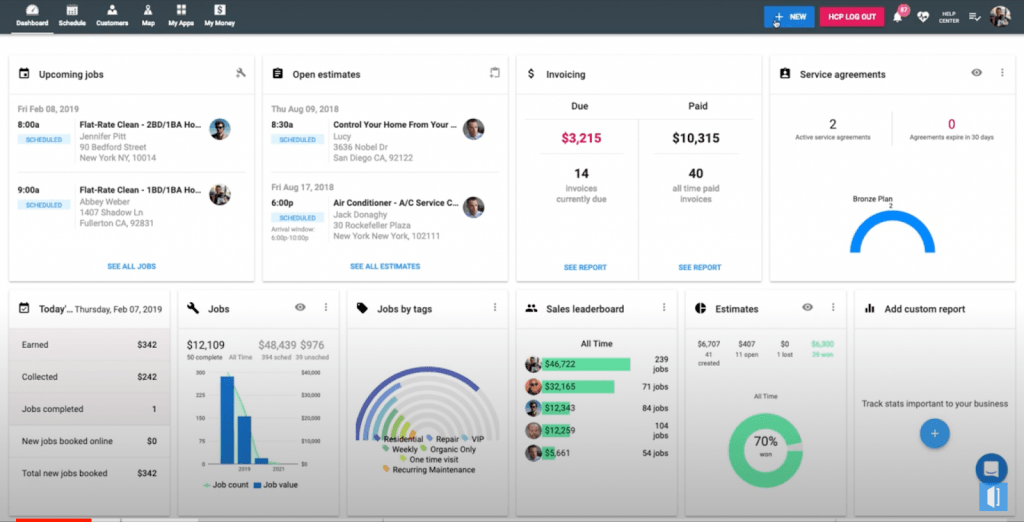 HouseCall Pro is a cloud-based field service management software designed to help small to medium-sized businesses across various industries streamline their operations and enhance customer experiences. With a user-friendly interface and comprehensive suite of features, HouseCall Pro enables service professionals to manage scheduling, dispatching, invoicing, payment processing, and customer communication, all from a single platform.
By connecting with QuickBooks, HouseCall Pro eliminates manual data entry and streamlines financial management, making it a valuable tool for service-oriented businesses.
Additionally, HouseCall Pro offers a powerful postcard and email marketing tool that aids businesses in generating leads and nurturing customer relationships. By providing in-depth reporting and analytics capabilities, HouseCall Pro equips businesses with the necessary insights to make data-driven decisions and optimize operations.
ALSO READ: Housecall Pro vs Jobber: Side-by-Side Comparison
Pros
Intuitive user face
Built-in payment processing options
Frequent updates
Cons
Limited customization options
Some features only available at higher-tiered plans
Limited in-depth analysis and reporting options
HouseCall key features
Customer management features maintain detailed customer records, track service history, and store essential information
Invoicing and payment processing capabilities streamline billing and offer customizable invoices
Scheduling and dispatching features enable businesses to optimize field operations and manage jobs, technicians, and customer appointments efficiently
HouseCall Pro pricing
Basic: $49/user/month
Essentials: $129/user/month
Max: Contact for quote
Why we chose HouseCall Pro
Among its standout features is the user-friendly scheduling and dispatching system, designed to enhance field operations efficiency. The platform's mobile app empowers field technicians to access crucial job details, update work order statuses, and communicate effectively with office staff while on the go.
Jobber: Best for user experience
Jobber is a software-as-a-service (SaaS) solution billed as "service scheduling software." It's built to manage technicians, visit scheduling, quoting, invoicing, and billing. Jobber works well for cleaning services, general contractors, landscaping/lawncare, and HVAC companies, but can be customized to fit just about any mobile service business.
Jobber claims to have "the best QuickBooks integration in the industry," which entails a simple, automatic set up, two-way syncing, payroll tracking, and invoices. Jobber also has its own built-in customer relationship management (CRM) module, which gives it an advantage over competitors with more job-focused products.
ALSO READ: Jobber Alternatives: 5 Of The Best Solutions For SMBs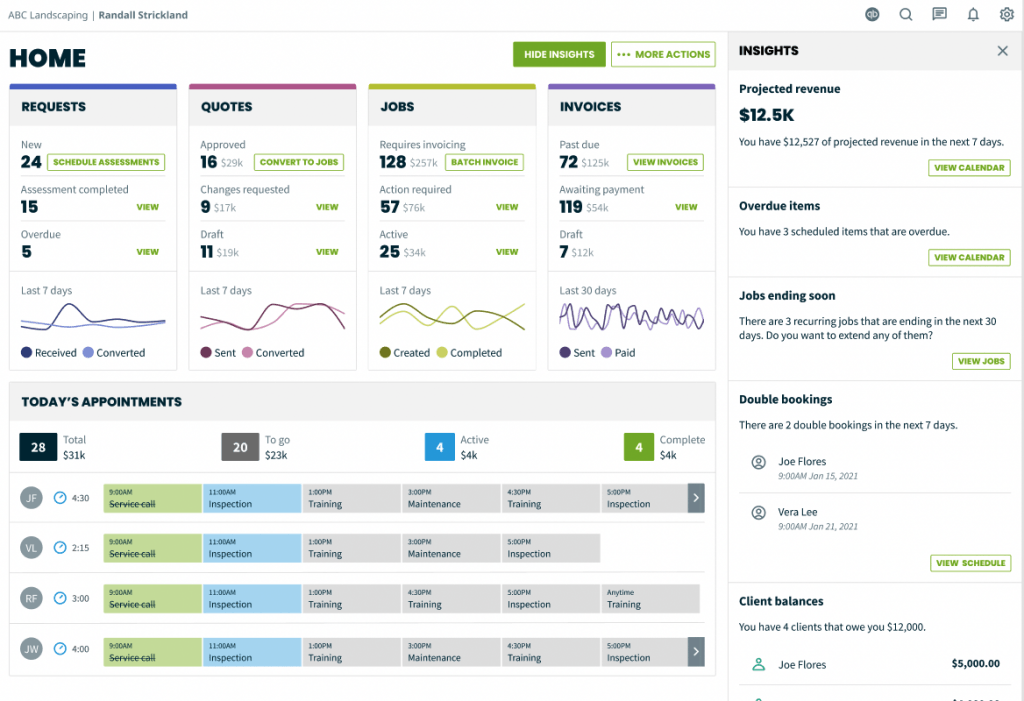 Pros
Flexible integration with QuickBooks Online and QuickBooks desktop
Intuitive interface
Customizable templates for quotes, invoices, and work orders
Cons
Limited scalability for growing businesses
No GPS tracking
Limited adaptability to small range of third-party integrations
Jobber key features
Client Hub allows customers to view and pay invoices, request new work, and review service history in one portal
Scheduling and dispatching tools include team assignment, route planning, and real-time updates
Batch invoicing enables businesses to send multiple invoices simultaneously
Automated follow-ups send personalized emails and text message reminders to customers
Jobber pricing
Lite: $9/user/month
Core: $49/user/month
Connect: $129/user/month
Grow: $249/user/month
Why we chose Jobber
Jobber has its own built-in customer relationship management (CRM) module, which gives it an advantage over competitors with more job-focused products.
FieldEdge (formerly dESCO): Best for targeted industries
FieldEdge is a field service management tool that focuses on dispatch, customer account management, and managing service agreements. The software also has performance dashboards to provide up to the second analytics and mobile CRM features to keep everyone connected whether in the back office or the field. The software lets field agents work almost entirely from their mobile apps, including taking payments, invoicing, and quoting.
ALSO READ: Best Mobile Apps for Service Technicians
Pros
Smooth integration with QuickBooks Online and QuickBooks Desktop
Industry-specific features tailored for HVAC, plumbing, electrical service etc.
Synchronizes data with QuickBooks in real-time
Cons
Limited applicability to field service sectors other than HVAC, plumbing, and electrical
Pricing may not be suitable for smaller businesses
FieldEdge key features
Customizable reporting capabilities allow users to generate detailed reports on key performance indicators
Automated service agreements streamline service agreement management, allowing businesses to set up recurring service visits, track contract status, and ensure timely maintenance for customers
Live dispatch board provides a visual overview of all scheduled jobs, optimizing technician schedules and assignments
Automatic job status updates monitor and update the job status according to a tech's movement through the app rather than relying on the individual to manually update the job status as it changes
FieldEdge pricing
$100/month/office user
$125/month/technician
Why we chose FieldEdge
FieldEdge provides real-time data sync with Quickbooks so you never lose data because of a time delay. The accounting product also includes inventory management and the ability to update accounts in a single location, which cuts out invoice updates and double-entry.
Intuit Field Service Management ES: Best for QuickBooks integration
Okay, so this one's pretty obvious.
Intuit's poster-child for field service management is a web-based field service application that works seamlessly with QuickBooks Enterprise on desktop and mobile devices: Intuit Field Service Management ES. It's designed to help service companies manage people, customers, and costs without unnecessary paperwork or slow, manual processes. Intuit's product accomplishes this through work orders and scheduling, built in GPS mapping, and a central repository of equipment/job information.
ALSO READ: 3 Ways to Use Current Data to Improve Field Service Outcomes
Pros
Native QuickBooks Enterprise integration ensures smooth data synchronization and reduces manual data entry
Robust work order management system that simplifies scheduling, dispatching, and tracking of field service jobs
GPS tracking capabilities enable businesses to monitor field technician locations and optimize routing
Cons
Limited integration with non-Enterprise QuickBooks versions
Limited customization compared to other field service management solutions
No offline functionality
Intuit Field Management ES key features
Seamless QuickBooks Enterprise integration
Work order management simplifies work order creation, scheduling, and dispatching
Real-time scheduling and dispatching software
Inventory tracking
GPS-based mapping and routing
Time tracking
Intuit Field Management ES pricing
$35/month/1-10 users
$31/month/11-40 users
$28/month/41-101 users
Why we chose Field Management ES
Field Service Management ES can generate instant invoices, accept mobile payments, and email receipts to customers. If you use Intuit's enterprise platform, the field service app will even update inventory counts by truck. The time-card and payroll function and scheduled maintenance billing are separately purchased add-ons.
Smart Service: Best for Scheduling
Smart Service is a QuickBooks add-on application that serves as scheduling and dispatch software for plumbing, HVAC, roofing, pest control, and many other verticals. Their core product lets mobile service companies add basic field service tools to their existing QuickBooks software. Additional add-ons are available for mobile access, inventory, lead management, and service agreements.
Pros
Robust scheduling and dispatching
Customizable forms
Mobile app
Time tracking
Streamlined in-app communication features
Cons
No offline functionality
Low quality customer support reported during the onboarding process
Limited advanced reporting capabilities
Limited scalability for growing businesses
Smart Service key features
QuickBooks integration
Advanced and intuitive scheduling and dispatching
Effective inventory tracking and management gives businesses better control over stock levels and the ordering process
GPS features monitor field technicians' hours, location, and job progress
Smart Service pricing
Basic: $250/2 office users and 5 field users/month
Pro: $450/5 office users and 10 field users/month
Premier: $650/10 users and 15 field users/month
Enterprise: $1,250/20 office users and unlimited field users/month
Enterprise Max: $2,500/40 office users and unlimited field users/month
Why we chose Smart Service
Smart Service is a two-way synced application for QuickBooks. It helps businesses streamline the billing process, as well as track labor hours for payroll management. Users can build estimates based on accurate pricing information and pull in sales transactions and estimates from QuickBooks data.
Accounting Software in Field Service Management
Field service management (FSM) software provides the infrastructure to efficiently quote, schedule, and invoice your customers accurately and efficiently, without the need for paper that gets lost or destroyed, while also eliminating redundant and time-consuming data entry.
With an estimated 82.4% market share, Intuit Quickbooks has become an industry standard for small business accounting. By integrating with Quickbooks, FSM software can increase efficiency, bolster customer confidence, and offer significant value to businesses looking to edge out their competitors.
Key advantages to using an FSM solution that integrates with your QuickBooks accounting system include:
Creating invoices in the field
Accepting cash-on-delivery payments
Eliminating error-prone and redundant data entry
Accurately manage employee timesheets and payroll
Answer questions about customer accounts intelligently while on-site
Why do you need accounting software in field service management?
Billing and invoicing is an integral part of most field service interactions. It gives agents and technicians the ability to quote pricing and charge customers for parts and service rendered. This is useful in any industry where customers pay for one-off service visits — lawncare, HVAC, plumbing, pest control, wrecker services, and utilities are all common examples.
Sadly, many businesses don't have the infrastructure in place to do this efficiently. They either can't collect payments onsite at all, or they can, but have to re-key every transaction into a separate system at EOD, which leads to stacks of paper invoices piling up in the office and a sloppy, mistake-ridden audit trail.
That's why it's best to look for a field service management (FSM) solution that integrates with the accounting software you already use.
The alliance of these two systems keeps field service data and financial data synchronized throughout the day and eliminates redundant data entry, which can save your company valuable time, not to mention the inconvenience of dealing with bookkeeping errors and customer disputes.
What are the advantages of QuickBooks integration?
It's easy for any software product to advertise compatibility with a third party application, but that doesn't mean it's truly integrated. Some FSM solutions only offer one-way sync with QuickBooks, which is better than none, but still a long walk from intuitive. Or worse, you might only be able to perform "data imports," which is a fancy phrase for pulling in .CSV files.
True integration means that both systems can share and update a single pool of data in real time, which is referred to as two-way synchronization.
There are a number of advantages to using an FSM solution that integrates with your back-office accounting system:
Create invoices in the field: Invoices you create in a mobile field service app will immediately sync with QuickBooks accounting data. This lets you give accurate, real-time price quotes for parts and services (especially if you created your parts lists in the QuickBooks inventory module) and update quantities as soon as you take items off the truck.
Accept cash-on-delivery payments: Bill customers while you're still on site, bank the funds instantly, and automatically update your company ledger. Some solutions also generate a digital record of the transaction so you can email the customer a receipt.
Eliminate manual entry/re-keying: Instead of collecting a stack of invoices that have to be re-keyed into QuickBooks at the end of the day, or using an FSM tool that requires manual synchronization, an integrated solution sends new charges and billable items to the appropriate accounts automatically. Cutting out the extra step reduces errors and redundant data entry.
Stay up-to-date on customer accounts: An FSM-accounting integration gives field service agents access to customer balances, overdue flags, and payment history. This helps them deliver better service and answer questions customers may have about their account.
Better manage your employee payroll: Your technicians may already be using field service software to track hours worked and jobs completed. With an accounting integration, you can approve time-sheet data and send it directly to payroll (again, instead of having to re-enter or manually import the data).
How we choose our products
At TechnologyAdvice, we assess a wide range of factors before selecting our top choices for a given category. To make our selections, we rely on our extensive research, product information, vendor websites, competitor research and first-hand experience. We then consider what makes a solution best for customer-specific needs.
For our Field Service Management with Quickbooks list, we looked at 19 options before whittling them down to the five that cover a wide range of field service application needs. We evaluated titles based on numerous features, including invoice creation and tracking, payment methods, team restrictions, scheduling, dispatching, time tracking, pricing, and more.
Maximize the value of your software
FSM/accounting integration is all about maximizing the value of your software. Field service management is valuable in its own right but when you combine FSM and accounting, you decrease cycle times and increase your ability to deliver fast, efficient service.
In our opinion, these represent the most usable and current field service solutions that integrate with QuickBooks, but they aren't the only ones. For more options, check out our Field Service Management Software guide.
---
FAQs
1. Who is Intuit Field Service Management for?
Intuit Field Service Management is designed for small to medium-sized businesses in the field service industry, such as HVAC, plumbing, electrical, and other home service providers. It aims to streamline operations, improve scheduling, and enhance customer satisfaction by integrating with Quickbooks for seamless financial management.
2. How does QuickBooks Integrate with Field Service Management Software?
QuickBooks integrates with field service management software by syncing essential data services such as invoices, customer information, and expenses. The integration enables seamless financial management by automating processes like payroll, invoicing, and reporting.
---
Featured partners
1

Jobber
Join over 200,000 home service pros already using Jobber. Jobber's powerful software helps you organize your business so you can win more jobs. Automate invoicing and start getting paid 4X faster. With Jobber, scheduling & dispatching has never been easier - and the mobile app lets you run your business from anywhere. Start a free trial today!
2

Zuper
Zuper is the most flexible and customizable field service management platform offering fast-growing service businesses with comprehensive features, best-in-class app integrations, and industry-leading service and support. With Zuper, you can bring your customers, field technicians, and back-office staff together to deliver an exceptional field service experience every time.
3

BuildOps
Commercial contractor?
10+ field technicians?
HVAC / mechanical, Electrical, or Plumbing?

Get the #1 all-in-one Field Service and Construction Management Software for commercial MEP contractors. Streamline your dispatch, quoting/invoicing, service, projects, and reports.

BuildOps boosts your revenue, maximizes profits, and improves communication between field and back-office.
Technology Advice is able to offer
our services
for free because some vendors may pay us for web traffic or other sales opportunities. Our mission is to help technology buyers make better purchasing decisions, so we provide you with information for all vendors — even those that don't pay us.