HelloSign and DocuSign are e-signature software solutions that make document management and collaboration quick, convenient, and secure. 
Below is a comparison of HelloSign and DocuSign based on specific features (table) and approaches to shared features that are standard in this category.
| | | |
| --- | --- | --- |
| | HelloSign | DocuSign |
| Annotation/Editing | yes | yes |
| API Access | yes | yes |
| Auditing | yes | yes |
| User Authentication | yes | yes |
| Two-factor Authentication | yes | yes |
| Bulk Sending | yes | yes |
| CRM Integrations | no | yes |
| Custom Branding | yes | yes |
| Document Archival | yes | no |
| Embedded Web Signing | yes | yes |
| Native Mobile Apps | yes | yes |
| Retention Policy Management | no | yes |
| Signature Styles/Templates | yes | no |
| Single Sign-On (SSO) | yes | yes |
| Workflow Automation | yes | yes |
HelloSign Overview 
HelloSign is an e-signature and digital transaction management (DTM) app that includes document signing, signature history/tracking, and regulatory compliance. A major advantage of HelloSign is that it grants unlimited signatures in the lowest priced tier above the free version. HelloSign's products are available in three tiers, some of which have exclusive features. Whether accessed via web app or mobile app, HelloSign is designed to automate your workflow and make DTM easier with automatic email reminders, in-person signing captures, and more. HelloSign is available in 22 different languages, making it even easier to use for document creators and recipients around the globe.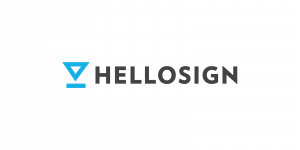 DocuSign Overview
DocuSign is an e-signature app that collects signatures and manages documents from any device and any location. DocuSign can be tailored to various business sectors, industries, and sizes. In fact, the Signature Appliance product deploys on-premise for a private or hybrid cloud environment built for organizations in heavily regulated industries such as banking or healthcare.
Aside from Signature Appliance, DocuSign offers four different editions to fit your business needs. Each edition has signature limits, so if you process a high volume of documents, you'll need to upgrade to one of the more advanced versions. All editions include audit trails, basic templates, custom fields, workflows, and access to DocuSign's mobile app. DocuSign supports a wide range of languages which is convenient for multinational companies.
HelloSign and DocuSign offer similar features that are standard in this category, including security, workflow automation, and multiple integration possibilities. Yet, their approaches on these fronts are different, which will appeal to different types of organizations.

Related: 6 of the Best Tools for Digital Transaction Management
HelloSign vs. DocuSign: Workflow Streamlining
Upon creating and sending a document, your e-signature software of choice should take care of the minor tasks automatically, like sending reminders, alert you along the way, and automatically store signed documents to your cloud storage. 
HelloSign offers core features across all of its product tiers to aid with workflow. The "decline to sign" feature lets a recipient reject the document and add an explanation. With HelloSign, you can also convert your templates into links that can be shared on your website or in an email so that intended signers can more easily access the form without an intermediary sender. 
HelloSign's compatibility with the major cloud storage vendors allows you to send documents directly from your cloud. Within your team's own document collaboration, HelloSign features an administrative console to control access to documents and track document status with a near-real-time dashboard feature.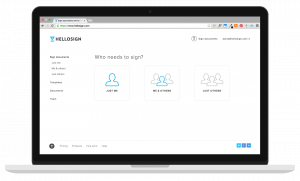 DocuSign's workflow set-up is quite simple. You choose a document, such as a MS Word document or PDF, that needs to be signed, mark required fields, specify recipients, and send it off. Once the recipient signs the document, it automatically gets stored in your organization's cloud storage and you receive an alert to acknowledge receipt of the signed document and prompt automatic document tracking to mark it as "signed."
A standout feature of DocuSign in terms of workflow is its Transaction Room. In the Transaction Room, stakeholders can securely access and collaborate in shared documents which, for sales purposes as an example, accelerates the sales cycle and informs the sales team of an account's status.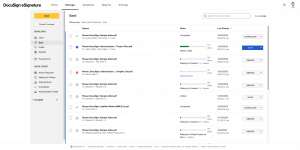 HelloSign vs. DocuSign: Integration/API Capabilities
HelloSign integrates with commonly used business apps, such as Slack, Salesforce (in top two tiers only), Oracle Content & Experience Cloud, HubSpot CRM and several popular cloud storage services, such as Google Drive, Dropbox, Evernote, Box, and OneDrive. 
HelloSign works especially well with the Google suite. Its seamless integration with the Google suite allows users to sign on with their Google credentials or access HelloSign through the Gmail extension. This extension adds a "sign" button to attachments received via email, so recipients can sign directly from the email and don't have to navigate to another website or app. 
With HelloSign's broad integration capability, users can save and access their signed documents in the cloud storage that they're accustomed to, but organizations that rely on Google suite will probably find this aspect of HelloSign particularly appealing. 
HelloSign also offers a REST-based API that supports JavaScript Object Notation (JSON), making it highly flexible to various programming languages and formats and potentially valuable if you need your data and its attributes to be decipherable in easy-to-understand human language. Through the API, users can send documents by either drawing from an existing template or attaching a file in the API request.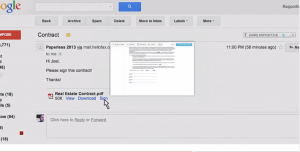 DocuSign contains over 140 native integrations with commonly used enterprise apps and platforms, such as Google Drive, Intuit, Office 365, Salesforce, SAP, and SharePoint. Users note how well DocuSign works with Salesforce in particular. Some integrations are only available if you purchase an upgraded edition, but DocuSign also offers open access to all third-party and custom API integrations across all product tiers, including the personal edition. Moreover, in all product tiers, you can test out integrations before they go live. HelloSign lacks this sandbox feature.
DocuSign also has a REST-based API for which there is ample documentation on the website. It also offers more than 400 endpoints which makes it suitable for enterprise collaboration and document management.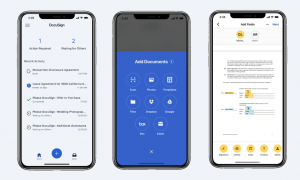 You likely have hundreds of tabs open on your device during the workday. Your e-signature software of choice should not necessitate yet another tab to drag and drop and upload a document to. Rather, it should work seamlessly with and be embedded within the apps and platform that your company uses every day. 
HelloSign vs. DocuSign: Security/Compliance
With HelloSign, you can be assured that signed and shared documents are secure and compliant with industry regulations. When a recipient signs a document through HelloSign, it is legally binding under the U.S. Electronic Signature in Global and National Commerce Act (ESIGN), Uniform Electronic Transactions Act (UETA), and is compliant with Electronic ID and Trust Services (eIDAS), HIPAA, and SOC 2 regulations. In addition, any data that you transmit through HelloSign is stored and encrypted at rest with AES 256-bit encryption and is secure within its server infrastructure. 
DocuSign likewise provides a layer of security to its products and ensures that your company stays compliant in its industry. DocuSign is designed according to industry-standard digital signature technology. DocuSign's Signature Appliance conforms to widely accepted electronic signature standards around the world and employs the industry-standard Public Key Infrastructure (PKI) digital signature technology. DocuSign is also certified under FIPS 140-2 Level 3, FIPS 201 PIV Standard, and Common Criteria EAL4+, for compliance with government regulations in North America and the European Union (EU).
Related: DocuSign vs EchoSign
Choosing Between HelloSign and DocuSign
With both HelloSign and DocuSign you're in good hands as far as optimizing your workflow, building it into your existing applications, and having peace of mind with security and compliance.
HelloSign is a great value all around and may be the better option for high-volume document processing and for its breadth of features available at the lowest price tier. If your organization uses the Google suite, HelloSign is a great choice.
DocuSign seems to be more suitable for larger enterprises that have more of a budget for high-volume transaction management and document processing but also for more customization. If you use Salesforce, start by checking into DocuSign further.
Prioritize which of these features are most important for your company's needs and determine which software includes most of your essential features in their lowest price tier. You can also check out our e-signature software product selection tool to aid you in your decision.
Technology Advice is able to offer
our services
for free because some vendors may pay us for web traffic or other sales opportunities. Our mission is to help technology buyers make better purchasing decisions, so we provide you with information for all vendors — even those that don't pay us.