E-signature software is pretty straightforward. You use it to sign stuff, get stuff signed, and manage approval processes without the hassle of exchanging hard copies. Even so, there are more than a few vendors on the market, so if you're shopping for a solution, you'll have to choose.
Thankfully, e-signature software isn't one of the many oversaturated business technology categories that require a massive budget approval and a six-month procurement process. You can select the most attractive vendor from a small handful of market leaders and get started with minimal financial risk.
If you've spent any time comparing these vendors (or been alive with internet access), you've probably heard of DocuSign and EchoSign — the two leading choices for e-signature and "digital transaction management."
ALSO READ: 6 of the Best Tools for Digital Transaction Management
Since you're reading this article, it's safe to assume both have made it onto your shortlist. Before you pay for either, you need to know which offers the best features for the best price. In this article, we'll compare DocuSign vs. EchoSign based on features, pricing, and integrations to help you make your final decision.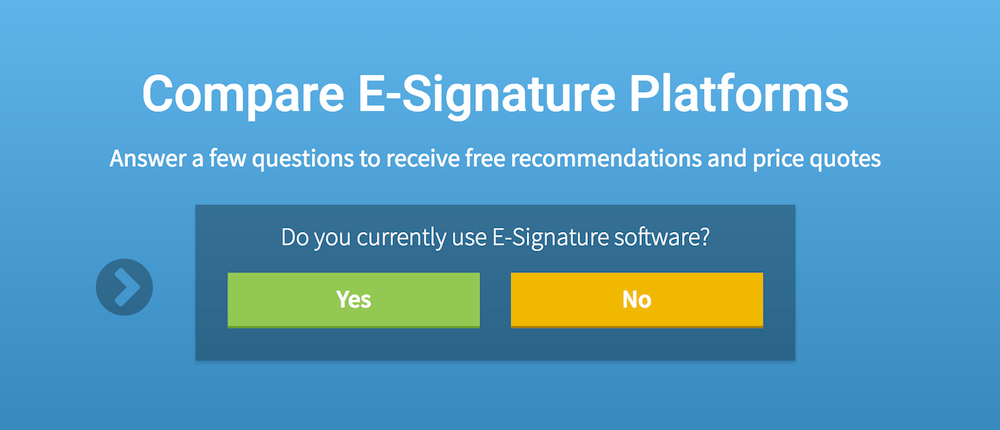 DocuSign vs. EchoSign: Company Overview
The first thing you should know is that EchoSign is no longer called EchoSign. Although we included it in the title (to accommodate search trends), EchoSign was actually acquired by Adobe in 2011 and is now referred to as Adobe Sign — part of the Adobe Document Cloud.
As you can imagine, that means you get all the benefits of working with a well-established vendor (phone/email support, bountiful integrations, a thriving user community) from a company that happens to have invented the PDF.
Notable customers who have used Adobe Sign include Workday, The Global Fund, Unum, and Kia Motors of America.
DocuSign was founded in 2003 and began selling to real estate professionals when zipForm integrated DocuSign with their own platform. Since then, DocuSign has grown significantly and acquired thousands of customers in every industry from healthcare to high-tech. In their last round of investment funding, the company was valued at $3 billion.
Notable DocuSign customers include Cisco, Community Energy, and the Georgia Department of Community Supervision.
Systems and Pricing
DocuSign offers a handful of "general use" editions for individuals and businesses and three dedicated to real estate. Subscription costs are relatively low for individuals and small teams ($10-$25/user/month, billed annually), but can amount to a significant operational expense for customers who need advanced features and support.
DocuSign offers a choice between four shelf-priced editions (personal, standard, business, business premium) and their custom, enterprise edition, which is priced by the sales team. All editions include basic templates, workflows, custom fields, audit trails, and access to the DocuSign mobile app.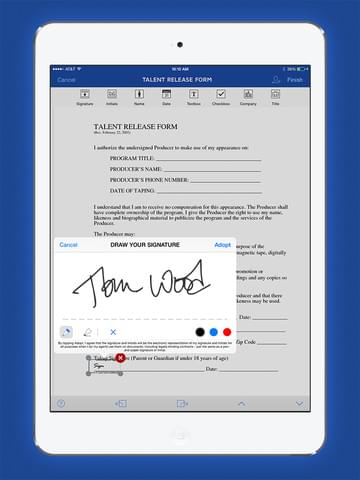 If you're worried about paying for extra licenses based on your customer/client relationships, don't be. Only people who are creating/annotating documents need to be listed as users on an account. Any signer can respond to a DocuSign request for free, without a login.
Adobe Sign offers fewer pricing tiers, but they don't limit the number of documents you can send at the entry-level tier, and the Business tier is actually cheaper than DocuSign's Business and Business Premium editions, which share many of the same features.
Individual: $9.99/month (billed annually)

Business: $30/user/month (billed annually)

Enterprise: custom pricing
Features
Obviously, both tools will let you send documents to people and request an e-signature. One isn't necessarily better than the other at doing this. Where you start to see the differentiation is in user experience and in the various features that support digital transaction management. Let's take a look.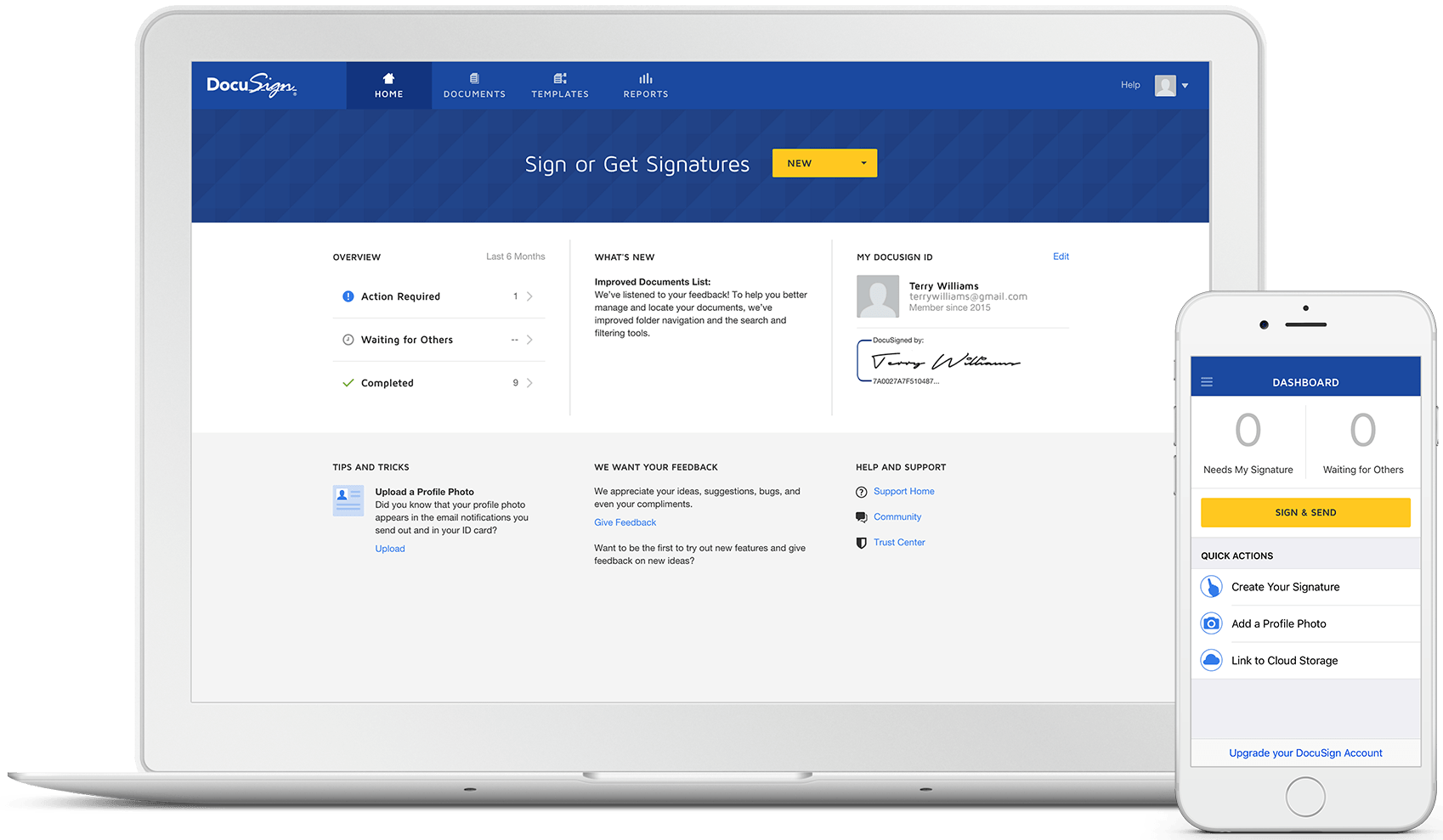 DocuSign's signature process works like this: pick a document, specify recipients who need to sign it, designate required fields such as address or company name, and send the document to your recipients. After recipients complete their digital signature, the document is stored for your records and key stakeholders receive an automatic alert. You can do this with PDFs, Microsoft Word files, and most other common document formats.
In addition to signature functionality, DocuSign can help users collaborate on shared documents in something they call a Transaction Room. Transaction Rooms give teams and groups of stakeholders a secure, shared space in which to review and comment on documents, seamlessly integrated with DocuSign's signature application.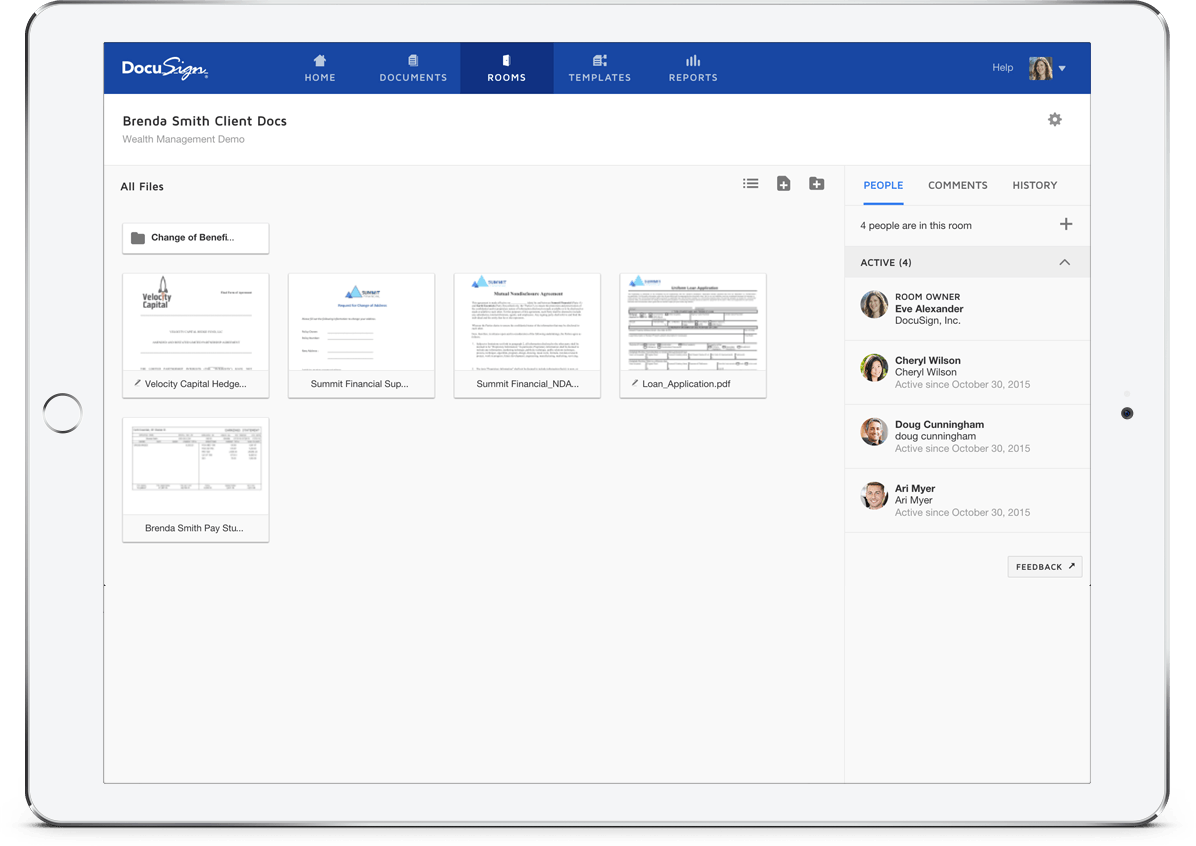 If you work in a highly-regulated industry like healthcare, banking, or government, you can deploy DocuSign privately, on-premise, through the DocuSign Signature Appliance, which mounts to a traditional server rack.
Other DocuSign features include:
Reminders and notifications

Audit trail

Company branding

Advanced authentication

Advanced workflows

Bulk sending

Shared document templates

Embedded web signing

Retention policy management (enterprise edition)

Single sign-on integration (enterprise edition)

CRM connectors

Native mobile apps

API access

Two-factor authentication
Adobe Sign's signature process looks like this: enter recipient's email address, add the file you want signed, add a custom message (optional), specify identity verification measures (password, social, email address, KBA), add form fields and signature blocks to your document, and set required fields. Send. The recipient will sign and return, and both/all parties receive a PDF copy of the signed document. You can also track progress under the "Manage" tab to see when your file has been viewed. As you can see, not a ton of difference between the two applications in terms of core functionality.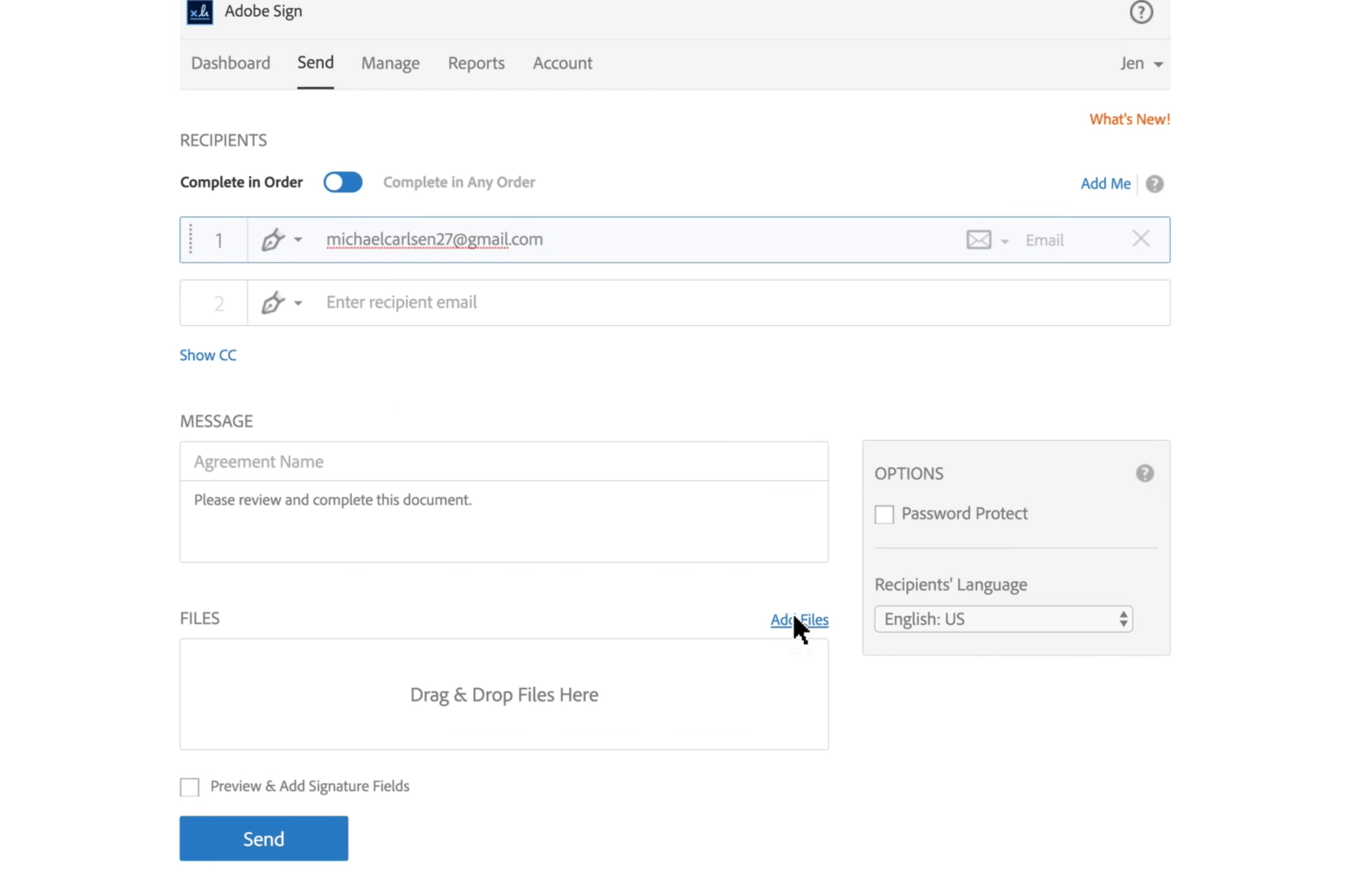 Adobe Sign also offers workflow customization, so you can set up specific processes that meet your business and regulatory needs. With the right integrations, you can even use these workflows to trigger internal next steps, such as invoicing or order fulfillment.
Need to build a document from scratch? Adobe Sign provides a number of document and form templates that you can populate with data from your existing systems. They don't offer anything akin to DocuSign's Rooms feature, but if you're already using a cloud-based file sharing app, that won't matter much.
Other Adobe Sign features include:
Hybrid routing (control the signing sequence, when you have multiple signers)

Reusable handwritten signatures

Dashboards and reports (viewable in Salesforce)

Audit trails

Workflow templates

Bulk sending

Embedded web signing

Notifications and reminders

Digital seals (prevent document tampering)

Native mobile apps

API access (with enterprise edition)

Two-factor authentication
Integrations
While you certainly can send all of your documents by logging into your e-signature app, you'll save a considerable amount of time if you embed e-signature functionality into your existing workflows. I.e. instead of leaving your CRM and managing the contract approval process via email/DocuSign/Adobe Sign, you could dispatch a signature request from directly inside the opportunity page, automatically populating form fields with data from existing account/contact profiles. Just one example.
To do that and other stuff like it, you'll need to make sure the e-signature app you choose can exchange data with whatever systems you use — either via plug-and-play integration or API (application programming interface).
DocuSign has over 140 native integrations — among them Box, Dropbox, Evernote, Google Drive, Office 365, Salesforce, Netsuite, SuccessFactors, Oracle Sales Cloud, Intuit, and SharePoint. Although you'll need to purchase the Enterprise edition to use any of the CRM integrations (and to set up single sign-on), DocuSign provides open access to all other third-party and custom API integrations with any product tier, including personal. They'll even give you a developer sandbox for testing integrations before they "go live."
If you'd rather not worry about user count and instead pay for a set quantity of signatures through your own app, you can purchase one of DocuSign's API editions, which have different signature caps, depending on price.
Adobe Sign offers a similar spread of native integrations: Google Drive/Apps, Box, Office 365, Salesforce, Workday, Microsoft Dynamics, Ariba, Apttus, SharePoint, Xero, Oracle, Netsuite, and Namely, to name a few. The biggest difference here is that Adobe limits all of the enterprise and custom API integrations to the Enterprise product tier. That means if you want to weave e-signatures directly into your workflows, you might have to pay a significantly higher subscription price.
Note: Office apps, Google, and Box work natively with all Adobe Sign editions.
Making Your Final Decision
In the end, neither vendor's e-signature functionality is vastly superior. They both essentially do the same thing. But, depending on the size of your team and your integration needs, you'll be paying different prices for different levels of access, control, and customization.
If you plan to embed e-signature workflows into your website or proprietary apps, DocuSign's built-in sandbox and API editions might be attractive. If you need to edit and customize PDFs on a regular basis, you may appreciate the seamless utility of Adobe Sign as part of the Adobe Document Cloud.
And then . . . there are a hundred more indecisions, a hundred visions and revisions to consider. Check out our software category page to compare products and get a custom recommendation. If you find your head banging against a wall, contact one of our expert advisors for a free consultation. We'll show you what works.
Technology Advice is able to offer
our services
for free because some vendors may pay us for web traffic or other sales opportunities. Our mission is to help technology buyers make better purchasing decisions, so we provide you with information for all vendors — even those that don't pay us.