It feels silly to talk about anything "digital" as though it were a new thing . . . as though every business in the world hasn't already digitized and automated all of its workflows and assets. But if that's true, why is digital transaction management (DTM) suddenly a topic of interest and, as it seems, an untapped opportunity?
It could be because digital transactions represent a final transformative step that many companies haven't made. They've traded their spreadsheets for a cloud-based CRM, their filing cabinet for a sleek HR app, and their clipboards for a mobile field service solution. But they're still using paper workflows for invoices, contracts, registration forms, proofs of delivery, and many other transaction types.  They believe paper is somehow more reliable, or safer, or easier to track.
But in reality, paper-based transaction management has tangible problems:
Human error (people make erroneous transcriptions, leave out important data, or forget to file documents)

Limited administrative control

Lack of formal security

Lack of visibility over long periods of time
What is DTM, and Where Did it Come From?
DTM is more a category of services than any one software type, so it's hard to trace its origins. The term itself seems to have been coined by DocuSign, the world's leading e-signature app. DocuSign also led the charge on creating a formal "xDTM" standard, which "protects and empowers organizations and consumers to securely transact business online – with specific and measurable thresholds for availability, security, privacy and other critical elements."
xDTM is managed by a governing board that includes CIOs and execs from DocuSign, Intel, FedEx, Microsoft, Cisco, the USPS, and other leading companies, but the target audience isn't limited to IT and logistics. DTM has a wide variety of applications in almost every line of business, from human resources to sales, marketing, and procurement.
Digital transaction management is a set of tools and practices that help businesses manage document-based transactions without paper. In some ways, DTM is an extension of digital asset management, but it focuses more on the points where assets are passed between parties (business and consumer, business and client, business and employee). Some of DTM's main components include:
E-signatures

Authentication/identity proofing

Document archival

Workflow automation (submission, approval, confirmation, etc.)

Transaction meta processes (such as access control and auditing)
To give you a better idea of specific applications, Aragon Research provides the following chart of key DTM processes by department: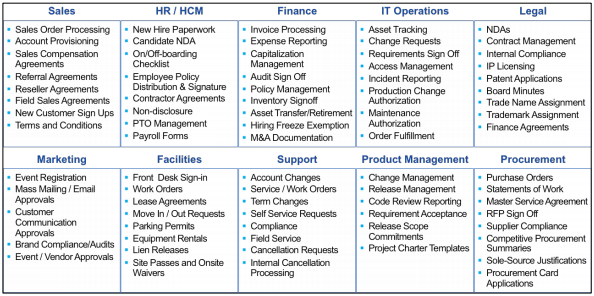 Digital transaction management is gaining traction because it's meeting an important need: in a recent Forrester survey, 76 percent of line of business leaders said that providing a "DTM experience" is important to the success of their business, and eight out of ten say they have a clear need for a specific DTM solution.
In addition, the report details some of the biggest drivers of DTM adoption: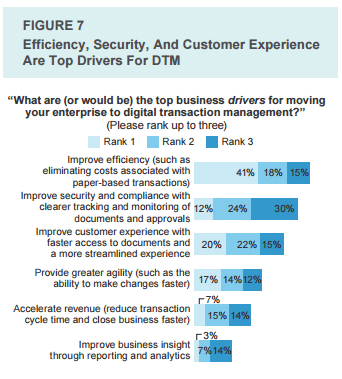 Top 6 Tools for DTM
If Aragon Research is right, and 70 percent of enterprises launch a DTM initiative by the end of next year, that means a lot of companies are already shopping for software and hardware to get the job done. You may represent one of these companies. To help you sort through the chaos and find the right solution for your needs, we'll look at six of the leading software tools for digital transaction management:
DocuSign is an e-signature app that lets you collect signatures and manage documents from any device and any location. It works like this: from your device, pick a document, specify recipients who need to sign it, designate required fields such as address or company name, and send the document to your recipients. After recipients complete their digital signature, the document is stored for your records and key stakeholders receive an automatic alert.
DocuSign supports almost any file type and integrates with hundreds of different business applications like Salesforce, Netsuite, SharePoint, SuccessFactors, Google Drive, and Box, so you can collect e-signatures without interrupting your current workflow.  
Box is one of the leading private cloud storage solutions for business. They give companies of every size a secure place to store, share, and collaborate on corporate assets, from project proposals to vendor contracts and human resource forms.
You might not immediately associate Box with DTM, but if that's the case, you probably haven't looked at their product lately. Box is much more than a cloud storage server. It's also a team collaboration platform, a workflow automation tool, and a place to manage transaction documents behind enterprise-grade security. Also, DocuSign is one of Box's platform partners, which means you can send files to be e-signed from directly inside your Box account. The signed copy will be returned to your Box account and labeled "DocuSigned."
Then again, Box isn't the only private cloud storage solution on the market. To compare Box with its top competitor, check out our Box vs. Dropbox post.
Kofax is a little different than the first two examples we've looked at. They offer a suite of products  designed to "transform and simplify . . . information-intensive customer interactions," which is basically an elaborate reference to business process management.
The Kofax platform combines "smart process applications" (invoicing, claims, application processing, etc.) with a mobile capture system that lets users provide seamless customer service and capture transactional data on the go, whether that be an e-signature, a payment, or an ID verification. Kofax also provides built-in analytics tools which help decision-makers measure and improve process efficiency.  
Fluix is a cloud-based document management solution designed for mobile team collaboration. A main selling point for Fluix is that it does much more than store files. It also helps teams automate workflows, convert paper documents into digital files, and stay compliant through enterprise security and access control.
Unlike Box, which requires third-party integration for e-signatures, Fluix provides its own built-in e-signature tools, which happen to be pretty robust. Users can collect legally binding signatures by sealing documents from further changes and storing a biometric encryption key to prevent forgery. The platform also includes features for form creation, PDF annotation, and internal messaging.
Mi-forms is a kind of wild card in the DTM market. Their product is a mobile forms application that lets users collect data for custom business processes using android, iOS, or Windows devices and digital pens. The forms can pull in not only text and signatures, but other rich data such as GPS, photos, and barcodes.
Users can build their own custom forms using a drag and drop interface and connect them with back-end systems using one of 90 APIs. Administrative features include passwords, user and group management, workflow routing, and more. Mi-Forms is a great choice for any company that uses mobile agents to collect data or work with customers in the field, whether that be a field service company or a merchant services team.
Captricity is a cloud-based app that turns paper forms into digital documents. Sure, there are dozens of apps that can convert from paper to digital, but Captricity stands alone in its ability to recognize handwritten entries and turn content into digital data fields. The magic happens through a machine prediction algorithm that detects blanks, multiple choice, numbers, printed text, and open handwriting. The app then validates the information to ensure accuracy.
Captricity is sweet and simple, and the information you extract can be exported directly to Dropbox, Box, Salesforce, ERP systems, and other business apps.
*
As you can see, the lines between digital transaction management, digital asset management, and business process management can get a little blurry sometimes. The best approach isn't necessarily to pick one or the other, but rather to assess your needs and choose a solution that makes the most sense for your needs. That could be a simple e-signature app, or it could be an entire DTM suite. If you have questions or need help making a decision? Give us a call. Help is what we do.  
Technology Advice is able to offer
our services
for free because some vendors may pay us for web traffic or other sales opportunities. Our mission is to help technology buyers make better purchasing decisions, so we provide you with information for all vendors — even those that don't pay us.