Not every company needs a full-scale business intelligence software. If your company is just dipping its proverbial toes into the data lake, maybe a dashboard software is more your speed.
The benefits of dashboard software over BI systems are far-reaching, especially for small teams:
They take less data expertise to get set up than a business intelligence software, which might require data analyst and developers to get you up to speed.
They often come ready-made for TV, app, or mobile viewing.
Dashboard software usually includes native integrations with the software as a service (SaaS) apps you use every day.
They often feature real-time data updates that you can export as timely reports.
Understanding the differences between dashboard software vendors can be confusing. That's why we put together this list of the best six dashboard software options for any team. If you need more help choosing the right dashboard software, click on the image below or contact us now. In just five minutes we can connect you with the right software for your feature requirements.

Geckoboard
Geckoboard is a dashboard software for companies that offers over 60 native app integrations and data import via API or spreadsheet. Choose from one of their ready-made KPI dashboards for marketing, sales, SaaS, or customer service, or customize to your team's needs from the beginning. The visual drag-and-drop editor gives any user control over the right metrics, even without data analyst training.
Key dashboard feature
Display your Geckoboard dashboard on a connected TV via Raspberry Pi, Chromebit, Chromebox, or a smart TV.
---
Klipfolio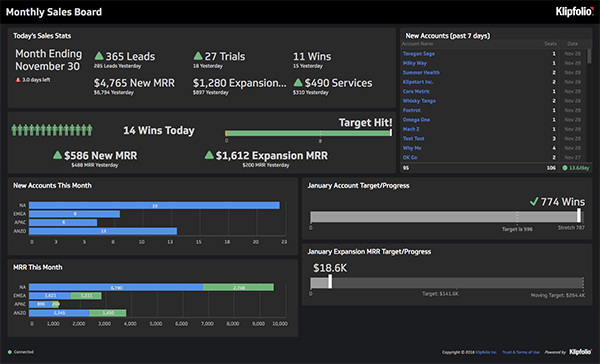 Klipfolio is a dashboard software that connects to over 100 native apps directly, meaning that you can build sales, marketing, customer success, or product dashboards in the tool. In addition to connecting to your SaaS apps, you can also pull data in from databases or connect to spreadsheets. Build custom and informative dashboards that you can show on TVs around the office or include in company apps. Match your company branding by customizing your visualizations with CSS or Javascript.
Key dashboard feature
Klipfolio takes a snapshot of your data every time you pull custom data from an app, which means that you can access that data at any time to pull into other dashboards.
---
Cyfe
Cyfe is a flexible dashboarding tool with pre-made widgets that connect directly to your data. Set widget alerts to know when your data has reached your predefined thresholds, and use your metrics to set business goals right in the dashboard. Cyfe records your data right in the app, so you have access to your historical data, even if the original app ages your data out.
Key dashboard feature
Each Cyfe dashboard is available as a reporting export, so you can automate up to date reporting and stop doing the last-minute-report-download dance.
---
Google Data Studio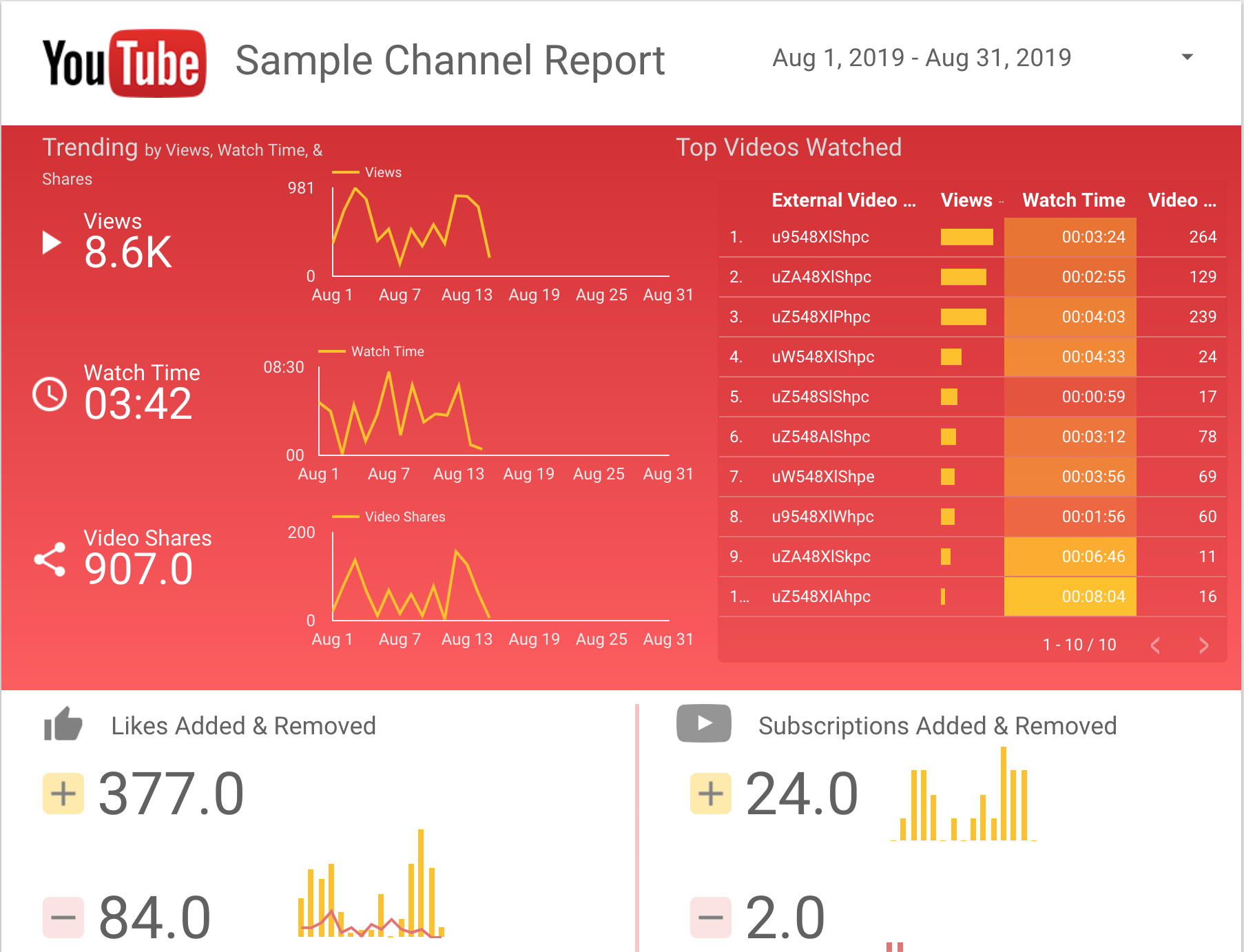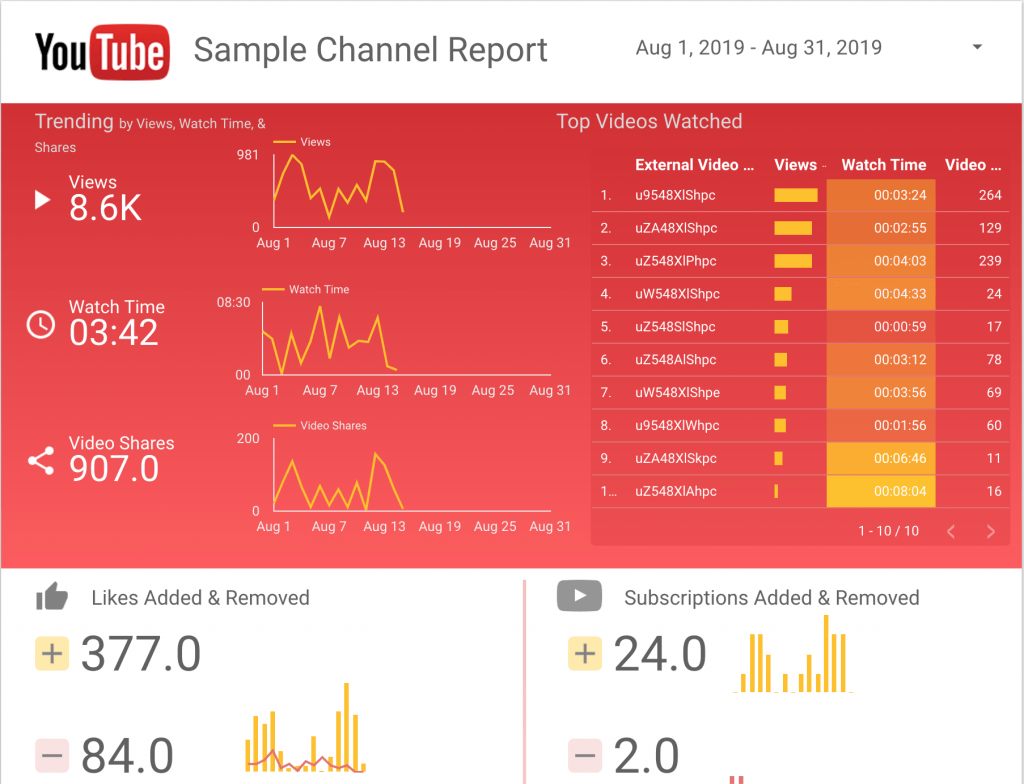 The Google Data Studio free tool can combine data from across your Google properties, including Analytics, Search Console, Ads, and Google Sheets. You can also connect outside data when you upload a custom CSV or connect to a SQL database or any custom connector made my another SaaS company or your own developers.
Key dashboard feature
Google Data Studio has a built-in data control feature that lets you share a report template without sharing your data. These access controls mean you can share or shelter data how you choose.
---
Visme
Visme is a visual graphics software that lets companies build and collaborate on beautiful, branded assets. Their dashboard feature is just one of many offered in the software, including infographics, presentations, and reports. While this dashboard tool is not nearly as fully-featured as some of the other best of breed software tools on this list, the branding and graphics are outstanding.
Key dashboard feature
Visme's strengths lie in its ability to set company branding and carry that across your Visme graphics. Bring your branded graphs and charts into presentations, infographics, or share with your team and customers.
---
Databox
Databox is a business KPI dashboard software with native integrations to over 70 data sources. The Databox dashboards, called Databoards, can be viewed on TV, desktop computer, or mobile devices, and you can set alerts, reminders, and notifications to track goals across your business data. Teams can also use the data scorecards to get even faster updates on pertinent goals.
Key dashboard feature
Calculate custom metrics across different data sources with Databox. This feature extends the power of your dashboards and helps your team get to insights faster.
---
Choosing the right dashboard software
Comparing features, prices, and integrations can take a lot of time. Let us do the research for you. Our unbiased Technology Advisors will listen to your dashboard software needs and set you up with 5 vendors who are right for you. Contact us now.
Technology Advice is able to offer
our services
for free because some vendors may pay us for web traffic or other sales opportunities. Our mission is to help technology buyers make better purchasing decisions, so we provide you with information for all vendors — even those that don't pay us.