No, you're not imagining it. Data science really has increased significantly in the public and consumer consciousness in the past five years. Software companies know the data their customers produce is valuable, and customer data can be used to deepen engagement and customer lifetime value.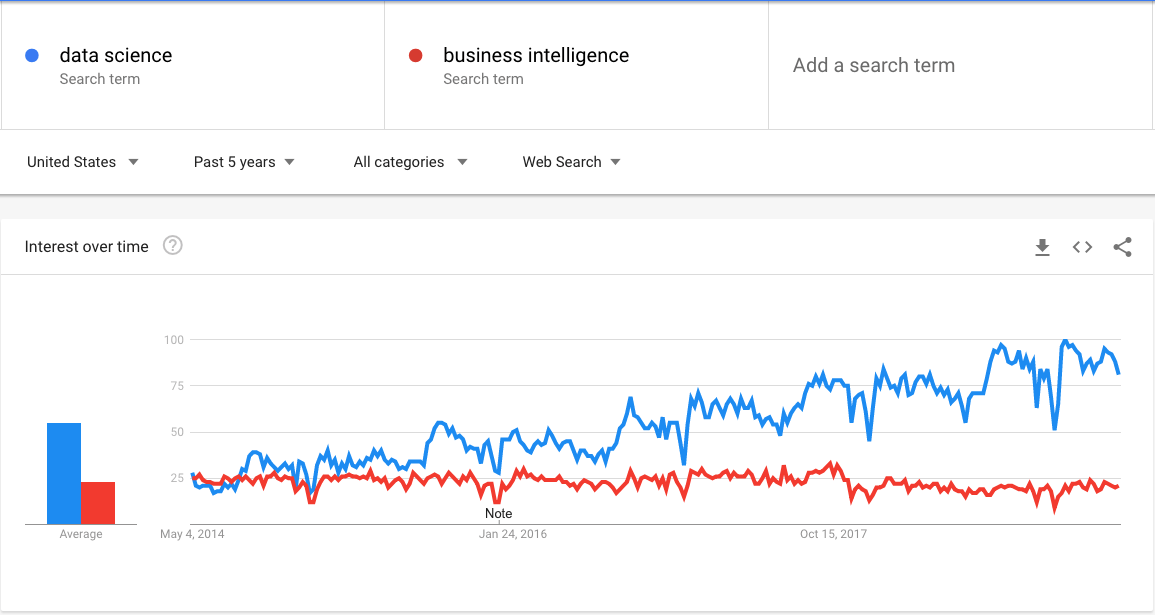 As a software vendor, you know the most valuable metrics for your users: the ones they look up and export from your tool every week. You also know that it's no longer enough to simply provide your users with past data and expect them to analyze and extrapolate from it. Customers want to use data science theories to visualize and understand the data they create in your tools, but if you don't include reporting features in your tools, your customers will take their data elsewhere.
Data scientists spend much of their time choosing the right metrics to judge a program's success or failure. But these days, everyone needs to know a little bit of data science just to get by; to be able to make better, more informed decisions. When you embed self-service analytics into an application, you not only differentiate your applications, you also maximize customer satisfaction by handing your users the data science tools they need to make predictions and draw conclusions directly from their data.
Embedded analytics act as a plug-and-play business intelligence tool for the data you already collect. Reports and dashboards powered by embedded analytics connect the data your application collects, make it searchable, and provide it in a user-friendly interface to end-users. Add embedded analytics to your software for an instant data science upgrade that improves your customer engagement scores and saves your customers the extra 20+ steps it takes to convert raw data to data insights.
5 ways software companies can use embedded analytics to bring data science directly to customers
1 – In the admin panel
Usage metrics give critical insights into app adoption within an organization. How frequently the team logs in, how long they stay in the app, how many modules they use, and which features are used most frequently can all signal to a team administrator how successfully the team has integrated the app into their daily lives.
Augment your administrative panel by showing team admins what features their team uses and how engaged they are with the tools. This information can also be used to suggest further feature upgrades and educational content that deepens each user's engagement with your app.
Fundamental KPIs
Individual sign-ins
Time in app
Most-used features
Least-used features
2 – LMS or knowledge base
To ensure engaged and active customers within your apps, you have to facilitate training and documentation. LMS or knowledge base intelligence reports help companies understand the most popular types of training, surface the answers their users are looking for most often, and identify the gaps in the company's instructional framework. A good example is the story of Absorb Software, who embedded one of the leading BI tools, Dundas BI, to provide superior analytics in a multi-tenant environment.
Fundamental KPIs
Courses completed
FAQ usage
Videos watched
Time in course
Average quiz score
Individual quiz averages
Most-searched questions
3 – Financial applications
Consumer and B2B financial applications manage so many data points that users quickly get overwhelmed by too much data. Charts and graphs help users understand complex data sets at a glance. By embedding data visualizations in financial services applications, users can quickly understand data and make quick analyses to speed business decisions.
Fundamental KPIs
Account balances
Progress against budgets
Resource usage
Budget and revenue projections
4 – Ecommerce
Ecommerce companies often have untapped stores of customer data that they can use to improve customer experience while also raising customer lifetime value and average order totals. Harnessing product trends, estimating fulfillment times, and cross-referencing products can all incite customers to purchase more, faster, and more often.
Fundamental KPIs
Trending products
Average shipping time
Personalized product recommendations
5 – Healthcare
Healthcare apps have a unique opportunity to make a positive impact on the lives of individuals. By providing data visualizations, analytics, and even alerts and notifications, healthcare companies can improve medical outcomes for individuals and their healthcare providers. Data visualizations pulled from complex healthcare data bring instant insight for patients, and healthcare providers can use benchmarking to better understand patient progress to improve diagnosis.
Fundamental KPIs
Personal health stats including exercise, heart rates, steps, distance toward personal exercise goals
Progress toward individual treatment goals
Time with patients in the office
Patient benchmarking
Bringing data science to your customers sounds a lot more complicated than it really is. Embedding analytics avoids the headache of building and maintaining custom data visualizations for your tool while adding significant value to customers. If you're considering embedding analytics into your application, here are 6 key capabilities an embeddable analytics software should deliver.