If you know anything about project management software, you've heard of Basecamp. Basecamp is a web-based project management platform that grew out of a web design company called 37signals — their homemade collaboration tools were so effective that they turned into a commercial product.
Though Basecamp is 12 years old — a veritable dinosaur in the tech world — they're still a small company. They have about 50 employees who all work remotely and haven't closed down any major funding since Jeff Bezos bought a small share in 2006.
Also Read: Wrike vs. Basecamp: A Project Management Comparison
Even so, Basecamp is a household name in project management. That's because their products are excellent, and because their team has pioneered some of the current best practices in teamwork and web design. Ever heard of Ruby on Rails, the open source web application framework? RoR was originally created and used to build Basecamp.  
In the platform itself, you'll find a broad range of features designed to help project teams communicate more effectively, share stuff, and get work done. Basecamp is intended, first and foremost, to be user-friendly. The interface is clean. The workflows are simple. The platform isn't bloated with a bunch of features that would go unused. Instead, Basecamp focuses on the following functional areas:
Task management

Messaging and Collaboration

File sharing

Scheduling

Reporting

Universal search
Most of these features are easy to customize and can work in a variety of use cases. Basecamp has been used by organizations in almost every industry, with notable customers including NASA, the Habitat for Humanity, Etsy, and Petco. It isn't a full-blown enterprise project and portfolio solution, and it isn't an agile development tool, but then, it never pretended to be either.
Pricing varies depending on whether you use the system for internal teams or for client-facing projects. Since they don't limit the number of users for any product tier, Basecamp is an incredibly cost-effective solution.
Maybe you're considering Basecamp for your next project management software purchase, but you want to compare it to other viable options. Or maybe you're a current basecamp customer looking to switch. In the rest of this article, we'll look at six Basecamp alternatives that provide similar functionality at a similar price point.  
Asana was founded in 2009 and has long been a favorite among project teams. What's unique about Asana is that the basic version (for teams up to 15 people) is actually free to use. The platform provides a single workspace where your team can share and collaborate on projects, tasks, and documents. You can also invite guests from outside the company to join and collaborate on work. Asana Premium is priced per user, per month, and adds priority customer support, administrative controls, and single sign-on.
Similar to Basecamp, Asana's strength is in its flexibility and ease of use. You can turn conversations into tasks, track progress through project dashboards, and set customized notification preferences to keep your inbox from getting cluttered. People have used Asana to track everything from editorial calendars to leads, software bugs, or job applicants. Notable customers include The New Yorker, Uber, and Salesforce.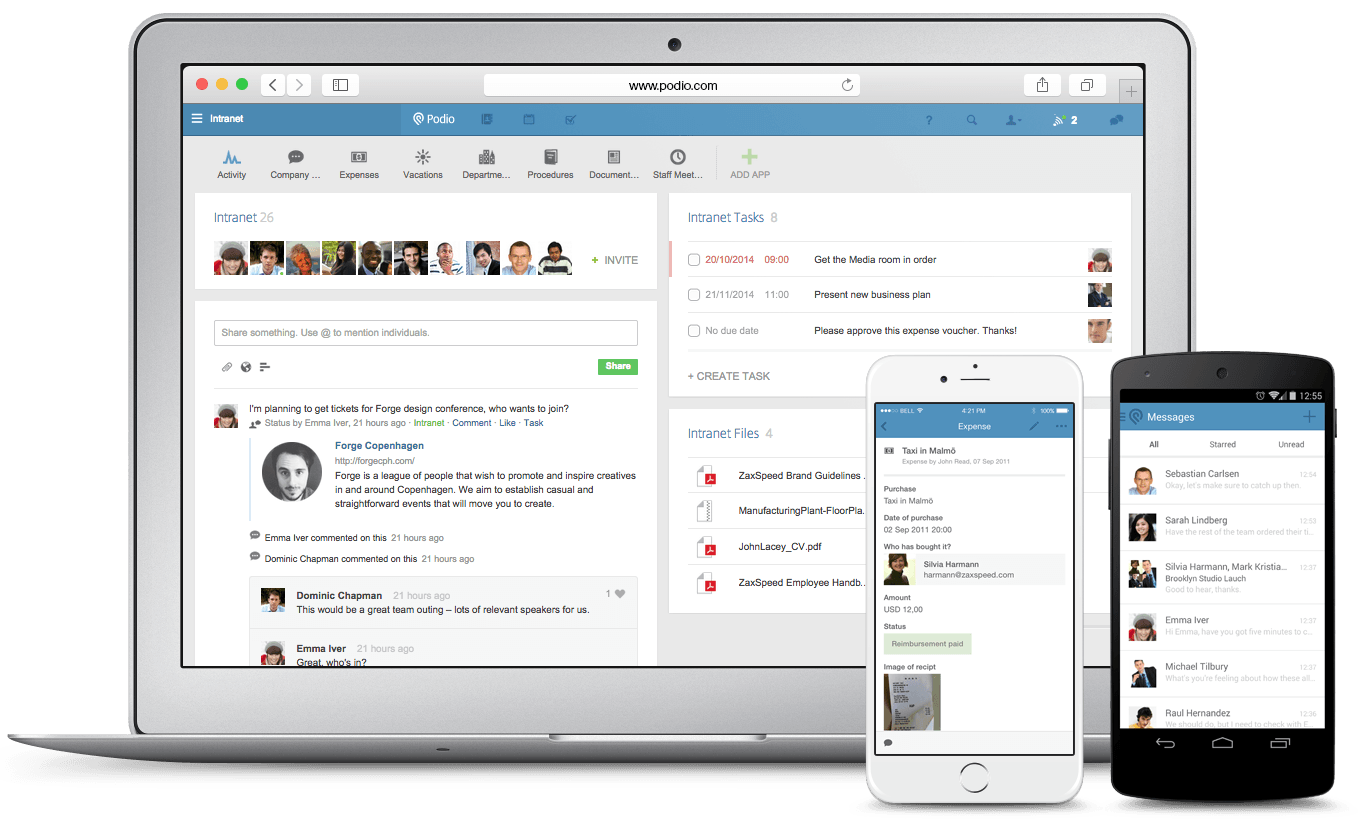 Podio was also founded in 2009 but acquired by global IT firm Citrix in 2012, which provided a nice boost in funding and market presence. Podio is a customizable "work management solution" designed to streamline project communication and provide greater visibility to decision-makers. As a platform, it offers more features than Asana, but there's no free edition.
Beyond basic task management and scheduling, Podio has a number of capabilities out-of-the-box that separate it from competitors:
Social intranet:

activity streams and social profiles that help users converse and connect; a shared calendar

Built-in chat:

Send and receive messages using a collapsible pane on the right side of the interface.

Connected CRM:

CRM database built directly into the platform; integrated webforms; pipeline and sales reports

Personal dashboards:

Use workspace tiles to customize data on your homepage, employee network, or workspace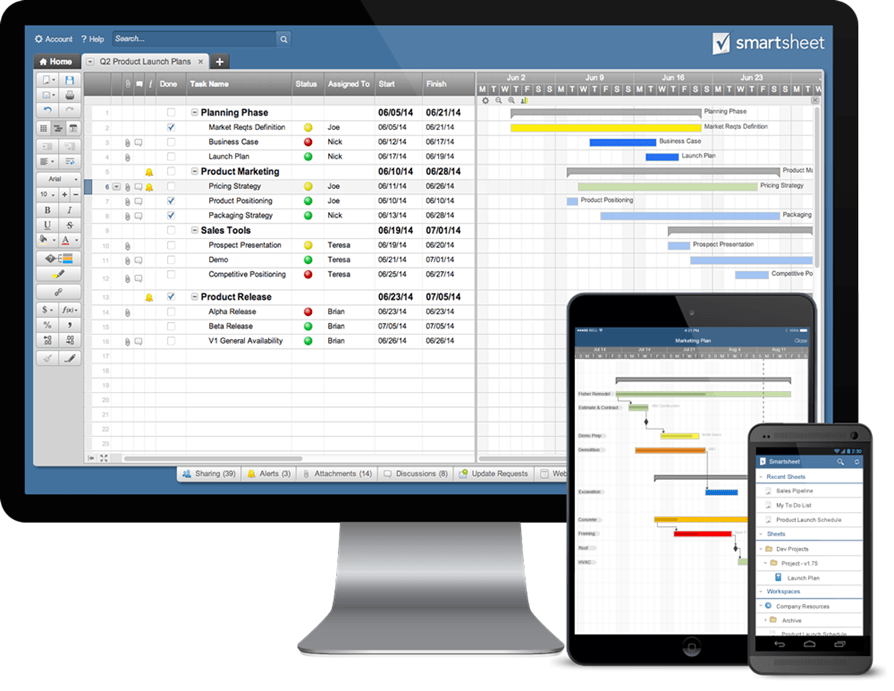 Smartsheet is one of the more unique project management tools on the list. Their spreadsheet-style interface is designed — much like a spreadsheet — to afford flexibility and accommodate a variety of different workflows. Users can share work in a sheet and subscribe to updates on entire projects or specific rows. They can also comment and upload attachments.
In addition to the spreadsheet interface, Smartsheet offers a card view, where teams can move tasks as cards through different stages of completion, similar to a Kanban tool. The card view offers custom fields and colors, so you can customize it to match your workflows. Other features include Gantt charts (unique for a light-use cloud PM tool), reports and dashboards, calendars, web forms, resource management, and native mobile apps. Smartsheet is priced per user, per month, in three tiers. Cost is comparable to Podio.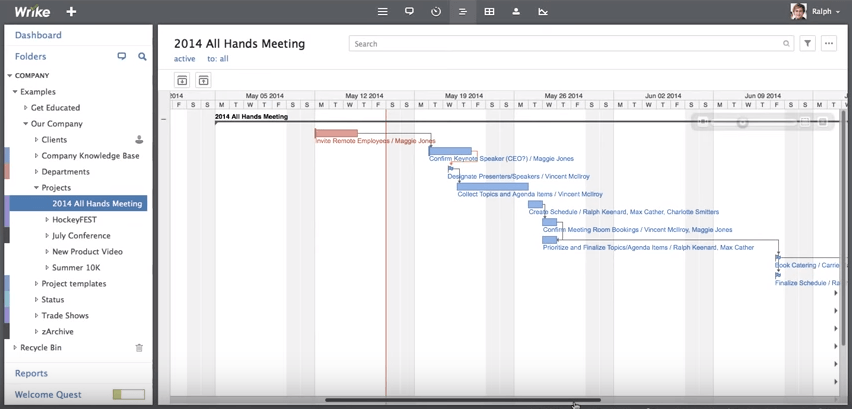 With more than 8,000 customers using their paid edition, Wrike is one of the most popular solutions on the market. They bill their platform as a "work management and collaboration platform" designed to meet the needs of marketing and creative teams, project managers, and product development teams.
Most of the work you do in Wrike will center around the Timeline — a visual display of your project schedule and task dependencies. Users can also create a their own personalized dashboards and track project work through the team activity feed. Although Wrike isn't quite an agile PM tool, by definition, it does provide a lot of features designed to match the workflows of agile teams. Their new "requests" feature, for example, is a great way for marketers and designers to field ad hoc work and increase visibility for stakeholders outside of the department.
Other features include Gantt charts, reporting/analytics, discussions and @mentions, email synchronization, time and budget tracking, and native mobile apps.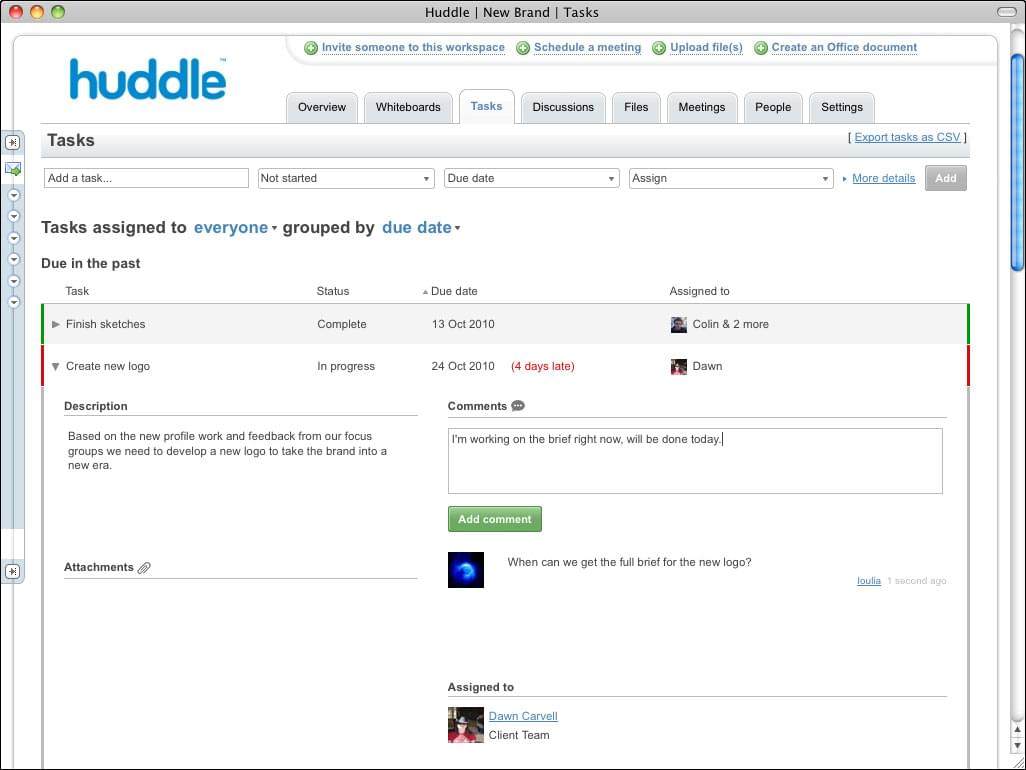 Based on their industry focus and current customers, Huddle is a little bit of an outlier on this list. Their cloud-based project management solution is geared toward enterprise and public sector use (government, utilities, transportation, etc.). But it's a solid platform, hands-down, and versatile enough to work in other industries like advertising/design, publishing, high tech, nonprofit, and even retail.
Huddle users can work together to create and edit documents, share files, and manage tasks and approvals in a single location. The platform's custom team/user permissions and document version control make it a good choice for teams that work in highly-regulated industries or regularly collaborate on official content assets. Other Huddle features include branded workspaces, universal search, activity streams, offline access, and native mobile apps.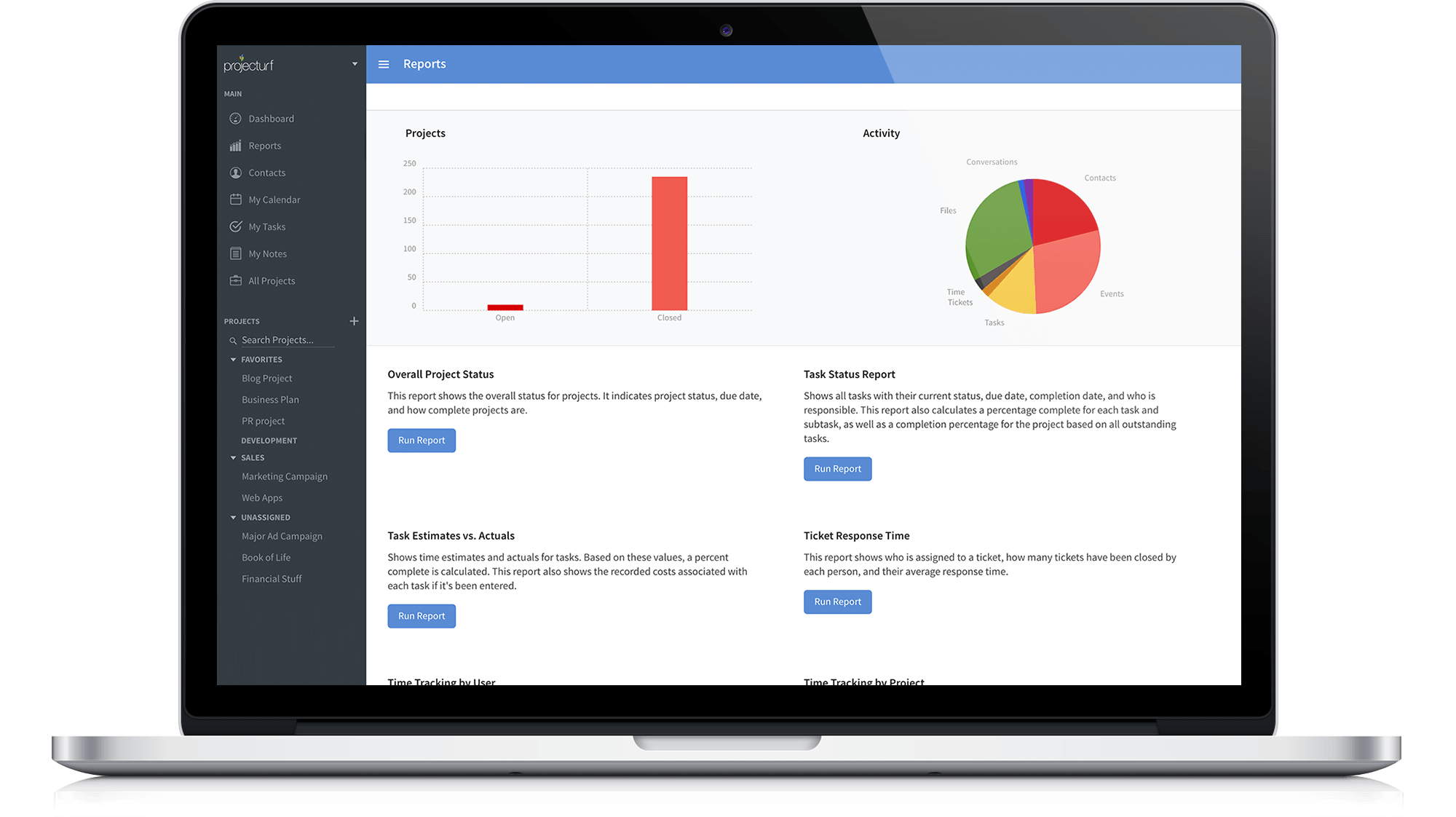 Last but not least is Projecturf. Projecturf is a smaller company, but they've built an excellent platform and a large customer base, including the likes of Stanford University, Spotify, DIRECTV, and Ebay.
Projecturf is built around collaboration, task management, calendars, and time tracking — the standard set for this type of platform. Users can comment on individual tasks and files or hold conversations within each project. Pre-made templates help teams get projects running faster, instead of having to configure every workflow from scratch. The Projecturf interface is clean and easy to navigate, with helpful filters, custom dashboards, and visual reports on project activity.
Pricing breaks down into four tiers, based on features selected, built-in templates, and the number of projects you manage. Similar to Basecamp, Projecturf offers unlimited users for every edition. It's a great option for fast-growing teams or companies that regularly adjust access privileges.
* * *
Of course, these six aren't the only Basecamp alternatives on the market. If you're looking for a larger platform with resource management and financial features, you might consider a project and portfolio management (PPM) solution. If you manage a software development team, you might find a better-suited product in the agile PM category. In addition to features and pricing, you'll also want to consider customer support, integrations, security, and enterprise services like dedicated account management.
Still can't decide? Use our Product Selection Tool to browse other solutions and get a custom recommendation based on your needs. You can also schedule a free consultation with one of our project management software experts.
1 monday.com
monday.com Work OS is the project management software that helps you and your team plan, execute, and track projects and workflows in one collaborative space. Manage everything from simple to complex projects more efficiently with the help of visual boards, 200+ ready-made templates, clever no-code automations, and easy integrations. In addition, custom dashboards simplify reporting, so you can evaluate your progress and make data-driven decisions.
2 Rocketlane
Rocketlane is purpose-built to run customer facing projects. It uniquely ties project management, document collaboration, and communication to help teams hit their project goals, accelerate time-to-value, and elevate the customer experience.
3 Wrike
Tackle complex projects with Wrike's award-winning project management software. Break projects into simple steps, assign tasks to team members, and visualize progress with Gantt charts, Kanban boards, and calendars. Manage resource allocation and forecasting with software that's easy to launch. Automation and AI features strip away time-consuming admin tasks so you can do the best work of your life. Streamline your practices, align your team, and ensure you hit deadlines and stay on budget.
Technology Advice is able to offer
our services
for free because some vendors may pay us for web traffic or other sales opportunities. Our mission is to help technology buyers make better purchasing decisions, so we provide you with information for all vendors — even those that don't pay us.