Quick summary:
Many people choose Asana or Jira for their project management needs.
While they are comparable, they aren't the same. Here's an in-depth comparison to help you choose the right solution for your business.
---
Asana and Jira are two of the most popular project management (PM) systems on the market. While some people still think of Jira solely as an agile development tool, it also offers a standard project management solution: Jira Core.
Comparing these project management systems can feel tedious, so we put together this comparison piece. We'll examine these solutions side-by-side, looking at their features, user experience (UX), integrations, and support options.
If you've already narrowed down your search to Asana vs. Jira, read on. Otherwise, use our software category page to browse other options. You can also click the banner below to receive a free, no-hassle shortlist of PM recommendations from our knowledgeable Technology Advisors. Getting started is easy and takes less than five minutes.
Topics
Top features in Asana vs. Jira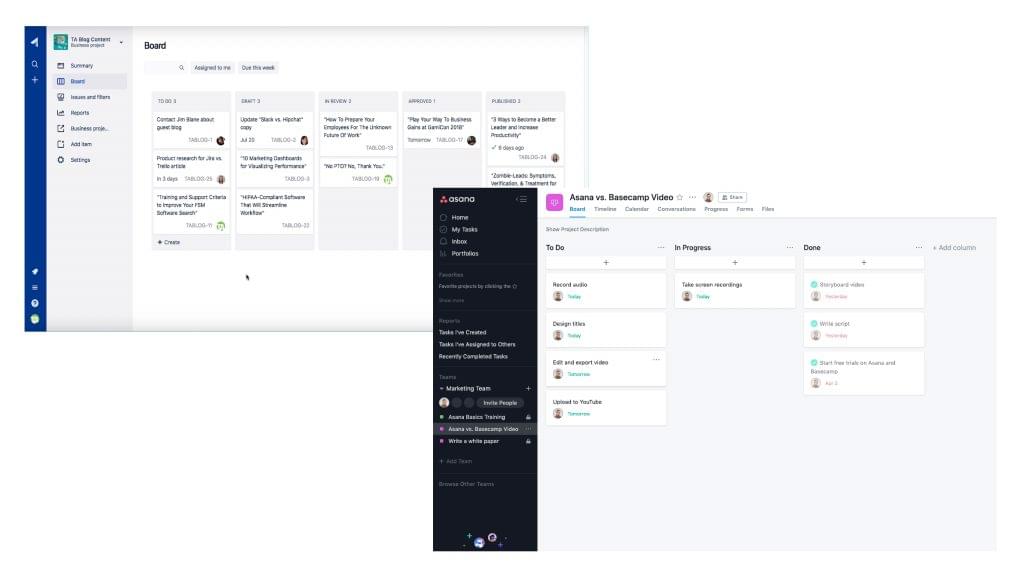 In terms of features, Asana and Jira are very similar. Both are cloud-based solutions that offer standard project management tools.
For example, Asana and Jira organize to-dos into task lists which you can visualize in Kanban boards and workflows. Tasks in both systems support adding task details, attachments, assignees, due dates, and comments with @ mentions. Both solutions also offer advanced capabilities like task dependencies.
The basics are all roughly the same in Asana vs. Jira, but there are three big differences:
local host deployment
project portfolio management (PPM)
calendar view
Currently Asana is the only one of the two that offers a PPM tool and calendar view. Jira doesn't offer a calendar view for task lists, but it does offer a separate tool for project portfolio management. Jira also gives users the option to choose from a few cloud-based Jira Core plans or to host the software on private servers.
These differences may not matter too much if you prefer a cloud-based software and if you can do without a couple extra view options. But if you need a project management system more capable of showing you the big picture, Asana is more likely to check all your boxes.
User experience (UX) in Asana vs. Jira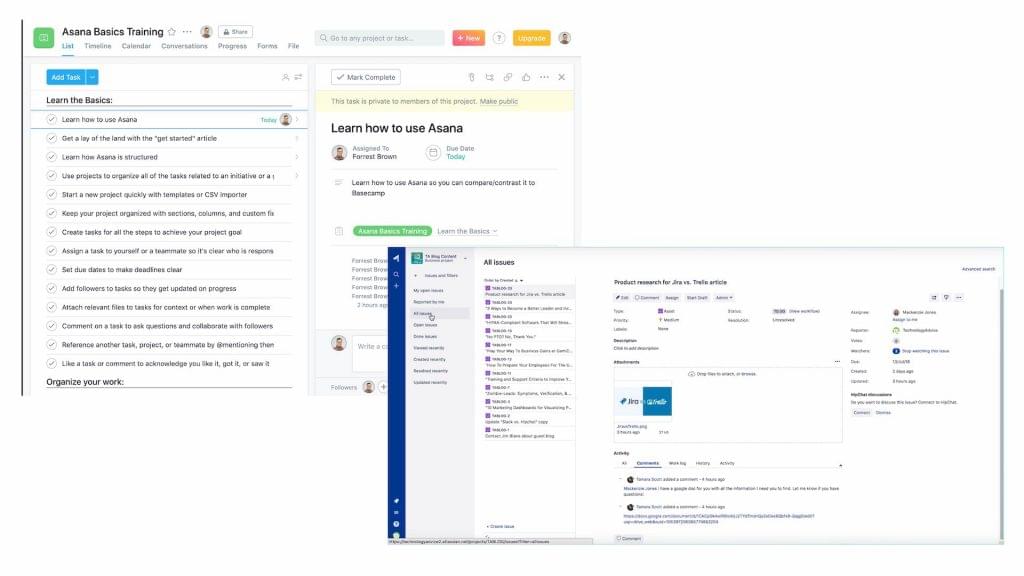 If UX is a top priority for you, don't worry — both Asana and Jira feature great user interfaces (UI) that make it easy to navigate through your projects and stay on track. That being said, Jira has a slight edge on Asana when it comes to user experience.
Jira is all about keeping it simple. While this does mean Asana offers a few more bells and whistles than Jira, this approach plays to Jira's advantage in terms of UX. Navigating in Jira is fast and easy. The system only displays the most important section icons in the left sidebar, and all elements on the screen have enough space to breathe. If you want to add more navigation sections to the left sidebar, Jira also lets you customize your workspace.
This isn't to say Asana offers a poor user experience — it's just different. When working in Asana, you'll notice many more navigation buttons in the left sidebar than you see in Jira. Asana also displays a short list of saved reports, an option to switch between teams, and a list of your projects.
This is good for larger organizations where you might be involved in multiple projects with different teams, but for smaller companies or for people who usually work with the same group of people on one project at a time, it can feel overwhelming.
Integrations offered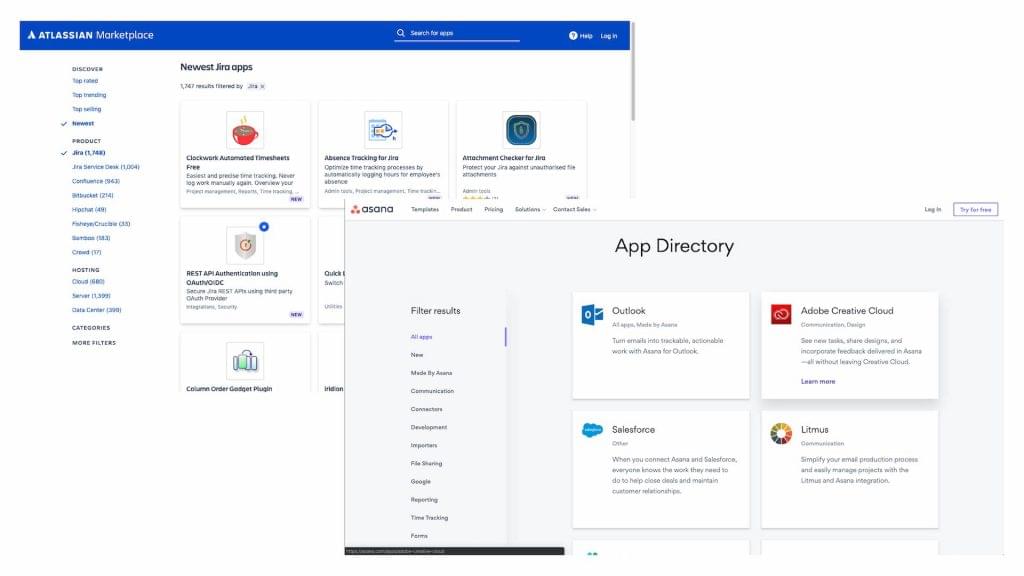 Asana and Jira both offer an impressive list of integrations. For Asana, you can browse apps in Asana's App Directory, and for Jira, you can find apps in the Atlassian Marketplace.
You'll find integrations for document management systems like Google Drive and Dropbox in Asana and Jira, but Asana offers a better selection of general-use integrations. These include apps such as Adobe Creative Cloud, Microsoft Teams, Slack, MailChimp, and Salesforce.
There are currently over 950 apps for Jira on the Atlassian Marketplace, but they tend to be more specialized and geared towards software development. You'll still find apps like Adobe Creative Cloud, Slack, and Salesforce, but expect to see more apps like GitHub, Zephyr, and other tools typically associated with agile development. Jira also integrates seamlessly with other Atlassian tools like Confluence and Bitbucket.
Available support options
Like most project management systems, Asana and Jira offer varying levels of support and response speed based on the plan you choose. The range of support offered starts with community forums and knowledge base resources for lower priced plans and ends with prompt responses from both companies' customer success teams.
Asana divides the level of its support across four different pricing tiers. Jira takes a similar approach, except Jira uses a progressive pricing model, which means you only pay for the number of users in your organization.
Within this progressive pricing model, Jira offers its Software Cloud in two tiers: Standard and Premium. A Premium subscription gets you a guaranteed 99.9 percent uptime service level agreement (SLA) and access to 24/7 Premium Support. For companies that opt to host Jira on their own servers, Jira offers free software maintenance within your first year. This maintenance includes security patches, critical bug fixes, access to the Support team, and more.
Request your custom shortlist of the best PM software
After all is said and done, it's hard to go wrong with either Asana or Jira. But if you're still not convinced these are the right tools for you, contact us or use our software category page to compare other vendors. We'll send you a free, no-hassle shortlist of the best project management software for your needs. It's easy to get started and takes less than five minutes.
Technology Advice is able to offer
our services
for free because some vendors may pay us for web traffic or other sales opportunities. Our mission is to help technology buyers make better purchasing decisions, so we provide you with information for all vendors — even those that don't pay us.