Nicole Lazzaro is a world-renowned game designer. And if you're thinking, what does game design have to do with a website that covers workplace software, you haven't been paying attention.
Gamification is changing how companies build software and how consumers interact with it, not just at home, but at work as well.
To get an insider's perspective on this revolution, we spoke with Nicole about her theories on the science of fun. Listen to our short interview then read on for more about why gamification works so well (hint: you'll use brain power).
If you're interested in hearing more from Nicole, check out her website, 4k2f.com. And if you need a gamification platform for your own business, check out these great options.
What chemical makes you happy?
There are four major chemicals in the brain that influence our happiness (DOSE):
Dopamine
Oxytocin
Serotonin
Endorphins.
As Nicole explains, each plays a different role in happiness. And guess what? They are all triggered by gamified experiences. Let's dig a little deeper.
Dopamine is what we normally think of as the happiness drug. However, that's a big misconception. Dopamine is actually involved more with anticipation than the actual "happiness" feeling. Nicole describes it as a striving emotion.
Oxytocin is the neurochemical that has allowed us to become social creatures. It makes us feel empathy which helps us feel close and bonded to others when it's released.
If you're in a good mood, you've got serotonin to thank. And if you're in a bad mood, you've got serotonin to blame. It's a regulator. Interestingly, Nicole explains, 80 percent of serotonin exists in the gut, and is governed by your state of hunger (yes, this is why you're hangry).
Endorphins are responsible for masking pain or discomfort, which explains their association with the "fight or flight" response. When it comes to designing happiness, endorphins help you "power through." Nicole, for example, is an avid runner. Endorphins allow her to push farther and harder as she works towards distance goals.
Together these chemicals create desirable brain states (and keep people coming back).
Experiences that release the DOSE neurochemicals make us happy, which makes us want more of the same. Does a desire to return to the same experience sound like a desire you probably have for your customers? Yes, it certainly does: customer loyalty. Gamified user experiences created with neuroscience in mind keep consumers coming back for more.
Whether those experiences are created to keep employees returning to your LMS for more gamified training, or to keep readers revisiting your site for more gamified content, this scientifically-backed approach works. It's the reason gamification is expected to grow to a $5.5 billion industry by the end of 2018, and the reason you should be thinking about how to include gamified experiences into your technology.
The Takeaways:
There are four primary chemicals in the brain that effect happiness: dopamine, oxytocin, serotonin, and endorphins
By designing gamified experiences that activate these chemicals, you can increase your users' happiness and loyalty
* * *
Listen to more episodes of the TechnologyAdvice podcast on SoundCloud and iTunes, or follow us on Twitter, @Technology_Adv. If you are in the market for gamification software, we can help. Use our nifty Gamification Software software category page to find the gamification software to best fit your needs.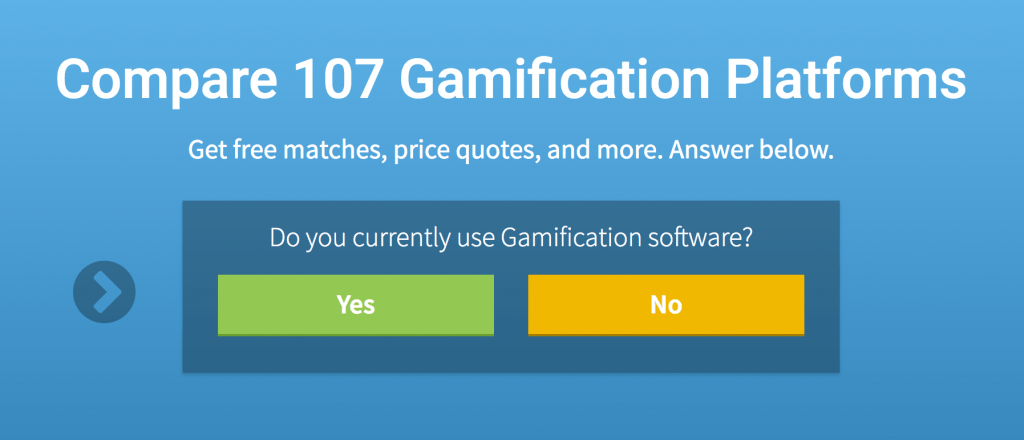 Technology Advice is able to offer
our services
for free because some vendors may pay us for web traffic or other sales opportunities. Our mission is to help technology buyers make better purchasing decisions, so we provide you with information for all vendors — even those that don't pay us.