Product managers have difficult jobs.
As the leaders of product development and strategy, they're tasked with building an application that simultaneously meets the high standards of fussy consumers and matches the philosophy of their CEO.
In a practical sense, this means identifying a need in the market with customer feedback, orchestrating teams of engineers and designers, and creating estimates — both temporal and financial — for executives.
ALSO READ: 5 of the Best Project Management Tools for (Almost) Any Task
Given these requirements, it makes sense that product management software has become such an important tool for product managers. It may be difficult to maintain your sanity without some type of centralized tool.
If you're a product manager looking for a reliable tool to create roadmaps, estimates, and updates, you can start with these five options:
Say your team with juggling a dozen projects at once, each of them with dozens of moving parts. Managing every detail quickly becomes a time-consuming part of every day, and you're looking for a way out. ClickUp's fully-customizable, colorful, and simple collaborative boards take all of the guesswork out of project management. Everything is handled visually, so your teams can glance at their project boards and quickly take in all of the information needed to hit the ground running.
ClickUp is designed from the ground up to integrate seamlessly into any workspace. Task automation is simple to implement without needing to insert any code at all, and in our full review, you can learn more about its extensive features.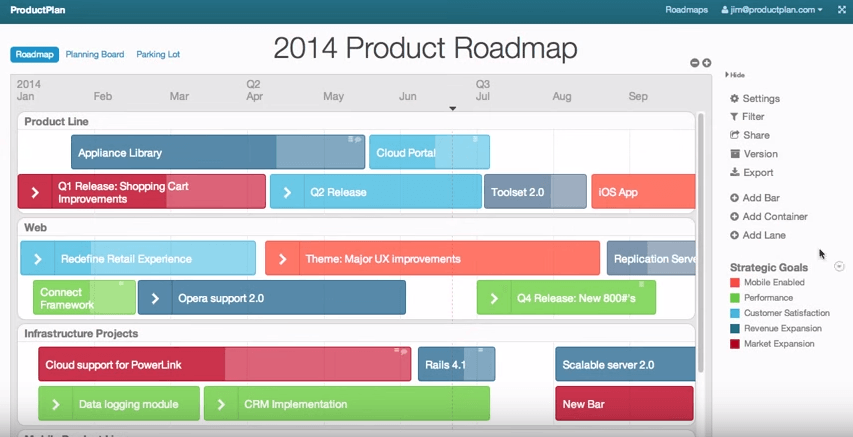 Like most software, product management can be divided into two categories: best-of-breed and general use. ProductPlan falls into the best-of-breed category, with a particular focus on roadmaps.
In general, roadmaps use a series of horizontal bars to indicate spans of time. This makes them excellent tools for communicating estimates to stakeholders about the timeline for development.
Because ProductPlan's entire software focuses on roadmaps, it's no surprise they offer one of the best around. Users can easily build and adjust roadmaps through drag-and-drop functionality, update the details of individual time frames on the fly, and share roadmaps with stakeholders using a private link.
ProductPlan is refreshingly straightforward, which is both a gift and curse. If you need something more powerful for managing ideas or collaborating in a more specific way, you may want to look elsewhere.
If you're looking to build lots of roadmaps, ProductPlan is probably your best option.
During the development lifecycle, ideas change, and the repository of data changes. With its idea management and user feedback features, Wizeline lets product managers continuously adapt to this progression. 
For example, Wizeline has a product survey feature that lets you gather user feedback, which you can store in the software's idea management module. Once all the ideas gathered from users (and stakeholders) have been codified, you'll can document feature requests in the backlog.
This one, two, three-style functionality aligns with how products are often developed —  i.e. users give feedback, that feedback is documented, and then if there's a pattern in the feedback, it becomes a new feature.
Wizeline also lets you organize your feature backlog based on measures of cost, pervasiveness, and urgency. Arranging your feature requests in logical order will make it much easier to prioritize an urgent item mentioned by 500 users versus an executive's random petition.
And yes, Wizeline has roadmaps, too.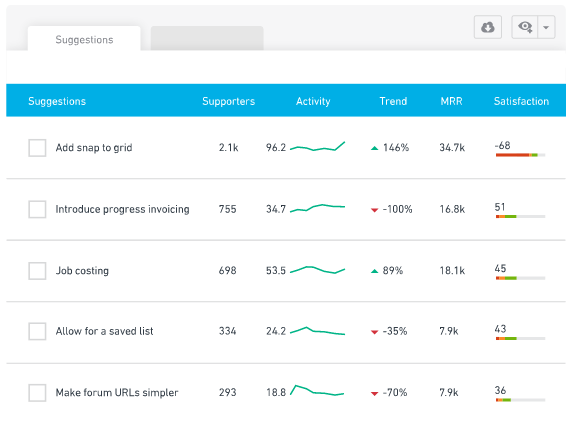 Speaking of random executive petitions, you really want to make sure you have your data organized so you can judge all incoming requests under the microscope of user feedback.
If it doesn't have data, it probably shouldn't be built. That's how feature prioritization works.
UserVoice is an excellent tool for both collecting and analyzing data from users. On the collection side, UserVoice can pull requests and feedback through in-app widgets, a dedicated customer portal, or through mobile. This software also gives your customer-facing teams user feedback forms so they can easily document customer input during interactions.
Once you have a reliable stream of customer data, you can manage it in UserVoice a number of ways. You can segment user feedback based on source, plan type, satisfaction score, or custom metrics that you create. There's also a labeling system to help you can create custom filters, like which team the data is relevant to, customer type giving the data, etc.
To analyze all of your user data, UserVoice provides a substantial number of pre-built reports. You can watch trends in feature popularity over time with a line graph, or analyze the business impact of features by assigning estimated revenue metrics.
However you want to scrutinize or utilize the feedback your customers provide, UserVoice can almost certainly handle it.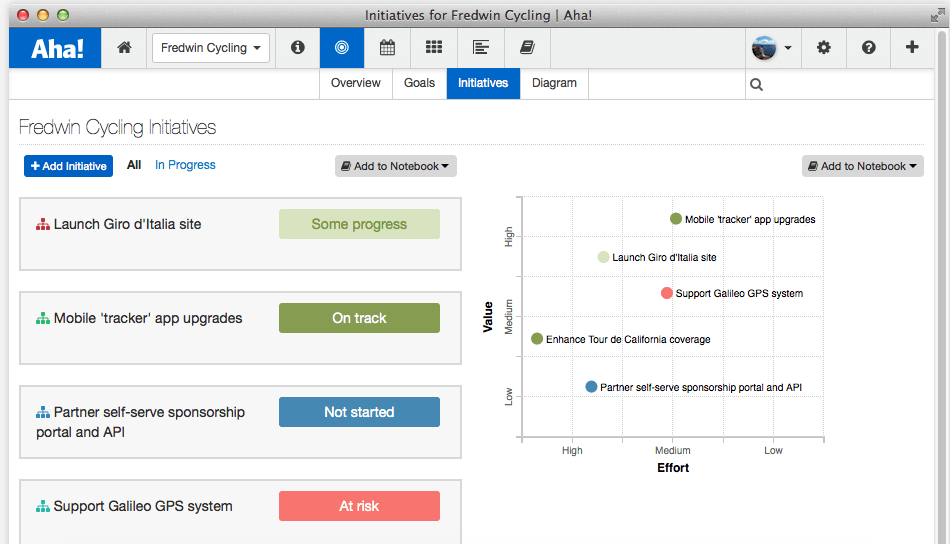 Developing a product means finding a place for it in the market, and that requires more than coding. Competitive analysis, forecasting, go-to-market planning — these are all part of the process. 
The first thing you see when you hit Aha!'s website is a roadmap, but this software offers a number of unique tools for the strategic part of product development, beyond just the management portion.
Under the Strategy tab, you'll find tools for constructing a visual representation of your market, the goals you have for the development cycle (pictured above) and the initiatives that will operationalize your plan.
Aha! Does a lot of other stuff, too. There's the roadmapping module as well as a card-based management system for keeping track of feature releases. There's even a reports tab that lets users choose from pre-fab reports or build something from scratch.
You can compile different reports, strategy visualizations, and roadmaps into a "Story" and ship it to your executive team — which means you can skip the PowerPoint.
* * *
Given the technical requirements of collaborating with engineers and the political requirements of communicating with executives, developing products is far from straightforward. 
Choosing product management software that gives you a method for making informed decisions will alleviate some of the pressure and establish processes for making continuous improvements.
Technology Advice is able to offer
our services
for free because some vendors may pay us for web traffic or other sales opportunities. Our mission is to help technology buyers make better purchasing decisions, so we provide you with information for all vendors — even those that don't pay us.