Sourcing talent in the current labor market is difficult. At the end of August 2022, open jobs outnumbered unemployed workers by four million, and the average time-to-hire was 43 days.
Workable is one of the leading contenders for recruitment platforms that consistently enjoys top ratings from multiple B2B software review sites. However, it's not a one-size-fits-all solution. We've compiled five Workable alternatives, and if none seem to be a fit, try our HR Software Guide to get a shortlist of five vendors that fit your needs.
Why Workable Might Not Be the Best Fit for Your Company
Although Workable offers many benefits including branded career pages, employee referral tracking, AI recruiting, and more, it isn't a one-size-fits-all solution. Specifically, Workable has the following drawbacks:
Limited automation for application reviews
Limited scheduling features
Occasional glitches in automation that require manual tasks
Missing interview notes from candidate profiles
Complicated document and e-signature workflows
Integration issues, for example, with scheduling tools
Top 5 Workable Alternatives
If you're thinking about switching from Workable to a different recruiting platform, you'll want to look at Workable competitors like the ones listed below.
JazzHR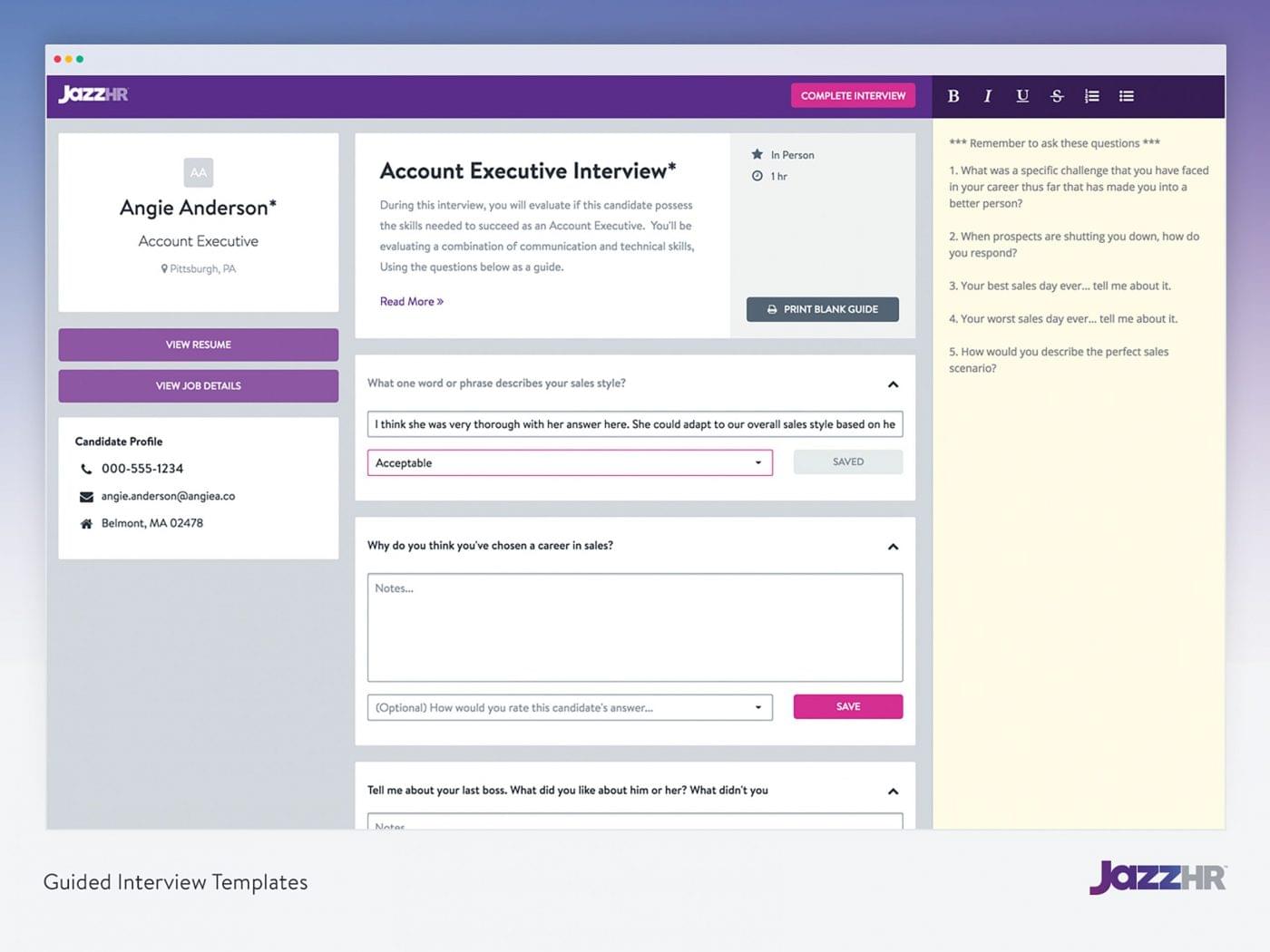 JazzHR is a comprehensive cloud-based recruiting software solution that helps recruiters:
Create a custom careers page
Post jobs to their company's or a client's website
Syndicate job postings to a number of job boards
Organize all notes and interview feedback in one place
JazzHR's scheduling, interviewing, and document management features make it stand out from Workable.
Scheduling
Workable users cite scheduling difficulties, such as integration issues with popular scheduling tools. Workable enables candidate self-scheduling but doesn't address internal scheduling for the hiring team as well.
With JazzHR, you can schedule interviews across multiple calendars, as the platform integrates with all major scheduling tools. You can also sync multiple calendars to find the right time for everyone on the team.
All members of the hiring team can access JazzHR's recruiting calendar which helps everyone stay on the same page and know what hiring tasks need to be completed on any given day.
Interviewing
A major plus with JazzHR compared to Workable is the ability to record and store interview notes to the candidate's profile that can be accessed at a later time. Workable users noted that interview notes disappear as a candidate progresses from one stage of the hiring process to another.
Why you might choose JazzHR over Workable
Easier scheduling
Retrievable interview notes and feedback
Document management and e-signature functionality
Breezy HR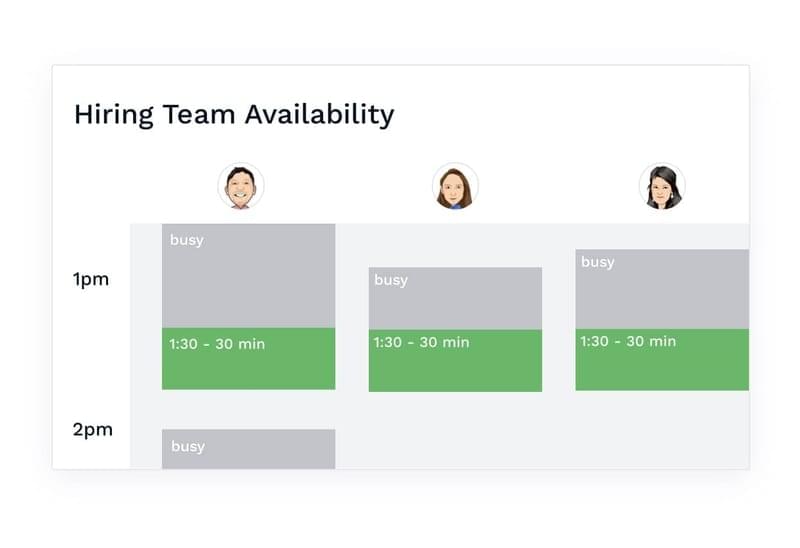 Breezy HR is a hiring platform designed for small and mid-sized businesses. It covers the same functions that Workable does. However, it has scheduling and inclusion features worth calling out.
Scheduling
Like Workable, Breezy HR also allows candidates to self-select interview times that work for them using its native self-scheduling tool.
However, Breezy HR also addresses internal hiring team scheduling with its built-in team scheduling tool. This tool shows a side-by-side view of all interviewers' availability. The user can drag and drop interviews into common open time slots.
Breezy HR integrates with other scheduling and calendar tools, such as Google and Outlook calendars. In fact, users cite the ease with which they're able to sync their and others' schedules using Breezy HR which is a plus compared to Workable.
Inclusive recruiting
Breezy HR syndicates job postings to mainstream job boards, such as Indeed, LinkedIn, and ZipRecruiter. However, its approach to job posting helps companies with their diversity, equity, and inclusion efforts as well by advertising job ads to DEI-focused job sites, so employers can recruit individuals of diverse backgrounds.
Why you might choose Breezy HR over Workable
Easier scheduling
Range of job boards
Saved interview notes within Breezy HR
Customized pipelines
Also read: Strategies and Tools for Tech Talent Pipelining
Greenhouse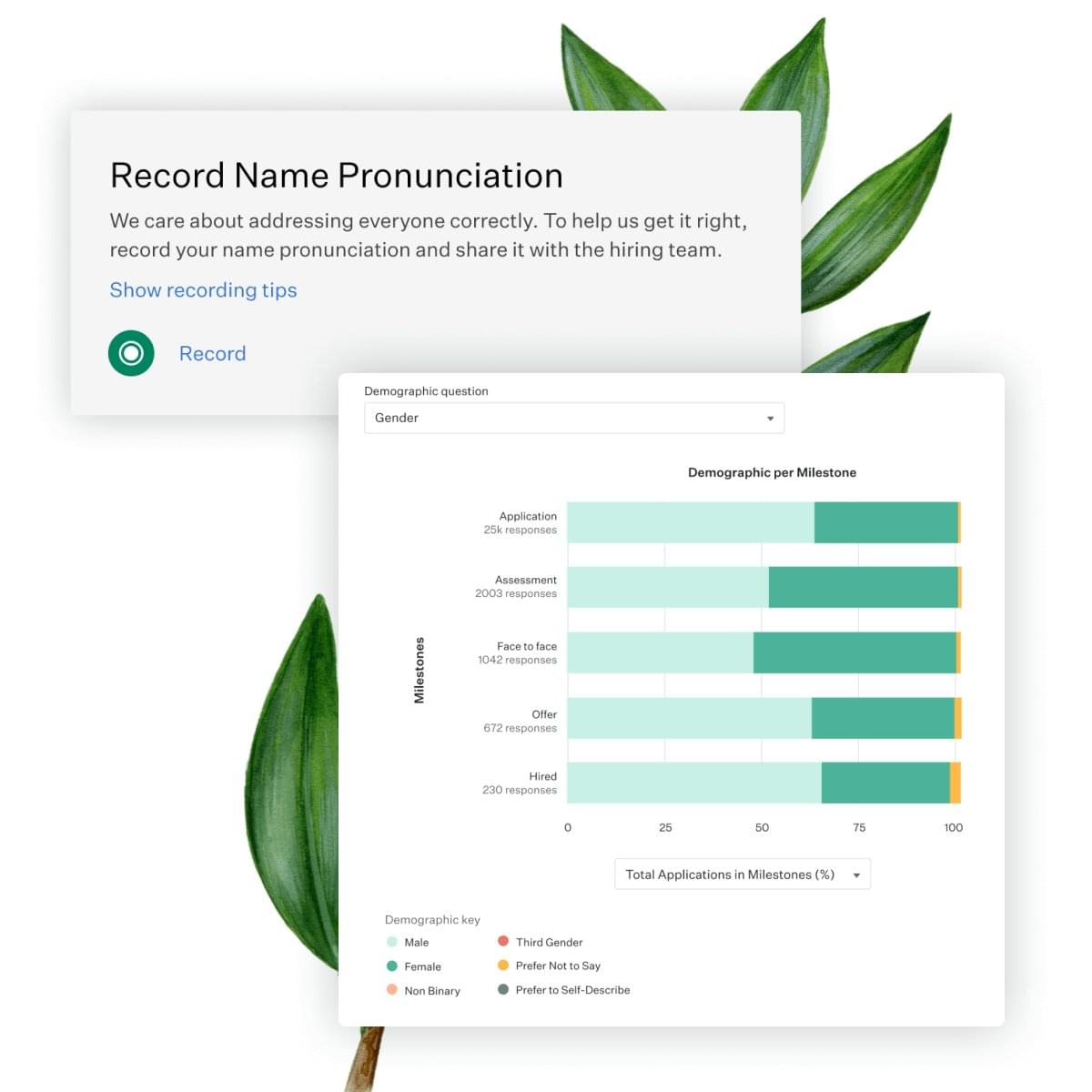 Greenhouse helps companies at every stage of the recruiting and hiring process and even offers separate onboarding tools. What sets Greenhouse apart from Workable is its tools for fair, respectful interviews and on-the-go recruiting.
Respectful and fair interviewing
Workable and Greenhouse incorporate similar features to support a company's commitment to DE&I. However, Greenhouse fosters authentic interaction between the candidate and hiring team by allowing candidates to pre-record how their name is pronounced and indicate their personal pronouns. This is important for making candidates feel seen and heard.
To further mitigate bias, Greenhouse uses notifications to remind hiring team members at key stages of the hiring process to refrain from snap judgments and focus solely on the attributes pertaining to the role.
Greenhouse Events app
Greenhouse's Events mobile app helps recruiters connect with candidates in person at job fairs and professional networking events. Recruiters can manage candidate information via automatic import and resume capture.
Greenhouse's Events app takes away the hassle of keeping track of paper documents, such as business cards and hard-copy resumes.
Why you might want to choose Greenhouse over Workable
Inclusive recruiting and hiring features
Events mobile app
BambooHR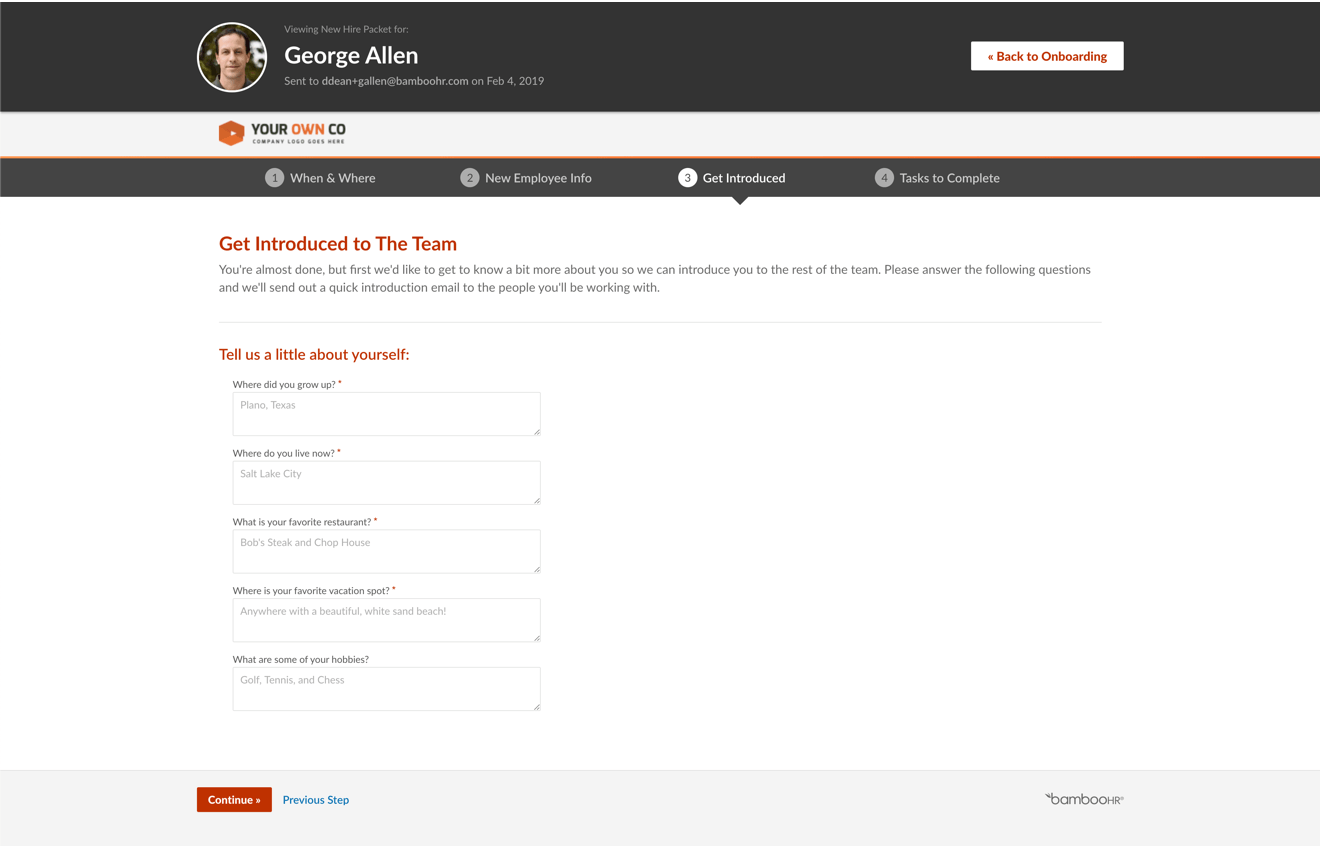 BambooHR is a human resources information system (HRIS) for small to medium-sized businesses that also offers recruiting and hiring functions. This makes it a worthy option for SMBs who want an applicant tracking system (ATS) as well as other HR software functions. Workable, on the other hand, focuses solely on recruiting and hiring without offering onboarding features.
Templates
BambooHR has job description templates to simplify the process of designing the right job post to reach the right candidates. The hiring team can also enter and save notes on a candidate directly in their candidate profile.
Once the best candidate is selected for the job, users can continue the hiring process using customizable offer letter templates that auto-populate with the correct info. This facilitates an easier document and signing process than Workable, as users reported errors or glitches with form auto-population.
Comprehensive HR
While BambooHR provides several features for the onboarding and hiring process, its software is more commonly known as an HR management resource than a recruiting platform. As such, BambooHR's hiring and onboarding capabilities are only available in the Advantage price tier. For this reason, BambooHR is a great option for companies looking for a comprehensive HR solution over one that focuses only on hiring, such as Workable.
Why you might choose BambooHR over Workable
Streamlined yet customizable templates
Need for a more comprehensive HR + recruiting + onboarding solution
Zoho Recruit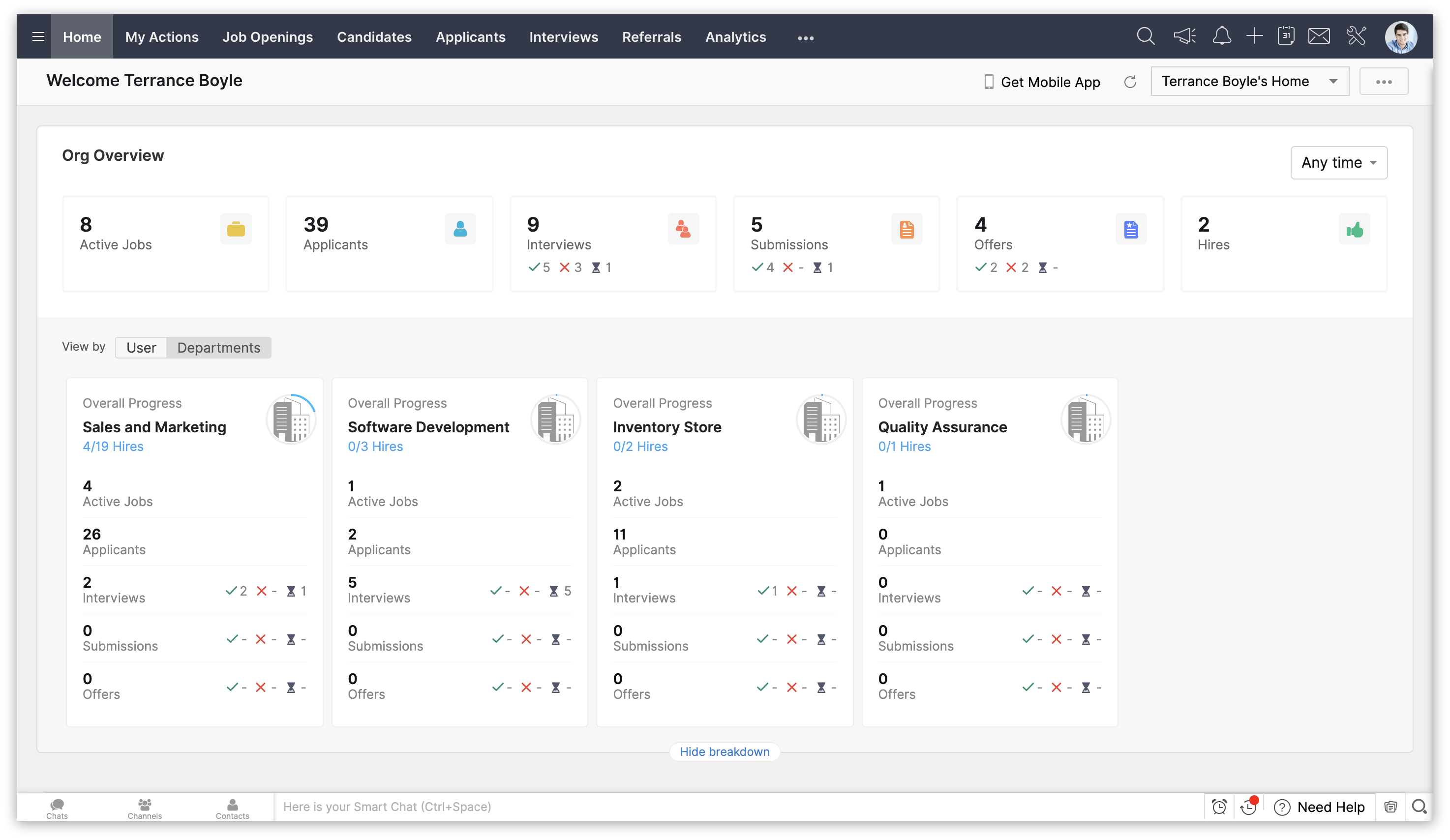 Zoho Recruit is a one-stop shop for recruiting and hiring that assists hiring teams with automated job board posting, résumé handling, interview scheduling, and more. It stands out from Workable in terms of its automation and AI capabilities.
Automated candidate pipeline
Workable users report that in spite of its automated candidate pipeline, they still find themselves needing to manually move candidates along. Zoho Recruit lets users set up customized automated workflows that progress candidates through the funnel based on pre-set triggers. This capability in Zoho Recruit doesn't seem to malfunction as much as in Workable.
Resume management
Artificial intelligence (AI) comes standard with Workable but only for candidate sourcing. Workable's platform reads a job description and compares it to passive and existing candidates to source the best talent.
Zoho Recruit, in contrast, first requires the user to post the job ad and wait for applications to start coming in. From there, Zoho Recruit's AI-powered Zia Candidate Matching tool helps organize incoming resumes and extract relevant information. It compares information across resumes, job descriptions, locations, industries, and other metrics, while Workable only parses based on keywords.
AI functionality in Zoho Recruit is more nuanced than those of Workable. However, these capabilities are only available starting with Zoho Recruit's Professional plan.
Why a company may choose Zoho Recruit over Workable
Automated pipeline functionality later in the hiring process
More varied AI capabilities
Finding the Right Alternative to Workable
Recruiting software is one of the ways your company makes an impression on potential and existing candidates. It also needs to be effective, efficient, and easy for hiring teams to use. While Workable is a great option for companies that want to identify and hire talent, companies that value more robust automated and AI tools, seamless workflows, and inclusive hiring should consider these alternatives.
If you're still unsure about which Workable competitor is right for you, use our HR Software Product Selection Tool to request your free shortlist of recruiting software recommendations.
Top Human Resources Software Recommendations
Rippling is the first way for businesses to manage all of their HR, IT, and Finance — payroll, benefits, computers, apps, corporate cards, expenses, and more — in one unified workforce platform. By connecting every business system to one source of truth for employee data, businesses can automate all of the manual work they normally need to do to make employee changes.
Paylocity is a different kind of HR and payroll provider. We partner with you to create great software that delivers on your unmet needs – solving today's challenges and designing solutions for the unknowns of tomorrow. And we stay your partner with dedicated, on-demand support every step of the way. Build a better future for your organization with a scalable solution focused on your business outcomes and priced for your budget.
Paycor's HR software modernizes every aspect of people management, which saves leaders time and gives them the powerful analytics they need to build winning teams. Paycor provides a full suite of HCM solutions with a single source of truth for employee data, so users never have to switch platforms, log-in to multiple systems, re-key data or open multiple spreadsheets. Everyday processes become simplified, allowing organizations to focus on their most important work.
Need a Little Help?
Talk with a software expert for free. Get a list of software that's great for you in less than 15 minutes.
Technology Advice is able to offer
our services
for free because some vendors may pay us for web traffic or other sales opportunities. Our mission is to help technology buyers make better purchasing decisions, so we provide you with information for all vendors — even those that don't pay us.