Plenty of multinational and multi-location businesses use Taleo to organize their talent acquisition and management processes, but just as many are moving away and seeking large-scale recruitment tools as Taleo alternatives.
Perhaps the overall movement to cloud-based products sounded the death-knell for Taleo, a traditional on-premise recruiting software solution. Oracle has successfully folded much of the Taleo software into their cloud Human Capital Management (HCM) product, and no longer offers the software as a standalone purchase.
We can help you find the right Taleo alternative for your company in just five minutes. Click on the banner below and fill out the form for a short list of recommendations that fit your needs, or contact us for more information. Read on for the full list of Taleo alternatives.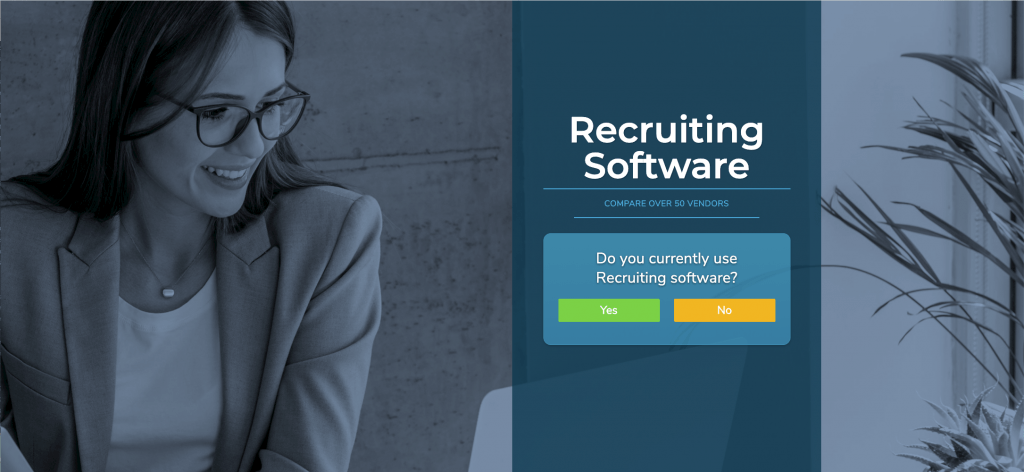 Taleo was at the leading edge of candidate sourcing and organization in the early 2000s, but reviews — from users and applicants — have steadily trended negative since Oracle's acquisition of the tool in 2012.
Also Read: The Best HR Software for Enterprises
User reviews from around the web raise these issues with Taleo:
The software is not user-friendly for recruiters setting up jobs and working through applications.
Taleo is big software. If you've got a lot of recruiting to do, then it may be worth the money, but it is not designed for small businesses.
It's expensive. The pricing feels low until you realize you have to pay for 1000 employees. If you've got 1000 employees, then it may be worth the price.
Applicant user experience leaves a lot to be desired, as the tools don't parse resumes or LinkedIn accounts.
So if you're looking for a solution outside of the Oracle software juggernaut, these Taleo alternatives give you talent acquisition and management features without the deployment weight of Taleo.
Taleo alternatives
Greenhouse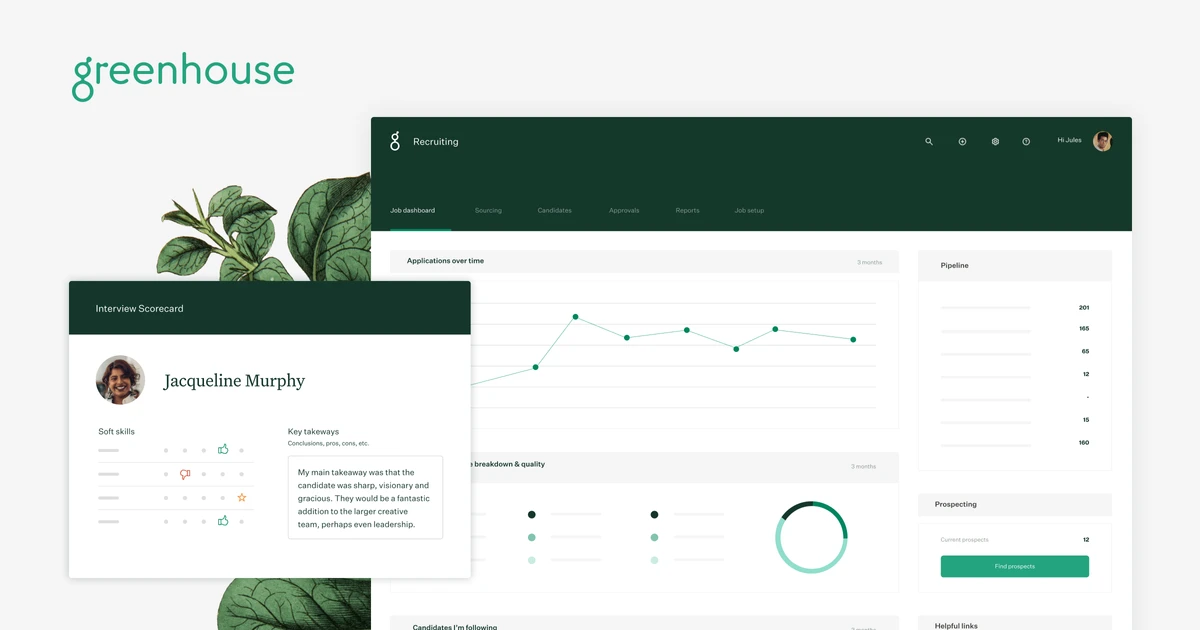 Greenhouse is a recruiting and talent management app designed to promote the human capital of large businesses. Greenhouse includes an event module and CRM that help recruiters keep track of passive and future candidates. The tool also uses collaboration features to streamline the hiring process across departments and scaled candidate lists.
Standout feature
Their Inclusion module eliminates bias in the hiring strategy to promote diverse companies. Incorporating inclusive best practices into the hiring process, the tool puts candidates qualifications front and center. Features like resume highlighting and hiding focus hiring managers on their set hiring criteria, instead of fitting the requirements to a good candidate.
Jobvite
Jobvite offers a recruiting platform that encompasses all of the recruitment and onboarding tasks a company will tackle, or companies can purchase the software in individual modules. Look for great features like recruitment marketing, connections to social media tools for social media recruiting, and video interviews.
Standout feature
Jobvite offers a text recruiting module. This tool continues conversations with candidates via text message, giving recruiters access to candidates at any time, and with a documented record of the conversation. The module includes an AI-powered chatbot, which manages much of the conversation with candidates so recruiters can focus on the qualified candidates.
ClearCompany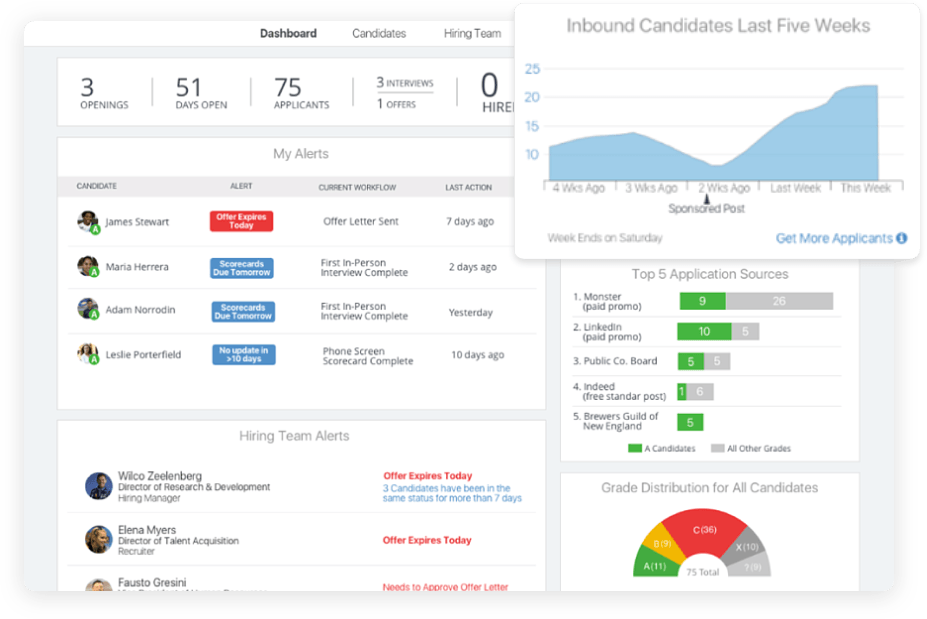 ClearCompany is a unified recruitment and performance management platform that manages human resources tasks from application through goal setting. ClearCompany maintains relationships with all the major job boards, so companies can cash in on their rebates. Purchase the ClearCompany platform, or piece together what you need from applicant tracking, performance, or onboarding modules.
Standout Feature
Predictive performance metrics rely on benchmarks from successful current employees so teams can make hiring great-fit employees into a process. Define what makes an employee a good fit for your company, and use that information throughout the hiring and onboarding process to ensure new employees align with existing goals.
JazzHR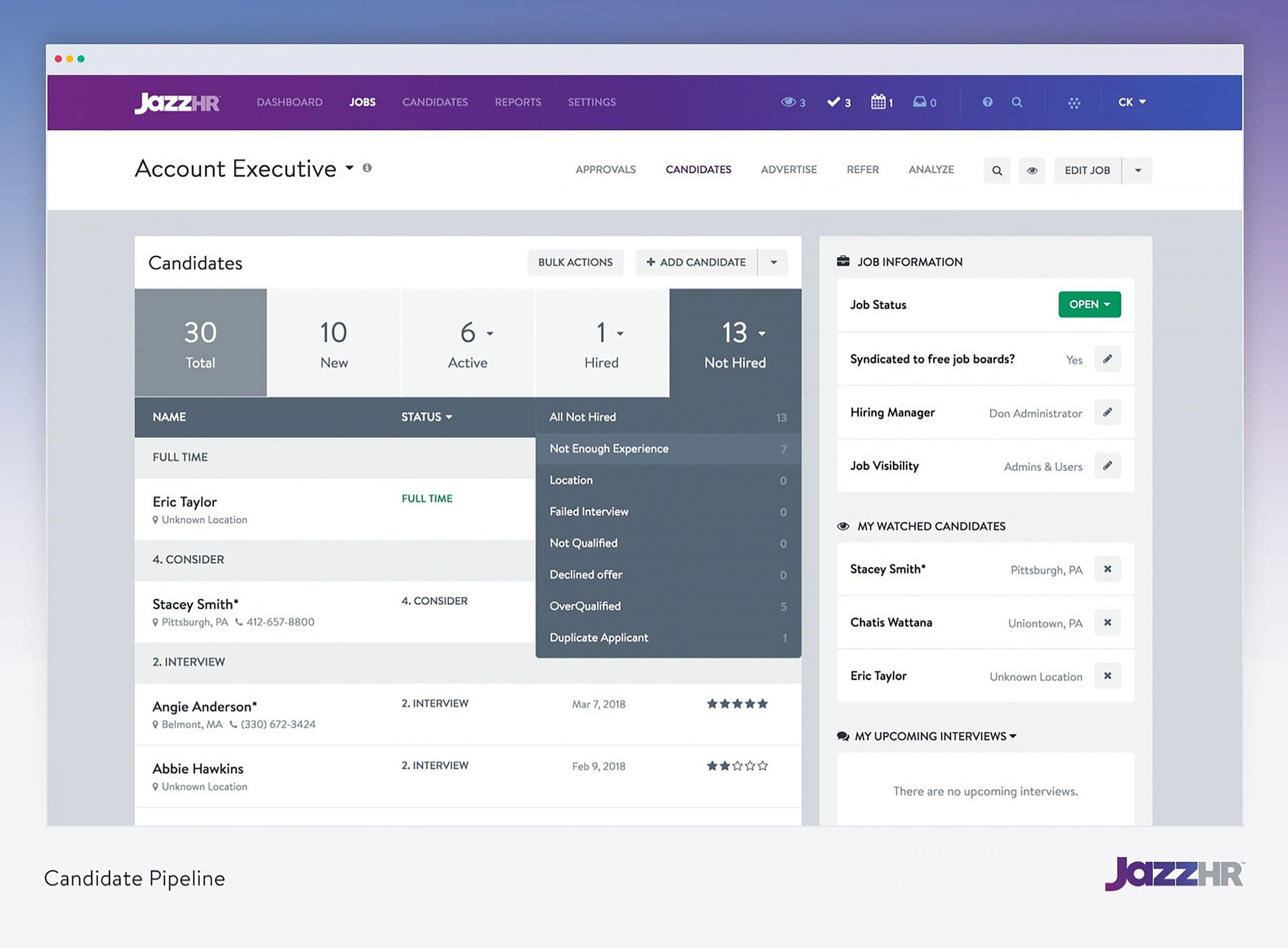 JazzHR is a recruiting and applicant tracking system designed to keep the team organized around a single source of truth (SSOT): the candidate's profile. With branded career pages, team notifications, and connections to major scheduling and appointment applications, teams can give their candidates a seamless experience from application to hire.
Standout feature
Automate a candidate's movement through the hiring process with customizable workflows that trigger notifications for the team. These triggers cover everything from candidate ranking to interview scheduling. Documents pass quickly between the hiring team and the new hire, streamlining the offer negotiation and acceptance phase.
Yello
Yello is a recruitment CRM that's built for enterprise and large businesses who need to source, track, and hire large numbers of candidates each year. The tools combine candidate sourcing, in-person and email marketing tools, and hiring features. Use automated workflows, candidate texting, and reporting tools to better manage potential hires and improve your hiring process.
Standout feature
Yello's recruitment events features help high-volume and professional teams hire the best talent quickly and engage at scale during mass recruitment events. Connect quickly with individuals through the SMS tools, and keep those candidates' interest when they get home.
Kronos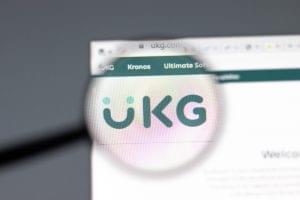 Kronos is an HRIS and HCM tool that covers everything from payroll to recruitment to talent management. Choose from three main product suites — Workforce Dimension, Workforce Ready, and Workforce Central — or a long list of industry and need-specific standalone products like time tracking and task management.
Standout feature
The Kronos online application system automatically parses a candidate's LinkedIn account and resume to fill in major application details. This feature significantly reduces the time a candidate spends applying for a position, improving the candidate experience from the first touch.
iCIMS
iCIMS is a recruitment software built for companies with scaled recruiting efforts. Use helpful recruitment marketing features like a customized careers page or SMS messaging to apply tools to speed your applicant sourcing. Tap into high-volume screening tools that surface the best candidates while automating follow-up with those that don't fit the job criteria.
Standout feature
iCIMS maintains a close relationship with Google, which gives them the advantage of providing companies with connections to the highly popular search engine as a job board. Companies can reduce their advertising spend and increase their recruitment marketing reach with this feature.
Get a short list of the right recruiting software for your company
Choosing the best applicant tracking system is a big job, but we can help you cut through some of the clutter. Our Technology Advisors are experts at matching companies with the right recruitment tools. Contact us to get started, or click on the image below to fill out the form and get your short list of 5 recommended recruiting tools.
Top Human Resources Software Recommendations
Rippling is the first way for businesses to manage all of their HR, IT, and Finance — payroll, benefits, computers, apps, corporate cards, expenses, and more — in one unified workforce platform. By connecting every business system to one source of truth for employee data, businesses can automate all of the manual work they normally need to do to make employee changes.
Processing routine HR tasks by hand and entering data in multiple systems can be time consuming and risky. That's why leaders depend on Paycor for a modern, adaptable, and unified system for all things HR. From engaging employee self-service, mobile push notifications and company updates to unlimited workflows, reminders, and notifications, Paycor's HR software helps you get out of the weeds so you can focus on bigger priorities like attracting, retaining and developing employees.
Designed for mid-market organizations (100+ employees). PeopleGuru develops and supports cloud-based Human Capital Management (HCM) software to help mid-market organizations attract, retain, and recognize their people and streamline back-office HR and Payroll functions. PeopleGuru HCM is a cloud-based, agile solution residing on one database that includes: HR, Payroll, ACA, Benefits Management, Time & Labor, Recruiting, Onboarding, Performance, Learning, Analytics, Salary.
Need a Little Help?
Talk with a software expert for free. Get a list of software that's great for you in less than 15 minutes.