Oracle Taleo, once a staple recruiting platform for major enterprises, is being phased out in favor of the Oracle HCM suite, which includes recruiting capabilities. While some businesses are comfortable making the switch to Oracle's larger HCM suite, others may want to consider migrating to another platform that better suits their unique needs.
The process of choosing the right alternative can be a difficult one. If none of the vendors on this list seem like a good fit, check out our Applicant Tracking Systems (ATS) Software Guide to explore all options.
Top 5 Alternatives to Oracle Taleo
When making the switch from Taleo to an alternative, you should consider what aspects of your business's talent recruitment could be improved and how the ATS you choose best addresses those areas. Where Oracle Taleo solution falls short in its candidate communication and archaic user interface, consider the below alternatives and their standout features.
Greenhouse: Best for diversity, equity, and inclusion
In an era wrought with burnout and employees quietly quitting, it is important to foster an inclusive environment that is mindful of employees' varying backgrounds. Businesses working to fight unconscious biases in the workplace will find Greenhouse's applicant involvement in the recruitment process and the employee referral modules especially rewarding.
Also read: Strategies for Cultivating a Diverse Talent Pool
Interviewing process
Greenhouse strives to eliminate implicit biases in the hiring process; this is immediately apparent in the ability it gives candidates before the interview to pre-record their name pronunciations and select their pronouns.
This unique tool makes apparent to candidates the small ways in which the company is striving for inclusivity, especially compared to other ATS platforms that only attempt to mitigate bias on the back end. Moreover, the hiring team can prepare before interviews and feel confident in addressing candidates in a way that suits them.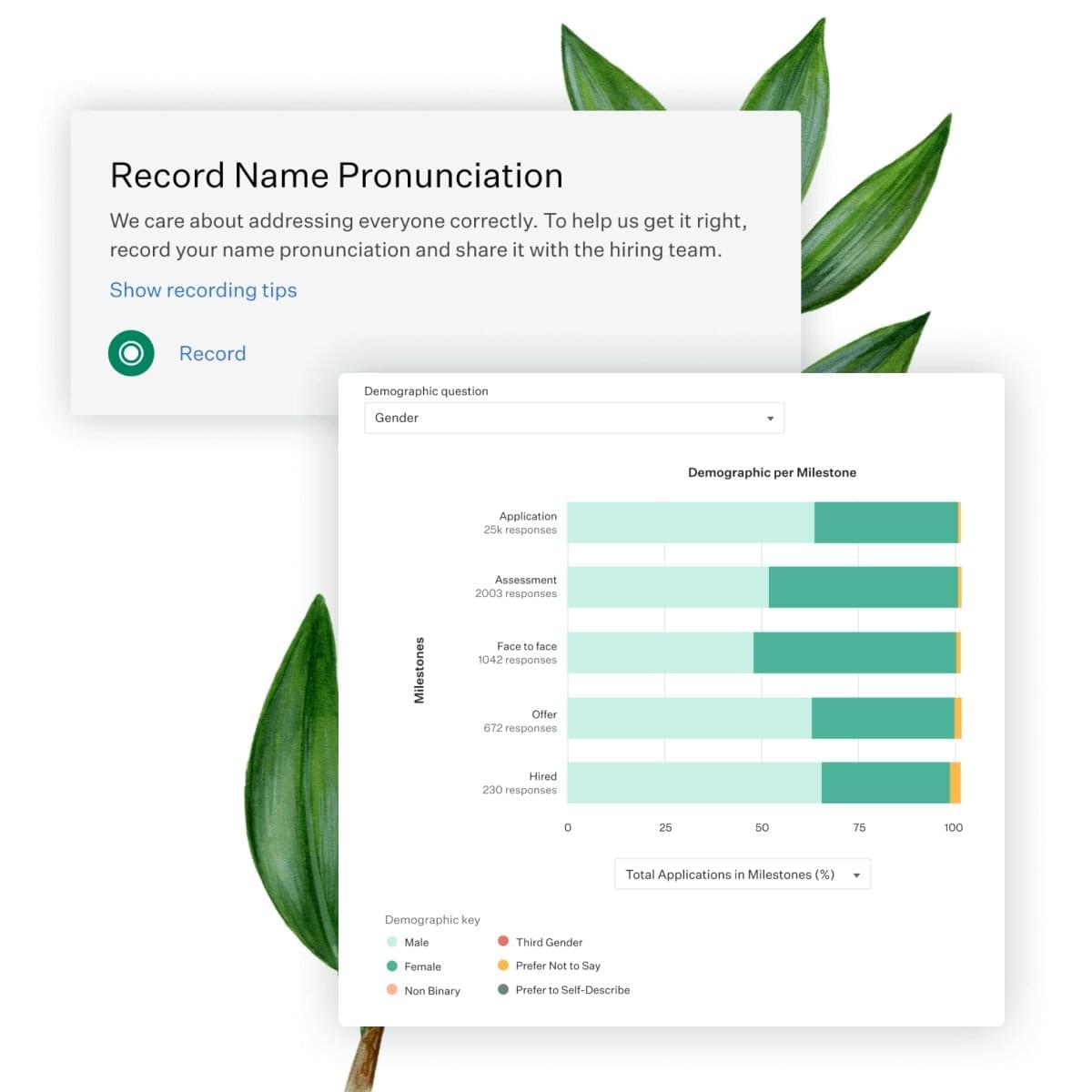 Greenhouse further eliminates bias by having HR recruiting teams create "scorecards" prior to the interview process. The team decides on particular criteria that a candidate has to meet in order to make it to the next phase of the hiring process (for example, for a managerial role, "shows success in managing a team of 10 people").
This helps people from different areas of the hiring process stay on the same page regarding what the ideal candidate for the role would look like.
Internal employee referral program
Greenhouse helps employers capitalize on employee networks by incentivizing staff to promote new positions using pre-filled social media posts. Each post includes relevant details for the open role and a URL with specific parameters unique to the employee who shares it. HR teams can track these posts and accurately reward the employee for any new hire that comes from the employee's network.
Why you might choose Greenhouse over Oracle Taleo
Intuitive bias-eliminators during the recruitment and interviewing phases
Streamlined communication among recruiters, hiring managers, and candidates
Easy to implement employee referral program
SAP SuccessFactors Recruiting: Best for global talent sourcing
Unlike Oracle's on-prem Taleo, SAP SuccessFactors Recruiting can be implemented as stand-alone software or as part of its larger HCM suite. However, businesses with remote workers or multiple locations may find SAP SuccessFactors Recruiting appealing for its global talent sourcing tool and integrations with third-party systems. Global businesses can source candidates worldwide in order to hire the best candidate for each role.
Global talent sourcing
For remote-friendly or global businesses, SAP SuccessFactors Recruiting provides a multichannel approach to sourcing talent. It provides hiring teams with access to 4,000 sources across more than 80 countries.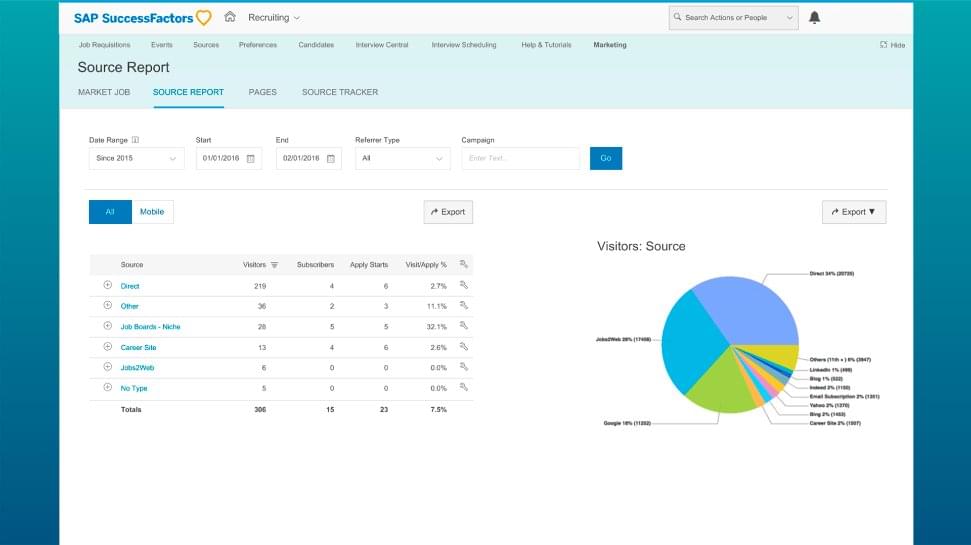 SAP also takes into consideration international data privacy laws, such as the GDPR, to ensure companies are compliant with relevant regulations. Businesses can also attract candidates in multiple languages with built-in support for 46 languages.
Third-party integrations
SAP SuccessFactors Recruiting can integrate with over 70 third-party systems, including social media platforms such as LinkedIn, Facebook, and Xing; assessment providers such as PeopleAnswers; and e-signature platforms such as DocuSign. This wide variety of integrations is valuable for enterprises that need to bridge the gaps across multiple applications.
SAP SuccessFactors Recruiting also seamlessly integrates with SAP SuccessFactors's larger HCM suite so candidates have a unified experience throughout the employee lifecycle. SAP's recruitment platform also works with SAP's Integration Suite for an additional fee, offering the ability to design, publish, and manage APIs if standard integrations do not meet the business's needs.
Why you might choose SAP SuccessFactors Recruiting over Oracle Taleo
Global sourcing for talent in over 80 countries with 46 supported languages
Integration with multiple third-party applications
Onboarding, payroll, and other core HR functions available with their HCM suite
Breezy HR: Best for automation
Oracle's original on-premise Taleo lacks many of the features that are common with modern, cloud-based alternatives, including automations that help save time for a smaller HR department pulled in multiple directions.
Breezy HR focuses on a simple user interface that facilitates easy communication between candidates and recruiters. It also offers customizable automations that reduce repetitive tasks, which allows HR teams to spend more time on higher priorities.
Communication
Breezy HR's interface promotes communication between candidates, recruiters, and the rest of the hiring team. From the main dashboard, recruiters can send an email or text message to a candidate, schedule an interview, and record notes on the candidate for the team to review.
Interview scheduling is also intuitive with Breezy HR's team scheduling tool, where the hiring team can easily view everyone's schedules side-by-side. Candidates also have a say in their interview times with Breezy HR's self-scheduling tool.
Breezy HR integrates with calendar systems like Google Calendar and Office 365, allowing all of their calendar information to be stored in one place. This means users do not have to flip to another calendar app to schedule interviews with their top candidates.
Automations
Breezy HR automatically distributes new job postings to mainstream online job boards when a new position is opened. Posting on the top job boards, like Indeed, ZipRecruiter, and Glassdoor, is included in Breezy's pricing, so businesses don't have to worry about paying an additional fee for that exposure.
Breezy then collects the candidates for each position and adds them to the applicant tracking pipeline for review. Users can then view both original and parsed versions of applicant resumes and run reports to determine which job board provides them with the best candidates
Users can also benefit from Breezy HR's pre-determined stage actions. For example, users can instruct Breezy to send messages, questionnaires, assessments, or interview scheduling requests automatically based on the candidate's step in the hiring process.
Additionally, Breezy HR promotes automated pre-screening questionnaires. Depending on candidates' answers to user-created questionnaires, Breezy will automatically advance or disqualify candidates. These automations quickly reduce manual follow-ups so that more time can be spent in interviews and internal discussions with the team to select the best candidates.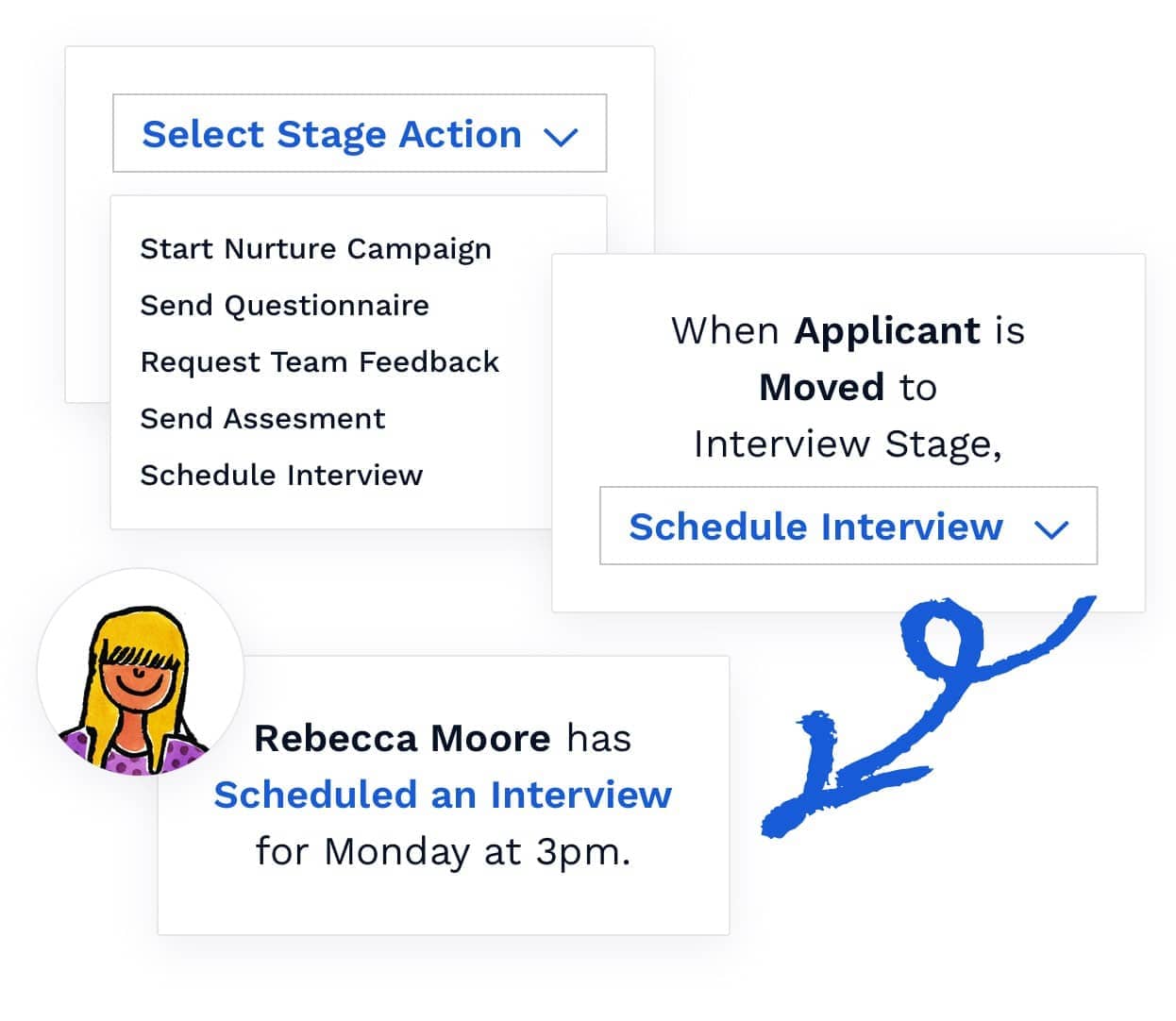 Why you might choose Breezy HR over Oracle Taleo
Easy communication amongst candidates, recruiters, and hiring managers with native SMS and email functionality
Flexible and convenient interview scheduling tools, including integrations with calendar apps
Streamlined records of internal discussions on prospective new hires
Automated job listing distribution and pre-screening questionnaires to reduce repetitive tasks
Teamtailor: Best standalone ATS
Teamtailor is a relatively new ATS vendor that targets small to medium-sized businesses and is designed to grow with the business. Businesses that are hesitant to invest in Oracle's HCM Suite may be attracted to Teamtailor's recruiting tools.
The software offers career pages to market directly to candidates and customizable, drag-and-drop employee pipelines to keep track of employees in every stage of the hiring process.
Career site
With Teamtailor, businesses do not need to spend excessive time designing and writing a career site from scratch. Instead, recruiting teams can build a career site quickly using drag-and-drop "blocks" with customizable content, including campaign pages to share on social media, blogs, and company branding.
Small employers with no dedicated marketing or recruitment team could benefit from the time and cost savings associated with an ATS that allows them to create a career page without having to source additional resources.
Customizable recruiting funnel
Teamtailor attempts to ease the burden of talent tracking with its customizable recruiting funnel. The simple interface allows recruiters to specify stages in the hiring process, such as "screening" or "interviewing," and drag and drop candidates to different stages of the funnel.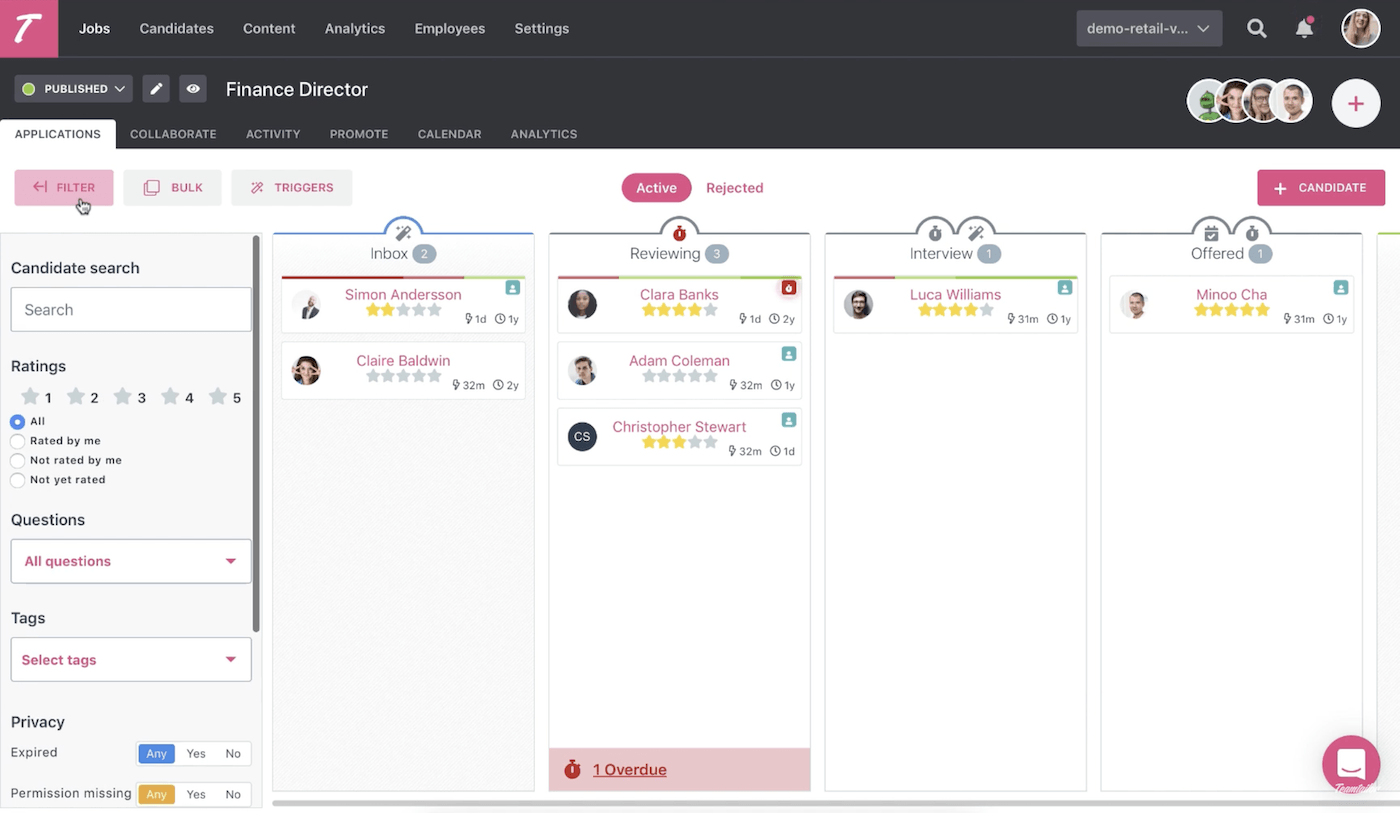 Other features like automation triggers and bulk actions narrow down candidate pools so that users can spend less time sorting and disqualifying applications and more time reviewing the list of top candidates.
Why you might choose Teamtailor over Oracle Taleo
Career site builder optimized for quick implementation with user-friendly blocks
Customizable recruiting funnel with drag-and-drop capabilities
Responsive customer service
Also read: Best Applicant Tracking Systems for Small Businesses
Zoho Recruit: Best for scalability
For users left unsatisfied with their move from Taleo to Oracle Recruit, Zoho Recruit may be the answer. With its breadth of features and analytics, Zoho Recruit is a great scalable solution for businesses with expectations that their talent needs will grow.
Breadth of scalable features
For small to medium-sized businesses, Zoho Recruit offers multiple plans with features that will scale as the business's needs grow and change. Small businesses, therefore, will not have to pay for large scale solutions like AI candidate matching when their talent needs are small.
However, should business needs expand, businesses can choose to move up a plan or even integrate with Zoho's broader HRIS platform that includes payroll, onboarding, time management, and more.
Large businesses can also benefit from Zoho Recruit's automated candidate pipeline and resume parsing powered by its AI assistant, Zia. Taleo does not offer native resume parsing, which is a must for businesses without a dedicated team to manually process a high volume of candidates.
Even staffing agencies can utilize Zoho Recruit's platform by offering a client-facing portal so clients can communicate and engage effectively during the hiring process.
Finally, for Enterprise users, Zoho Recruit's Blueprint feature is a customizable workflow module that allows users to drag-and-drop recruitment processes into a board and designate the sequence in which certain events happen. For example, a recruitment agency can designate processes like who submits the qualified candidate to their client, who schedules interviews, and when assessments are conducted.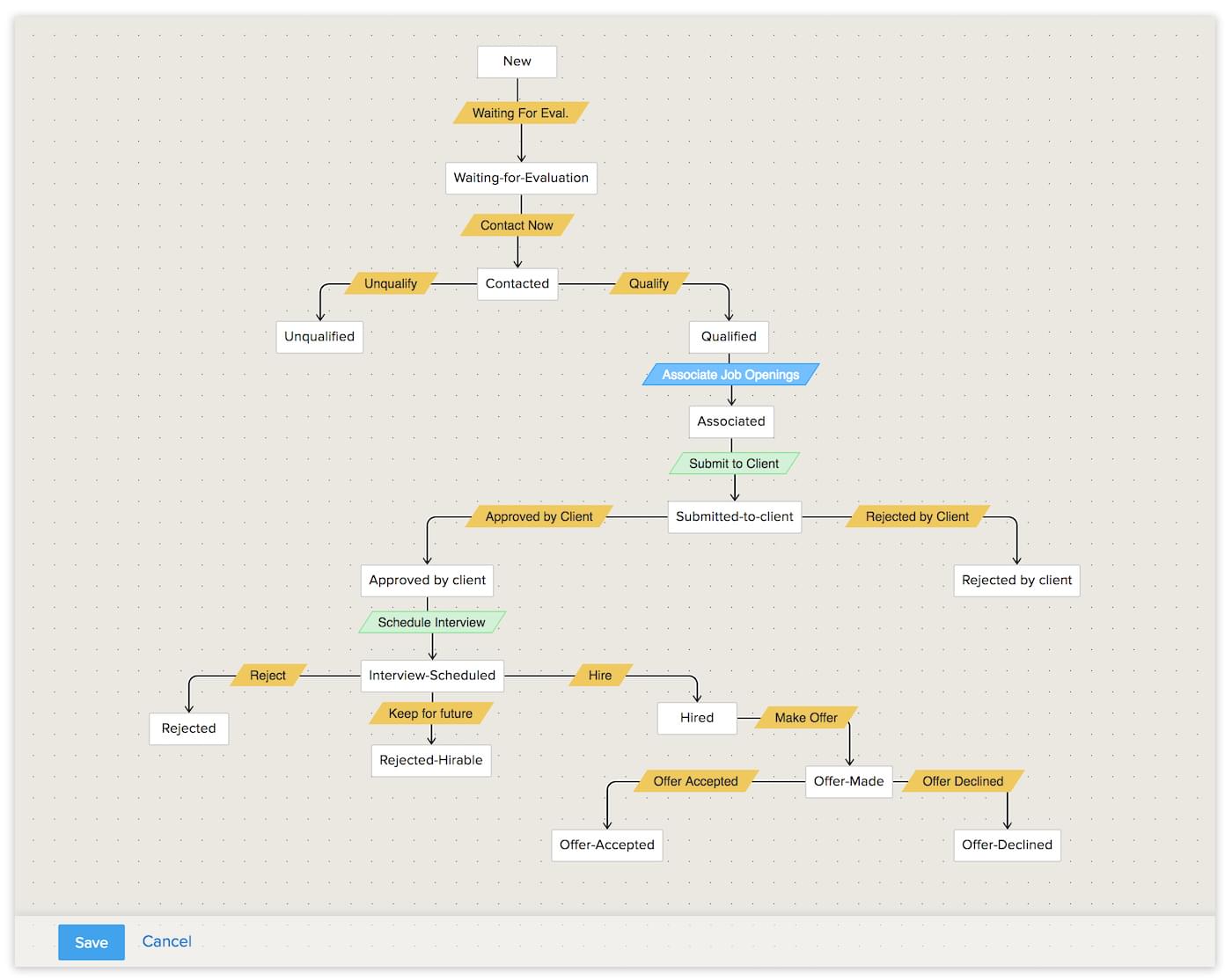 Recruitment analytics
Zoho Recruit's analytics features in Zoho's Professional plan allow growing businesses to remain competitive and pinpoint areas in the recruitment process needing improvement. The software comes pre-built with over 75 reports and dashboards that offer custom data visualizations. Data points including time-to-fill, time-to-hire, age-of-job, and offer acceptance rate come standard.
For large businesses and staffing agencies taking advantage of Blueprint, additional analytic capabilities like determining where recruiters are spending the most time in the hiring process can help improve hiring efficiency. For instance, staffing agencies can adjust their candidate sourcing network if the data indicates a majority of time is spent searching for candidates.
Why you might choose Zoho Recruit over Oracle Taleo
Breadth of features from customizable dashboards, automations, and its Blueprint tool
Analytic tools to help with recruitment pain points on a macro-level
Taleo Limitations
Because Taleo is an on-premises legacy system, it has many of the same drawbacks as other on-premises solutions, including:
Lack of necessary features such as background checking or applicant screening capabilities
An archaic user interface
Additional responsibilities such as maintaining hardware maintenance and ensuring compliance
Although Taleo offers compelling features for recruiting the best talent, it also has several drawbacks. If you're looking for a platform that's more flexible, easier to use, or more sophisticated for specific recruiting needs, it might be time to explore alternative solutions.
In most cases, Oracle drives current Taleo users to leverage the recruiting module in its HCM product for a cloud-based Taleo alternative. Oracle Recruiting provides customers with powerful tools to narrow down their search for the best new hire, but there are still some drawbacks to consider of that option, too.
For example, some customers who have made the switch from Taleo to Oracle Recruiting have noted the user interface is clunky and requires multiple open windows to navigate various actions. When it's crucial to hire the right people quickly, inefficiencies like this can have a significant impact.
Also read: When to Upgrade Your Applicant Tracking System
Choosing the Right Alternative to Oracle Taleo
Once the go-to software for recruiting, Taleo is now behind the times when compared to the sophisticated tools offered in modern ATS solutions. Even customers who have decided to migrate to Oracle Recruiting may be missing out on powerful features that could streamline their recruiting processes.
Great ATS solutions must be cloud-based to mitigate data loss and ensure consistent updates for bugs and maintenance. Additionally, the right system must be mobile-friendly as more candidates are ditching traditional computers for smartphones and tablets. All of the top Taleo alternatives are cloud-based and offer mobile solutions, but some offer unique advantages over others.
For small businesses that are satisfied with their current HRIS but want a supplementary recruitment tool, Teamtailor may be worth the investment. In contrast, companies that have a massive hiring volume and are looking for a unified experience amongst their internal teams, prospective candidates, and clients, may find success with Zoho Recruit or SAP SuccessFactors Recruiting.
While many Taleo alternatives incorporate features to mitigate bias during the recruitment process, Greenhouse stands out for its dedication to both candidate and current employee experiences, making it a valuable ATS for businesses invested in DEI initiatives. Likewise, SAP SuccessFactors Recruiting's global reach may be of interest to companies looking for a diverse candidate pool.
Companies that suffer from inefficiencies in the recruitment process, either from sheer candidate volume or lack of communication among the hiring team, may be interested in investigating the automations and easy internal communication functions in Breezy HR and Zoho Recruit.
After evaluating the top Taleo alternatives, your company may still be looking for an ATS that checks the right boxes. If none of these vendors meet your needs, explore our ATS Software Guide or browse trending solutions below.
Trending Human Resources Software
Rippling is the first way for businesses to manage all of their HR, IT, and Finance — payroll, benefits, computers, apps, corporate cards, expenses, and more — in one unified workforce platform. By connecting every business system to one source of truth for employee data, businesses can automate all of the manual work they normally need to do to make employee changes.
Simplify payroll, automate processes, and stay tax compliant, all in one spot. Our tools help you tackle the day-to-day, so you can focus on your people. Empower employees to view checks, request time off, clock in/out and update their personal data with Employee Self Service. Pull expense reimbursements into paychecks and run custom reports to get the data you need. Build a better future for your organization with a scalable solution focused on your business outcomes, priced for your budget.
Paycor's HR software modernizes every aspect of people management, which saves leaders time and gives them the powerful analytics they need to build winning teams. Paycor provides a full suite of HCM solutions with a single source of truth for employee data, so users never have to switch platforms, log-in to multiple systems, re-key data or open multiple spreadsheets. Everyday processes become simplified, allowing organizations to focus on their most important work.
Need a Little Help?
Talk with a software expert for free. Get a list of software that's great for you in less than 15 minutes.
Technology Advice is able to offer
our services
for free because some vendors may pay us for web traffic or other sales opportunities. Our mission is to help technology buyers make better purchasing decisions, so we provide you with information for all vendors — even those that don't pay us.