A great applicant tracking system (ATS) can streamline recruiting processes and improve hiring metrics, but a bad one might have you longing for the spreadsheet and résumé PDF days. It could even put off potential job seekers.
Sometimes the ATS that seemed perfect several years ago no longer works for the changing needs of your business, but it can be tough to determine if a new ATS is truly worth the investment. Start by evaluating the challenges your hiring team is facing because of your current ATS and identifying specific areas for improvement. If it's clear that it's time for an upgrade, start by exploring our ATS Software Guide.
5 Signs You Should Upgrade Your ATS
Upgrading your applicant tracking system is not to be taken lightly, and you don't want to rush into it. Instead, you need to make a deliberate survey of your current ATS capabilities to figure out where it succeeds and where it falls short.
Your hiring metrics aren't where they should be
The hiring team's subjective experience is an important component of the review process, but when it comes to evaluating the performance of your current ATS software, the numbers don't lie.
Some of the key ATS metrics you should be tracking include:
Time to hire
Number of candidates
Quality of hire
Cost per hire
If any or all of these metrics are significantly lagging behind your targets or have taken a nosedive recently, it's time to reevaluate your ATS.
Your reporting is lacking
One of the greatest benefits of good ATS software is the data and analytics it provides, which help businesses optimize their hiring process and make data-driven decisions about talent acquisition. However, in some cases, the metrics make it difficult to accurately assess recruiting performance because the reporting is difficult to use or interpret.
If the reporting and analytics features of your applicant tracking system aren't giving you the insight you need to make informed decisions quickly, it might be time to switch to a different ATS that can provide the depth of reporting you need.
You're experiencing bottlenecks or redundancies
The goal of an ATS is to streamline the recruitment process, so if applicants and recruiters are experiencing bottlenecks or redundancies, that's a major red flag your current platform isn't working anymore.
Some common culprits to watch out for are applications getting lost or ignored, applicants having to answer the same questions or repeat the same steps multiple times, and delays in scheduling interviews. These issues can negatively impact the candidate experience as well as your employer brand in the long run.
You need more automation
One of the main advantages of a modern ATS is the time savings and added efficiency that come with automating rote tasks.
Examples of automated workflows include sending follow-up emails, scheduling phone screens, and recording interview notes. These advances have been made possible thanks to recent breakthroughs in artificial intelligence and machine learning, but not every ATS platform has implemented these advanced capabilities with the same success.
If your current ATS doesn't allow users to automate repetitive, manual tasks, it's time to consider switching to a different platform that will take some of this work off of the hiring team's shoulders.
Key integrations are missing
An ATS that integrates with other business software means recruiting teams can streamline their processes and access information about job openings and candidates without having to work out of multiple tools. For example, an ATS that integrates with HRIS software allows the hiring manager to import information about the new hire directly into the employee database.
If a different system has recently been upgraded or new software gets added to your company's tech stack, your ATS might run into compatibility issues. In turn, this can create roadblocks for teams that are used to working seamlessly between platforms, or it can limit the scalability of your team's processes. The only real way to get around this is to look for a new ATS that will integrate with the other tools your team uses.
In these cases, it's worth seeking an ATS solution that is already integrated with other human resources (HR) tools in a comprehensive suite.
What to Look for in a Replacement ATS
If you've determined that your ATS needs an upgrade, we recommend including these five key features on the checklist for your next platform.
Reporting
The right ATS software will offer all of the metrics you need to assess candidate data and determine whether your recruiting processes are working. An ATS dashboard should also be easy to read and customize as necessary, so you can easily access the information you need and make decisions quickly.
For example, PCRecruiter's job board analytics feature connects the ATS data with Google Analytics to help recruiters track candidate sources, conversions, and falloff rates.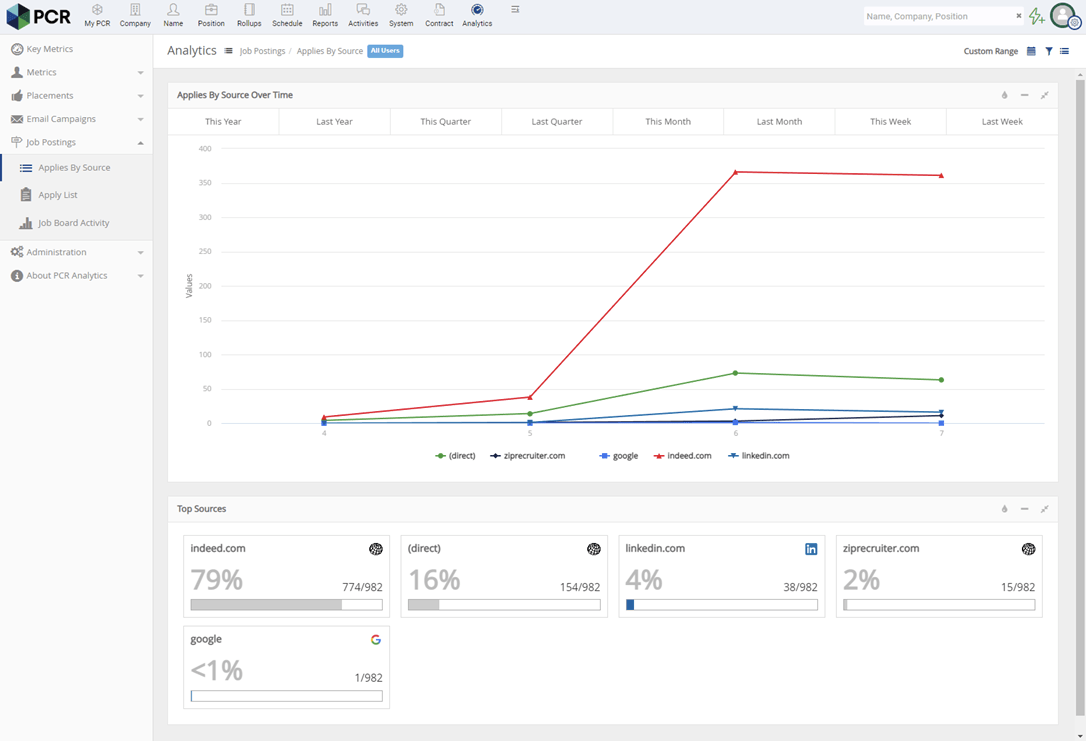 Application management
Proper application management is essential to finding the most qualified candidates and filling job openings efficiently.
Within the ATS platform, hiring teams should be able to sort applications in the ATS database according to specific criteria, like certain education requirements, work experience, or relevant keywords. They should also be able to search for applicants by name to locate the right information.
Some platforms like Pinpoint offer candidate profiles that help recruiters keep all of the information for a candidate in one place. This includes their application, résumé, pipeline stage, ratings, and conversation history.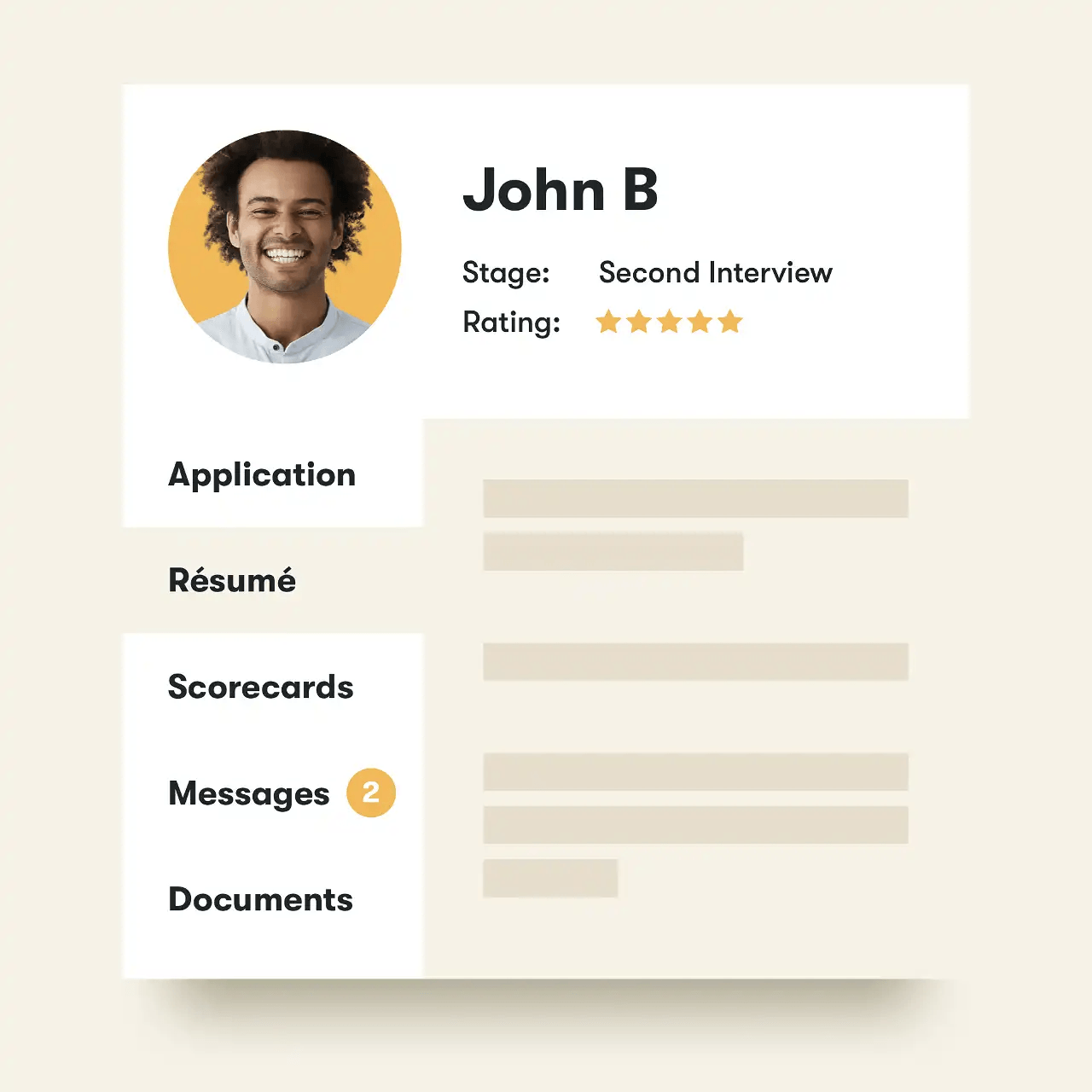 Interview management
It's not enough to be able to manage application materials smoothly: You also need to be able to move candidates through the job search and interview process quickly and efficiently.
A good ATS should make it easy to schedule interviews via phone, video, and in person. It should also automate interview reminders and scheduling, so you don't have to.
Alternatively, some ATS platforms like Breezy HR allow candidates to schedule their own interviews from an outward-facing portal. The software synchronizes with the Google or Outlook calendars for everyone on the hiring team, so their interview availability is always up-to-date.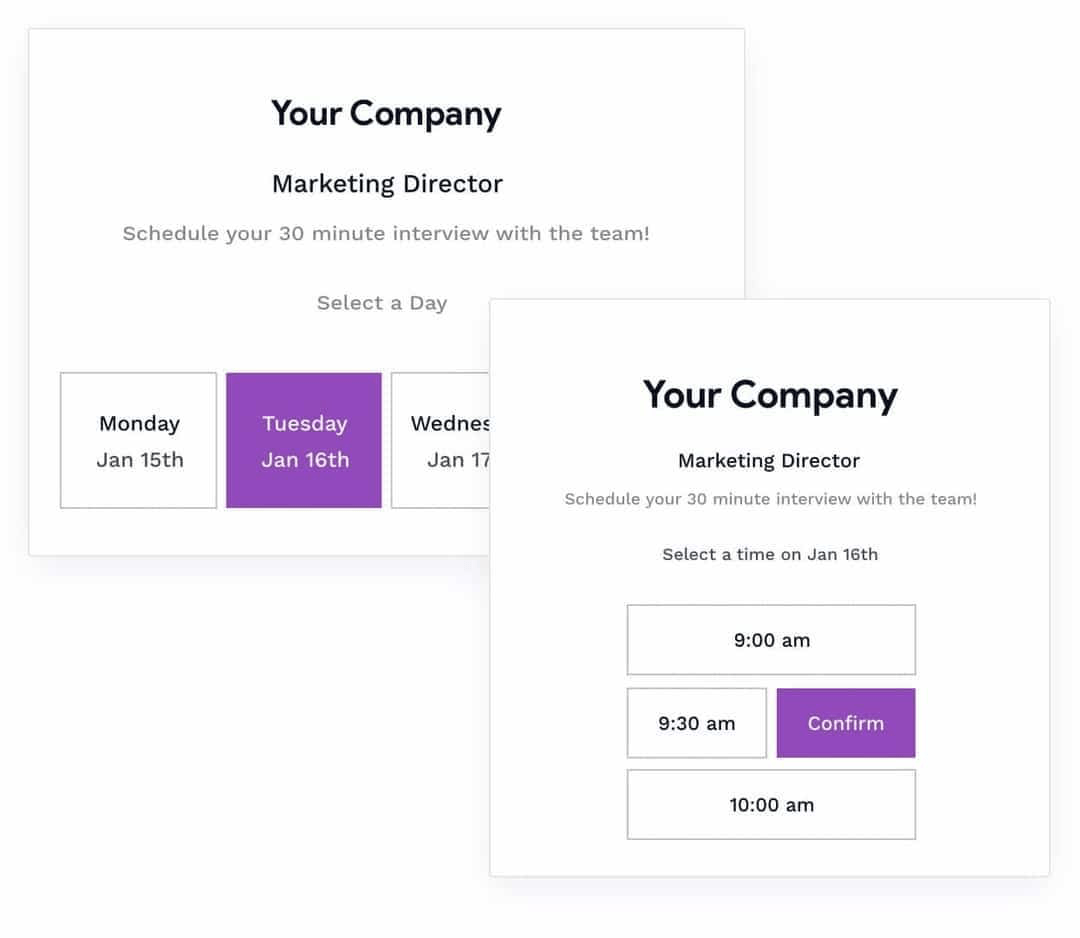 Automation
Automation is another must-have feature. Your next ATS should automate repetitive tasks to eliminate redundancies and allow your recruitment team to focus on more valuable tasks, like sourcing and evaluating candidates.
Some advanced automations can also help keep candidates moving through the hiring pipeline. For example, Zoho Recruit offers a drag-and-drop interface for creating custom workflows depending on specific conditions or actions. This helps ensure no candidate slips through the cracks because someone forgot to follow up.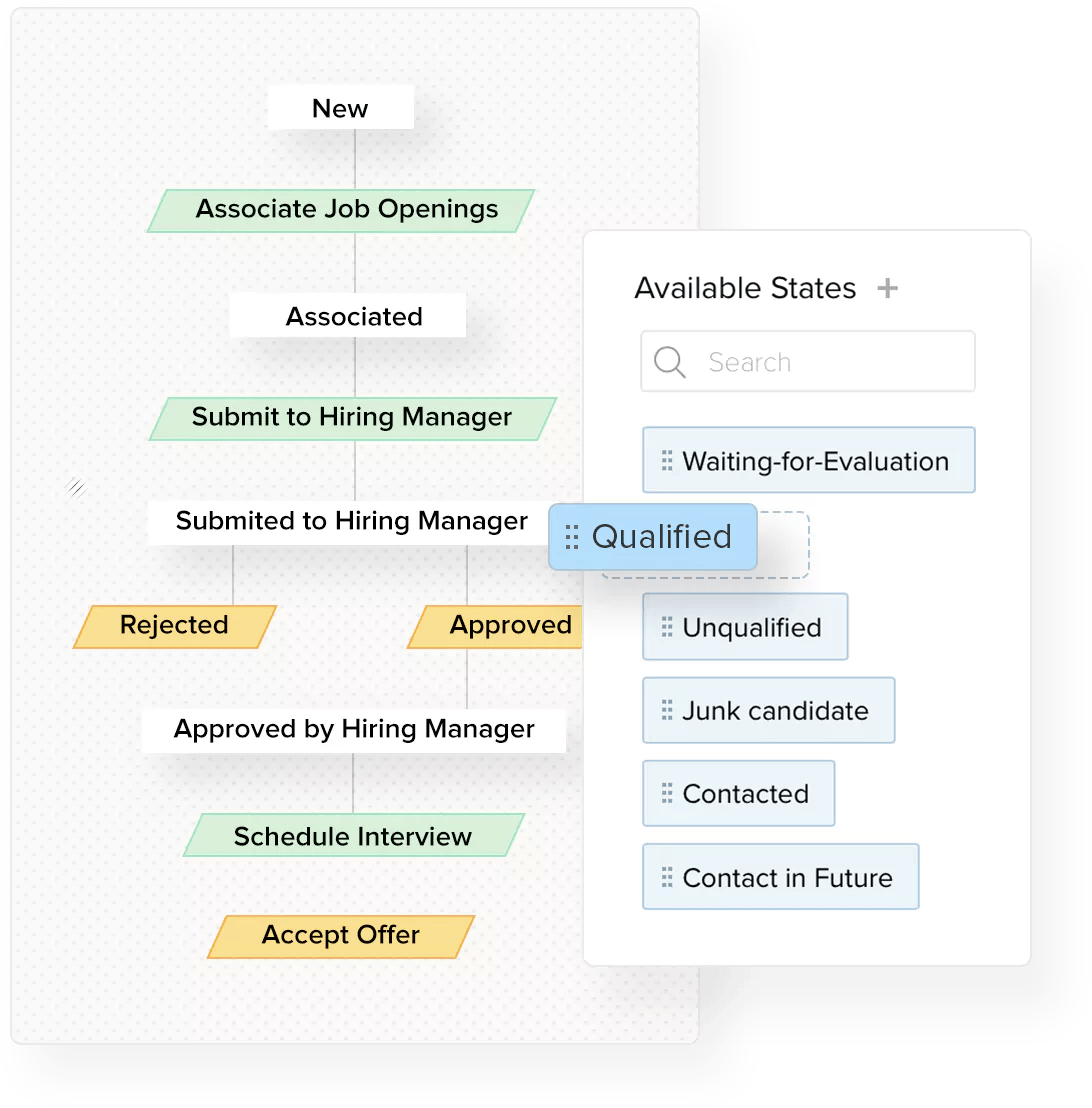 Integrations
If your team relies on multiple platforms to maintain recruiting efficiency, then integrations can make or break your ATS. At a minimum, your new system should integrate with your current HR software stack; however, it might also be valuable to consider your team's long-term goals and what integrations might be useful in the future.
Also, double-check to see if the integrations are built-in or if your recruiting team will need to create them using a third-party tool like Zapier. If it's the latter case, be prepared for the extra time and resources it will take to manually configure and maintain these integrations.
A robust platform like Greenhouse offers hundreds of native integrations to support current and future needs without needing to leverage any additional tools.
Is It Time to Upgrade?
Once you've evaluated your current ATS and your business's current challenges with recruitment, it may still be unclear whether those challenges outweigh the cost of upgrading your ATS.
In some cases, your current applicant tracking system isn't quite adequate, but you can't replace it wholesale due to budgetary or IT reasons. Fortunately, there are several steps you can take to make the most of your existing ATS without breaking the bank or overwhelming your IT team.
One option is to seek out training resources offered by your current ATS provider to make sure you fully understand the tool and are taking advantage of any recent updates or feature additions. Most cloud-based ATS vendors release updates regularly — sometimes monthly or even weekly — so you might have missed out on some helpful features that recently launched.
Configuring new integrations is also a fantastic way to supercharge the functionality of your current ATS without having to completely replace it. Some key integrations to consider are job boards, HR tools, social media platforms, email, and your content management system (CMS). Check out our roundup of must-have integrations for your ATS if you need some inspiration for how to boost your existing ATS.
However, if you've exhausted all other options and decided it's time for a new ATS, consider using our ATS Software Guide or explore the trending products below to find a solution that might be a better fit.
Currently Trending Applicant Tracking Software
Create best-in-class candidate experiences and efficient recruiting processes for hiring success. ClearCompany helps your company find and hire more top talent with modern text, video, and interview scheduling tools. ClearCompany incorporates your job-specific requirements to optimize requisitions, elevate interview conversations, evaluate candidates fairly, and hire top talent aligned with your company's culture and mission.
Find the best candidates with Workable's applicant tracking software. Workable helps you source, track, and hire candidates, all in less time. Whether you're hiring Employee #2 or 200 new employees, Workable's scalable tools, know-how, and support comes wrapped in enterprise-grade tech that's as easy to use as your favorite app.
BambooHR is an award-winning HR platform that helps your growing organizations automate, centralize, and connect your people data all in one place. It gives you a one stop shop to manage data, hire talent, run payroll, and help employees grow.
Need a Little Help?
Talk with a software expert for free. Get a list of software that's great for you in less than 15 minutes.
Technology Advice is able to offer
our services
for free because some vendors may pay us for web traffic or other sales opportunities. Our mission is to help technology buyers make better purchasing decisions, so we provide you with information for all vendors — even those that don't pay us.